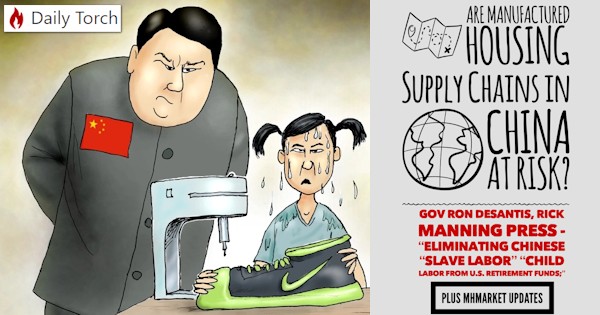 When the listing of the top ten manufactured housing states by production is provided, Florida now ranks #2 in the nation. Florida has surpassed New York in population, and thus also in Congressional seats. Florida "Gov. Ron DeSantis will call on lawmakers in 2021 to divest state investments in Chinese-owned companies," said CenterSquare on April 23, 2020. That was just weeks after the COVID19 pandemic and related lockdowns were declared. On 6.7.2021 "Gov. Ron DeSantis blisters China in wide-ranging attack" said the Herald Tribune, which said "Gov. Ron DeSantis launched a wide-ranging attack on the government of China during a bill-signing in Miami." The Washington Times said on 12.20.2021 that "Gov. Ron DeSantis moves to decouple Sunshine State pension funds and Chinese Communists." DeSantis is considered a close ally of the 45th President, Donald J. Trump. Trump's campaign endorsement and support of DeSantis catapulted him beyond his GOP rivals and into the Florida Governor's Office. He is sometimes spoken of as a possible 2024 running mate for Trump, should the later seek another presidential run. DeSantis is widely hailed as a possible 2024 contender if Trump doesn't seek office again. He is lauded by those in the Republican party who despise RINOs or 45. With Democrats poll numbers sinking, and the GOP's rising ahead of a 2022 election year, what DeSantis does matters. It is in the wake of steps like those by Governor DeSantis, who is not alone in these matters, that the Daily Torch presented Rick Manning's commentary on troubles with China, that will be shown further below.
In the same report cited above, the Washington Times said: "The state [of Florida] took action after Consumers' Research, a conservative watchdog group, launched a campaign accusing BlackRock, the world's largest investment company by assets under management, of close and growing ties with Beijing."
Other pull quotes from that same report:
"I would like the SBA to survey the investments that are currently being done," Mr. DeSantis said in a statement. "When the Legislature comes back, they can make statutory changes to say that the Communist Party of China is not a vehicle that we want to be entangled with. I think that that would be something that would be very, very prudent."
"BlackRock has been using their proxy votes to hamper American companies, leading to higher burdens on Americans when we can least afford it," Consumers' Research Executive Director Will Hild said. "They have used American investment dollars to cozy up to the Chinese Communist Party in a betrayal of our nation that puts American pension dollars at risk."
BlackRock declined a request for comment.
Although Mr. Fink is an ardent supporter of green initiatives and BlackRock has tried to force American companies to follow an environmental agenda, China is the world's biggest producer of greenhouse gases.
China also has been accused of numerous human rights violations, including forcing Muslim-minority Uyghurs into labor camps, stifling Hong Kong's traditional democracy, and silencing and coercing tennis star Peng Shuai over rape charges against a high government official.
Last month, West Virginia Treasurer Riley Moore led a coalition of 15 states that threatened to pull funds if bankers tried to stifle oil and gas companies to appease environmentalists.
The Securities and Exchange Commission and other federal agencies have cautioned that Chinese investments can be subject to the whims of communist leaders and are outside the influence of U.S. or other regulators.
In September, the SEC warned of risks associated with variable interest entities, which are listed on U.S. stock markets but are essentially shell companies with no control over the Chinese entities.
Among the comments on the Washington Times report above are these reader statements:
Lynn Munoz
This guy rocks! We need another leader who puts America first. Hopefully one day he'll be leading our country.
TermLimits
Very good idea – DeSantis is doing a great job for Florida and I'm sure he will be a winner in 2024!
Spec Ops Lawyer
Bravissimo Governor. I hope this becomes a nationwide trend. Of course California and New York will do nothing to protect our petitions from Communist China's predations.
One slammed DeSantis as ignoring purported ties by various members of the GOP party officials or their relatives in Chinese investments. But that serves to demonstrate that this is an emerging issue which is coming into sharper focus. Just as it has taken time – and attention by outsiders, as well as public officials – to bring Florida to the point it has now attained, it may prove a problem for others.
With that backdrop, here is the statement issued by the Daily Torch's Rick Manning on China and Divesting, provided to MHProNews with permission.
No Chinese slave labor in U.S. retirement funds
By Rick Manning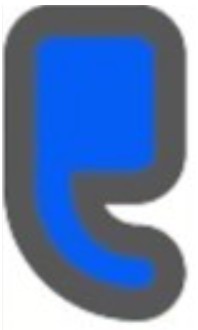 The Department of Labor has long recognized Uyghur Muslims and other religious and ethnic minorities who have been forced into state-sponsored labor and re-education camps by the Chinese Communist Party in Xinjiang and elsewhere across China. The 2020 report published by the U.S. Department of Labor's Bureau of International Labor Affairs lists China 17 times as using children and slaves to make goods, many of which find their place on the shelves of U.S. retailers like Walmart.  Artificial flowers, bricks, Christmas decorations, coal, cotton, electronics, fireworks, fish, footwear, garments, gloves, hair products, nails, textiles, thread/yarn, tomato products, toys are all listed as being made with child or slave labor in China.
The Department of Defense (DoD) has also condemned the vast concentration camp system in China said to be housing up to 3 million Uighur Muslims in Xinjiang province alone. In 2019, Assistant Secretary of Defense for Asian and Pacific Security Affairs Randall Schriver told a Pentagon briefing, "The [Chinese] are using the security forces for mass imprisonment of Chinese Muslims in concentration camps," justifying the use of the term because "given what we understand to be the magnitude of the detention, at least a million but likely closer to three million citizens out of a population of about 10 million". Finally, there is the ongoing genocide for organs of political prisoners including Falun Gong, the Uighurs and others, according to the Independent Tribunal Into Forced Organ Harvesting from Prisoners of Conscience in China.
A full accounting of these atrocities is long overdue, and currently, U.S. investors have $458 billion invested in Chinese and Hong Kong stock exchanges and bonds, an estimated $302 billion of which is held by mutual and pension funds. In 2020 and 2021, DoD listed 44 companies listed on U.S. stock exchanges that are either owned or controlled by the Chinese Communist Party and military before being unfortunately rescinded by the Secretary of Defense on June 3. And yet, China did not suddenly stop controlling its state-run enterprises or using slave labor and this is nothing more than a dereliction of duty that should not be repeated.
Beyond being immoral, investments in Chinese assets are financially risky due to the lack of transparency and Communist Chinese control over their assets. Under ERISA, we believe that the Labor Department has a fiduciary responsibility to end all private retirement investments in dangerous Chinese investments by amending the current pending "Prudence and Loyalty in Selecting Plan Investments and Exercising Shareholder Rights" regulation  to disqualify all companies that do not adhere to the transparency requirements of Dodd-Frank and Sarbannes-Oxley. Using the same concerns about both the immorality and lack of transparency for the investments, we also urge the divestment of the Pension Benefit Guaranty Corporation from China.
In 2020, the Labor Department also took the bold step of excluding risky Chinese assets from the federal employees 401(K) Thrift Savings Plan (TSP) because, in the words of former Labor Secretary Eugene Scalia, they "would place millions of federal employees, retirees, and service-members in the untenable position of choosing between forgoing any investment in international equities or placing billions of dollars in retirement savings in risky companies that pose a threat to U.S. national security." In May 2020, the TSP voted to postpone inclusion of Chinese assets in federal retirement portfolios.
Obviously, if these assets are too risky for inclusion in the federal TSP, then they are too risky to be included in private 401(K) investments under ERISA.
What's more, any investments which do not meet the same transparency requirements that are in place for U.S. based companies on American exchanges should be deemed ineligible for private retirement account investing.  It is the Labor Department's Employment Standards and Benefit Administrations job to differentiate between investments which are suitable and unsuitable for private retirement funds.  The inclusion of bonds and equities into retirement accounts that require special exemptions from our nation's transparency rules in order to have a place on US-based exchanges obviously are not suitable.  Similarly equities and bonds on foreign-based exchanges which don't meet U.S. transparency standards should also be deemed ineligible for inclusion in our nation's retirement funds.
The Labor Department has a solemn responsibility to protect the integrity of the holdings within our nation's retirement funds based upon the legislative mandate that fiduciary considerations are first and foremost.  Assets not meeting basic transparency rules are in no way sound investments and must be excluded. The simple fact that in many cases, Chinese-based investments also use slave labor to produce goods provides even more reason to include specific language disallowing non-transparent investments. ##
Rick Manning is the President of Americans for Limited Government.
The quote shown below is from a different article by Manning.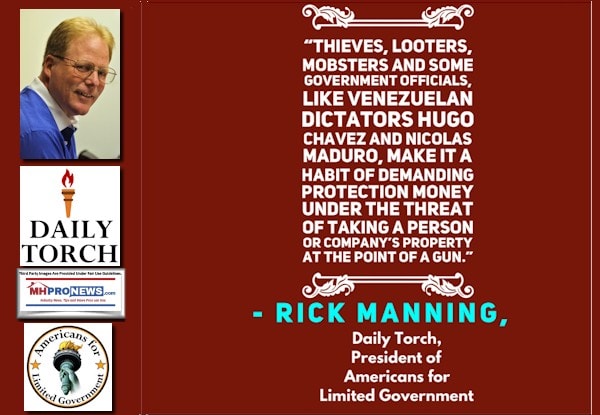 Additional Information, More MHProNews Analysis and Commentary
 A posted comment on Manning's article says the following.
It is mind boggling that the USA has for so long not only offshored jobs to Communist China but has thereby fueled the rise of the world's largest navy and military. American taxpayers are paying, paying, paying due to trade with China, which in hindsight was perhaps the biggest blunder of the Nixon era.
Returning to posted comments from the Washington Times report cited above:
Greg360
Don't buy NFL, NBA, etc. apparel. Sadly all major sports organizations don't condemn the Chinese but would rather support them.
Mike
The Biden Crime Family won't like that.
To the last quip, some related reports are linked below.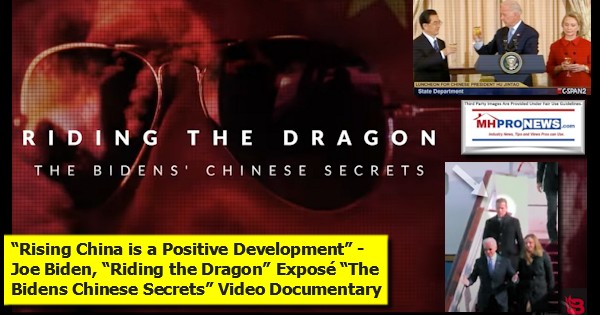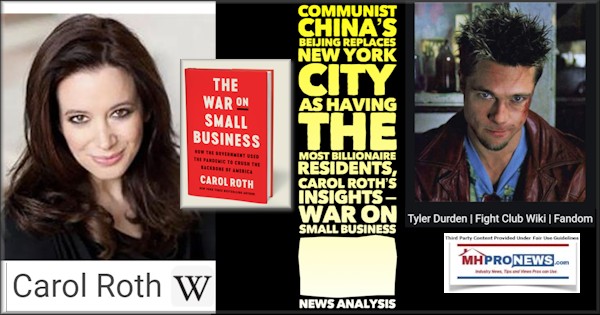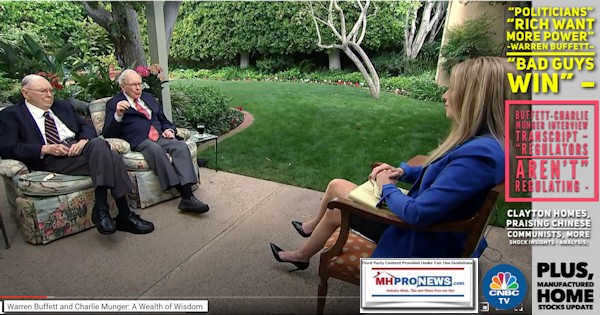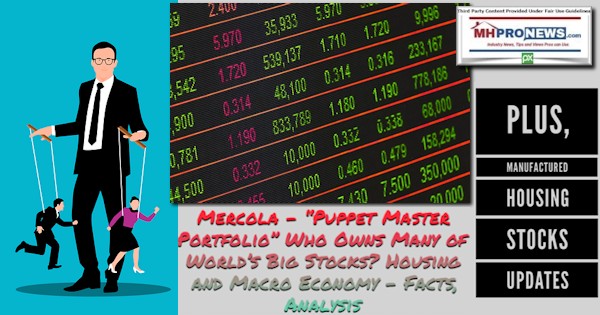 American business has over a period of decades become a tangled web of foreign suppliers that are often in Communist China, or in other nations were political and human rights abuses occur.
To the point made by latonyk on Manning's column, this is not a simple left-right issue. It was Republican President Richard M. Nixon who 'opened the doors to China' for American investments. In hindsight, it has proven to be a tragic and costly mistake of epic proportions. Democrats and Republicans alike have allowed business in China to flourish, sometimes while wringing their hands publicly while investments have occurred by those same leaders posturing how troubling this all is. That type of hypocrisy has steadily come to light, and is one of the range of 'wake up calls' that Americans – and our industry's professionals – face daily.
An MHI member HUD Code manufactured home producer has told MHProNews that they are seeking other sources away from China. Time will tell how many will decide to onshore, rather than just shift a supply chain from China to another communist or oppressive country to another.
The insulting handle aside, the last posted comment on the Washington Times article referenced above said this:
Libs R Stupid
This Christmas I spent a lot of time making sure nothing I bought was Made in China. You have no idea how difficult that was. But not a single item I purchased was Chinese.
Decoupling from China will take time. It may require a type of two front war, because China doesn't like it, but neither does giant 'American' firms like BlackRock or others that include Berkshire Hathaway or Bill Gates connected investments.
Abraham Lincoln predicted that if America were to ever fall, it would be because it was being betrayed from within.
Russian Bolshevik (a type of communism) leader Vladimir Lenin said that the capitalists would sell the communists the rope that would be hung by.  Both Lincoln and Lenin had revealing insights in those comments that are as thought provoking a century or two later.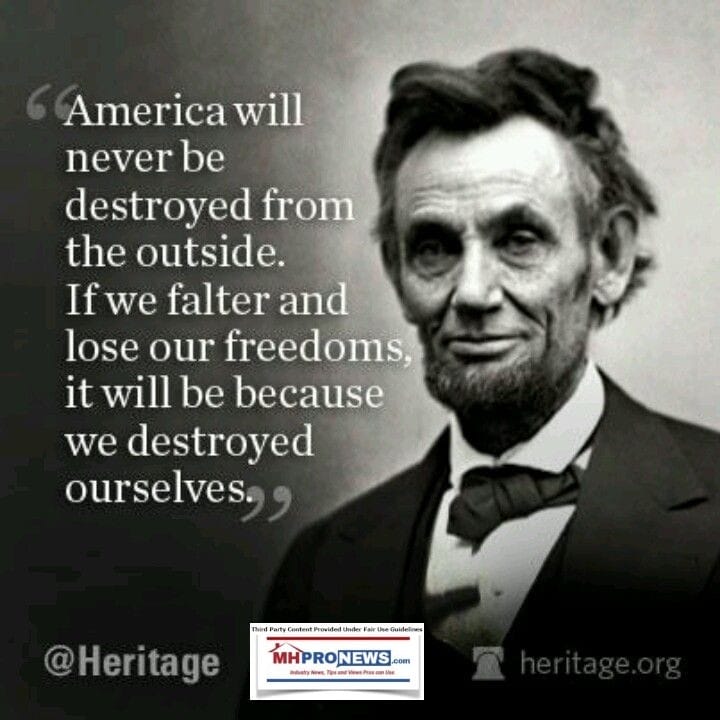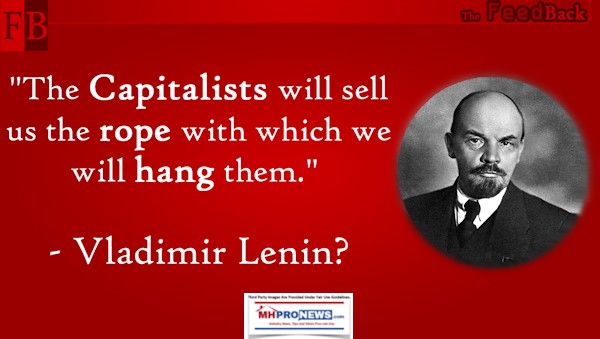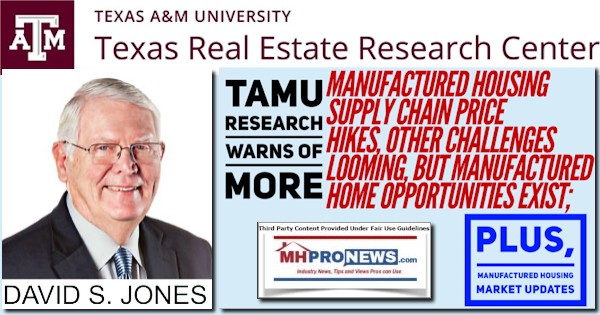 "Liberty! Liberty! Liberty!" Pre- and Post-Christmas Protests Rock, Spreading in Europe, Down Under, Coming to Washington D.C. in January 2022; It's Not Biden's Fault; plus MHMarket Updates
##
Next up is our business daily recap of yesterday evening's market report, related left-right headlines, and manufactured housing connected equities.
The Business Daily Manufactured Home Industry Connected Stock Market Updates.  Plus, Market Moving Left (CNN) – Right (Newsmax) Headlines Snapshot. While the layout of this daily business report has been evolving over time, several elements of the basic concepts used previously are still the same. For instance. The headlines that follow below can be reviewed at a glance to save time while providing insights across the left-right media divide. Additionally, those headlines often provide clues as to possible 'market-moving' news items.
Market Indicator Closing Summaries – Yahoo Finance Closing Tickers on MHProNews…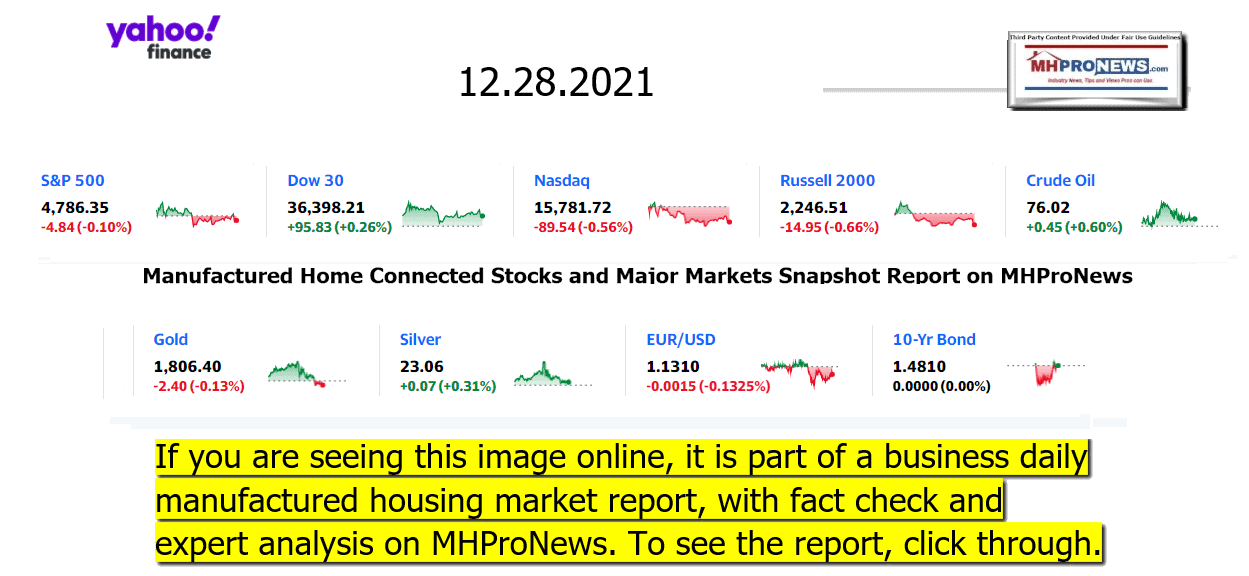 Headlines from left-of-center CNN Business – from the evening of 12.28.2021
Covid's big threat
A person wearing a Santa Claus hat and a mask walks past an empty street and Radio City Music Hall which is closed due to rising cases of COVID-19 on December 23, 2021 in New York City. Radio City Music Hall announced on December 17 that they would be canceling all performances for the rest of the season. The annual Radio City Christmas Spectacular draws large numbers of crowds and tourism into the area and New York City.
Omicron is messing with the economic recovery
The uncomfortable truth about food prices in 2022
Quick! Costco has restocked the Xbox Series X
$4 gas is coming by Memorial Day, GasBuddy predicts
SpaceX catches heat in China over close calls with space station
Every DoorDash employee, from engineers
to CEO, will make deliveries
Delta turned flight around mid-air because of China's new cleaning rules
HR executives share some of the biggest challenges of 2021
Riot Games agrees to pay $100 million in gender discrimination lawsuit
Google CEO can be questioned in privacy lawsuit, judge rules
Travel nightmare continues: Another 2,200 flights canceled Tuesday
Spider-Man defeated Omicron. Next, it's Batman's turn
A for sale sign stands in front of a house, Tuesday, Oct. 6, 2020, in Westwood, Mass.
Home prices jumped 19.1% in October
Vehicles drive on a bridge over train tracks near Union Station on July 25, 2021 in Washington, DC.
Infrastructure finally got its due
Desks at an empty office in San Francisco, California, U.S., on Tuesday, Oct. 5, 2021.
Three key numbers that explain America's labor shortage
Headlines from right-of-center Newsmax – evening of 12.28.2021
Dershowitz: Bishop Tutu Was Dangerous Antisemite
Tutu "did much good in fighting apartheid," Dershowitz writes, "but he also has long history of ugly hatred toward the Jewish people, the Jewish religion and the Jewish state." [Full Story]
Newsmax TV
Comer: Biden Should View DeSantis as Model on COVID | video
Burgess to Newsmax: Border Situation Worst in My 20 Years in Office | video
RNC's Dennard: Dems' Failures Will Lead to 2022 'Red Wave'
Biden Caller: 'Let's Go, Brandon' Symbolizes Frustration With WH | video
Kash Patel: DC Mayor Said 'No' to Trump Sending Troops on Jan. 6 | video
Navarro: Trump 'Rightly Proud' About Vaccine, 'No Need' for Owens to Attack | video
More Newsmax TV
Newsfront
US Move to Shorten COVID Isolation Stirs Confusion, Doubt
S. health officials' decision to shorten the recommended COVID-19 isolation and quarantine period from 10 days to five is drawing criticism from some medical experts and could create confusion among many Americans.The move has raised questions about how the guidance was…… [Full Story]
NYC Sets New Guidelines for Students Testing Negative for COVID
NYC Sets New Guidelines for Students Testing Negative for COVID
Students in New York City public schools, who are exposed to [Full Story]
Related
South Africa Study Suggests Omicron Could Displace Delta
Undertakers, Rabbis Join Global Fight Promoting COVID Shots
1st COVID Shot Recipient in US Now a Vaccine Activist
CDC Shortens Recommended Isolation and Quarantine Period
Biden Tweets About Federal COVID Plan in Wake of 'No Federal Solution' Criticism
Broadway's 'Music Man' Is Latest COVID Victim as Jackman Tests Positive
Marjorie Taylor Greene: Trump '100 Percent Against' Vaccine Mandates
Marjorie Taylor Greene, R-Ga., on Tuesday said that former [Full Story]
US Warships Stay in Mediterranean Amid Ukraine, Russia Fears
Defense Secretary Lloyd Austin has ordered a U.S. Navy aircraft [Full Story]
School Policy Criticized for Paying Nonwhite Teachers to Mentor Minority Colleagues
A Minnesota school district is raising eyebrows over a new policy [Full Story]
Ireland Escalates Political Attacks on Israel as Anti-Semitism Surges
Ireland's cutting criticism of Israeli politics and embrace of the [Full Story] | Platinum Article
Federal Appeals Court Upholds Google 'Street View' Settlement
A federal appeals court has upheld Googles settlement in a class [Full Story]
New Mexico Gubernatorial Contender Fighting COVID Restrictions, 'Progressive Agenda'
Republican New Mexico state Rep. Rebecca Dow says she's tired of [Full Story] | Platinum Article
Comer to Newsmax: Biden Should Look to DeSantis as Model on COVID
President Joe Biden, after saying there is "no federal solution" to [Full Story] | video
6 Committee Plans to Release Interim Report by Summer
The House select committee investigating the Jan. 6 Capitol atack [Full Story]
Greta Thunberg Slams Biden Over Climate Policy, Says He Is No Leader
Greta Thunberg harshly criticized President Joe Biden's policy on the [Full Story]
Gas Prices Could Exceed $4 Average in 2022: GasBuddy
Gas prices could exceed a $4 average before the summer, GasBuddy.com [Full Story]
GOP Slams Biden for Asserting 'No Federal Solution' for COVID Amid Virus Mandates
Republicans blasted President Joe Biden as a "hypocrite" for [Full Story]
Democrat Rep. Bobby Rush Tests Positive for COVID
Democrat Rep. Bobby Rush Tests Positive for COVID
Bobby Rush, D-Ill., said he has tested positive for COVID-19, but [Full Story]
Incredible Miniature Telescope Lets You See for Miles
Smarter Living Daily
Chicago Priests Must Now Get Permission to Celebrate Latin Mass
Chicago Cardinal Blase Cupich announced that he has prohibited the [Full Story]
Alibaba's Ali Express to End Sales to Palestinians
The Chinese corporation Alibaba's e-commerce site Ali Express will no [Full Story]
Dershowitz: Bishop Tutu Was a Dangerous Antisemite
Even in death, his evil deeds must be recounted and considered in any [Full Story]
Judge Extends Maxwell Trial Deliberation Hours, Cites 'Astronomical' COVID-19 Spike
The judge in British socialite Ghislaine Maxwell's sex abuse trial [Full Story]
Texas Centers Running Out of Antibody Treatment for Omicron
Five Texas infusion centers have exhausted their supply of the only [Full Story]
Many Cities Setting Homicide Record Veered Left on Policing
Among the 12 cities that experienced record levels of violence in [Full Story]
Chinese Citizens Slam Musk Online After Space Station Near Misses
Chinese citizens lashed out online against billionaire Tesla founder [Full Story]
Pollster Says Rep. Greene Holds Gigantic Lead in 2022 Primary
Freshman Rep. Marjorie Taylor Greene, R-Ga., reportedly has a big [Full Story]
US, Russia Set for Jan. 10 Security Talks Amid Ukraine Tensions
S. and Russian officials will hold security talks on Jan. 10 to [Full Story]
Russia Orders Closure of Top Rights Group
Russia's Supreme Court ruled on Tuesday that the country's best-known [Full Story]
LAPD Video Shows Chaos Moments Before Fatal Shooting of 14-Year-Old Girl
Body-camera video released on Monday showed the chaotic, violent [Full Story]
Israeli PM Says Not Opposed to 'Good' Nuclear Deal With Iran
Israeli Prime Minister Naftali Bennett said Tuesday he is not opposed [Full Story]
Shooting at Texas Gas Station Leaves 3 Teens Dead
The Garland, Texas, Police Department reported that three teenagers [Full Story]
Fauci Praises CDC Decision to Isolate Asymptomatic People for Five Days
Anthony Fauci, chief medical adviser to the president, said on [Full Story]
Jury Signals Verdict Not Near at Maxwell Trial
The jury deliberating the fate of Ghislaine Maxwell at her sex [Full Story]
George W. Bush Congratulates Enes Kanter Freedom on Attaining US Citizenship
Former president George W. Bush congratulated Boston Celtics player [Full Story]
New Ambassador to Bahrain Accused of Making Slurs Against Arabs: Report
President Joe Biden's recently confirmed ambassador to Bahrain, [Full Story]
Incredible Miniature Telescope Lets You See for Miles
Top 10 Finance Stories of 2021
2021 has been an unprecedent in the financial world. When the year began, it was hard to imagine the rise of so-called "meme stocks," rampant inflation akin to the Jimmy Carter era, and a historic supply chain crisis…. [Full Story]
2-Year Treasury Yields Highest Since March 2020
Biden Considers Raskin for top Federal Reserve Post
From Kentucky to Arkansas, the Least-Vaccinated States Lead In-Store Holiday Shopping
Biden Tweets About Federal COVID Plan in Wake of 'No Federal Solution' Criticism
More Finance
Health
What the CDC's Latest COVID-19 Quarantine Guidelines Mean for You
The Centers for Disease Control and Prevention (CDC) announced Monday that it was relaxing its quarantine guidelines for asymptomatic people who test positive for COVID-19. People who test positive for the coronavirus, and do not have symptoms, need to isolate for only five…… [Full Story]
US Move to Shorten COVID-19 Isolation Stirs Confusion, Doubt
When is the Best Time to Take Your Medication?
Omicron Accounts for 59 Percent of New COVID Cases in US
Drugstore COVID-19 Rapid Tests Predict Short-term Infectiousness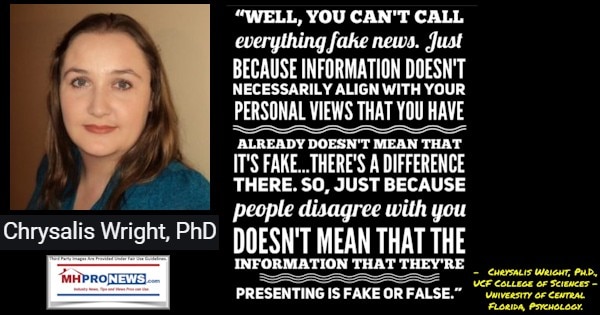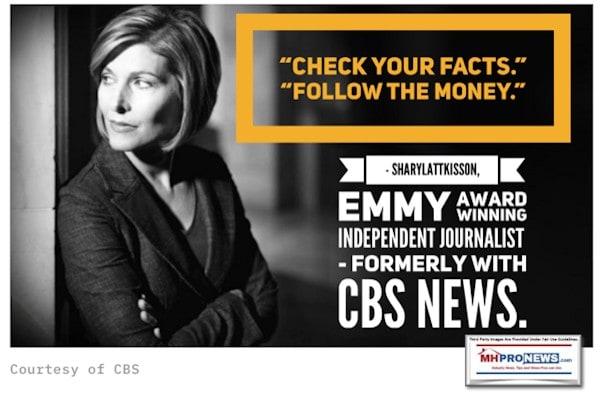 Manufactured Housing Industry Investments Connected Equities Closing Tickers
Some of these firms invest in manufactured housing, or are otherwise connected, but may do other forms of investing or business activities too.
NOTE: The chart below includes the Canadian stock, ECN, which purchased Triad Financial Services, a manufactured home industry lender
NOTE: Drew changed its name and trading symbol at the end of 2016 to Lippert (LCII).
NOTE: Deer Valley was largely taken private, say company insiders in a message to MHProNews on 12.15.2020, but there are still some outstanding shares of  the stock from the days when it was a publicly traded firm.  Thus, there is still periodic activity on DVLY.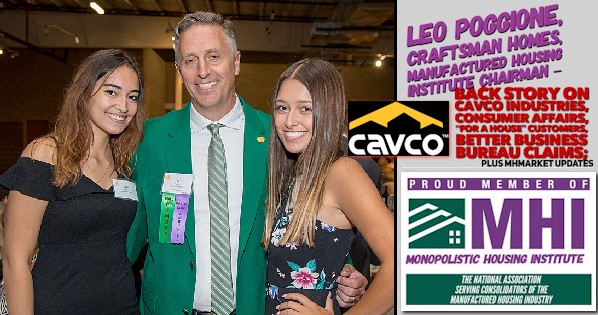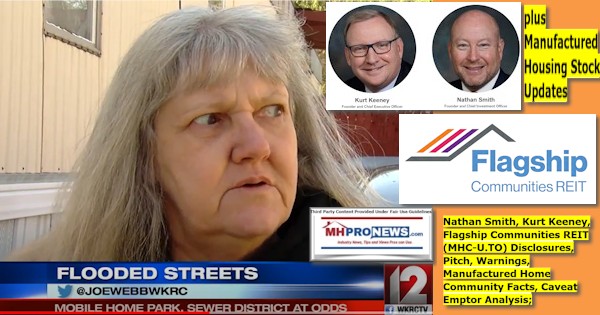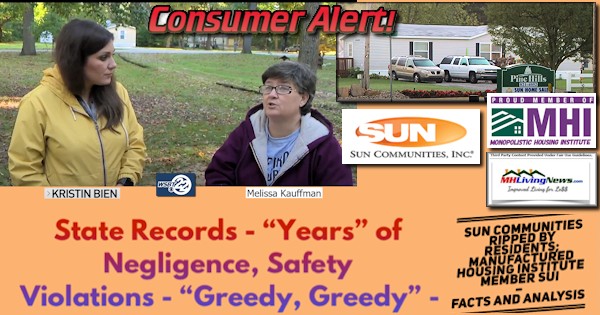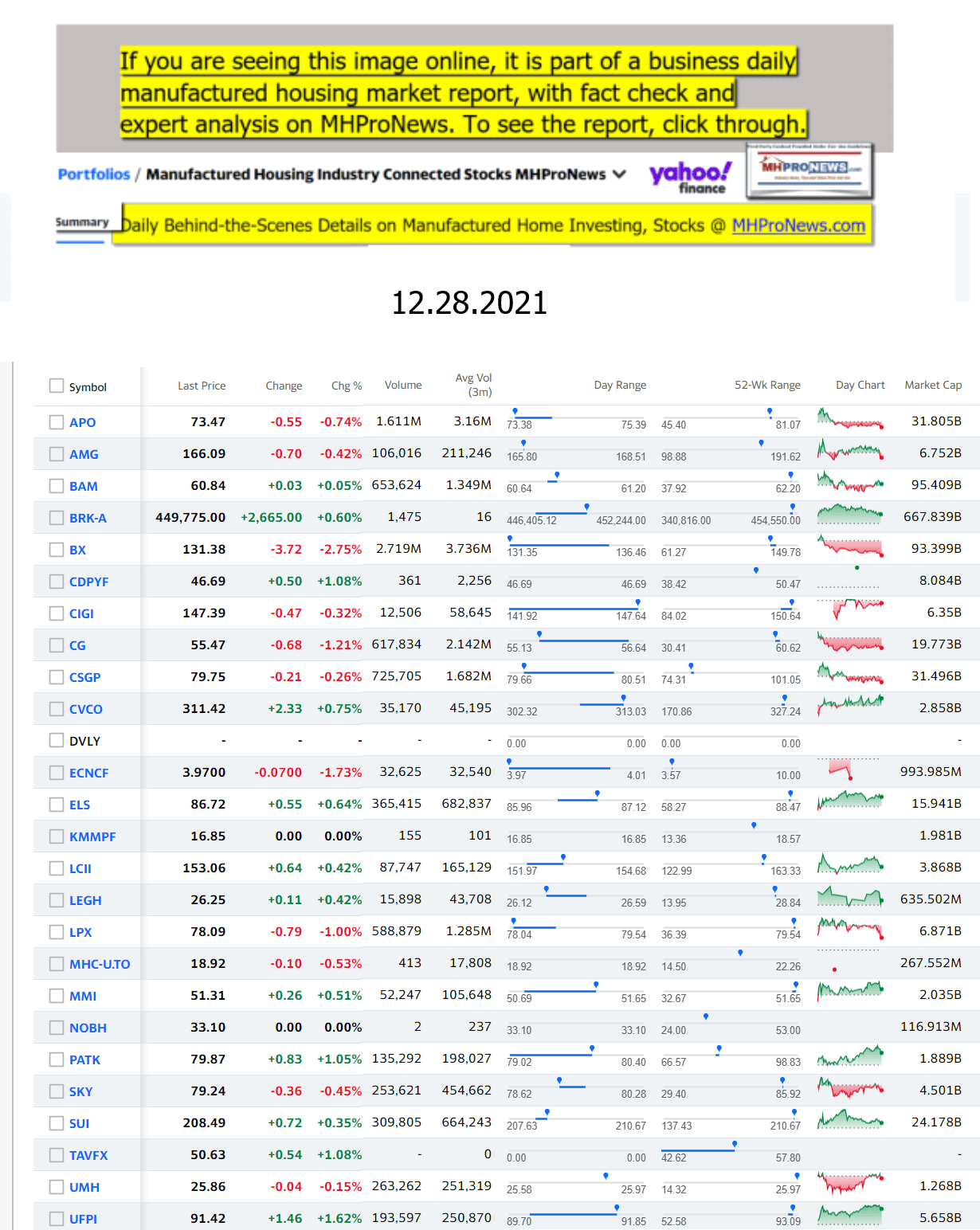 https://www.manufacturedhomepronews.com/steve-lawler-deer-valley-corporation-dvc-otcmkts-dvly-announces-merger-plus-manufactured-home-investing-stock-updates/

https://www.manufacturedhomepronews.com/nobility-homes-financial-position-very-strong-sales-strong-but-challenges-including-lending-and-others-examined-plus-manufactured-housing-stocks-update/

As 2021 draws to a close

…

Berkshire Hathaway is the parent company to Clayton Homes, 21st Mortgage, Vanderbilt Mortgage and other factory built housing industry suppliers.


·

LCI Industries, Patrick, UFPI, and LP each are suppliers to the manufactured housing industry, among others.




·

AMG, CG, and TAVFX have investments in manufactured housing related businesses.

For

insights from third-parties and clients about our publisher

, click here.


Enjoy these 'blast from the past' comments.

MHProNews. MHProNews – previously a.k.a. MHMSM.com – has celebrated our 11th year of publishing, and is starting our 12th year of serving the industry as the runaway most-read trade media.

Sample Kudos over the years…

It is now 11+ years and counting…

Learn more about our evolutionary journey as the industry's leading trade media, at the report linked below.

· For expert manufactured housing business development or other professional services, click here.
· To sign up in seconds for our industry leading emailed headline news updates, click here.

Disclosure. MHProNews holds no positions in the stocks in this report.

https://www.manufacturedhomepronews.com/years-of-state-national-level-manufactured-housing-factual-data-find-your-states-production-shipment-info-here-troubling-manufactured-home-affordable-housing-trends-issues-and-fact-checks/

https://www.manufacturedhomepronews.com/dominating-manufactured-housings-top-50-2020-year-in-review-by-manufactured-home-professionals-news-analysis/

To get our x2 weekly industry-leading emailed news headlines, click here. http://eepurl.com/bl-9t5

We recommend that news tips NOT use company, nonprofit or organizational emails or cell phones. To report a news tip, click the image above or send an email to iReportMHNewsTips@mhmsm.com – To help us spot your message in our volume of email, please put the words NEWS TIP or COMMENTS in the subject line.

That's a wrap on this installment of "News Through the Lens of Manufactured Homes and Factory-Built Housing" © where "We Provide, You Decide." © (Affordable housing, manufactured homes, stock, investing, data, metrics, reports, fact-checks, analysis, and commentary. Third-party images or content are provided under fair use guidelines for media.) (See Related Reports, further below. Text/image boxes often are hot-linked to other reports that can be access by clicking on them.)

All on Capitol Hill were welcoming and interested in manufactured housing related issues. But Congressman Al Green's office was tremendous in their hospitality. Our son's hand is on a package that included a copy of the Constitution of the United States and other goodies. Tamas has grown considerably since this photo was taken. 

By L.A. "Tony" Kovach – for MHProNews.
Tony earned a journalism scholarship along with numerous awards in history. There have been several awards and honors and also recognition in manufactured housing. For example, he earned the prestigious Lottinville Award in history from the University of Oklahoma, where he studied history and business management. He's a managing member and co-founder of LifeStyle Factory Homes, LLC, the parent company to MHProNews, and MHLivingNews.com. This article reflects the LLC's and/or the writer's position and may or may not reflect the views of sponsors or supporters.