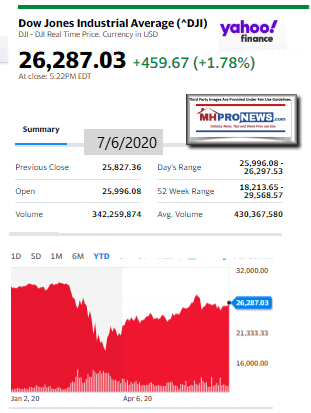 Psychologist Chrysalis Wright, Ph.D. who studies media and reporting has said that even though no one wants to do it, to get a clear snapshot of what is actually occurring on many topics, there is a need to source from more than one media outlet.
MHProNews has taken that stance seriously years before Dr. Wright's quote cited below. As an example, tonight's report will look at reports by CNN Business and Fox Business on the precise same topic. The difference in their reporting is quite noteworthy.
Specifically, despite the insistence of many that there is no question that "climate change" threatens the planet in an existential way, there are scientists, researchers, and experts who question the "climate crisis" data.
But that isn't the specific irony about tonight's featured focus that left-of-center CNN.
When CNN hosted the Democratic debates, climate was a big issue. That pattern often held with other left-of-center media outlets prior to former Vice President Joe Biden surprisingly winning a contest he was manifestly losing before South Carolina's voting.
So why is it that CNN didn't even use the word "climate" in respect to the announced deal between Dominion and Berkshire Hathaway?
Fuel and energy prices are part of the built-in cost of every manufactured home, or for that matter, thousands of other products in America.
As someone reads the contrasting reports that follow in our featured focus, take the time to notice not only what they said, but what each source didn't say. On a day when the markets broadly rose, that will be our featured focus tonight. It will follow this evening's quotable quotes, left-right media headlines, and two of our three market summary graphics. The manufactured home specific connected equities at the closing bell are found beyond the featured focus and related and recent report links.
Quotes That Shed Light – American Social, Industry, National Issues…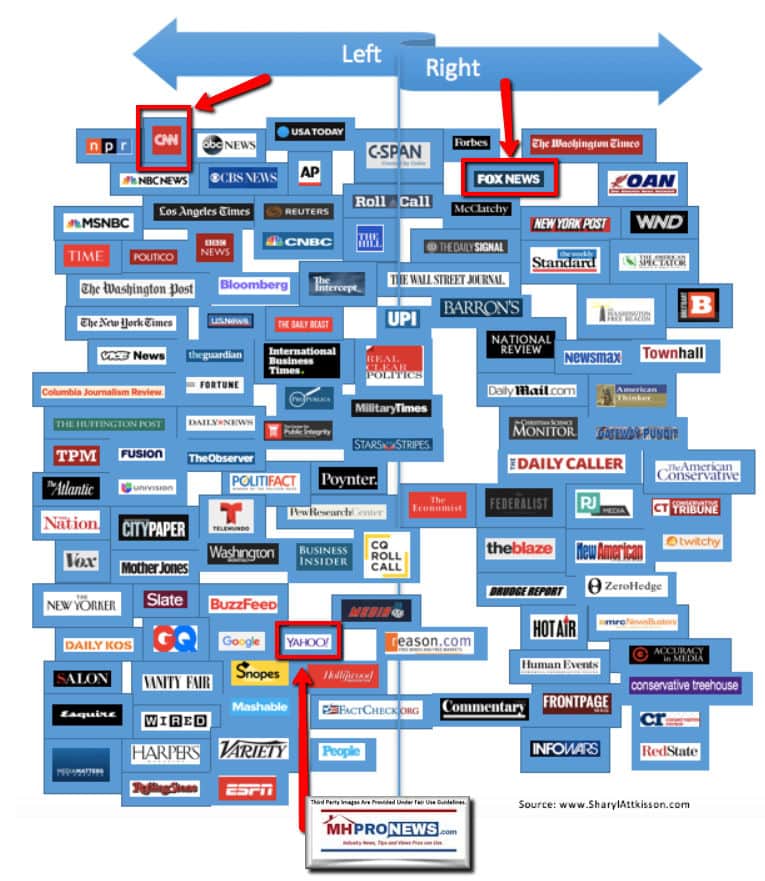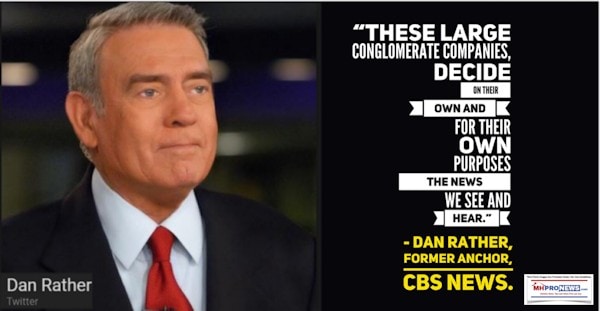 Headlines from left-of-center CNN Business
#BlackoutDay2020
Social media personality and activist Calvin Martyr's call to action for #BlackOutDay2020, the day many Black Americans plan to showcase their combined economic might by refusing to spend any money on anything.
Many Black Americans will signal their economic might Tuesday by refusing to spend any money
Here's a sign Warren Buffett may have gotten his mojo back
Judge orders temporary shutdown of controversial Dakota Access Pipeline
Amazon shares just hit an all-time high
Goldman Sachs thinks the US recovery is running into trouble
INTERACTIVE Numbers you need: Mortgage rates have cratered
The Big 4 audit firms keep failing. Now they're being forced to change
Target pulls Washington Redskins merchandise from its online stores
Who sells short shorts? Elon Musk sells short shorts
Opinion: Doctors, nurses and patients could suffer if Congress doesn't outlaw these contracts
Explosive tell-all book by Trump's niece will be released two weeks early
Fox News says it 'mistakenly' cropped Trump out of photo featuring Jeffrey Epstein and Ghislaine Maxwell
A woman wearing a mask passes the New York Stock Exchange, Tuesday, June 30, 2020, during the coronavirus pandemic.
Nasdaq sets a new record as global stocks rally
Colin Kaepernick looks on during a private NFL workout held at Charles R Drew high school on November 16, 2019 in Riverdale, Georgia. Due to disagreements between Kaepernick and the NFL the location of the workout was abruptly changed.
Colin Kaepernick signs production deal with Disney
1969 Ford Bronco
Ford's new Bronco is aimed squarely at Jeep
MARKETS
FLYING NOW
Passengers are welcomed on a Corendon plane departing from Amsterdam's Schiphol airport to Bulgaria's Burgas airport, on June 26, 2020, on the first holiday flight by the travel company since the novel coronavirus in March.
Middle seats and packed planes are back in the skies
Airlines ban passengers without masks
Delta Air Lines brings back beer and wine on flights
Time could be running out for the 747
United mortgages frequent flyer program to raise $5 billion
JOBS
In this April 21, 2020, photo, a lone person works at the Delta airlines check-in desk at McCarran International airport in Las Vegas. Nevada's governor shuttered the glitzy casinos and nightlife attractions of Las Vegas in mid-March, leaving much of the famous gambling mecca empty.
It's a scary time to be unemployed. These people still chose to get laid off
Japan's job-for-life culture is surviving the pandemic
A wake-up call for the American dream
Unemployment rate won't recover for a decade
The US created 4.8 million jobs in June. But that's not the whole story
Headlines from right-of-center Fox Business
NEWS
Firm linked to Nancy Pelosi's husband receives PPP loan money
Paul Pelosi did not apply for the loan, nor was he aware of it, according to a spokesperson.
June's record-breaking jobs report: What the numbers may have missed
MONEY
Trump admin. reveals coronavirus-hit firms receiving tax-funded PPP loans
How much money companies returned in coronavirus relief loans from PPP
Nasdaq hits record as Amazon crosses $3K and investors look past coronavirus cases
ECONOMY
S. to force out international students taking classes fully online
ECONOMY
$600 unemployment boost dispute: What could take its place?
OPINION
My investment in Parler is an investment in liberty: Strategic investor Jeffrey Wernick
FREAK OUT UNMASKED
LIFESTYLE
Arizona CEO with '$40,000 Rolex' trashes Target face mask display
RISING STAR
NFL
Patrick Mahomes' record $503 million contract details revealed
TRUMP WEIGHS IN
SPORTS
NASCAR's Bubba Wallace responds after Trump calls for apology
NAME SHAME
SPORTS
Trump weighs in on sports teams changing names amid protests
SOCIAL JUSTICE BACKFIRE
RETAIL
Black Lives Matters supporters protest, boycott Whole Foods after controversy
TAKING ON CHINA
CHINA
Facebook, Twitter strike a blow against China in fight over Hong Kong
FLAG ON THE PLAY
NFL
Washington Redskins minority owners want to sell stakes: Report
HOT SPOT
CORONAVIRUS
Florida city greatly restricts businesses after reopening spikes cases
IVY LEAGUE RIP-OFF?
COLLEGE
Top college invites some students to campus for fall — classes will be online
SUPREMES DIAL IN
LEGAL
High court announces ruling on cellphone robocall ban
ANOTHER CRISIS?
HEALTH
China finds suspected bubonic plague
SENIOR HOURS SUNDOWN
RETAIL
Costco to reduce coronavirus senior shopping hours
MARKETS
Biden win 'biggest risk' to Buffett's new deal
LIFESTYLE
Tell-all book by Trump niece to be released next week
LIFESTYLE
Stan Lee's POW! Entertainment, Genius Brands strike joint deal
TESLA
Tesla taunts short-sellers by selling 'short shorts'
RETAIL
Dunkin' to test new bubble tea, summer shandies at select locations
PERSONAL FINANCE
What taxpayers need to know about the July 15 filing deadline
MARKETS
Judge orders Dakota Access pipeline shut down pending review
MONEY
3 reasons you can't count on Social Security alone for retirement
RETAIL
Grocers struggling to hire while workers bank on lucrative unemployment claims
MONEY
No emergency fund? 7 essential steps you must take before it's too late
ENERGY
Pulling the plug on Atlantic Coast Pipeline is 'lost opportunity' for jobs: Energy secretary
MARKETS
Uber takes big bite out of food-delivery market with blockbuster acquisition
MONEY
EU will stand firm against Washington over trade disputes, says commissioner
SPORTS
Redskins' minority owners reportedly looking to sell stakes amid name-change dilemma
CARS
Ford revives Bronco brand, aims at Jeep's big off-road sales
TRAVEL
Airline traveler numbers rise over July 4 weekend
MEDIA
Discover donating $5M to Black-owned restaurants
TRAVEL
Amtrak trims route, additional cuts expected later this year
MARKETS
US service sector rebounds strongly in June
PERSONAL FINANCE
4 reasons you shouldn't fear a tax audit
10 Market Indicator Closing Summaries – Yahoo Finance Closing Tickers on MHProNews…
Featured Focus –
Where Business, Politics and Investing Can Meet
Prior to diving into these various examples of reporting the same deal, let's note that this snapshot is not about the deal per se. Rather, it is how the same deal is reported by various media outlets.
There are several different examples of how this same deal was reported by various media outlets. Note that 3 of the four of the ones that follow are from left-of-center media.
From left-of-center Bloomberg News.
Berkshire Buys Dominion Gas Assets in $9.7 Billion Deal
Jul.05 — Warren Buffett's Berkshire Hathaway has agreed to buy Dominion Energy's natural gas transmission and storage business in a deal with an enterprise value of $9.7 billion. Katherine Chiglinsky reports…

Next, from left-of-center CNN Business. Note that "climate" isn't mentioned, despite the fact that it was a hot issue for CNN during the Democratic debates and for years before and the time since.
Here's a sign Warren Buffett may have gotten his mojo back

New York (CNN Business) Warren Buffett's Berkshire Hathaway finally put some cash to work with its purchase of natural gas assets from Dominion Energy. The deal could spark a broader turnaround for the Oracle of Omaha.
Berkshire Hathaway (BRKB) announced Sunday that it was spending nearly $10 billion on the Dominion (D) acquisition. Although that may sound massive, it's just a tiny fraction of the more than $137 billion in cash that Berkshire Hathaway had on its balance sheet at the end of the first quarter.
In fact, Berkshire is only paying $4 billion in cash for the Dominion assets. Buffett is also taking on nearly $6 billion in debt. So this deal hardly qualifies as the "elephant-sized acquisition" that Buffett has been talking about wanting to do for more than a year now.
The company's last major deal was the purchase of aerospace parts maker Precision Castparts for $37 billion in 2015.
Warren Buffett doesn't need the Fed's help. But he's getting it anyway
Nonetheless, the Dominion acquisition could be a sign that Buffett is finally willing to dip his toes back into the M&A waters. And investors might welcome such a development.
Shares of Berkshire Hathaway rose 2% in early trading Monday. But the stock is down nearly 20% this year — more than the S&P 500's loss of just 2%. Berkshire is lagging the broader market despite the fact that it has a 5.7% stake in Apple (AAPL), which has soared 27% in 2020.
Deal drought but plenty of moves in Buffett's portfolio
Buffett has been much more active buying and selling individual stocks lately than doing deals for entire companies.
Berkshire Hathaway recently slashed its stake in Goldman Sachs (GS) and dumped its positions in airlines Southwest (LUV), American (AAL), United (UAL) and Delta (DAL). But Berkshire has bought shares of Amazon (AMZN), high end furnishings retailer RH (RH) and Kroger (KR) in the past year.
Warren Buffett vows that US will recover from coronavirus
Warren Buffett vows that US will recover from coronavirus
Although Berkshire hasn't pulled the trigger on a gigantic purchase lately, that doesn't mean Buffett has been sitting on the sidelines doing nothing.
Berkshire recently lost a bidding war for software and hardware distributor Tech Data to private equity firm Apollo Global Management (APO) for example.
And Berkshire was approached by jeweler Tiffany earlier this year about doing a deal. But Berkshire turned down the overture and LVMH (LVMHF) wound up buying Tiffany instead.
Berkshire has continued to be fairly active in making deals in the oil patch. The company took a $10 billion stake in Occidental Petroleum (OXY) last year in order to help finance Occidental's takeover bid for rival Anadarko.
Buffett says Bezos has created a 'miracle' with Amazon
The Dominion deal may be yet another sign of the growing clout of Greg Abel, an energy industry veteran who runs Berkshire's non-insurance businesses, at the company.
Abel is one of two executives viewed as likely successors to Buffett, who turns 90 in August, as Berkshire's next CEO. The other is Ajit Jain, the vice chairman who runs the insurance operations.
Abel joined Buffett to take questions at Berkshire's latest annual shareholder meeting in May. That meeting was held virtually due to Covid-19, but Buffett and Abel fielded questions for several hours on stage from an empty CHI Health Center in Omaha."
##
The next is from right-of-center Fox Business. This report points to the 'risk' that might come Berkshire's way if former VP Joe Biden became president. Again, let's stress that this isn't about the analysis per se. Rather, it is the often surprisingly different way that the 'same' deal is reported.
Biden win 'biggest risk' to Buffett's new deal
Biden's policies would likely be anti-natural gas

Has Berkshire Hathaway's Warren Buffett lost his investing magic?
A 2020 presidential election win by former Vice President Joe Biden represents the "biggest risk" to Warren Buffett's latest deal, according to one industry expert.
Buffett's Berkshire Hathway on Sunday announced plans to purchase Dominion Energy's natural gas transmission and storage network for $9.7 billion, including debt. A Biden presidency would likely lead to stricter regulations on the energy industry.
| | | | | |
| --- | --- | --- | --- | --- |
| Ticker | Security | Last | Change | Change % |
| BRK.B | BERKSHIRE HATHAWAY INC. | 182.72 | +3.89 | +2.18% |
| D | DOMINION ENERGY | 73.59 | -9.10 | -11.01% |
"Given all the indications with regard to all the other messages we're seeing from him, it's going to be a soliloquy to the hard left side of the party, which means anti-natural gas," Stephen Schork, founder and editor of the daily oil subscription newsletter The Schork Report, told FOX Business. "That means passing laws."
Biden named Green New Deal proponent Rep. Alexandria Ocasio-Cortez, D-N.Y., to lead his climate task force along with former Secretary of State John Kerry, who signed the Paris climate accord for the U.S.
The Green New Deal calls for "global reductions in greenhouse gas emissions from human sources of 40 to 60 percent from 2010 levels by 2030" and "net-zero global emissions by 2050."
President Trump's policies, which included efforts to increase production on public lands and rolling back regulations, have helped the U.S. become the world's largest oil producer. Trump abandoned the Obama-era Paris deal in June 2017.
Berkshire's deal for Dominion's natural gas assets is "classic Buffett in the sense that it's a best-in-class operator whose valuation is discounted because of macro or exogenous forces," Cathy Seifert, director at New York-based CFRA Research, told FOX Business.
The deal, which includes more than 7,700 miles of natural gas transmission lines and 20.8 billion cubic feet per day of transportation capacity, will help Berkshire increase its scale and presence in the energy space.
Seifert "wouldn't be surprised" to see Berkshire continue to build out its energy business due to the number of distressed sellers in the space.
Eighteen energy companies have filed for bankruptcy so far this year, according to the Dallas-based law firm Haynes and Boone, exacerbated by West Texas Intermediate crude oil prices briefly plunging below zero in April.
While crude oil prices have garnered all the attention, natural gas is the energy component that has suffered through the longest period of difficulty as the space has plenty of production but not enough infrastructure to get all that product to market.
Berkshire's deal is "pretty savvy" in the sense that a lot of the growing pains associated with getting assets out of the ground and into transportation markets have already been incurred, according to Schork.
"Buffett is one of the guys you're going to look to and if he's making this investment, he's telling you it's probably safe to go back into the water," Schork said. "Regardless of the politics of it all."
##
Finally, from Common Dreams, a left-of-center site that is very much into climate issues, this pull quote.

"Duke and Dominion did not decide to cancel the Atlantic Coast Pipeline—the people and frontline organizations that led this fight for years forced them into walking away. Today's victory reinforces that united communities are more powerful than the polluting corporations that put profits over our health and future."
Duke and Dominion's decision to pull the plug on the increasingly costly project came even after the Supreme Court delivered the companies a major victory last month by removing a regulatory hurdle in the way of the $8 billion pipeline…"
##
That quoted portion of the Common Dreams report may be one of the reasons why Buffett let Berkshire made this deal.  They have the money to finish the deal that Duke and Dominion decided not to complete.
MHProNews Observations in Brief
The willingness of many in mainstream media to question Buffett on any topic is at times surprising. While there has been more questioning Buffett's lack of a big "elephant sized deal," they may not understand Buffett as well as they think they do. The roller coaster from COVID19, China, and unrest in the streets is not over. Buffett may well see or know something that others do not, or won't report.
See the related reports for more.
Related and Recent Reports
Arrest, Indictment of Ghislaine Maxwell, Jeffrey Epstein "Madam," Returns Bill Gates–Warren Buffett, Gates Foundation, Donald Trump, Bill Clinton, Others – to Sexual Predator's Spotlight
2019 Year-End Totals Reveals Decline in New HUD Code Manufactured Home Production, Shipments vs. 2018
"We are trained Marxists." – Black Lives Matter (BLM) co-founder Patrisse Cullors, "Deception and Misdirection" – Capital Research Center
"Home Prices May Experience Unsustainable Growth" – AEI Housing Center Director Edward Pinto and Research Director Tobias Peter
'Stop Trump!' Group Supported by Billionaires Soros, Buffett, Gates Vows to Defeat President Trump in 2020
Warren Buffett Declared "Class Warfare," Buffett Says Fellow Billionaires – "We're Winning"
History, Financial Ties-Black Lives Matter, Antifa, Billionaires Warren Buffett, Bill Gates & George Soros–Economic, Political Upheaval Spotlighted by Mary Walter, Tony Kovach on Brian Kilmeade Show
Black Lives Matter-Slavery, Racial History, Economic Inequality, Affordable Home Ownership–White Billionaires Getting Richer
Stocks Feeding Wealthy During Pandemic, Fed Chair Powell Urges Prompt Return to "Tight Labor Market," plus Manufactured Housing Investing, Stock Updates
Dark Money-Billionaires Buffett, Gates, Soros Funding Black Lives Matter, Antifa – Named by AG Barr in Riots, Looting – Hijacking Peaceful George Floyd Death Racial Justice Protests
Fear & Frustration-Constitutionality of Business, Religious Shutdowns, Other Restrictions Challenged, plus Sunday Headlines Review 6.28 to 7.5.2020
Manufactured Housing Industry Investments Connected Closing Equities Tickers
Some of these firms invest in manufactured housing, or are otherwise connected, but may do other forms of investing or business activities too.
NOTE: The chart below includes the Canadian stock, ECN, which purchased Triad Financial Services, a manufactured home industry lender
NOTE: Drew changed its name and trading symbol at the end of 2016 to Lippert (LCII).
Summer 2020…
Berkshire Hathaway is the parent company to Clayton Homes, 21st Mortgage, Vanderbilt Mortgage and other factory built housing industry suppliers.
· LCI Industries, Patrick, UFPI, and LP each are suppliers to the manufactured housing industry, among others.
· AMG, CG, and TAVFX have investments in manufactured housing related businesses. For insights from third-parties and clients about our publisher, click here.
Enjoy these 'blast from the past' comments.
MHProNews. MHProNews – previously a.k.a. MHMSM.com – has celebrated our tenth anniversary and is in year 11 of publishing.
Learn more about our evolutionary journey as the industry's leading trade media, at the report linked below.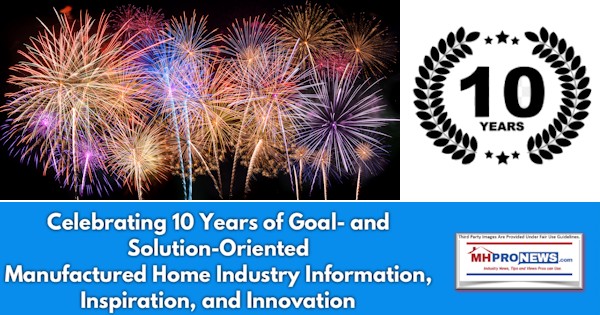 · For expert manufactured housing business development or other professional services, click here.
· To sign up in seconds for our industry leading emailed headline news updates, click here.

Disclosure. MHProNews holds no positions in the stocks in this report.
2019 Year-End Totals Reveals Decline in New HUD Code Manufactured Home Production, Shipments vs. 2018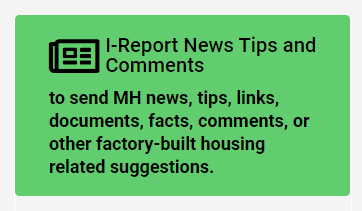 That's a wrap on this installment of "News Through the Lens of Manufactured Homes and Factory-Built Housing" © where "We Provide, You Decide." © (Affordable housing, manufactured homes, stock, investing, data, metrics, reports, fact-checks, analysis, and commentary. Third-party images or content are provided under fair use guidelines for media.) (See Related Reports, further below. Text/image boxes often are hot-linked to other reports that can be access by clicking on them.)
By L.A. "Tony" Kovach – for MHLivingNews.com.
Tony earned a journalism scholarship and earned numerous awards in history and in manufactured housing. For example, he earned the prestigious Lottinville Award in history from the University of Oklahoma, where he studied history and business management. He's a managing member and co-founder of LifeStyle Factory Homes, LLC, the parent company to MHProNews, and MHLivingNews.com. This article reflects the LLC's and/or the writer's position, and may or may not reflect the views of sponsors or supporters.