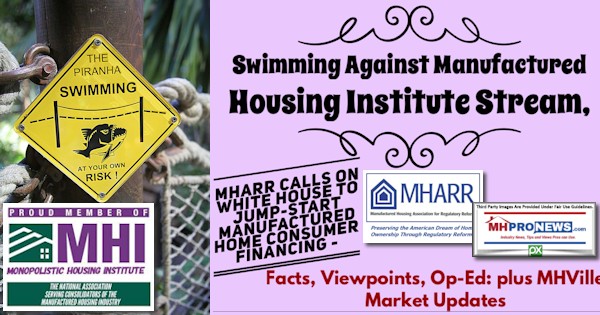 The distinctions – good, bad, meh, and sometimes ugly – between the Manufactured Housing Institute (MHI) and the Manufactured Housing Association for Regulatory Reform (MHARR) were on display during and after the 4.20.2022 "White House Listening Session" on manufactured home lending. For example. While MHARR is notably smaller than MHI, it was prepared to send its statement out shortly after the meeting wrapped up. MHARR makes their statement available not only to MHProNews, but also to other publishers beyond MHProNews, but also bloggers too. Not so, in the case of MHI. MHI tries to strictly control their message, and has for years, and so if a publication – such as MHProNews or MHLivingNews – questions them publicly, the evidence-based case can be made that MHI will quietly 'blacklist' them. It seemingly doesn't matter to them that this contradicts claims by their own outside attorney that they want all viewpoints. It is a demonstrably ludicrous claim on behalf of MHI on its face, given documents in hand, several of which MHProNews has published that demonstrate quite the opposite. MHI and their leaders apparently fear authentic engagement. That too was on display yesterday, an example of which will be shown further below, but will be more fully addressed in a planned follow up.
That follow up will include an outreach to several of those who participated in yesterday's Zoom call with the White House, numbers of other federal officials, plus industry professionals who outside of MHARR and this writer for MHProNews, were routinely dominated by firms and organization that have ties to MHI.
How various federal officials and individual presenters will respond will be aspects reflected in the planned follow up report. The MHProNews initial perspective will be provided following the MHARR release and their listening session statement provided to the White House, which are immediately below.

MHARR CALLS ON WHITE HOUSE TO JUMP-START
MANUFACTURED HOME CONSUMER FINANCING
Washington, D.C., April 21, 2022 – In written comments (copy attached) and verbal testimony presented on April 20, 2022 to a "Listening Session" of the White House Manufactured Housing Task Force, the Manufactured Housing Association for Regulatory Reform (MHARR) has called on the Biden Administration to jump-start the process to provide federal government support for the personal property consumer loans which help lower and moderate income Americans gain access to the inherently affordable homeownership offered by today's modern manufactured homes.
Also known as "chattel" financing, personal property loans, according to U.S. Census Bureau data, are used by American consumers to finance nearly 80% of all manufactured home purchases. And while federal support for personal property manufactured home purchase loans is mandated by federal law, including the Duty to Serve Underserved Markets (DTS) for private sector support through the federally-backed mortgage giants Fannie Mae and Freddie Mac, and the Federal Housing Administration's Title I manufactured housing program for public sector support, the reality is that virtually no such support for chattel loans has been forthcoming for more than a decade. This, in turn, has exacerbated an affordable housing crisis in the United States, with a severe and growing shortfall in the availability of affordable homes numbering in the millions.
In its comments, MHARR calls on the Federal Housing Finance Agency (FHFA) as the federal regulator of Fannie Mae and Freddie Mac, to finally compel the two mortgage giants to fully comply with federal law by providing "market-significant" support for the manufactured housing personal property financing market, and for FHA and the Government National Mortgage Association (Ginnie Mae) to drop the infamous "10-10" qualifying rule for approved manufactured home chattel loan issuers, which has reduced once-impactful Title I lending to negligible levels.
With these indefensible, long-term finance-related policy failures now on the White House's radar screen, it is essential that the Biden Administration and industry as a whole take specific, concrete action to seek and ensure their successful resolution for the benefit of all Americans seeking access to today's modern, affordable manufactured housing.
The Manufactured Housing Association for Regulatory Reform is a Washington, D.C.-based national trade association representing the views and interests of independent producers of federally-regulated manufactured housing.
— 30 —
Manufactured Housing Association for Regulatory Reform (MHARR)
1331 Pennsylvania Ave N.W., Suite 512
Washington D.C. 20004
Phone: 202/783-4087
Fax: 202/783-4075
Email: MHARR@MHARRPUBLICATIONS.COM
Website: manufacturedhousingassociation.org
##
As noted, MHARR informed MHProNews that they submitted the following written comments to the White House in advance of their remarks.

April 18, 2022
VIA ELECTRONIC SUBMISSION
White House Council on Environmental Quality
Manufactured Housing Task Force
The White House
1600 Pennsylvania Avenue, N.W.
Washington, D.C. 20500
Re: Manufactured Housing Task Force – Listening Session One Comments
Dear Sir or Madam:
The following comments are submitted on behalf of the Manufactured Housing Association for Regulatory Reform (MHARR). MHARR is a Washington, D.C.-based national trade organization representing the views and interests of producers of manufactured housing subject to federal regulation by the U.S. Department of Housing and Urban Development (HUD) pursuant to the National Manufactured Housing Construction and Safety Standards Act of 1974 (1974 Act) as amended by the Manufactured Housing Improvement Act of 2000 (2000 reform law) (42 U.S.C. 5401, et seq.), and the U.S. Department of Energy (DOE) pursuant to section 413 of the Energy Independence and Security Act of 2007 (42 U.S.C. 17071). MHARR was founded in 1985. Its members include producers of manufactured housing located in all regions of the United States.
As a national representative of federally-regulated manufactured housing producers, MHARR has been invited to participate in forthcoming listening sessions being conducted by the federal Manufactured Housing Task Force (Task Force) established by the White House Council on Environmental Quality (CEQ). As enunciated in that invitation, the Task Force is currently slated to address, with both stakeholders and relevant federal agencies, four critical issue areas affecting both the manufactured housing market and the availability and utilization of manufactured housing as a source of inherently-affordable housing and homeownership for lower and moderate-income Americans. These matters include:
The state of manufactured housing finance options and opportunities to enhance the lending market;
Homebuyer counseling, consumer awareness and protections;
The role of state and local governments to enhance the availability of manufactured housing as an affordable housing option; and
The potential role for Community Development Finance Institutions, credit unions, and other mission-driven lenders to participate in the [manufactured housing] market.
At the outset, MHARR and its members wish to express their appreciation and gratitude to President Biden, Vice President Harris, CEQ and the Biden Administration more broadly, for their focus on – and commitment to – increasing the availability and utilization of inherently affordable, non-subsidized manufactured housing, and for ensuring the inclusion of MHARR, its members, and the smaller businesses which constitute the traditional core of the manufactured housing industry, in the important work of the CEQ Task Force.
Given the status of manufactured housing as the only segment of the housing industry to be regulated comprehensively at the federal level, the CEQ Task Force is uniquely positioned and has the unparalleled opportunity to both address and – more importantly – affirmatively rectify and remedy the matters assigned to it, involving baseless and discriminatory impediments, restrictions and limitations that have constrained and suppressed the manufactured housing market while, at the same time, needlessly excluding millions of Americans from the manifold benefits of homeownership. The one and only meaningful measure of success for the Task Force, accordingly, will not be in merely providing a forum for the discussion, debate and consideration of these issues, but in providing and ensuring concrete, productive solutions that will unleash the full economic vibrancy and potential of the industry to help solve the nation's affordable housing crisis. Put differently, it is time for concrete action at the federal level to help manufactured housing help America, by reaching its full and unbounded potential as an affordable housing resource for millions of new homeowners.
MHARR, particularly over the past decade-plus, has written extensively about the regulatory and policy-based impediments that have needlessly restricted the growth and evolution of the mainstream manufactured housing market, while the nation's housing deficit, reported by Freddie Mac at the end of 2020 to be approximately 3.8 million homes — with an even more severe shortfall in the availability of affordable "starter homes" — has only intensified.[1] While these obstacles are not the only impediments faced by the industry and by consumers of affordable manufactured housing, they are both economically significant and endemic as demonstrated by the findings of a May 2021 study by the Consumer Financial Protection Bureau (CFPB).[2] These key obstacles – all affecting and impacting the industry's post-production sector – are:
The total absence of federal support for the manufactured home personal property (chattel) lending market, notwithstanding the "Duty to Serve" (DTS) directive of the Housing and Economic Recovery Act of 2008 (HERA), resulting in higher-than-market-competitive interest rates on the consumer loans which support nearly 80% of the manufactured housing market;
Discriminatory and exclusionary zoning which prevents the placement of affordable manufactured homes in many jurisdictions and communities, including areas where affordable housing is most critically needed; and
Impending federal energy standards, which are unnecessary and unnecessarily costly, and will needlessly exclude millions more Americans from the manufactured housing market.
Given the focus of the initial Task Force listening session on the availability of manufactured home purchase money financing and, more specifically, on the availability of personal property financing, MHARR will address that issue briefly in these comments. It will similarly address each of the foregoing critical issues in future submissions. MHARR would note, however, that it has previously provided more extensive comments and related documentation regarding the availability of manufactured home consumer financing to the Federal Housing Finance Agency (FHFA) and Congress. MHARR stands ready to provide those additional materials to the Task Force upon request and to provide such other and further documents and information as may be helpful to the Task Force and its important mission.
CEQ has indicated that the Task Force's initial listening session will focus on "the current state of the chattel lending market, including options for enhancing … affordability, consumer protections, and chattel lending market reforms…." This concentration on consumer financing, and personal property financing, in particular, is entirely appropriate and fully supported by MHARR. Data compiled by the U.S. Census Bureau shows that homes financed with personal property loans (i.e., loans secured by the home structure itself, exclusive of land) comprise nearly 80% of the total manufactured housing market. This figure, moreover, has remained essentially constant over at least the past decade. And, because such loans pertain only to the home structure itself, and are not used to finance acquisition of the land upon which the home is placed, personal property loans typically relate to purchases of the industry's most affordable homes. Accordingly, the availability and affordability of manufactured home chattel loans is crucial to the success and growth of the industry and its ability to provide affordable homeownership for the largest possible cross-section of Americans.
Taking the same analysis one step further, the personal property loans which are used to finance purchases of the industry's most affordable homes are also typically utilized by qualified but lower-income borrowers. Within this group of lower-income borrowers, CFPB found that "Hispanic, Black and African American, American Indian … Alaska Native and elderly borrowers are more likely than other consumers to take out chattel loans."[3](Emphasis added). Consequently, the availability of personal property financing for potential manufactured home purchasers is not just a housing and economic fairness issue, but a racial equity issue as well, within the scope of President Biden's January 26, 2021 "Memorandum on Redressing Our Nation's and the Federal Government's History of Discriminatory Housing Practices and Policies."
In 2008, Congress acted to force the two Government Sponsored Enterprises (GSEs/Enterprises), Fannie Mae and Freddie Mac, to finally begin serving the mainstream manufactured housing market. The DTS mandate, included by Congress in landmark legislation designed to address and remedy the nation's housing and mortgage credit crisis, directs Fannie Mae and Freddie Mac to finally begin serving three statutorily-designated historically underserved housing markets, including manufactured housing. Then-Financial Services Committee Chairman Barney Frank (D-MA), moreover, was careful to incorporate within the DTS mandate direct authorization for the support of manufactured home chattel loans.
In the 15 years that have passed since the adoption of the DTS mandate, however, not a single manufactured home personal property loan has been purchased or securitized by either Fannie Mae or Freddie Mac. The initial DTS plans submitted by the Enterprises to FHFA excluded any program for the support of such loans, as has every DTS plan revision submitted by Fannie Mae and Freddie Mac in the subsequent four years. Each such plan, though, was expressly approved by FHFA as supposedly being consistent with the DTS mandate. More recently, the second set of DTS plans submitted by Fannie Mae and Freddie Mac continued to exclude any type of support for manufactured housing personal property loans. While those second proposed plans have not been accepted by the Enterprises' federal regulator, FHFA, it is unclear whether FHFA will require or enforce the mandatory inclusion of manufactured home chattel loans in the Enterprises' final revised Second DTS plans.
The failure by Fannie Mae and Freddie Mac to implement DTS – at all – with respect to the personal property loans which constitute the vast bulk of the manufactured home consumer lending market, has allowed a small number of lenders to dominate that market, as documented by CFPB.[4] This, in turn, effectively forces manufactured housing consumers to pay significantly higher interest rates than would prevail in a fully competitive market with the benefit of market-significant DTS-based support from Fannie Mae and Freddie Mac. At the same time, these higher-than-necessary rates needlessly exclude lower-income borrowers from the manufactured housing market, suppressing the availability and utilization of affordable manufactured housing to the detriment of both the industry and American consumers of affordable housing. Meanwhile, with respect to realty-based manufactured home mortgages, both Fannie and Freddie have sought to manipulate DTS to mandate more costly home features that unnecessarily increase the purchase price of manufactured homes and again, needlessly exclude otherwise qualified, lower-income purchasers from the market, directly contrary to the purposes of DTS and the Charter obligations of the Enterprises.
Consequently, there has been — and continues to be – no DTS support for the nearly 80% of the mainstream manufactured housing consumer financing market comprised of personal property loans. This glaring failure on the part of Fannie Mae, Freddie Mac and their regulator, FHFA, to comply with and enforce directly applicable, mandatory law is both unconscionable and unacceptable, and continues to significantly harm lower and moderate-income Americans. The White House, accordingly, should ensure that FHFA takes immediate steps to fully enforce the DTS mandate with respect to manufactured housing and require Fannie Mae and Freddie Mac to immediately institute market-significant programs pursuant to DTS for the securitization and secondary market support of manufactured home personal property loans, as well as manufactured home real estate mortgages without costly and excessive mandates.
Quite simply, fifteen years of excuses and delays in the face of a direct and explicit congressional DTS mandate are indefensible and must come to an end.
Similarly, the role of the Federal Housing Administration (FHA) within the manufactured housing consumer financing market, must be restored.  Historically, FHA-insured loans within the Title I manufactured housing program were a significant source of consumer access to the manufactured housing personal property market. With the adoption of the "10-10" rule by Ginnie Mae more than a decade ago, however, requiring approved Title I providers to have a minimum adjusted net worth of $10 million and to maintain funds equal to ten percent of all manufactured housing mortgage-backed securities outstanding (along with other additional requirements), the pool of active and approved providers has shriveled to insignificance, as have the number of Title I originations. Thus, a once-important source of funding for manufactured home purchases on a nationwide basis, has virtually disappeared, arguably as a matter of fiat. Combined with the failure and refusal of Fannie Mae and Freddie Mac to implement DTS in any meaningful manner, particularly for manufactured housing chattel loans, this effectively means that lower and moderate-income Americans seeking access to affordable, modern manufactured housing, have been shut out of the market for both privately and federally-insured/securitized home loans, with devastating results for both the industry and consumers.
Again, this more than decade-long failure must be corrected in order to assure the availability of the millions of inherently affordable manufactured homes that America needs.
MHARR again wishes to thank CEQ, the White House and President Biden for convening the Manufactured Housing Task Force and its listening sessions, and stands willing to work with all relevant federal entities to help enhance the supply, availability, and utilization of modern, affordable federally regulated manufactured housing, by and for all Americans.
Sincerely,
Mark Weiss
President and CEO
cc:  Hon. Joseph R. Biden
Hon. Marcia Fudge
Hon. Jennifer Granholm
Hon. Sandra Thompson
Federal Manufactured Housing Task Force Members
HUD Code Manufactured Housing Industry Members
Footnotes:
[1] See, Freddie Mac, "Perspectives Research: The Significant Shortage of Starter Homes," S. Khater (April 15, 2021).
[2] See, Consumer Financial Protection Bureau, "Manufactured Housing Finance: New Insights from the Home Mortgage Disclosure Act Data," (May 2021) (CFPB Report).
[3] See, CFPB Report, supra at p. 5
[4] See, CFPB Report, supra at p. 44.
##
Additional Information, More MHProNews Initial Analysis and Commentary in Brief
At its peak, about 62 total participants were reported by the WH's government Zoom account to be on the call. Beyond the White House, DOE, HUD, CFPB, FHFA, and possibly other federal agencies were online, plus several nonprofits, and some MHI member lenders and staff.
Without naming names, Todd Kopstein, listed as the CEO of Cascade Financial Services on his LinkedIn profile, drew a distinction between his manufactured home lending firm and two others.
The one unnamed by Kopstein by wryly referenced by its sheer size was Berkshire Hathaway (BRK) and its manufactured housing lending units.
The other was Triad Financial Services, which in recent years became part of publicly traded ECN Capital.
Kopstein said there is an "appetite" by some investors in manufactured housing lending. But he obliquely noted that Berkshire's and Triad's business models would not be easy to replicate.
True enough.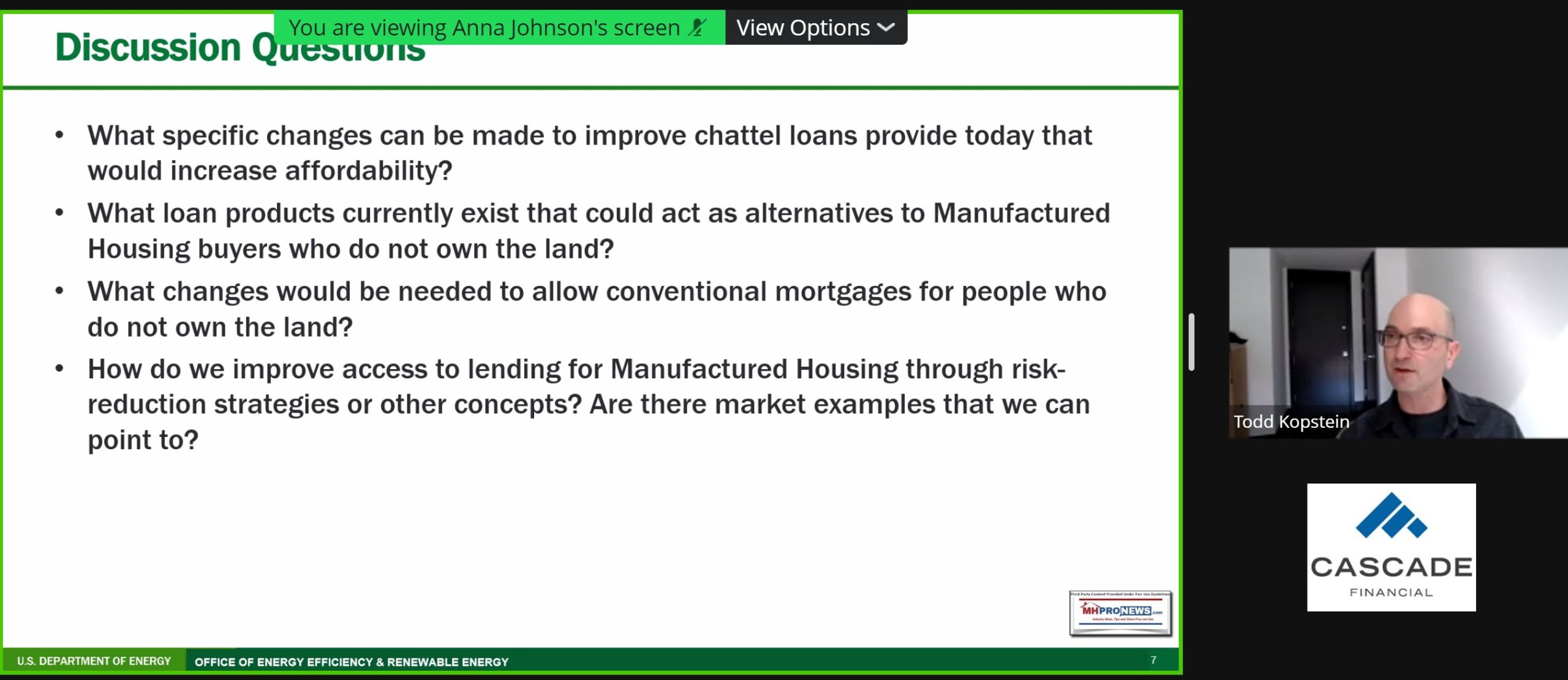 Several questions were posed by MHProNews to MHI and the group during the call. MHI's CEO Lesli Gooch and Clayton Homes General Counsel Tom Hodges, J.D., were both among the presenters. They declined to address the concerns raised.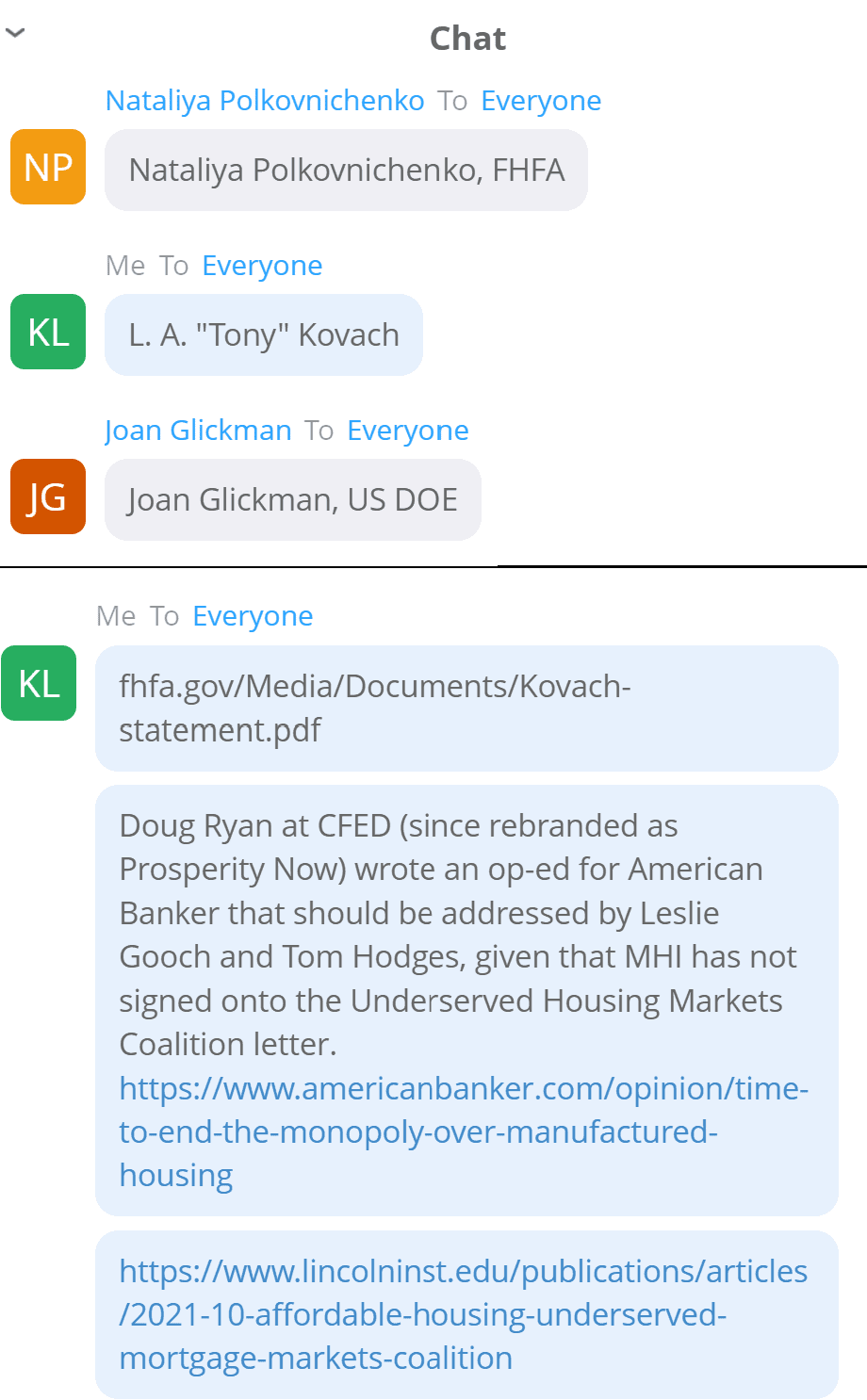 To the uninformed or underinformed, the White House Listening Session may have seemed like a genuine effort on the part of all involved. Indeed, some may well have been quite sincere.
On paper, while the phrasing was distinctive, MHI's Gooch seemed to make a similar claim that MHARR has above in this sense. Superficially, both MHARR and MHI appear to want more competitive lending for mainstream HUD Code manufactured homes.
But the fact that both MHI and MHARR – superficially – concur that existing laws are not being properly enforced begs several questions. Why hasn't MHI sued to get existing laws enforced? MHARR has offered to do so on various occasions. Why has MHI ducked that point time and again?
Cheap talk is like a cheap suit. Both may provide some cover. But after a time, cheap talk may be revealed as being both cheap and just hot air.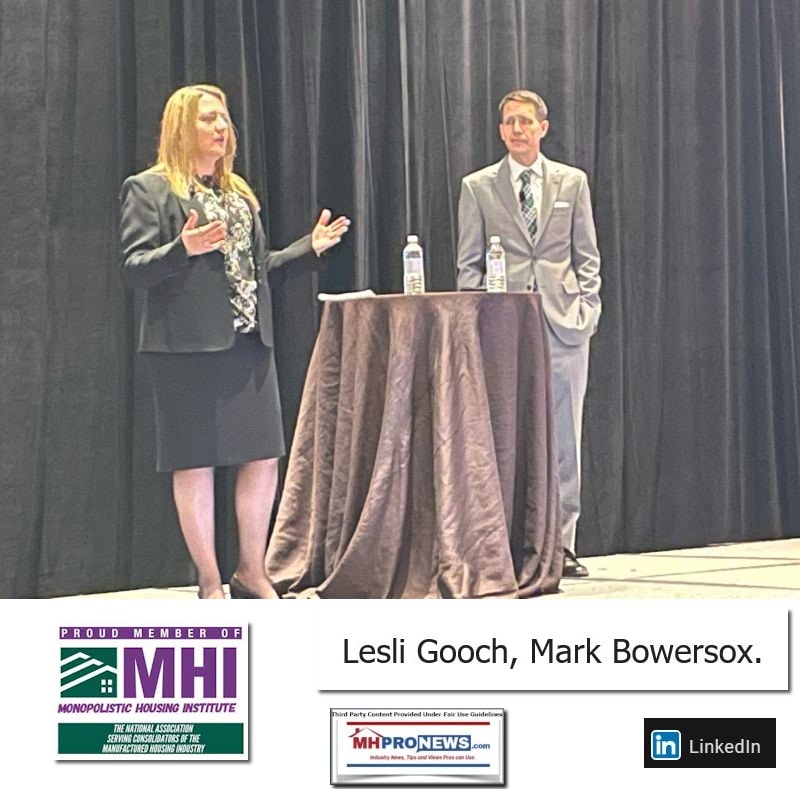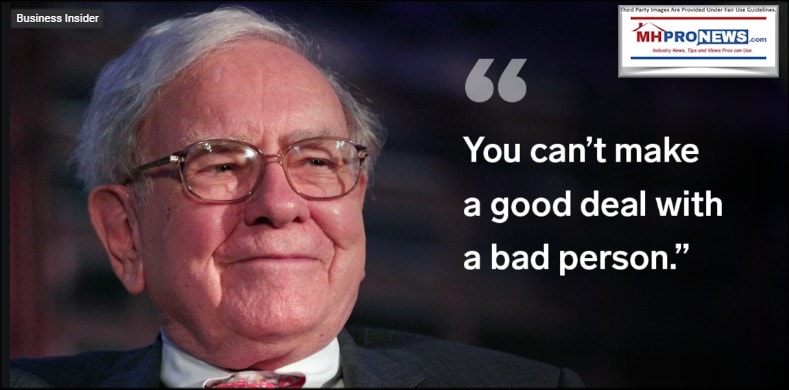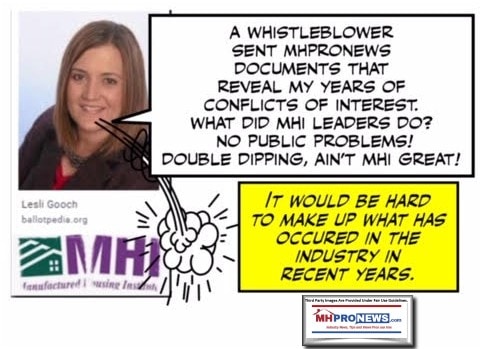 On the Biden-Harris 2020 campaign website there were promises made of transparency by public officials during his administration. Those will be tested and reported in the days ahead in a series of planned follow up inquires.
MHProNews will provide additional related information in a follow up report planned for the near term, possibly by next week. Stay tuned. That noted, the burden of proof is on the Biden Administration. They have laws that they are supposed to enforce. If they are sincere, then the tools to boost affordable manufactured home production are as close at hand as four words. Enforce existing federal laws.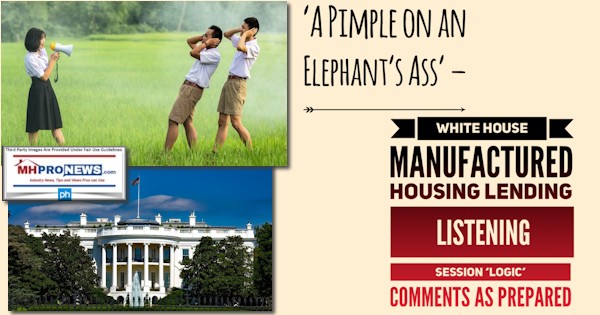 See the related reports for more.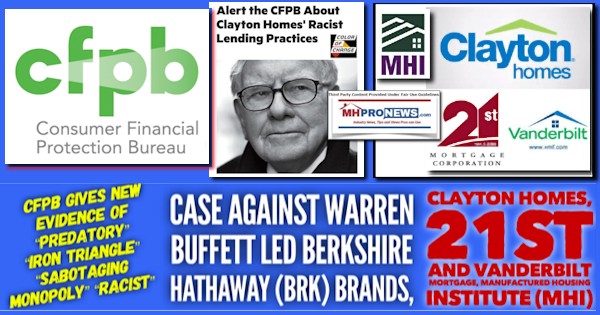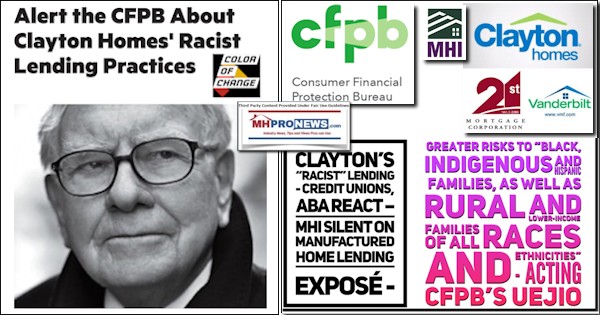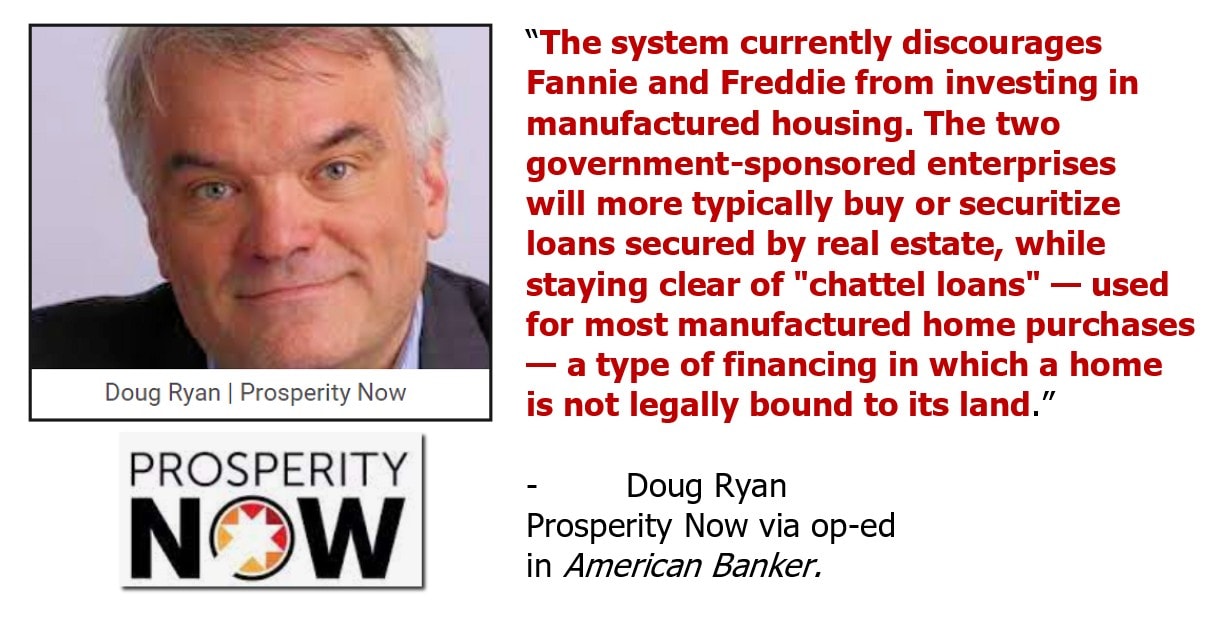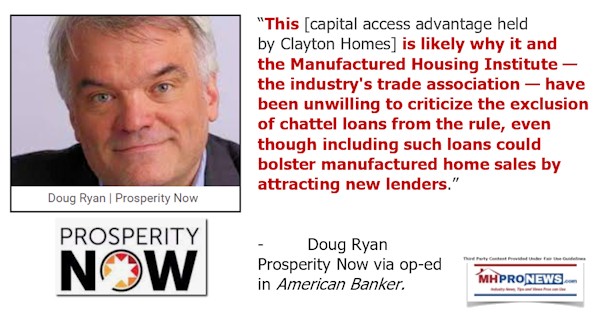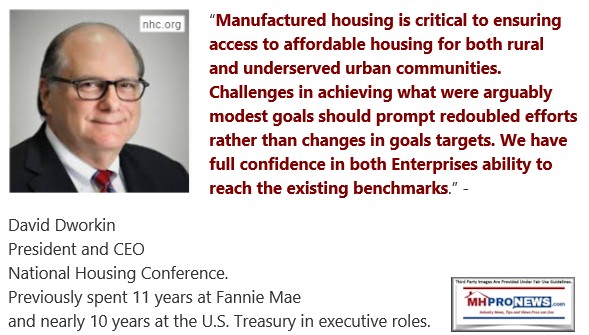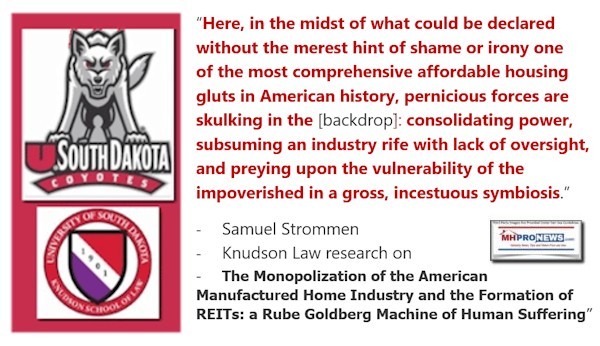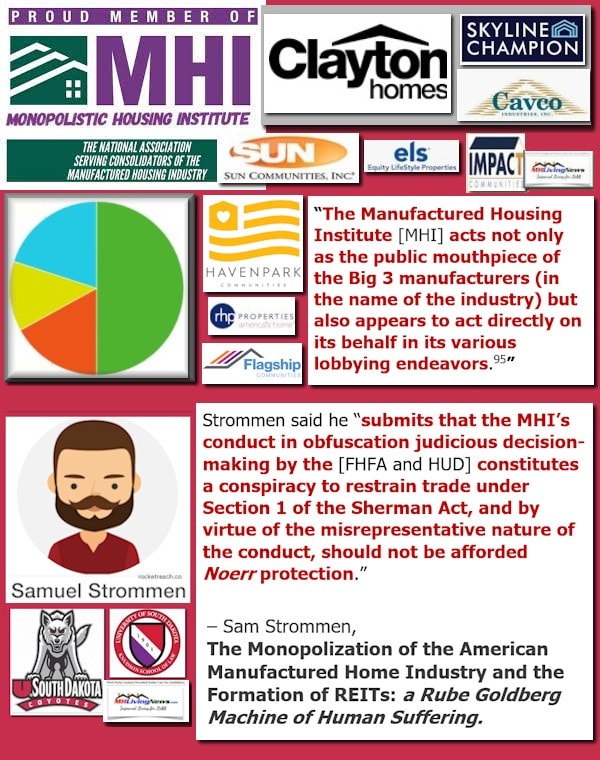 Sandy Garrett, J.D., Chief Disciplinary Counsel TBPR.org Supreme Court of Tennessee-Tom Hodges, J.D.; How Manufactured Housing Could Achieve Higher Sales, Profits; Sunday Weekly Headlines Recap
Next up is our daily business news recap of yesterday evening's market report, related left-right headlines, and manufactured housing connected equities.
The Business Daily Manufactured Home Industry Connected Stock Market Updates.  Plus, Market Moving Left leaning CNN and Right-leaning (Newsmax) Headlines Snapshot. While the layout of this daily business report has been evolving over time, several elements of the basic concepts used previously are still the same. For instance. The headlines that follow below can be reviewed at a glance to save time while providing insights across the left-right media divide. Additionally, those headlines often provide clues as to possible 'market-moving' news items.
Market Indicator Closing Summaries – Yahoo Finance Closing Tickers on MHProNews…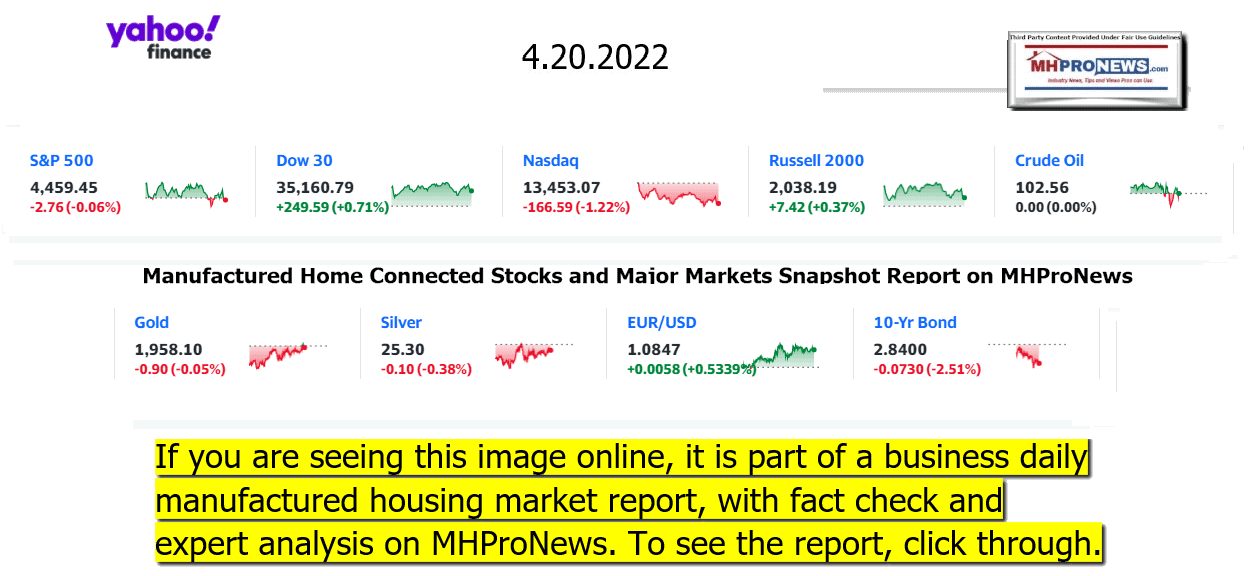 Headlines from left-of-center CNN Business – from the evening of 4.20.2022
Things are getting strange
Netflix's world has been turned upside down as stock plunges 35%
Russian billionaire Oleg Tinkov blasts Putin's 'insane war' in Ukraine
Home prices hit another record high in March
The magic is gone for Disney investors
Here's what to look for in Tesla's earnings
Netflix loses $50 billion in value as subscriber numbers drop
Tesla shareholders try to get Elon Musk to just stop
US lawmakers are warming up to the cannabis industry
These states have the most dramatic post-pandemic employment gains
This controversial rule is ruining Hong Kong's status as an aviation hub
Before he killed himself, 'he had to post on social media.' Why this mom is suing Facebook
Amtrak dumps its nice guy persona in fight for Gulf Coast trains
Volkswagen is coming for Tesla. Here's how it plans to dominate the US market
Texas judge delays Sandy Hook trial after Alex Jones' companies filed for bankruptcy protection
The do's and don't's of the modern resume
HOUSTON, TEXAS – APRIL 19: In this photo illustration, the Netflix app is shown on a mobile phone on April 19, 2022 in Houston, Texas. The company Netflix is expected to report its first-quarter earnings after the close of trading later today. The report will be for the fiscal Quarter ending March 2022.
Netflix's collapse is a warning sign for stocks
BMW reveals its new $120,000 electric flagship
Airline passengers, some not wearing face masks following the end of Covid-19 public transportation rules, sit during a American Airlines flight operated by SkyWest Airlines from Los Angeles International Airport (LAX) in California to Denver, Colorado on April 19, 2022. Mask mandates on public transportation are no longer in effect following a ruling by federal judge on April 18, 2022.
Opinion: Get ready for crowded planes and higher fares this summer
SUCCESS
Man with mobile phone and laptop in office
5 savings mistakes people make when building their financial life
The secrets to managing money as a couple
The job hunt can be exhausting. Here's how to cope
How to take advantage of rising interest rates
How to protect your personal finances when you launch a business
LABOR
NEW YORK, NY – JANUARY 3: People shop in an Apple retail store in Grand Central Terminal, January 3, 2019 in New York City. U.S. stocks dropped again on Thursday after Apple warned that its first-quarter sales would be less than expected.
Employees at a New York Apple store are trying to unionize
Fatigue is starting to put safety at risk, pilots say
Amazon files appeal of union vote at NYC warehouse
House committee probes labor practices at Amazon
Amazon and Starbucks union votes are small wins — but important ones — for US labor
Headlines from right-of-center Newsmax 4.20.2022
Russia Tests Nuclear-Capable Missile: 'Food for Thought' for Foes, Says Putin
"This truly unique weapon will strengthen the combat potential of our armed forces, reliably ensure Russia's security from external threats and provide food for thought for those who, in the heat of frenzied aggressive rhetoric, try to threaten our country," said Russian President Vladimir Putin. Moscow's aim, to put nations arrayed against it on notice as the Russian invasion of Ukraine enters its third month. [Full Story]
Russian Invasion of Ukraine
Yellen, Others Walk Out of G20 Meeting as Russians Speak
Pentagon Downplays Russian Nuke Missile Test
Russia Tests Nuclear-Capable Missile: 'Food for Thought' for Foes, Says Putin
Germany to Stop Russian Oil Imports by Year End
New US Sanctions Target Russian Bank, Oligarchs, Crypto Miner
Report: Nearly Half of Russia's Mercenaries Killed
Some Kremlin Critics Question Ukraine War Amid Heavy Losses
Russia's Chernobyl Seizure Seen as Nuclear Risk 'Nightmare'
Russia Closes In on Ukraine's Besieged Mariupol
Russia Presses Attack in the East
Poland Could Be Putin's Next Target: Here's Why platinum
Japan Revokes Russia's 'Most Favored Nation' Status
More Russian Invasion of Ukraine
Newsmax TV
Mark McCloskey: Disrespect for Police Spiking Nation's Crime Rates | video
Texas AG Paxton: Biden WH 'In Business' With Cartels | video
Donalds: CDC Never Gave Reasons to Keep Airline Masks | video
Ukraine MP Rudik: Too Much Delay on US Heavy Weapons | video
Diaz-Balart: CDC Overstepped on Flight Mask Mandates | video
Meriwether: Wouldn't 'Endorse' Trans Ideology | video
Trump Adviser: Biden Handling of Iran Deal 'Absurd' | video
More Newsmax TV
Newsfront
Congress Must Act If It Wants to Extend Title 42 Immigration Measure: WH
Congress will have to act if it wants to extend a sweeping, pandemic-related expulsion policy known as Title 42 that has effectively closed down the U.S. asylum system, the White House said on Wednesday."Right now we are planning and preparing for the end of Title 42…… [Full Story]
DeSantis to Campaign For Nevada Senate Hopeful Laxalt at Las Vegas Rally
Florida Gov. Ron DeSantis plans to attend the "Rise Up" rally in Las [Full Story]
Florida Contradicts HHS: Minors Should't Be Permitted Any Gender-Affirming Care
Those under 18 years of age should not be allowed to receive any form [Full Story]
Young Voters Flee Biden, Could Signal 'Lights Out' for Democrats
Pollsters and political insiders have been scratching their heads [Full Story] | Platinum Article
DOJ Charges 21 People With $150M in COVID Fraud
Twenty-one people have been charged in the past nine days as part of [Full Story]
Newsmax to Host Town Hall With JD Vance, Renacci in Ohio
Newsmax will broadcast two Ohio Republican town hall events on [Full Story]
AP Sources: Administration to Replace Acting ATF Director
The Biden administration is removing the acting director of the [Full Story]
CIA Expert on Nuclear War Warns of Biden Policies
Peter Pry was the CIA's leading expert on nuclear war [Full Story]
Poland Could Be Putin's Next Target: Here's Why
If Russian President Vladimir Putin's goal of creating a new world [Full Story] | Platinum Article
Yellen, Others Walk Out of G20 Meeting as Russians Speak
Top finance officials from Britain, the United States and Canada [Full Story]
Greene Appeals Ruling Allowing Eligibility Challenge
S. Rep. Marjorie Taylor Greene is appealing a federal judge's [Full Story]
Grubhub Sale Eyed, as Pandemic Boom Fades
Europe's biggest meal delivery company Just Eat Takeaway.com is [Full Story]
Unvaccinated Children Hospitalized at Twice the Rate During Omicron Surge: Study
Hospitalization rates for unvaccinated children ages 5 to 11 were [Full Story]
Peter Reagan: Will Inflation Hit 18 Percent By Christmas?
In news that isn't likely to surprise many people at this point, [Full Story]
New Study Reveals How Exercise Protects Against Dementia
Exercise may help safeguard your brain as you age, and a new study [Full Story]
Biden's $1.75T Student Debt Conundrum
For millions of Americans, the hot topics of inflation and the stock [Full Story]
Judge Delays Alex Jones-Sandy Hook Trial as Infowars Seeks Bankruptcy
Judge Delays Alex Jones-Sandy Hook Trial as Infowars Seeks Bankruptcy
A Texas judge on Wednesday postponed the scheduled jury trial over [Full Story]
DeSantis Celebrates Florida Judge's Order Ending Mask Mandates on Public Transit
Florida Gov. Ron DeSantis on Wednesday celebrated the recent order [Full Story]
Disney: Peter Pan, Tinker Bell, Captain Hook 'Potentially Problematic' Stereotypes
Disney says beloved characters Tinker Bell and Captain Hook from its [Full Story]
Germany to Stop Russian Oil Imports by Year End
Germany will cut off Russian oil imports by the end of 2022, a move [Full Story]
CBS News/YouGov Poll: Most Americans Favor Marijuana Legalization
The majority of Americans think that recreational marijuana should be [Full Story]
New Mexico Fines 'Rust' for Willful Gun Safety Failures
New Mexico workplace safety regulators on Wednesday issued the [Full Story]
Pennsylvania Elementary School Votes Down 'After School Satan Club'
The Northern York County School Board in Pennsylvania voted down the [Full Story]
First Ever Court-Martial for an Air Force General Begins in Ohio
The first ever military trial of an Air Force general began Tuesday [Full Story]
Wimbledon to Ban Russian Tennis Players
Russian players will not be allowed to compete at Wimbledon this year [Full Story]
US Home Prices Hit Record High, Sales Fall
S. home sales fell more than expected in March as house prices hit [Full Story]
Israel Scraps Indoor COVID-19 Mask Order Again
Israel told its citizens Wednesday that they could stop wearing [Full Story]
Prince Harry Says He Made Sure Queen Was 'Protected' During Recent Trip
Britain's Prince Harry said he made sure that Queen Elizabeth had the [Full Story]
Judge Sends Assange Extradition Decision to UK Government
A British judge on Wednesday formally approved the extradition of [Full Story]
Dede Robertson, Wife of '700 Club' Broadcaster, Dies at 94
Dede Robertson, the wife of religious broadcaster Pat Robertson and a [Full Story]
US Chamber Urges Senate to Delay Consideration of Alvaro Bedoya's FTC Nomination
The U.S. Chamber of Commerce on Wednesday urged the Senate to delay [Full Story]
More Newsfront
Finance
Germany to Ease Off Russian Oil; Poland, Hungary to Keep Buying
Australia, Britain, Canada and the United States have imposed outright bans on Russian oil purchases following Moscow's invasion of Ukraine, but 27 members of the European Union have been unable to agree on the embargo…. [Full Story]
Tesla Beats Revenue Estimates on Record Deliveries
Labor Shortage, Inflation Hamper Economy: Fed
New US Sanctions Target Russian Bank, Oligarchs, Crypto Miner
Fed's Daly: Case for Half-percentage-point Hike in May Is 'complete'
More Finance
Health
Unvaccinated Children Hospitalized at Twice the Rate During Omicron Surge: Study
Hospitalization rates for unvaccinated children ages 5 to 11 were twice as high as among those who were vaccinated during the record COVID-19 surge caused by the omicron variant, according to a U.S. study released on Tuesday. For every 100,000 unvaccinated children in the…… [Full Story]
FDA Warns Against Potentially Harmful Skin Lightening Products
Vitamin D: A Ray of Hope for Men's Health
Poll: Majority of Americans Want Masks for Travelers
Men With Heart Disease Can Safely Take an ED Drug with Nitrates
MHProNews has pioneered in our profession several reporting elements that keep our regular and attentive readers as arguably the best informed in the manufactured housing industry. Among the items shared after 'every business day' (when markets are open) is our left-right headline recap summary. At a glance in two to three minutes, key 'market moving' news items are covered from left-of-center CNN Business and right-of-center Newsmax. "We Provide, You Decide." © Additionally, MHProNews provides expert commentary and analysis on the issues that others can't or won't cover that help explain why manufactured housing has been underperforming during the Berkshire era while an affordable housing crisis and hundreds of thousands of homeless in America rages on. These are "Industry News, Tips, and Views Pros Can Use" © features and others made and kept us the runaway #1 in manufactured housing trade publisher for a dozen years and counting.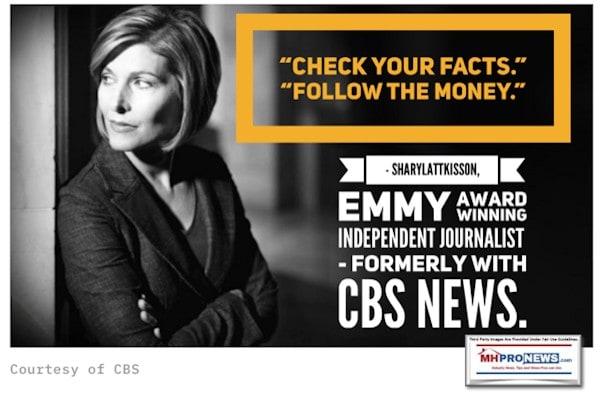 Manufactured Housing Industry Investments Connected Equities Closing Tickers
Some of these firms invest in manufactured housing, or are otherwise connected, but may do other forms of investing or business activities too.
NOTE: The chart below includes the Canadian stock, ECN, which purchased Triad Financial Services, a manufactured home industry lender
NOTE: Drew changed its name and trading symbol at the end of 2016 to Lippert (LCII).
NOTE: Deer Valley was largely taken private, say company insiders in a message to MHProNews on 12.15.2020, but there are still some outstanding shares of  the stock from the days when it was a publicly traded firm.  Thus, there is still periodic activity on DVLY.
Manufactured Home Communities (a.k.a. 'Mobile Home Parks' – SIC) – Exploring UMH Properties; Fellow Manufactured Housing Institute Member Yes! Communities Suits and Settlements; plus MH Markets Updates
Clayton-21st Storm Watch – Sinatra's Summer Wind Blows Early? – Manufactured Housing Moat Breach – Manufactured Home Values Increasing Faster than Site-Built – Case for Something New in 2022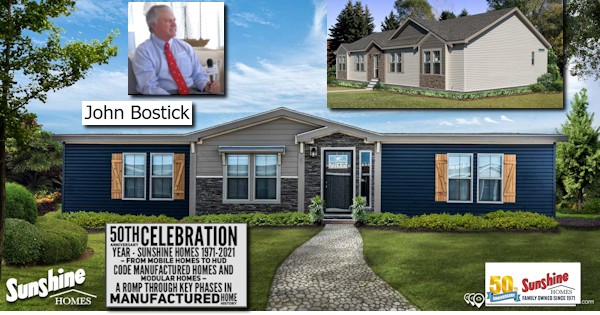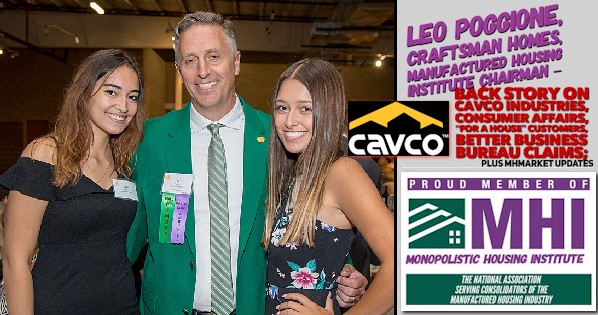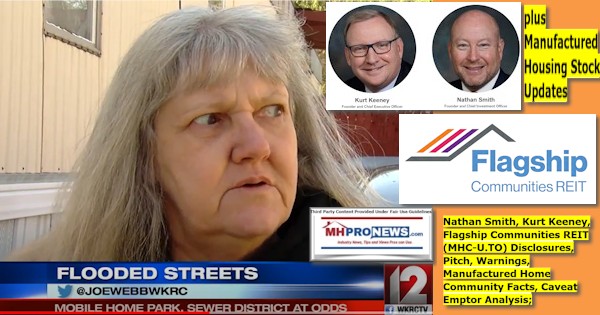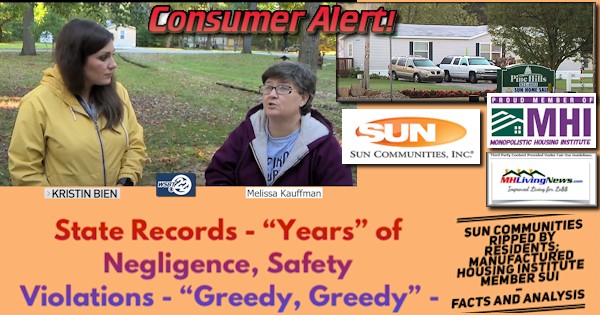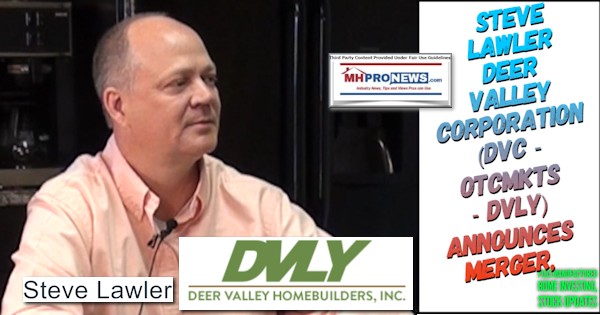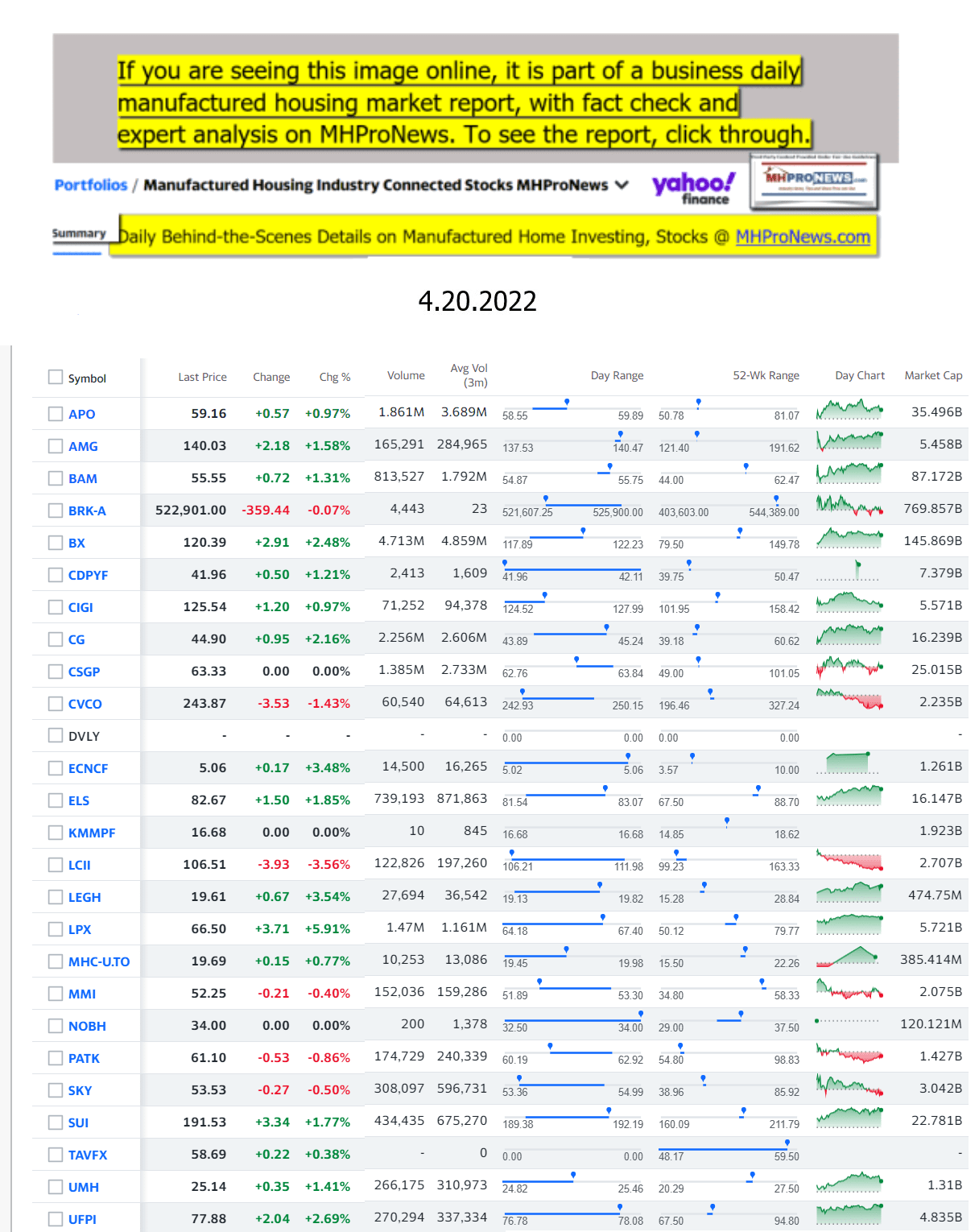 2022

…

Berkshire Hathaway is the parent company to Clayton Homes, 21st Mortgage, Vanderbilt Mortgage and other factory-built housing industry suppliers.


·

LCI Industries, Patrick, UFPI, and LP each are suppliers to the manufactured housing industry, among others.




·

AMG, CG, and TAVFX have investments in manufactured housing related businesses.

For

insights from third-parties and clients about our publisher

, click here.


Enjoy these 'blast from the past' comments.

MHProNews. MHProNews – previously a.k.a. MHMSM.com – has celebrated our 11th year of publishing and have completed over a dozen years of serving the industry as the runaway most-read trade media.
Sample Kudos over the years…
It is now 12+ years and counting…
Learn more about our evolutionary journey as the industry's leading trade media, at the report linked below.
· For expert manufactured housing business development or other professional services, click here.
· To sign up in seconds for our industry leading emailed headline news updates, click here.

Disclosure. MHProNews holds no positions in the stocks in this report.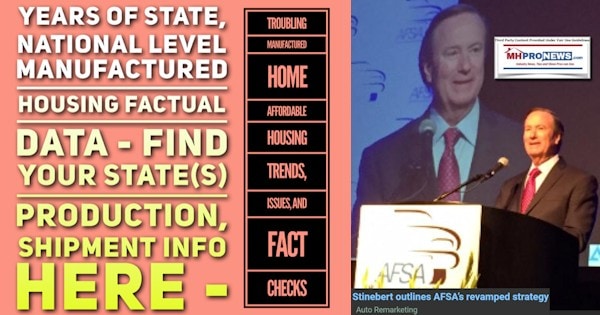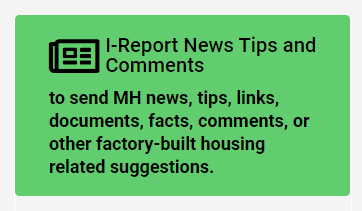 That's a wrap on this installment of "News Through the Lens of Manufactured Homes and Factory-Built Housing" © where "We Provide, You Decide." © (Affordable housing, manufactured homes, stock, investing, data, metrics, reports, fact-checks, analysis, and commentary. Third-party images or content are provided under fair use guidelines for media.) (See Related Reports, further below. Text/image boxes often are hot-linked to other reports that can be access by clicking on them.)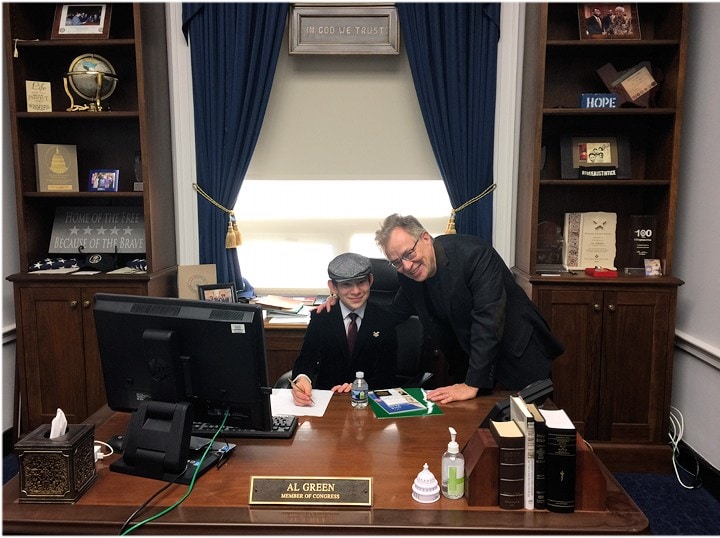 By L.A. "Tony" Kovach – for MHProNews.
Tony earned a journalism scholarship along with numerous awards in history. There have been several awards and honors and also recognition in manufactured housing. For example, he earned the prestigious Lottinville Award in history from the University of Oklahoma, where he studied history and business management. He's a managing member and co-founder of LifeStyle Factory Homes, LLC, the parent company to MHProNews, and MHLivingNews.com. This article reflects the LLC's and/or the writer's position and may or may not reflect the views of sponsors or supporters.