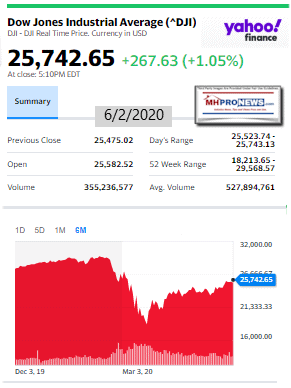 Notice, the headline reports will be further below. First, this related and timely item, as there are a growing number of sources across the spectrum that are suggesting that China, Iran and possibly other foreign actors are in various ways promoting civil unrest in the U.S. If so, that ties directly into the headline topics.
"George Floyd should still be alive today. His family, friends, and the people of Minneapolis deserve justice," said Senator Elizabeth Warren (MA-D) in a message to MHProNews today.
That is a statement that the vast majority of Americans would agree with, as a Yahoo News/YouGov poll posted earlier today in a report linked here indicates. The vast majority are disgusted by the video-recorded death-by-rogue cop incident.
Warren's methodology is a familiar one for political messaging. Begin with a statement that will find wide agreement. But here is what follows.
"The racist violence that killed George Floyd, Ahmaud Arbery, and Breonna Taylor is not new in America. We've seen sickening videos of Black Americans shot at point-blank range; killed during routine traffic stops; choked to death while gasping for air. And we know what's captured on video represents only a fraction of the violence that Black Americans experience, some of it while in police custody."
It may be politically incorrect to mention, but Jason Riley, a black Wall Street Journal columnist is among those who have called out that type of statement, going back to the Obama Administration era death of an 18 year old black man named Michael Brown by a police officer on August 9, 2014 that sparked Ferguson, MO rioting and other protests. Riley and the Economist were both among those that said, that "statistically these murders are over 90%, black-on-black homicide: guns, knives, clubs, fists."
Riley said that some 90% percent of young African Americans die by homicide, but he pointed to the vexing fact that is mostly black-on-black violence. While there is an argument to be made that there is a higher percentage of deaths by cops of blacks, there is a debate as to the causes of that tendency.  It was former Democratic presidential nomination hopeful and billionaire Michael Bloomberg, founder of left-of-center Bloomberg news, that claimed that 95 percent of murders are in minority neighborhoods, and the solution he defended was to stop and frisk minorities at a disproportionate rate in New York City. As Bloomberg stunningly said, "throw them against the wall and frisk them," per the left-of-center Washington Post. 
The notion that there are rogue cops is nothing new. Look no further than the Federal Bureau of Investigation (FBI) targeting Lt. General Michael Flynn without probable cause during the transition of phase of the waning days of the Obama Administration prior to the handoff of the Oval Office to President Donald J. Trump. Even left-leaning media sources, such Glenn Greenwald in the Intercept or Bloomberg news' Eli Lake have said as much. Russia collusion was a 3 year delusion that cost American taxpayers some $40 million in investigations. It cost far more in international embarrassment and other impacts that arguably include economic ones.  Yet, recently declassified federal transcripts make it clear once more that there never was credible evidence of any wrongdoing with Russians by anyone in the Trump Administration.
Did Russia meddle? Yes, but it was President Barack Obama (D) who said that there was no effect on the outcome of the 2016 race due to Russia's meddling – that not one vote was changed. Did the Trump campaign collude with Russia? There is no evidence after years of inquiries and literally over a million documents being examined.
Yet millions believe it did happen. It is classic "gaslighting" or the propaganda ploy known as the Big Lie.
Warren's message continued, "On Friday, Donald Trump referred to Black citizens in Minnesota protesting the killing of George Floyd at the hands of police as thugs and called for them to be shot, echoing the words of notorious racists of the past."
Trump is quoting old racists for a simple and ugly reason. This president is a racist, too, and any leader who refuses to swiftly and unequivocally condemn this outrageous statement shares responsibility for its consequences."
That tired trope or false logic would make former President Obama a racist too, because he called those rioting in Baltimore, MD during his term of office "thugs" as well. Left-of-center CNN and USA Today both reported that former "criminals and thugs who tore up" the city of Baltimore," in reports dated April 28 and 29, 2015 respectively.
Note that former President Obama spoke in defense of police and those officers who were harmed during the Baltimore riots of 2015.
Does racism exist? No doubt. Is it common? The fact that Barack Obama was elected in good measure by millions of white voters demonstrates otherwise.
It would be unfair to say that Senator Warren alone is using such spin and twisting of the fact tactics. It is all too common in politics across the political spectrum. But what makes it vexing is that she is doing so during a time when such verbiage should be tamped down. Who says? Terrance Floyd, George Floyd's brother – see his moving statement to protestors referenced in the report linked below.
"Mobile Home Mecca" County Sheriff Grady Judd Urges Armed Citizens Use Second Amendment Rights vs Break-Ins – Currents Behind Violence, Unrest Scenes
In a farm more productive statement was this today from left-of-center Prosperity Now.
"We reflect on President Obama's words from 2013 when he was honoring the 50th anniversary of the civil rights movement:
"The men and women who gathered 50 years ago were not there in search of some abstract idea. They were there seeking jobs as well as justice. Not just the absence of oppression, but the presence of economic opportunity. For what does it profit a man, Dr. King would ask, to sit at an integrated lunch counter if he can't afford the meal?… The test was not and never has been whether the doors of opportunity are cracked a bit wider for a few. It's whether our economic system provides a fair shot for the many, for the black custodian and the white steel worker, the immigrant dishwasher and the Native American veteran."
While Prosperity Now didn't say so, prior to the Wuhan Virus pandemic's economic and deadly impact on the U.S. and over 150 nations around the world, the Trump Administration's policies had moved minority unemployment to the lowest levels on modern record.
President Trump worked with African American Senator Tim Scott (SC-R), who in turn partnered with Democratic Senator Cory Booker (NJ-D), to pass historic reforms in criminal justice through the First Step Act.
There are more examples of Trump Administration efforts that benefited minorities – pre-the Wuhan virus outbreak. But those are sufficient to make this point. Saying something over and over again that is demonstrably false doesn't make a lie magically 'true.' Rather, when there is clear evidence to the contrary of a claim, a repeated falsehood or lie should make one look at the liar, not at the person being lied about.
Chrysalis Wright, Ph.D., on the subject of Fake News said the following to "Speaking of Psychology" podcast by the American Psychological Association. "Well, we see the for-profit issue in hard news or mainstream news also. Everything is for profit, right. So, even in mainstream, traditional news outlets they have commercials that they're trying to sell you in between news breaks and the way they present information is done in such a way where they want you as a consumer to watch their show rather than the other one So, that they can make more money. So, it kind of boils down to profit regardless of if it's hard news or fake news."
Dr. Wright went on to say that readers should fact check their news and cross check what they are reading. When asked about those who don't have the time to fact check, "Then you shouldn't be reading, then don't read it."
Wright elaborated. "So, even from like mainstream news sources CNN and Fox. Those are, both of those avenues are very biased. So, on the way here I was kind of flipping back and forth between how Fox News and how CNN was discussing the mass shootings that recently took place and the president's tweets and rhetoric and those types of things that have happened prior to and shortly after, and both of those sources are presenting the same story. Right, So, both of them have facts in there, but the way they're describing it, the slant they're putting on it and all of that is very biased. So, if you're only watching say CNN, you only get half the story, or if you're only watching Fox, you're only getting half the story. We need to make sure that we're getting our information from multiple sources, engaging in fact-checking, doing our own research. No one wants to do it, but you have to do it if you're going to be a responsible consumer. You know at some point it's our responsibility to make sure that what we believe as truth for ourselves is actually the truth."
That is almost enough to tee up tonight's featured focus. Because for most of it's existence, MHProNews in this evening business market report provided the headline bullets from both CNN Business (previously, CNN Money) and Fox Business.
Prior to our doing a report on a subject, we strive to cross-check to see if more than one source is making the same or a similar claim.
Then, we cite the sources and do so accurately, which is what the Society for Professional Journalists (SPJ) calls for in their Code of Ethical Conduct. As a result, for those who wanted to do so, they can reproduce all but the off-the-record comments made. Those off-the-record comments – as the SPJ standards admits – are necessary and often useful. As our off-the-record sources know, because they are routinely readers too, we cite off the record quotes accurately.
Whatever Wright's personal politics, she is arguably correct about checking other sources. AllSides, a media rating site, has taken the interesting view that all media is biased. They advance the notion that the only real question is how much does their bias impact the accuracy of reports?
AllSides thus has a point. MHProNews often has a perspective too. But we strive to be objective in reporting facts. Then, we label each report accordingly as news, fact-checks, analysis, and commentary. We alone in manufactured housing trade media have routinely engaged in outreaches to those who hold opposing views and invite them to comment or even debate the issues of the day.
What Andy Gedo – ManageAmerica Partner, Manufactured Housing Institute Supporter – Revealed About Clayton, Cavco and Skyline Champion Manufactured Homebuilders
Ironically, Warren Buffett says he spends about 5 to 6 hours a day just reading. While we disagree with much from Buffett, that is one of several cogent points. Buffett foil turned President Donald J. Trump said some years ago that it pays to know as much as you can about your life or business. That too is quite right.
Speaking of debates, we are still waiting for Tim Williams, executive director of the Ohio Manufactured Homes Association to take up the offer to do a virtual debate. A contact with a university that presumably has no ties to MHProNews or the OMHA has provided an initial response that they would be interested in moderating such a virtual debate. Will Williams and/or leaders at the Manufactured Housing Institute (MHI) back up their words with a third-party moderated public debate?
If not, why not?
Manufactured housing is underperforming and has been for over 15 years. There are may reasons for that underperformance. Day by day, MHProNews pulls back the veil on the problems and opportunities that exist in this industry. We scrutinize the issues that span the left-right divide. The reasons our would be competitors won't dispute our statistical claim of being the runaway number one – see fact-checks linked here and here – in our industry is because they would arguably look foolish, because their traffic is so low compared to ours.
Businesses and investors of all sizes need accurate information in order to have a hope of doing their best. While we get typos, our track record of accuracy in information is simply unmatched in our industry. Perhaps that is why we have many times the traffic of any other trade publisher or blogger in MHVille.
That said, let's turn to the headline topic. Because there are growing signals that the deteriorating relationship between China and the United States could be disrupt the U.S. supply chains there that supply industry companies is arguably growing.
That will be our featured focus below the left-right media snapshot, our market graphic snapshots and quotable quotes.
Quotes That Shed Light American Social, Industry, National Issues…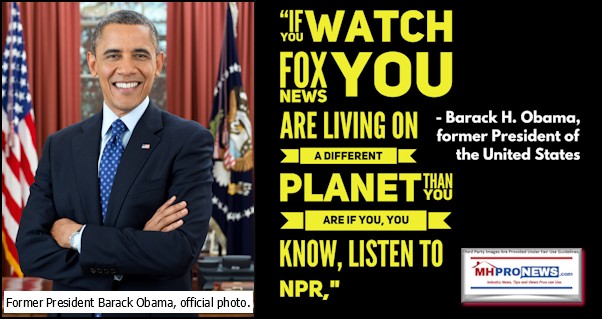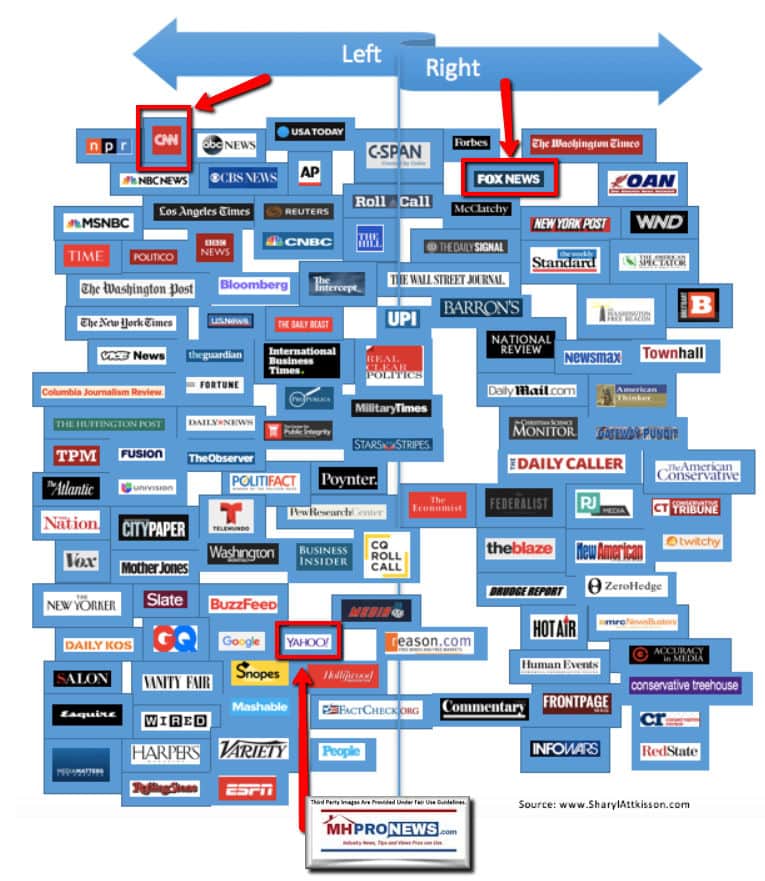 Headlines from left-of-center CNN Business
Zuckerberg tries to explain
NEW YORK, NY – OCTOBER 25: Facebook CEO Mark Zuckerberg speaks about the new Facebook News feature at the Paley Center For Media on October 25, 2019 in New York City. Facebook News, which will appear in a new dedicated section on the Facebook app, will offer stories from a mix of publications, including The New York Times, The Wall Street Journal and The Washington Post, as well as other digital-only outlets.
The Facebook CEO defends his inaction on incendiary Trump posts to outraged staff
After years of talking about diversity, the number of black leaders at US companies is still dismal
Bank of America pledges $1 billion to fight racial inequality
American small businesses were struggling. Now they face a new threat
Australia will investigate police attack on journalists in Washington, DC
White supremacists pose as Antifa online, call for violence
Automakers have another Covid-19 problem: Suppliers
Zoom's rise kicked off a video conferencing battle. Here's what's at stake
SPECIAL REPORT Moderna's Covid-19 vaccine news set off a frenzy on Wall Street. Now some want an investigation
TV changed last night: Stephen Colbert got somber and CBS went dark
A pandemic, pay cuts and furloughs. And that was just the first month for BuzzFeed News' new editor
DraftKings stock soars on hopes for live sports returning soon
In this picture taken on March 30, 2020, YogaUP founder Chaukei Ngai greets her students as they appear on her laptop screen via the Zoom online video conferencing platform, at the start of a live streamed yoga class at her studio in Discovery Bay, on the outlying Lantau Island in Hong Kong. – More than 3.4 billion people have been called on or forced by authorities to stay at home, around 44 percent of the world population, according to a count based on an AFP database. Many are wondering how they can stay healthy during the weeks — and possibly months — of self-isolation that lie ahead. Hong Kongers, who live in some of the world's smallest apartments, say it can be done.
Zoom's revenue soars 169% as people flock to service during pandemic
Four black CEOs are in the Fortune 500. Here's how they're addressing the death of George Floyd
A pedestrian wearing a protective mask passes in front of a closed pet store in Monroeville, Pennsylvania, U.S., on Tuesday, April 21, 2020. The Pennsylvania Department of Health reported 360 new Coronavirus-related deaths across the state Tuesday, as well as 1,296 additional positive cases.
A lost decade looms for America's economy
MARKETS
RESTARTING THE ECONOMY
Tables are seen set 6ft apart at Galatoire's Restaurant on May 22, 2020 in New Orleans, Louisiana. The City of New Orleans, which has suffered over 2,500 deaths due to the COVID-19 pandemic, began allowing restaurants to reopen at 25% capacity during Phase 1 of reopening.
Fresh air, bright lights and no clutter: A pandemic-friendly restaurant
Disney World is set to open its parks
Air travel is bouncing back … sort of
Google plans to reopen some offices in July
100 US Apple stores open their doors
PAYDAY
Lisa Su, president and chief executive officer of Advanced Micro Devices Inc. (AMD), presents the AMD Ryzen 4000 series chip during an AMD press event at CES 2020 in Las Vegas, Nevada, U.S., on Monday, Jan. 6, 2020. Every year during the second week of January nearly 200,000 people gather in Las Vegas for the tech industry's most-maligned, yet well-attended event: the consumer electronics show.
AMD's Lisa Su was the highest-paid CEO in the S&P 500 last year
Elon Musk just made $770 million
Hertz execs paid millions before bankruptcy
Jeff Bezos tops Forbes list of billionaires, again
Walt Disney's grandson slams company's bonuses for managers while workers are furloughed
Headlines from right-of-center Fox Business
GOLDMAN SACHS
Goldman Sachs changes prediction of impending crash in this index
The investment bank had predicted the S&P 500 would slide more than 20 percent to 2,400.
Dow, S&P 500 hit 3 month high as investors look past riots
Tiffany & Co. shares plunge on LVMH deal concerns
POLITICS
Cuomo threatens to 'displace' NYC mayor over riots, bring in National Guard
Giuliani demands NYC mayor step down, says cops are 'used as punching bags'
EXCLUSIVE: Software mogul McAfee says riots are worse than many realize
BUSINESS LEADERS
EXCLUSIVE: Software mogul McAfee says riots are worse than many realize
OPINION
Economic recovery is impossible if state, local governments can't (or won't) do this
POLITICS
Senate to consider House bill easing PPP rules 'soon': McConnell
ANOTHER PAYDAY?
POLITICS
Some Americans may receive $1,200 under new coronavirus relief bill
CORONA CHECKS ROUND 2?
MONEY
White House mulls more coronavirus relief cash: Here's what it could include
'THINK AGAIN'
LIFESTYLE
'SVU' spinoff producer fired over George Floyd protests post on Facebook
FIRE SALE
AMAZON
Amazon's top selling items show how riots, protests gripping America
ALL HE COULD MUSTARD
POLITICS
Taco Bell, Pizza Hut, Wendy's franchisee gives $200K to Trump campaign
'NOW WE KNOW…'
SOCIAL MEDIA
Twitter suspends police union account over tweet about NYC mayor's daughter
PRESIDENTIAL WISDOM
POLITICS
George W. Bush 'anguished' by George Floyd's death
KNOCK KNOCK
TAXES
IRS cheated out of tens of billions of dollars by high-income non-filers, report finds
KING DETHRONED
NEWS
'Tiger King' Joe Exotic's zoo handed to Carole Baskin by judge
BREAD-STICKING TO THEIR STORY
MONEY
Olive Garden denies funding Trump's re-election
RADICAL LEFT MILITANTS
DEFENSE
What is antifa and who funds it?
ZOOM TAKES OFF
TECHNOLOGY
Zoom growth explodes in coronavirus work world
LOANS IN PARK
PERSONAL FINANCE
Why Wells Fargo is scrapping loans to most independent auto dealerships
STABLER'S PAD
REAL ESTATE
Former 'SVU' star lists $6.5M 'Ozzie and Harriet' house
FLAGSHIP UNDEFENDED
RETAIL
Trump slams Macy's NYC looting: 'Bring in National Guard!'
Bankrupt Arena Football League holds auction, will sell off assets
SPORTS
Bankrupt Arena Football League holds auction, will sell off assets
LIFESTYLE
Auto loans at lowest rates since 2013: Edmunds
LIFESTYLE
50% of pre-retirees think Social Security will be a major source of senior income, and that's a problem
LIFESTYLE
Hazard pay cuts: Essential coronavirus front-line workers speak out
NBA
NBA's Knicks explain silence on George Floyd killing
LIFESTYLE
Virginia Costco wants members to support local restaurants
LIFESTYLE
US board urges helicopter maker change this practice after Kobe Bryant's death
MONEY
How much money Kylie Jenner spends in a year to maintain her cushy lifestyle
SPORTS
Wes Unseld death: NBA Rookie of Year and MVP in 1969, dies at 74
LIFESTYLE
High-profile designer slammed for criticizing looting, forced to apologize
MONEY
Members of Congress ask unions to stop collecting dues amid coronavirus unemployment
POLITICS
Biden uses George Floyd protests, riots to make case against Trump
MARKETS
Riots put brakes on US economy's coronavirus recovery
LIFESTYLE
How Disney is using Stormtroopers to enforce social-distancing rules
TECH
Ride-sharing, delivery apps suspending operations in these cities as riots rage
HEALTH
World Health Organization had private concerns about China as virus spread
EXCLUSIVE: States could receive more coronavirus aid as riots further damage economy
POLITICS
EXCLUSIVE: States could receive more coronavirus aid as riots further damage economy
SOCIAL MEDIA
Why some Black Lives Matter posts are getting blocked on Instagram
HEALTH CARE TECH
These animals are keys to developing coronavirus vaccine, scientists say
TECH
American workers fear losing job to robots, vast majority want to learn about AI
TRAVEL
This cruise line reopening with medical-grade air filtration used in airplanes
MARKETS
Adidas forced to take drastic action as riots, looting overtake major cities
MARKETS
Southwest offers buyout packages, temporary leaves to 'ensure survival'
VIDEO
Bartiromo: We can't bring George Floyd back but we can fix this together
SPORTS
MLB owners, players revert to salary squabbles of old
MARKETS
Dick's Sporting Goods loses $143M as coronavirus shutters stores
MARKETS
Salons, gyms, offices require coronavirus waivers for entry
10 Market Indicator Closing Summaries – Yahoo Finance Closing Tickers on MHProNews…


Featured Focus – Where Business, Politics and Investing Can Meet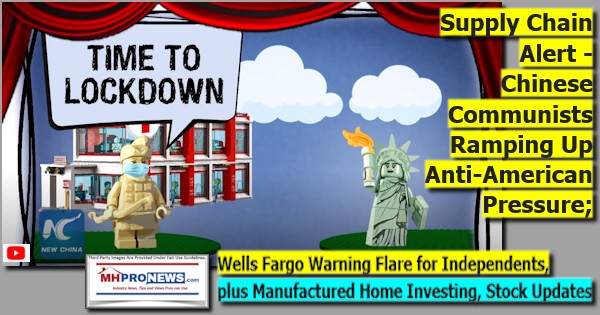 In reverse order from tonight's headline, is this from left-of-center CNBC about Wells Fargo. It is a topic that right of center Fox Business also reported on today.
Wells Fargo, one of the biggest lenders for new and used car purchases in the U.S., sent letters to hundreds of independent auto dealerships last month telling them that the San Francisco-based company was dropping them as a customer, according to people with knowledge of the situation.
A Wells Fargo spokeswoman confirmed that the bank, which only makes auto loans through car dealerships, will no longer accept loan applications from most independent shops. Independent dealerships typically sell used cars, unlike franchise dealerships that focus on new vehicles from specific manufacturers.
The bank had "an obligation to review our business practices in light of the economic uncertainty presented by COVID-19 and have let the majority of our independent dealer customers know that we will suspend accepting applications from them," Natalie Brown, the spokeswoman, said in an email.
Before the pandemic took hold, Wells Fargo was growing its auto lending business. Auto loan origination at the bank climbed 19% in the first quarter to $6.5 billion.
Note, that Wells Fargo makes loans on manufactured homes. Further note that Berkshire Hathaway is a large investor in Wells Fargo's stock.
Reframed, could this be a harbinger of things to come in the manufactured housing space?
China, Propaganda and More Warning Signs for Those with Chinese Supply Chains
New China TV – an arm of the Communist Chinese propaganda machine – posted "Once Upon a Virus" on April 29, 2020. It has had 2,164,466 views on YouTube alone. It is arguably a clever piece of disinformation, using the paltering methodology of using some truth mixed with falsehood or misdirection.
While the comment may have been from a Chinese backed YouTube troller, some of the comments suggest that the propaganda works on some.
"I never thought I'd see the day where I trust the Chinese government more than the US government.. But here China is, just killing it!" said Ben Witz. Or as zuch said, "As a Japanese, I have to agree with China on this one."
Those comments may be sincere, or they may be from Chinese bots or trolls. Either way, they are mistaken.
Left-leaning ProPublica said on March 26, 2020 that "ProPublica analyzed thousands of fake and hijacked Twitter accounts to understand how covert Chinese propaganda" is deployed.
Right-of-center Breitbart said on 6.2.2020 the following.
China's state-run Global Times propaganda newspaper fretted on Tuesday that President Donald Trump may use a nuclear weapon against rioters destroying neighborhoods in the nation's biggest cities, declaring America a "failed state."
The Chinese Communist Party has used its propaganda arms in the past week to denounce not just President Trump, but American democracy as an inferior system to Chinese authoritarianism and promote the claim that only iron-fisted one-party rule will result in racial harmony in the United States. None of the articles on racism in state media have mentioned that Chinese businesses in Guangzhou, one of the country's largest cities, banned black-skinned people from hotels, restaurants, and other locales last month after the Communist Party perpetuated the claim that only foreigners could infect people with Chinese coronavirus.
Instead, the Global Times claimed in one article that the riots throughout America "expose a 'failed state'" under the "weak, irresponsible, and incompetent leadership of President Trump. Riots have targeted impoverished neighborhoods in many cities, beginning in Minneapolis, after a police offered killed Minnesota resident George Floyd on video. Floyd was unarmed and did not appear to be resisting arrest, instead pleading with the officer to let him breathe. The officer has been charged with third-degree murder.
"The protests exposed long-standing issues in the US, including racial inequality, discrimination and a polarized society, which have been amplified under the Trump administration, some Chinese and U.S. observers said," the propaganda outlet, which has published multiplebigoted columns against Americans and others in the Western Hemisphere, asserted. It went on to blame Trump for "using the racial problem to polarize American society."
The article also claimed that Chinese people witnessing the riots from afar "were shocked, not 'satisfied,' because the U.S. image in their minds has been ruined." That claim directly contradicts the Global Times' coverage from Monday, where it proclaimed that Chinese "netizens" were "cheering" in response to the riots, celebrating them as retribution for American officials supporting peaceful pro-democracy protests in Hong Kong.
"As we all know, no violent protesters were killed on the spot during riots that have engulfed Hong Kong since summer of 2019," the newspaper claimed, falsely referring to the peaceful protests as riots and not acknowledging deaths that protesters have accused police of perpetrating, as well as rape and torture. "But demonstrator [sic] has been killed only one week after the unrest began in the U.S."
"How ruthless these U.S. politicians are! They talk about humanity, justice, and morality all the time. They condemned Hong Kong police simply for the latter's use of tear gas and water cannon against violent rioters. The U.S. unrest just began a few days ago, but police already fired shots at protesters before efforts for peaceful dialogue were even made," the newspaper continued.
"Where are the human rights? Where is their respect for life? The US politicians show zero tolerance to unrest, but they launched countless attacks on other countries' efforts to safeguard the rule of law," the column concluded. "If this was organized subversion, what would they do? Will they drop an atomic bomb?"
Hong Kong's pro-democracy movement returned to the streets after a brief Chinese coronavirus-triggered hiatus last month. In protests last week, Hong Kong police arrestedover 300 people, among them about 100 children. Images of the arrests showed police forcing protesters, previously socially distancing peacefully while marching, to huddle together on the ground in close quarters, potentially exacerbating the spread of the coronavirus.
In other violent incidents in the city through the past year, protesters have said that some among them have diedmysterious deaths that the police has chosen not to investigate. An unnamed woman accused the police force of gang rape, resulting in police seeking her arrest but not investigating the claims."
MHProNews Analysis and Commentary in Brief
Our report earlier today, using other sources including those in China, made similar but other related points. MHProNews has been warning about communists and socialists for years, as the report below reminds readers.
Game On: "Socialism is About Power, not Equality," Space Force, and Battle for Manufactured Housing Independence
The bottom line for investors and professionals who are doing business in China? There are numerous and growing reasons to think that there will be a collision between American and Communist China. It would arguably be prudent to make arrangements to decouple from China, for those who have not already begun doing so.
Related Reports:
AEI Housing Center Reports Surprising Surge, State-by-State Post-COVID19 Housing Data, Jimmy Lai-China-Hong Kong Storm, plus Manufactured Home Investing, Stock Updates
"Mobile Home Mecca" County Sheriff Grady Judd Urges Armed Citizens Use Second Amendment Rights vs Break-Ins – Currents Behind Violence, Unrest Scenes
Cavco Industries (CVCO) Surprising Closure, New & Ongoing Legal Investigations, Additional Inside Revelations
Al Kemp on COVID-19, Manufactured Home Communities, plus Manufactured Housing Investing, Stock Updates
Charlie Munger & Duke Univ. Professor of Psychology Dan Ariely on Financial, Investing Decisions – plus, Manufactured Home Investing, Stock Updates
Manufactured Housing Institute Insider's Keith Ellison Revelation, "Anti-Consumer" Bias, Other Leaks
Independent Journalist Sharyl Attkisson's "Deep State" "Call it Treason" Interview, COVID19 & President Donald J. Trump
Pandemic Becomes Billionaires' Bonanza! Bezos, Buffett, Gates, Zuckerberg, Ellison Wealth Surges $100s of Billions in 2 months, says Institute of Policy Studies & Forbes – Report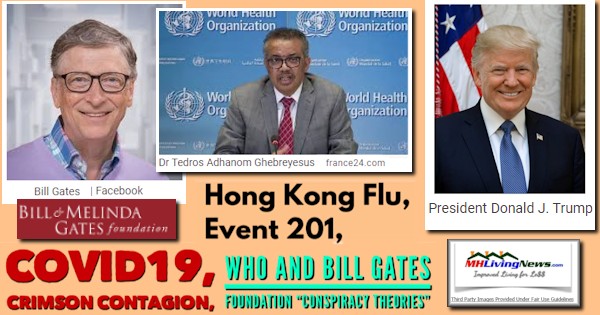 Manufactured Housing Industry Investments Connected Closing Equities Tickers
Some of these firms invest in manufactured housing, or are otherwise connected, but may do other forms of investing or business activities too.
NOTE: The chart below includes the Canadian stock, ECN, which purchased Triad Financial Services, a manufactured home industry lender
NOTE: Drew changed its name and trading symbol at the end of 2016 to Lippert (LCII).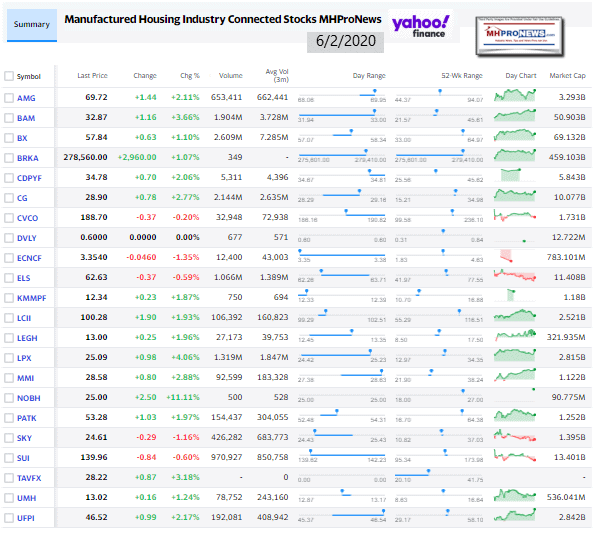 Spring 2020…
Berkshire Hathaway is the parent company to Clayton Homes, 21st Mortgage, Vanderbilt Mortgage and other factory built housing industry suppliers.
· LCI Industries, Patrick, UFPI, and LP each are suppliers to the manufactured housing industry, among others.
· AMG, CG, and TAVFX have investments in manufactured housing related businesses. For insights from third-parties and clients about our publisher, click here.
Enjoy these 'blast from the past' comments.
MHProNews. MHProNews – previously a.k.a. MHMSM.com – has celebrated our tenth anniversary and is in year 11 of publishing.


Learn more about our evolutionary journey as the industry's leading trade media, at the report linked below.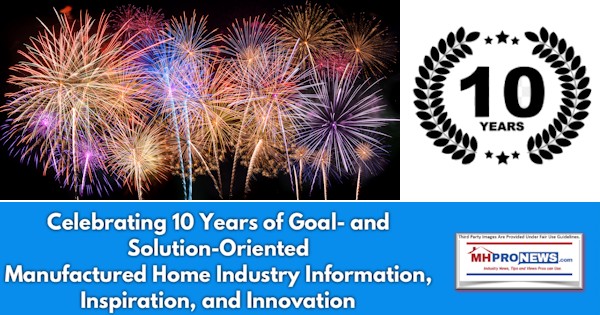 · For expert manufactured housing business development or other professional services, click here.
· To sign up in seconds for our industry leading emailed headline news updates, click here.

Disclosure. MHProNews holds no positions in the stocks in this report.
2019 Year-End Totals Reveals Decline in New HUD Code Manufactured Home Production, Shipments vs. 2018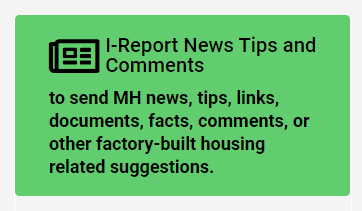 That's a wrap on this installment of "News Through the Lens of Manufactured Homes and Factory-Built Housing" © where "We Provide, You Decide." © (Affordable housing, manufactured homes, stock, investing, data, metrics, reports, fact-checks, analysis, and commentary. Third-party images or content are provided under fair use guidelines for media.) (See Related Reports, further below. Text/image boxes often are hot-linked to other reports that can be access by clicking on them.)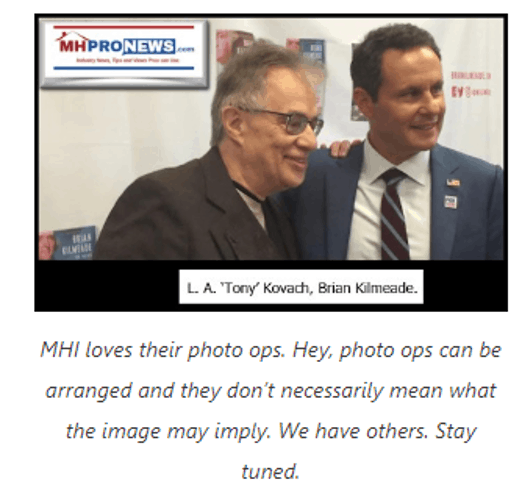 By L.A. "Tony" Kovach – for MHLivingNews.com.
Tony earned a journalism scholarship and earned numerous awards in history and in manufactured housing. For example, he earned the prestigious Lottinville Award in history from the University of Oklahoma, where he studied history and business management. He's a managing member and co-founder of LifeStyle Factory Homes, LLC, the parent company to MHProNews, and MHLivingNews.com. This article reflects the LLC's and/or the writer's position, and may or may not reflect the views of sponsors or supporters.
http://latonykovach.com Connect on LinkedIn: http://www.linkedin.com/in/latonykovach
AEI Flash Housing Market Indicator