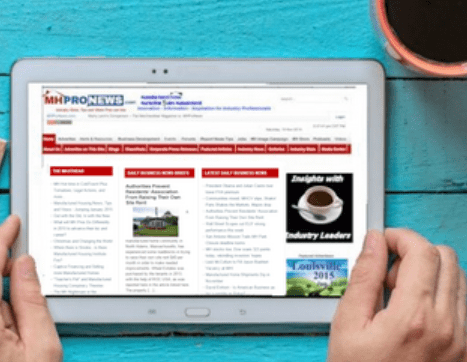 What's New in public focused Manufactured HomeLivingNews.com
What's New in Manufactured Housing Industry Professional News
MH Production continues rising. Maryland county shuns sprinklers. Doug Ryan remains oppositional. Clayton adds site-built homes. MHI elects new officers. ELS and Killem get strong buy rating, Drew gets buy rating. UMH seeking MH retail stores. FEMA helps CA fire victims. Solar Decathlon thru Oct. 18 in CA. Patrick stockholder dumps more. Tiny Home subdivisions. Manufactured homes in New Mexico buyer assist program. Much more in MH news and views as you sip your latte on the veranda.
Saturday, Oct. 10
Clayton Acquires Georgia-based Site-built Homebuilder
Friday, Oct. 9
Stock of Equity LifeStyle Properties gets Strong Buy Rating
Doug Ryan, CFED, HR 650/S 682 and Manufactured Home Lending
Four of Top Ten Cities with Mortgages by Millennials are in Louisiana
Dow Gains 4% on the Week, but Down on the Year
State Law Eases Manufactured Home Disposal
Maryland County Seeking to Douse Sprinkler Law
Thursday, Oct. 8
UFPI Outperforms other MH Stocks; MHCV gains +1.54 percent
Patrick Major Shareholder Unloads more Stock
FEMA Doles Out $4.5 Million to Fire Victims
Raymond James Upgrades Killam Properties to "Strong Buy"
Wednesday, Oct. 7
Manufactured Homes may House Fire Victims
Subdivisions of Tiny Homes Rising in Colorado
Solar Decathlon Competition opens in California, runs Oct. 8-Oct. 18, 2015
LPX Posts Significant Gains Three Consecutive Days, as the Dow Gains +122 Points
Ron Breymier to Lead IMHA-RVIC
Tiny Apartment Plugs into Framework, Moves to another City's Framework
Tuesday, Oct. 6
MHI Elects New Officers and Presents Annual Awards
Manufactured Home Production Continues Rising
LPX Posts Significant Gains Two Consecutive Days
Yutzy Elected Treasurer of Kansas Manufactured Housing Association
Leading Community Operator Wants to Buy Manufactured Home Retail location
Student Built Modular Home will House Habitat for Humanity Family
Monday, Oct. 5
Planning Board Denies Siting of Modular Home
MHCV Gains +3.10%; Carlyle Spikes 9.19%; Dow Shoots Up 304 Points
Councilors to Discuss Infrastructure at New Hampshire Co-operative
Manufactured Homes Included in New Mexico Home Buyer Assistance Program
Manufactured Home Community Reduced for WalMart
(Photo credit:MHProNews)

Article submitted by Matthew J. Silver to Daily business News-MHProNews.