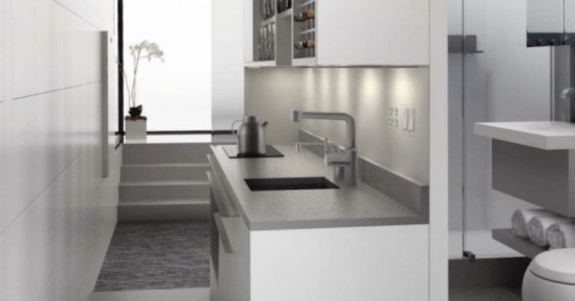 Inspired by his year-long stint living in a converted 33-square-foot dumpster to create a mobile and affordable solution to the housing crisis, "Professor Dumpster," Jeff Wilson has devised a modular micro-apartment housing design that slots in and out of a metal apartment framework, and fits on a moving truck bed for easy transport.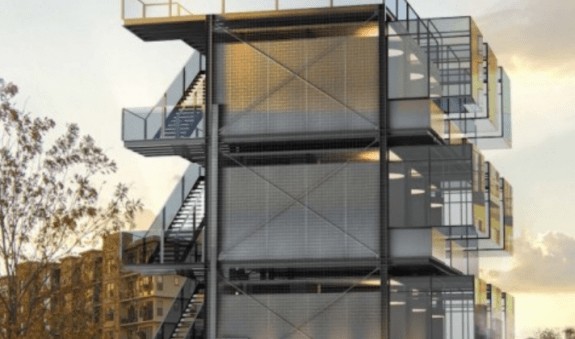 Kasita is a 208 square-foot home that was created in collaboration with an industrial designer from Frog but still maintains a comfortable elegance and a livable footprint, maximizing every square inch of usable space. As inhabitat tells MHProNews, Wilson told the designer, "I want you to design something more like an iPhone than a micro-apartment or a container."
A cantilevered glazed cube on one end funnels natural light into the sleek unit that incorporates smart home technology, transformational funishings and a patent-pending tile system that "allows for virtually infinite customizations and options for the home while maintaining order and function."
The first compact housing complex will go up in Austin in the spring of 2016, with plans to expand to Portland, OR and New York City. Instead of a labor intensive house search when desiring to relocate, the occupant can tap the app on a smartphone, and the Kasita can slide out of the 1,000 square-foot metal framework on to a flatbed truck, and plug in to a new framework in another city.
By utilizing small tracts of urban land that have been regarded as unusable, rents could be kept at half the rate of the going market. ##
(Image credit: inhabitat–modular apartments movable from city to city)

Article submitted by Matthew J. Silver to Daily Business News-MHProNews.