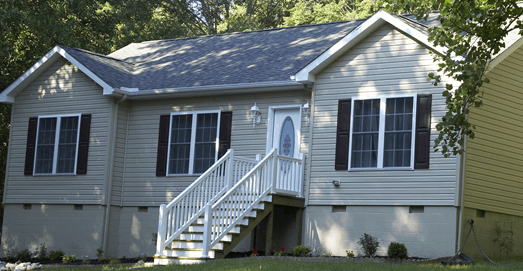 Maine Modular Manufacturing Homes owner Scott Gove requested a special exemption building permit for a client couple who want to build a modular home on 2.7 acres of family land in Lincoln County, Maine, but the Edgecomb Planning Board denied the building permit application, according to wiscassetnewspaper.
After reviewing the plans, the board ruled the modular home would violate the state's resource protection zone ordinance because proposed site's grade exceeded the 20 percent threshold imposed by the state.
Planning Board Chairman Jack French said, "Resource protection prohibits building within 250 feet of the high water mark. The only way around that is building more than 250 feet away."
Gove said the surrounding property is too hilly and rough to site a home. The planning board suggested the couple either buy adjacent land or swap some of the land to meet the resource zone requirements. MHProNews has learned Edgecomb is in southern Maine. ##
(Photo credit: Atlantic Bay Homes-modular home)

Article submitted by Matthew J. Silver to Daily business News-MHProNews.