Some 72 percent of Americans believe that misinformation from media is common today, said a recent Axios poll. Distortions of reality impacts manufactured housing in a variety of ways.  The light of truth is a useful disinfectant to the darkness of false information or harmful fiction.
As was recently reported on the Daily Business News on MHProNews, manufactured home community resident Rob Weymouth wrote a letter to his local editor to encourage readers to "vote Democratic" to fix his states rent control bill. It was Democrats who passed the rent control measure, a Democratic governor signed into law, and Weymouth himself said the law was "useless."
Weymouth has the seal of approval from the Delaware Manufactured Home Owners Association (DMHOA), which is affiliated with MHAction, and NMHOA.  ICYMI, see the related report, below, later for the details.
MH Communities, Owners, MH Independents Alert – NMHOA and MHAction Next Steps? – Part 1
MHProNews has reported for years on the unintended problems caused by rent control.  Paul Bradley, of ROC USA, took aim at the issue of rent control too, saying there had to be a better solution.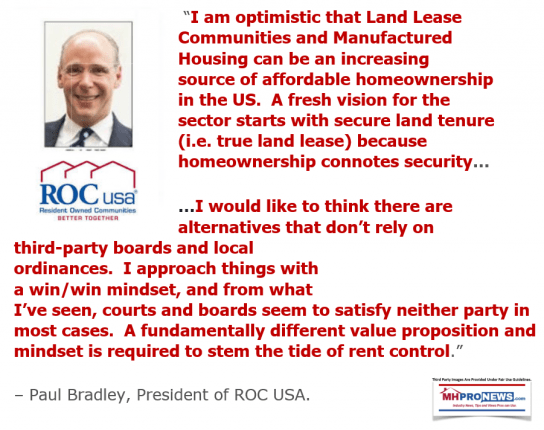 Why not look past the feel good, easy fix sound bites – that are often based upon myth – and see the reality that rent control harms residents, potential developers, and smaller property owners alike? Tim Sheahan, President of the National Manufactured Home Owners Association himself identified, albeit perhaps unwittingly, the fact that when there was a lot of developing going on, land-lease was affordable and the free market kept site-fees – a.k.a. ground rent – stable.
Tim Sheahan, NMHOA President, Controversial Points of Agreement with Marty Lavin, George Allen on Communities
Part of Weymouth's – and those of his associates who agreed with his reasoning for voting for Democrats – was another claim that's easily disputed.  Namely, that Republicans are the party of the rich.
Tell that to the top 10 billionaires in America.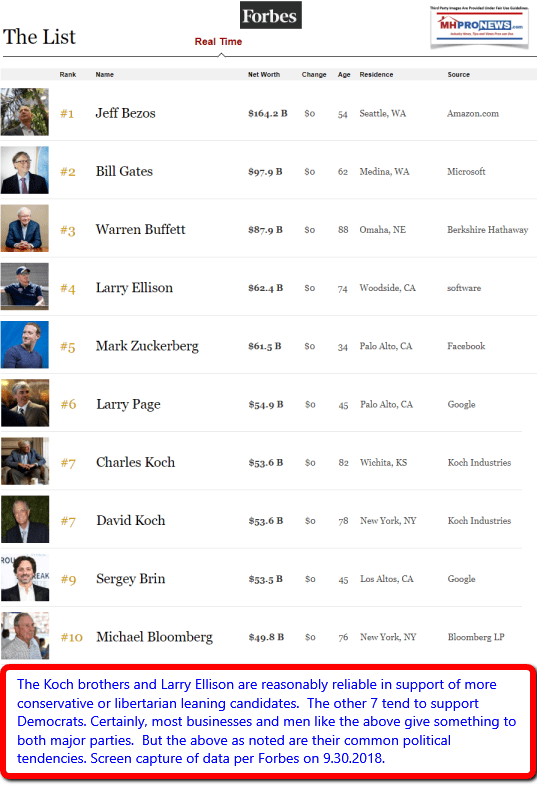 7 of those 10 billionaires are reliably Democratic supporters.  3 of those top ten are more conservative or Libertarian leaning.  Warren Buffett is near the top of this list, and he and his fellow travelers are reliably Democratic supporters.
Yesterday, on Sunday Morning Futures, House Majority leader Kevin McCarthy was asked how does the GOP fight the perceived blue wave and their oversized pockets?
McCarthy answer was comparing "results vs resistance."  The "resistance" is a term that the left has adopted to the presidency of Donald J. Trump.
"Democrats have two liberal billionaires that are trying to buy the House to flip it," McCarthy said, per the Daily Caller. "You have Mike Bloomberg who first promised $80 million. Now he's talking about going to $100 million just on Democrats in the House. And then Tom Steyer who has already spent $120 million. And he brags because he wants to impeach the president."
New York Mayor Michael Bloomberg has signaled that he may run in 2020 for president as a Democrat.  If so, having a majority in the Congress would be for him and his colleagues the ideal outcome.
"The difficulty is, when you have liberal billionaires willing to write a $100 million check at the time, that's very difficult to try to equal the playing field," McCarthy said.
"How do we equal the playing field? Results vs. resistance. The results of this economy [are] better than we've seen in the last 50 years."
Counter-Indicators?
President Trump, when out on the stump at his rallies, explains to his listeners how suppression polling is supposed to work.
Take, for example, a "push poll" that tries to get a surveyed person to answer questions in a preferred fashion. Here at MHProNews, we are routinely called for polls.  We know first-hand that push polls are a common surveying method.
Another tactic used by some polling operations is the over-sample from among Democratic supporters, while under sampling Republicans and independents. That occurred in the 2016 election cycle.  By looking at the internals of some polls, and using public data with adjustments, MHProNews was able to use mainstream polling and project the path for a Trump victory on election night accurately.
But how many voters look at the 'internals' of a poll to begin with?  The president is correct in suggesting that a possible goal of polls is to convince people that the election is "over," and there are no good reasons to go out and vote.  The odds may favor the Democrats, on money or the historic trends of many midterms in the last 50 years.  But going to vote still counts.
In 2016, Republicans were outspent by Democrats for president that year. CBS News reported that "Election 2016's price tag: $6.8 billion. Americans who are running for federal elective offices spent more than ever — about $6.8 billion — in that pursuit, including the nastiest presidential election in recent memory, between Hillary Clinton and Donald Trump."
Per the New York Times, "Mrs. Clinton's total expenses were $565 million, compared with $775 million for President Obama; Mr. Trump spent $322 million, while Mitt Romney, the Republican nominee that year, spent $460 million. Mrs. Clinton closed with under $1 million in the bank, much less than the $7 million remaining for the Trump" campaign.
Former Manufactured Housing Institute (MHI) Chairman was one of those movers and shakers in MHVille that supported Clinton, and previously supported President Barack Obama.  He's used Clayton Homes for product, and 21st Mortgage for lending, both Berkshire Hathaway brands.  Berkshire Chairman Warren Buffett was a prominent backer of then Senator, later President Barack Obama.  The money and influence tilted toward the Democrats.
Nathan Smith, SSK Communities, From Mobile Home Resident to Manufactured Home Communities Owner, & Manufactured Housing Institute Leader
So the trend for years has been more money for Democrats, including more big donors for Democrats. But just as President Trump was able to win with fewer dollars, that is possible in the 2016 cycle too.
Evidence for the Red Wave?
In fact, there are several surveys and counter-signals that could indicate that the blue wave Democrats and much of the mainstream media is reporting could prove to be incorrect.  Let's look at some facts.  Gallup did a survey in September that demonstrated that the GOP is at its highest level of acceptance in some 7 years.
Per Gallup, the Republican Party is viewed slightly more favorably than Democrats.  Isn't that odd, given all of those polls that suggest an edge to Democrats? But there's more.
The National Federation of Independent Business (NFIB) – which sources there tell the Daily Business News on MHProNews includes hundreds of manufactured housing industry firms among their 325,000 members – has reported their highest levels of business confidence in many years.  That confidence wave began with the election of Donald J. Trump.
Record Shattered on SBO, Yields Growth, Profits, More Says Juanita Duggan's Group
Consumer confidence surveys are likewise at historic levels since President Trump began his term in office.
In the recent TV viewing of the Ford-Kavanaugh Supreme Court confirmation hearings in the Senate last week, Nielson said that some 20 million Americans tuned in that day to watch part or all of the proceedings. "20.4 million people tuning in on six broadcast and cable networks, according to Nielsen data released on Friday," said NBC News. Millions more listened to the testimony by radio.
Per Forbes, "On the three major [cable] news networks, Fox News, MSNBC and CNN, the Kavanaugh hearing averaged 11 million total viewers from 10 a.m. to 6:45 p.m., according to Nielsen data. That viewership peaked from 3:15 and 6:45 p.m., when Kavanaugh himself testified, with almost 13 million total viewers."
Fox News easily beat the audience share of MSNBC and CNN. See the graphic, below. While not every CNN viewer leans Democratic, and not every Fox viewer leans GOP, those are the widely noted tendencies.
Perhaps more significant are the radio audiences.  While there are "progressive" talk radio shows, conservatives and libertarians dominate talk radio. Rush Limbaugh, per various reports, can reach up to 30 million people online, via broadcast, etc. Sean Hannity can be about half that "Rush" audience size.
With unemployment among blacks, Hispanics and women at record lows, and wages rising, there are reasons to believe that their support for President Trump-backed candidates will grow.
Once again, black entertainer Kanye West publicly made a pro-Trump talk this past weekend.  While booed by some members of the largely liberal Saturday Night Live (SNL) audience, he's part of that trend towards a less monolithic voting among minorities for Democrats. The broad-minded network did not air it, but here is a clip of what took place.
Democrats may be signaling their own concerns over 2018 in subtle as well as obvious ways.  Former President Barack Obama, Michelle Obama, and Secretary Hillary Clinton have been and/or soon plan to hit the campaign trail in support of Democrats.  It is worth noting that former Secretary Clinton will be campaigning with openly socialistic candidate, Mayor Andrew Gillum in FL.
Every election comes down to turn-out. November 6 is just 36 days away, and early voting has begun. Some polling suggests that a record midterm could be ahead. The president has a packed campaign rally schedule.
As MHProNews fact-checks and analysis has documented and reminded industry professionals, the Obama Administration era foisted more regulations, Pam Danner at HUD, higher taxes, Dodd-Frank, doubled the federal debt, ObamaCare, and other road-blocks on our industry's growth. President Obama promised to veto Preserving Access to Manufactured Housing Act, while President Donald J. Trump signed S. 2155 into law, which contained a key plank from the same bill.
The mask is arguably coming off of the various ways that MHI acts as Buffett's Berkshire tool. MHI's own former VP blew part of the Arlington, VA based trade group's cover.
While commentators will be picking over the remains of the 2012 elections for weeks to come and discussing what the political landscape will look like over the coming year and what impact the elections will have as Congress prepares to return for a lame-duck session, MHI wanted to provide members with some feedback and analysis of the immediate aftermath and outlook for the coming weeks.
The midterms can continue the momentum in the economy, or it could reverse it with promised socialist policies being openly advanced by several Democratic candidates.
"Results vs. Resistance."
Which way, MHVille pro, will you vote?  What will you tell your circle of influence?  Keep in mind, if you don't vote, you've de facto voted for the winner. "We Provide, You Decide." © ## (News, analysis, and commentary.)
(Related Reports are further below. Third-party images and content are provided under fair use guidelines.)
1) To sign up in seconds for our MH Industry leading emailed news updates, click here.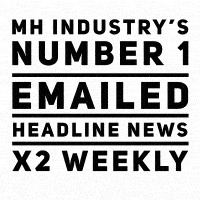 2) To pro-vide a News Tips and/or Commentary, click the link to the left. Please note if comments are on-or-off the record, thank you.
3) Marketing, Web, Video, Consulting, Recruiting and Training Re-sources
Submitted by Soheyla Kovach to the Daily Business News for MHProNews.com. Soheyla is a managing member of LifeStyle Factory Homes, LLC, the parent company to MHProNews, and MHLivingNews.com.
Related Reports

:
President Donald J. Trump Visit to Manufactured Home Community, Video, Hurricane Florence Update
MHI SVP Lesli Gooch & MHARR CEO Mark Weiss Bookend New, Prior HUD Controversies
President Trump Spotlights Factory Home Builder in Speech, Proven Promotion, Support of Industry Advancement
White House Signing Ceremony on Historic Pro-Growth Financial Regulatory Reform
President Trump – "Bigger than Watergate," "We Need Accountability" – National, MH Industry Impacts
Influencing the Socialists in Your Office, the Best Way Out of Poverty
Ending Rigged, Corrupted Systems, Manufactured Housing Advancement, Sunday Headline Recap Week Sept 9.2018 – Sept 16.2018