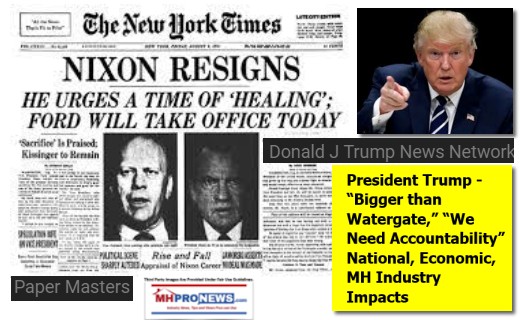 Imagine if during the 2008 campaign, if someone in the Bush Administration had planted one or more FBI informants in then Senator Barack Obama's campaign. Then further imagine, that federal investigations were started, based in part on information paid for by opposition to then-candidate, Senator Obama.
Then envisage that word of that hypothetical attempt to illegally influence a presidential election had leaked out, or if the story was broken by news media. That would have been a huge scandal, and rightly so.  Part of the bedrock of the American political system are free and fair elections.
To have the power of the federal government weaponized for political opposition purposes would debatably be "worse than Watergate."  That wouldn't be a partisan issue, its a question of integrity and the rule of law to protect the rights of all.
There is no evidence that the above hypothetical ever occurred during the Bush years.  But there is mounting evidence that federal taxpayer funded resources were used to influence a presidential election.
That in brief is what President Donald J. Trump's Thursday tweet means with respect to Obama-Clinton operatives.
That has sparked political pundits, media outlets, and public reaction.
"Wow, word seems to be coming out that the Obama FBI 'SPIED ON THE TRUMP CAMPAIGN WITH AN IMBEDDED INFORMANT,'" the president tweeted in reference to a National Review report published last week, said the Hill, a news source based in the nation's capital.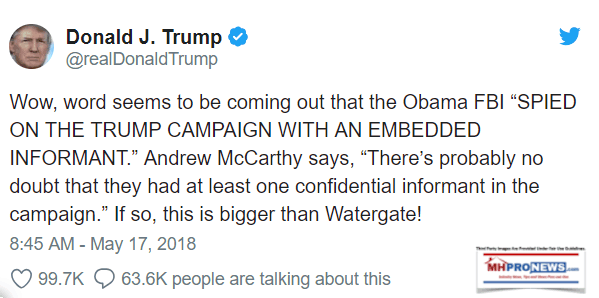 For those who may not recall, the Watergate scandal occurred when President Richard Nixon, a Republican, was tied to the attempted coverup of a crime, in which former FBI and CIA agents broke into the offices of the Democratic Party and George McGovern (that year's Democratic Presidential candidate).
Watergate was the location for the DNC offices at that time.  The Watergate break-in was an illegal political spying effort, designed as part of an illicit plot to help defeat McGovern.  It was no doubt a dark, ugly chapter in our nation's history.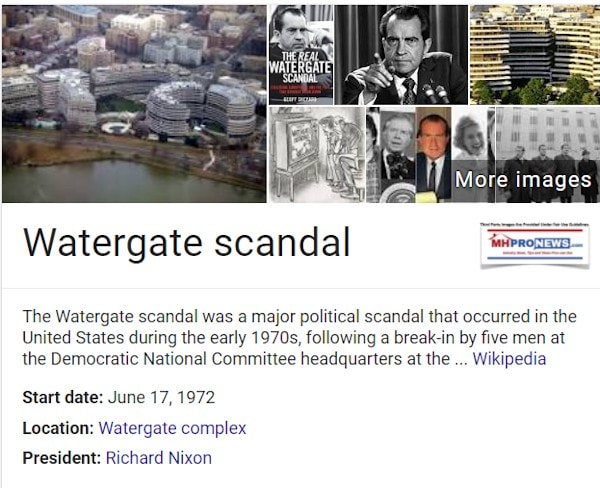 But today, we're not talking about former federal agents.
Rather, the concern is that active, paid FBI and other federal agency staffers have illicitly been involved in derailing a political campaign – and post-election – of attempting to unseat a duly elected president.
If the leak yesterday – that the above concerns are part of what an upcoming inspector general report will allegedly reveal – that would be a bombshell.
"Andrew McCarthy says, 'There's probably no doubt that they had at least one confidential informant in the [Trump] campaign.' If so, this is bigger than Watergate!"
There are now numerous reports that allege that Obama-era led agencies used their surveillance powers to monitor and attempt to disrupt the Trump campaign.
This is not the first time that the Obama administration has been accused of spying on the Trump campaign.
Last year, President Trump accused the former president of wiretapping Trump Tower shortly before the 2016 election.
"Terrible! Just found out that Obama had my 'wires tapped,' in Trump Tower just before victory. Nothing found. This is McCarthyism!" the president tweeted in March 2017.  Then White House Press Secretary Sean Spicer later clarified the tweet to mean that the Trump campaign had spied upon, not a literal wiretap.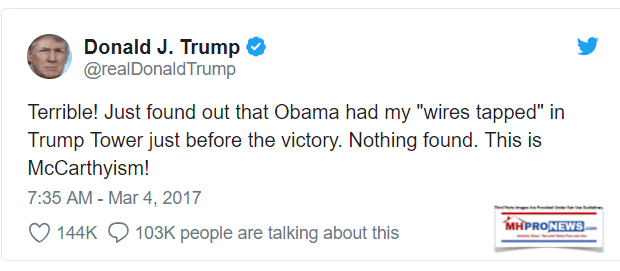 Attorney, Author, Talk Radio Mark Levin Calls for Accountability
MHVille – First Look
The Daily Business News has for over a year made the case held by thousands of manufactured housing professionals, from coast-to-coast. Namely, that the current Trump administration has been far more business-friendly than former President of the United States (POTUS) Barack Obama's Administration was.
The National Federation of Independent Business (NFIB) and others have praised President Donald Trump for his pro-growth, pro-business policies.  The NFIB has hundreds of manufactured housing industry members.
POTUS Trump has also been more business-friendly than the Bush or Clinton Administrations were. That's according to the National Association of Manufacturers (NAM) survey, NFIB surveys, and statements from the Manufactured Housing Association for Regulatory Reform (MHARR).
The regulatory freeze that has given the industry relief from several pending regulations did not occur under Barack Obama.
Rather, President Trump is undoing many of the costly and burdensome regulations of prior administrations.  These points aren't a matter of posturing, they are all a matter of record.
Accurate Trump Administration Predictions
Based upon the Trump Administration's policy stances, statements made over a year ago from MHARR's top officials predicted that President Trump would be pro-business, and that others in the industry needed to rally around his efforts.
Proof?  See the focused 2 minute 20 second video, posted above. Note that foresightful MH industry leadership.
By contrast, Democratic presidential candidate, Secretary Hillary Clinton pledged very similar policies on regulations as Barack Obama had initiated with Congress.
Secretary Clinton named Dodd-Frank as an example.  She pledged to keep those onerous regulations as they had been during the POTUS Obama years, suggesting that she may also strengthen them.
The Manufactured Housing Institute (MHI) is officially hoping that next week the House will vote to pass their version of S. 2155.  That bill includes a roll back of the CFPB's so-called MLO rule, that effectively gagged unlicensed personnel from speaking to consumers about lenders and loan terms.
It must be noted that this Congressional effort would not be taking place with any hope of enactment under a hypothetical Hillary Clinton presidency.
Who says?
That's the application of the logic of former MHI government relations vice president, Jason Boehlert.
President Obama opposed a similar MHI backed bill, threatening to veto it. Secretary Clinton said she agreed with Mr. Obama, pledging to do the same or 'strengthening' Dodd-Frank.  Now, look again at the video with MHARR posted above, and ask, what were MHI and those who rule that association thinking?
While commentators will be picking over the remains of the 2012 elections for weeks to come and discussing what the political landscape will look like over the coming year and what impact the elections will have as Congress prepares to return for a lame-duck session, MHI wanted to provide members with some feedback and analysis of the immediate aftermath and outlook for the coming weeks.
M1
The Special Counsel Robert Mueller investigation of the so-called "Trump campaign-Russian collusion" allegations has now turned one year old.
Even as third-party analysts claim that 90 percent of mainstream media reports have been anti-Trump, public opinion has nevertheless shifted away from Mueller.
In a recent survey, just over half the country now believes that Mueller's so-called probe into alleged Russian collusion with the Trump campaign is – as the 45th president has often called it – "a witch hunt."
It's worse than most realize, because there was never a predicate crime being alleged.  
Democratic attorney Alan Dershowitz argued over a year ago that there is no federal crime of collusion.
Had collusion between the Russians and the Trump campaign existed, said Dershowitz – noting that there is no evidence of any collusion – it would have looked bad.  But the Harvard law professor Dershowitz said that even if the alleged collusion existed, it would not have been illegal.
Then what was the Mueller investigation all about?
Recall that President Obama said days before the election, that the Russians were unable to interfere in the American elections.  There is no evidence that a single vote was changed by Russian attempts to hack.
Recall that MHProNews advised readers last year that even a CNN producer admitted to undercover investigators a year ago that the Russia-Trump stories were "bullsh-t."
An underreported aspect of the specious 'Russia' story is that governments around the world, including the U.S. government, attempt to influence each other's elections all-too-often.
Recall that Barack Obama attempted to interfere with Israel's elections, and with the Brexit vote in England. Arguably worse, is that POTUS Obama – following calls from the Clinton State Department – invaded Libya.  For what?  The Libyan nation – as a result of that Obama-Clinton action – has since been destabilized. As but one tragic result, America later lost diplomats in Benghazi, Libya.  That's been one of many consequences from that outrageous Obama-Clinton military plan to attack Libya's leadership. The previously pacified Libyan people now are suffering a civil war.
The Russian efforts to interfere in the 2016 U.S. election, per sources, is their "payback" for Secretary Clinton's alleged interference in the Russian elections.
Ironically, every scandalous effort to weaponize federal resources are boomeranging back onto Democrats and their anti-Trump allies.
The U.S. ought to be vigilant and protect the election process, against foreign and domestic manipulation and interference.
U.S. policy ought to respect the rights of foreign nations.   Furthermore, U.S. policy ought to pro-actively protect our own nation's borders, and then it can call upon others to act similarly.
For years, America has been living in a topsy-turvy world.  So much so, that Barack Obama candidly and accurately said not long ago that there are two ways that the nation looks at the facts.  That's sad, but true.  Isn't he, Secretary Clinton, and their allies part of the reason that claim is accurate?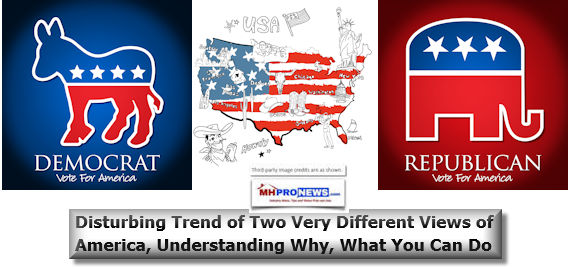 Former President Barack Obama recently said something relevant to the nation. But it was particularly and profoundly insightful to manufactured housing professionals. According to the Hill, " Former President Obama said in an interview that Fox News viewers and NPR listeners are living on different planets in terms of what news they consume.
Plausible allegations of officials – starting during the Obama era – using:
federal agents,
taxpayer dollars,
and illicitly applying federal legal procedures to stop or unseat a campaign – or a duly elected president – are all indeed worse than Watergate.
Aren't these an apt description for an attempted coup?

Simplified Summaries of Threads
Former DNC Chair Donna Brazile said that the Hillary Clinton campaign rigged the primaries, to prevent Bernie Sanders from becoming the Democratic Party's candidate.
"Hacks" – Explosive 2016 Campaign Claims by Former DNC Chair, Donna Brazile
It is now clear that the Clinton campaign paid millions for the so-called "Steele Dossier," which used foreign intelligence assets – British and Russian sources – to try to paint then candidate Trump in an unfavorable light.
That bogus politically-motivated 'fake dossier' – along with leaks of one or more FBI memo(s) – were in turn used by then FBI director James Comey to spark the Mueller probe.
If that isn't outrageous enough, Special Counsel Robert Mueller has a staff packed with Clinton campaign donors.
Millions of taxpayer dollars have been spent on what looks to be a political effort initially designed derail candidate Trump, and later used to spark a stir they apparently hoped would lead to a duly elected president's impeachment.  All on totally spurious – faked! – grounds.
If this is so, it's not just outrageous, its criminal.
Why This Matters to MHVille, Next Week
Next week, the House will vote on their version of S. 2155, which includes a provision that would remove the MLO rule.  The mortgage loan originator (MLO) rule that is widely seen as harmful to manufactured housing industry retailers, communities, lenders, and others.
GovTrack tells MHProNews the odds of passage for S. 2155 stands at 56 percent.
Under President Obama, such a measure would have been vetoed.
Under a hypothetical Hillary Clinton Presidency – based upon her campaign promises – a bill like S. 2155 that will change Dodd-Frank would have been vetoed.
If S.2155 bill passes – and MHProNews' publisher has editorially supported a similar such pro-business, pro-consumer change like this for years – it will be a Trump Administration accomplishment.
It would be entirely spurious for MHI to claim any legitimate bragging points.
Why?
MHProNews reported that days before the 2016 election that MHI had not one, but two paid pro-Clinton speakers on their stage in Chicago.
Warren Buffett was pro-Barack Obama and pro-Secretary Hillary Clinton.
Buffett is the Chairman of Berkshire Hathaway.  Berkshire is the parent to Clayton Homes, 21st Mortgage, Vanderbilt Mortgage, and has interests in a raft of other suppliers, lending, and services entities that intersect with manufactured housing.  Berkshire's brands are widely seen as dominating MHI.
Based upon feedback from industry sources, there is a growing realization that MHI has been slow-walking or stonewalling reforms that hurt the industry, rather than championing them.
The Washington Post's recent report on HUD, Pam Danner and manufactured housing underscored those concerns.
As a result of years of MHI failures and allegedly weaponized reports, there is also a growing interest in creating a new post-production association, one that truly represents the independent retailers, communities, lenders and others.
Manufactured Housing is Non-Partisan
Manufactured housing – because it is affordable housing – ought to be viewed as a non-partisan issue.  It has long enjoyed the support of Democrats and Republicans alike for that reason.
But during end of the 'Bush 43' years, and during the eight years of the Obama presidency, anti-business policies often harmed our industry.
By contrast, President Trump – and cabinet members such as Secretary Ben Carson – have been working to undue those harms, pledging a new era of cooperation.  Would that have taken place under madam Clinton's leadership?
Developing News on More Manufactured Home Lending
There is a developing story on financing that you may not hear from MHI or their echo-chamber surrogates. They will certainly not reveal it unless and until MHProNews hereby and in upcoming reports spotlights it.
When you see that upcoming report, you'll see why.
Watch for that pending finance focused report from the MH Industry's leading independent news source.
For almost a decade, MHProNews has brought you the most popular "Industry News, Tips and Views that Pros Can Use." ©
With facts, evidence, and sound analysis in hand, then readers can apply the next tag line: "We Provide, You Decide." ©
Which is all part of the reason why a top level executive said – as part of a longer communication – that "…if MHProNews is writing about it, I want to know about it." (News, analysis and commentary.)
(Third-party images, and cites are provided under fair use guidelines.)
PS: Our thanks to those who have taken the time to mention that they see that MHProNews reports, analysis and projections have proven to be accurate, time and again.
PSS: Watch for an exclusive report on a non-profit group that is attempting to harm manufactured housing industry businesses.
Related Reports

:
Kanye Controversy, Universal Income, Venezuela, President Trump, Manufactured Housing, First Principles, and You
Manufactured Housing Supporting VP Mike Pence in Elkhart, Indiana – Highlights
Smoking Gun 3 – Warren Buffett, Kevin Clayton, Clayton Homes, 21st Mortgage Corp Tim Williams – Manufactured Home Lending, Sales Grab?
Greener, Stylish Manufactured Homes – Hidden Facts in the Washington Post Manufactured Housing Narrative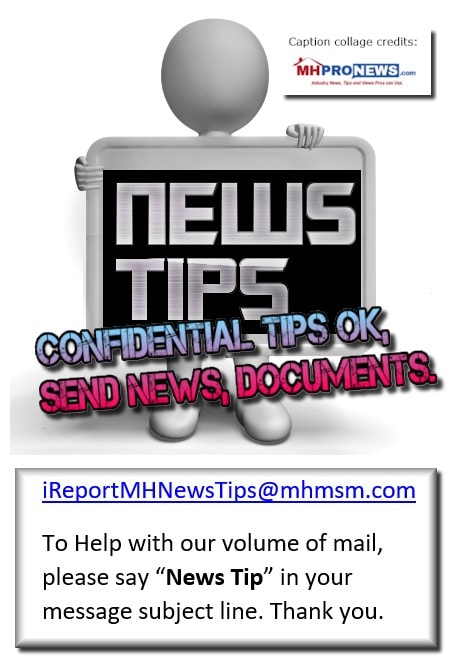 1) To sign up in seconds for our MH Industry leading emailed news updates, click here.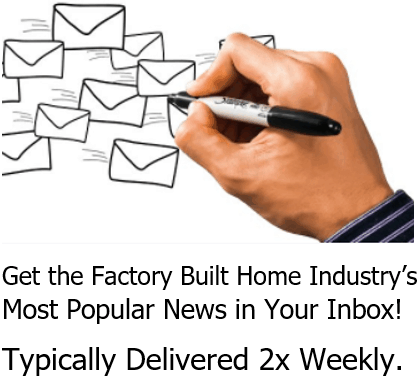 2) To provide a News Tips and/or Commentary, click the link to the left. Please note if comments are on-or-off the record, thank you.
3) Marketing, Web, Video, Consulting, Recruiting and Training Resources

Submitted by Soheyla Kovach to the Daily Business News for MHProNews.com.
Soheyla is a managing member of LifeStyle Factory Homes, LLC, the parent company to MHProNews, and MHLivingNews.com.