"Proper Planning Prevents Poor Performance."
–      Oxford Studies Course calls these the 5 Ps of success.
 But let's be analytical. Planning is only the start. Planning must be flexible, as Charlie "Tremendous" Jones said in his book, "Life is Tremendous."
Flexible planning must be followed up by good execution too.
Pre-Planning?
A critical point that is often overlooked is that planning must be based upon reality, not wishful thinking.  
One of the most overlooked problems that's keeping manufactured housing at historic lows is that too few have a comprehensive picture of what's caused and is keeping manufactured housing at such low levels.  This is occurring during one of the worst affordable housing crisis periods in America during the last 120 years.
People generally don't buy something that they don't understand, misunderstand, have concerns about, aren't motivated to have, or are otherwise unable to buy. Until understanding, interest, desire, opportunity, need, and the means to buy all come together, no purchase is made. There are more details.
New manufactured home sales demonstrably could be doing five to ten times more business.  That's not theory, its demonstrable fact. What that means in practical terms is that in markets like yours, there could be 5 to 10 times more new home business.  
For those who supply the industry, that same proportion could hold. For those who provide financial services to manufactured home retailers and communities, the numbers could be that many times higher.  That doesn't occur by doing the same things, the same old way.
In an era where money and head counts can yield political influence, the clout of the industry could grow significantly at the local, state, and national levels. 
Albert Einstein says that if he only had an hour to solve a problem, he'd spend 55 minutes studying the problem and it's causes. He would then spend five minutes – 1/12th of his time – coming up with solutions.
On our media, consulting, and businesses development services sides, we take a comprehensive view of the SWOT of a company, location, and/or the industry. Yes, we already know what generally works. But no two locations are the same.  Each location merits a tailored approach.
Back when this writer was a younger man selling and later managing manufactured home retail sales, the owner of a company I worked for said this. "It's the man, not the land."  
What did "It's the man, not the land" mean? Simply that you could take two people, put them at the same location, and one could outsell the other. Same homes, same financing, same traffic, same everything – save the skills, motivation, and focus that each of those two sales professionals brought.  That's human nature, which hasn't changed since the dawn of humanity. 
My best personal month in manufactured home sales was 15 homes delivered. And that wasn't because rain backlogged deliveries, or some artificial reason. It was 8 sold/delivered, then 10, followed by 12, and then finally 15 sales in a single month.  My own store would hit 30 deliveries in a summer month. But because of learning, and developing, some years later, we took a retail location and hit far more homes out the door than that, and did it routinely.  Proper planning, yes.  But the rest of what goes into SWOT, including execution. 
Back to my retail center. Knowing what I did, I was able to teach others how to do similarly. One fellow, for example, wrote 7 people in a single day. All 7 got approved.  All 7 closed and delivered. One person. That's not counting the rest of the business that talented fellow did. We'll call that gifted guy "G." That fellow was roughly 6' 10" tall. Sharp looking, good personality. G "had it all."
Let me close on a cautionary tale about G. As talented as he was, some weeks later, G was caught stealing. It was easy to document (good processes, procedures). We had the customers word, we had the paper work, etc. When confronted, G tearfully admitted to the stolen money problem.  
He begged for a second chance. After talking to a colleague, G was given another opportunity. But he we never the same for us again. G eventually decided to leave. He went to work for a car dealer. That dealer, like so many in the automotive industry, had a formal sales training program.
That automotive trainer was an outside consultant. He went across the country, I was told, training people.  One day, G dropped in to see me.  He wanted to say how the auto sales training was going. G said the consultant was blown away by what G knew about selling and working with people. G wanted to thank me, face to face, man to man, for all that he had learned.
That was classy. 
G had it all. G had made a mistake. Sadly, G continued to periodically make those short-cut, judgement errors. I was later told that G ended up in jail. Sad. Utterly avoidable. 
Talent enough is not enough. I've seen people with less talent outsell people with more gifts. Marketing, selling and business aren't a sprint. They are a marathon. One has to find and set a workable pace that makes people stretch, but can still be sustained. Ethics and customer satisfaction needs to be at the heart of all that is done.
Veteran outside industry reps have told me on numerous occasions that selling skills are down from 10 or 20 years ago. That's not true everywhere, but it is common.  
Investing in the proper protocols, people, and products – good planning, and ethical execution – can yield far better outcomes than you may imagine. The return on investment for training, coaching and business development is far better than on the stock market. Safer too!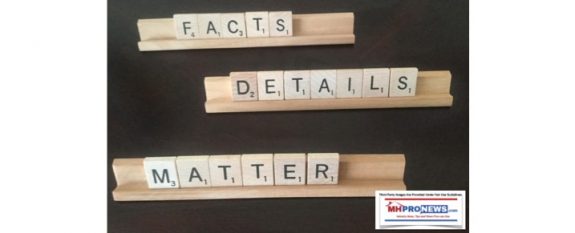 Business should always be about mutual victories. Customers, sales people, managers, and owners should all win on every deal. That's not pie in the sky, it's the only way to avoid being a flash in the pan, and have a sustainable business with a good reputation.  
Otherwise, it can end up looking good form while, but the reputation and problems can follow.
Do good. Develop the right people. Invest in your own business or location. You'll be glad you did. ##  (Manufactured housing related marketing & sales news, analysis, and commentary.)
(See Related Reports, further below. Third-party images and content are provided under fair use guidelines.)
By L.A. "Tony" Kovach – for MHProNews.com.
Tony is the multiple award-winning managing member of LifeStyle Factory Homes, LLC, the parent company to MHProNews, and MHLivingNews.com.
Office 863-213-4090 |Connect on LinkedIn:
http://www.linkedin.com/in/latonykovach
Click here to sign up in 5 seconds for the manufactured home industry's leading – and still growing – emailed headline news updates.
Related References:
"Family Owned," a Formula for Outperforming "Big Boys," Monday Morning MH Marketing Sales Meeting
Sustainable Success. Your Best MH Investment? Monday Morning Manufactured Housing Sales and Marketing Meeting
Becoming a Standout Performer, Monday Morning Sales, Marketing Meeting