Every business or profession has certain essentials. Manufactured housing is no exception.
Here are some examples from MHVille.  
•     A retailer needs inventory, and some place to sell from. 
•     A community implies a location, that has home sites ('lots' or 'pads,), streets, infrastructure, the means of collecting the agreed upon revenue, and managing the property.
•     Factories likewise have a physical location, need materials, and components. 
•     Lenders have a location, and must have a stream of capital from which to make loans.
•     Installers and transporters need equipment, and a location for that equipment.  
All of these various segments of manufactured housing have locations. But they also require good people who are properly informed and motivated.
Rephrased, beyond the location, hard assets, and mandated items for a business, the next clear and pressing need are the right people with the desire and tools to do the work.
So it stands to reason that among the best investments anyone can make is in the recruitment, development and retention of their team members. 
In an era when the labor pool is tight, and people are more willing to change jobs, creating an atmosphere where people want to go to work, is rising in priority.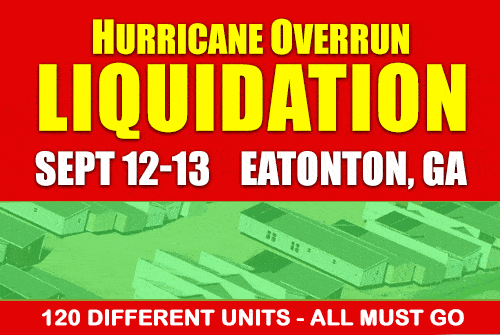 Clear vs Fuzzy Thinking
Fuzzy thinking about MH among your team can cost you big time. What is the cost of your lost sales opportunities? Odds are it's in the millions of dollars a year in retail volume at a good location.
Feed people the right information, the right ways, often enough, and you'll discover that people want to learn more.
The catchphrase 'learn, earn, and return' has perhaps never been more timely. 
Researchers and our own experiences in recruiting, coaching and training all suggest that enthusiasm is both taught and caught by the right type of education. 
Enthusiasm, motivation, and being well informed – these are among the elements you want to find in your sales force.  
Lessons from an Industry Giant
We'll do a specific breakdown later on this next nugget (make sure you are signed up for our emails, so you won't miss it; sign up in seconds at this link here). But a graduate of Clayton's sales school called to give us a briefing. 
The two points we'll make today from that multiple part phone discussion about Clayton's training is this.
1)        Clayton's graduate praised the training.
2)        That in spite of what some (not just that one grad) thinks is the among the best training in the MH industry, Clayton has shut down about 100 net locations in roughly 7 years.
3)        You read that italicized line correctly. Who says? Kevin Clayton and their company's self-stated data. Keep in mind they were adding new locations during that timeframe too. So that's a net decline, implying the number of location closures is more than 100.
Ponder that for the next few moments. The industry's elephant in the room, while shipments are rising, and the affordable housing crisis is raging, has closed some 100 (+/-) locations. 
Why? Its a huge question, isn't it?
The primary reason for closures are not enough sales, which leads to not enough profits. It costs a lot to open a location, plus ongoing monthly expenses. So a closure is not done lightly.
There will be more insights on that topic when we publish that insider look at Clayton's retail sales. Again, make sure you and your managers are signed up for the industry's most read emailed headline news.
But here is a top line that reflects today's headline.
Multiple billion dollar Clayton Homes knows that they have to formally train their people if they want be successful and grow.
State association executives, and lender's field reps tell MHProNews that it is consistently the locations that invest the time, talent, and treasure in training that produces the best results.
There are and have been several trainers in the industry. But to our knowledge, there is sincerely no result that approaches that of our applied methods and systems.
The beauty of our method of marketing and sales coaching is this. In many cases, you can keep the best of what you already do, and include the new that we provide.
For those with a budget that want to learn more, click or call. Because one of you best investments is in the right system. No one else in MHVille has one like ours. Who says? Just listen to what those exposed to our training and talks have had to say.
The Next Best Thing? 
For those locations that have insufficient resources for contracted services, the debatably next best thing is plenty of study coupled with group discussions that are led by a seasoned professional. So get those sales team members on MHLivingNews.com daily.
Yes, every business day, you should encourage your team to read at lest one article a day and view those accompanying videos on MHLivingNews.com.
There is no other resource quite like MHLivingNews in MHVille, period. Thanks to prior and current clients, it's the best at teaching consumers – and thus front line staffers – about the realities vs. the misconceptions about mobile homes and manufactured housing.
Education is a key. Investment in your people are a must for sustainable success.
Clayton and other successful operations know it. We truly believe that ours educational and marketing methods are second to none. Listen to the video above, and you'll get a small sense of why. To learn more, click, call or check out what's below. "Innovation, Information, Inspiration for Industry Professionals." ©   ## (Manufactured housing related marketing & sales news, analysis, and commentary.)
(Third-party images and content are provided under fair use guidelines.)
By L.A. "Tony" Kovach – Masthead commentary, for MHProNews.com.
Tony is the multiple award-winning managing member of LifeStyle Factory Homes, LLC, the parent company to MHProNews, and MHLivingNews.com.
Office 863-213-4090 |Connect on LinkedIn:
http://www.linkedin.com/in/latonykovach
Click here to sign up in 5 seconds for the manufactured home industry's leading – and still growing – emailed headline news updates.
Related References:
Becoming a Standout Performer, Monday Morning Sales, Marketing Meeting