For the next few minutes, we will set aside the questions that routinely swirl around potential "Cause and Effects" of the data that follows. This report will focus instead on pure facts, trend-lines, and evidence.
For twenty (+/-) years, there's been a growing need for quality affordable housing.
Up until 1998, manufactured housing (MH) was generally rising from its shipment levels in early-1990s.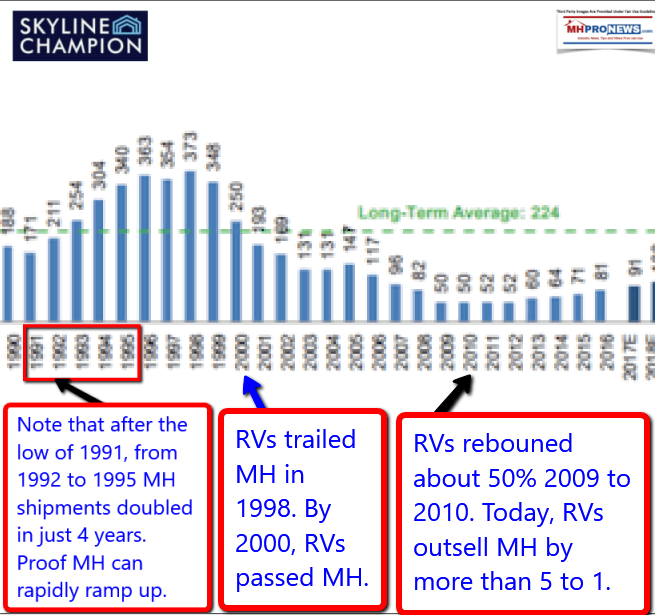 After 1998, manufactured home sales began a long, steady decline that finally hit bottom in 2009-2010. There has been a slow, steady rise since that historic bottom.
By contrast, during that same timeframe, RV sales generally rose far more quickly. RVs went from lower shipment levels than MH in 1998, to surpassing MH in the years that followed.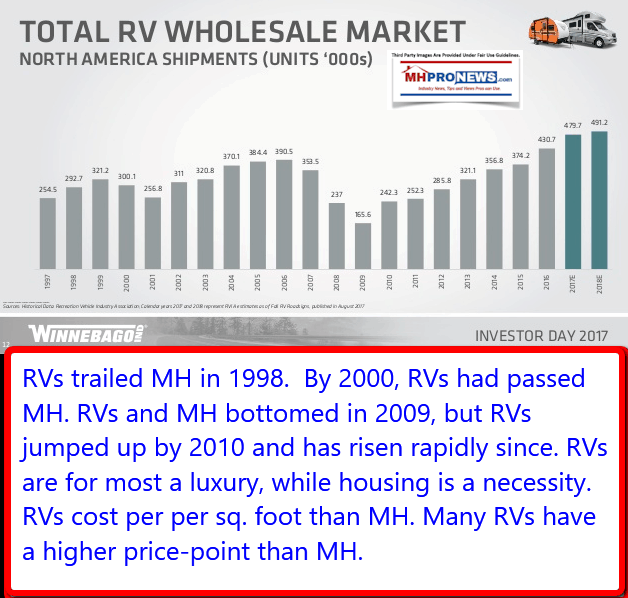 During the so-called Great Recession circa 2008, RV sales dipped less, and recovered more quickly than manufactured home (MH) sales.
Both RVs and MHs bottomed out in 2009.  But the next year in MH, the industry was essentially flat. By contrast, RVs jumped roughly 50 percent 2009 to 2010.
Today, RVs outsell MHs by more than 5 to 1, per the sources and trend lines shown. That swing went from MH outselling RVs for years, and then RVs surpassed MH while this part of the factory built housing industry dropped.
These are dramatic facts, by any measure. A more detailed look at RVs vs. MH is at this link, which will also be found under related reports, linked at the end of this column, below.
Can anyone argue that RV sales growth has proven to be sustainable?  How to explain the sustainability comment of MHI President Richard "Dick" Jennison, in the short video clip, posted below?
That question asked, our focus in this column remains on facts, evidence and trendlines, not cause and effect. We'll allow other published reports, some linked further below, to look at the Jennison question.
What About Conventional Housing?
Here's the trend lines on new single-family housing starts.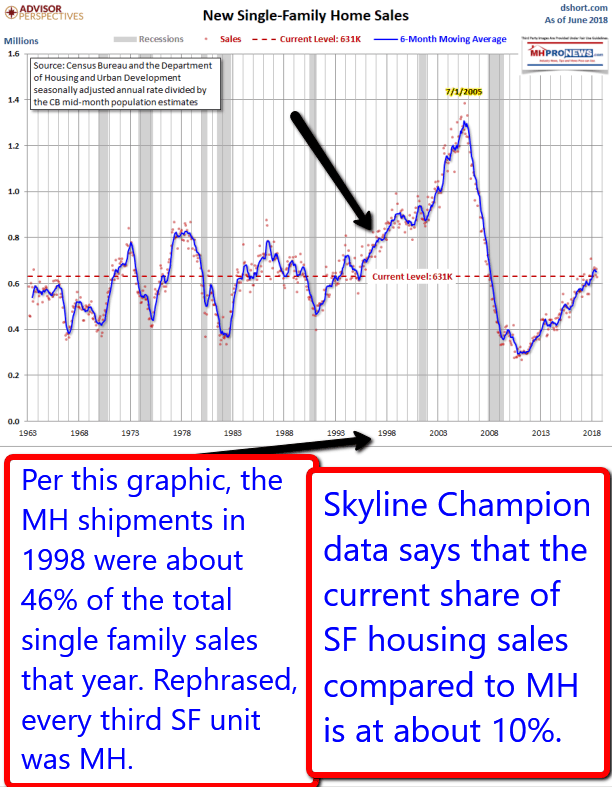 Per Scholastica 'Gay' Cororaton, Certified Business Economist (CBE) with the National Association of Realtors, the graph below reflects the fluctuations in the percentage of MH shipments vs SF new and existing home sales.
It must be noted that several manufacturers have confirmed for the Daily Business News on MHProNews that the percentage of shipments that are being sold for rental housing has risen since the advent of Obama Administration era Dodd-Frank rules that were implemented by the CFPB.
Other Vexing Indicators, and Opportunities in Disguise 
As the Daily Business News exclusively reported, if new manufactured home shipments into land-lease communities designed as rental housing are factored out, manufactured home shipments are essentially flat, or only a very small growth, compared to the low of 2009.
Several community operators that do rentals and sales have said that their new home sales declined after rentals were first implemented.
Those are anecdotal statements, and no specific data-driven studies of those claims are available to us at this time. With that noted, the number and high-level sources of such anecdotal statements must be considered.
Certainly, rentals in communities are a profitable business model.  But so is the traditional role of land-lease communities that have focused on owner occupied homesites.
While such trends ought to be concerns for some, they are also opportunities in disguise for those who address the underlying causes.
So when mainstream media gives positive news about manufactured housing, as Bloomberg did in the report referenced below, these are some of the background items that others may or may not be considering.
Bloomberg "New Home for $90,000? Manufactured Housing Is Making a Comeback" Reveals MH Media Challenge
Summing Up
All of these facts and trendlines must be considered in the light of an estimated 7.7 affordable housing shortage, per the National Low Income Housing Coalition (NLICH) data.  
They should also be viewed through the lens of some 8.3 million housing unit shortages cited by the National Association of Realtor's Chief Economist, Lawrence Yun, Ph.D. 
Let's sum up what the data and trend lines above reflect.
Manufactured housing is capable of rapid growth. Recall Rollohome, and the early 1990s data above.

RVs clearly have outperformed MH since 2000. Yet RVs are for most a luxury, not a necessity like housing.

RVs proved their ability to grow some 50 percent in a single year. While there are obvious differences between RVs and MHs, ramping up production is arguably similar for both industries. Put differently, the ability for manufactured housing to grow more rapidly ought to be clear as noontime on a cloudless day.
You could sum this up by saying, sustainable success for manufactured housing is possible.
Links below will be to more information on related reports to the selected data, referenced above. This is the first of a planned multiple part, fact based look at industry indicators and trendlines.  Make sure you are signed up for our industry leading emailed headline news, via the link below.  "MH Industry News, Tips, and Views Pros Can Use." ©  ## (News, analysis, and expert commentary.)
(Third party images and content are provided under fair use guidelines. All rights reserved.)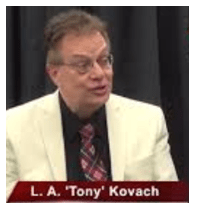 L. A. "Tony" Kovach and his wife Soheyla co-founded and publish the manufactured home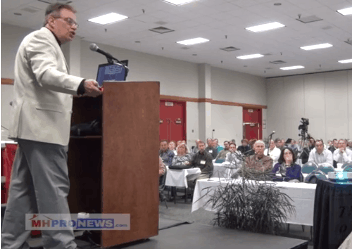 industry's two leading trade media; Manufactured Home Living News (MHLivingNews.com) and MHProNews.com for business professionals and investors.
Kovach's work has been featured in publications such as the Washington D.C.'s The Hill, Value Penguin, Chicago Sun Times, and a host of other media. He's been involved in the manufactured home industry as a manager, high-volume retail center owner, consultant, and publisher for over 25 years. Kovach has likely interviewed more industry professionals, experts, and manufactured home owners, than anyone in U.S. news media.
1) To sign up in seconds for our MH Industry leading emailed news updates, click here.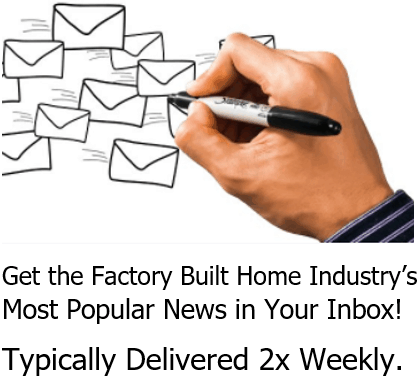 2) To provide a News Tips and/or Commentary, click the link to the left. Please note if comments are on-or-off the record, thank you.
3) Marketing, Web, Video, Consulting, Recruiting and Training Resources
Related Reports:
Fresh Facts, Figures, Future of Affordable Housing -Comparisons- Conventional Site-Built v Mobile/Manufactured Home Industry Data
What RV Industry's 2018, Prior Results Reveal for Manufactured Housing
Sustainable Success. Your Best MH Investment? Monday Morning Manufactured Housing Sales and Marketing Meeting
"Thou Shall Not Steal," $2 Trillion Annually Lost to Lack of Affordable Homes, Making the Manufactured Home Case
Warren Buffett Would be Okay With Clayton Homes Losing Money, Says Kevin Clayton – But Why?