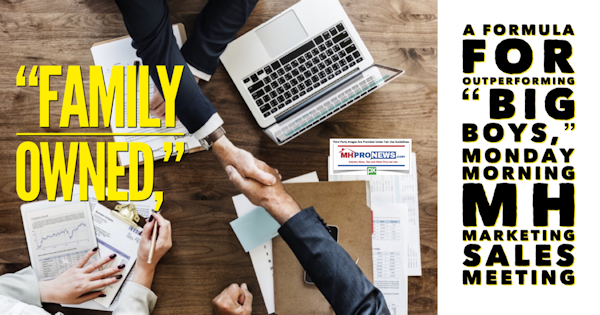 In today's tip, we're using business-to-consumer (B2C) examples below, but the same principles apply businesses-to-businesses (B2B).
It is up to each business to define itself in its own market(s).
Those in the manufactured home industry that don't define themselves will likely be defined by their competitors, and/or by the bias and ignorance of others.
Here are some of the key elements to deciding your inventory- and marketing plans, which can help you craft how to define your location(s) in their respective marketplace.
1) Price-points. Often, but not always, the dominant, chain stores or conglomerate communities may have a price advantage on their homes for sale. You need to have a good sense of what your competitors have, how the compare to what you offer, and how each are priced.
When it comes to 'knowledge' of competitors, keep in mind that Clayton and others have the advantage of their so-called "spies."  ICYMI, that report can be read later, found at the link below.
Clayton Homes and 21st Mortgage's Manufactured Housing "Spies"
A sure way to hand Berkshire brands or other giants an advantage is to ignore them, their methods, tactics, and resources.
Berkshire Chairman Warren Buffett himself argues for the advantages that the lower price gives his companies.  That said, you don't have to be lower in price to win, but there's a big IF with that qualifier.  You have to be able to craft the right strategy, marketing message, and sales systems.
Price is an advantage, but it can be overcome in various cases with enough extra effort.
2) In stock and/or custom order? Delivery dates for ordered units have become an issue in recent years. It used to be that you could get a new home in so-many weeks. Now, that lead time is more often measured in months. To maximize your turns-per-year, sales, and profits, this question #2 and it's subsidiary and related companion issues ought to be carefully considered.
3) Merchandising or not? We noted in a recent column linked below the value of staging model homes. Of course, that comes at a price in time, talent, and treasure (dollars). But what if you can't afford to stage/decorate your homes? Then a stratagem must be developed around that reality.  For those with a budget for staging, you can read the related column linked below, later on.
Manufactured Home Retailers, Communities, Is Your Merchandising Nordstrom's or Salvation Army? Monday MH Marketing, Sales Meeting
4) Financing. We don't track day-by-day the financing programs offered by say 21st Mortgage Corp – which serves independents, vs. Vanderbilt Mortgage and Finance, which serves Clayton conglomerate retail stores. But the routine comments from communities, retailers, and HUD Code manufactured home producers we work with or hear from suggests that Berkshire Hathaway has long tilted the scales in favor of Clayton vs. independents.
For example, the routine report for years has been that VMF "buys deeper" than 21st. Who says so? Insider sources, and we'll cover that in an upcoming report. But for now, your marketing and sales strategy ought to consider these kinds of factors (#1-4).  Otherwise if all else is equal, you can be outperformed by those with lower pricing, easier lending, better staging, etc., etc.. Those realities often give the big boys advantages.  That means that savvy, long-term success minded  independents operating near them must plan around those advantages.
The Above, Rephrased and Boiled to Essentials
Most independent retailers, communities, and producers are so busy with their day-by-day activities, that they don't spend nearly enough time in strategic planning.
Yet, without a sound 'fact based' strategy, how can you outperform someone who may offer lower pricing, easier financing, or other advantages?
It is doable. But it takes facts, a SWOT analysis, and a plan that includes how you define yourself in the marketplace. See the related report, later on, that is linked below.
Sunday Morning Manufactured Home Industry Research, Reports, Headline News Recap 7.8.2018 to 7.15.2018
The headline suggests one approach that has worked as part of a broader message and plan. "Family owned and operated, since…" whatever date can be a powerful message that's part of a larger strategy.  There are tons of shoppers who prefer to do business with people, vs a bureaucratic business where the faces are changing often due to turnover.
By the way, we have a proven, profitable program that so shifts the paradigm away from the mundane appeal of the lowest price or lenders that buy the poorest credit.  Those strategies can lead you and your location(s) to levels of success that surprise you, and your competitors too.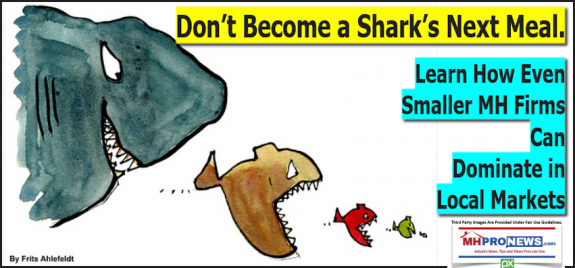 For those with a budget, ready to take a next step toward dominating your local market, click the image above or call the number below. With over 1,000 endorsements and recommendations, odds are excellent that you'll be glad that you did reach out for our proven systems. Sure there's a cost, but it is an investment that routinely pays.  ## (Manufactured housing related marketing & sales news, analysis, and commentary.)
(Third-party images and content are provided under fair use guidelines.)
By L.A. "Tony" Kovach – Masthead commentary, for MHProNews.com.
Tony is the multiple award-winning managing member of LifeStyle Factory Homes, LLC, the parent company to MHProNews, and MHLivingNews.com.
Office 863-213-4090 |Connect on LinkedIn:
http://www.linkedin.com/in/latonykovach
Click here to sign up in 5 seconds for the manufactured home industry's leading – and still growing – emailed headline news updates.
Related References:
Sustainable Success. Your Best MH Investment? Monday Morning Manufactured Housing Sales and Marketing Meeting
Becoming a Standout Performer, Monday Morning Sales, Marketing Meeting