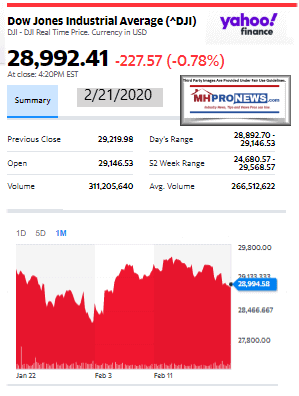 An interesting question has arisen. It could be from a new reader – we can't say about that aspect of this yet. But rephrasing the message, it would be a question that could go like this. Why is there a significant amount of reporting on MHProNews focused on problems related to the Manufactured Housing Institute (MHI)?
That's a fair question. Tonight's report about the Modular Home Builders Association (MHBA) Executive Director Tom Hardiman – intentionally or not – will help us address and answer that topic. MHBA's latest statement about a factory-built housing initiative, which included comments about MHI's "CrossModTM homes," is our featured focus this evening.

Periodic readers of this business-nightly feature should note there are new tweaks to some of the standard portions of our evening market/investing report. Read carefully as some changes of the 'standard text' that follows before our left-right headlines and also in other features near the end of tonight's reports.
Every evening our headlines that follow provide snapshots from two major media outlets on each side of the left-right news spectrum that reflect topics that influence or move investor sentiment. In moments on this business evening report, you can get 'insights-at-a-glance.'
This report also sets the broader context for manufactured housing markets, in keeping with our mantra, "News through the lens of manufactured homes and factory-built housing" ©.
We begin with headlines left-of-center CNN followed by right-of-center Fox Business. We share closing tickers and other related data courtesy of Yahoo Finance, and more. 5 to 10 minutes reading this MHProNews market report every business night could save you 30 minutes to an hour of similar reading or fact-gathering elsewhere.
Perhaps more important, you will get insights about the industry from experts that care, but also dare to challenge the routine narrative that arguably keeps manufactured housing underperforming during an affordable housing crisis.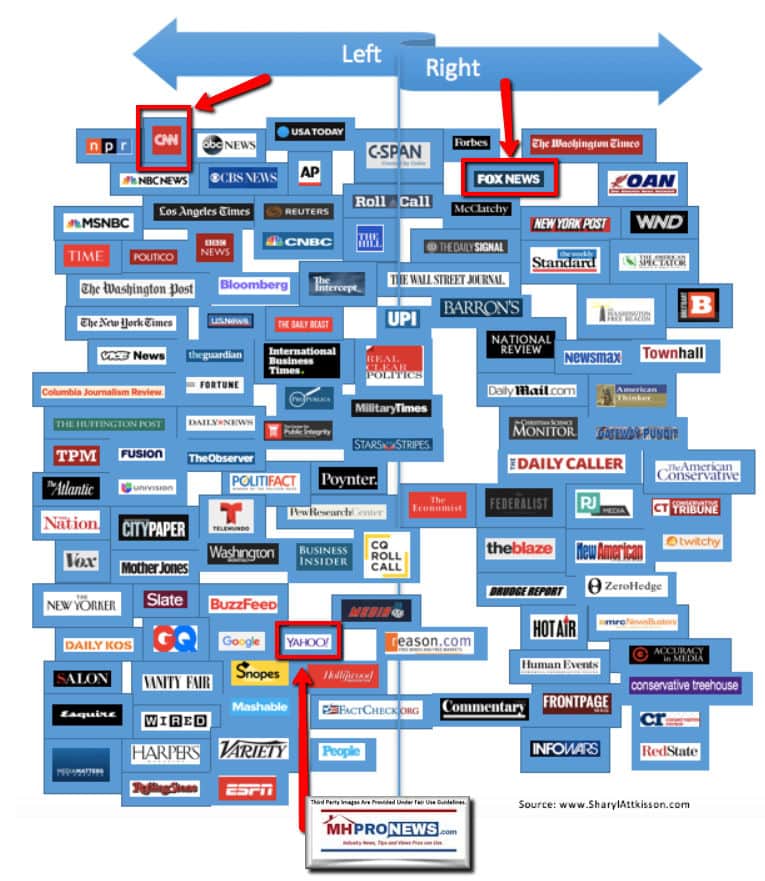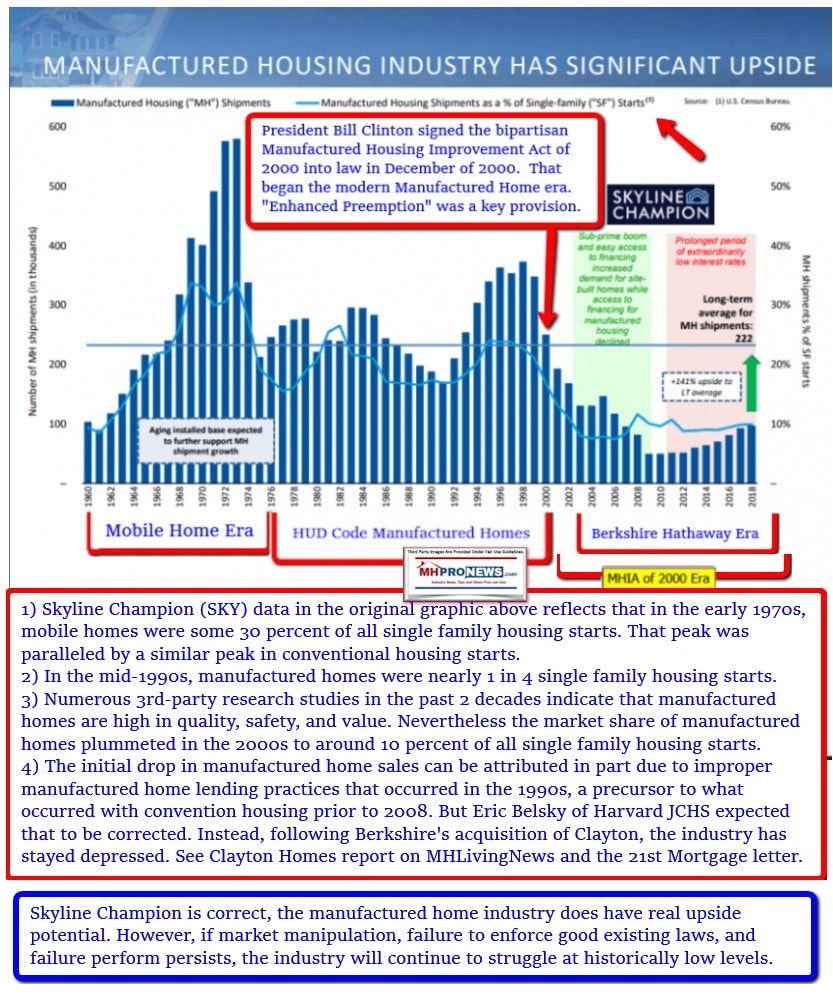 Bernie Takes Front-Runner Status in 2020 Democratic Primary, Bloomberg, Biden Campaigns Snapshots – plus Manufactured Home Investing Stock Updates
Newsy, Peeling Back Media Bias, Manufactured Housing Sales, Investing, Politics, and You
Headlines from left-of-center CNN Business
A stunning decline
How Victoria's Secret lost its way
Zillow is losing millions on selling homes. But its risk-taking CEO isn't worried
Stocks slide as coronavirus cases outside of China climb
Wall Street is struggling to find a replacement for Libor. Time is running out
Goldman Sachs warns of stock market correction
How Bernie Sanders could actually be helping the stock market
Sprint's stock is in the double digits for the first time since 2014
Twitter is Wall Street's favorite social media stock
The worst may be over for farmers in the US
Apple needs a 5G iPhone now more than ever
Facebook will pay you up to $5 to record your voice
The latest controversial trend in 'sharenting': Filming reactions to kids' report cards
Victoria's Secret is being sold. It's only worth $1.1 billion
Finally the Baby Yoda toys we've been waiting for are here
NASHVILLE, TN – FEBRUARY 12: Democratic presidential candidate former New York City Mayor Mike Bloomberg delivers remarks during a campaign rally on February 12, 2020 in Nashville, Tennessee. Bloomberg is holding the rally to mark the beginning of early voting in Tennessee ahead of the Super Tuesday primary on March 3rd
OPINION Billionaires like Bloomberg make our country better, not worse
Hot Wheels to launch a radio-controlled Cybertruck complete with a cracked vinyl sticker
UNITED STATES – JANUARY 16: AMERICAN BANDSTAND – Show Coverage – 1/16/84, Matthew Wilder on the Walt Disney Television via Getty Images Television Network dance show "American Bandstand"., (Photo by Walt Disney Television/Getty Images)
How TikTok became a hitmaker for the music industry
THE UNITED STATES OF AMAZON
A red light scans a parcel on a conveyor belt inside an Amazon.com Inc. fulfilment center at an Amazon.com Inc. fulfilment center during the online retailer's Prime Day sales promotion day in Koblenz, Germany, on Monday, July 15, 2019.
Who's responsible for what you buy on Amazon? A court is about to decide
Jeff Bezos commits $10 billion to fight climate change
Use Amazon, Uber or Walmart.com? You've probably signed away your right to sue them
Fake and dangerous kids products are for sale on Amazon
Amazon has its best holiday season ever
ECONOMY
American paychecks aren't getting much bigger — unless you're rich
OPINION Trump's budget will wreak havoc on economy
OPINION Our economy needs this tax cut
The economy is roaring. Why are workers striking?
ANALYSIS Tale of two economies: 14% can't pay medical bills, 401(k)s hit record highs
Headlines from right-of-center Fox Business
Wells Fargo agrees to $3B settlement in fake accounts case
Wells Fargo has agreed to a $3 billion settlement to resolve its fake account scandal, the Department of Justice announced Friday.
Bloomberg goes for the jugular with ads mocking Trump about golf, steak
How did Bloomberg make his money?
How Bloomberg plans to box out Sanders during brokered convention
Sanders on Bloomberg: 'Trump will chew him up and spit him out'
US company says it has coronavirus vaccine, may give to countries for free
China's prisons become a hotbed of coronavirus infections
How to get rid of credit card debt for good
Doom warns coronavirus will shock Chinese economy
Trump plots India trip, but big trade deal might not happen
Harvey Weinstein jury deadlocked on most serious counts
Prince Harry, Meghan Markle officially shut out of the royal brand
NY governor cracks $100M Bloomberg joke after Nevada debate debacle
New guilty plea in college admissions scandal
Customers complaints about Walgreens pharmacy reportedly hidden, ignored
Housing market may soon spike on high demand and low supply
Why Amazon is starting to get very worried about coronavirus outbreak
White House adviser: Trump admin 'eclipsing' Obama in 'almost every area'
Kobe Bryant and daughter Gianna buried in unmarked grave
'Jersey Shore' star strips down and puts gym bod to work for Chippendales
Varney: Trump gains momentum at Democrats' expense
'ECONOMY CLEARLY BOOMING'
Worst airline for on-time arrivals
SEE IT: Prince Harry, Meghan Markle eyeing $7 million Malibu palace
Google Play Store malware subscribes to premium services without your permission
Tesla's Cybertruck made into Hot Wheels RC cars
What are the most vegan-friendly cities for 2020?
Virgin Galactic's surging stock to fall back to Earth
Russia boosting Trump re-election bid, intelligence officials tell Congress
Who won the first NBA game?
China exempting dozens of US products from retaliatory tariffs
'Parasite' studio fires back after Trump slams big Oscar win
Real ID worries for airports, DMV administrators as deadline approaches
Chipotle offering delicious deal to certain sports fans
EBay moves toward selling classified-ads business
Will Bill Gates' kids follow in his footsteps? Here's what they're doing now
Varney: Democrats' debate 'disaster' will split Nevada caucuses
The woman who keeps popping up during Weinstein jury deliberations
Trump peeved by stalled drug-price cuts
Coronavirus spread threatens stock market's immunity
Trump hints at location for new Space Force headquarters
Bloomberg struggles in #MeToo era with 2020 campaign under microscope
Lockheed Martin gets second contract for presidential helicopters
SpaceX eyes LA plant for spaceship manufacturing
Fizzling sales: Coronavirus takes sip from Coca-Cola
Why Army may slash bonus offer for new recruits
10 Market Indicator Closing Summaries – Yahoo Finance Closing Tickers on MHProNews…

Featured Focus – Where Business, Politics and Investing Can Meet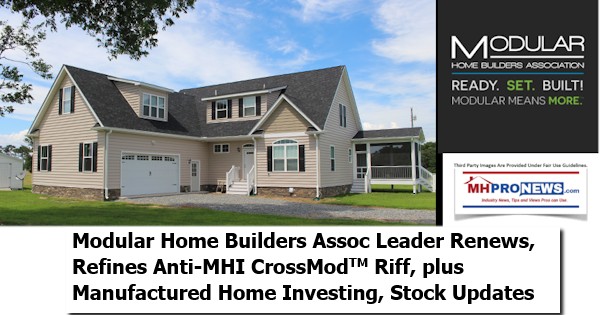 The following is from the MHBA's Tom Hardiman, posted on 2.20.2020 on their blog at the link below. The meat of the post follows, which will be followed by an MHProNews analysis and Commentary.
Alternative Affordable Housing with Modular Construction
MHBA Executive Director Tom Hardiman recently met with several key officials in the Virginia Department of Housing and Community Development to discuss "alternative housing" solutions to help the state bridge the gap of affordable and safe housing. The purpose of the meeting was to discuss ways in which the state, through its various departments and divisions, can address its housing shortfall using more modular and manufactured housing. The primary challenge facing the state is the lack of "traditional" homebuilders available and/or willing to bid on projects.

The state recently received over $90 million dollars through various housing program grants from the federal Department of Housing and Urban Development (HUD). The discussions at this meeting focused primarily on the Community Development Block Grant (CDBG) Program and Acquire, Renovate, and Sell (ARS) Program which are funded at about $20 million in this current budget.

There are rules, conditions, and limitations on each of these programs which may be preventing builders from participating. There may also be a general lack of awareness and understanding of the program funding by the modular industry. It was clear from the meeting that the State [of VA] realizes it cannot meet its goals without changing some of their processes and practices.

The modular industry, through MHBA, has been asked to step up and make policy change recommendations. As such, MHBA is soliciting input from the industry to gauge interest from builders and manufacturers doing business in Virginia to assist in an "alternative housing task force" for the purpose of drafting a series of proposed rule changes.

"Obviously, this effort will look at smaller modular plans and target lower- and middle-income families," said Hardiman. "But we think that is an area where our industry can have a bigger impact if some of the more burdensome regulations were removed."

Bigger picture: Virginia is hardly the only state struggling with this. Every state receives CDBG and other housing funds and the shortage of contractors is well documented and widespread. MHBA plans to test this alternative housing effort in Virginia and use the concept to set meetings in other key states, while continuing to advocate for broader regulatory changes for the modular industry.

MHBA is also reaching out to officials in D.C. to arrange meetings in March. While one topic will certainly be the misguided marketing efforts with the manufactured housing industry's "CrossMod" product, the focus will be on how the modular home industry can help address affordable housing nationally. If you are interested in participating in this conversation, beginning with the Virginia task force, please email Tom Hardiman at: tom@modularhome.org
##
First, our initial report on Hardiman's concerns about MHI's "CrossModTM homes" scheme, err, plan is found in the report linked below. That was published on 2.7.2020.
MHB Association Exec Tom Hardiman Rips Manufactured Housing Institute on "CrossMod™ homes," plus Manufactured Home Stock, Investing Updates
As we reported, MHI avoided a direct response to that, see the report linked below. That was published on 2.12.2020.
Manufactured Housing Institute, Key Members, Duck "CrossModTM Home" Controversy, plus Manufactured Home Stock, Investing Updates
A few pull quotes below are for those who don't click links are found below.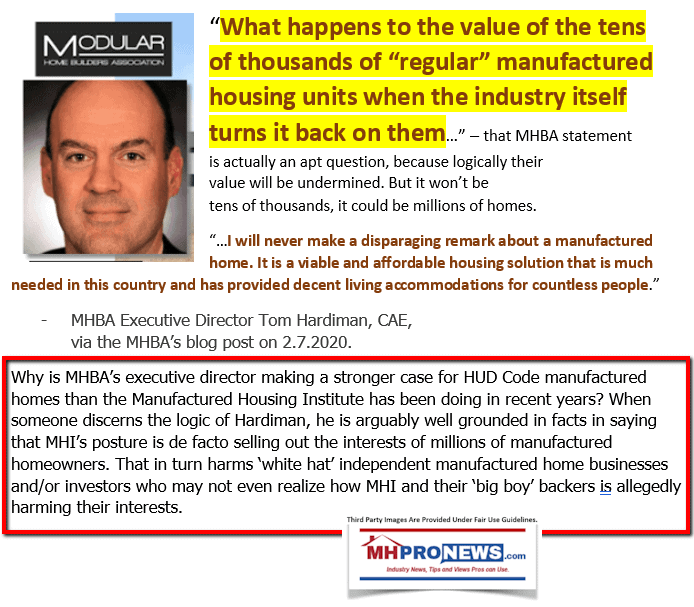 Hardiman's posts came in the same timeframe as MHI's new CEO, Lesli Gooch has been embroiled in a conflict of interest controversy that MHI has tried to sweep under their Omaha-Knoxville-Arlington axis base rugs.
Whistleblower's Documents on Lesli Gooch – Manufactured Housing Institute CEO – New Discoveries
Almost 2 weeks after some of the issues connected to the above arose came a purported 'designated defender' -i.e. a surrogate – who tried but missed deflecting the controversies about Gooch. Indeed, instead of addressing the issues raised by whistleblower documents that were digitally signed by Gooch that appears to clearly indicate a conflict of interest, the red herring/razzle dazzle response by her designated defender was to call her leadership "superb."
"Scorched Earth" Reply-Lesli Gooch, Tim Williams, and Manufactured Housing Institute (MHI) Claims
Now, why has MHProNews increasingly spent such time on MHI? While acknowledging that MHI is a front group for their powers that be, they have nevertheless made themselves the center of several claims about the industry. Between MHI and several of their 'big boy' members, there is a raft of negative media, state and federal investigations underway.
Complaints to State and Federal Officials, Agencies About Corrupt Practices in Manufactured Housing Industry Growing
Rephrased, for anyone that wants to understand why the manufactured housing industry is underperforming during an affordable housing crisis, someone must spend a reasonable amount of time studying the smoke rising out of MHI's Arlington offices. Here is how an MHI affilate put it to a mainstream media outlet recently.
After the above and what follows, the defense of their surrogate appears weak, doesn't it?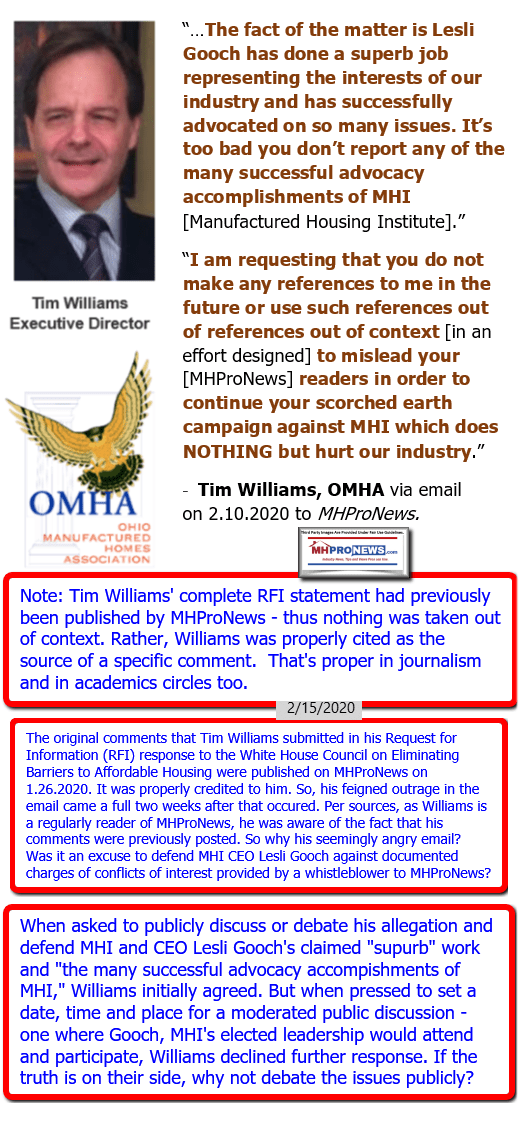 But – once more for emphasis – they are the arguable front group. MHI didn't come up with "CrossModTM homes," that is reportedly a Clayton Homes concept.  There are no lack of comments from those in MHI, formerly with MHI or who have dealt with MHI and their 'big boy' companies that points the finger of industry underperformance directly at the Arlington, VA based trade group.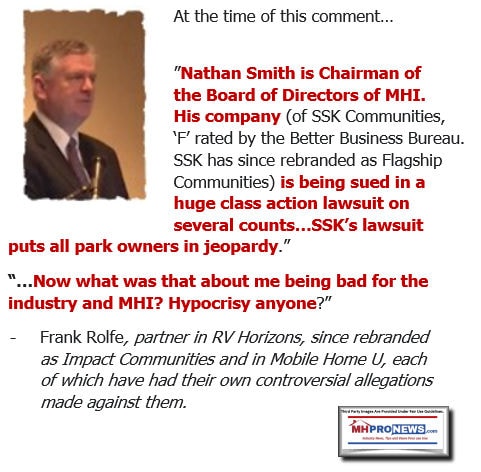 Many manufactured home producers already produce modular housing coded units. There was no logical reason to create a 'new class of manufactured homes' that blurred terminology and abandoned the manufactured home moniker. Objectively, logically and arguably that entire scheme was at best, bad planning. At worst, it was a crafty means of undermining the HUD Code industry while seemingly promoting it.
The evidence is found in the 2019 shipping statistics.
2019 Year-End Totals Reveals Decline in New HUD Code Manufactured Home Production, Shipments vs. 2018
The behavior of MHI – objectively viewed – reveals a bizarre pattern of behavior that only makes sense if it de facto trying to undermine the industry's independents. If MHI could disprove that contention, then their top staff, their elected leaders and surrogates would meet in public in a moderated forum to debate their performance and concerns about their arguably deceptive and harmful practices. Their routine failure to do so should speak volumes, especially to investors.
Note that as recently as today, MHI, their leaders and surrogates have been invited to engage on these concerns publicly at the Tunica Show. Their reply? A deafening silence. To learn more, see the related reports below.
Related Reports: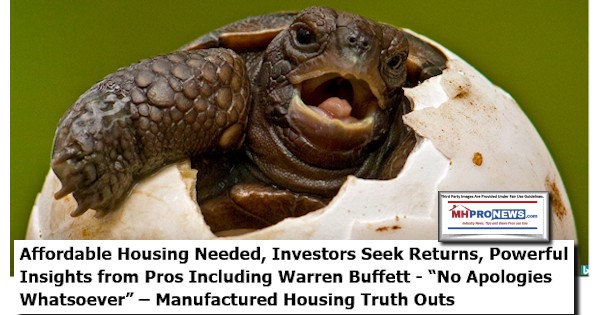 Manufactured Home Communities Targeted by Lawmakers, AG Plans – Manufactured Housing Industry Alert
Which 2020 Campaigns Top CEOs Funding, Democratic Consultant Says Bloomberg Will Back Bernie if Sanders Wins Nomination, plus Manufactured Home Stock, Investing Updates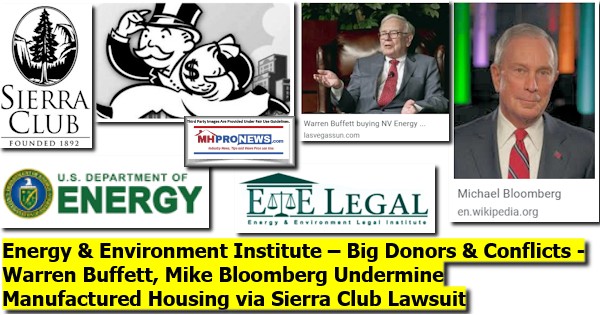 Manufactured Housing Industry Investments Connected Closing Equities Tickers
Some of these firms invest in manufactured housing, or are otherwise connected, but may do other forms of investing or business activities too.
NOTE: The chart below includes the Canadian stock, ECN, which purchased Triad Financial Services, a manufactured home industry lender
NOTE: Drew changed its name and trading symbol at the end of 2016 to Lippert (LCII).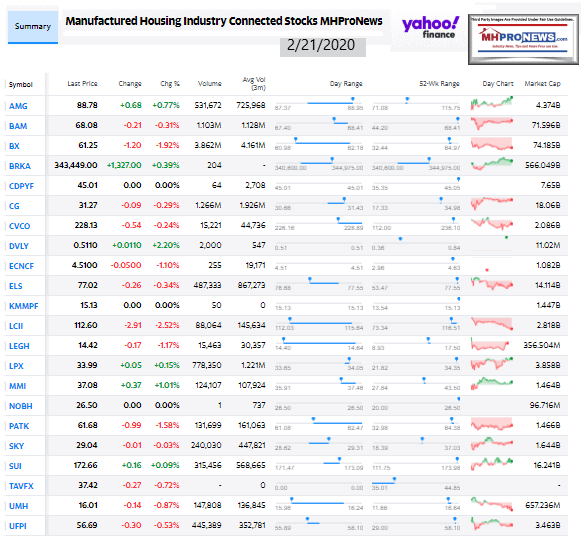 Winter 2020…
Berkshire Hathaway is the parent company to Clayton Homes, 21st Mortgage, Vanderbilt Mortgage and other factory built housing industry suppliers.
· LCI Industries, Patrick, UFPI, and LP each are suppliers to the manufactured housing industry, among others.
· AMG, CG, and TAVFX have investments in manufactured housing related businesses. For insights from third-parties and clients about our publisher, click here.
Enjoy these 'blast from the past' comments.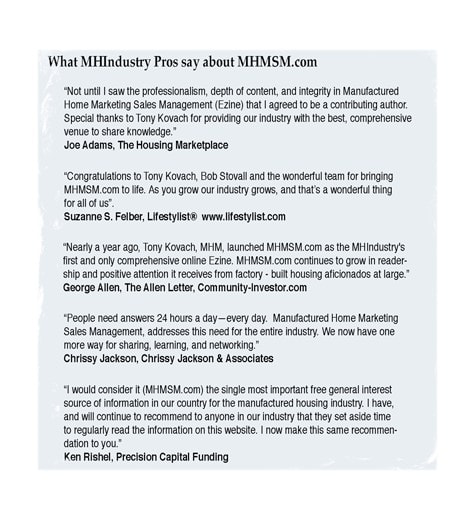 MHProNews. MHProNews – previously a.k.a. MHMSM.com – has now celebrated our tenth anniversary.
Learn more about our evolutionary journey as the industry's leading trade media, at the report linked below.
Celebrating 10 Years of Goal- and Solution-Oriented Manufactured Home Industry Innovation Information, and Inspiration for Industry Professionals
· For expert manufactured housing business development or other professional services, click here.
· To sign up in seconds for our industry leading emailed headline news updates, click here.
Disclosure. MHProNews holds no positions in the stocks in this report.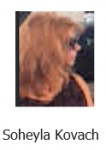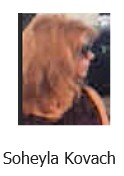 "We Provide, You Decide." © ## (News, analysis and commentary.)
(Image credits and information are as shown above, and when provided by third parties, are shared under fair use guidelines.)
Submitted by Soheyla Kovach, co-managing member of LifeStyle Factory Homes, LLC and co-founder for MHProNews.com, and MHLivingNews.com.

Connect with us on LinkedIn here and here.