Principles, Cheers and Jeers June 2017
The Manufactured Home Industry could be enjoying its best times ever.  That's what the facts tell us. While our industry is experiencing growth, it's only a fraction of what is possible.
NAHB, NAR, Zillow, Case-Shiller and a host of reports from inside and outside of quality, affordable factory-crafted homebuilding all point to the needs and opportunities.
The U.S requires several million new housing units in the next few years.
Site builders are near maxed out. Nor can they hit the lower price points without taxpayer subsides.
So only factory homebuilding can meet the escalating needs, here and abroad.
Other nations see it too.  A number of American media are beginning to as well, as we've reported and encouraged.
We report, provide insights, and commentary on all that and more to you; the ups and downs, story by story, day by day.
The Tornado Report, Updated
One of the sources of misinformation that harms our industry is the claim that 'mobile homes' are more vulnerable to tornadoes and windstorms than conventional housing. In a narrow sense, that's true – about mobile homes!  But the researchers fail to make the distinction between HUD Code manufactured homes and mobile homes.  Learn more, share the powerful truths, linked in a special Industry in Focus Report, linked here.
Share the Facts, Candidly and Accurately
When Tim Williams told us that MHI had sent Rick Robinson to testify before a Ohio committee, we reported that fact. That's what happened, that's what should be said.
But when MHI thumped their own chest (yet again) in their emailed messages to their readers, as if the heavens were moved by them, and acting as if they and Ohio alone were doing the lifting, RC Williams rightly called them out (see that, linked below).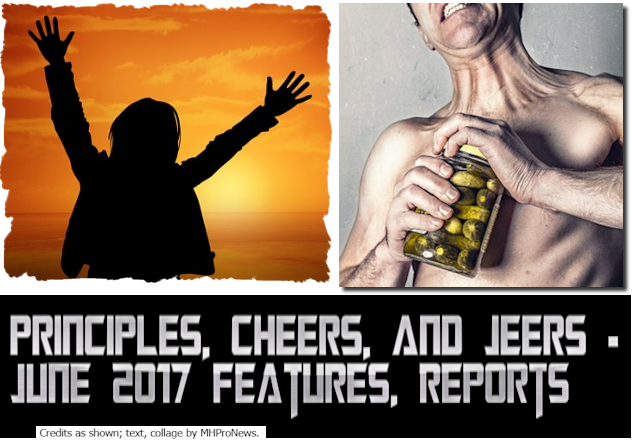 Ironically, MHI called out Gov, Kasich in their emailed message, for his alleged lies, distortions, and half-truths. RC Williams – an African American – said that was MHI hypocritically calling the kettle black. They failed to mention that MHARR, MHLivingNews, MHProNews and others had done the same thing, in some cases – sooner than they had acted. Hypocrisy, right?
From our vantagepoint, that's but one of many examples of principled, reality-based industry coverage. Truth, facts, and principles matter, to us and thousands of others in MHVille.
Getting to 500,000 Plus
When the industry ought to be doing 500,000 or more units a year, and MHI has one or two full time communications people drawing big salaries, what exactly are MHI's people doing to advance the image and cause of manufactured homes in the U.S.?
We can lay out the case again, but you can find the good, bad and ugly allegations and concerns in a 400-word executive summary about MHI linked here. Do they want to try to undermine the proven, years of pro-industry work MHLivingNews and MHProNews have done with and for the public and professionals?
If so, let them go for it. We're ready. But also let's note, that the industry is watching.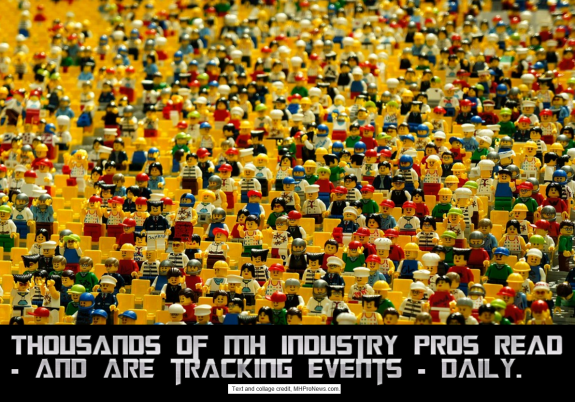 Our thousands of professional readers – mostly from within, but also outside of manufactured housing – are watching it all unfold too.
We asked MHI recently why they didn't cite their sources in a press release they did last year? One that seemed to claim facts we've published – and that we cited our sources and experts and –  but they have not opted to reply or correct the matter. Too bad.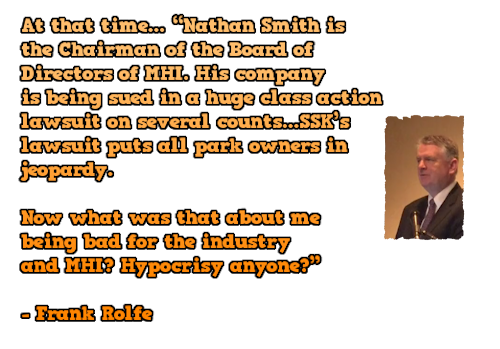 It is Frank Rolfe, not just those at MHProNews, that called them out for hypocrisy. It is MHI member Rolfe who said that the biggest obstacles to industry growth lie within the industry itself.  Can you do the math?
Rolfe is far from alone, as we've reported;
Doug Gorman (MHI award winner),
Marty Lavin (MHI award winner),
Titus Dare,
Bob Crawford (historic, award winning Dick Moore Housing),
…and so many others who have called out MHI by name or inference.
So it's isn't just MHARR – or your MHProNews sources – making allegations like those on this page and others.
Many in MHVille have noted MHI failures and "weaponized news." A growing number of their supporters may be silent, due to their own political positions, but they quietly know the score. What had MHI accomplished in 5 years with $15 plus million plus PAC money?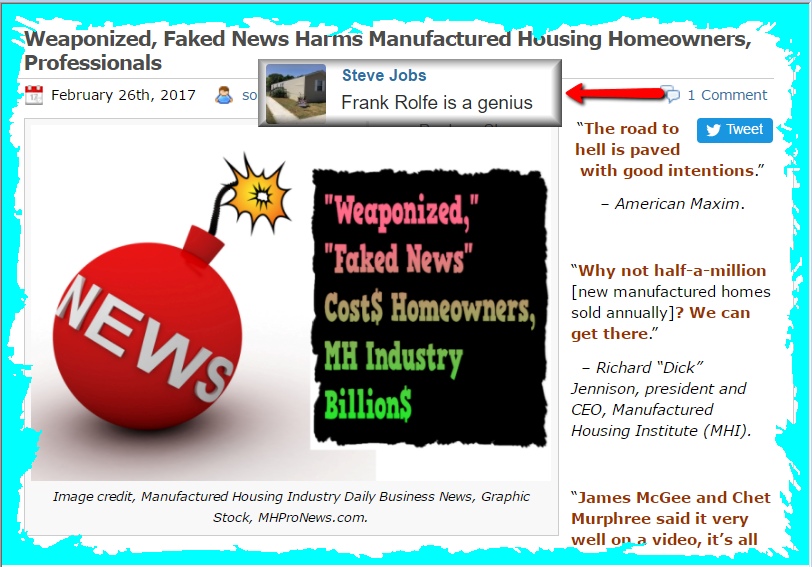 While they have their supporters, the two most common words we read and hear about our coverage are "thank you."
For those who think MHI can bully, threaten, undermine or whatever us — hey, it's America. Let's see what happens, as we strive to help inform and inspire the industry and others to embrace — not the failed self-serving crony capitalists — but the honest, hard working men and women who believe that manufactured homes and communities ought to be the mainstream for millions of Americans futures.
We thank those sponsors who have principles, and a backbone. We understand those that have told us they've benefited, but due to politics or pressure, will bail on us.
Thousands are watching.
Please take 10 and comment on the HUD regulatory issue.
Until 11:59 PM on June 14, manufactured housing industry professionals have a unique opportunity to sound off in favor of regulatory relief for the HUD Code manufactured housing program.
With no further adieu, we bring you once more the industry's top line up of featured articles, reports, and commentary. Merchants and Crusaders, unite! Tally Ho!
— Featured Articles and Reports —
Mastering Contemporary, Relevant Management, Leadership Skills, and Mindsets in a Rapidly Evolving World – A NEW program


by Tim Connor, CSP
During this NEW all-day program, I cover the critical factors in the following five areas: Read more …
Northpoint's nearly 900 Million Portfolio Being Acquired by Canadian Laurentian Bank
by Soheyla Kovach

"Following five consecutive years of robust growth and the development of an impressive customer base throughout North America, Northpoint Commercial Finance has recently announced that they are to be acquired by LBC Capital, a subsidiary of Laurentian Bank of Canada," the company tells MHProNews.  Read more …
About the PC Bush-Obama Years, President Trump, and Industry Politics – Telling it Like It Is
by Soheyla Kovach

We were raised to be polite, but we also knew when to be blunt. Read more …
"Lions, Tigers and Bears? Oh, My!" Manufactured Home, Fair Housing Tips
by Nadeen Green, JD

Service animals have been getting a lot of attention lately.  I recall not too long ago seeing a news item about a turkey on an airplane.  Read more …
A do it now mentality
by Tim Connor

Procrastination is a thief of time.  It steals from the value and essence of your personal life and career.  Why do people put things off?  We could write a book on this, but I'll give it a try in 25 words or less. Read more …
Closeness vs. Distance
by Tim Connor

You can be a million miles apart emotionally while in the same bed and as close as the next heartbeat even though you are separated by miles or time.  Read more …
Fear! "False Evidence Appearing Real," MHI and You
by L. A. "Tony" Kovach

Yesterday, in a group gathering, a mother was singing, as her baby began to be restless. She stopped during the refrain of her song, and explained the acronym for FEAR.  Read more …
Those Pesky Facts! Do They Betray a Media Narrative?
by RC Williams

While various narratives continue from talking heads and media pundits about President Donald Trump's lack of progress, the numbers don't lie. Read more …
Victory for Residents or Erosion of Rights? A City Takes Action
by RC Williams

In California, the San Francisco Bay Area is known as a technology hub and a center of activism. In the city of San Jose, the city council made a move last week that could make it known for something else.
Read more …
Rent Control and Manufactured Housing – Special Report
by RC Williams

In an update to the story that the Daily Business News originally covered here, residents at the Thetis Lake Campground community in View Royal, British Columbia, Canada, are facing an imminent threat.
Read more …
National Federation of Independent Businesses (NFIB) Sounds off on Tax Reform
by RC Williams

The National Federation of Independent Business (NFIB) tells MHProNews that in a meeting last week, the organization told House Ways and Means Committee Chairman Kevin Brady (R-TX) that small business owners expect comprehensive tax reform this year and that it must feature parity for businesses of every size. Read more …
Zell's 1000 Flight Hours A Year Net Valuable Insights
by RC Williams

Never one to pull punches, Equity LifeStyle Properties Chairman Sam Zell, out promoting his new book "Am I Being Too Subtle," shared some handy words of wisdom. Read more …
Before MHI's Week Late Claim, MHARR Reported An EPA Victory
by RC Williams

The Manufactured Housing Association for Regulatory Reform (MHARR) tells MHProNews that the organization has succeeded in winning a delay of the effective date(s) of the Formaldehyde Emissions Standards for Composite Wood Products final rule published by the U.S. Read more …
Forget "Preserving Access," Is Judgment Day Coming For the CFPB?
by RC Williams

Today is a big day in the history of the Consumer Financial Protection Bureau (CFPB), as it heads to an appeals court in a case brought by PHH Corp. Read more …
Community Corner – When You Manage an MHC Long Enough…
by RC Williams

Both residents and operators of manufactured home communities will tell you that, if you're around long enough, you may see anything. Read more …
NAR Report Points to Growing "Residential Style" Manufactured Home Marketing, Sales Opportunities
by RC Williams

New data from the National Association of Realtors (NAR) shows more proof that the manufactured housing industry stands at the cusp of significant opportunity. Read more …
JP Morgan Takes Action on ELS, Plus Skyline Update
by RC Williams

Noteworthy headlines on – CNNMoney – Trump wants at least 6 million people off welfare. GM accused of diesel emissions cheating. Best Buy stock at all-time high. How NATO is funded and who pays what.
Read more …
Does Government Licensing Help or Harm Job Creation?
by RC Williams

In the U.S., a number of professions and businesses are regulated to varying degrees. While some are obviously necessary, others present questions – and responses – from individuals and businesses alike, who wonder if having to play the game of "captain may I?" is meant to help or hurt them. Read more …
Manufactured Home Community – Best Practices Debate
by RC Williams

A recent post from Eric Enloe, Managing Director of JLL Valuation and Advisory Services has revved up debated topics in the industry – home rentals versus sales – as well as a look at various best practices regarding accounting and corporate structure methods. Read more …
Tuning Faked News Out? Are Voters, Donors Buying Media Narratives?
by RC Williams

The two most visible billionaires in manufactured housing are evenly split between pro-Democratic Warren Buffett, and now pro-Trump Sam Zell. Read more …
Evolving Poverty Pimping and Uni-Income
by RC Williams

In what many have called "Trumponomics," the battle lines became even more clearly drawn last week.
Read more …
Hybrid Housing – 3D Printing and Modular "Married"
by RC Williams

A Malaysian designer has made quite a splashing when it comes to a hybrid of modular units and 3D printing. Read more …
Credit Scores – The Latest and What It Means
by RC Williams

New numbers out show that under the guidance of the Trump Administration, the nation's economy is finally recovering from the recession. Read more …
Manufactured Housing Opportunities, Growth "Down Under"
by RC Williams

When it comes to housing, the term "affordable" means different things to different people… in different places. Read more …