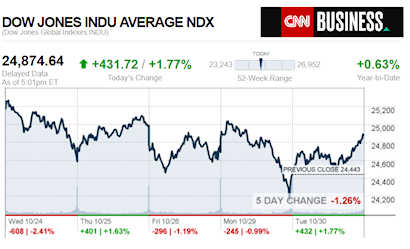 On a day that the bulls returned, there are many in media that share precisely the same vantagepoint that CNBC does in our spotlight report this evening.  It's about automation and robots in the workplace.  As on so many topics in MHVille trade media, it's a subject we've led the charge on. Check it out, further below.
If you're new, already hooked on our new spotlight feature – or are ready to get the MH professional fever – our headline report is found further below, after the newsmaker bullets and major indexes closing tickers.
The evolving Daily Business News market report sets the manufactured home industry's stocks in the broader context of the overall markets.  Headlines – at home and abroad – often move the markets.  So, this is an example of "News through the lens of manufactured homes, and factory-built housing." ©
Part of this unique evening feature provides headlines – from both sides of the left-right media divide – which saves busy readers time, while underscoring topics that may be moving investors, which in turn move the markets.
Readers say this is also a useful quick-review tool that saves researchers time in getting a handle of the manufactured housing industry, through the lens of publicly-traded stocks connected with the manufactured home industry.
This is an exclusive evening or nightly example of MH "Industry News, Tips and Views, Pros Can Use." © It is fascinating to see just how similar, and different, these two lists of headlines can be.
Want to know more about the left-right media divide from third party research?  ICYMI – for those not familiar with the "Full Measure," 'left-center-right' media chart, please click here.
Select bullets from CNN Money…
Facebook revenue, user growth falls short of expectations
Apple unveils new iPad Pro, MacBook Air and Mac Mini
Dow soars 432 points. The bull market's not over yet
If the Democrats win the House, will the markets turn red?
How Kohl's figured out the Amazon era
GE slashes dividend to a penny
Liberal media watchdog ratchets up pressure on Fox News advertisers
ANALYSIS The US just struck at the heart of China's tech ambitions
US restricts Chinese chipmaker from buying American parts
China is crushing Europe's electric car dreams
GM unveils 700-horsepower electric Camaro and, maybe, a way to build your own
Segway was supposed to change the world
Two decades later, it just might
The rise and fall and rise again of Segway
Smart glasses for the hard of hearing are changing theater in London
iPhone XR review: Apple's secret weapon to sell even more smartphones
Magic Leap's new AI assistant looks alarmingly human
How Sears wasted $6 billion that could have kept it out of bankruptcy
Sears needs money. And time is running out
Why Eddie Lampert stuck with Sears
Things are bad at Sears. They're worse at Kmart
Cannabis in Canada: Banks are missing a boom
Coca-Cola CEO says company has no plans for cannabis drinks
Aurora Cannabis stock plunges in NYSE debut
Pot is now legal in Canada. These are the stocks to watch
Select Bullets from Fox Business…
Dow finishes up more than 400 points to ease concerns
Health care costs could plummet in Trump's Medicare price revamp
Capital One, Discover tighten credit card requirements
Facebook's Zuckerberg plans 'significant' spending to beat Apple, YouTube, boost security
Apple unveils new products at NYC event
Trump isn't falling into the 'Merkel trap': Varney
NFL to expand London series in 2019
Dairy farmers ask for financial aid as tariffs wipe away $1B in profits
Coca-Cola CEO sets record straight on cannabis-infused drink plans
Warren Buffett just made a rare investment in this industry
Ben & Jerry's launches anti-Trump ice cream flavor 'Pecan Resist'
GE slashes dividend to one cent, SEC investigation ongoing
General Electric's slow demise
Larry Culp, GE's new CEO: 4 things you need to know
Bantam Bagels of 'Shark Tank' fame sells for $34M
New Sam's Club store in Texas has no cashiers
Whirlpool asks bankrupt-Sears for inventory back
Under Armour shows signs of comeback after strong quarter
Elon Musk buys $10M in Tesla shares, eyes $20M more
Wages are rising fastest in these US cities
Bezos' net worth drops, Amazon stock's worst three days since 2011
Today's markets and stocks, at the closing bell…

Manufactured Housing Composite Value (MHCV)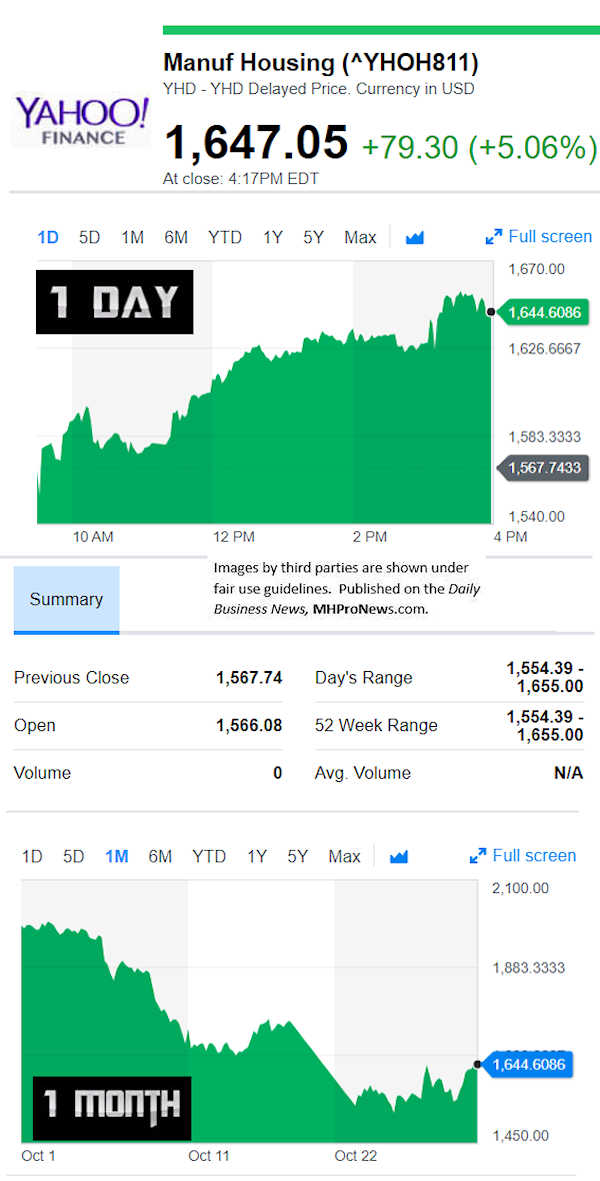 Today's Big Movers
For all the scores and highlights on tracked manufactured home connected stocks today, see the Bloomberg graphic, posted below.
Today's MH Market Spotlight Report –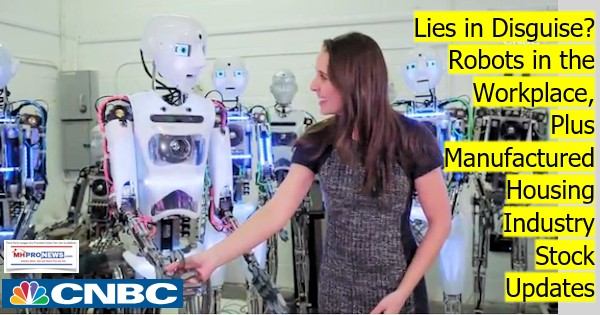 Warning. This will issue, properly understood, may make some queasy. But it is a blunt look at a development that has been on the MHProNews radar for about 2 years.
CBNC says that the world's first humanless warehouse is run only by robots and is a model for the future.
In a Japanese startup, Mujin – with ties to Tokyo University, has robot controllers and a fully automated warehouse and fulfillment center.
Here in the U.S., Sam's Clubs – a division of Walmart – has opened a what is billed as a cashierless store.
In factory-built housing, MHProNews has reported on growing automation by builders such as Clayton Homes or Katerra.
Billion Dollar Startup Modular Builder, Using Robotics, Could Soon Rival Clayton Homes' Total Sales
Clayton Homes' "Robots" – Automation's Role in Warren Buffett's Berkshire Hathaway's "Durable Competitive Advantage" in Manufactured Housing
There are several problems with the analogies in the video from CNBC about how technology in the past did not permanently displace humans is this. To be fair to CNBC, the examples they give are common across many in media. But common doesn't mean that their logic is correct.
To be clear, MHProNews uses tech with passion continuously through every work day. This is not about being anti-technology.
Rather, it is a sobering look at an issue that if it goes unaddressed, could become unmanageable.
Those points said, common sense tells you that automation and robotics advancements could replace the need for people. The video in part admits that, although it questionably downplays the risk. Not to overdramatize the point, but think about:
a future without SciFi pioneering author, Isaac Asimov's "Three Laws of Robotics."
Consider the Terminator series of Arnold Schwarzenegger movies.
Even if those two bullets are somehow avoided, imagine a world where the uber-rich tech giants and others may tire of manipulating voters and people. What is to keep the ultra-wealthy loyal to billions of their fellow humans?
Why would they need humans, if machines are doing the work for the rich?
Along with monopolistic practices, and other emerging issues, this is a threat beyond the significant issue of lost jobs.
Keep in mind that these uber rich are routinely Democratic in philosophy, and that the Democratic party is lurching left towards socialism. Historic socialist regimes like Russia, Nazi Germany, China or Cambodia – to name just some – eliminated tens of millions of their own citizens.  What's to keep the modern so-called Democratic Socialist-supporting billionaires from doing the same to you or me, if they regain political power?
Farfetched?
A century ago, so was abortion on demand.
Now, the reality is that one of the main 'charities' for the Warren Buffett led Berkshire Hathaway conglomerate – which owns Clayton Homes, 21st Mortgage, Shaw Carpeting, Vanderbilt Mortgage and Finance, and more industry companies – are those that fund abortion clinics.
Warren Buffett's 'Charitable' Billions – Has Clayton's Boss Funded Millions of Deaths by Abortion?
There is an objective need for an informed, educated moral compass for tens of millions of Americans.  Media and 'education' have been led many into troubling – and flawed – thinking about a range of issues.  The challenges from within may never have been greater in our nation.  See related reports, linked below.
Related Reports:
"Death by Government," Fascism, Communism, Socialism, 'Big Brother,' per Williams, Rummel and Owens
Markets, Money, Medicinal, Madness, and Manufactured Housing
Brad Says POTUS Trump is Right: More than Facebook & Twitter, Google Threatens Democracy, Online Freedom
Economic Freedom, Millennial Considers Founders Through Lens of Ron Paul, Walter Williams, Milton Freidman
Bloomberg Closing Ticker for MHProNews…
NOTE: The chart below includes the Canadian stock, ECN, which purchased Triad Financial Services.
NOTE: The chart below covers a number of stocks NOT reflected in the Yahoo MHCV, shown above.
NOTE: Drew changed its name and trading symbol at the end of 2016 to Lippert (LCII).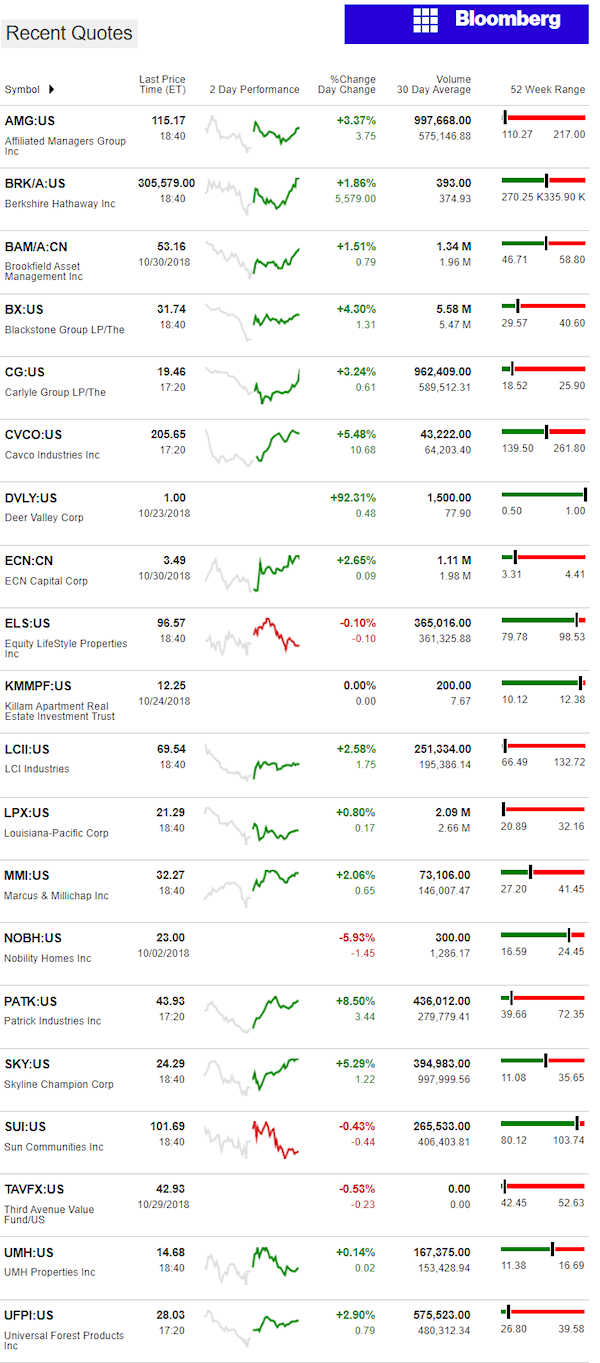 Berkshire Hathaway is the parent company to Clayton Homes, 21st Mortgage, Vanderbilt Mortgage and other factory built housing industry suppliers.
LCI Industries, Patrick, UFPI and LP all supply manufactured housing.
AMG, CG and TAVFX have investments in manufactured housing related businesses.
Your link to industry praise for our coverage, is found here.
For the examples of our kudos linked above…plus well over 1,000 positive, public comments, we say – "Thank You for your vote of confidence."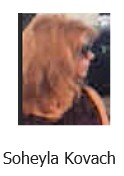 "We Provide, You Decide." © ## (News, analysis and commentary.)
(Image credits and information are as shown above, and when provided by third parties, are shared under fair use guidelines.)
Submitted by Soheyla Kovach to the Daily Business News for MHProNews.com.