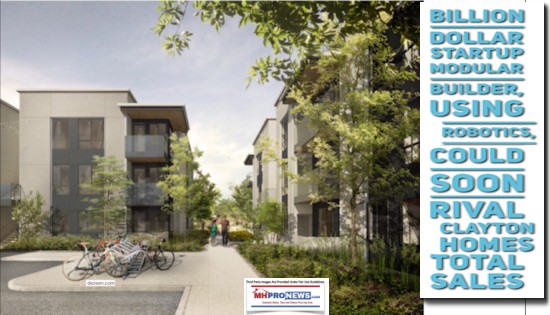 Don't laugh or cry now. But a recent development in the prefab/modular field is poised to disrupt conventional construction, and could signal a wave of big tech money in building that could surprise – and rapidly surpass –  manufactured housing (MH) sales too.  
"Based in Menlo Park, California, Katerra was started in 2015 by Michael Marks, Jim Davidson and Fritz H Wolff. Combined, the three men have decades of experience in the technology, manufacturing, real estate and private equity industries. In 2007, Marks served as the interim CEO at Tesla," said Dezeen.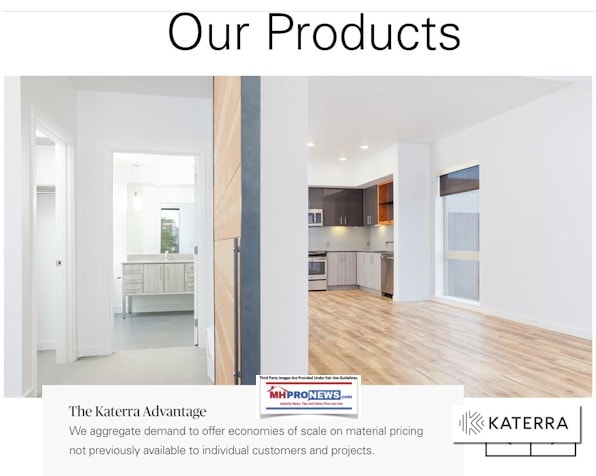 Menlo Park is part of famed Silicon Valley, where tech giants – and their billions in cash – hang their hats.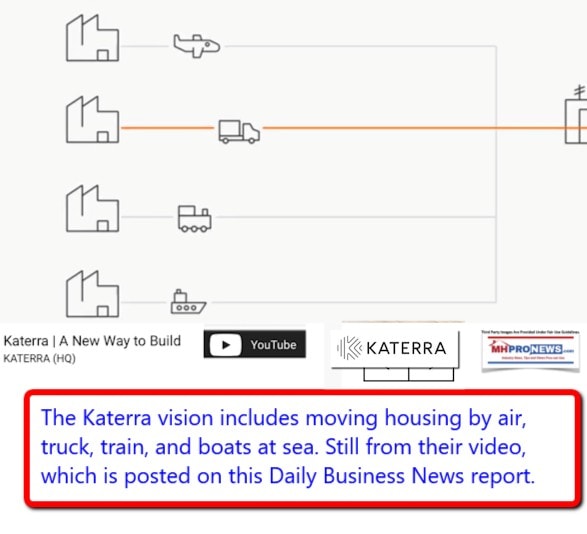 As MHProNews recently reported, hundreds of billions are pouring into the U.S., looking for places to invest. Readers can circle back to the following and other  linked reports below. But the short story is that mountains of capital from the tax cuts are being attracted into the U.S.
Billions in American Cash Flowing Back to U.S., Repartition Yields Capital for Manufactured Housing or Other Projects
Dina Bass in Bloomberg Business Week is the latest media outlet to 'share the love' with Katerra. But Bloomberg is far from alone, as this report will spotlight. 
Bass says, "Katerra has raised $1 billion and is combining with its Indian counterpart," and their headline proclaimed – "The Modular-Home Maker That Could Make Housing Cheaper." 
"In a little over three years, Katerra has raised more than $1 billion in venture capital, led by SoftBank Group Corp.'s Vision Fund, and says it's collected close to $3 billion in bookings," stated Bass' recent report.
"Almost everywhere you look, there's money to be saved," says Katerra Chairman Michael Marks, adding that he hopes to have revenue of about $15 billion in five years. "It's so inefficient in so many ways, it kind of takes your breath away." 
Mark's is talking about the inefficiencies in housing. Recall the similar thoughts from Blokable? You can read that emerging tech/prefab report later, from the link below.
Katerra's website states, "Our first factory in Phoenix began production in early 2017 and Katerra has plans to further expand our manufacturing reach in the near future."
The unicorn startup states, "Katerra factory capabilities include:
•         Advanced manufacturing lines and production systems, with machinery from leading equipment suppliers
•         Direct link to our SAP enterprise resource planning system
•         Direct link to product and project engineering, enabling complete BIM to FIM production 
•         Co-location with our warehouses for easy kitting and delivery
•         Strategic location near rail and shipping ports
•         Product showrooms
•         R&D labs  
"The Katerra Advantage"
"We aggregate demand to offer economies of scale on material pricing not previously available to individual customers and projects," their website says. MH or modular housing industry professionals and investors know, of course, that's a standard kind of statement for any factory home builder.
Watch as one of the their "robots," a computer connected automated system, does its work.
But it isn't just what they are doing now. Rather – with vision, moxie, and plenty of capital to back them – what's next? Katerra touts a "one stop shop" with "quality" at their core.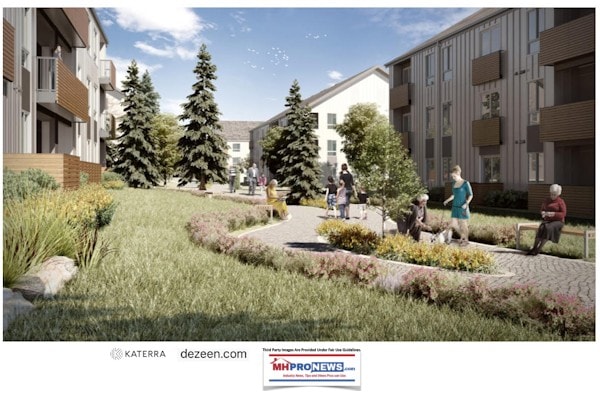 "KEF Infra and Katerra Join Hands," said a June 21, 2018 press release to the Daily Business News on MHProNews.  "India and Silicon Valley Companies Merge to Advance Construction Evolution on Global Scale."
It is precisely the kind of development that the MHProNews trade media site has been saying for years is poised to occur.
Well, now, it's happening. How rapidly will it disrupt site building?  
Could it likewise disrupt HUD Code manufactured housing in the near term? 
Time will tell, but with their eyes on billions in business, they are essentially claiming they could soon rival roughly half the total business volume of all of manufactured housing.  
That would make them the current size of the HUD Code manufactured housing industry giant, Clayton Homes. 
Back to Their Release…
"Founded in 2014, KEF Infra utilizes robotics and automation in its advanced manufacturing operations to deliver high quality building projects more quickly and efficiently." 
"Katerra employs more than 2,000 people with operational factories in Greater Phoenix, Arizona and Shanghai, China, as well as two more U.S. factories in development," stated their release to MHProNews. "After the merger, there will be 20 offices worldwide and 3,400 employees."
"We are thrilled to merge with KEF Infra, a company that is truly a disruptor," said Michael Marks, chairman and co-founder of Katerra, to MHProNews. "It's incredible to discover a team so aligned with our values and vision." 
"I am very excited by the prospects of this strategic alliance," said Faizal Kottikollon, founder and chairman of KEF Infra. "We look forward to breaking new ground with such a like-minded team." 
Forbes and the New York Times are among the many mainstream media outlets reporting on how Katerra is poised to upend construction. 
Fortune quipped, "Katerra exits stealth with new funding."  
Environmentally focused Treehugger stated, "We've been watching Katerra, the ambitious construction startup that calls itself a technology startup. Their pitch: 
"Katerra is bringing fresh minds and tools to the world of architecture and construction. We are applying systems approaches to remove unnecessary time and costs from building development, design, and construction. With the latest technology at our fingertips, efficiency no longer has to come at the expense of quality or sustainability."
While their target market today is larger multifamily projects, what's going to keep them from going into single family home building, where the new Harvard JCHS study says there is much higher total potential?
Harvard's Joint Center for Housing Studies 2018 – Affordability, Manufactured Homes, and Modular Housing Report
While the Manufactured Housing Association for Regulatory Reform (MHARR) has tried for years to open up multifamily for the HUD Code, Katerra are taking that market by storm. The MHARR related report can be read later for more insights.
Manufactured Housing Program Review Addressed by HUD Secretary Carson during Oversight Hearing
Has Berkshire's Clayton Strategic Moat Cost MHVille tens of Billions Annually?  
Has the strategic Moat-building, and finance game playing by Berkshire Hathaway, with their puppet association – the Manufactured Housing Institute – put the potential future of HUD Code manufactured housing at risk?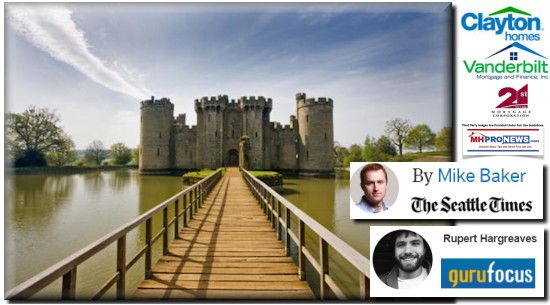 While MHARR and MHProNews has raised the alarms about the debatably harmful impacts from unfairly "rigged" capitalism and allegedly monopolistic practices, isn't it up to industry professionals to wake up, smell the coffee, and see the truth about what's going on? And then, take appropriate action? 
Don't forget, Katerra is far from alone.  
Billion-dollar Revolution PreCrafted Properties, 3D printed housing, containers ordered  from huge Amazon, and others foreign and domestic operations are poised to target the trillion dollar annual U.S. housing market.
Factory-Crafted Home Living, Reimagined – "The Art Park" vs. MHCs – Interview with Robbie Antonio, Founder of Unicorn Revolution Precrafted Homes
Meanwhile, MHI arguably is essentially telling its non-big-boy members, 'don't worry, be happy, pay no attention to those voices of concern, and ignore that new post-production association forming over there.'
New Manufactured Home Industry National Association Related Statements
As an MHI only member HUD Code builder recently told MHProNews, how much more consolidation can Clayton or the other big two HUD Code builders want to get?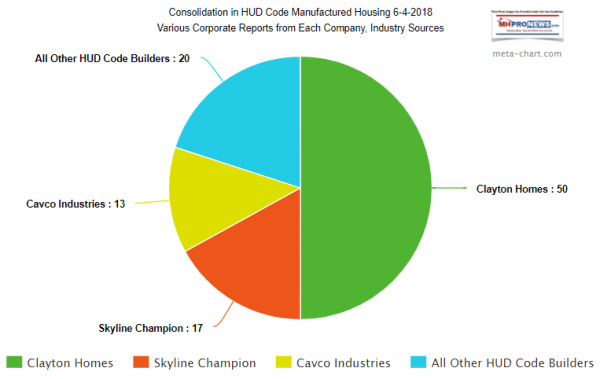 Independent builders, retailers, communities, advocates, and investors, is this your wake up call? See the related reports, linked below, for more details. "We Provide, You Decide."  © ## (News, analysis, and commentary.)
(Third party images, and content are provided under fair use guidelines.)
Related Reports:
Smoking Gun 3 – Warren Buffett, Kevin Clayton, Clayton Homes, 21st Mortgage Corp Tim Williams – Manufactured Home Lending, Sales Grab?
Clayton Homes, Top 25 Manufactured Housing Industry Report, Trend Lines
Progressive "Nation" Reports on Monopolies Cites Buffett, Clayton, Others – MH Industry Impact?
A) In manufactured housing production, the elephant in the room is Clayton Homes. They are owned by Berkshire Hathaway, which also owns the 2 largest industry lenders, 21st Mortgage and Vanderbilt Mortgage and Finance (VMF). Berkshire also owns a large stake in the industry's third largest single family manufactured home loan lender, Wells Fargo.
Best Warren Buffett, Kevin Clayton, Clayton Homes, Berkshire Hathaway Annual Meeting, Competition, and "the Moat" Video Collection, Jim Clayton, Oakwood Homes, largest manufactured housing builder, largest HUD Code Manufactured Housing producer, largest manufactured home retailer, not mobile home, not trailer house,
By L.A. "Tony" Kovach – Masthead commentary, for MHProNews.com.
Tony is the multiple award-winning managing member of LifeStyle Factory Homes, LLC, the parent company to MHProNews, and MHLivingNews.com.
Office 863-213-4090 |Connect on LinkedIn:
http://www.linkedin.com/in/latonykovach
Click here to sign up in 5 seconds for the manufactured home industry's leading – and still growing – emailed headline news updates.