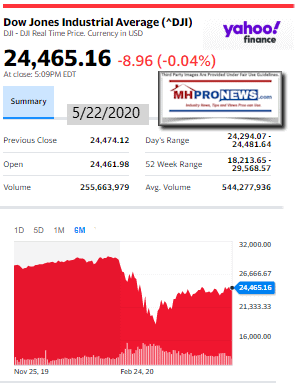 The New York Times, NPR, Vanity Fair and others in media have raised the issue of when President Trump knew about the COVID19 pandemic outbreak and a purported slow response. The Washington Post, for example, said that if the Trump Administration had implemented social "distancing measures a week earlier in the United States could have saved 36,000 lives."
The Vanity Fair reported on 5.21.2020 pointed to a tweet by the president on May 5 that said: "Intelligence has just reported to me that I was correct, and that they did NOT bring up the CoronaVirus subject matter until late into January, just prior to my banning China from the U.S. Also, they only spoke of the Virus in a very non-threatening, or matter of fact, manner…" That left-of-center media source cited that as evidence that the president blames U.S. intelligence for failing to warn him earlier.
As a point of interest, our MHLivingNews report linked here and below was not influenced by the above at all. When something is a factor, we routinely cite it.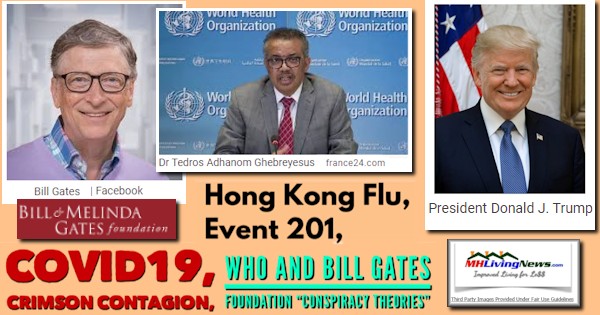 That said, with all due respect to NPR, NYT, VF, WaPo et al keep missing the point.
The logical foundation for correct action by the Trump Administration – or anyone else, for that matter, has to include:
1) when actionable awareness occurred,
2) what was communicated – was it accurate, mixed, flawed, etc.?
Let's unpack that briefly. The Philadelphia Inquirer reported that "In a Jan. 23 briefing, Trump was told that the virus was poised to spread globally from China and that becoming infected wouldn't be deadly…" The Philly Inquirer is hardly conservative or pro-Trump, and is generally rated as left-leaning in reporting.
That Inquirer report is in keeping with the POTUS Trump tweet quoted above and shown below. If that is accurate that goes to both points 1 and 2, above. Late and mild warnings was hardly what the circumstances called for, as has now become all too apparent.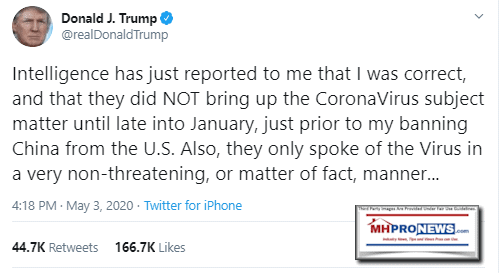 The takeaway? That January 23rd briefing was weeks after U.S. intelligence reportedly learned about the COVID19 outbreak, per ABC News and other sources. That begs the questions.
Why did U.S. intelligence fail to raise alarms sooner?
Why didn't Event 201 participants fail to raise alarms in early December 2019?
Why didn't Crimson Contagion participants – federal, state, others – fail to raise alarms in late November or early December 2019?
Rephrased, there are people in the state and federal governments – besides the World Health Organization (WHO) or NGOs (Non-Governmental Organizations) – who are paid handsomely to do precisely this type of threat assessment. When a viral contagion is looming — they are supposed to act swiftly. 
WaPo in this case was apparently so blinded by anti-Trump bias that they arguably failed to use objectivity in their reporting, which is the hallmark of good journalism.
When the Inquirer and the POTUS Trump tweet are substantially the same, that's objectively weeks too late. Fair is fair.
That said, there are other issues that are emerging, including a new report by Chase on the pandemic and comments today by Dr. Anthony Fauci. Those will be our featured focus this evening. As is our custom, those are found after our left-right headline recap and some of our market snapshots and thought provoking quotes.
Quotes That Shed Light…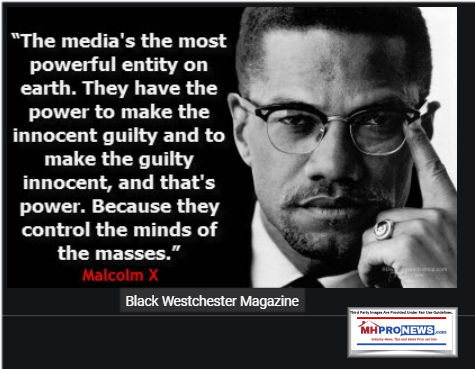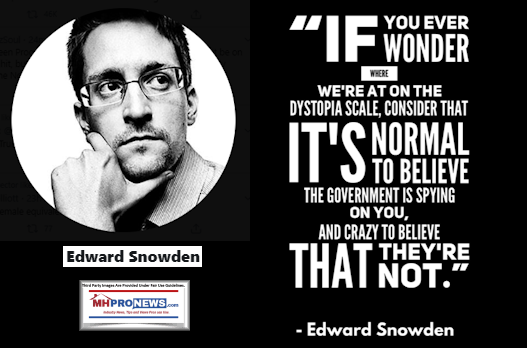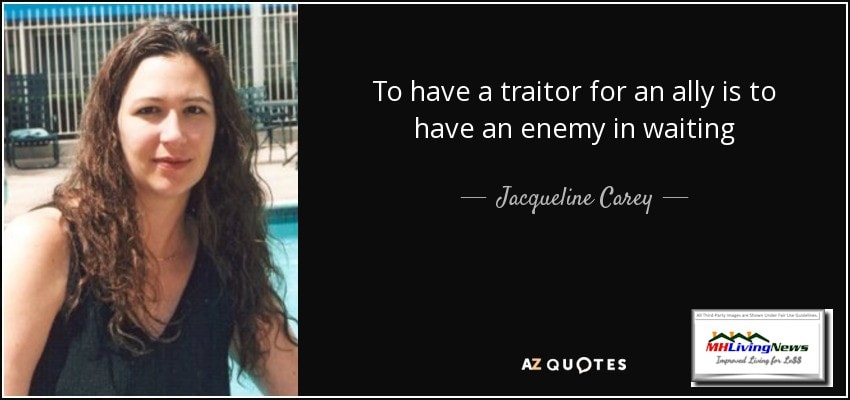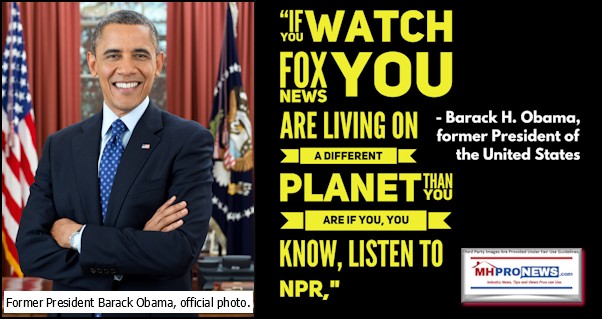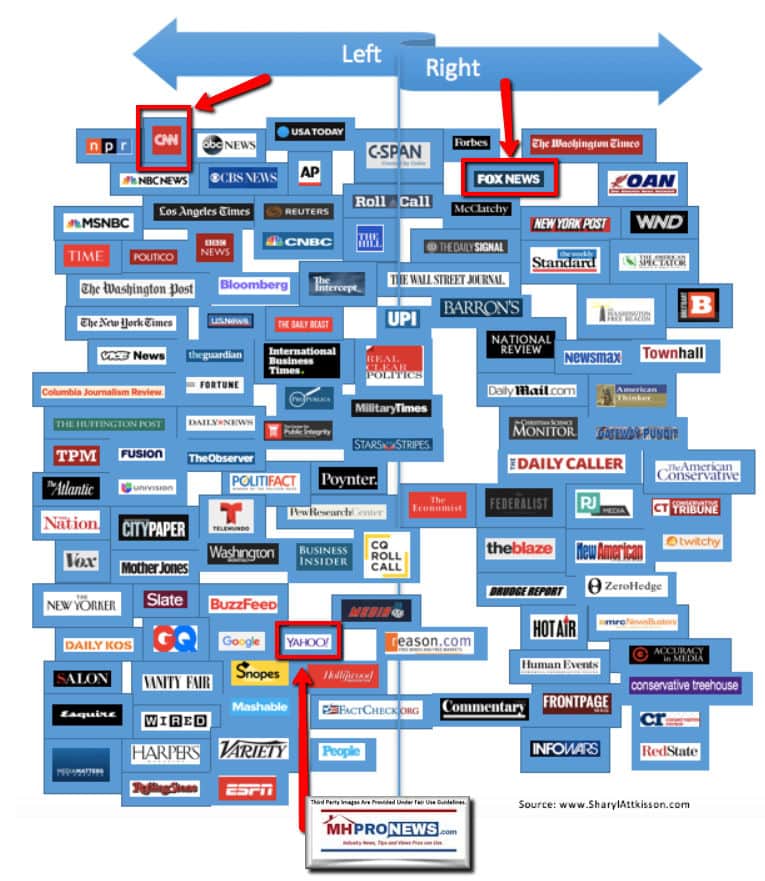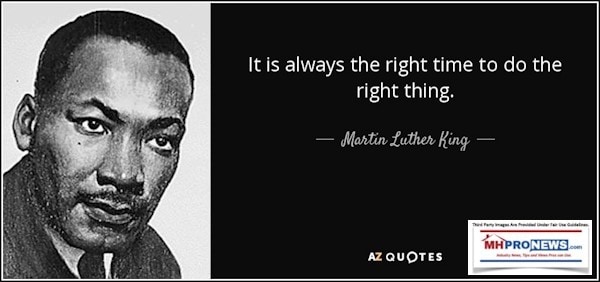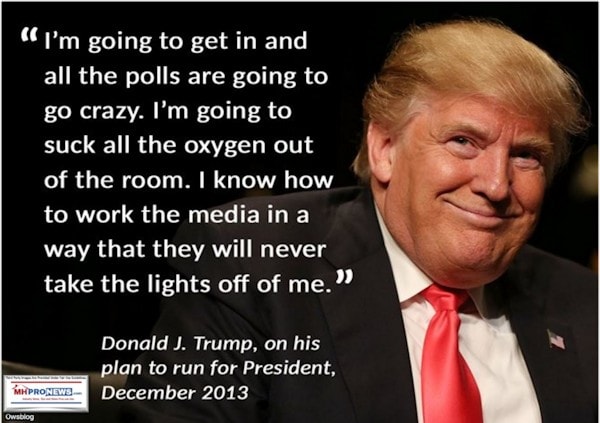 Headlines from left-of-center CNN Business
New jobless records
A person wearing a protective face mask as a precaution against the coronavirus walks past stuttered businesses in Philadelphia, Thursday, May 7, 2020. Nearly 3.2 million laid-off workers applied for unemployment benefits last week as the business shutdowns caused by the viral outbreak deepened the worst U.S. economic catastrophe in decades.
43 states have record unemployment. See where your state ranks
25% employees in a North Carolina plant tested positive for Covid-19
America's unemployment rate may hit 23%, Trump adviser says
These companies plan to make working from home the new normal. As in forever
Moderna unveiled encouraging coronavirus vaccine results. Then top execs dumped nearly $30 million of stock
Everything you need to know about the predicament we're in … summarized in two tweets
China unveils $500 billion stimulus for the economy
Here comes the US crackdown on China stocks
Silicon Valley spent billions on fancy offices. Now everyone is WFH
Zillow chief economist: Covid-19 isn't driving people out of big cities — yet
Those Memorial Day burgers will cost more this year
Ben Burkett, owner of B&B Farms in Petal, Mississippi, marks where he will plant okra seeds in a field on May 20, 2020.
The pandemic could cause long-term damage to how we get our food
WILMINGTON, UNITED STATES – MARCH 12, 2020: Former Vice President Joe Biden (D) speaks about the Coronavirus and the response to it at the Hotel Du Pont in Wilmington, DE.
Biden wants Amazon to 'start paying their taxes'
Asian-American comedian Margaret Cho is helping leading the charge for the #TakeOutHate campaign.
These celebrities are trying to get more Americans to eat at Asian restaurants
MARKETS
ENERGY
METTLER, UNITED STATES – APRIL 21, 2020: A view of an oil well near the Interstate 5 freeway in Mettler. As the demand for oil lowers due to COVID-19, the oil price continues to plummet, causing cheap oil cost at the pumps in California, but also leading to a severe strain on the US and international markets.- PHOTOGRAPH BY Stanton Sharpe / Echoes Wire/ Barcroft Studios / Future Publishing
Oil exec: It would be a mistake for the US government to bail us out
America is trailing in the clean energy race
Energy drink? A UK startup is turning coffee into fuel
How Australia could harness its tides for energy
These tiny islands have been quietly mastering hydrogen power
STREAMING WARS
An Android smartphone with the Netflix logo visible on screen, taken on February 7, 2019.
Haven't used Netflix in a while? Your subscription could get canceled
'Snyder Cut' of 'Justice League' coming to HBO Max
Spotify makes Joe Rogan's podcast an exclusive
Why 'Mulan' won't be coming to a home near you
Streaming and pay TV: Bad economic times could make the battle for bucks much tougher
Headlines from right-of-center Fox Business
HEALTH
Could coronavirus lockdowns be worse for our health than disease itself?
A top British doctor worries the lockdowns for coronavirus will impact the health of those not sickened by COVID-19.
LIFESTYLE
Trump rules churches 'essential,' says they can reopen this weekend
Trump donating salary to HHS coronavirus efforts
MARKETS
Market slides as Chinese president moves to tighten grip on Hong Kong
Oil prices slide ahead of bleak Memorial Day weekend
TRAVEL
Coronavirus drives retirees to spend 'much more' on this expense than anticipated
OPINION
The '7 Habits' are 30 years old and still perfect for these difficult times
COST OF LIVING ADJUSTMENT
FACEBOOK
Facebook may cut salaries of workers moving out of Silicon Valley
OFF TO THE RACES
NASCAR
NASCAR fans will likely be allowed back in 'near future': Steve Phelps
NOTHING LEFT TO TAX
TAXES
New York bleeding millions in tax revenue as rent payments plunge
ARE YOU STILL WATCHING?
TECHNOLOGY
Netflix to cancel dormant accounts
BEACH BUMS
LIFESTYLE
NYC Mayor de Blasio burns Memorial Day beach economy with police threats
DEALS ON WHEELS
CARS
These kinds of cars selling for cheap on Memorial Day weekend
TAKING OFF
TRAVEL
American Airlines traffic hits coronavirus-era high
CUTS CUTS AND MORE CUTS
JOBS
Labor Department releases stats on each state's job losses
LEGEND LOST
SPORTS
Jerry Sloan, Jazz great and Hall of Fame coach, dead at 78
CHINA CRUSHES FINANCE HUB
CHINA
Hong Kong economy tanks as Beijing tightens grip
GAME ON
NEWS
SEC begins coronavirus comeback, will allow voluntary player workouts
GREENS FOR MILES
REAL ESTATE
SEE PICS: Golf legend lists huge Colorado ranch for $40 million
LIFESTYLE
Coronavirus caused burn out in 41% of employees: Study
SMALL BUSINESS
Most small businesses requested PPP coronavirus relief: Here's how many received loans
TECHNOLOGY
Twitter founder gives $5M for coronavirus relief, UBI promotion
LIFESTYLE
Many in US won't return to gym or dining out, poll shows
ECONOMY
Dropping growth target, China concedes severity of economic obstacles
MARKETS
Coronavirus threatens a Minnesota farm town's economic engine
TRAVEL
Royal Caribbean sets tentative return date
MONEY
Varney: US, China in 'new Cold War'
LIFESTYLE
Sephora reopening some stores after coronavirus closures with new look
HEALTH
Coronavirus rebound feared as Memorial Day tempts people outside
MONEY
Business face harsh reality: Being open is almost as hard as being closed
VIDEO
WATCH: New feature in Hyundai cars brings 'remote parking' to life
HEALTH CARE
Over 4,300 coronavirus patients sent back to 'feeding ground' nursing homes
VIDEO
WATCH: 'Jeopardy!' question features Maria Bartiromo and FOX Business
MARKETS
Alibaba profit sinks 88% as investments sour
NEWS
Plane carrying 98 people crashes in Pakistan, officials say
POLITICS
Defense Secretary Esper says coronavirus vaccine 'absolutely' possible by end of 2020
COLLEGE
Prestigious university system votes to stop using SAT, ACT exams
SPACE BUSINESS
Florida welcomes crowds for upcoming space launch, but NASA is more hesitant
MARKETS
Oil may take fresh beating this hurricane season
MARKETS
Deere profit plunges 41% amid coronavirus outbreak
MARKETS
Here's what really happens when lockdown orders lift: JPMorgan study
MARKETS
Foot Locker stumbles to $98 million loss
REAL ESTATE
WATCH: Papa John shows off huge Kentucky mansion on TikTok
POLITICS
Why Republicans are considering cuts to unemployment relief
10 Market Indicator Closing Summaries – Yahoo Finance Closing Tickers on MHProNews…

Featured Focus – Where Business, Politics and Investing Can Meet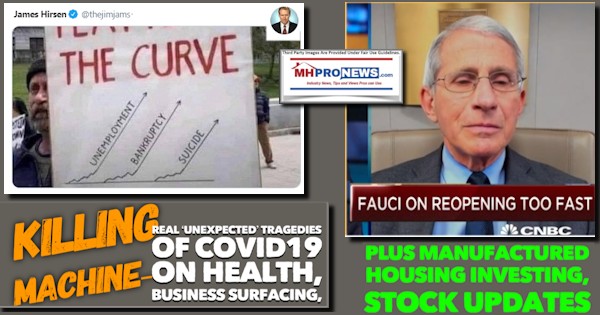 The numbers of reports coming in that are raising alarms over the impact of the lockdowns in the 50 states ought to cause thinkers, particular those who have been harmed by these policies, to lean in and ask questions that seek honest answers.
Dr. Anthony Fauci has hardly been consistent, despite his seemingly impressive credentials. He has flip-flopped from early on as to the risk from COVID19 and also with respect to the speed with which the various mitigation efforts should be lifted.
But Fauci is hardly alone in flip-flops and mixed messages. The Washington Post reported that COVID19 is not easily contracted from surfaces, in a new CDC report. However, NPR reported just 2 hours ago that the CDC guidance on COVID19 risk transmission from surfaces "has not changed."
It is precisely those types of mixed and conflicting messages that call into question the seeming 'worship' of science when medical and science professionals have hardly been stellar in the handling of this pandemic.
That said, let's turn to two different but somewhat related reports. One is from CNBC that focuses on Dr. Fauci's statement earlier today that "irreparable damage" can be caused if lockdowns continue too long.

Per CNBC.
Stay-at-home orders intended to curb the spread of the coronavirus could end up causing "irreparable damage" if imposed for too long, White House health advisor Dr. Anthony Fauci said.
"I don't want people to think that any of us feel that staying locked down for a prolonged period of time is the way to go," he told CNBC.

"I don't want people to think that any of us feel that staying locked down for a prolonged period of time is the way to go," Fauci said during an interview with CNBC's Meg Tirrell on "Halftime Report."
Fauci said the U.S. had to institute severe measures because Covid-19 cases were exploding then. "But now is the time, depending upon where you are and what your situation is, to begin to seriously look at reopening the economy, reopening the country to try to get back to some degree of normal."
However, Fauci also cautioned states against reducing social distancing measures too quickly, adding they must take "very significant precautions."
"In general, I think most of the country is doing it in a prudent way," he said. "There are obviously some situations where people might be jumping over that. I just say please proceed with caution if you're going to do that."
Fauci has been criticized in recent days by Republicans, including U.S. lawmakers Rand Paul and Andy Biggs, for making comments appearing to advocate for keeping some businesses closed longer.
Just last week, Fauci, director of the National Institute of Allergy and Infectious Diseases, warned members of Congress that the United States could face even more "suffering and death" from the coronavirus if some states rush to reopen businesses too early.
It could also hinder states "on the road to try to get back to an economic recovery," he testified at a hearing before the Senate Committee on Health, Education, Labor and Pensions on May 12. "It would almost turn the clock back rather than going forward. That is my major concern."
The virus, which emerged in Wuhan, China, less than five months ago, has infected more than 1.5 million people in the United States, according to data compiled by Johns Hopkins University. States have started the process of reopening their economies after being shut down for weeks.
In a separate interview with NPR earlier in the day, Fauci said it was "conceivable" that the U.S. could begin to roll out a coronavirus vaccine by December.
He told CNBC that biotech firm Moderna's vaccine data, released earlier this week, was very encouraging.
"We still have a long way to go obviously," Fauci said Friday. "There are so many things that need to be done. We're going to go quickly into a phase three trial probably in the beginning of the summer, sometime in July."
CNBC Correction: White House health advisor Dr. Anthony Fauci spoke to CNBC on Friday. An earlier version misstated the day.
##
Next, is this from Fox Business about research on COVID19's impact by JPMorgan Chase. It will be followed by an analysis in brief.

"Lockdowns designed to slow the spread of COVID-19 were justified initially, but likely failed to "alter the course of the pandemic," according to a statistical analysis by JPMorgan Chase that suggests restarting the U.S. economy may not lead to the second wave of infections that health officials fear.
Stay-at-home orders issued by governors across the U.S. over the past two months forced the closure of many businesses and put a halt to most travel, costing nearly 39 million Americans their jobs on at least a temporary basis. The U.S. economy is now witnessing its sharpest economic contraction of the post-World War II era.
"Unlike rigorous testing of potential new drugs, lockdowns were administered with little consideration that they might not only cause economic devastation but potentially more deaths than COVID-19 itself," wrote Marko Kolanovic, a quantitative strategist at the lender's investment bank.
Critics of the lockdowns have argued they would also lead to an increase in mental health problems and prevent the detection of other illnesses as people visit doctors less often. Health and government officials, however, have maintained the toll of the virus would have been far higher without the restrictions than the nearly 4.9 million infections recorded worldwide, which have led to 329,000 deaths.
New York, which is the country's biggest, densest city and an infection hot spot, is working toward a partial reopening in June, thanks to compliance among the city's 8 million residents with shelter-in-place orders, social distancing protocols and facial mask guidelines, Mayor Bill de Blasio said Thursday.
But what has happened after reopenings in other parts of the country, such as Florida, indicates that lockdowns might not have been the driving force in curbing infections, JPMorgan's Kolanovic said.
Infection rates continued to decline virtually everywhere once familiar routines were resumed, he noted, which indicates the disease's spread may have been diminished by factors as increased hand-washing and sanitizing, the arrival of warmer weather in the northern hemisphere and the fact that the people most vulnerable to COVID-19 had already contracted it.
Florida, which was one of the first states to begin reopening, has seen the number of new cases hold steady since partially lifting its lockdown orders on May 4.
Republican Gov. Ron DeSantis pushed back in a press briefing on Wednesday against the narrative that Florida was irresponsible in its reopening plan, pointing to his state's lower death rate than places like Illinois, Ohio, Washington, D.C., Alabama and elsewhere.
"We've succeeded. And I think that people just don't want to recognize it because it challenges their narrative. It challenges their assumption," he said. "So they've got to try to find a bogeyman."
Still, some parts of the world have seen infections pick up after lifting restrictions: A resurgence has been reported in China, Hong Kong and South Korea.
The data available so far have fueled debate over what the U.S. should do next, in some cases deepening partisan fault lines, Kolanovic wrote. That's likely to continue, with implications not only for economic growth and financial market performance but for November's presidential election.
Typically, incumbents have had a difficult time winning a second term when the economy is in recession in the 24 months ahead of an election, losing five of seven campaigns since the end of World War I. They have been a perfect 11 for 11 when the economy did not experience a recession in the two years ahead of the election.
A "political fault line exposed by COVID-19 is the role and scope of government in everyday life," wrote Kolonavic. In November, Americans will have to decide what that role is.
##
MHProNews Analysis in Brief
Weeks ago, MHProNews spotlighted how 'herd immunity' was being sidelined in many of the policy discussions.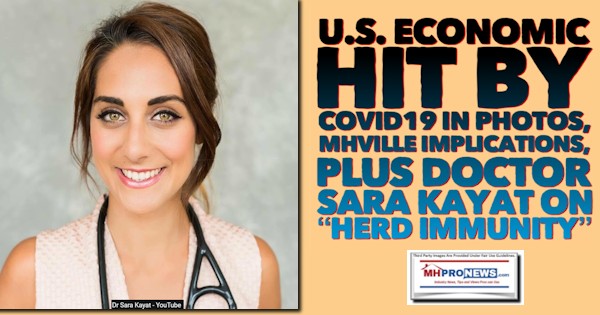 The harm to the economy is obvious, but that relates to impacts from voices both foreign and domestic that have apparently had too much influence over federal decision makers. It's more than troubling. It ought to be alarming to the point of begging for objective criminal and national security investigations.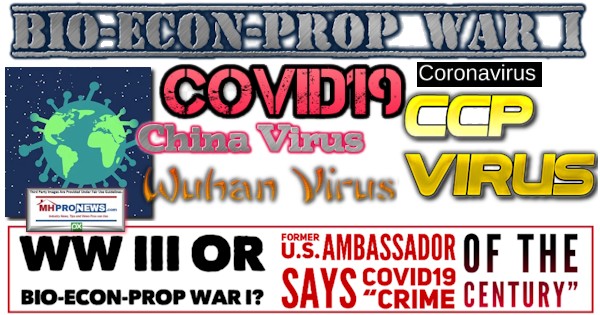 MHProNews said early on that this was an apparent money grab, and a way of hobbling smaller competitors, citing sources as well as evidence. Given increasing evidence of 'deep state' efforts in Washington, why would objective thinkers be surprised if the Wuhan Virus has been just another effort – in a dark sense, more successful thus far – at undermining the Trump Administration? This isn't new, it is only new to those who source their information only from anti-Trump sources among the left-right media bias sources. That report linked below was April 16, and much more has emerged since then.
Judicial Watch Fights "Unlawful Government Secrecy," "Serious Abuses of Power" in Legal Actions – Lessons for Manufactured Housing Professionals, Investors, Homeowners, Affordable Housing Advocates
There is no crystal ball here. But we have studied the machinations and maneuvers of Warren Buffett for some years. We have sourced across the media bias spectrum for years. That broad background, plus Buffett's relationship with Bill Gates has been periodically noted.
New Data Surfaces on Buffett Family, Foundation Funding Sources Which Attacked Manufactured Housing, plus Manufactured Home Stock, Investing Updates
These are among the reasons why industry professionals should demand from elected officials serious investigations on COVID19 but also on purported corruption within the industry.
In Manufactured Housing's COVID19 War, MHARR Wins A Battle – Retailers, Installers & Transporters Alert
There are reasons why U.S. attorneys, federal and state officials are surfing MHProNews and MHLivingNews at increased levels. What that means specifically is hard to say, we only know what is told, or what evidence like the data below, Webalizer and other 'generic' electronic insights suggests. For example, the U.S. Attorneys that are reported by software below doesn't mean that we know which U.S. attorneys are involved. That said, there are at least reasons to think that public officials are considering the evidence-based and logical concerns that have been raised by our platforms for years.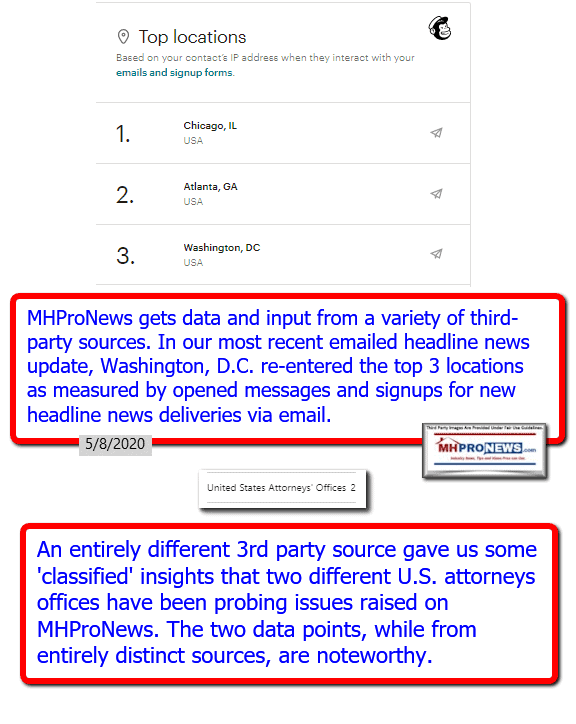 See the related reports for more.
Our evening manufactured home market snapshot at the closing bell is further below, beyond the related reports, as usual.
Related Reports: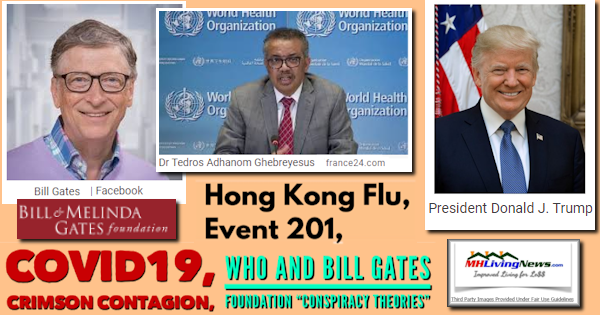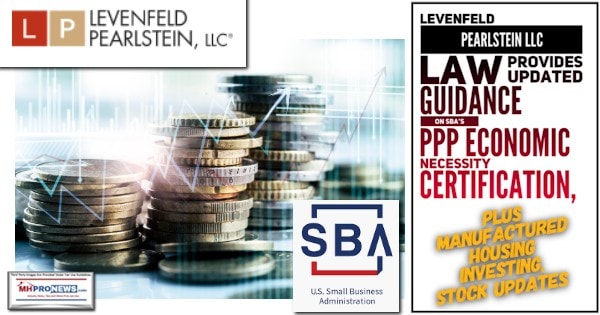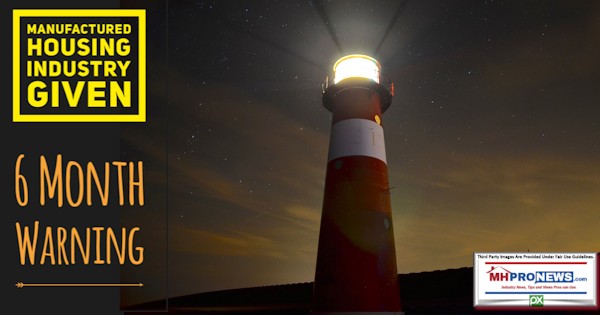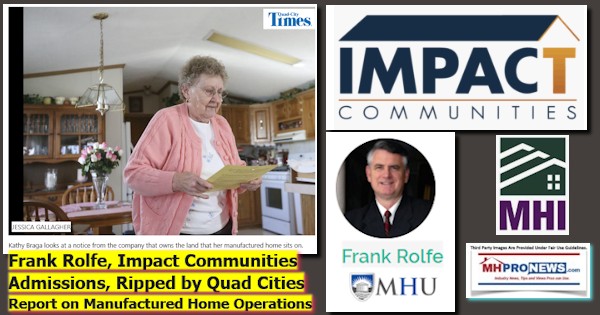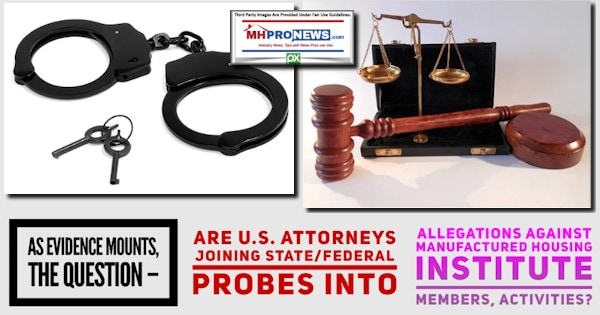 Illusions, Collusions – "Heads I Win, Tails You Lose" – "Never Let a Serious Crisis Go To Waste" – Gates, Buffett Massive Money Grabs?
"Embracing Facts Over Fear," Edward Pinto, Director AEI Housing Center, on COVID19's Impact, Data-Driven Insights
Mainstream Media Spotlights MHARR Letters on HUD's Dana Wade, FHFA's Mark Calabria
Manufactured Housing Industry Investments Connected Closing Equities Tickers
Some of these firms invest in manufactured housing, or are otherwise connected, but may do other forms of investing or business activities too.
NOTE: The chart below includes the Canadian stock, ECN, which purchased Triad Financial Services, a manufactured home industry lender
NOTE: Drew changed its name and trading symbol at the end of 2016 to Lippert (LCII).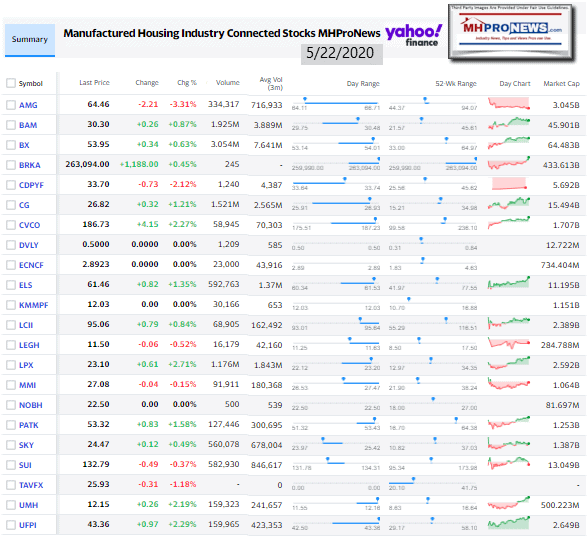 Spring 2020…
Berkshire Hathaway is the parent company to Clayton Homes, 21st Mortgage, Vanderbilt Mortgage and other factory built housing industry suppliers.
· LCI Industries, Patrick, UFPI, and LP each are suppliers to the manufactured housing industry, among others.
· AMG, CG, and TAVFX have investments in manufactured housing related businesses. For insights from third-parties and clients about our publisher, click here.
Enjoy these 'blast from the past' comments.
MHProNews. MHProNews – previously a.k.a. MHMSM.com – has celebrated our tenth anniversary and is in year 11 of publishing.


Learn more about our evolutionary journey as the industry's leading trade media, at the report linked below.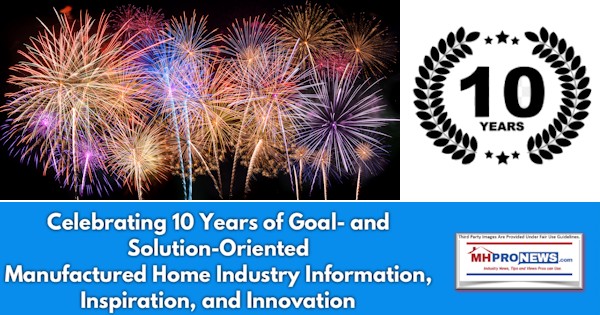 · For expert manufactured housing business development or other professional services, click here.
· To sign up in seconds for our industry leading emailed headline news updates, click here.

Disclosure. MHProNews holds no positions in the stocks in this report.
2019 Year-End Totals Reveals Decline in New HUD Code Manufactured Home Production, Shipments vs. 2018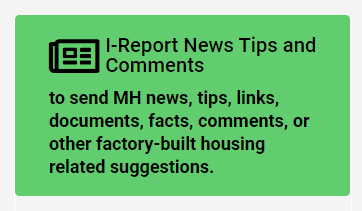 That's a wrap on this installment of "News Through the Lens of Manufactured Homes and Factory-Built Housing" © where "We Provide, You Decide." © (Affordable housing, manufactured homes, stock, investing, data, metrics, reports, fact-checks, analysis, and commentary. Third-party images or content are provided under fair use guidelines for media.) (See Related Reports, further below. Text/image boxes often are hot-linked to other reports that can be access by clicking on them.)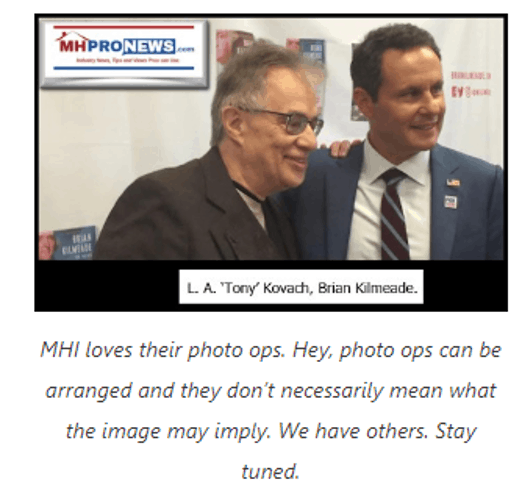 By L.A. "Tony" Kovach – for MHLivingNews.com.
Tony earned a journalism scholarship and earned numerous awards in history and in manufactured housing. For example, he earned the prestigious Lottinville Award in history from the University of Oklahoma, where he studied history and business management. He's a managing member and co-founder of LifeStyle Factory Homes, LLC, the parent company to MHProNews, and MHLivingNews.com. This article reflects the LLC's and/or the writer's position, and may or may not reflect the views of sponsors or supporters.
http://latonykovach.com Connect on LinkedIn: http://www.linkedin.com/in/latonykovach
AEI Flash Housing Market Indicators