An informed source at the Manufactured Housing Association for Regulatory Reform (MHARR) told MHProNews that they arrived at the theme for their report below independent of the new MHLivingNews article about UFOs and manufactured homes. That source added, "but I like the synergy!"
The newest MHARR Issues and Perspectives borrows by analogy the theme from the sci-fi classic, Invasion of the Body Snatchers, and by jujitsu analogy, turns it into the "Invasion of the Building Code Snatchers." It will be followed by additional information, MHProNews analysis and commentary in brief.
MHARR – ISSUES AND PERSPECTIVES
By Mark Weiss
JUNE 2021
"INVASION OF THE BUILDING CODE SNATCHERS"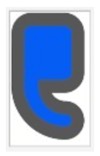 In the classic film noir, "Invasion of the Body Snatchers," space aliens attempt to take over the Earth by replacing real people with robot-like replicas. With those replicas, they seek to change the composition and fundamental nature of Earth's population. While the film's premise is far-fetched, something oddly similar — in principle — is beginning to happen with respect to the HUD Code standards for manufactured housing. And, like the movie's fictional alien "invasion," this veiled effort to transform the fundamental nature of the HUD Code, must be stopped before it leads to real-world harm for both the manufactured housing industry and the American consumers (including lower and moderate-income families) who rely on the non-subsidized affordability of HUD Code manufactured homes.
To start with, it's crucial to recognize and acknowledge that the HUD Code standards (and their related enforcement mechanisms), as they have existed for the past 45 years, are unique within the housing industry. And that is not accidental. Their unique character, both individually and cumulatively, is a product of the unique nature and objectives of the laws (i.e., the National Manufactured Housing Construction and Safety Standards Act of 1974 and the Manufactured Housing Improvement Act of 2000) that authorize, require and govern their adoption. Those laws,  in all of their various provisions and particulars – as is made clear on their face — were specifically and intentionally structured and enacted by Congress to "protect the quality, durability, safety and affordability of manufactured homes" and to "facilitate the availability of affordable manufactured homes and … increase homeownership for all Americans." (Emphasis added). Consequently, it is beyond any reasonable debate that Congress wanted a unique building code specifically for manufactured homes that would protect, facilitate and maintain their status as the nation's most affordable source of non-subsidized housing and homeownership.
 And, true to this clearly-stated, overriding objective, the Federal Manufactured Housing Construction and Safety Standards adopted by HUD over the course of the past four decades-plus, have been – and are, in fact – unique in multiple respects. First, they comprise the only uniform federal building code of general applicability to residential construction. Second, they are enforced through a uniform, nationwide regulatory system, which does not vary. Third, as the only federal residential building code, they are the only residential building standards that by express statutory mandate, are federally preemptive. Fourth, they are the only building standards that by express federal statutory mandate, are specifically required to balance protection with affordability, in order to maintain the inherent purchase price affordability of manufactured homes. And, fifth, by regulatory mandate (which carries the force of law), they must, "to the maximum extent possible,"  establish performance criteria (as contrasted with prescriptive requirements), again to promote and ensure the greatest degree of purchase price flexibility and affordability for homebuyers consistent with the overriding purposes and objectives of federal manufactured housing law.
At a relatively early point, however, it became apparent — especially to the industry's smaller, independent manufacturers — that this unique regulatory system was not functioning as designed, and that this failure, due in part to the broader industry's unwillingness to aggressively demand full compliance with federal law, was harming those smaller, independent businesses the most. This led directly to the formation of MHARR to fulfill the need for national representation of the industry's production sector, and to aggressively promote, seek and demand full program compliance with all relevant aspects of federal law. Thereafter, and during the 36 years since that time, MHARR has functioned as a guardian of the federal law and its affirmative mandate for reasonable, uniform, cost-effective regulation for the benefit of both the industry and consumers.
Consistent with this founding mission, MHARR has always maintained that the HUD Code standards, through their fundamental nature, the process for their adoption, and the process for their enforcement, are an integral part of Congress' statutory plan, in both the 1974 Act and the 2000 reform law, to ensure, preserve and maintain the fundamental affordability of manufactured housing, now and in the future. Put differently, Congress intentionally structured federal law and the standards adoption and enforcement processes directed by federal law, in order to perpetuate the continuing unique affordability of manufactured housing, both in absolute terms and in relation to other types of homes regulated under other types of standards, codes, and related regulatory structures. The HUD Code standards, consequently, as well as the HUD Code standards development and enforcement processes are, in their fundamental essence and, in order to maintain and preserve the fundamental balance between protection and affordability for consumers, intentionally different from other building codes in both their provisions and their purposes.
This is not to say that specific standards developed by other expert authorities to address individual, discrete aspects of construction or safety, cannot be incorporated by reference into the HUD Code. To the contrary, this has been done since the inception of HUD regulation, as is demonstrated by section 3280.4 of the HUD Code and its extensive list of third-party reference standards. However, before any such standards can be incorporated into the HUD Code, they must meet – and, after the 2000 reform law, must be determined by the Manufactured Housing Consensus Committee (MHCC) and HUD to meet – the specific statutory requirements and criteria of federal manufactured housing law including, but not limited to, their suitability to the unique construction characteristics of manufactured housing and the law's prime directive to achieve a balance between protection and affordability. If, and only if, a discrete third-party standard meets and satisfies these statutory criteria, can it be referenced in the HUD Code.
Unlike this relatively innocuous incorporation of discrete reference standards, however, there seems to be a growing tendency within the MHCC standards development process, for some members — and others – to seek changes to the HUD Code standards based on standards, concepts, or testing mechanisms (or all three) derived either in whole or in part from other general building codes that are not and have not been developed specifically for manufactured housing under the mandatory criteria and requirements of federal manufactured housing law.
This occurred most recently during the round of MHCC standards revisions addressed by the full Committee on June 10, 2021. Among the proposed standards changes were two proposals – for duct leak testing and increased insulation in certain areas (both opposed by MHARR) – based, in part, on provisions of the International Energy Conservation Code (IECC) maintained by the International Code Council (ICC). And this is not the first time that proposals before the MHCC have sought to replace performance-based HUD Code standards with prescriptive criteria either identical to or derived from general building codes for site-built homes, such as the International Residential Code (IRC).
Put simply, this should not be occurring. Just because a particular provision has landed in some other code that does not address or regulate manufactured housing, does not mean that it should be replicated (or even approximated) in the HUD Code. The IRC and IECC, for example, are not statutorily required to balance cost versus benefit, and together with other general residential building codes, are part of the reason that the cost of construction for manufactured homes, per square foot, is roughly half that of site-built homes according to the most recent annual statistics from the U.S. Census Bureau. Moreover, general building codes like the IECC are not developed and voted-on by manufactured housing experts based on specific HUD Code –centered legislative requirements and cost versus benefit analysis. Instead, as was explained in detail by MHARR in the March 2021 issue of MHARR – Issues and Perspectives, "The Ultimate Battle Against Destructive Energy Regulation," the IECC, in particular, has (through its most recent 2021 revision) been voted-on and approved by state and local building code officials who generally are not responsible for the regulation of manufactured homes and, in most instances, likely have no specific knowledge related to manufactured homes and manufactured housing consumers. The resulting "standards," accordingly, are not appropriate for manufactured housing and should not simply be "parachuted" into the HUD Code to take the place of existing provisions that have functioned appropriately and affordably as a base standard.
In particular, the MHCC must constantly be on guard against proposals for new or modified standards (whether based on other building codes or not), that are little more than an attempt by special interests to "legislate" new or additional demand for products or raw materials that they (or their members) sell to the industry. As MHARR has observed many times previously, while uniform federal regulation of the manufactured housing industry is a crucial driver of the unsubsidized affordability of HUD Code homes and an important benefit for the industry and American consumers of affordable housing, the existence of a single federal standard for all manufactured homes, nationwide, is a tempting target for sellers and promoters of goods or products seeking increased sales through regulatory mandates. Consequently, any proposed standard that would require the purchase of new — or more – raw materials, goods, products, or equipment, such as the two proposed standards detailed as examples above, should be subject to extremely close scrutiny by the MHCC (and HUD as well) to ensure the existence of a genuine, proven and legitimate need for change, as well as a clear benefit for homebuyers in excess of any additional cost.  And that analysis must proceed from the fundamental proposition that the HUD Code is a base standard that manufacturers and consumers can always exceed on an optional basis, if they wish.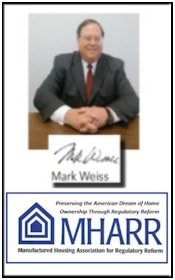 In this regard, an analysis conducted by the National Association of Home Builders has shown that for every $1,000 increase in the retail level cost of a manufactured home, approximately 350,000 potential homebuyers are excluded from the market. This, in itself, demonstrates the critical necessity of maintaining the inherent affordability of manufactured housing. And that affordability derives from and is dependent upon the unique nature of the HUD Code and its mandatory, statutorily-based balancing of protection and cost. In order to preserve that balance, and the status of manufactured homes as the nation's most affordable non-subsidized housing and homeownership resource, the integrity of the HUD Code as a code exclusively for and specifically tailored for affordable manufactured housing, must be maintained. As a result, both HUD and the MHCC should reject any effort or tendency to infiltrate provisions from other general residential building codes into the HUD standards or enforcement regulations including, most especially (but not limited to) provisions designed to coerce the purchase and utilization of any given supplier – or group of suppliers' – products. Otherwise, the affordability that those specific manufactured housing-centric requirements were designed to promote and perpetuate will soon disappear, with millions of lower and moderate-income Americans excluded from homeownership in the process – a result that the industry, consumers, nor the nation as a whole, can tolerate.
Mark Weiss
MHARR is a Washington, D.C.-based national trade association representing the views and interests of independent producers of federally-regulated manufactured housing.
##
Additional Information, MHProNews Analysis and Commentary in Brief
Among manufactured home industry trade groups, MHARR stands essentially alone in openly holding the Manufactured Housing Institute (MHI) and their corporate masters accountable, that said, for accuracy, there are voices in MHI and various state association trade groups who have or are quietly or openly have questioned the moves and effort of MHI and their dominating corporate masters.
In recent and previous fact checks, exclusive reports, and related analysis, MHProNews stands effectively alone in consistently holding MHI and their corporate masters to account.
This is not simply the view from this platform or MHARR, as others have either sounded off and/or provided tips that document the concerns.
Additionally, third party research has likewise shed light on the apparent corruption between public officials, MHI, and their dominating brands.
There will be fresh research from university level and other media that will illustrate the concerns.
Stay tuned for more from your authentic source for news and analysis that holds the powers that be in manufactured housing to account.
See the related reports for more. Following those linked items, see the 6. 21.2021 Manufactured Home Stock Market Results that follow.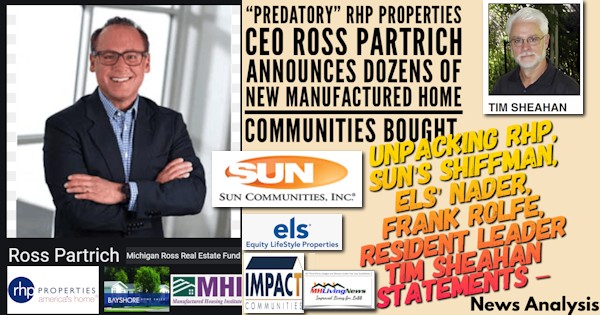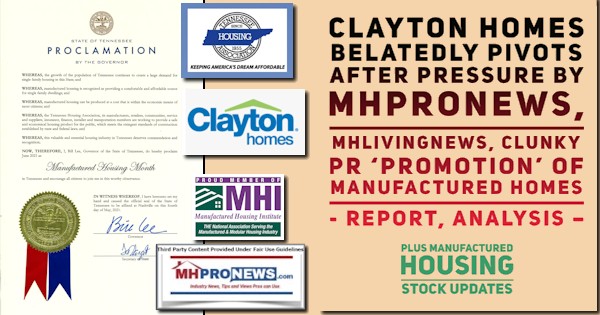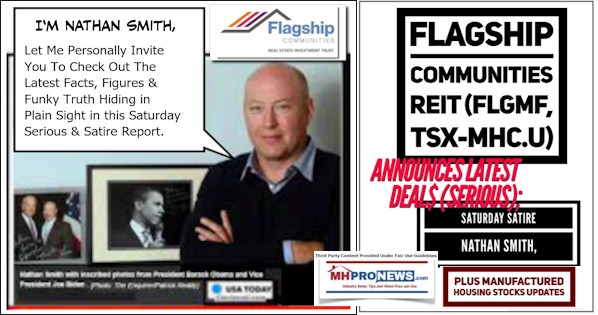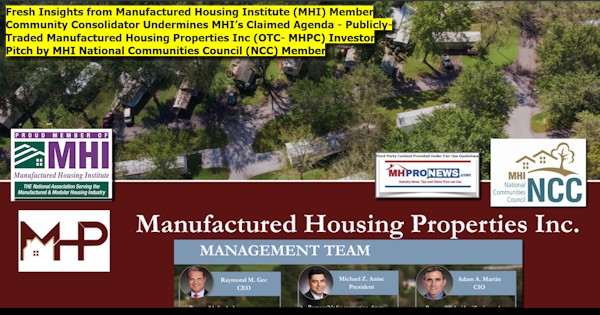 Next, is our evening market report and related left-right headlines.
The Business Daily Manufactured Home Industry Connected Stock Market Updates.  Plus, Market Moving Left (CNN) – Right (Newsmax) Headlines Snapshot. While the layout of this business daily report has recently been modified, several elements of the basic concepts used previously are still the same. The headlines that follow below can be reviewed at a glance to save time while providing insights across the left-right media divide. Additionally, those headlines often provide clues as to possible 'market moving' items.
Market Indicator Closing Summaries – Yahoo Finance Closing Tickers on MHProNews…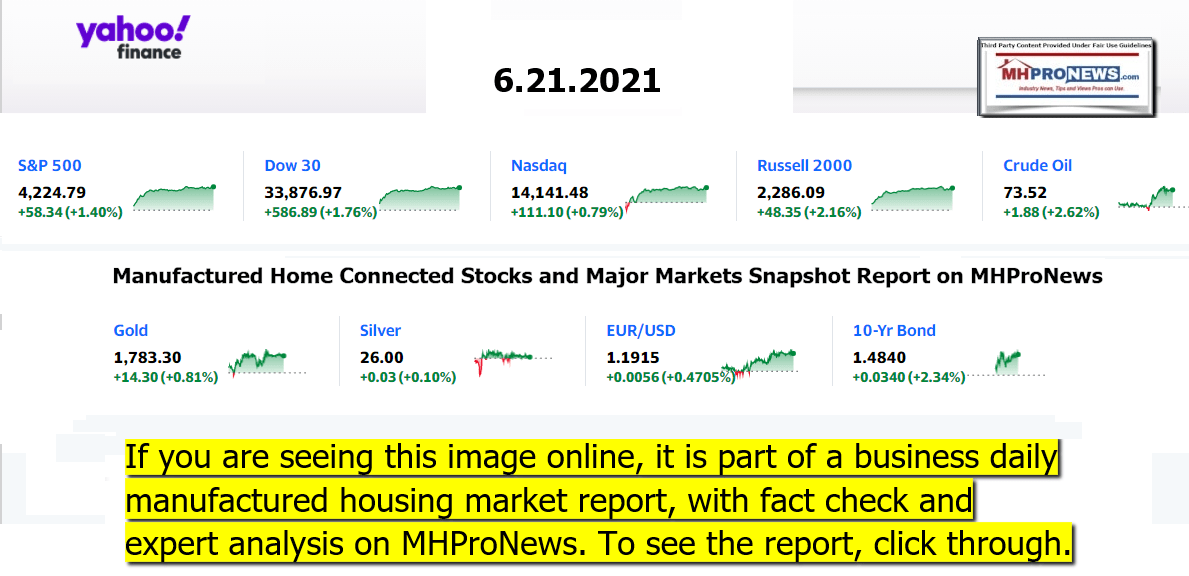 Headlines from left-of-center CNN Business = evening of 6.21.2021
What managers say
They're on the front lines of the new remote workforce. Here's what they really think about it
The perfect storm sending banks to financial success
The US economy is never going back to 'normal'
These executives sold more than $8 million of stock before their company released dismal earnings
Mandatory overtime and little rest: Amazon Prime Day from the inside
NYC mayor asks shoppers to avoid Amazon
Amazon is battling a mood shift — even if Prime Day is a success
Amazon Prime Day is actually a bummer for these sellers
First Solar CEO: Getting rid of Trump tariffs would pose challenges
Opinion: How China can achieve its ambitious economic goals by 2049
This Bill Ackman backed company just made the biggest SPAC transaction to date
American Airlines cancels hundreds of flights in part due to labor shortages
Netflix just landed Hollywood's top director — a major coup for the streaming service
How to retire a millionaire
The Federal Hall statue of George Washington overlooks the New York Stock Exchange, Monday, June 7, 2021. Stocks are nudging mostly higher in early trading, putting the S&P 500 and the Dow Jones Industrial Average back near the record highs they reached a month ago. (AP Photo/Richard Drew)
Stocks soar, making up lost ground after a multi-day losing streak
There's a chicken wing shortage. So this chain wants you to start loving thighs
MotorTrend: Yes, the Tesla Model S Plaid can go 0-60 in two seconds, but there's a catch
SPACEX
The Space Exploration Technologies Corp. (SpaceX) South Texas launch site in Boca Chica Village in Brownsville, Texas on Saturday, Sept. 26, 2020. Jeff Bezos and Elon Musk had competed for nearly a decade to develop engines and rockets through their privately owned space companies when the perk came their way in 2018. Their companies' sites were included among the thousands of tracts across the U.S. designated as Qualified Opportunity Zones.
Texas authorities threaten SpaceX with legal action
SpaceX likely to miss July date for Mars rocket test
SpaceX claims it will accept dogecoin as payment
Success! SpaceX lands Mars rocket prototype
Watch SpaceX land its Mars rocket prototype for the first time
A RED HOT MARKET
This home in Colorado Springs is expected to sell for over $600,000, all cash.
This disgusting 'house from hell' is listed for $600,000
Colorado Realtor puts 'house of horrors' on the market
People are snatching up vacation homes
Buyers are paying $1 million over asking price
There are more Realtors than homes for sale. Follow one trying to close his first deal
Headlines from right-of-center Newsmax – evening of 6.21.2021
Biden May End Trump's Migrant Family Expulsions Next Month
(AP)
The Biden administration is contemplating ending a Trump-era policy, known as Title 42, by which U.S. border officials can turn back migrant families at the southern border based on health concerns. [Full Story]
Newsmax TV
Ronny Jackson: Biden's Cognitive Problems Will Get Worse
Alan Dershowitz: Supreme Court Not in 'Conservative Revolt Mode' |
Gordon Chang: Rumored Defection Could Topple Communist Party |
Sheriff David Clarke: Get Ready for Violent Summer |
AG Ken Paxton: Taking 'Matters Into Our Own Hands' at Border |
Greg Steube: 'Break the Chain' on Migration |
Mark Meadows: Biden Lost 'Command' of His Message |
More Newsmax TV
Newsfront
Watchdog: Hunter Biden's Big Art Buyers Must Be Revealed
Hunter Biden is dabbling in art and potential hidden, big-dollar purchases of his paintings have people concerned it could be a sneaky way to grift pay-for-play schemes off his family name, particularly from undisclosed foreign buyers…… [Full Story]
Senate Dem Leaders Seek to Add Vision, Dental to Medicare
Senate Democrat leaders are seeking to add dental and vision medical [Full Story]
New Zealand Weightlifter First Transgender Athlete at Olympics
Weightlifter Laurel Hubbard will become the first transgender athlete [Full Story]
Poll: Iowa Voters Want Sen. Grassley Out
A Des Moines Register/Mediacom Iowa Poll showed Iowa voters say it is [Full Story]
Wash Post Promotes Writer Who Wants to Get Tough on 'Karens'
A Washington Post writer has been promoted after tweeting that "white [Full Story]
Unvaccinated Americans Risk Losing Jobs, Public Shaming
Though the federal government says it won't issue "vaccine [Full Story] |
GM Puts $35B Into Electric Vehicles, Bets on Hydrogen Fuel Cells
Long-term efforts by General Motors to make hydrogen fuel cells a [Full Story]
NYC Drops Most Riot, Looting Cases
New York City district attorneys have refused to prosecute most [Full Story]
Taliban Testing Morale of Afghan Forces as US Pulling Troops
Officials in Afghanistan are warning that the growing number of [Full Story]
Bitcoin Tumbles to Two-Week Low Amid China's Crypto Crackdown
Bitcoin fell to a two-week low amid an intensifying cryptocurrency [Full Story]
Ex-LA Dodgers Owner Pledges $100 Million to Reduce Power of Facebook
Frank McCourt, the billionaire real estate mogul and former owner of [Full Story]
Iran's President-elect Says He Won't Meet With Biden
Iran's president-elect said Monday he wouldn't meet with President [Full Story]
Tokyo Olympics to Allow 10,000 Spectators at Each Venue
Olympics organizers on Monday capped the number of spectators at [Full Story]
Gates's $170 Billion Money Manager in the Spotlight Amid Divorce Controversy
For almost three decades, Michael Larson has quietly shuffled around [Full Story]
Truth-Speaking Video Upsets Church. They Try to Pull the Plug.
SPONSOR: The Churchs darkest secrets exposed. Watch now! [Full Story]
US Preparing More Russia Sanctions Over Navalny Poisoning
The U.S. is preparing additional sanctions against Russia for the [Full Story]
American Airlines Cancels 1 Percent of July Flights
American Airlines on Sunday said it would cancel around 1% of its [Full Story]
Israeli Foreign Minister Plans UAE Trip in Historic First
Israeli Foreign Minister Yair Lapid is planning to travel to the [Full Story]
GOP May Divvy Up Nashville to Gain Seat in Congress
Top Tennessee Republicans have discussed dividing up Nashville into [Full Story]
First Cruise in 15 Months Set to Sail as Restrictions Ease
Guests lined up to board Royal Caribbean Cruises Ltd.'s Freedom of [Full Story]
Related
Judge Rules for Florida on CDC Order Blocking Cruise Ships
Supreme Court Sides With Student Athletes on NCAA Compensation Limits
Siding with student-athletes, the U.S. Supreme Court on Monday ruled [Full Story]
Trump Popular Interview Subject Amid Glut of Upcoming Books
Former President Donald Trump has become a popular interview subject [Full Story]
Facebook Launches Podcasts, Live Audio Service
Facebook is launching podcasts and live audio streams in the U.S. on [Full Story]
Dershowitz Slams Hard Left For Pressuring Justice Breyer to Quit
Harvard Law Prof. Alan Dershowitz harshly criticized the "radical [Full Story]
Officials: Deadly Pride Parade Crash Appears Unintentional
A member of a men's chorus group unintentionally slammed into fellow [Full Story]
Take 2: Spacewalking Astronauts Install New Solar Panel
Spacewalking astronauts equipped the International Space Station with [Full Story]
Western Conservative Straw Poll: DeSantis Tops Trump
Florida GOP Gov. Ron DeSantis beat former President Donald Trump in a [Full Story]
Ex-Detroit Police Chief: 'No Surprise' Cops Quitting In Face Of Reforms
It's "no surprise" police officers are quitting "in large numbers" [Full Story]
12 Dead in Alabama Due to Claudette, Including 10 Children
Tropical Depression Claudette claimed 12 lives in Alabama as the [Full Story]
Johnson Hits Fauci, Media For Discounting Some COVID Treatments
Ron Johnson, R-Wis., on Sunday, blamed White House medical [Full Story]
Houston PD Deputy's Home Invaded, Wife, Stepdaughter Shot
A wife and stepdaughter, 4, of a House police officer were shot [Full Story]
States Where Americans Don't Want To Live Anymore (#4 Will Surprise You)
Finance
GM Puts $35B Into Electric Vehicles, Bets on Hydrogen Fuel Cells
Long-term efforts by General Motors to make hydrogen fuel cells a commercial success are starting to finally take shape as the company is investing $35 billion in electric and autonomous vehicles through 2025… [Full Story]
Supreme Court Gives Goldman Chance to End Shareholder Suit
Promising Technologies in Creating Battery Revolution
Supreme Court Reins in Power of Patent Tribunal Judges
Top Economist Addresses Inflation Speculation
More Finance
Health
New Poll: Most Americans Don't Realize They Are at Risk for Skin Cancer
It's long been known the sun's rays can cause skin cancer. But a new poll shows that only about 30% of American adults say they're concerned about developing skin cancer – even though nearly 70% have at least one risk factor for the disease. The American Academy of… [Full Story]
Immunity to COVID-19 After Infection Varies, According to New Research
Key Steps to Prevent Common Urinary Problems
Screen All Kids for Heart Problems: New Guidelines from AAP
Beware of This Dirtiest Surface in a Grocery Store
Manufactured Housing Industry Investments Connected Equities Closing Tickers
Some of these firms invest in manufactured housing, or are otherwise connected, but may do other forms of investing or business activities too.
NOTE: The chart below includes the Canadian stock, ECN, which purchased Triad Financial Services, a manufactured home industry lender
NOTE: Drew changed its name and trading symbol at the end of 2016 to Lippert (LCII).
NOTE: Deer Valley was largely taken private, say company insiders in a message to MHProNews on 12.15.2020, but there are still some outstanding shares of  the stock from the days when it was a publicly traded firm.  Thus, there is still periodic activity on DVLY.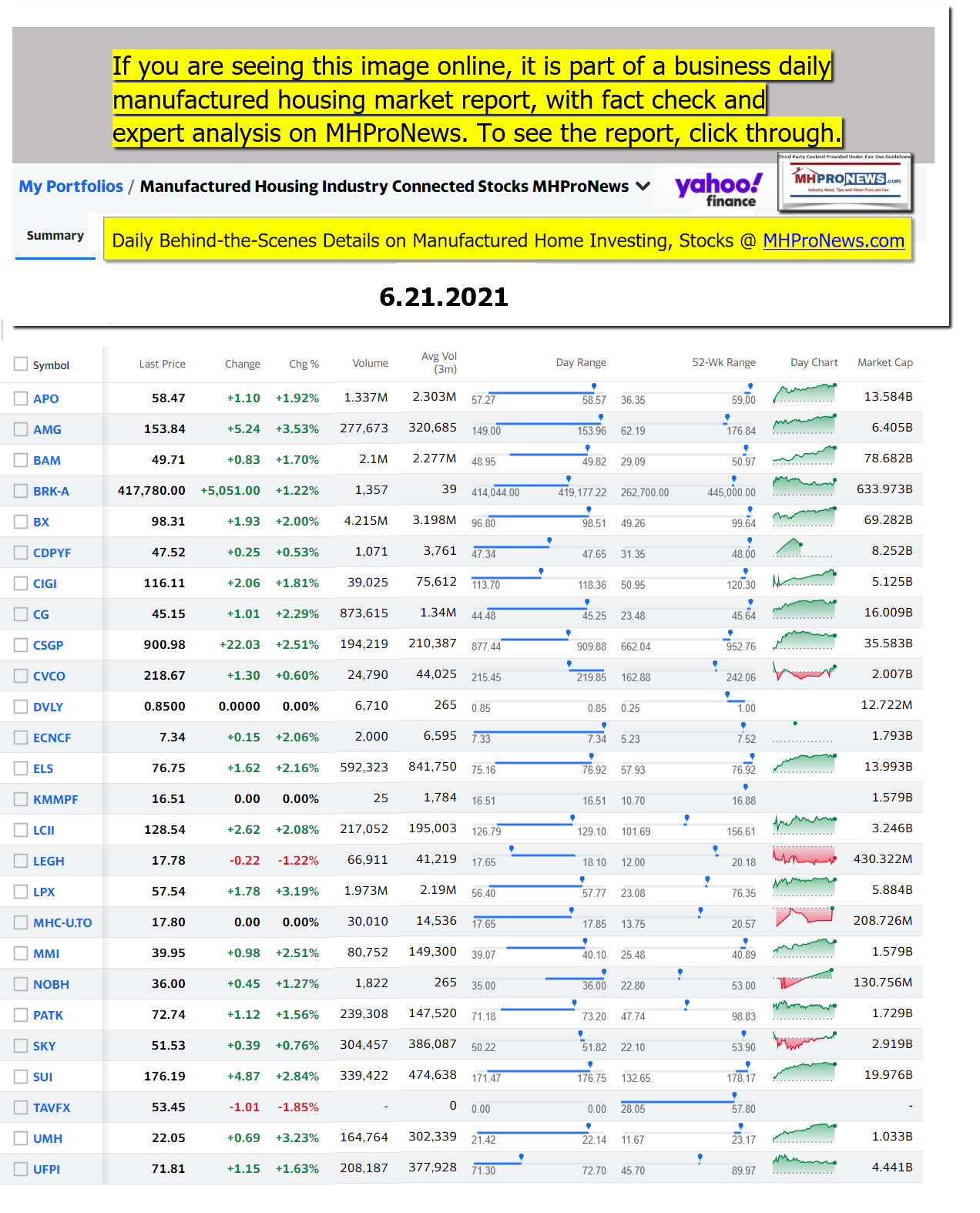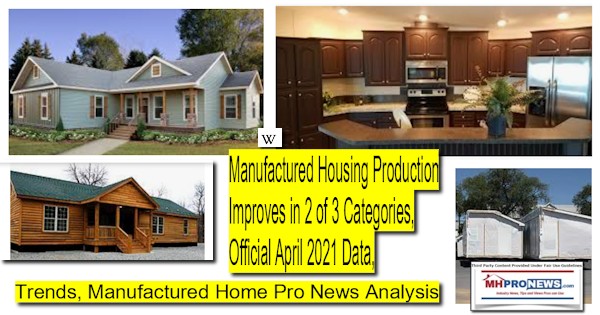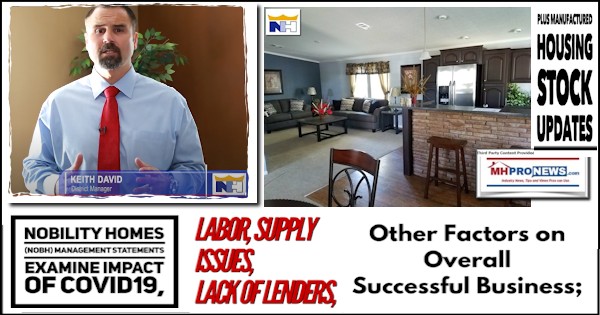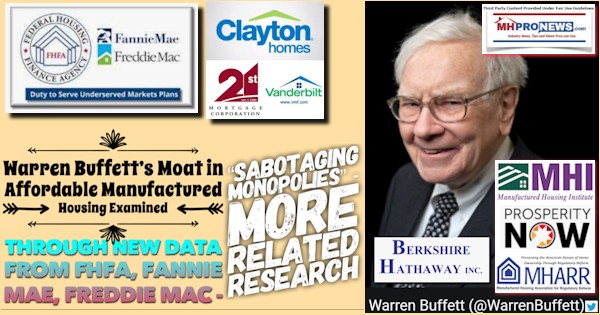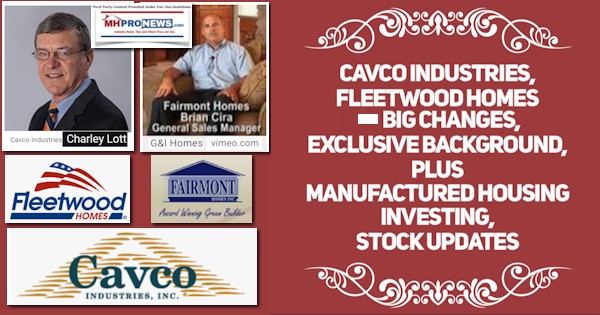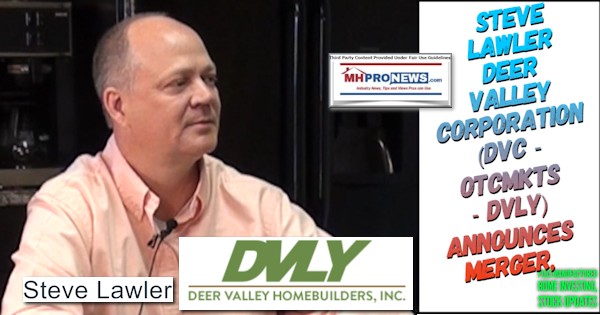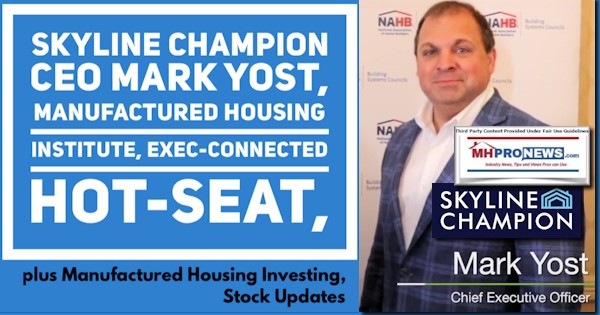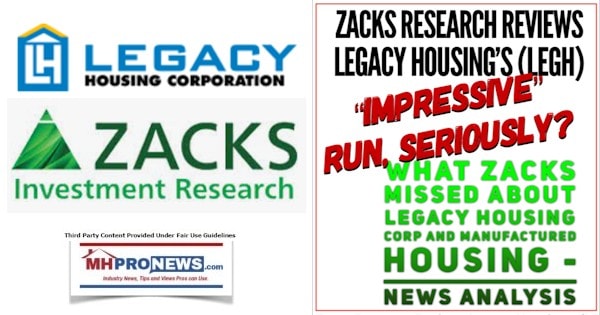 Spring 2021…
Berkshire Hathaway is the parent company to Clayton Homes, 21st Mortgage, Vanderbilt Mortgage and other factory built housing industry suppliers.
· LCI Industries, Patrick, UFPI, and LP each are suppliers to the manufactured housing industry, among others.
· AMG, CG, and TAVFX have investments in manufactured housing related businesses. For insights from third-parties and clients about our publisher, click here.
Enjoy these 'blast from the past' comments.
MHProNews. MHProNews – previously a.k.a. MHMSM.com – has celebrated our 11th year of publishing, and is starting our 12the year of serving the industry as the runaway most-read trade media.
Sample Kudos over the years…
It is now 11+ years and counting…
Learn more about our evolutionary journey as the industry's leading trade media, at the report linked below.
· For expert manufactured housing business development or other professional services, click here.
· To sign up in seconds for our industry leading emailed headline news updates, click here.

Disclosure. MHProNews holds no positions in the stocks in this report.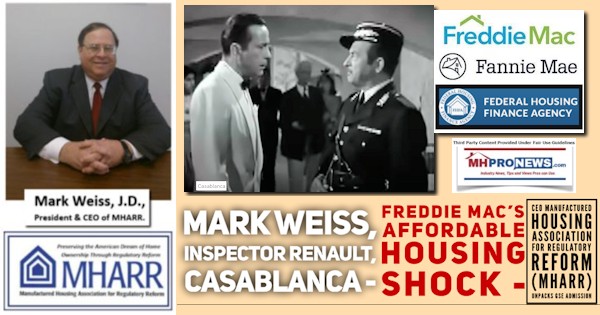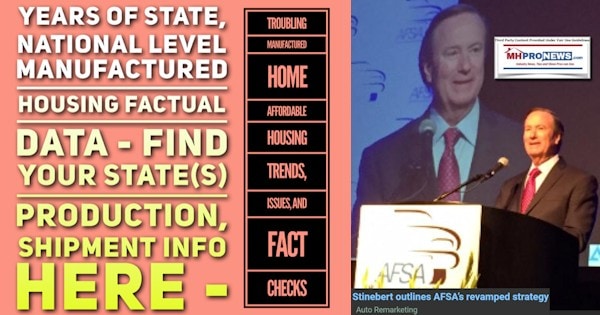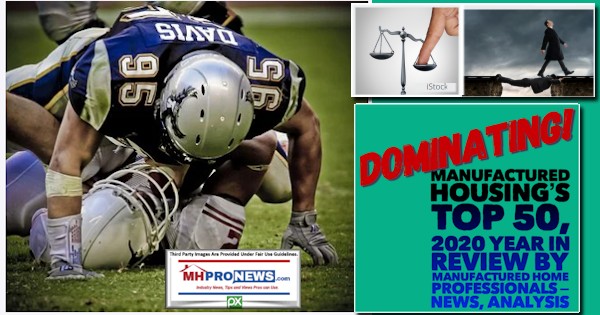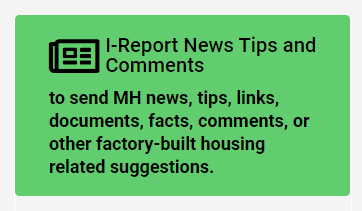 That's a wrap on this installment of "News Through the Lens of Manufactured Homes and Factory-Built Housing" © where "We Provide, You Decide." © (Affordable housing, manufactured homes, stock, investing, data, metrics, reports, fact-checks, analysis, and commentary. Third-party images or content are provided under fair use guidelines for media.) (See Related Reports, further below. Text/image boxes often are hot-linked to other reports that can be access by clicking on them.)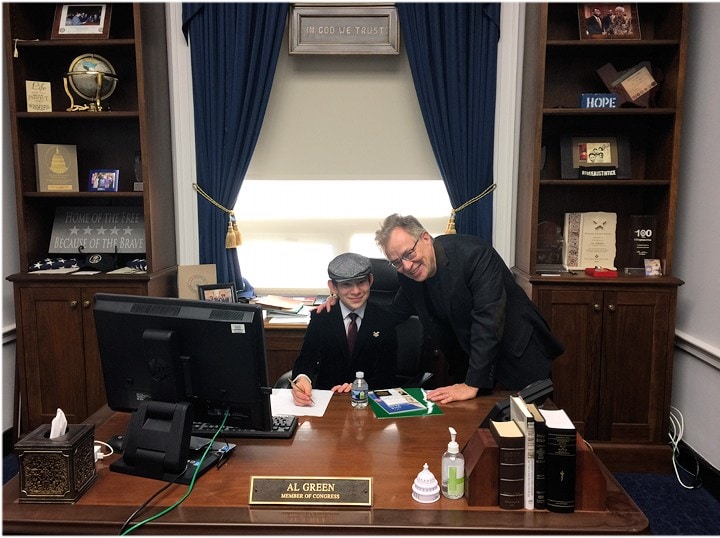 By L.A. "Tony" Kovach – for MHProNews.
Tony earned a journalism scholarship and earned numerous awards in history and in manufactured housing. For example, he earned the prestigious Lottinville Award in history from the University of Oklahoma, where he studied history and business management. He's a managing member and co-founder of LifeStyle Factory Homes, LLC, the parent company to MHProNews, and MHLivingNews.com. This article reflects the LLC's and/or the writer's position, and may or may not reflect the views of sponsors or supporters.