Under increasing pressure from MHProNews and MHLivingNews fact- and evidence-based reports and analysis, Berkshire Hathaway (BRK) owned Clayton Homes early on 6.18.2021 issued a media release shown below. Following that press release will be a focused analysis and commentary, before pressing onto the manufactured housing stock market reports.
The bulk of the Clayton release, which included the following feature image, is as shown. Note that their promotional hotlinks, save to Tennessee Gov. Bill Lee's proclamation, have been removed from the below. That said, the text is as published by Clayton from the headline through to the dual hashmarks.
New readers should note that showing this press release should not be construed as an endorsement of the firm. More on that following their media release.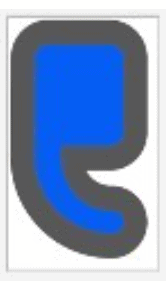 Clayton Recognizes Tennessee Manufactured Housing Month, National Homeownership Month
U.S. leaders empower affordable housing solutions through awareness and education
NEWS PROVIDED BY
Clayton
Jun 18, 2021, 06:00 ET
MARYVILLE, Tenn., June 18, 2021 /PRNewswire/ — Clayton, a national home builder of site-built and off-site built homes, recognizes and celebrates two important observances in June designed to empower affordable homeownership solutions. Tennessee Governor Bill Lee has recognized June as "Manufactured Housing Month" and U.S. President Joe Biden has proclaimed the month "National Homeownership Month."
"Manufactured housing of today does not even remotely resemble the outdated idea most people still imagine.  These homes are stylish, energy efficient, quality-built and most importantly – attainable," said Kevin Clayton, CEO of Clayton. "This month, we invite our team members, customers and industry partners to join us in celebrating this essential category of housing through these national and state observances."
Clayton is committed to democratizing attainable homeownership, and one way it can fulfill this mission is by providing quality off-site built housing to families across the country.  Off-site built homes, commonly known as manufactured or modular homes, are built inside home building facilities using production line assembly and robotics to improve efficiency and reduce waste.   By buying construction material and name brand appliances in bulk through its national network, Clayton is able to reduce costs and push more savings to future home buyers.
In the Tennessee proclamation, Gov. Lee recognized increased demand for affordable single-family housing, as well as the role of quality, modern manufactured homes as a solution. "Manufactured housing can be produced at a cost that is within the economic means of most citizens," states the Tennessee proclamation. The governor also recognizes that a manufactured home "meets the stringent standards of construction established by state and federal laws."
"With record low inventory numbers and soaring material prices, homeownership has never been more significant," said Clayton.  "As the demand for housing continues to grow, we are committed to empowering families across the U.S. to afford a home of their own." … ##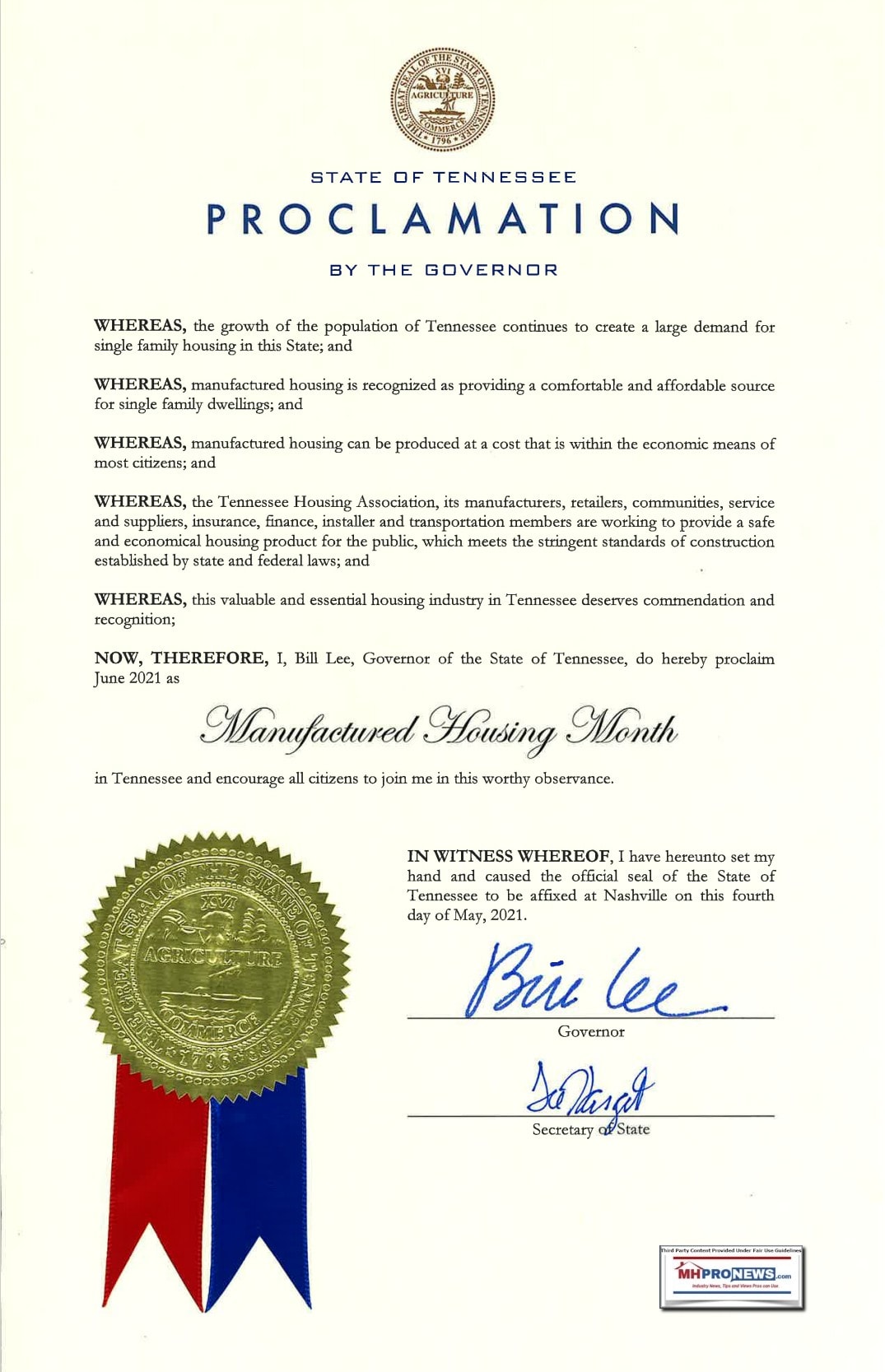 Additional Information, MHProNews Analysis and Commentary in Brief
A tip from the Tennessee Manufactured Housing Association (TnMHA or Tennessee Housing Association) advised MHProNews that the proclamation by TN Gov. Bill Lee was officially signed on May 4, 2021.  That means that Clayton Homes, a TnMHA member, knew weeks ago about this proclamation.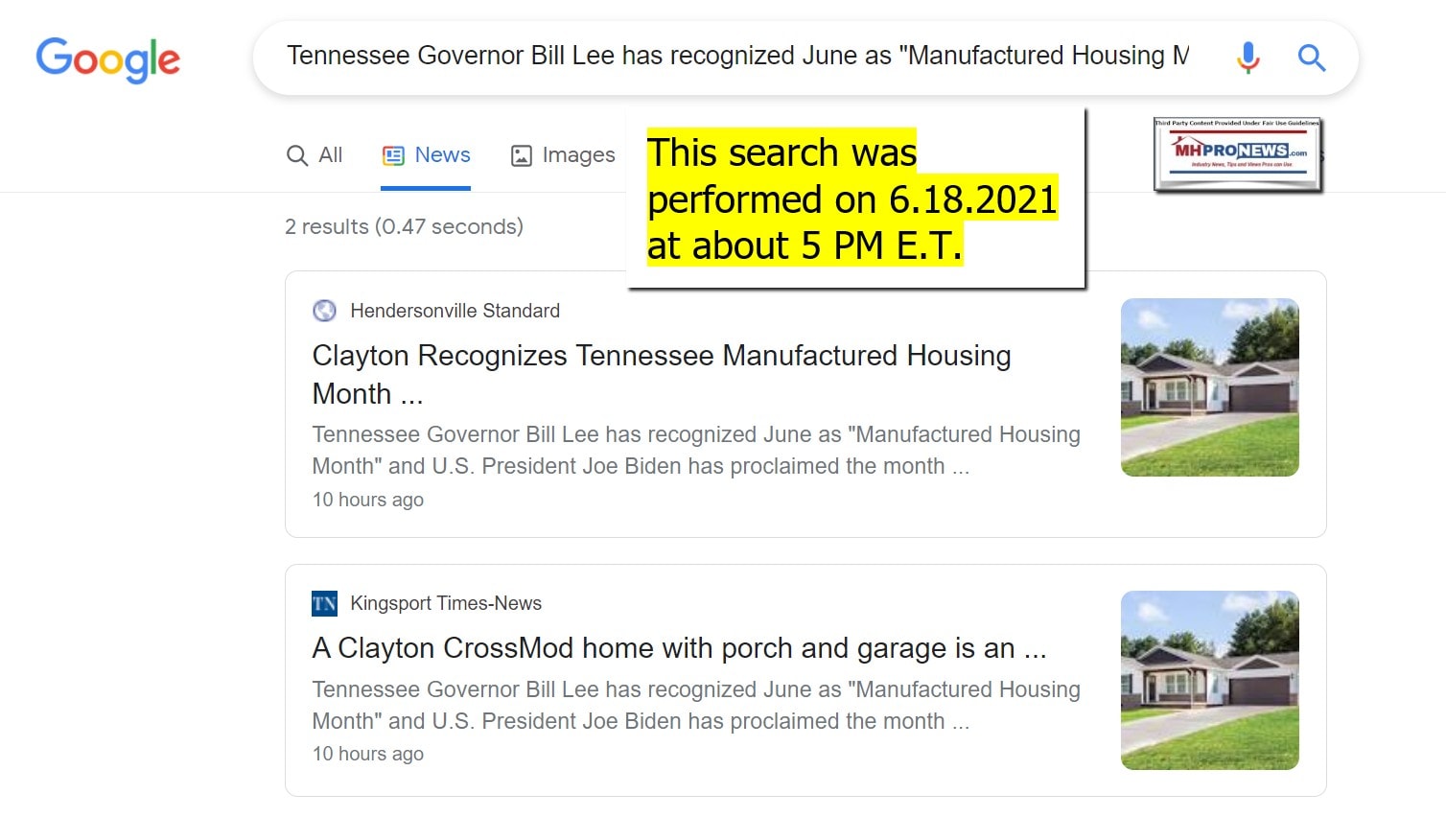 The question then becomes, why didn't the TnMHA or Clayton make the initial promotion of this weeks ago? Because as the Google searches above and further below reveal, it was only today (6.18.2021) that Google's "news" tab, or Google's "all" tab reflected any results on this superficially positive result.
Additionally, instead of showing a mainstream HUD Code manufactured home, the kind that Kevin Clayton praised in testimony to Congress in the report linked below, the photo shown was of a Clayton-backed, MHI branded CrossModTM home. As detail minded MHProNews readers may recall, It was following the MHI-Clayton push for that "new class of manufactured homes" later rebranded as CrossModTM homes that manufactured housing went into a 2½ year downturn.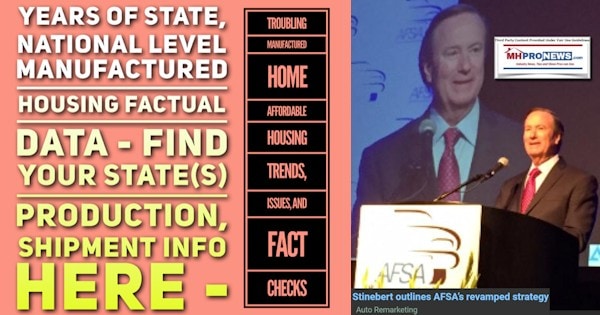 It has only been in the past two months that the extreme demand for all housing that manufactured homes began to recover. Rephrased, it was apparently not due to any MHI or Clayton backed effort, but rather extreme market demand for housing that manufactured homes increased.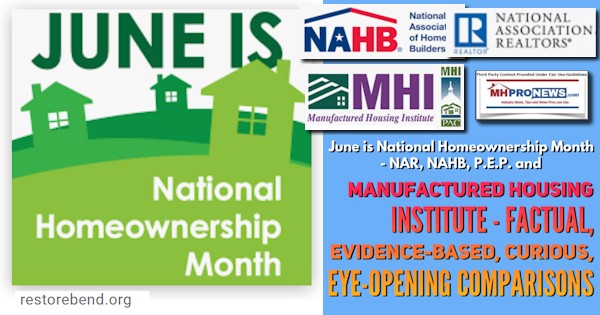 So, instead of demonstrating leadership, the evidence suggests that Clayton belatedly published this because neither they nor MHI have done any serious promotion of manufactured housing during National Homeownership Month.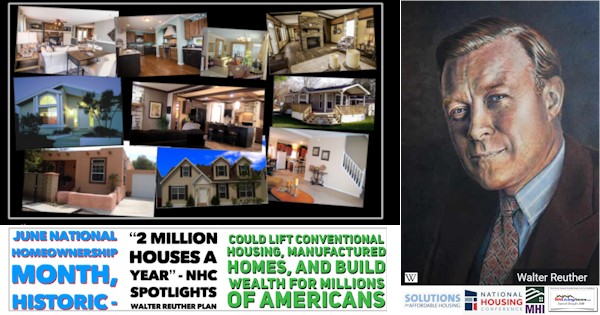 There is always more to know.
https://www.manufacturedhomepronews.com/claytons-racist-lending-credit-unions-aba-react-mhi-mute-on-manufactured-home-loan-expose-greater-risks-to-black-indigenous-and-hispanic-families/
For added insights, including the types of reports that apparently pushed Clayton into this belated effort, see the reports linked above and below.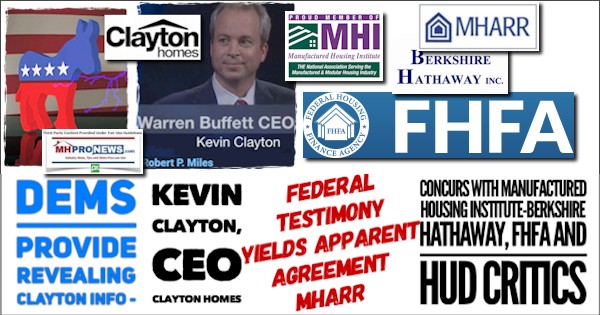 ###
Next, is our evening market report and related left-right headlines.
The Business Daily Manufactured Home Industry Connected Stock Market Updates.  Plus, Market Moving Left (CNN) – Right (Newsmax) Headlines Snapshot. While the layout of this business daily report has recently been modified, several elements of the basic concepts used previously are still the same. The headlines that follow below can be reviewed at a glance to save time while providing insights across the left-right media divide. Additionally, those headlines often provide clues as to possible 'market moving' items.
Market Indicator Closing Summaries – Yahoo Finance Closing Tickers on MHProNews…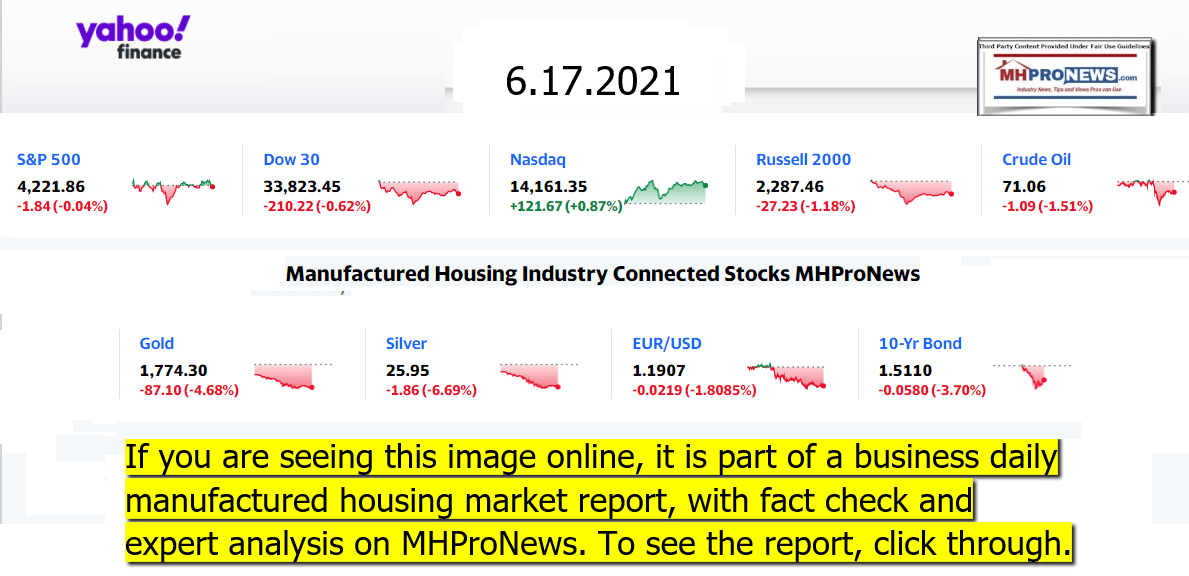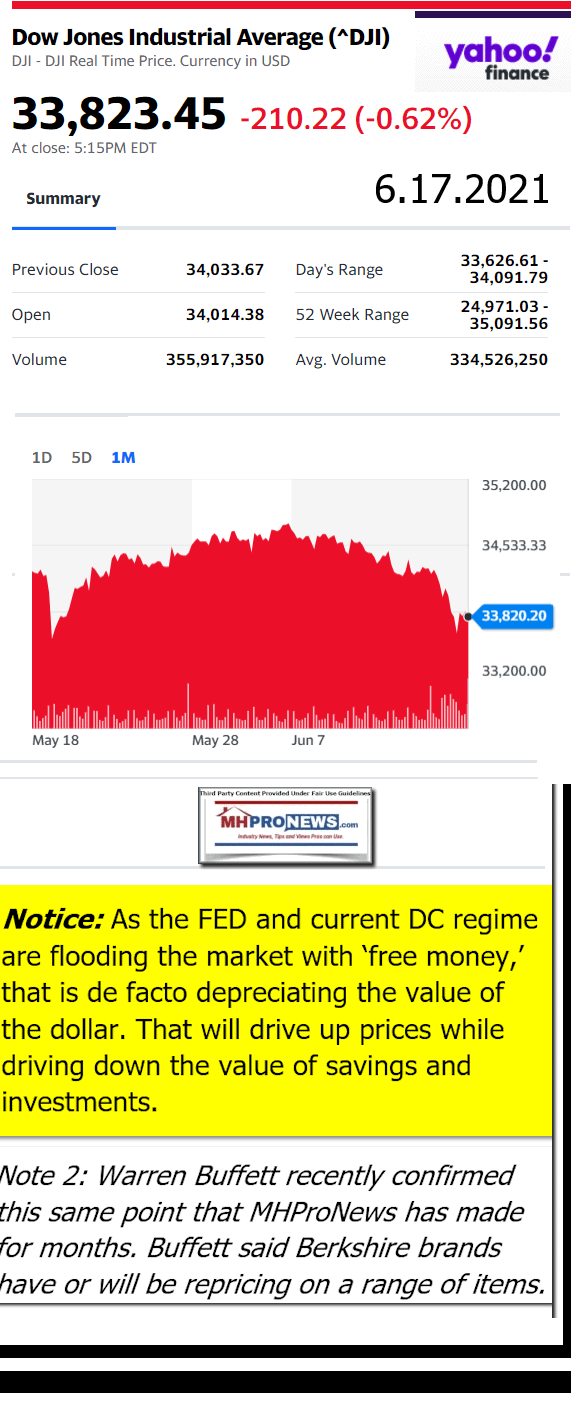 Headlines from left-of-center CNN Business = evening of 6.17.2021
Remote work perk
A view of Madaket Beach on April 25, 2020 in Nantucket, Massachusetts. The local government is discouraging visitors and seasonal residents from coming to the island due to the COVID-19 (coronavirus) pandemic. Nantucket Cottage Hospital has just 14 beds, and has tested 10 positive cases on the island so far.
People are snatching up vacation homes during Covid. And many are paying with cash
Democrats want JPMorgan to refund Covid-era overdraft charges — and scrap them forever
JPMorgan Chase buys robo-adviser Nutmeg ahead of UK banking launch
Financial markets are moving into a new era
Jobless claims unexpectedly rose last week
Pornhub sued for allegedly serving nonconsensual sex videos
Bank of America gives WFH employees a Labor Day deadline to return to the office
Morgan Stanley CEO to NYC employees: Be in the office by September or else
Top homebuilder says housing boom isn't slowing down just yet
Airlines and banks hit with second major internet outage in 10 days
Opinion: It's time we give domestic workers what they deserve
Analysis: Windows 11 has leaked. It's a bunch of BS
Biden apologizes after losing temper while addressing CNN's Kaitlan Collins
These are the top financial advisors in the US
Gold loses its shine as Fed hints at rate hikes
MINNEAPOLIS, MN – JUNE 19: A man carries a Black Liberation flag through a Juneteenth celebration at the memorial for George Floyd outside Cup Foods on June 19, 2020 in Minneapolis, Minnesota. Juneteenth commemorates June 19, 1865, when a Union general read orders in Galveston, Texas stating all enslaved people in Texas were free according to federal law.
Companies are celebrating Juneteenth in unique ways this week
Watch 10-story building go up in nearly one day
Headlines from right-of-center Newsmax – evening of 6.17.2021
Florida AG Asks More States to Send
Law Enforcement to Secure Border
Florida AG Asks More States to Send Law Enforcement to Secure Border
Newsmax TV
Turner: Biden Showed He Had No Goals for Summit
Mark Morgan: States Will Follow Florida's Lead on Border
Jordan: Bipartisan Big-Tech Bills Won't Help Conservatives
T. McFarland: 'No Strength' From Biden in Putin Meeting
Wittman: Legislation Will Hold China Accountable on COVID |
Blackburn: Biden's 'Off-Limits' List to Putin 'Bizarre' |
Marco Rubio: Putin Tests What He Can Get Away With |
More Newsmax TV
Newsfront
Biden Signs Juneteenth Bill, Creating Holiday Marking Slavery's End in the US
President Joe Biden and Vice President Kamala Harris signed a bill into law on Thursday afternoon to make June 19 a federal holiday commemorating the end of the legal enslavement of Black Americans.The bill, which was passed overwhelmingly by the U.S. House of…… [Full Story]
S. Supreme Court Rules for Catholic Group in LGBT Rights Dispute
The U.S. Supreme Court embraced religious rights over LGBT rights on [Full Story]
Related
Supreme Court Dismisses GOP Challenge to Obamacare
WH Reminds America That SCOTUS Decision to Uphold Obamacare 'BFD'
One of the World's Hottest Commodities Is Now the Most Volatile
Iron ore, one of the hottest commodities in the early days of the raw [Full Story]
Armed St. Louis Couple Pleads Guilty to Misdemeanors
A St. Louis couple who gained notoriety for pointing guns at social [Full Story]
Minnesota Prosecutors Dispute Chauvin Defense Team Bid For New Trial For Floyd Murder
Minnesota prosecutors want a judge to reject a bid by convicted [Full Story]
Biden-Putin Summit Shows Trump Was Tougher on Russia
DHS' Mayorkas: Questions on Harris Visiting Border 'Unfair, Disrespectful'
Questions aimed at Vice President Kamala Harris on whether she'll [Full Story]
Florida AG Asks More States to Send Law Enforcement to Southern Border
Florida's Attorney General Ashley Moody on Thursday urged more states [Full Story]
Conservative Activists Request Audit of Michigan Election
Conservative activists who remain convinced that former President [Full Story]
McConnell Dismisses Manchin's Compromise on Voting Rights
Senate Minority Leader Mitch McConnell, R-Ky., told reporters on [Full Story]
House Judiciary Democrats Seek Trump-Era DOJ Subpoenas to Lawmakers, Reporters
House Judiciary Committee Democrats are reportedly asking the [Full Story]
Push for US Commission to Investigate Virus
There's a bipartisan push on Capitol Hill and beyond for a full-blown [Full Story]
Turner to Newsmax: Biden Showed He Had No Goals for Summit
President Joe Biden's comeback after Russian President Vladimir [Full Story] |
Who Watches Newsmax? Study Says Independent Voters Do, Big Time
Here's a shocker for the media establishment: Newsmax leads all major [Full Story]
Florida GOP House Candidate Threatens Opponent With 'Russian and Ukrainian Hit Squad'
A Republican House candidate in Florida threatened to make a primary [Full Story]
Fauci: US to Spend $3.2B for Antiviral Pills for COVID-19
The United States is devoting $3.2 billion to advance development of [Full Story]
Morgan Stanley CEO: New York Workers Should Return to Office in Fall
The chief executive of Morgan Stanley said at an investing conference [Full Story]
GOP House Campaign Arm to Accept Crypto Donations
The National Republican Congressional Committee will become the first [Full Story]
Fleitz: Biden's Pointless Summit Set Back American Security
This unnecessary summit will promote this perception and bolster the [Full Story]
US Jobless Claims Unexpectedy Rise to 412,000 Last Week
Applications for U.S. state unemployment insurance rose slightly for [Full Story]
House Votes to Scrap 2002 Resolution That Authorized Iraq War
The House voted Thursday to repeal the 2002 resolution that cleared [Full Story]
Herschel Walker 'Getting Ready' to Run 'With the Big Dogs'
NFL legend and Heisman Trophy winner Herschel Walker is teasing that [Full Story]
Justice Department Drops Probe of John Bolton's Trump-Bashing Book
The U.S. Justice Department closed its criminal investigation into [Full Story]
Taylor Greene Introducing Bill to Abolish ATF
Marjorie Taylor Greene, R-Ga., planned to introduce a bill [Full Story]
Trump: US Jews 'Don't Love Israel Enough'
Former President Donald Trump said in an interview this week that [Full Story]
Texas Gov. Abbott Signs No-Permit Gun Carry Bill
Governor Greg Abbott signed into law Wednesday a bill that allows [Full Story]
Russia Intends to Force US Tech Giants to Open Local Offices
Russian lawmakers passed legislation on Thursday that would oblige [Full Story]
New York Pushes Drug Plans, Tests High Court Ruling
New York is poised to become one of the first states to impose more [Full Story]
Brief Internet Outages Disrupt Access to Websites, Apps
A wave of brief internet outages hit the websites and apps of dozens [Full Story]
Trump: Biden Gave Putin 'Very Big Stage,' 'Got Nothing'
President Joe Biden "gave a very big stage" to Russia's Vladimir [Full Story]
More Newsfront
Finance
GM Boosts EV Spending by $8 Billion as First-Half Profits Soar
General Motors Co on Wednesday boosted its spending on electric and autonomous vehicles, pulled ahead plans for two U.S. battery plants and forecast stronger-than-expected second-quarter profits. The No. 1 U.S. automaker said it will now spend $35 billion through 2025 on… [Full Story]
Some Commodities Have Now Wiped Out All of Their 2021 Gains
Report: Almost 40 Percent of Small Businesses Closed During Pandemic
A $1 Trillion Buying Spree Lets S&P 500 Brush Off Bear Warnings
Saddle Up for a Summer Rally in the Stock Market
More Finance
Health
Study: Half of US Cosmetics Contain Toxic Chemicals
More than half the cosmetics sold in the United States and Canada likely contain high levels of a toxic industrial compound linked to serious health conditions, including cancer and reduced birth weight, according to a new study. [Full Story]
Controversial New Alzheimer's Drug is Costly
Hospitalized COVID Patients Have One Thing in Common: They Are Not Vaccinated
Less Than 1 Percent of People Who've Had Severe COVID Get Re-Infected
New Options for Relief From Migraines
Manufactured Housing Industry Investments Connected Equities Closing Tickers
Some of these firms invest in manufactured housing, or are otherwise connected, but may do other forms of investing or business activities too.
NOTE: The chart below includes the Canadian stock, ECN, which purchased Triad Financial Services, a manufactured home industry lender
NOTE: Drew changed its name and trading symbol at the end of 2016 to Lippert (LCII).
NOTE: Deer Valley was largely taken private, say company insiders in a message to MHProNews on 12.15.2020, but there are still some outstanding shares of  the stock from the days when it was a publicly traded firm.  Thus, there is still periodic activity on DVLY.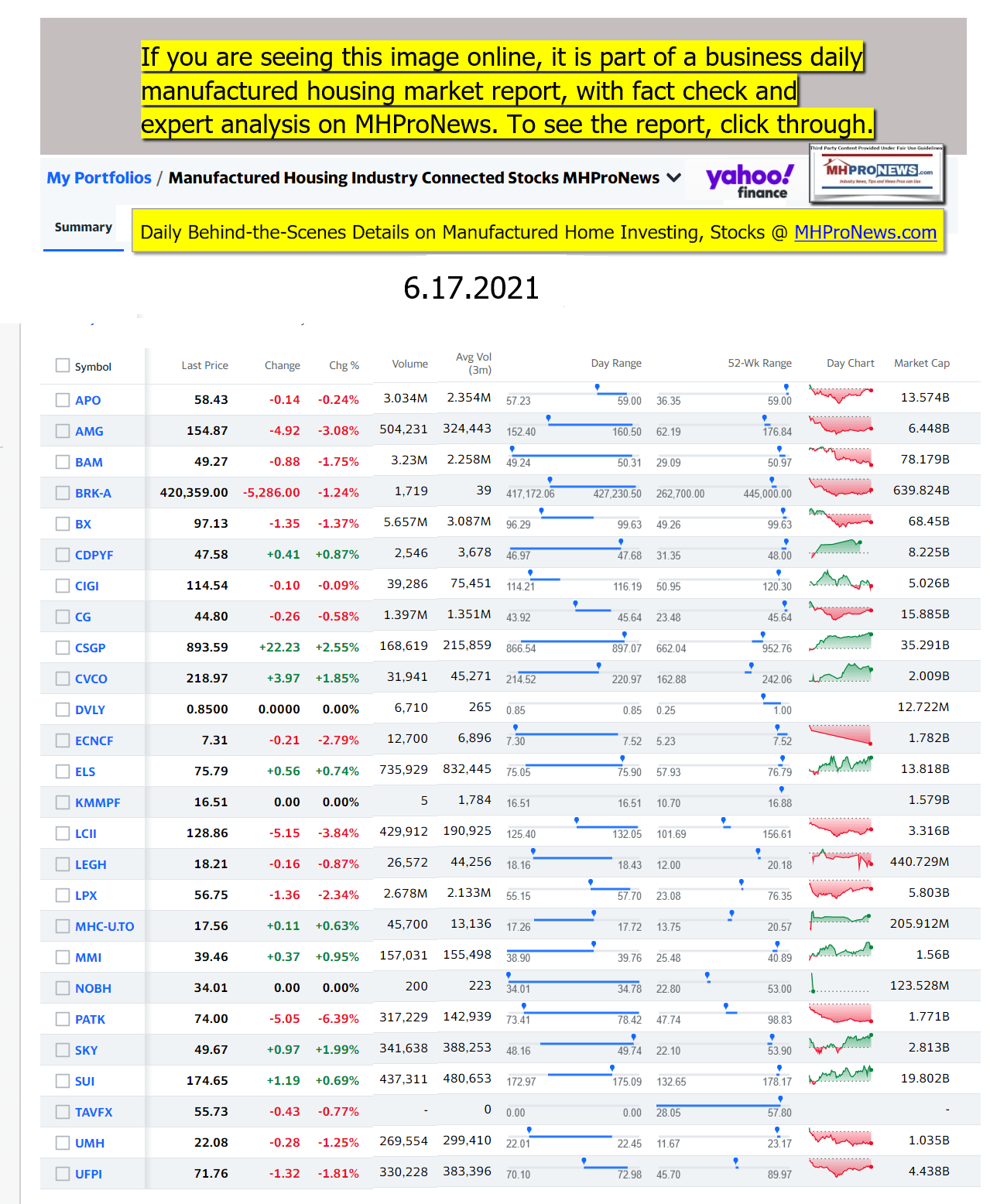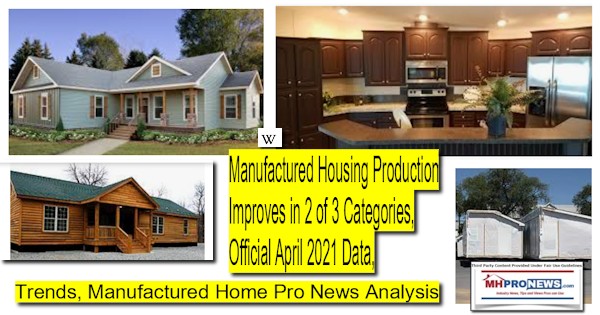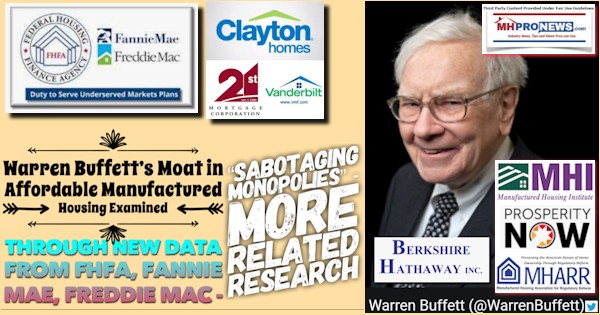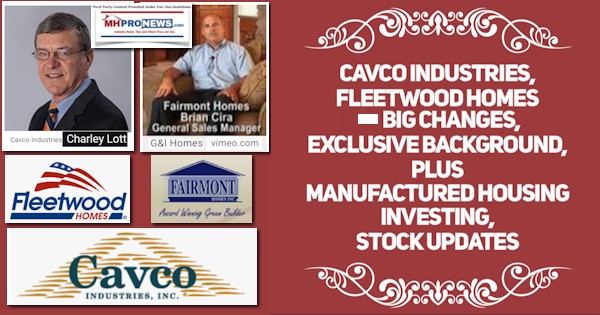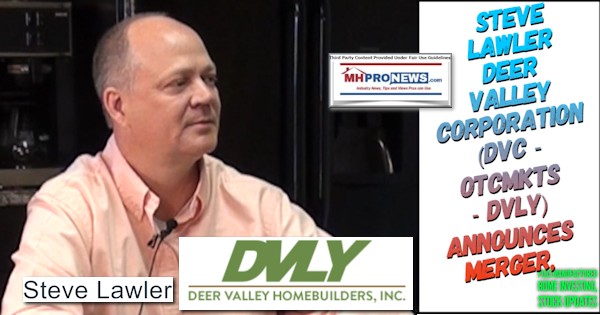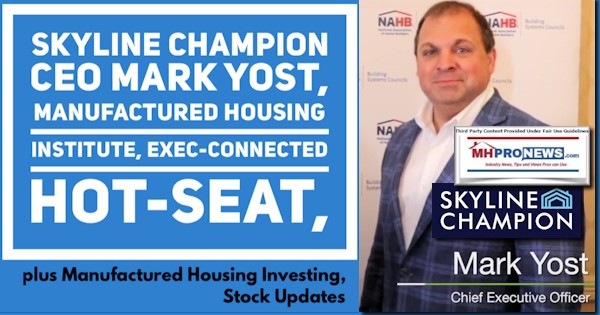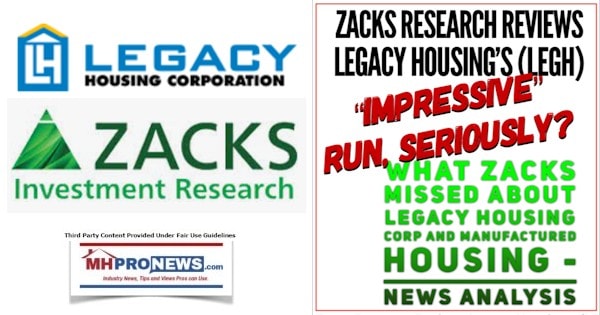 Spring 2021…
Berkshire Hathaway is the parent company to Clayton Homes, 21st Mortgage, Vanderbilt Mortgage and other factory built housing industry suppliers.
· LCI Industries, Patrick, UFPI, and LP each are suppliers to the manufactured housing industry, among others.
· AMG, CG, and TAVFX have investments in manufactured housing related businesses. For insights from third-parties and clients about our publisher, click here.
Enjoy these 'blast from the past' comments.
MHProNews. MHProNews – previously a.k.a. MHMSM.com – has celebrated our 11th year of publishing, and is starting our 12the year of serving the industry as the runaway most-read trade media.
Sample Kudos over the years…
It is now 11+ years and counting…
Learn more about our evolutionary journey as the industry's leading trade media, at the report linked below.
· For expert manufactured housing business development or other professional services, click here.
· To sign up in seconds for our industry leading emailed headline news updates, click here.

Disclosure. MHProNews holds no positions in the stocks in this report.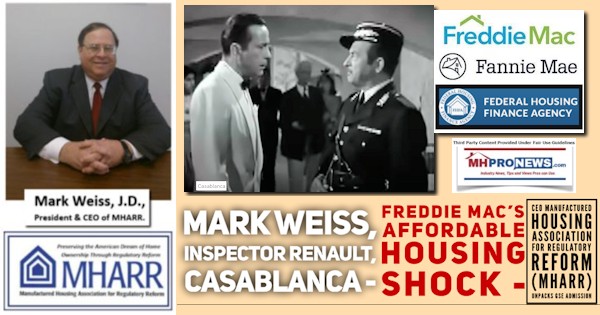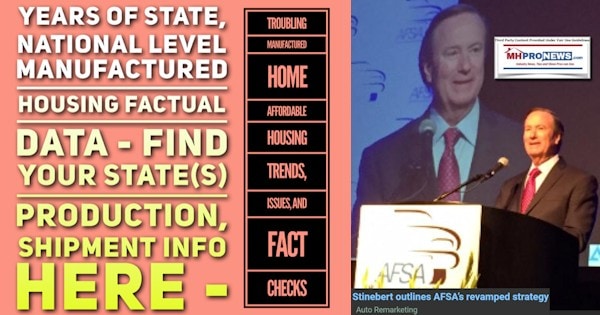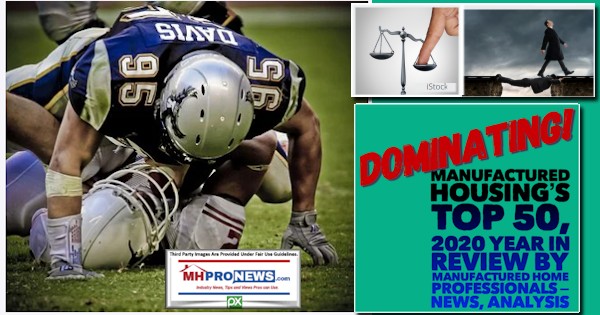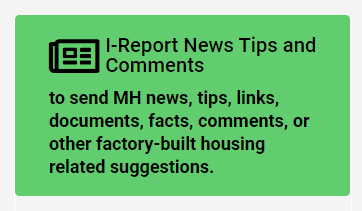 That's a wrap on this installment of "News Through the Lens of Manufactured Homes and Factory-Built Housing" © where "We Provide, You Decide." © (Affordable housing, manufactured homes, stock, investing, data, metrics, reports, fact-checks, analysis, and commentary. Third-party images or content are provided under fair use guidelines for media.) (See Related Reports, further below. Text/image boxes often are hot-linked to other reports that can be access by clicking on them.)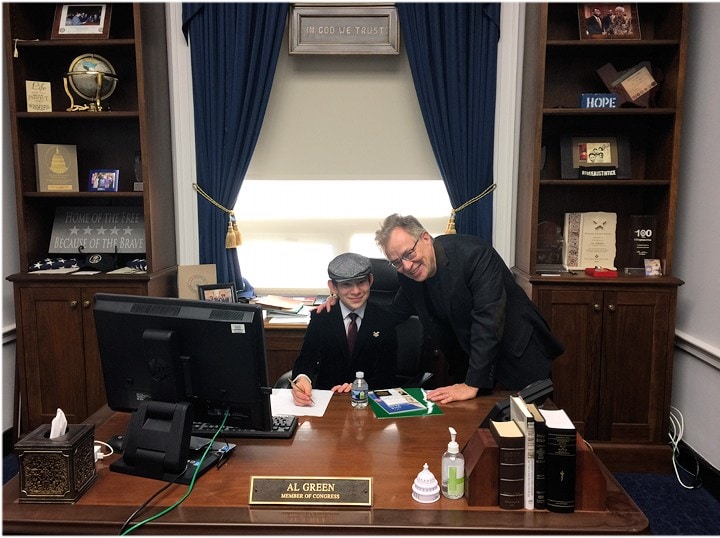 By L.A. "Tony" Kovach – for MHProNews.
Tony earned a journalism scholarship and earned numerous awards in history and in manufactured housing. For example, he earned the prestigious Lottinville Award in history from the University of Oklahoma, where he studied history and business management. He's a managing member and co-founder of LifeStyle Factory Homes, LLC, the parent company to MHProNews, and MHLivingNews.com. This article reflects the LLC's and/or the writer's position, and may or may not reflect the views of sponsors or supporters.