Following the headline quoted above on CNN, is this. "The basic American contract is that if you work hard and play by the rules, you should be able to purchase a home and provide a comfortable living for your family. But this contract has long been broken for far too many people." So said CNN Business Perspectives co-authors Representative Hakeem Jeffries (NY8D) and Reverend David K. Brawley on June 16, 2021. The pair continued by saying that "Working families in every American city and town — particularly millennials and African American and Hispanic individuals and families — are denied one of the most effective ways to create equity and achieve stability that an affordable single-family home provides. This problem has been even further exacerbated as housing and lumber prices have soared in recent months."
The above quoted statements via CNN by Rep. Jeffries and Rev. Brawley are demonstrably true.
The American Dream, described above as the American contract, has included the ideal of home ownership literally for centuries. Immigrants did not come to America to rent, they came to America to
Homeownership is the most common way to build household and generational wealth.
The co-authors end their op-ed with a logical statement: "It's now time for policymakers in Washington to confront this issue. We will never correct the extreme and worsening housing deficit, or the wealth gap, if we don't accelerate and expand the construction of affordable single-family homes in our nation."
So, the statements that Rep. Jeffries and Rev. Brawley begin with could be a great pitch for affordable manufactured homes. After all, widely bipartisan efforts in 2000 and 2008 passed legislation that aimed to make the path to affordable manufactured home ownership easier throughout America.
However, nowhere do Jeffries and Brawley mention 'manufactured housing' or 'manufactured homes.'
During both the President Barack Obama Vice President (VP) Joseph "Joe" Biden Administration and in the President Donald Trump VP Michael "Mike" Pence Administration, useful research and statements were made by leaders from both major parties.
For example.
As MHProNews and our MHLivingNews sister site has previously demonstrated, HUD produced a university-level research that debunked many of the fears that Americans have about manufactured homes dragging down housing values for conventional housing. The evidence – facts – from several different U.S. cities where manufactured homes and conventional housing are in urban areas side-by-side, both kinds of housing appreciated.
With the ability to citing FHFA research on manufactured housing, HUD Secretary Ben Carson stated that manufactured homes appreciated in value, where necessary to meet the affordable housing needs of America, and that this was a path for building household and generational wealth.
But none of that is mentioned by any of three cross-linked articles on CNN Business Perspectives. MHI has had a media relations or "communications" person for years now. Per then MHI board-leader Tim Williams, president and CEO of Berkshire Hathaway owned, and Clayton Homes sister brand 21st Mortgage Corporation, that communications person was supposed to be engaging the media. 21st's Williams made the case that manufactured housing should be responding to misinformation, while making efforts to drown out negative news.
Several years into that MHI communications-media engagement project, what are there examples of MHI doing such things? Where are there any measurable results by MHI to show for that media relations staffer role?
Hold those thoughts.
CNN includes cross-linked articles in which the Biden-Harris "Build Back Better" plan is mentioned, along with legislation that Jeffries is involved with that involves elements of that Build Back Better push. That includes proposals that the Manufactured Housing Institute (MHI) said some weeks ago that they were 'studying.' MHProNews' analysis of MHI's missive was to quickly responded, what is there to study? After all, the manufactured housing industry's interests are demonstrably harmed by this plan.
The aim of greater homeownership among minorities and all Americans are certainly worthy goals.
When the CNN Business proponents own words are carefully examined, the various overlapping efforts they propose will fail to achieve the housing goals that their headline says they will 'solve.' Quoting Rep. Jeffries and Rev Brawley, their plan will involve: "revitalization of 50,000 affordable homes a year for 10 years. While that is a good start, it only begins to meet the need."
Deeper in the CNN Business co-authors cite "Freddie Mac estimated that at the end of 2020, the housing market needed 3.8 million homes to meet demand. That's why we are calling for funding an additional one million affordable homes, not in 10 years, but in five years, to be included in the pending infrastructure bill." But that won't meet the need either, which Lawrence Yun, Ph.D., Chief Economist for the National Association of Realtors previously said was more than 8 million housing units short.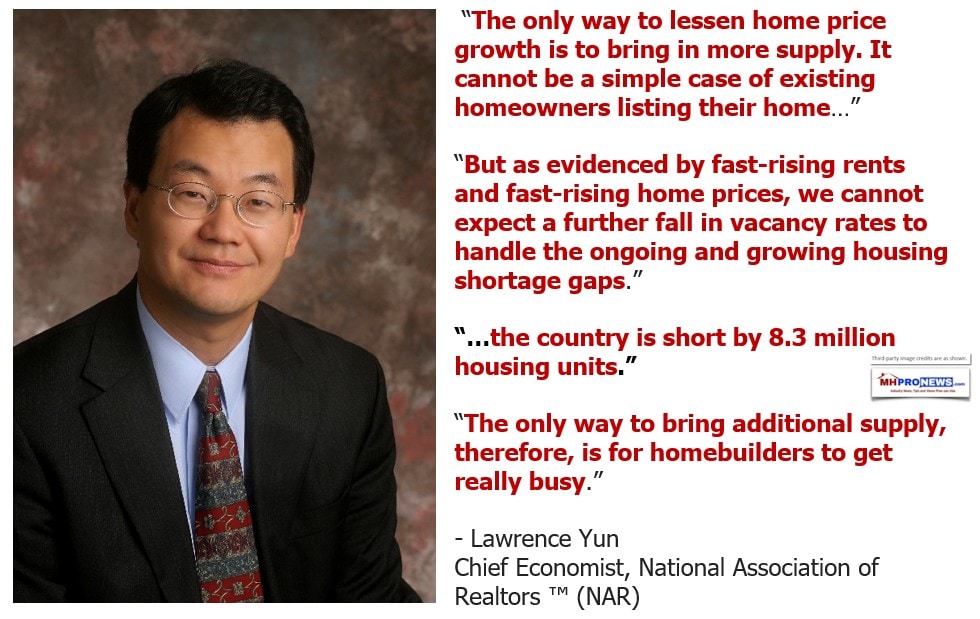 The need has only grown since Yun shared those factual observations.
As MHProNews previously noted, seemingly to MHI's credit, the Arlington, VA based trade group has pushed their own parallel message in favor of equity via manufactured homes for minorities. But upon closer examination, MHI could have been pushing that message for years. Why the Johnny come-lately tune? As or more important, why did Democratic lawmakers and the Biden-Harris Administration mouth support only when specifically asked by what MHI admits were planted MHI questions?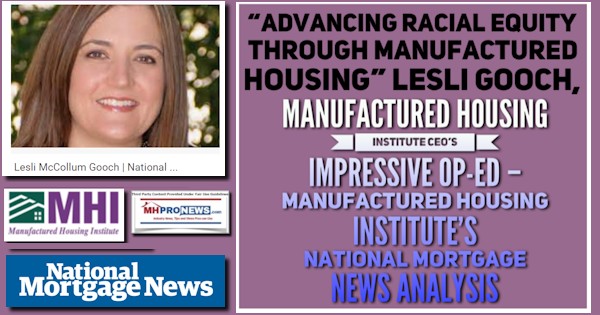 What the Jeffries-Brawley duo pitched on CNN sheds a glaring light on apparent Manufactured Housing Institute (MHI) failures to use their photo- and video-opportunity documented access in any meaningful way. How so? Because if MHI were serious about the type of robust industry growth that prior MHI President and CEO Richard A. "Dick" Jennision said could reach 500,000 new HUD Code manufactured homes a year, then MHI would have had one or more of their MHI PAC donors pen an op-ed that pushed for the full implementation of the Manufactured Housing Improvement Act (MHIA) of 2000, and the Duty to Serve (DTS) Manufactured Housing made part of HERA 2008. More on that from a document obtained by MHProNews from Democratic staffers of a transcript from Clayton Homes General Counsel Tom Hodges.
Hodges is now MHI's chairman. That will be examined further below.
The abbreviated version is simple.
Hodges, along with Kevin Clayton, previously took positions which on the surface were very much in line with what the Manufactured Housing Association for Regulatory Reform (MHARR) has been calling for over a decade. MHI admits that those laws are not being properly enforced. MHI's access is ever-more apparently revealed as either ineffectual, a head-fake, or some combination of paltering/spin that postures efforts while their largest members steadily consolidate the industry into ever fewer hands.
Is there evidence that consolidation is the unstated, but de facto goal of MHI leaders and larger corporate backers?  Yes. Fresh evidence of that is presented in a new Masthead. It is from an MHI member firm, that cites MHI repeatedly, and is making a pitch to investors that stand in stark contrast to what MHI claims they want.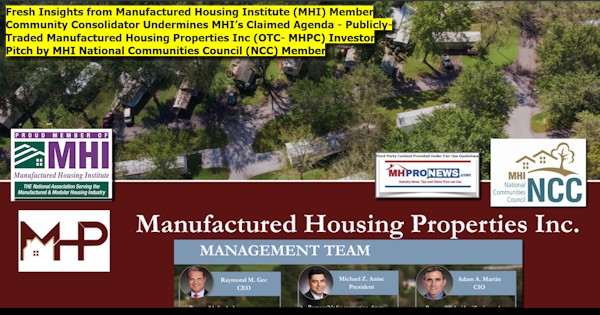 After looking at Hodges formal testimony, MHProNews will shed some light on Rep. Jeffries and Rev. Brawley. But let's look at some pull quotes from Hodges, first. Because what follows go to the heart of what MHI critics, such as the Manufactured Housing Association for Regulatory Reform (MHARR), has said for years.
With the above in mind, Tom Hodges' testimony to Congress on behalf of the Manufactured Housing Institute follows below.  It largely concurs with testimony to Congress by Kevin Clayton, CEO of Clayton Homes, previously cited on the Masthead. Note that the fact that this is approaching a decade in age demonstrates several insightful things unpacked on the Kevin Clayton Masthead analysis.
Testimony of Mr. Tom Hodges
Manufactured Housing Institute
Before the
Subcommittee on Financial Institutions and Consumer Credit
Committee on Financial Services U.S. House of Representatives
Hearing on
The Impact Dodd-Frank's Home Mortgage Reforms: 
Consumer and Market Perspectives
July 11, 2012
Washington, DC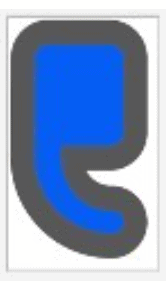 Thank you, Chairwoman Capito, Ranking Member Maloney and Members of the Subcommittee for the opportunity to testify this morning on the impact that the Dodd-Frank Wall Street Reform and Consumer Protection Act, and coming regulations from the Consumer Financial Protection Bureau (CFPB), will have on the manufactured housing market.
My name is Tom Hodges.  I am appearing here as a member of the Manufactured Housing Institute.  I am also General Counsel for Clayton Homes, Inc. headquartered in Maryville, Tennessee.  In my role, I am responsible for oversight of the legal affairs of the company, including the implementation of the provisions of the Dodd-Frank Act and the related regulations.
The Manufactured Housing Institute (MHI) is the national trade organization representing all segments of the factory-built housing industry.  MHI members include home builders, lenders, home retailers, community owners, suppliers and others affiliated with the industry.  MHI's membership includes 50 affiliated state organizations.
Since its founding more than 35 years ago, our company has built in excess of 1.5 million homes and won multiple awards for design and construction.  In fact, we are the largest home builder in the country.  The Clayton family of companies builds, sells, finances, leases and insures manufactured and modular homes as well as re-locatable commercial and educational buildings.  Clayton employs approximately 10,000 team members and has 33 home building facilities that support more than 1,000 retail home centers. Our financial services companies finance home purchases for more than 325,000 customers and insure approximately 160,000 families.  Though we are still family-led, in 2003, Berkshire Hathaway Inc. acquired Clayton Homes.
ABOUT MANUFACTURED HOUSING
Manufactured housing is a key source of quality, affordable housing for more than 22 million Americans.  During this critical time for our nation's housing markets, manufactured housing can play an important role in providing reliable, sustainable housing for current and future homeowners looking to meet a variety of housing and lifestyle needs.
Manufactured housing is a highly-regulated industry, with three distinct qualities: manufactured homes are safe, they are energy efficient and they are affordable.
Manufactured homes are built almost entirely in a controlled environment, transported to the building site, and completed at the home-site in accordance with federal building codes and enforcement regulations administered by the Department of Housing and Urban Development (HUD).  These governing rules are commonly referred to as the "HUD Code."
As the only federally-regulated residential building code, the HUD Code regulates home design and construction, installation requirements for strength and durability, resistance to natural hazards, fire safety, electrical systems, energy efficiency, and other aspects of the home.  Homes are inspected by a HUD-approved third party during the construction process and our industry adheres to a robust quality assurance program which offers greater controls than others forms of housing in the home building industry.
Our greatest attribute is delivering quality and value to consumers.  Through cost savings and technological advancements in the factory-building processes, the manufactured housing industry can produce homes for 10 to 35 percent less than the cost of comparable site-built construction.
The affordability of manufactured housing can be attributed directly to the efficiencies emanating from the factory-building process.  The controlled environment and assembly-line techniques remove many of the challenges encountered during traditional home construction, such as poor weather, theft, vandalism, damage to building products and materials and unskilled labor.  Factory employees are trained and managed more effectively and efficiently than the system of contracted labor employed by the site-built home construction industry.
Manufactured housing's affordability means it has long been the housing choice for many low- and moderate-income families, including retirees on fixed incomes and first-time homebuyers. When compared to all homeowners, the median annual income of manufactured homeowners is nearly 50 percent less—$60,000 vs. $32,000 (Source: 2009 American Housing Survey).
Manufactured housing's importance as a sustainable source of affordable housing is reinforced by data (Source: U.S. Census Bureau) indicating that in 2011 it accounted for.:
72 percent of all new homes sold under $125,000;
47 percent of all new homes sold under $150,000; and  27 percent of all new homes sold under $200,000.
Manufactured homes serve many housing needs in a wide range of communities—from rural areas where housing alternatives (rental or purchase) are few and construction labor is scarce and/or costly (nearly two of three manufactured homes are located in rural areas), to higher-cost metropolitan areas as in-fill applications.  Without land, the average purchase price of a new manufactured home is $60,600 versus nearly $208,000 for a new site-built home (Source: U.S. Census Bureau).
In addition to the valuable role it plays in providing reliable, efficient and affordable housing for nearly 8.7 million American families, the manufactured housing industry is an important economic engine.  In 2011, the industry produced over 51,000 new homes, which were produced in more than 120 home building facilities, operated by 45 different companies, and generating nearly 60,000 full-time, good paying American jobs.
Despite its role as a valuable source of affordable housing; a driver of the U.S. economy; and a model of efficiency and sustainability in the larger housing industry, the manufactured housing industry has had ongoing challenges over the past decade.  Since 2005, the pace of new manufactured homes sold in the U.S. has declined by nearly 65 percent (146,881 in 2005 vs. 51,618 in 2011) and there has been a decline of nearly 80 percent since 2000 (when 250,419 new manufactured homes were produced).
While the pace of sales for new single-family site-built housing has also declined by roughly 75 percent since its peak in March 2005, the decline in manufactured home sales actually pre-dates the 2007 housing market crash. The decline in the manufactured housing market coincides with a number of challenges:
the growth of subprime lending in the traditional site-built lending market diminished the affordability advantage of manufactured housing;
the lack of liquidity and credit in the manufactured housing finance sector has limited financing options for our homebuyers; and
the uncertainty and impact of new financial services and mortgage finance regulations has hindered growth.
Like the site-built housing market, the manufactured housing industry can appreciate the difficulty and uncertainty of operating in a stressed environment.  New manufactured home construction has fallen roughly 80 percent over the past decade, which has accounted for more than 150 plant closures, more than 7,500 retail home center closures, and the loss of over 200,000 jobs.  More importantly, thousands of manufactured home customers have been left unable to buy, sell or refinance homes.  Without Congressional and regulatory action, the people who live in manufactured homes and whose livelihood is connected to this industry are at significant risk.
It is estimated that more than 60 percent of manufactured homebuyers finance their purchase using a personal property loan product where the dwelling alone is financed (i.e., no real estate securing the loan).  The ability for lenders to securitize manufactured home loans in the secondary market, particularly those secured by personal property, has been very limited.
MHI and its members have long demonstrated to rating agencies, investors, Fannie Mae, Freddie Mac, the Federal Housing Administration (FHA), Ginnie Mae and others that manufactured housing lenders operate using strong underwriting and regulatory standards.
Despite this performance, the government-sponsored enterprises (GSEs) have had little involvement and displayed little interest in financing and securitizing manufactured home loans.  Less than one percent of GSE business comes from manufactured housing and none of that comes from manufactured home personal property loans.
In 2011, as a percentage of its single-family credit guarantee activities, manufactured housing constituted only 0.11 percent of Freddie Mac's portfolio. It is estimated that Fannie Mae's level of single-family manufactured housing activity is below even this.  This is in spite of data indicating that since 1995 manufactured housing shipments have averaged 14 percent of all new single-family housing starts and more than 18 percent of all new single-family home sales.
This barrier has effectively shut off the development of a viable secondary market for manufactured home loans leading to higher financing costs.  The development of a viable secondary market would dramatically improve liquidity in the credit-constrained manufactured housing market and provide potential buyers with more ready access to loans to purchase affordable manufactured housing.
As federal policymakers debate the form, shape and structure of a new housing finance system and secondary market mechanism, MHI agrees with many in Congress and other housing stakeholders that any secondary market housing finance structure should be supported by private capital.  In addition, MHI believes that any secondary market – particularly if it is supported by a government backstop – should provide equal and open access to manufactured home loans secured by either real or personal property.
As part of the Housing and Economic Recovery Act of 2008 (HERA; P.L. 110-289), Congress directed Fannie Mae and Freddie Mac to establish a secondary market for manufactured home loans, including those secured by personal property.  However, given the conservatorship status of the GSEs, the continued sluggishness of the housing market, the uncertain regulatory environment, and concern over taxpayer exposure, this mandate has remained unimplemented by the GSE's regulator and conservator —the Federal Housing Finance Agency (FHFA).
In moving forward, we encourage Congress to support the creation of a secondary market that allows for loan products, including all manufactured home loans, to compete on a level playing field absent barriers and prejudicial treatment.  Improving the prudent flow of capital to the manufactured housing financing sector will lower lenders' cost of capital.  This will draw more lenders to the market, increasing competition, lowering financing prices, and enabling more consumers to choose manufactured housing.
The manufactured housing industry has always been fully committed to protecting consumers throughout the home buying process.  MHI recognizes the importance of responsible lending and improving the consumer experience.  MHI has also consistently urged Congress to consider the unique nature of manufactured housing lending and to avoid measures that would inadvertently curtail lenders' ability to make manufactured housing loans.
MHI has been working on a bipartisan basis to educate Members of Congress and the Administration of some of the unforeseen impacts recently enacted legislation would have on limiting access to credit for the purchase of affordable manufactured housing.
Specifically, provisions of the Dodd-Frank Wall Street Reform and Consumer Protection Act (Dodd Frank Act; P.L. 111-203) and the Secure and Fair Enforcement of Mortgage Licensing Act (SAFE Act; P.L. 1102890—which is now under the jurisdiction of the CFPB—would have the unintended consequence of limiting the availability of and access to credit for the purchase of low-cost affordable manufactured housing.
With respect to Dodd-Frank's impact on housing, my testimony will focus on three areas that could have the unanticipated consequence of limiting the availability of, and accessibility to, affordable manufactured housing. Specific regulations being developed and enforced by the CFPB of key concern to the manufactured housing industry include:
new high-cost mortgage definitions that do not adequately account for the price pressures on small balance manufactured home loans, which may diminish consumer accessibility to this form of sustainable housing;
lack of regulatory guidance in applying the SAFE Act definition of a mortgage originator to the unique activities of those selling manufactured homes may diminish the level of customer assistance available to those seeking to purchase affordable manufactured housing; and
limitation on points and fees for "qualified mortgages" that could serve as a disincentive for serving the already credit constrained manufactured housing market due to the fact that the costs to originate such loans cannot adequately be recouped.
HOEPA: MANUFACTURED HOME LOANS UNDULY SUSCEPTIBLE TO HIGH-COST MORTGAGE TRIGGERS
First, the manufactured housing industry is concerned that the significant revisions to mortgage finance and anti-predatory lending laws contained in the Dodd-Frank Act will disparately impact manufactured home lending.  The Act adds significant new requirements on residential mortgage loans, including limitations on mortgage origination activities and high-cost mortgages, which will make it more difficult for manufactured home buyers to obtain affordable financing.
Many of the new regulations that would be imposed on mortgage lenders by the Dodd-Frank Act are designed to curtail questionable lending practices such as zero-down payment loans, balloon notes, and stated-income loans, which helped bring about the recent decline in the housing market.  Although the manufactured housing industry and manufactured homeowners did not partake in these questionable practices, and maintained prudent underwriting standards, the Act would unfairly lump manufactured housing small balance loans into the same category as subprime predatory site-built mortgages.
Section 1431 of the Dodd-Frank Act expands the range of loan products that could now be classified as "high-cost mortgages" under the Home Ownership and Equity Protection Act (HOEPA).  A loan would be considered "high-cost" if the Annual Percentage Rate (APR) or "points and fees" exceeds certain thresholds.  Unfortunately, the limits established in the Dodd-Frank Act were set without a full understanding of the economics of originating and servicing small balance manufactured home loans.
While drafters of the Dodd-Frank Act recognized that large multi-national banks and small community banks could not be regulated in identical ways; the same realization was not reached for manufactured housing loans.  Specifically, statutory thresholds for a $200,000 loan and a $20,000 loan cannot be set and evaluated in the same fashion, which is the effect of Section 1431.  The cost of originating and servicing these two different size loans is essentially the same in terms of real dollars.  However, the cost, as a percentage of each loan's size, is significantly different.  It is this difference that causes the smaller-sized manufactured home loan to potentially exceed the thresholds in the Act and be categorized as "high-cost" or predatory under HOEPA, even though there is nothing predatory about the features of the loan.
In addition, the lack of a secondary market means lenders that want to participate in the manufactured housing market must hold these loans in their portfolios, which makes the cost of capital associated with originating manufactured home loans – whether they are real property or personal property – higher for these lenders versus those which are able to securitize real property mortgages through the GSEs or through asset-backed securities. Additionally, since only the lenders that have the financial ability to hold the loans they originate on their balance sheets can participate in a meaningful way, this either eliminates or severely limits the ability of smaller lenders to enter the manufactured housing market. The resulting effect is that credit availability is further reduced for low- to middle-income consumers.
Under this new provision, the propensity for a loan to be classified as "high-cost" greatly increases as the loan size diminishes.  According to the American Housing Survey (AHS), the median purchase price of a manufactured home (including new and existing home sales) is $27,000 (versus $107,500 for all occupied units according to 2009 American Housing Survey data).  Potentially half of all loans to purchase manufactured homes, or more than four million (out of 8.7 million nationwide), could be at risk of being categorized as "high-cost."
An internal analysis of our company's lending activities yields concerning results.  Of all loans originated in 2010 and 2011, approximately 40 to 60 percent would have exceeded one or both of the "high-cost mortgage" thresholds under the HOEPA revisions outlined in the Dodd-Frank Act.
Due to the increased liabilities, responsibilities and stigma associated with making and obtaining a HOEPA "high-cost mortgage," it is likely that a majority of these loans would not be made.  Potentially millions of families could see the ability to re-sell their homes effectively wiped out because lenders would be unwilling to provide the financing needed to sell them.
While a significant percentage of manufactured home loans may have rates higher than traditional site-built mortgages, the terms typically associated with manufactured home loans—namely fixed interest rates, full amortization, and the absence of alternative features (such as balloon payments, negative amortization, etc.)—allow them to satisfy the requirements of what the Dodd-Frank Act would consider conservative and prudent underwriting standards.
In addition, existing regulatory requirements and additional statutory guidelines outlined in the Dodd-Frank Act provide significant consumer protections and disclosures while prohibiting many predatory loan features.   These provisions ensure that substantial protections are available to consumers without having to subject a majority of manufactured home loans to the onerous HOEPA "high-cost mortgage" designation.
SAFE ACT: CLARIFY TREATMENT OF MANUFACTURED HOME SELLERS
The SAFE Act is a well-intended law designed to enhance consumer protection and reduce fraud by requiring states to establish minimum standards for licensing mortgage loan originators. However, the manufactured housing industry has concerns over the lack of clarity in the implementation of the SAFE Act.
There has been substantial confusion among states in applying the SAFE Act to manufactured home retailers and their salespersons; those financing the sale of their own manufactured homes; and those engaging in a minimal level of loan origination.
Prior to the issuance of final federal regulations for the SAFE Act, states began adopting versions of a "model" state law. Well after most states had adopted their state SAFE Act laws, HUD finally issued its final rule in July 2011 that provided some regulatory clarification in recognizing the delineation between the treatment of individuals who undertake the sale of manufactured homes and individuals who engage in the loan origination business, but uncertainty in application of the rule still exists.
Specifically, additional statutory guidance is necessary to ensure that individuals who assist and aid customers in the manufactured home buying process are not categorized as loan originators for purposes of the SAFE Act.
The process of purchasing a manufactured home has some substantial differences from purchasing a site-built home.  The ability of a manufactured home retail salesperson to provide key customer assistance in the home buying process absent the risk of being arbitrarily classified as a mortgage loan originator for purposes of the SAFE Act is critical.
Similar to real estate brokers whose activities Congress specifically exempted from SAFE Act licensing requirements, manufactured home retailers are fundamentally in the business of selling homes; they are not in the loan origination business.  However, like real estate brokers, manufactured home retailers and sales personnel are fundamentally engaged in providing customer assistance throughout the home buying process.  Their core mission is to help a customer through the home buying process.  It is not to originate mortgage loans.
In addition, due to the limited financing options available to manufactured home buyers, the ability of retailers and sellers of manufactured homes to provide buyers with adequate information regarding lending options available is critical to preserving the availability of manufactured homes as an affordable housing source.
MHI is grateful for the diligent support Chairman Bachus and Ranking Member Frank have provided on this issue over the years.  In 2010, during HUD's rulemaking process, Reps. Bachus and Frank formally requested that HUD provide clearer guidance to states on the treatment of manufactured home retailers and that HUD clarify that states have the ability to provide exemptions to those engaging in minimal levels of loan origination or activity that is occurring outside of a habitual and commercial context.  The manufactured housing industry and MHI hopes to build on this guidance so that the statute and regulations can provide clearer guidance and relief to manufactured home sellers.
MHI firmly believes that individuals receiving compensation from lenders, mortgage brokers or others involved in the mortgage origination sphere for performing loan originator activities, or who derive their livelihood from the sale and distribution of mortgage loans should be registered and licensed in accordance with SAFE Act, including those serving the manufactured housing market.
However, the law makes clear distinctions that those who perform certain activities – like taking an application – and receive no compensation or gain from the sale or distribution of mortgages are not considered to be mortgage originators and thus not subject to SAFE Act registration and licensing requirements.
Unfortunately, due to a lack of clarity stemming from the regulatory process, there has been confusion at the state level in excluding those who sell manufactured homes and whose compensation comes from the sale of the home, not from the origination of mortgages, from licensing and registration requirements pursuant to the SAFE Act's statutory guidelines.
Given the uniqueness of the sales activity in the manufactured housing market, additional clarity both in statute and regulation would serve as the ideal fix for this challenge.  With regulatory enforcement of the SAFE Act now falling under the jurisdiction of the CFPB, it is critical that the agency begin to fill in the gaps with regards to the SAFE Act's applicability to those operating within the specialized manufactured housing market.
PRESERVING ACCESS TO MANUFACTURED HOUSING ACT:
BIPARTISAN BILL WILL MINIMIZE UNINTENDED IMPACTS ON AFFORDABLE MANUFACTURED HOUSING
Earlier this year, Representatives Stephen Fincher, Joe Donnelly and Gary Miller introduced the Preserving Access to Manufactured Housing Act (H.R. 3849) to reduce some of these unintended consequences that could significantly reduce access to affordable manufactured housing.  The bipartisan bill addresses two issues impacting the ability of consumers to obtain mortgage financing for manufactured homes.
First, the measure would amend the threshold by which designated small balance manufactured home loans are classified as high-cost mortgages under HOEPA (as revised by the Dodd-Frank Act), which will thereby reduce the number of loans subject to punitive and onerous liabilities.  The proposed statutory change would more accurately take into account the price pressures unique to manufactured home lending while still maintaining significant consumer protection from predatory lending practices.
 The legislation would not exempt lenders from HOEPA's high-cost mortgage provisions; it would merely adjust the APR triggers—for classification as a HOEPA high-cost mortgage—for transactions that primarily involve manufactured homes.
Adjusting the APR triggers would decrease the number of manufactured home loans that could be categorized as HOEPA high-cost mortgages thereby preserving access to credit for those seeking to purchase affordable manufactured housing.  However, under the proposed revision, consumers would receive no less protection from predatory lending activities.
Based on existing requirements within the Truth in Lending Act (TILA)—including those for higher-priced mortgage loans—and the Real Estate Settlement Procedures Act (RESPA), new requirements within the Dodd-Frank Act (such as those for "qualified mortgages") and even within a variety of existing state laws, consumers applying for manufactured homes loans would still receive substantial levels of protection in the form of disclosures and prohibitions on certain activities that are similar to those found within the HOEPA statute. However, these protections would come without having to attach the onerous high-cost mortgage designation to a majority of manufactured home loans—a designation that would effectively prevent a lender from making a loan needed by a consumer to purchase a home.
Next, the bill provides legislative clarification and guidance beyond that which was provided in the SAFE Act final rule for employees of manufactured home retailers.  It is important to point out that the language in the bill does not provide an exemption to all individuals who may be involved in selling manufactured homes from registering as mortgage originators under the SAFE Act.  It merely seeks to reinforce that individuals only become subject to licensing and registration requirements when they both take a loan application, AND offer and negotiate with a consumer the terms of a loan in exchange for compensation (income) which is consistent with the Act.
Similar to a real estate broker/agent, a manufactured home retailer's (and sales person's) compensation comes from the sale of a home and not from the sale of a loan product, such as a residential mortgage.  The legislation would preserve existing requirements that an individual selling manufactured homes be licensed as a mortgage originator if they perform the regulated activities and receive compensation from a lender, mortgage broker or mortgage originator for loan origination activity.
The legislation seeks to reinforce and amplify the existing statutory dividing line between an individual being compensated for home sales activity and an individual being compensated for the sale or distribution of a residential mortgage.  Unfortunately, due to a misapplication and misinterpretation of the statute that occurred during the rulemaking process, there exists substantial confusion at the state levels in interpreting this differentiation of activity.
MHI is grateful for the bipartisan leadership from Reps. Fincher, Donnelly and Miller in introducing this bill. In addition, we are particularly thankful for the consideration by Chairman Bachus and Ranking Member Frank to work with the bill sponsors on providing relief to the manufactured housing market.  We are truly appreciative of the Chairman's and Ranking Member's dedicated support of manufactured housing as an indispensible form of sustainable, reliable and affordable housing.
QUALIFIED MORTGAGE AND ABILITY-TO-REPAY GUIDELINES:  
MINIMIZE DISINCENTIVES TO SERVING MANUFACTURED HOUSING MARKET
Another issue of critical importance to MHI is the impact "qualified mortgage" criteria will have on the availability of credit in the manufactured housing market.  These criteria will form the basis of evaluating a borrower's ability to repay to a loan, as required by the Dodd-Frank Act (Sec. 1412).
A "qualified mortgage" would not be permitted to contain certain characteristics that helped contribute to the decline of the housing markets, such as negative amortization, balloon payments and stated income loans.  One of the most important facets is the requirement that a lender not make a qualified mortgage without determining that a borrower has a reasonable ability to repay the loan.
The proposed rule and request for comments, which closed for comment in July 2011, was recently reopened by the CFPB to seek additional feedback and data on a variety of issues, including information concerning the impact on litigation and litigation costs associated with mortgage loans not considered "qualified mortgages."
Given the substantial impact this rulemaking will have, it is important to ensure that it serves the best interests of the entire housing market, including that which is served by manufactured housing. Because of this, MHI was appreciative of the CFPB's decision to reopen the comment period.  While it would be optimal to have a sense of certainty and clarity as soon as possible, as a business that relies on a clear and level regulatory playing field it is essential that no ambiguity exists in these lending guidelines.
MHI believes that clear standards are essential.  Clarity ultimately reduces the frequency of litigation and allows lenders to resolve issues without the need for costly legal action.   Without clarity, lenders will likely operate strictly with the known qualified mortgage parameters in order to minimize these risks.   This would reduce the availability and affordability of credit for millions of creditworthy low- and moderate-income families seeking to purchase manufactured homes.
Additionally, MHI believes that the safe harbor alternative for implementing the qualified mortgage standards would create the certainty and clarity lenders need in establishing policies and procedures for complying with these standards.  While clear qualified mortgage standards would equip lenders to defend their origination practices, a safe harbor would provide a disincentive for bringing frivolous litigation that increases costs to lenders and consumers.   At the same time, the existence of clear standards and a safe harbor would preserve the opportunity for legitimate claims to move forward.
While those few lenders still serving the manufactured housing market will likely endeavor to conform and comply with the qualified mortgage criteria outlined by Congress and being further developed by regulators, the manufactured housing market is uniquely affected by the qualified mortgage standards in ways that adversely impact low- and moderate-income consumers.
Specifically, given the fundamentally smaller balance size of manufactured home loans, lenders will have an inherently more difficult task in recouping the fixed costs of originating a manufactured home loan compared to their much larger site-built equivalents, due to statutory limitations (three percent) on the points and fees that a lender may charge for a qualified mortgage.
Congress recognized the challenge this provision could prove to lenders making smaller-balance loans and directed regulators to develop rules adjusting this requirement for smaller loans in order to meeting the "presumption of compliance" with the qualified mortgage guidelines.
The proposed rules promulgated by the Federal Reserve Board, CFPB and others in May 2011 made a diligent attempt to adjust the three percent points fees cap for "smaller loans," but falls short of providing manufactured housing lenders with sufficient ability to recover the costs associated with making a small-sized residential mortgage loans.
Data included in the proposed rule (FRS-2011-0124-0001) indicates that in 2009 nearly 75 percent of all loans made to purchase a manufactured home were $75,000 or less. This data is bolstered by our own company's activities. Of the loans originated by Clayton finance subsidiaries in 2011, the average loan amount was approximately $42,000 and $61,000 for each lender.
Unfortunately, even with the elevated points and fees caps outlined for smaller-sized loans in the abilityto-repay proposed rule, approximately 40-49 percent of loans made by Clayton finance subsidiaries would have fallen outside the allowable limits to be considered a qualified mortgage. Had the proposed limits been in effect during this time period, it is likely that these loans would not have been originated and borrowers may have been unable to acquire the financing needed to purchase homes.
Similar to others, the manufactured housing industry has urged regulators to not rely solely on a percentage-based limit on points and fees, but to consider allowing lenders an option that includes a dollar amount for points and fees to cover the cost to originate a residential mortgage (i.e. $2,000 $3,500).
Such a mechanism would serve as a transparent rule that provides a bright-line standard that would be easier for creditors, while protecting consumers from unreasonable fees, and would encourage lenders to make smaller-sized loans that are relied on by manufactured homes buyers.
MHI believes the limits outlined in the proposed rule will make it difficult for lenders to fully recoup costs associated with making low-balance manufactured home loans and, unintentionally, act as a disincentive to serving low- and moderate-income families seeking to purchase affordable manufactured housing.
The manufactured housing industry fully supports the intent of the law: that fees associated with the origination of loans should be maintained at reasonable levels.  However, when lenders are not allowed to recover even a base level of the costs associated with originating a loan, such rules only serve as a roadblock to those most in need of access to affordable housing.
Related to the points and fees limitation for qualified mortgages, MHI believes that the proposed regulatory amendments to the definition of "points and fees" in Regulation Z to the Truth in Lending Act may also be served with more clarity in order to help preserve manufactured housing lending. Specifically, proposed section 226.32(b)(2)(i) excludes from points and fees, compensation paid to an employee of a retailer of manufactured homes who does not take a residential mortgage loan application, offer or negotiate terms of a residential mortgage loan, or advise a consumer on loan terms (including rates, fees, and other costs) but who, for compensation or other monetary gain, or in expectation of compensation or other monetary gain, assists a consumer in obtaining or applying to obtain a residential mortgage loan. While MHI is very appreciative of the recognition that compensation paid to retailer employees deserves to be excluded, clear guidance should be provided that compensation paid in connection with the selling of the home is not to be included in "points and fees" under any circumstances.
In conclusion, MHI appreciates the opportunity to shares its point of view concerning the impact that the Dodd-Frank Act will have on our sector of the housing market that strives to serve the low- to middle- income families of our country with quality, affordable housing. We are eager to work with both legislators and regulators to protect the consumers who benefit from this very necessary industry.
Thank you very much for the opportunity to testify on this important issue and I welcome any questions.
##
What the above does is demonstrate the evidence MHProNews obtained from the CFPB, see the report below.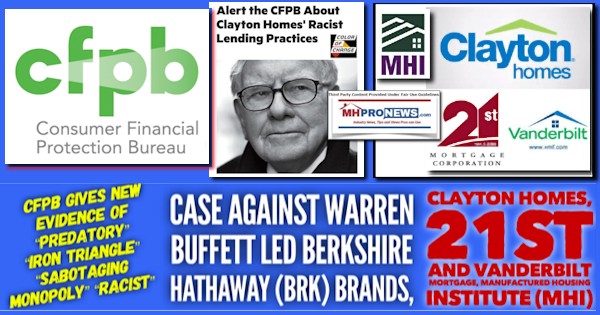 That said, let's pivot after the next related linked report to the promised background on Rep. Jeffries and Rev. Brawley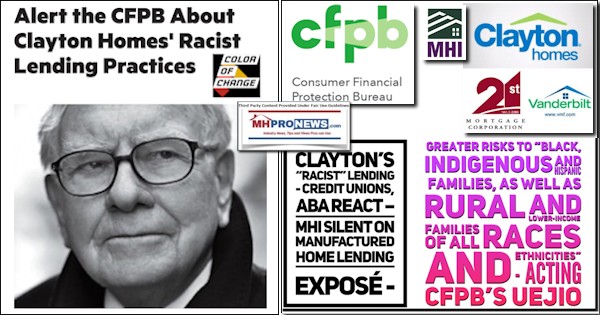 Background on Jeffries, Brawley and "Build Back Better" Backers, with Thumbnail on Decades of Failed U.S. Housing Policies
Rep Hakeem Jeffries (NY-8D) was described by OZY Media a month ago as "poised for power." Left-leaning Wikipedia says "Jeffries has chaired the House Democratic Caucus since 2019." He represents an area that includes Brooklyn and Queens in New York City, NY. His wiki also says that he is "A corporate lawyer by occupation, he worked for Paul, Weiss, Rifkind, Wharton & Garrison, then Viacom and CBS…" It would be fair to say that Jeffries knows the law, left-leaning media, and Democratic politics well.
CNN noted that the "Reverend David K. Brawley is the co-chair of East Brooklyn Congregations and Metro Industrial Areas Foundation."
From the Industrial Areas Foundation (IAF) website: "The IAF, which includes the West / Southwest IAF and Metro IAF…" So, Rev. Brawley's unit is part of the IAF. Per Influence Watch, "The Industrial Areas Foundation is a Chicago-based network of community organizing groups co-founded by Rules for Radicals author and left-wing strategist Saul Alinsky in 1940." That is confirmed by the IAF website, which says, "The Industrial Areas Foundation was established in 1940 by Saul David Alinsky…"
Note that each of the points above are facts and evidence that the sources themselves, along with third-parties, have cited. These aren't mere opinions, they are evidence based upon reality. It may read like a whodunit mystery or intrigue, but this is real life story of overlapping relations when the thin veil's are pulled back and examined.
For example. A link from CNN's op-ed by Rep Jeffries and Rev. Brawley is to an article co-authored by an Urban Institute member. As MHProNews and MHLivingNews documented, the Urban Institute has Warren Buffett as a lifetime trustee. Like several other nonprofits, the Urban Institute has had good things to say about modern manufactured homes. But when it comes down to housing policy being pushed by the new Bide-Harris regime, where is manufactured housing to be found? Why is it that it is only mentioned when MHI themselves admit planted the questions?
For those who need a refresher on Saul Alinksy, his Rules for Radicals, and how that fits with modern leftist thought, click here.  The link here about quote below from a more moderate lifetime Democrat, Robert F. Kennedy Jr, about Alinsky disciple Rahm Emmanuel, former Mayor Chicago and previously the Chief of Staff of Barack Obama sheds light on what is underway in American politics at the macro level.
Influence Watch cites as a person involved at a high level with the IAF as Robert Creamer. Neowin cites Cramer's own bio, and then stated: Creamer "began his organizing career in 1970 working with Chicago's Citizen Action Program (CAP), which had been organized by Saul Alinsky's Industrial Areas Foundation."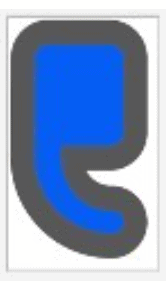 "Robert Creamer has been a left-leaning political operative since 1970 and is a co-founder of Democracy Partners (DP), a liberal political consulting firm that supports Democratic Party political campaigns and issue campaigns promoting left-of-center policies. [1] [2] In late 2005, Creamer pleaded guilty to bank fraud and non-payment of taxes relating to his 22 years of working with Citizen Action Illinois, and was sentenced to five months in a federal prison and 11 months of home detention. [3] [4]
Creamer is married to U.S. Rep. Jan Schakowsky (D–Illinois), a left-wing politician who has numerous associations with the Democratic Socialists of America (DSA),[5] and both Creamer and Schakowsky have reported socialist affiliations dating to the 1970s. [6] Creamer was an active policy and political ally of the Obama administration, visiting the Obama White House 342 times and President Barack Obama himself 45 times, to support Obamacare and many other policy goals. [7] [8] In his official Democracy Partners biography, Creamer notes that he "worked as an organizer with Saul Alinsky's last major project in Chicago," referring to the far-left community organizer infamous for devising much of the modern Left's use of deception, misdirection, and violence as political tactics. [9]
Neowin, and Influence Watch, cite Cramer as a consultant with deep Democratic Party ties. Those connections included Cramer serving the 2016 Secretary of State Hillary Clinton Campaign for the presidency. Said Neowin: "Robert Creamer who is a co-founder of a democratic consulting firm called Democracy Partners.  Within the video, an undercover journalist details a plan to register Hispanic voters illegally by having them work as contractors, to which Creamer can be heard offering support saying that "there are a couple of organizations that that's their big trick" (see: "Rigging Elections For 50 Years" – Massive Voter Fraud Exposed By Project Veritas Part 2″). That linked to a story on right-of-center Zero Hedge.
Left-leaning Wikipedia said that "American sociologists and political activists Richard Cloward and Frances Fox Piven. Cloward and Piven were both professors at the Columbia University School of Social Work. The strategy was outlined in a May 1966 article in the liberal magazine The Nation titled "The Weight of the Poor: A Strategy to End Poverty".[1]
Summing up, IAF is an organization that has long, deep ties with socialists and activists that aim to undermine many of the beloved rights that makes the America Dream possible. Not only do they put forward a plan on housing that will demonstrably not achieve its goal, because decades of prior similar efforts failed to work. But they are busy posturing an effort that marginalizes the proven solution of HUD Code manufactured housing that could house tens of millions, faster, for less, and with little-to-no taxpayer costs.
Who says? The third-party researchers cited below.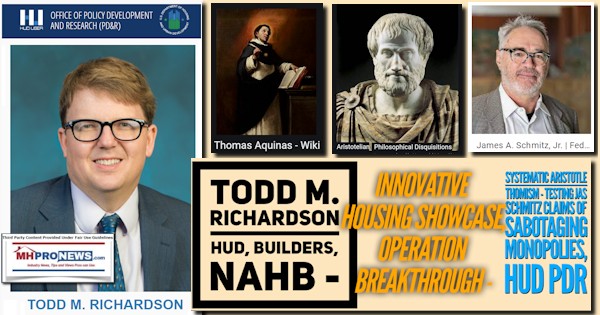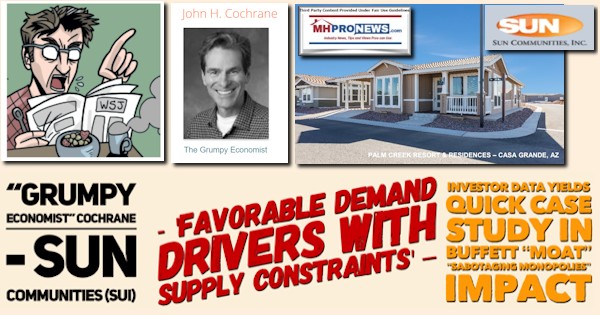 To learn more, see the linked and related reports above and below.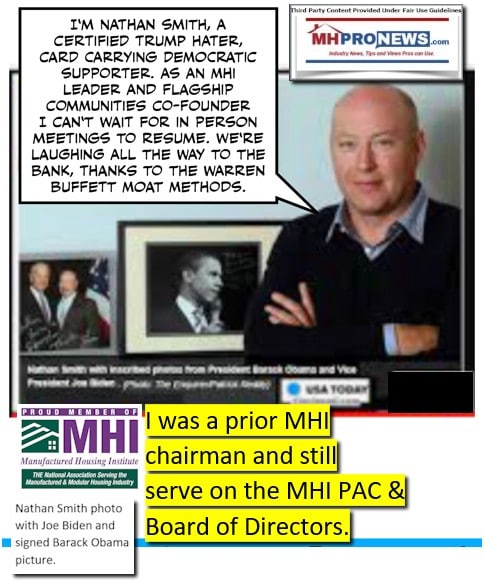 The strategy of federal/state/local government spending to create affordable housing has been tried – and failed for decades. Those who preach that secular gospel are either not looking at the history, perhaps do not grasp its meaning, OR they have an agenda of posturing solutions without delivering. Who says?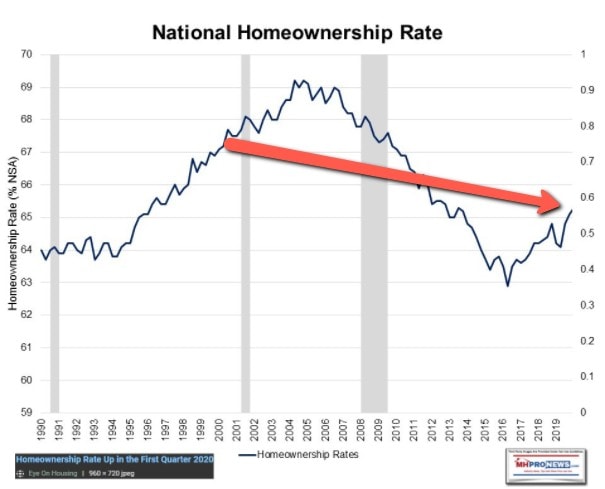 The historical record. After trillions in spending on subsidized housing and other "Great Society" type programs, the poverty levels are about the same. The home ownership levels are lower now than when the Manufactured Housing Improvement Act of 2000 was passed into law. The sad yet hopeful reality is this. The manufactured home solution has been proven, but has never been fully implemented.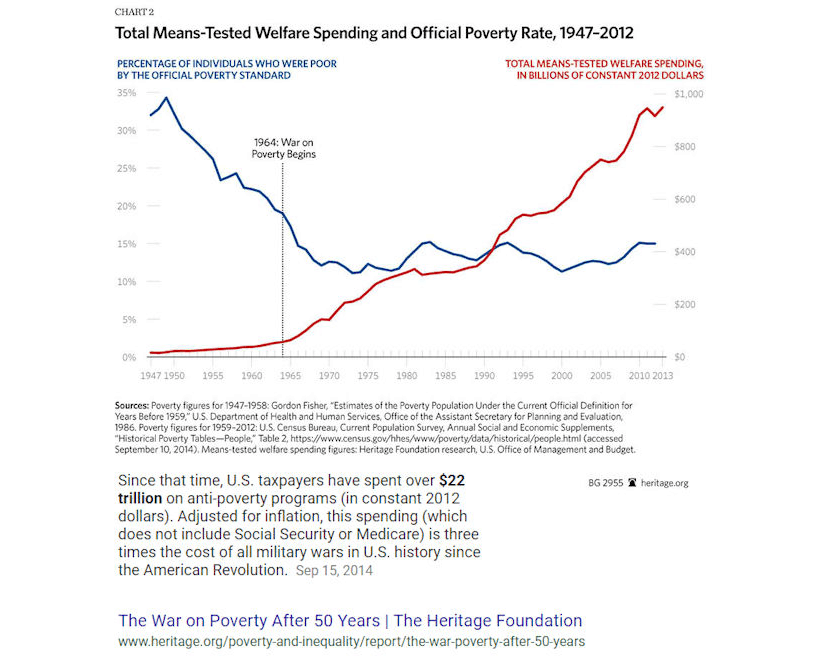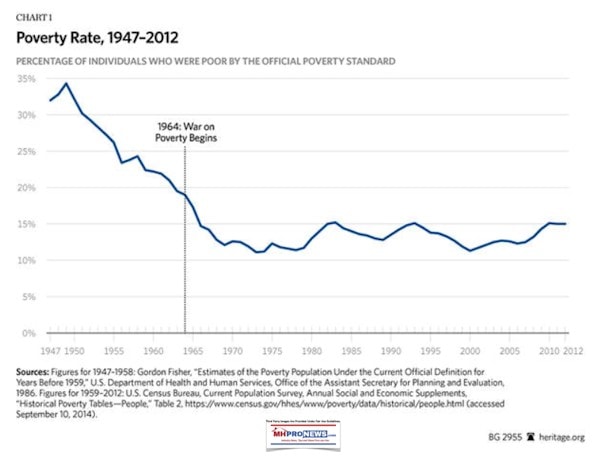 Once the manufactured home solution is properly implemented, government spending could be reduced and millions would gain household wealth the natural way, by affordable home ownership.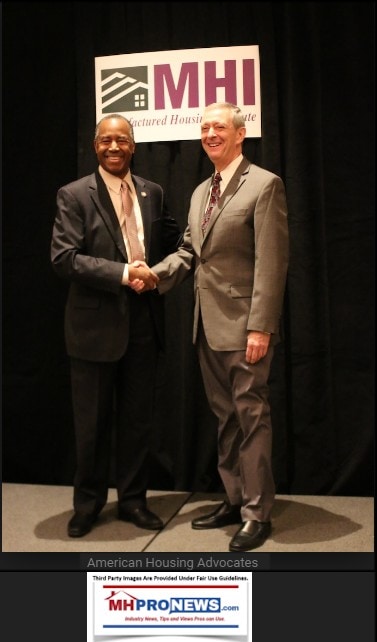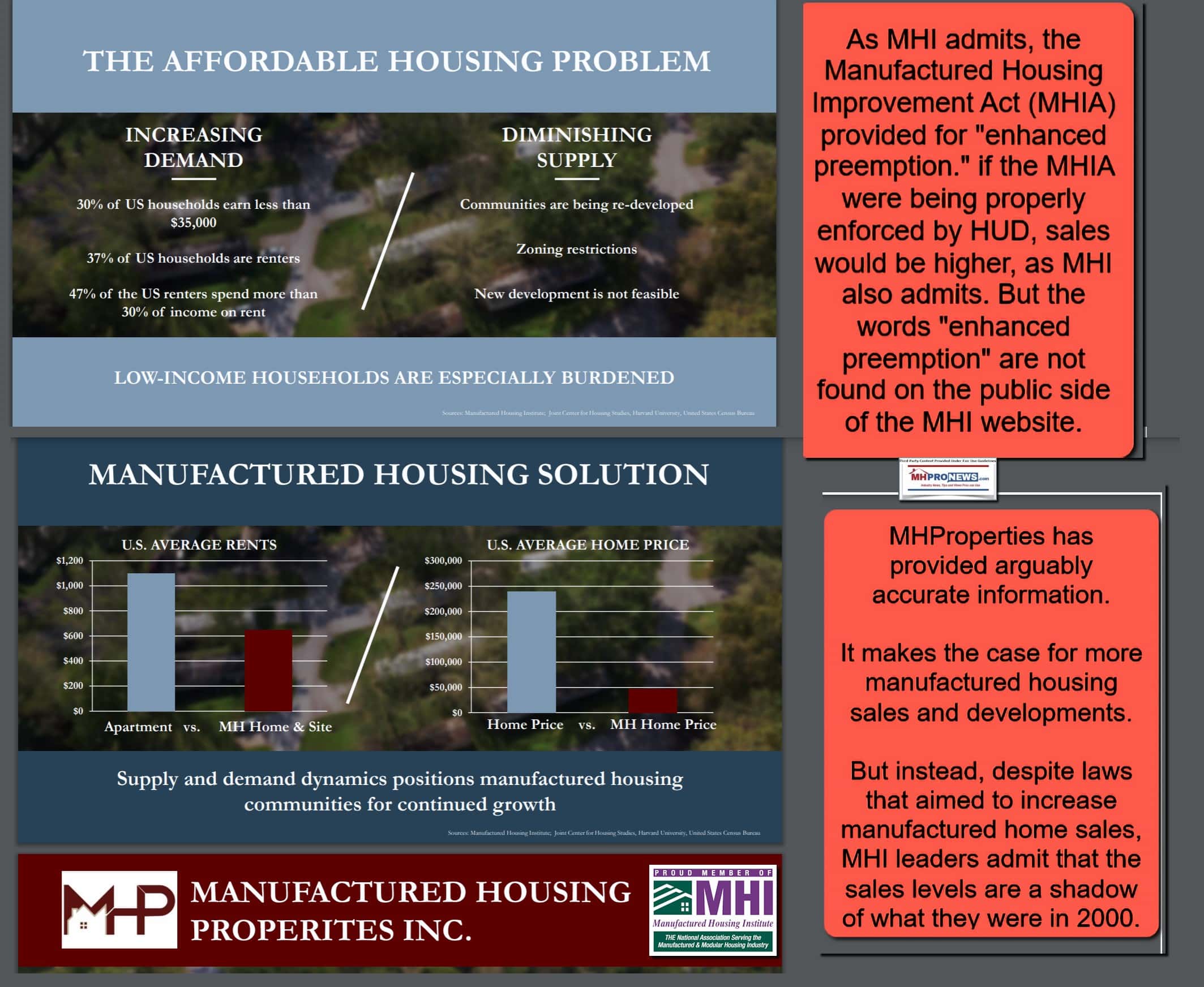 ###
Next, is our evening market report and related left-right headlines.
The Business Daily Manufactured Home Industry Connected Stock Market Updates.  Plus, Market Moving Left (CNN) – Right (Newsmax) Headlines Snapshot. While the layout of this business daily report has recently been modified, several elements of the basic concepts used previously are still the same. The headlines that follow below can be reviewed at a glance to save time while providing insights across the left-right media divide. Additionally, those headlines often provide clues as to possible 'market moving' items.
Market Indicator Closing Summaries – Yahoo Finance Closing Tickers on MHProNews…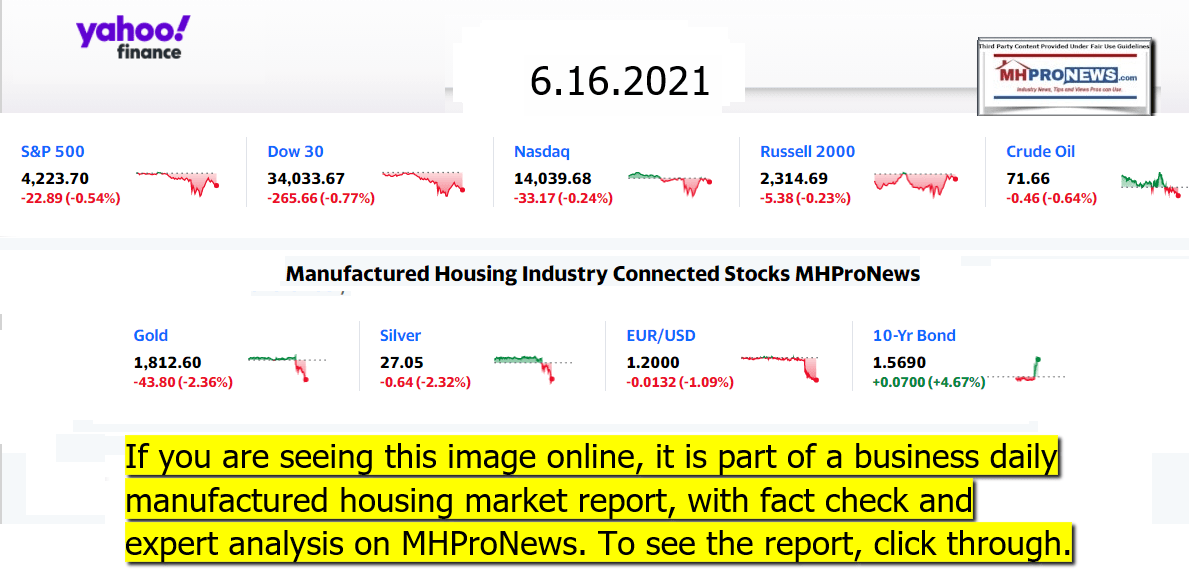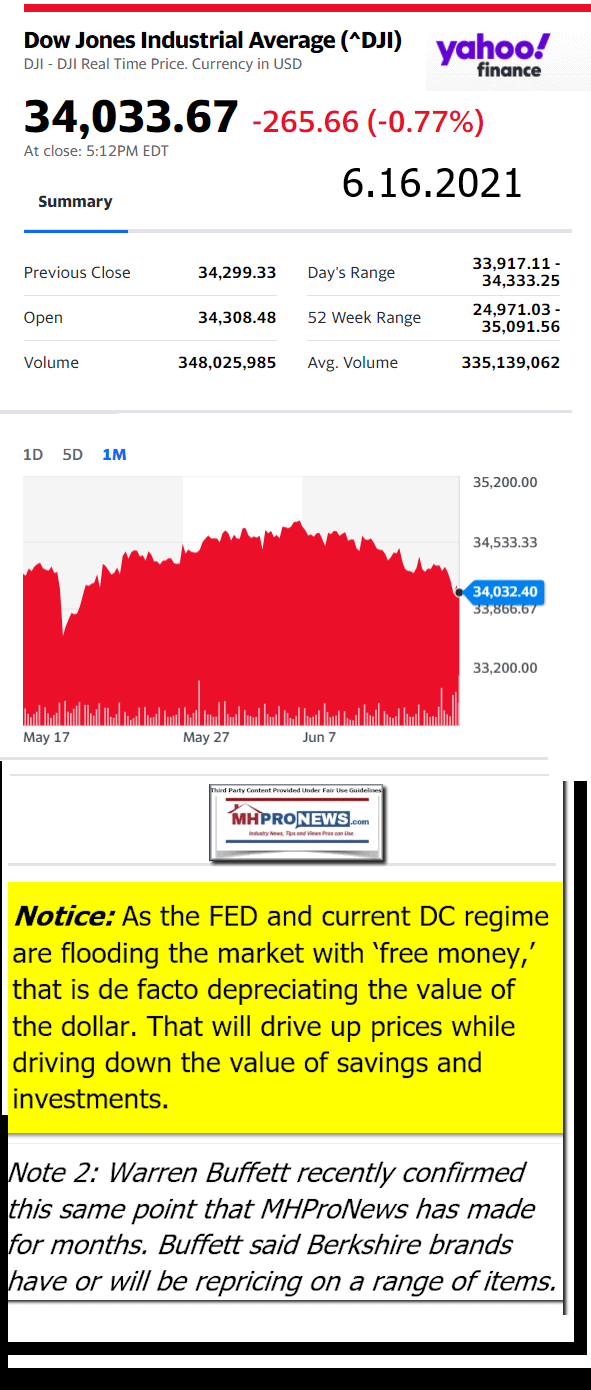 Headlines from left-of-center CNN Business = evening of 6.16.2021
Message to remote workers
Pedestrians walk past Morgan Stanley headquarters in New York, U.S., on Tuesday, April 13, 2021. Morgan Stanley is scheduled to release earnings figures on April 16.
Morgan Stanley CEO to NYC employees: Be in the office by September or else
The Fed expects to raise interest rates sooner than you'd think
Opinion: Too many Americans can't afford homes. But there is a solution
The housing market is so hot buyers are paying $1 million over asking price
LIVE UPDATES Dow tumbles after Fed predicts it will raise rates soon
GB News launched over the weekend. It's already losing support from advertisers
Beyond bitcoin: These altcoins are super popular
What happened to Jack Ma?
Uber and Lyft drivers call for federal intervention in gig worker labor fight
Windows 11 has leaked. It's a bunch of BS
GM and Lockheed Martin want to replace the 50-year-old Lunar Rovers still on the moon
ABC News reporter confronts Putin: 'What are you so afraid of?'
Biden apologizes after losing temper while addressing CNN's Kaitlan Collins: 'I shouldn't have been such a wise guy'
Dunkin's latest quirky menu item
The Space Exploration Technologies Corp. (SpaceX) South Texas launch site in Boca Chica Village in Brownsville, Texas on Saturday, Sept. 26, 2020. Jeff Bezos and Elon Musk had competed for nearly a decade to develop engines and rockets through their privately owned space companies when the perk came their way in 2018. Their companies' sites were included among the thousands of tracts across the U.S. designated as Qualified Opportunity Zones.
Texas authorities threaten SpaceX with legal action over beach closures, private security
A worker assembles a truss for a home at Wasatch Truss on May 12, 2021 in Spanish Fork, Utah. Lumber prices have sky rocketed along with supply shortages the last several months have plagued the construction industry.
Lumber is getting cheaper. Here's what that means for the Fed's decision today
Timelapse: 10-story building goes up in nearly one day
Headlines from right-of-center Newsmax – evening of 6.16.2021
Florida Gov. DeSantis Sends Officers to Defend the Border
Newsmax TV
Pete King to Newsmax: Too Soon for Biden-Putin Summit
Rand Paul to Newsmax: No Response From NIH, HHS on COVID Information |
UFO Filmmaker Corbell to Newsmax: Pentagon Will Reveal 'Uncomfortable Truths' |
Jha to Newsmax: Delta COVID Variant Won't Cause Virus Surges in US |
Greg Abbott to Newsmax: Trump Set 'High Mark' on Border Security |
More Newsmax TV
Newsfront
Reversing Trump, Biden Extends Protections to Trans Students
The U.S. Education Department on Wednesday expanded its interpretation of federal sex protections to include transgender and gay students, a move that reverses Trump-era policy and stands against proposals in many states to bar transgender girls from school sports.In a new……
Florida Gov.DeSantis Sends Officers to Defend the Border
Florida Gov. Ron DeSantis announced Wednesday that Florida would send [Full Story]
Former Pennsylvania Gov. Ridge Suffers Stroke
Former Pennsylvania Gov. Tom Ridge was hospitalized Wednesday after [Full Story]
China Denies 'Leak' at Taishan Nuclear Power Plant
China Denies 'Leak' at Taishan Nuclear Power Plant
China's Environment Ministry on Wednesday denied a report from CNN [Full Story]
Amazon Introduces New Surveillance Technology to Grocery Stores
Amazon has just introduced its "Just Walk Out" technology into a [Full Story]
Biden Faces Growing Russia-China Alliance in Putin Meeting
Though all eyes are on President Joe Biden and Russian President [Full Story] |
Monmouth Poll: Majority 'Concerned' of Inflation From Biden Spending
While an American majority supports President Joe Biden's spending [Full Story]
Poll: Biden Approval Rating Slips 6 Points Since April
President Joe Biden's approval rating has slipped since April, [Full Story]
New York Grapples with Growing Presence of Homeless in Midtown Manhattan
New York Grapples with Growing Presence of Homeless in Midtown Manhattan
An influx of homeless people into Manhattan's Hell's Kitchen [Full Story]
Reporter Fired for Project Veritas Work Outing Fox Censorship
Fox 26 Houston reporter Ivory Hecker, who teased her work with [Full Story]
Fed Sees Faster Time Frame for Rate Hikes as Inflation Rises
The Federal Reserve on Wednesday brought forward its projections for [Full Story]
Apple Plan to Offer Primary Healthcare Stalled
Apple's plan to offer primary healthcare at clinics owned by the [Full Story]
House GOP Seeks Review of Big Tech's Ties to China
House Republicans are strengthening their efforts to root out Big [Full Story]
Computer Trouble Hits Hubble Space Telescope, Science Halted
The Hubble Space Telescope has been hit with computer trouble, with [Full Story]
Moscow Protects Hackers inside Russia: Top US Justice Official
Moscow Protects Hackers inside Russia: Top US Justice Official
The Russian government actively harbors hackers and ransomware [Full Story]
Which 'Friend of Donald' Will Trump Back in Pennsylvania Senate Primary?
Which 'Friend of Donald' Will Trump Back in Pennsylvania Senate Primary?
Who will Donald Trump support in Pennsylvania for the Republican U.S. [Full Story] |
NBA Star Chris Paul Sidelined by COVID During Playoffs
The NBA's concern that players could be sidelined due to the [Full Story]
Was It Putin Spying on Ronald Reagan in '88 Moscow Photo?
A 1998 photo of former President Ronald Reagan's visit to Moscow [Full Story]
SpaceX Ignored FAA Warnings Before December Launch
SpaceX ignored multiple warnings from the Federal Aviation [Full Story]
Yellen: US Keeping Tariffs on Table If Countries Don't Remove Digital Services Taxes
The United States is pursuing every avenue to ensure that countries [Full Story]
UFO Filmmaker Corbell to Newsmax: Pentagon Will Reveal 'Uncomfortable Truths'
UFO filmmaker Jeremy Corbell, after releasing a video clip [Full Story] |
GM Escalates the Electric Vehicle Arms Race
General Motors Co on Wednesday boosted its spending on electric and [Full Story]
Texas Gov. Abbott Signs Bill Banning Critical Race Theory in Schools
Greg Abbott, R-Texas, signed a bill Tuesday directing state [Full Story]
US Buys 200M More Moderna COVID-19 Vaccine Doses
The U.S. government has bought another 200 million doses of Moderna's [Full Story]
Lithuanian Leader: More Than Freeing Belarus Journalist for Biden to Raise With Putin
President Biden is expected to bring up the detention of insurgent [Full Story]
Study: Half of US Cosmetics Contain Toxic Chemicals
More than half the cosmetics sold in the United States and Canada [Full Story]
EU Members Agree to Lift Travel Restrictions on US Tourists
The European Union is recommending that its 27 member countries start [Full Story]
US Scrambled F-22s in Response to Russian Military Maneuvers Near Hawaii
S. military scrambled fighter jets in response to the Russian Navy [Full Story]
Poultry Prices Soar to Record Amid US Chicken-Sandwich Wars
Poultry Prices Soar to Record Amid US Chicken-Sandwich Wars
Chicken-sandwich fever means poultry is pacing U.S. food inflation in [Full Story]
Ex-Israeli PM Olmert: 'Ignorant' Omar 'Unworthy' of Congress
Former Israeli Prime Minister Ehud Olmert rebuked Rep. Ilhan Omar's [Full Story]
These US Restaurant Chains Have Announced They Are Closing This Year
More Newsfront
Finance
GM Boosts EV Spending by $8 Billion as First-Half Profits Soar
General Motors Co on Wednesday boosted its spending on electric and autonomous vehicles, pulled ahead plans for two U.S. battery plants and forecast stronger-than-expected second-quarter profits. The No. 1 U.S. automaker said it will now spend $35 billion through 2025 on… [Full Story]
Price Concerns Mounting, But US Fed on Hold for Now
Poultry Prices Soar to Record Amid Chicken-Sandwich Wars
Trafalgar Poll: More Americans Blame Biden, Not Trump, for Inflation
Offices Stay Empty Despite Businesses Reopening
More Finance
Health
Study: Half of US Cosmetics Contain Toxic Chemicals
More than half the cosmetics sold in the United States and Canada likely contain high levels of a toxic industrial compound linked to serious health conditions, including cancer and reduced birth weight, according to a new study. [Full Story]
For Losing Weight, Calorie Counting Tops Fasting Diets
Study: Nice Weather Did Not Help Mood During Lockdown
High Doses of Vitamins and Minerals Can Be Dangerous
US COVID-19 Deaths Hit 600,000, Equal to Yearly Cancer Toll
Manufactured Housing Industry Investments Connected Equities Closing Tickers
Some of these firms invest in manufactured housing, or are otherwise connected, but may do other forms of investing or business activities too.
NOTE: The chart below includes the Canadian stock, ECN, which purchased Triad Financial Services, a manufactured home industry lender
NOTE: Drew changed its name and trading symbol at the end of 2016 to Lippert (LCII).
NOTE: Deer Valley was largely taken private, say company insiders in a message to MHProNews on 12.15.2020, but there are still some outstanding shares of  the stock from the days when it was a publicly traded firm.  Thus, there is still periodic activity on DVLY.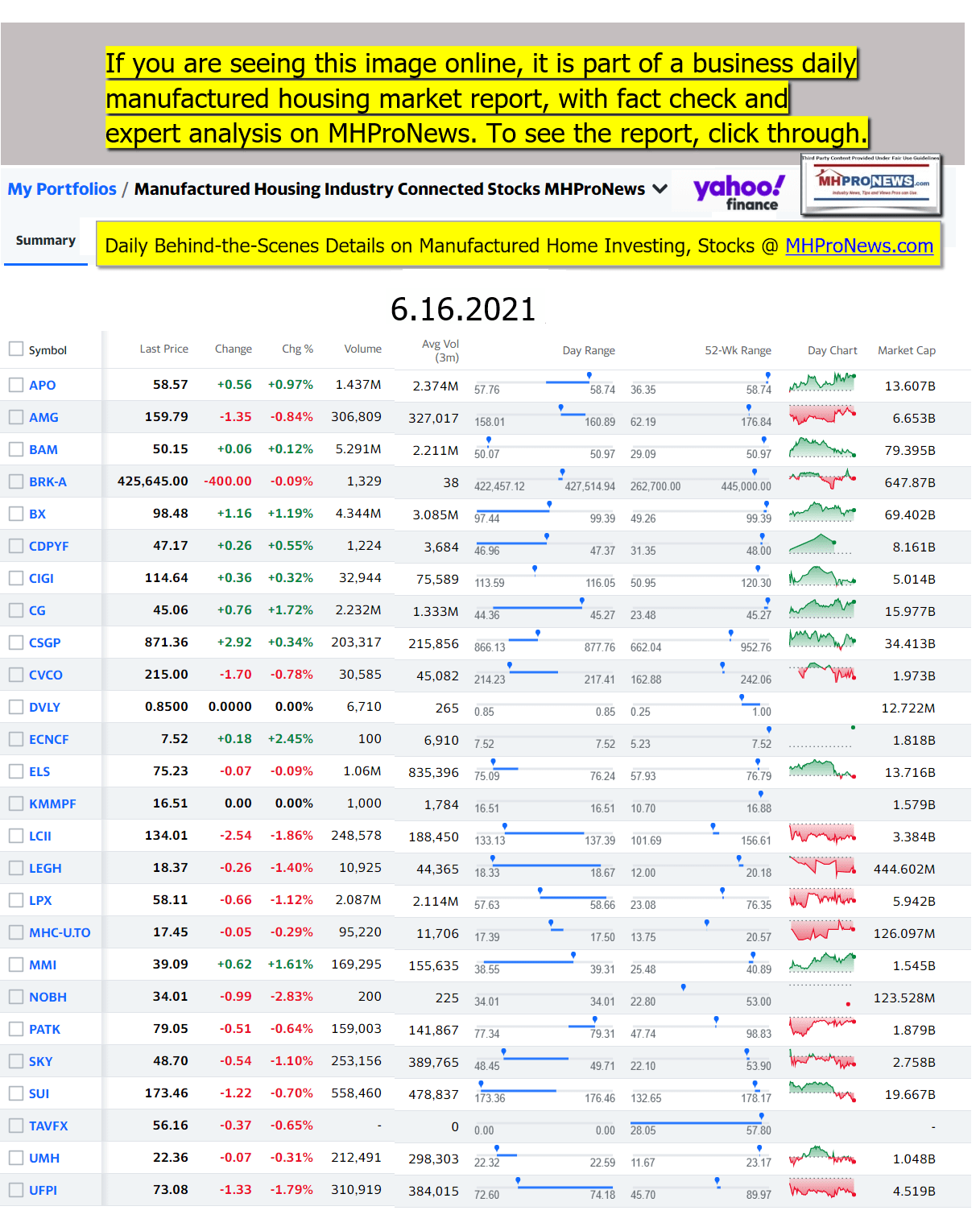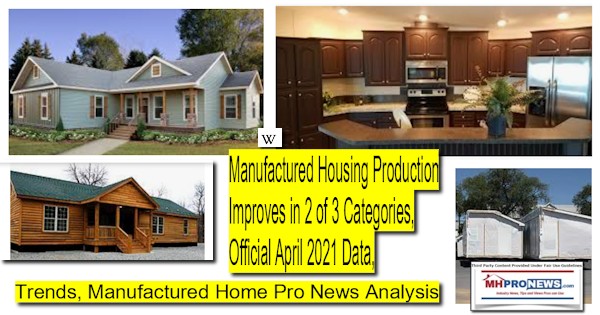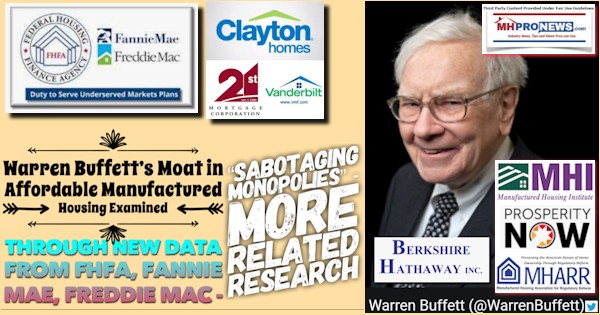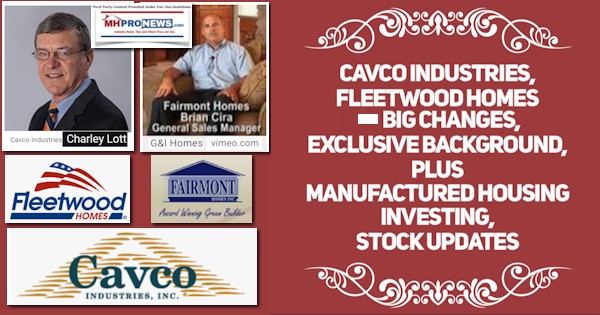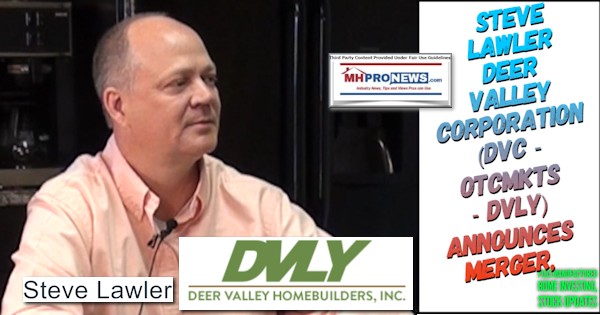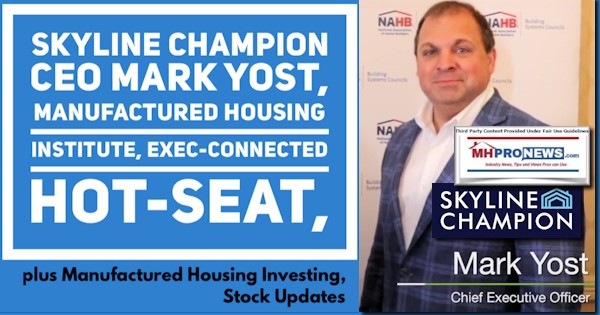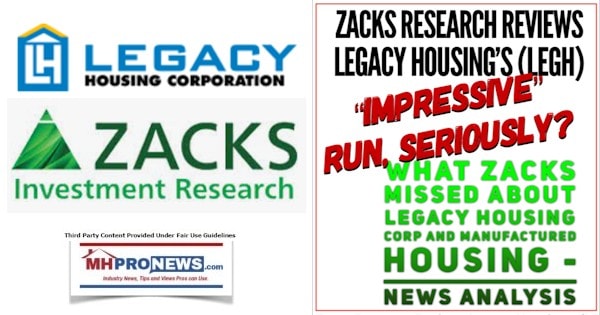 Spring 2021…
Berkshire Hathaway is the parent company to Clayton Homes, 21st Mortgage, Vanderbilt Mortgage and other factory built housing industry suppliers.
· LCI Industries, Patrick, UFPI, and LP each are suppliers to the manufactured housing industry, among others.
· AMG, CG, and TAVFX have investments in manufactured housing related businesses. For insights from third-parties and clients about our publisher, click here.
Enjoy these 'blast from the past' comments.
MHProNews. MHProNews – previously a.k.a. MHMSM.com – has celebrated our 11th year of publishing, and is starting our 12the year of serving the industry as the runaway most-read trade media.
Sample Kudos over the years…
It is now 11+ years and counting…
Learn more about our evolutionary journey as the industry's leading trade media, at the report linked below.
· For expert manufactured housing business development or other professional services, click here.
· To sign up in seconds for our industry leading emailed headline news updates, click here.

Disclosure. MHProNews holds no positions in the stocks in this report.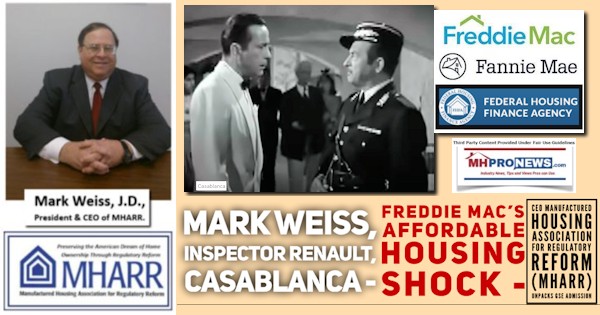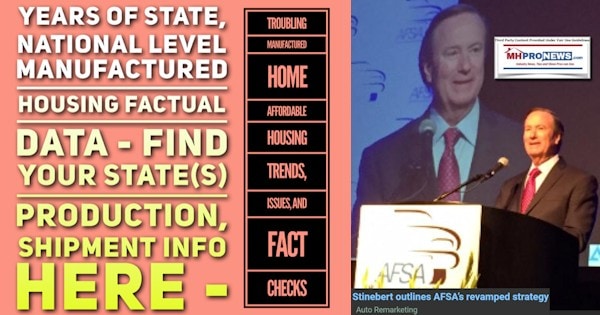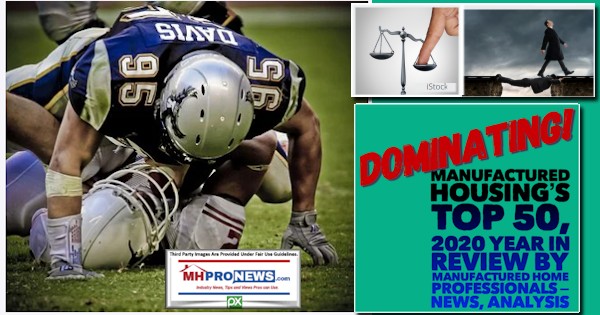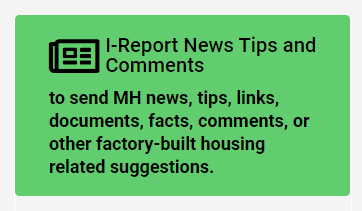 That's a wrap on this installment of "News Through the Lens of Manufactured Homes and Factory-Built Housing" © where "We Provide, You Decide." © (Affordable housing, manufactured homes, stock, investing, data, metrics, reports, fact-checks, analysis, and commentary. Third-party images or content are provided under fair use guidelines for media.) (See Related Reports, further below. Text/image boxes often are hot-linked to other reports that can be access by clicking on them.)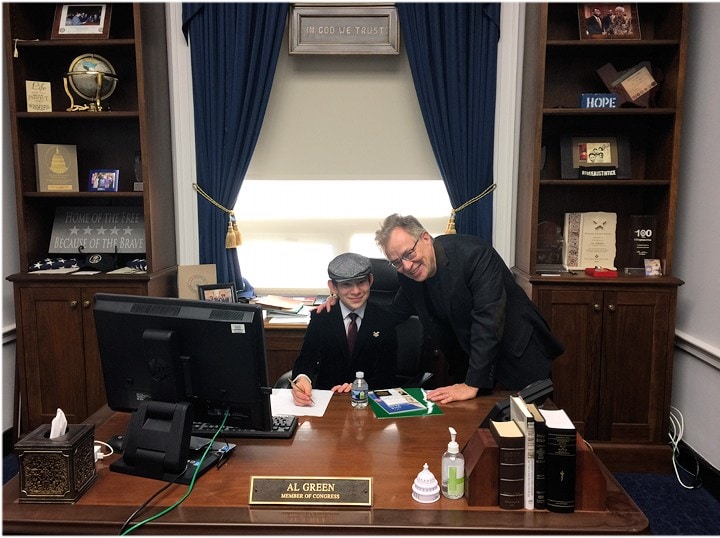 By L.A. "Tony" Kovach – for MHProNews.
Tony earned a journalism scholarship and earned numerous awards in history and in manufactured housing. For example, he earned the prestigious Lottinville Award in history from the University of Oklahoma, where he studied history and business management. He's a managing member and co-founder of LifeStyle Factory Homes, LLC, the parent company to MHProNews, and MHLivingNews.com. This article reflects the LLC's and/or the writer's position, and may or may not reflect the views of sponsors or supporters.