"'I didn't know if we were going to make it:' East Brewton residents recall braving the EF2 tornado [spawned] from [Tropical Storm] Claudette," WKRG CBS 5 News reported by one of the many survivors of a series of tornadoes that hit parts of southern Alabama, Georgia, and the Florida Panhandle with little or no warning. Several mainstream news reports of tornado(s) examined by MHProNews that ripped through Brewton and East Brewton, in Escambia County, AL, which is near the Florida border about 50 miles north of Pensacola. Associated Press (AP) reports picked up by numerous local news sources said: "Sheriff Heath Jackson in Escambia County said a suspected tornado "pretty much leveled" a mobile home park, toppled trees onto houses and ripped the roof off of a high school gym. Most of the damage was done in or near the towns of Brewton and East Brewton, about 48 miles (77 kilometers) north of Pensacola, Florida."
Several news outlets provided video and/or stills. The Associated Press or AP was cited in numbers of these reports, which were often similar or essentially duplicates of each other.
Per AP and WLOX, – "It kind of affected everybody," Jackson said. "But with those mobile homes being built so close together it can take a toll on them a lot more than it can on houses that are spread apart." AP and WLOX added that there were no immediate reports of serious injuries or deaths.
According to the AP, residents of Pace, Florida, called 911 to report a possible twister that tore the roofs off two homes and damaged at least three others.
"Nobody's hurt," said Sarah Whitfield, spokesperson for Santa Rosa County, where the Florida homes were damaged. "We're just thankful it happened after sunrise," not overnight as people slept.
News and StormChaser Video, Other Information, and MHProNews Analysis
When a specific phrase used by the Associated Press (AP) in the report is placed between quotation marks and a 'news' tab search is done, well over 11,000 results are reported. When that same search is performed under the 'all' results tab, which would include social media, bloggers, and others sharing that quote, some 39,700 results are obtained. See the screen captures below.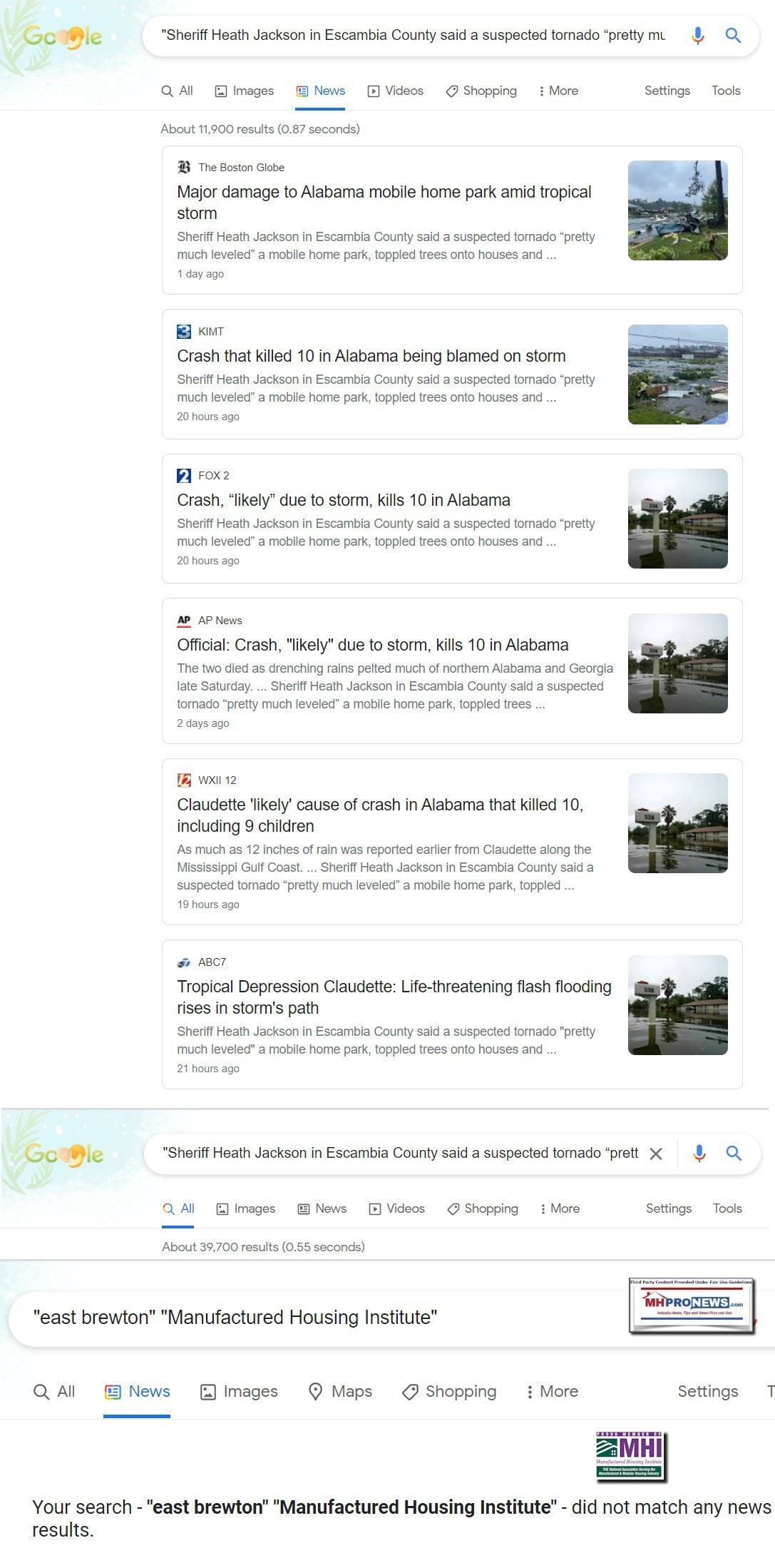 Likely tens of millions of people saw this headlines, and millions viewed those reports. More on the relevance of that for manufactured home owners, affordable housing seekers, professionals, and others is further below.
To provide the flavor of those reports, a series of local news and StormChasingVideo will be shown below. The statements shown with the videos are from their respective YouTube pages. That will be followed by additional information, MHProNews analysis and commentary.
'I didn't know if we were going to make it:' East Brewton residents recall braving the EF2 tornado from Claudette
Tropical Storm Claudette pounds Gulf states
WHAS11
Tropical Storm Claudette is wreaking havoc across the Southeastern United States, bringing pounding rain, floods and tornadoes.
Tornado hits East Brewton during Tropical Storm Claudette
Jun 19, 2021
FOX10 News
Several of the news outlets focused on or opened with reports of damage and functional destruction of several mobile and/or manufactured homes. But attention to detail reveals that conventional housing also suffered serious to severe harm. Commercial construction, such as a school building, which are often considered to be 'heavier' or more durable construction, also suffered damage.
Brewton, AL Tornado Drone Aftermath – 6/19/2021
StormChasingVideo
Storm Chasing Video provided this silent drone footage. Unlike others, it opens with commercial construction damage.  When viewing this footage, note that conventional housing neighboring several of the damaged commercial buildings seemed unharmed. It reflects the point that tornadoes leave a path of destruction, with construction of all kind being relatively unscathed right next door.
More Information, plus MHProNews Analysis and Commentary in Brief
That Storm Chasing Video silent drone video above reveals something similar about the so-called "mobile home park" destruction. Some of the several surviving homes, which at a glance appear to be post-HUD Code manufactured homes, look relatively or completely unscathed. It is the construction that was directly hit, or which toppled trees, flipped vehicles, or otherwise caused flying debris to rip through a structure, that were severely damaged or destroyed.
But here again, one of the most dramatic visuals is what may be an earlier HUD Code manufactured home sheered in two. The surviving portion of that home appears to be still anchored. This goes to the point raised by MHLivingNews that proper installation is important – indeed, it is vital. Bear in mind, there were no fatalities in any of these mobile/manufactured homes, per several mainstream news reports explored. The deaths reported were from an  automotive collision attributed to the tornado.
During a mushrooming affordable housing crisis, the importance of modern manufactured homes potential for filling the thirst by millions for quality low-cost homes ought to be apparent. One might think that the Manufactured Housing Institute (MHI) would have assigned their communications person, and/or other staff members, to contact media outlets and engage on this issue. While it occurred during a weekend, storms do not take weekends off. The biggest opportunity to address the issues is in the immediate aftermath of such events. But a similarly focused check of the Google news tab makes it clear that MHI did not touch the topic at all (see screen capture above).
MHI is arguably either staffed by incompetents who have little to no motivation and vision in properly promoting the manufactured home option, or perhaps they under instructions from corporate MHI board leaders not to engage on such topics as much as possible. Either way, it is logically a mistake. Untold millions of Americans are under the false impression that mobile or manufactured homes are death traps when it comes to storms. MHI has some useful material on their website on this issue, but it is static. As news occurs, it should ideally be updated. Tim Williams, 21st Mortgage Corporation president and CEO, said as much. Williams was a prior MHI board chairman and is still an MHI board member.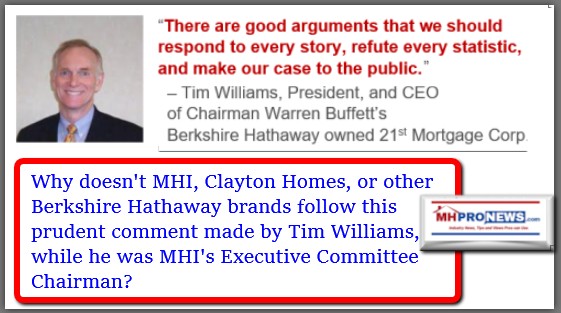 Part of the supposed purpose of the hiring of a staff member for communications was to address such issues. But time after time, when problematic news arises, checks performed by MHProNews and/or MHLivingNews reveals no engagement by MHI. When MHI was specifically asked to engage, still no response. That belies the claims and promises made by various MHI leaders, including Nathan Smith, who as chairman said he wanted to leave the association as being pro-active rather than reactive. Sometimes, as in the case shown here, MHI does nothing at all.  That's a point that controversial media magnet Frank Rolfe himself pointed out.

The potential for manufactured homes to build hundreds of thousands to perhaps of units annually is dependent on several factors. One is certainly demand. That demand is driven by public interest. That can't be faked by so-called research by MHI that when put to the test do not deliver the results promised. As an example, think of their apparently failed CrossModTM homes venture which still adorns their home page, even after years of evidence that the program has no traction.
Back to the tornado issue, thousands of manufactured home professionals are well aware that this is a topic on the minds of consumers. The fact that MHI has something on their site is perhaps due in part to the fact that MHProNews and MHLivingNews have hammered on this issue for several years.
This specific case reported above is in some ways an ideal opportunity to set the record straight, precisely because there were no fatalities. What MHI should do is send an expert, and/or hire one locally near such events post-storm, to carefully document all of the relevant facts. For instance.
Where the homes that were devastated tied down (anchored), or not?
If they were anchored, is there any indication of how old those tie-down straps and anchors may be? Where they properly installed, aging, what was the status of anchors and tie-down straps?
Did flying debris penetrate the exterior of the home, say through a window?
Was the structural envelope of the home compromised, resulting in failure?
Were there porches or other additions to the home that were improperly installed that compromised the structure?
These are all legitimate areas of concern. MHI, as a post-production trade group with millions of dollars in reserve, has the budget to fund such research.  Such research should be as objective as possible.  The results should be carefully reported.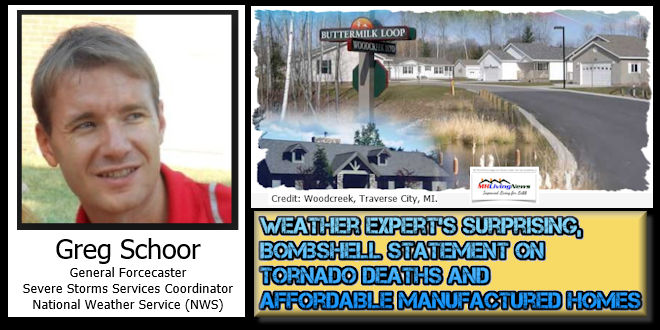 The video above reflects wind tests performed by a third-party that tested both manufactured homes and conventional housing. As American Modern Insurance Group said about that research that they helped sponsor, "American Modern Insurance Group sponsored unique research done by the Insurance Institute for Business & Home Safety (IBHS), which focused on structures that are often attached to manufactured homes. The research evaluated the effect of high winds, such as those experienced during hurricanes, low-level tornadoes, and severe thunderstorms. While this research focused on wind performance of carports, test results also are applicable to other attached structures, such as porches, awnings, and canopies. The test results also are applicable to both factory-built manufactured homes and traditional site-built homes."
As NBC News video clips shown in that video above reflected, post-storm research revealed that some 80 percent of the time, it is such add-ons that causes the envelope of the home to become compromised, which can result in severe damage or destruction.  The series of stills from the video above reflects this fact. In the series of screen captures below, the conventionally built house on the left collapses under 120 mile per hour winds, in this third-party IBTS test. But the professionally installed manufactured home on the right, with a properly installed addition, survives that same 120 mile per hour wind in the IBTS test.

Note that sources told MHProNews at the time that the house on the right in that IBTS test was built to Wind Zone I standards, but had additional anchoring. What that means is this. A standard modern manufactured home, properly installed, can withstand even tornado or hurricane force winds, so long as they are properly installed.
The real-world experiences of several incidents of conventional and manufactured home damage and destruction seems to substantiate that IBTS wind-study evidence. Years of post-windstorm reports by MHProNews and MHLivingNews reveal numerous specific cases of neighboring structures where one fails, another survives.
MHI, if they were motivated to do so, could as noted pay for such post-tornado field research, as in the case of this storm that tore up structures of all kinds in Brewton and East Brewton, Escambia County, AL. Or, MHI could ask member firms like American Modern to pay for such research.
Put differently, there is no apparently good reason why MHI has not done this years ago, and then keeps repeating the engagement with mainstream media, until the issue is widely understood. It raises the concerns in recent reports by MHProNews that MHI is posturing efforts, for show, rather than performing efforts that deliver actual measurable results.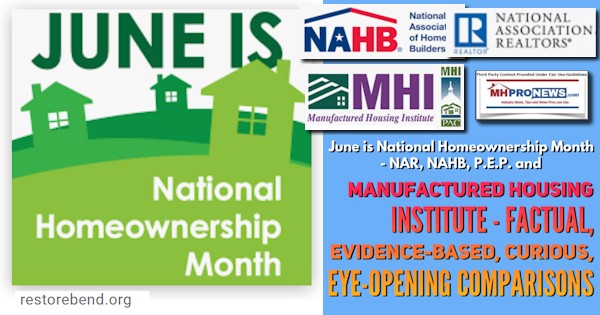 MHProNews and our MHLivingNews sister-site has raised such issues for years. We began to do so while we were still MHI members, and before and after this writer being elected by peers to serve on the MHI Suppliers Division board.
But instead of pushing for authentic research and productive marketing, it is almost as if MHI does or avoids the kinds of things that fail to go to the core concerns of consumers.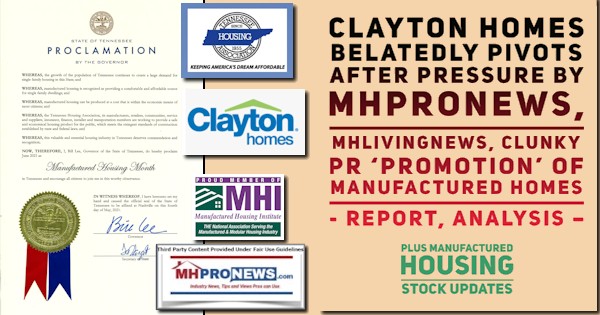 Interviews and statements by HUD Secretary Carson, or Biden-appointee HUD Secretary Marcia Fudge about manufactured homes being resilient are useful. But these are not one and done events. Because storms are ongoing, the engagement must be too. Tim Williams/21st/MHI prior chair admitted as much.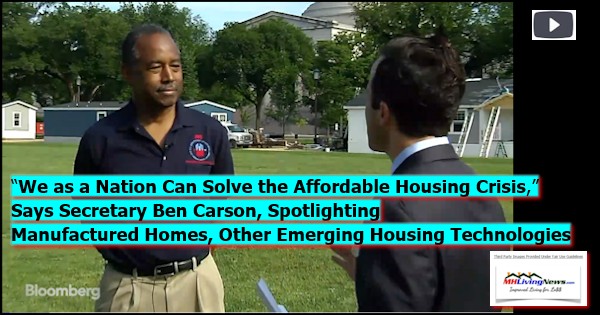 What the bottom-line takeaways reveal is this. The interests of manufactured homeowners, independents, and an estimated 111 million living in rental housing per the Apartment List are being missed and/or are poorly handled.
Given that others as well as MHProNews has raised this and other such topics for years, this is but one more data point about the motivations behind MHI's apparent failures that can only be clarified with complete certainty by use of subpoenas and testimony taken under oath.
Such inquiries with subpoena powers could be accomplished by public officials with jurisdiction over such issues. Other interested parties – say affordable housing, antitrust, or legal nonprofits – might sue MHI, and thereby obtain such testimony and documentary evidence through the discovery process.
"I didn't know if we were going to make it" said that media outlet cited above. Thankfully, everyone in those mobile and/or manufactured homes made it. While the report linked below, which offers Nation Weather Service (NWS) expert insights makes clear that every year perhaps one to two dozen may die in such storms, that is out of some 22 million living in pre-HUD Code mobile homes, or post-HUD Code manufactured homes.
Every year, Americans die in conventional housing too. Some years and events, such a Moore, OK, or Joplin Missouri, reveal the fact that when a tornado hits a conventional housing neighborhood, the outcome is no less tragic destruction and deaths.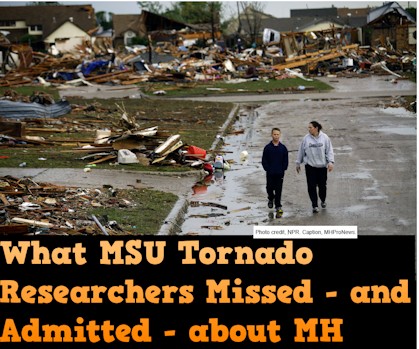 Longer-term readers may recall the following from Professor Mark Skidmore, who did a report for Michigan State University (MSU) that was revealed to have several problematic features. When pressed by MHProNews, Skidmore admitted on the record via email several things. "I think the benefits of manufactured homes are great," said Skidmore, the MSU economist said. The following pull quotes were part of that same message.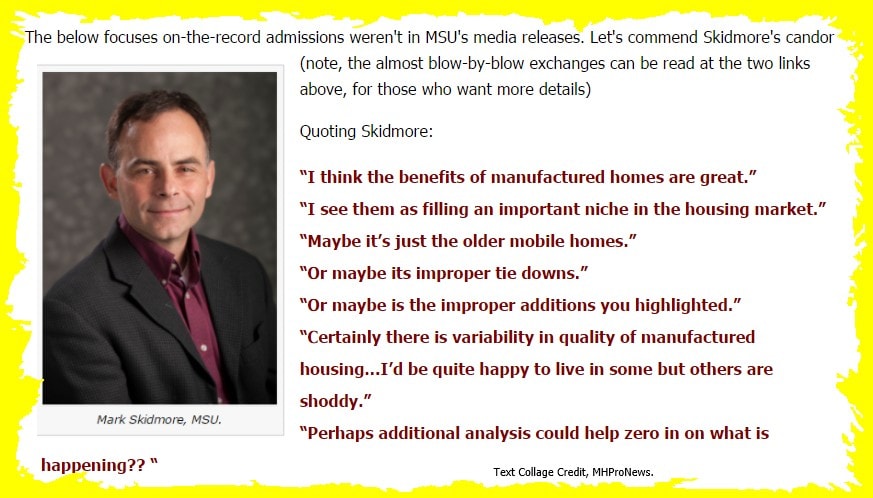 There are numerous examples of how prior fact-checks and reports on such issues revealed that MHI did little or nothing, while MHProNews and MHLivingNews revealed through our efforts areas of factual opportunities that MHI missed. MHI and their leaders can not have it both ways. If they are so wonderful, educated and savvy, then they should be producing results and doing their job in an effective manner. If they are merely a sham posturing while the industry is being steadily consolidated, that is on them and should be investigated.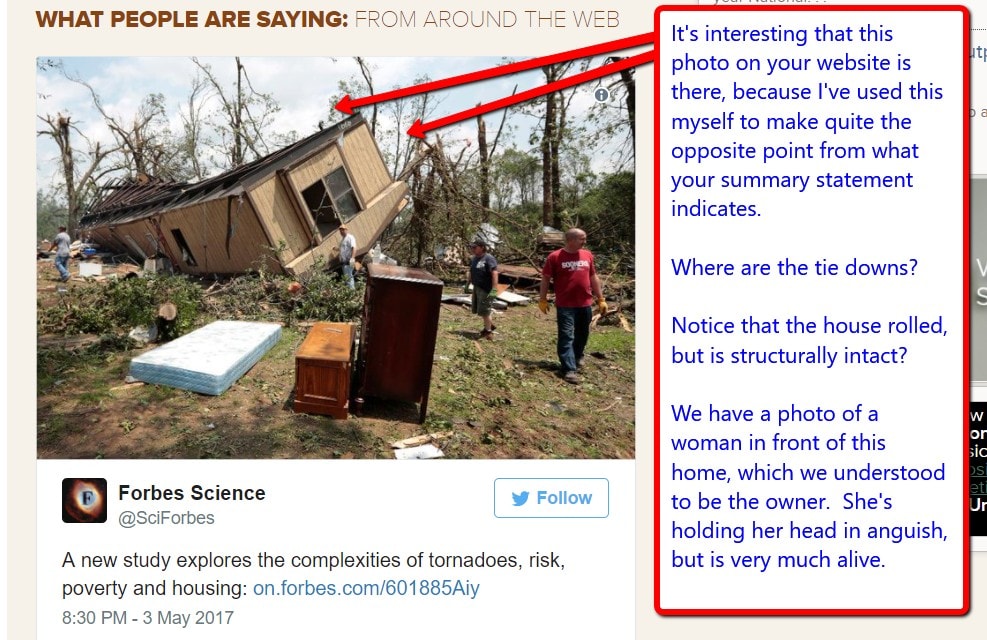 However it is accomplished, the status quo at MHI is simply not acceptable. Millions are apparently being left in the dark on the overall positive story about the durability of manufactured homes. Fact checks and reports, such as this one, reveals years of such failures to properly engage, much as MHI member Frank Rolfe said, in that quote referenced above.  The so-called plan by MHI to counter negative news has clearly never been manifest. Will MHI make any effort to turn the lemons of thousands of misleading media reports on this incident in AL? Time will tell. We plan a follow up in the near term. Stay tuned as we shine truth and call those with money and power to account.
##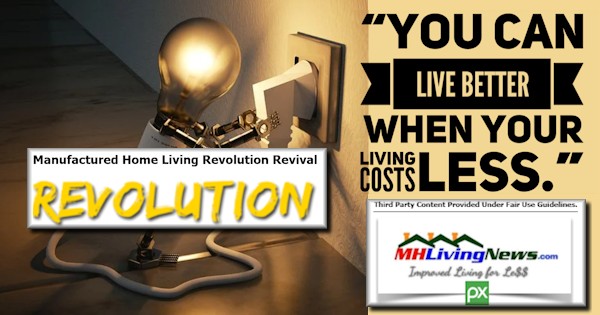 ###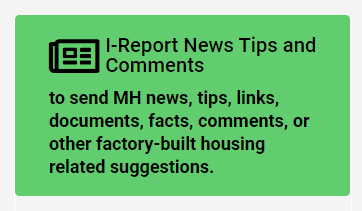 Our thanks to you, our sources, and sponsors for making and keeping us the runaway number one source for authentic "News through the lens of manufactured homes and factory-built housing" © where "We Provide, You Decide." © ## (Affordable housing, manufactured homes, reports, fact-checks, analysis, and commentary. Third-party images or content are provided under fair use guidelines for media.) (See Related Reports, further below. Text/image boxes often are hot-linked to other reports that can be access by clicking on them.)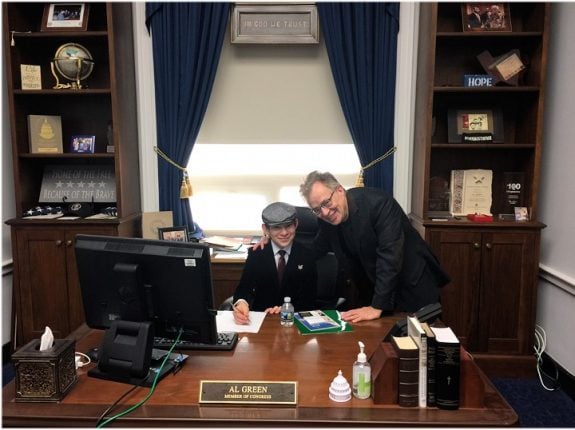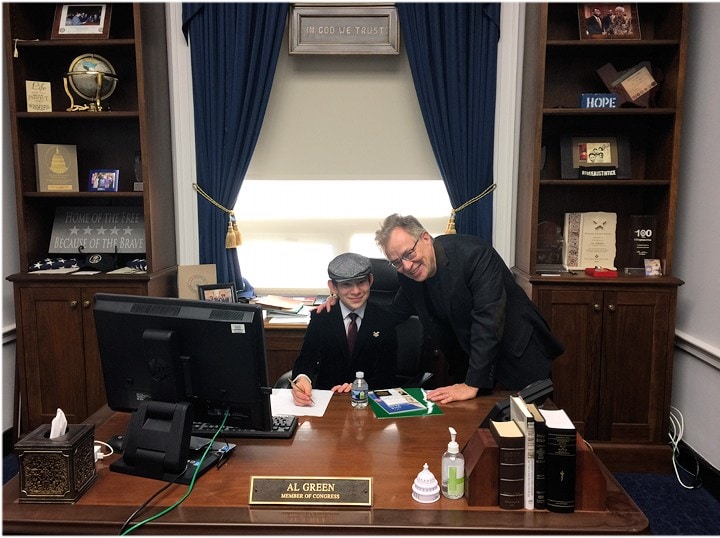 By L.A. "Tony" Kovach – for MHProNews.com.
Tony earned a journalism scholarship and earned numerous awards in history and in manufactured housing.
For example, he earned the prestigious Lottinville Award in history from the University of Oklahoma, where he studied history and business management. He's a managing member and co-founder of LifeStyle Factory Homes, LLC, the parent company to MHProNews, and MHLivingNews.com.
This article reflects the LLC's and/or the writer's position, and may or may not reflect the views of sponsors or supporters.
Connect on LinkedIn: http://www.linkedin.com/in/latonykovach
Related References:
The text/image boxes below are linked to other reports, which can be accessed by clicking on them.