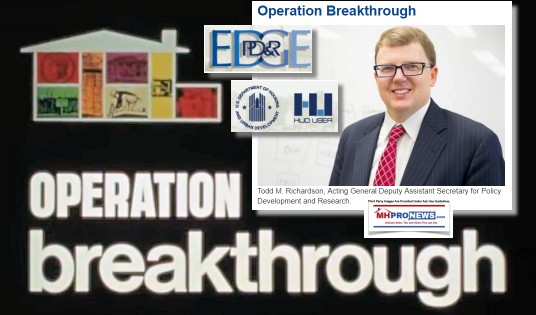 "Factory production can be achieved not only by complete factory production of housing units as in manufactured housing, but also with factory production of increasingly sophisticated building components that are then assembled in the field into traditional single and multifamily housing," – Todd M. Richardson in Operation Breakthrough (reproduced below, including a video).
It's an example of your federal tax dollars at work.
The project was deemed a failure, but it also provided lessons to be considered today.
It was likely Barry Cole, past chairman of the RV MH Hall of Fame – and himself a Hall inductee – who first brought Operation Breakthrough to the attention of MHProNews. Cole's exclusive interview is linked here.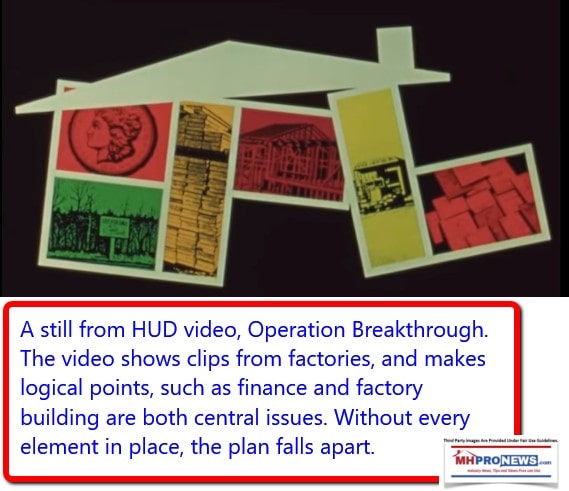 From time-to-time since Cole's head's up, Operation Breakthrough pops up as the Daily Business News is researching various topics.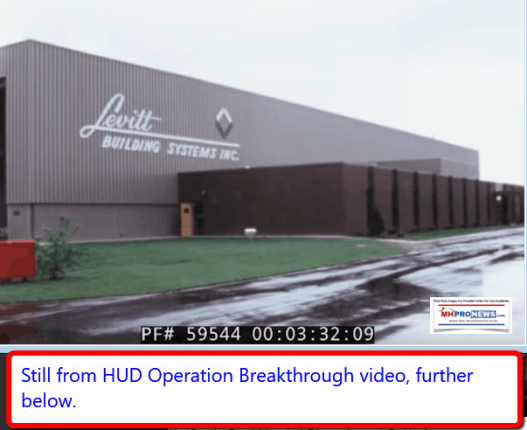 One can summarize the Housing and Urban Development (HUD) test in various ways. The way HUD's Richardson summarized it, along with a video produced at the time, are shown below in its entirety. So, "We Provide, You Decide." ©
These are among the keys MH Industry professionals and investors should consider.
There was a public/private effort made to create more affordable housing.
The project began in during the mobile home era; meaning, prior to June 15, 1976.
The quality of housing then was different than today. That's true for conventional housing, or comparing the mobile homes of that era to the contemporary manufactured homes built today.
The logic of all forms of factory- and industrialized-building is affirmed in the report that follows.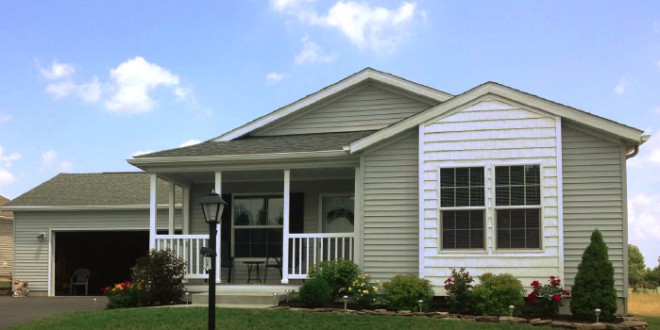 Industry professionals and investors ought to be mindful that HUD Secretary Carson has sung the praises of manufactured homes, saying the evolution from the mobile home era until today has been "amazing!"
The manufactured and modular housing industries should not denigrate mobile homes. They must be understood and portrayed as they were. They were a step from the evolution of trailer houses, to mobile homes, to the early HUD Code manufactured housing units, to contemporary manufactured homes.
It's arguably as foolish and short-sighted to condemn mobile homes, as it is to condemn the bag phones used decades ago, that evolved into the smart phones hundreds of millions use daily.
https://www.manufacturedhomelivingnews.com/evolutionary-american-dream-from-tiny-trailer-houses-mobile-homes-to-amazing-modern-manufactured-homes/
There is an affordable housing crisis that's so obvious that no one on the left-right political divide denies it.
Conventional builders can't touch the manufactured housing price-point. Nevertheless, manufactured homes are outsold by conventional builders by a huge margin.
The HUD Code manufactured home industry's top 4 builders by volume – soon to consolidate into 3 companies – produce 80 percent of all the industry's homes. Those three builders are all members of the Manufactured Housing Institute (MHI). Where is the leadership to address the underlying issues that have held the industry back?
Clearly, the MHI videos and social media have not moved the needle, no matter what they tell you about clicks (have you ever heard of click farms?). The facts remain, new home shipments are only advancing marginally, and at nothing like the pace needed or possible.
For those who point to the Ducker Worldwide research as the reply to what MHI is doing, state association executives commenting to the Daily Business News, and industry veterans like Marty Lavin pooh-poohed that MHI effort before it was launched.
The fact that reportedly 2/3 of MHI's own Congress and Expo attendees left the presentation before it was over should speak volumes.
https://www.mhmarketingsalesmanagement.com/blogs/daily-business-news/manufactured-housing-institute-walk-out-cover-up-and-shock-at-their-vegas-event/
Is MHI's failure due to institutional incompetence?
Arrogance?
An unstated agenda?
What explanation can be given for the gap between what Harvard Eric's Belsky, a GSE and others expected from manufactured housing and the realities today?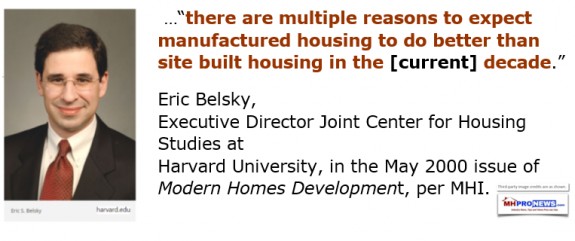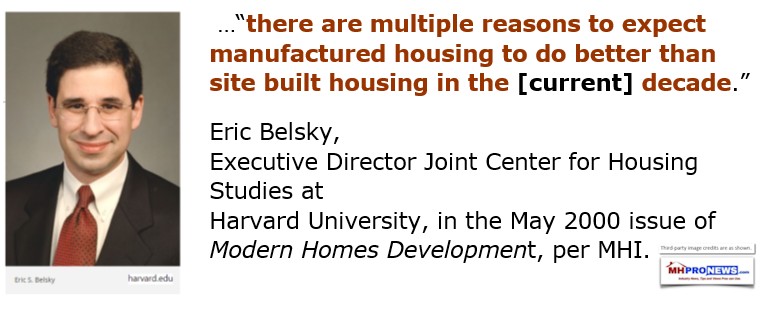 Is it any wonder that the AZ and NV associations stated in writing why they're launching an alternative to MHI? Or why MHARR has promoted a post-production association for retailers, lenders, and other industry segments?
While the bulk of the industry's arguably spin-filled, and weaponized messages from MHI spews forth an endless stream of vomitus mass, HUD and Congress have periodically help set the foundation for industry growth. They did so largely through the efforts of independents.
Read the full article by HUD's Todd M. Richardson, reproduced below.  Keep in mind that HUD Secretary Carson said "I hear you" – the industry –  and pledged a "new era of cooperation."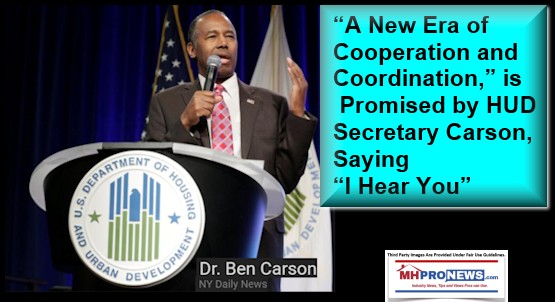 As a professional or investor – ask yourself the following. Why isn't manufactured housing producing 500,000 to a million units annually?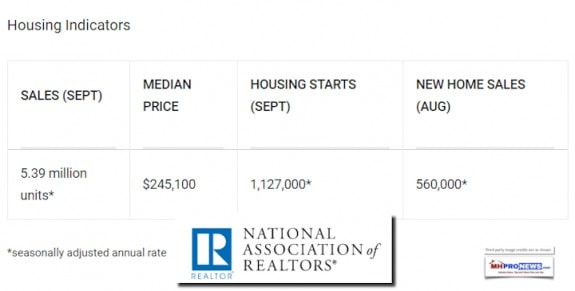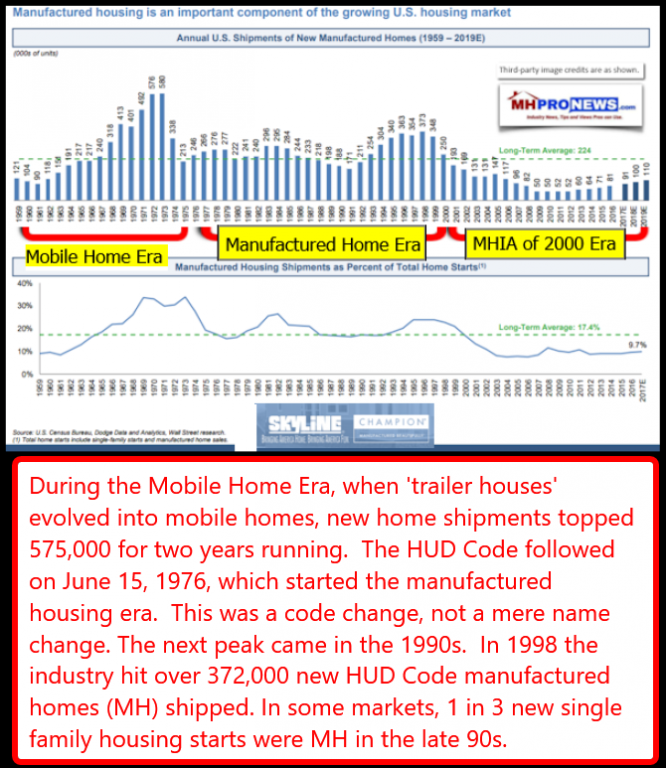 Of course, modular construction and other methods ought to be part of the mix where appropriate. But part of the point in our flashback reports is to demonstrate that what has been done and envisioned before, could be done once more, and more effectively today.
There is no other ethical way than to build our way out of the housing crisis.
NAR's Lawrence Yun Raises Alarm for New Housing Crisis, MH Import?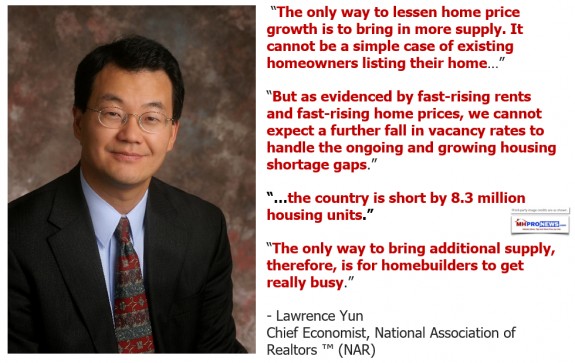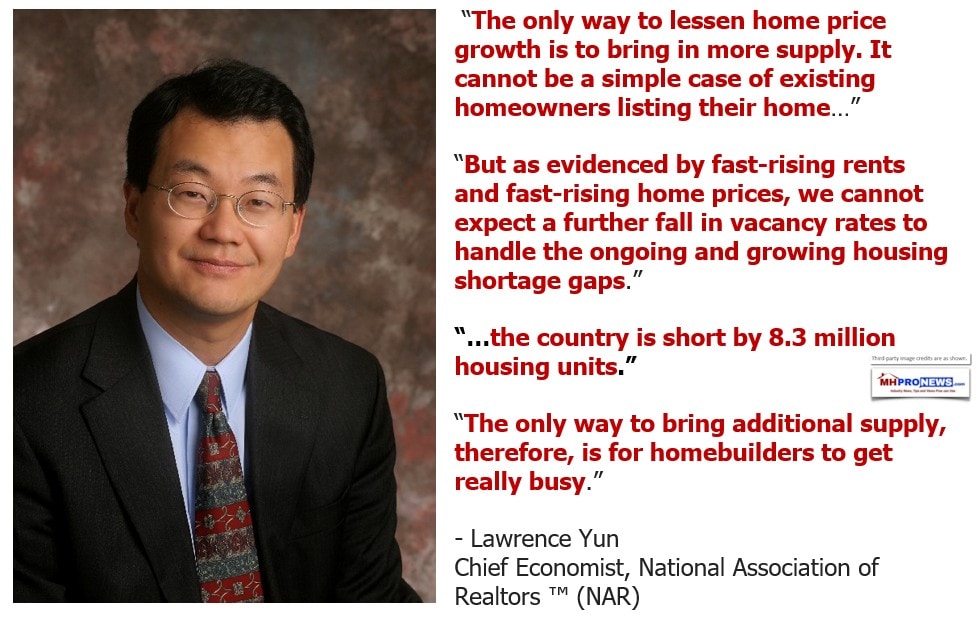 Robust factory-building requires vision, commitment, and a clean break with those inhibiting forces that have held the factory-built housing industry back.
With that commentary, here's HUD's Operation Breakthrough.
—————– Operation Breakthrough —————–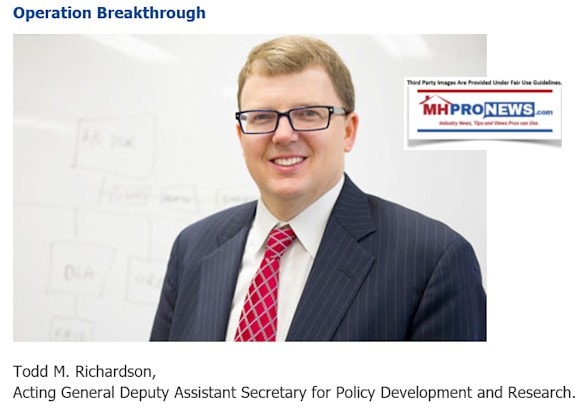 Periodically, I find it helpful to look back at the early days of the Office of Policy Development and Research (PD&R). You may recall my post on the Housing Allowance Experiment that inspired what is today's Housing Choice Voucher program.
Today's post is about a very different PD&R demonstration, a massive effort to change how we build housing in the United States. In the late 1960s and 1970s, PD&R ran a demonstration called Operation BREAKTHROUGH. According to then-Assistant Secretary for PD&R Michael Moskow in 1974, "The Department of Housing and Urban Development launched Operation BREAKTHROUGH in 1969 to stimulate volume production of quality housing for all income levels. Factory building offered a logical means — then as it does now — for the housing industry to grow and progress. We set ambitious objectives for that growth. BREAKTHROUGH tested many techniques of industrialization." The demonstration is well documented in this report from our archives that we have posted on HUDUSER.gov.
This demonstration involved complex partnerships with multiple "Housing System Producers" (including General Electric and Alcoa) and "Prototype Site Developers" (including the Boeing Company). The report states that between 1971 and 1973, "on the nine prototype sites are 2,938 housing units, 2,794 representing BREAKTHROUGH systems…. Those producers, assigned to 44 separate parcels or micro-sites, erected a variety of single family and multi-family dwelling types. There are 45 different combinations of producer and type…."
Probably almost as interesting as the technology and site plans was the financing. Some of the financing tools used in the 1970s were different from the ones used today, although some have remained the same. This report provides some reminders of past practice. HUD contributed in multiple ways, such as providing mortgage insurance and housing subsidy contracts. Notably, in 1971 Congress funded $30 million ($192 million in 2017 dollars) toward PD&R's Research and Technology Account to subsidize various aspects of the demonstration.
If you are interested in how these developments look today, I have linked to their approximate location in Google Maps. The report noted above provides site plans so that you can compare their current state to the 1970s site plans, including which housing system producer was associated with each section of the development. Unfortunately, not all the sites have Google Street View images, but for those that do, it is interesting to take a virtual walk through the community. The St. Louis site seems to have been demolished. The Sacramento site appears to be partially demolished, probably because of the many problems with the units documented in the HUD report. The other sites appear to have fared very differently over the more than 40 years since they were developed. In most of the sites, the architecture is notably different than that of other housing in the community.
Kalamazoo, Michigan.

 New Horizon Village (245 units by 7 producers): No Street View available.

St. Louis, Missouri.

 LaClede Town (464 units by 4 producers): As best as I can tell, this site was demolished in the late 1980s, and it looks as though St. Louis University has redeveloped the site.

Macon, Georgia.

 Crystal Lake (287 units by 6 producers): Partial Street View available.

Sacramento, California.

 Greenfair (407 units by 7 producers): Street View available.

King County, Washington.

 Lendemain (178 units by 4 producers): Street View available.

Memphis, Tennessee.

 Edison Park (518 units by 4 producers): Satellite view only.

Jersey City, New Jersey.

 Summit Plaza (486 units by 3 producers): Street View available

Seattle, Washington.

 Bryant Manor (58 units by one producer): Street View available.

Indianapolis, Indiana.

 Park Lafayette (295 units by eight producers): Street View available.
When the National Academy of Sciences reviewed PD&R in 2008, it summarized the core lessons from Operation BREAKTHROUGH as follows:
A series of demonstration houses were constructed, but most of the proposed systems did not advance to commercialization. Overall, the initiative proved ineffective and ended in the late 1970s. In citing Nelson and Langlois (1983), the National Research Council (2000, p. 7) noted: "the lessons learned from Operation Breakthrough and other federal R&D projects are that successful programs have the following characteristics: association with government procurement or some other well defined public-sector objective; support of defined, nonproprietary research guided by a scientific community; and an institutional structure that allows potential users to guide the program." Operation Breakthrough's failure was attributed to the attempt by government to introduce technologies in an arena in which it had no procurement interest.
However, one generally unrecognized success of Operation Breakthrough is the recent marketplace acceptance that increased factory production of housing improves construction efficiency, quality, and affordability. Factory production can be achieved not only by complete factory production of housing units as in manufactured housing, but also with factory production of increasingly sophisticated building components that are then assembled in the field into traditional single and multifamily housing. The latter concept of factory production has grown dramatically in the last two decades. The structural building component industry consisting primarily of factory-built wood trusses and walls has grown in sales in a decade by over 120 percent, from approximately $6.9 billion in 1996 to $15.3 billion in 2006 (SBC Legislative, 2007). The leadership shown in developing an idea that has continued to grow in the housing industry can be viewed as an Operation Breakthrough success. But, it is important not to overlook the lesson that the government's role in sponsoring research and technological leadership has boundaries that must be compatible with marketplace conditions.
—- end of Operation Breakthrough by HUD User Edge —–
The video originally produced back during the Operation Breakthrough era – referenced above – is posted below.
"We Provide, You Decide." © ## (News, analysis, and commentary.)
(Third party images, content are provided under fair use guidelines.)
Related Reports:
https://www.mhmarketingsalesmanagement.com/blogs/daily-business-news/gse-asked-will-manufactured-housing-overtake-conventional-homebuilding/
https://www.mhmarketingsalesmanagement.com/blogs/daily-business-news/two-great-laws-already-on-the-books-now-can-unlock-billion-annually-for-manufactured-housing-industry-businesse-investor/
Smoking Gun 3 – Warren Buffett, Kevin Clayton, Clayton Homes, 21st Mortgage Corp Tim Williams – Manufactured Home Lending, Sales Grab?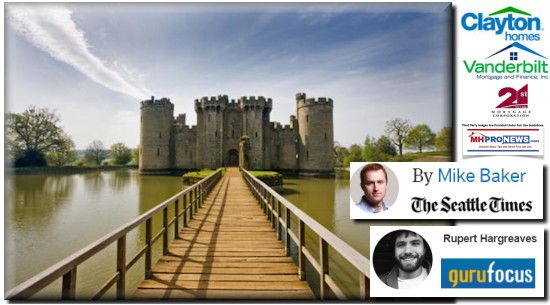 HUD's New Man, Officials Statements, with Insider Info Beyond the Media Releases
Greener, Stylish Manufactured Homes – Hidden Facts in the Washington Post Manufactured Housing Narrative
Progressive "Nation" Reports on Monopolies Cites Buffett, Clayton, Others – MH Industry Impact?
'Tip of Iceberg' – Rick Rand; Marty Lavin, Communities have 'No Confidence' in Manufactured Housing Institute, New National Trade Group Announced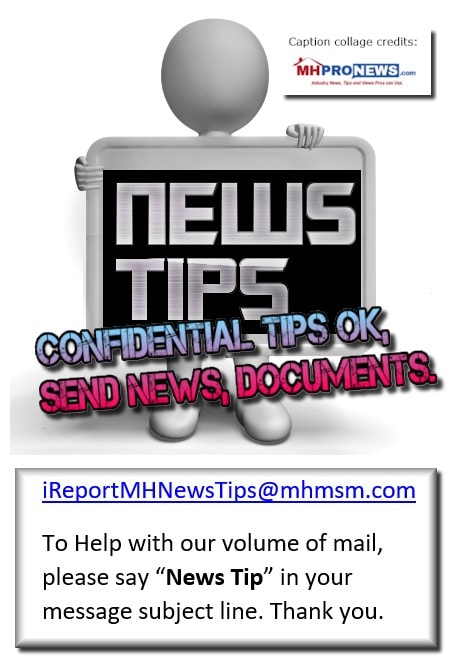 1) To sign up in seconds for our MH Industry leading emailed news updates, click here.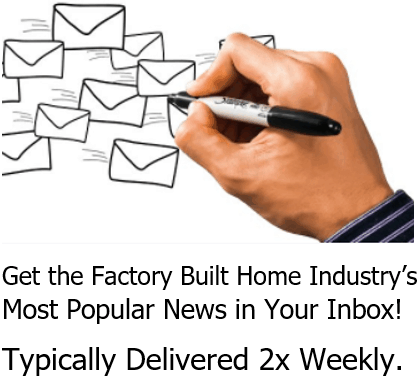 2) To provide a News Tips and/or Commentary, click the link to the left. Please note if comments are on-or-off the record, thank you.
3) Marketing, Web, Video, Consulting, Recruiting and Training Resources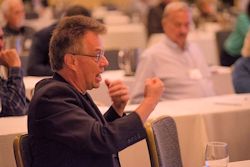 By L. A. Tony' Kovach, publisher of MHProNews.com.
Tony is the award-winning managing member of LifeStyle Factory Homes, LLC, the parent company to MHProNews, and MHLivingNews.com.