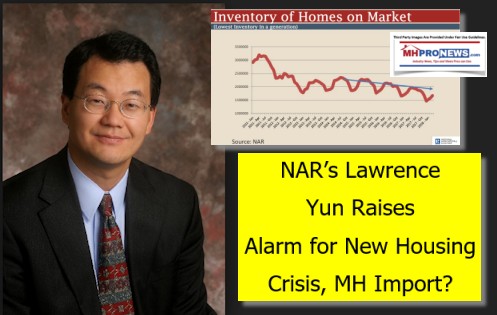 "The housing industry today is facing a different kind of crisis:
not enough homes for sale."
– Lawrence Yun, Forbes Contributor.
"A decade ago, the housing sector was in a mess. The mistakes of easy subprime lending resulted ultimately in the catastrophic collapse of the housing sector. Home values collapsed by a third nationwide, and the inventory of unsold homes spiked to unprecedented heights. Miami, for example, at one point was said to have 30 years of housing inventory." – said Lawrence Yun, Forbes contributor and chief economist for the National Association for Realtors (NAR).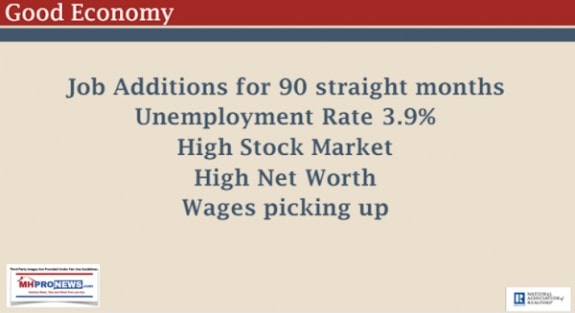 "Fortunately, after many years of sobering up, with proper lending and consistent job creations in the economy, the housing market has regained some health, with higher home sales and a very low foreclosure rate. However, the industry today is facing a different kind of crisis: not enough homes for sale," Yun wrote just days ago.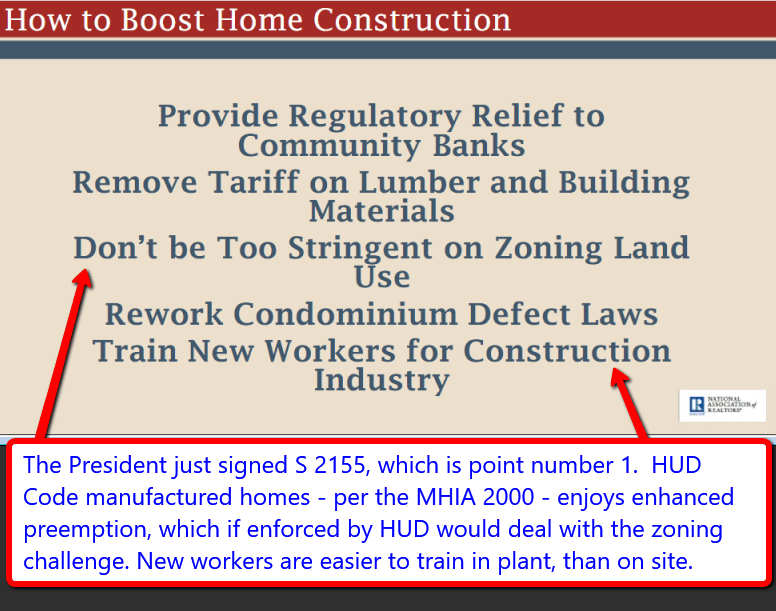 "The inventory of homes on the market last year in 2017 was one of the tightest ever. In early 2018, it is even worse. In the first quarter, the number of homes on the market averaged 1.59 million, which is down 8.4% from the same period one year ago," Yun stated. "Strictly focusing on single-family home listings, this is the lowest inventory since the tracking of the data from the early 1980s."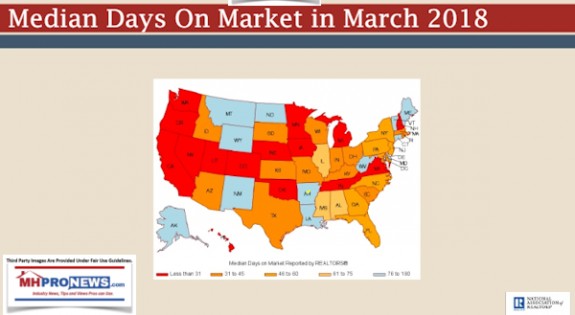 "This acute housing inventory shortage has fired up home prices. The median home price has risen by 40% in the past five years and is still rising strongly, with a 6% annualized gain in March. Such a rapid gain in home values at a time when wages are rising by only 2% to 3% a year is measurably cutting into affordability. With the Federal Reserve set to raise its short-term interest rates several more rounds over the next two years and unwind some of its prior asset purchases, longer-term interest rates, including that of mortgages, will surely rise and hence further hamper affordability," the NAR economist stated.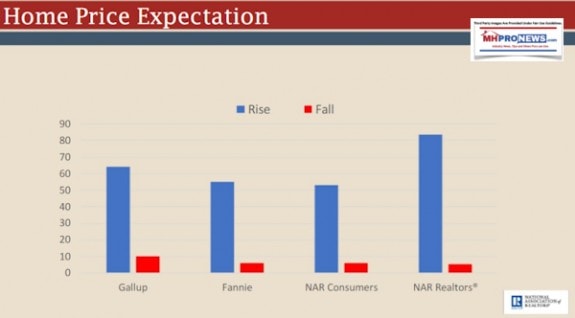 "Interestingly, though, home-buying demand remains super-robust. The steady build-up in household formations following the recession continues. Many of the new households have not purchased a home, as evidenced by the still historically low homeownership rate," Yun explained, adding, "Pent-up housing demand, therefore, is large."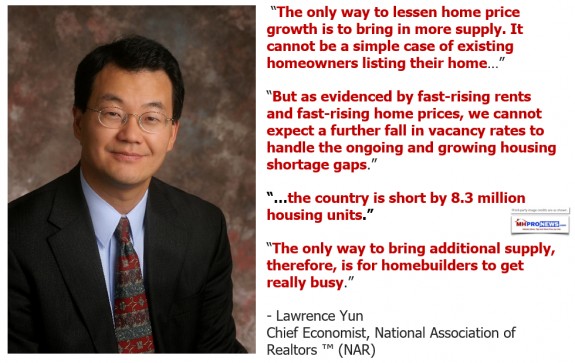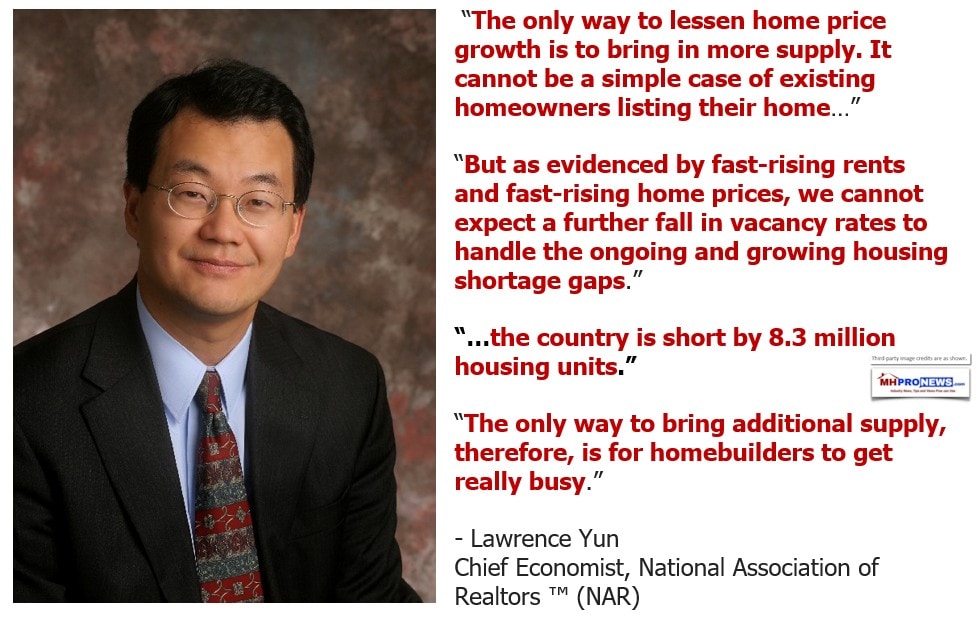 Not New, but Important to MHVille
The Daily Business News has reported on Yun's keen real estate and housing insights for years.
His previously published statements include the quote below, where he says that builders must get busy to get beyond the current housing crunch.
This ought to be a no-brainer for factory-built housing professionals.  But due to years of several different internal industry issues, coupled with regulatory challenges, and public perceptions, manufactured housing has been kept at historically low ebb.
Now, emerging technology could be poised to supplant modular and some of the potential output of manufactured housing industry professionals (see related reports, further below.)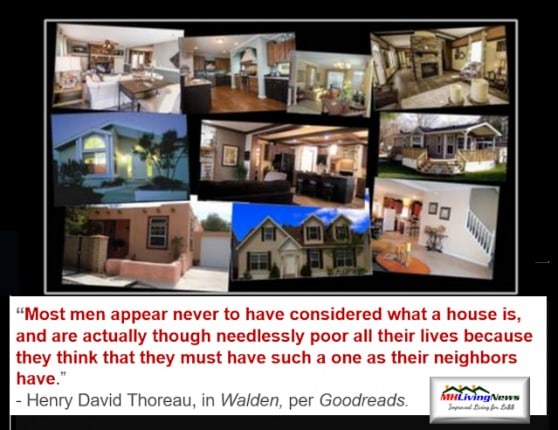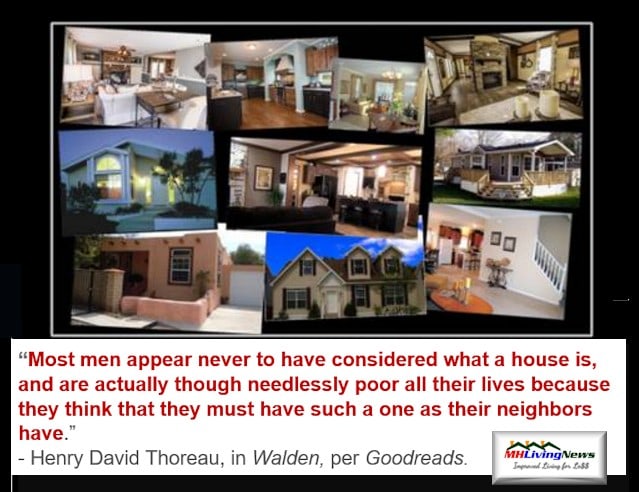 The realities undercut some of the logic that the Manufactured Housing Institute (MHI) Ducker Worldwide concepts have called for, and their so-called "new class" of manufactured homes.
The image issues from an ongoing series of largely unrebutted industry issues rounds out the problems faced by manufactured housing.
Part of the opportunity-in-disguise must be the investment by industry pros at the location level of the time, talent, and treasure to tap the opportunities provided by an 8.3 million affordable housing units needed.
Another element of the solution ought to be the establishment of new, post-production representation of the independent companies of the industry.
Today we'll keep it shorter than normal, because we want you to be able to focus on the infographic and data provided below. We could sum this up like this. There is a lot of misinformation about modern manufactured homes, starting with terminology. From there, one can move on to issues of quality, durability, appreciation, and more.
What arguably won't work is more of the same.  The status quo on a range of issues has led the industry's homes to the status of 3rd, 4th or 5th choice housing for millions.  When the industry's quality is better than its ever been, it is incongruous.
Yun's recent presentation of 2018 housing data, from which the slides above are taken, is found at the download linked here. "We Provide, You Decide." © ## (News, analysis, and expert commentary.)
(Third party images, and cites are provided under fair use guidelines.)
Related Reports:
High-Rise Manufactured Home Stackable Towers, Compete with Modular/PreFabs, Density at Lower Cost
GSE Asked: Will Manufactured Housing Overtake Conventional Homebuilding?
George Allen Blasts MHI, NCC Ignoring Own, Spencer Roane, SECO, COBA7, Tom Lackey Controversies
Code of Conduct – Good or Bad News, and Home Selling – Monday Morning Manufactured Housing Sales, Marketing Meeting
Emerging Building, Construction Technologies Poised to Disrupt Housing, Developing, and More
Survey Top 2017 PreFab, Modular, Tiny and 3D Printed Housing News Stories
Clayton Homes, Top 25 Manufactured Housing Industry Report, Trend Lines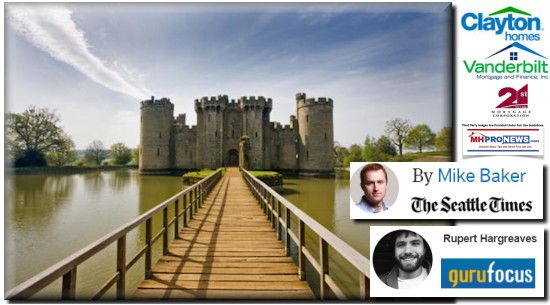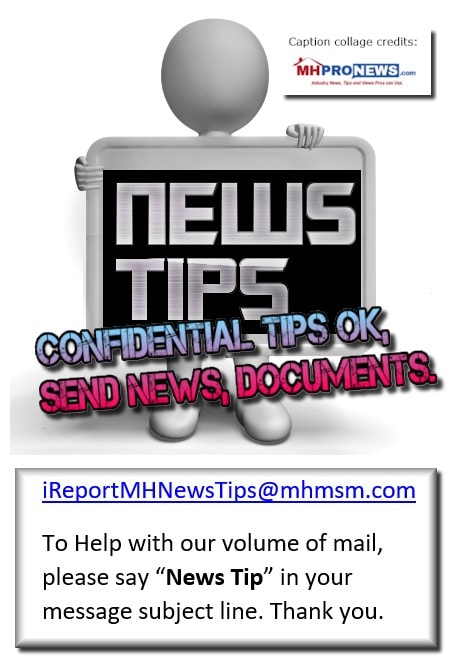 1) To sign up in seconds for our MH Industry leading emailed news updates, click here.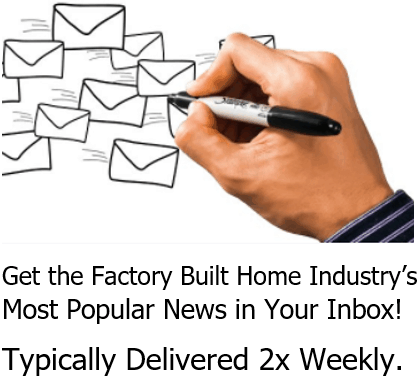 2) To provide a News Tips and/or Commentary, click the link to the left. Please note if comments are on-or-off the record, thank you.
3) Marketing, Web, Video, Consulting, Recruiting and Training Resources

Submitted by Soheyla Kovach to the Daily Business News for MHProNews.com.
Soheyla is a managing member of LifeStyle Factory Homes, LLC, the parent company to MHProNews, and MHLivingNews.com.