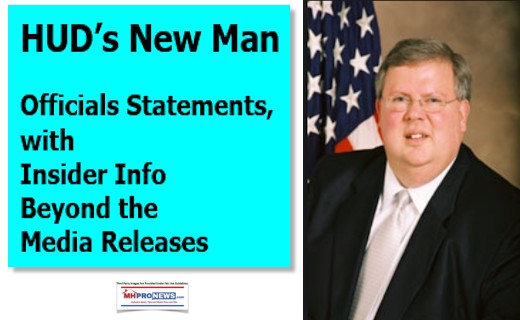 HUD has a new man in a significant role at HUD. We will get into the various "official" statements about Brian Montgomery. But we begin with a backgrounder.
Mr. Montgomery has a track record, and the question industry professionals must answer is simple. Will he operate as he did during his time in the Bush era and first few months of the Obama Administration? Or will he operate more akin to what the Trump Administration standards are?
Those are multi-billion-dollars-a-year questions for the independent businesses in manufactured housing.  It is also potentially a multiple-trillion-dollar economic growth opportunity for the Trump Administration, if Mr. Montgomery does his job properly.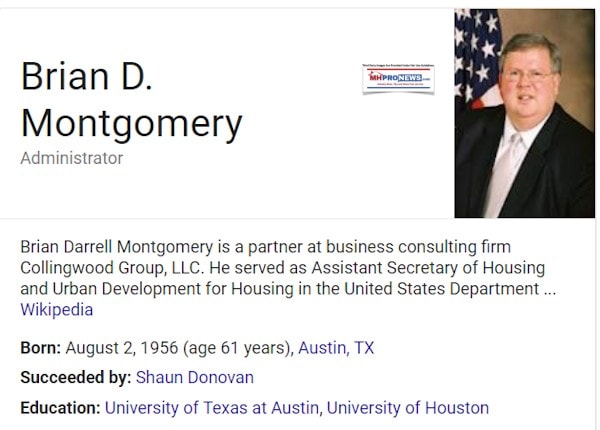 The answer to those questions will determine who will replace Pam Danner in her former role as administrator over the HUD Code Manufactured Housing Program.
The answer to those questions will determine if HUD finally implements a robust use of FHA lending, removing the problematic Title 1 "10-10" rule.
The answer to those questions would lead to sound cost-benefit analysis of all regulations, contracts and procedures.
And of course the all-important enhanced preemption that could unlock billions for the industry, and an estimated $2 trillion dollars in U.S. economic growth potential.
YIMBY vs. NIMBY, Obama Admin Concept Could Unlock $1.95 Trillion Annually, HUD & MH Impact
Insider Info, Setting the Table
A federal official told MHProNews that it is useful to understand the true nature of how the federal government has operated for decades.
Think of Washington like a huge till that lobbyists, businesses, and organizations seek to 'legally' take money — all at taxpayer expense.
D.C. operates like a cash register that once unlocked, can yield significant-to-huge payoffs to those who gain access.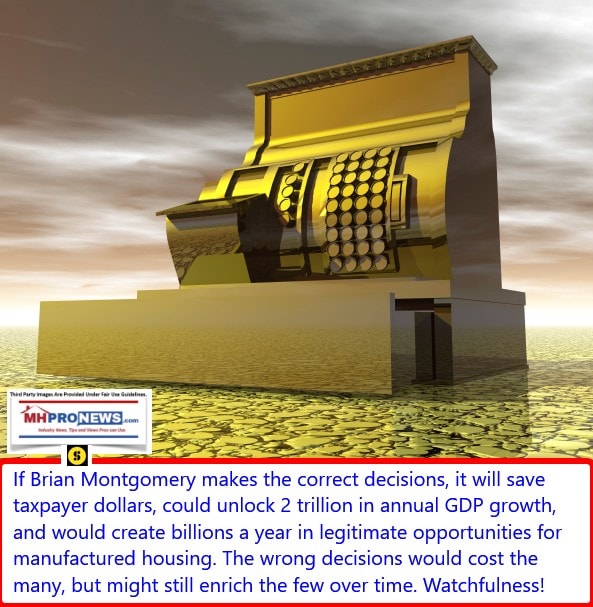 That's why lobbying exists.
That said, when MHI is championing someone –
– is that person supported by MHI one to watch more closely? Or is MHI supporting someone to curry favor with Montgomery, because he is the president's pick, and a foregone conclusion?
The Manufactured Housing Association for Regulatory Reform (MHARR) has remained silent on this matter. Perhaps they are taking a wait and see position on Montgomery?
Keep in mind that MHI's most prominent puppet-masters are the Berkshire Hathaway owned brands. Berkshire Chairman Warren Buffett made it no secret about the fact that he strongly opposed the Donald J. Trump candidacy, while publicly supporting Secretary Hillary Clinton.
Based upon her own pledges, Ms. Clinton would not have supported measures such as S 2155.
We can editorially agree with Buffett and his vice-chairman, Charlie Munger on a few key points. Reading – not skimming – is necessary to understanding. The lessons of history are not to be overlooked. One must deeply ponder not just words, but deeds.
Ironically, the Buffett-Munger view on reading deeply is similar to a Donald Trump maxim. The 45th president believes that it pays to know as much as you can about something that impacts your business.
After a decade of failed Arlington 'leadership,' the industry can't afford to leave this issue to chance.
If Montgomery operates in a Trumpian fashion of no-unnecessary regulations, and
if he will boost the industry's access to credit independent of Berkshire Hathaway brands, terrific.
But if not, then it is crucial that his actions be monitored.  In that scenario, Secretary Carson, and the White House will need to be alerted.
Pam Danner found implicit, de facto support from MHI team members, per our sources inside and outside of MHI. Danner got that support from MHI team members before she took the role.
MHI's prior statements on Montgomery are found as a download, linked here.  Always be mindful of the above as you read this or any other MHI statement.  Keep in mind the Marty Lavin maxims: pay more attention to what people do than what they say, and follow the money.
Be mindful to that forwarding or posting correct information is useful to others. By contrast, anyone can forward an email or post a link about an undigested narrative. A proper analysis requires a range of insights and inputs, one that separates the wheat from the chaff.
Stating the obvious, the Washington, D.C. swamp is complex. Montgomery's appointment could work out fine, or it could be problematic. Time will tell.
But the good news is that President Trump has shown his willingness and ability to pivot on an appointment that is not working out for his agenda to grow business, jobs, and raise the standard of living for millions of Americans of all backgrounds.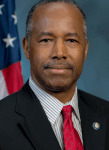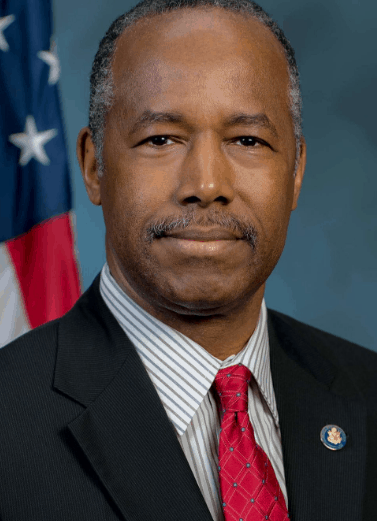 Secretary Carson has called the regulations under Danner's term over the Office of Manufactured Housing Programs (OMHP) "ridiculous."  If Secretary Carson and the Trump administration work closely with Montgomery so that the president's agenda is carried out, then this could be a positive.  Again, time alone will tell.
Unlocking the full power of the Manufactured Housing Improvement Act, especially enhanced preemption, could create millions of new affordable homeowners while reducing federal housing subsidies over time.  So, the Montgomery appointment must be carefully monitored.
Two Great Laws Already on the Books NOW,  Can Unlock Billion$ Annually for Manufactured Housing Industry Businesse$, Investor$
Clues to watch? 
If Montgomery removes the onerous "Ten-Ten" rule over FHA Title 1 chattel lending, that would be a good sign that he is not under the undue influence of Berkshire Hathaway brands.
Another will be who Montgomery and Secretary Carson appoint to fill the Danner vacancy.
If Montgomery – who will be more hands-on over the manufactured housing program and FHA loans than Secretary Carson – "enforces the law" and promotes businesses and jobs, per the Trump Administration mantra, then this will be an appointment to be celebrated. But that must be based upon deeds, not promises. We don't need another four years of the debatably disastrous Pam Danner style era.
With that backdrop, what follows below is the formal release from HUD to the Daily Business News.


SENATE CONFIRMS BRIAN MONTGOMERY TO LEAD FEDERAL HOUSING ADMINISTRATION
WASHINGTON – By a vote of 74-23, the U.S. Senate today confirmed President Donald J. Trump's nomination of Brian D. Montgomery to serve as Assistant Secretary of Housing at the U.S. Department of Housing and Urban Development (HUD) and Commissioner of the Federal Housing Administration (FHA).
Montgomery's confirmation marks his second term as Assistant Secretary for Housing and FHA Commissioner at HUD.  He previously held the job under President George W. Bush, staying on for six months after President Barack Obama's inauguration.
"Brian brings a wealth of housing knowledge and experience to HUD having held this position in two previous administrations, and we are excited to welcome him back to the Agency," said HUD Secretary Ben Carson.  "FHA's work is critical to HUD's mission of advancing sustainable homeownership opportunities and quality affordable housing for all Americans.  Brian understands this better than anyone and will be ready on day one to address the challenges of today's housing market."
"I'm honored to have the opportunity to serve with Secretary Carson and the team at HUD to further equal access to affordable rental housing and homeownership opportunities and seek solutions to restore vitality to the housing market," Montgomery said.
In addition to previously serving in the position, Montgomery has also held several other top positions throughout the government and housing industry, including Co-founder and Partner at the Collingwood Group, Deputy Assistant to the President from 2001 to 2003 including service as Secretary to the Cabinet from 2003 to 2005, and Board Member on the Federal Housing Finance Board, the Housing and Economic Recovery Act of 2008 Oversight Board, and NeighborWorks America Board.
Montgomery was nominated by President Trump on September 12, 2017. Today's full Senate vote comes six months after the Senate Banking, Housing and Urban Affairs Committee approved Montgomery's nomination. The full text of his congressional testimony can be found here. [1] ###
Watchfulness. "We Provide, You Decide." © ## (News, analysis, and commentary.)
(Third party images, content are provided under fair use guidelines.)
Related Reports:
Greener, Stylish Manufactured Homes – Hidden Facts in the Washington Post Manufactured Housing Narrative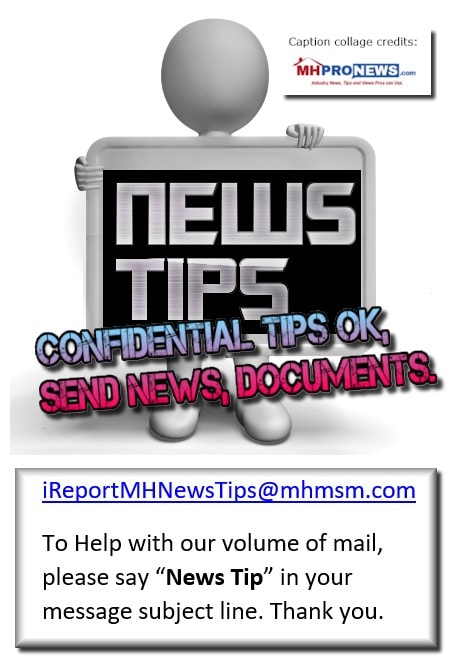 1) To sign up in seconds for our MH Industry leading emailed news updates, click here.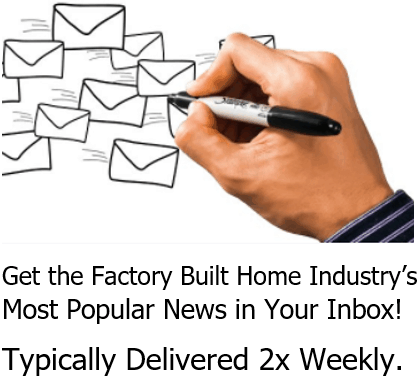 2) To provide a News Tips and/or Commentary, click the link to the left. Please note if comments are on-or-off the record, thank you.
3) Marketing, Web, Video, Consulting, Recruiting and Training Resources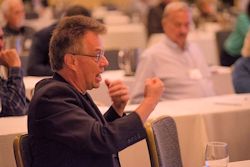 By L. A. Tony' Kovach, publisher of  MHProNews.com.
Tony is the award-winning managing member of LifeStyle Factory Homes, LLC, the parent company to MHProNews, and MHLivingNews.com.