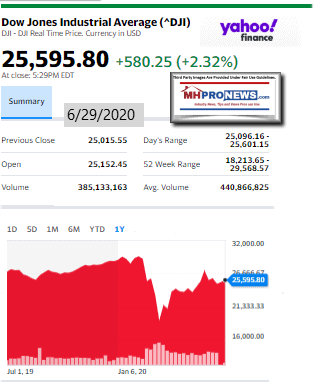 Two headlines in our left-right media evening recap are worth spotlighting before pivoting to our headline topic.
Advertise with MHProNews to be seen
·        Dow surges thanks to Boeing and strong home sales 
·        Warren Buffett doesn't need the Fed's help. But he's getting it anyway
Buffett is often a hot topic on both sides of the left-right media divide. We expect the new report linked here and again further below to be one of those hotter read reports and fact-checks.
Buffett makes a useful segue to the headline topic.
There is no single silver bullet to stopping the monopolization of America. But certainly antitrust law is one of the legal tools available. There are a growing number of voices across the left-right divide that have spoken out about the contemporary problems of monopolistic power in a range of industries and professions.
While many of these focus on the tech giants, such as Facebook, Apple, Amazon, Netflix and Google – the so-called FAANG stocks – MHProNews has made the argument that at a minimum, Berkshire Hathaway and Microsoft need to be added to that list of problematic players. So not just FAANG, but FAANGBM. Certainly, other firms should be considered, such as Walmart.
Why Does it Matter? How Does the Topic of Monopolization and Antitrust Impact You or Your Investing?
In a phrase, monopolistic power limits competition, routinely costs jobs, and in the modern era limits profit making opportunities. Ironically, while some may 'benefit' short term, the case can be made that they could earn more long term when the threat of monopolization is minimized.
Here is one of the ways that Scott Galloway, professor from New York Stern, phrased it. While he focused his comment on tech, the same principle could be applied to affordable housing in general and manufactured homes in particular.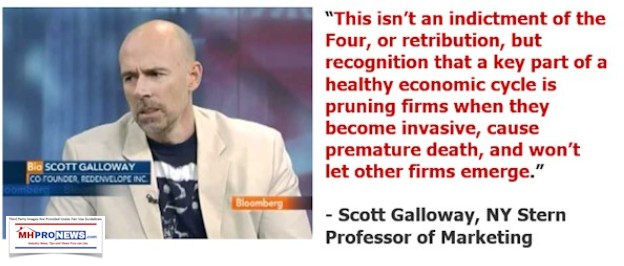 In decades gone by, monopolization of a given market often meant that higher prices could be charged for certain goods or services. Some went so far as to argue that antitrust – i.e. ant monopolization laws – should focus on that aspect of the problem.
But it has become increasingly obvious in recent years that the low price measure of a company or small group of companies isn't necessarily good for the marketplace in the middle to long-term, even if it may seem to benefit consumers in the short run. Examples of that are Google and Facebook. They are free, you don't get a lower price than free. But the market power that has emerged from the monetization of personal data has driven score of independent media operations either out of business or forced them into a larger media network. The result? There is less diversity of news, and the loss of tens of thousands of jobs too.
Monopolization isn't a new problem. It has been part of global economic challenges for hundreds of years. It has had supporters – usually those who profit from it, and usually but not always more opponents.
Monopolization in the modern era is arguably limiting competition. That costs jobs, stifles innovation, and ultimately yields ever more power politically to a small group of individuals who run monopolistic conglomerates.
Industry leading publisher MHProNews has done several reports over the years about the problems of monopolization. One of them that explores issues noted above is linked below.
Saturday Satire and Executive Summaries for Manufactured Housing Professionals, Investors, Advocates, Researchers, Public Officials, and Investigators
It should be considered in the light of barriers of entry, maintenance, and exit.
Barriers to Entry, Persistence, and Exiting in Business, Affordable Housing, and Manufactured Homes
This evening's featured focus will bring together a collection of quotes from a variety of sources, which will be noted below. That will follow our standard quotable quotes, left-right media headline bullets, and two of the three market closing graphics.
The third market summary graphic which reflections the stocks at the closing bell that have ties to manufactured housing are found beyond the featured focus and related reports.
Quotes That Shed Light – American Social, Industry, National Issues…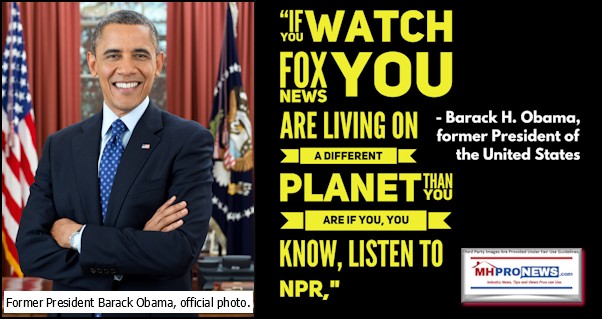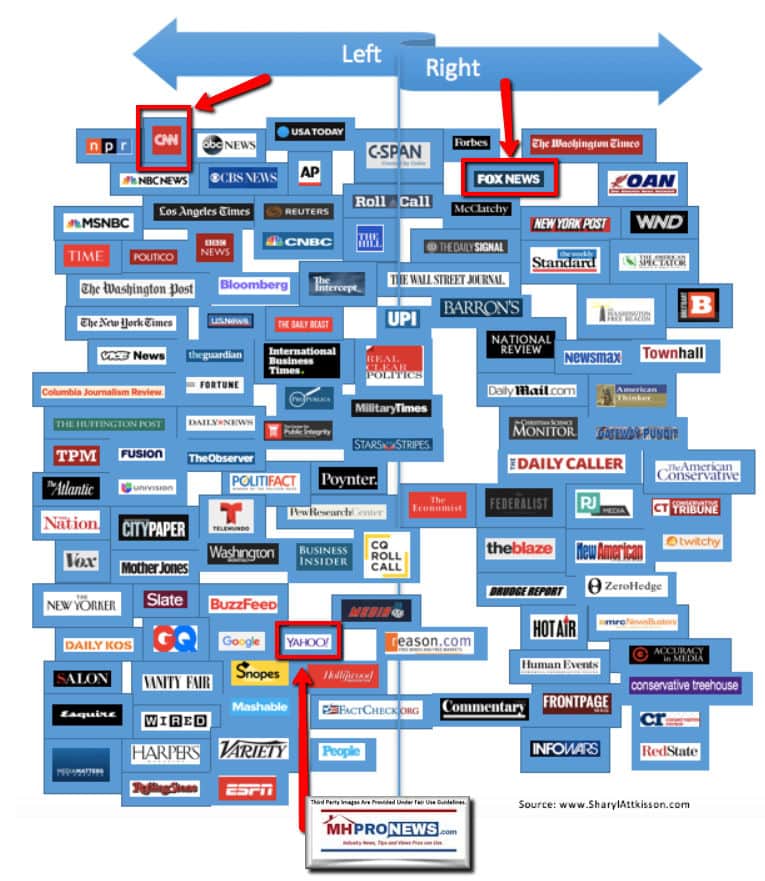 Headlines from left-of-center CNN Business
$500 million in bonuses
Amazon is giving one-time payouts to its front-line workers as a 'thank you'
Dow surges thanks to Boeing and strong home sales
Warren Buffett doesn't need the Fed's help. But he's getting it anyway
The Facebook ad boycott is starting to rattle investors
Top investor Bill Ackman wants to buy a unicorn
Lululemon to buy at-home fitness startup Mirror for $500 million
The housing market is showing signs of a comeback
Ford will let you return your new car if you lose your job
INTERACTIVE Track America's recovery
AMC delays US theater openings as it waits for summer blockbusters
Reddit bans pro-Trump forum The Donald
India bans TikTok as tensions with China escalate
Struggling at work? How to have tough talks with the boss
Costco stops selling its half-sheet cakes
Why police and insiders say Dollar General stores are robbery magnets
Dollar General is booming. That could be a problem
The pandemic will make dollar stores more dominant
Our pandemic shopping habits are here to stay
America just had its biggest monthly surge in retail sales. But that's not the full story
FACEBOOK BOYCOTT
The hard truth about the Facebook ad boycott
Facebook VP: We have no reason to allow hate speech
View the list of companies pulling ads
Facebook ad boycott gathers steam
Facebook will label more controversial content
Headlines from right-of-center Fox Business
SOCIAL MEDIA
Facebook slammed as scores of major retailers join boycott
Facebook faces corporate backlash over policies on hate speech, misinformation on platform.
Clorox pulls Facebook ads as boycott grows
NEWS
Dow jumps 579 points as Boeing boosts market
WATCH: Boeing's 737 MAX test flight is a success
Musk defends Tesla as Texas county considers millions in tax breaks to land 'gigafactory'
TESLA
Musk defends Tesla as Texas county considers millions in tax breaks to land 'gigafactory'
MONEY
Social Security is withholding income from seniors at the worst possible time
OPINION
Beware of these important red flags in home inspections
LOW FLYING STOCKS
AIRLINES
Goldman makes a grim prediction for the future of airlines
'WIDESPREAD CONFUSION'
IRS
Millions of taxpayers receive IRS notices with old payment deadlines
ON THE WARR PATH
POLITICS
Maria Bartiromo: This would be the top economic voice in a Biden admin
FREE SPEECH PLATFORM
SOCIAL MEDIA
Alternative social media Parler added 1M as people bail on Twitter, Facebook
STATE YOUR CASE
ECONOMY
I'm leaving Seattle for Texas so my employees can be free: Billionaire
CHANGES TO CFPB
MONEY
Supreme Court rules structuring of Warren's brainchild is unconstitutional
RESTAURANTS TO GO
LIFESTYLE
Coronavirus could close a staggering number of restaurants
THE WRONG CHEMICAL
PRODUCT RECALLS
Saniderm Advanced Hand Sanitizer recalled over potential toxic chemicals
'NO POLITICAL AGENDA'
RETAIL
Trader Joe's 'Karen' from viral video says there's more than meets the eye
NO CONTORTING IT
TRAVEL
Top Las Vegas strip attraction files for bankruptcy
LOUIS' ELITE
REAL ESTATE
Portland Place, where an armed couple confronted protesters: What to know
CAM'S KILLER CONTRACT
NFL
Cam Newton's Patriots contract worth this much if star QB hits incentives
MEDIA
AMC delays reopenings due to coronavirus-postponed blockbusters
HEALTHCARE
Saniderm Advanced Hand Sanitizer recalled over potential toxic chemicals
POLITICS
Democrats want John Wayne's name, statue taken off airport
TECHNOLOGY
New app ranks 142M American homes and properties by flood risk
TECHNOLOGY
Twitch suspends Trump for 'hateful conduct' violations
HEALTHCARE
Cuomo: New Yorkers will lose paid sick leave if they break this rule
MONEY
Some taxpayers face a desperate wait for refunds
RICH & FAMOUS
Mark Wahlberg-backed F45 gym franchise going public
TRAVEL
Coronavirus has forever transformed travel industry, Airbnb CEO says
LIFESTYLE
Big city mayor bows to pressure, unveils plan to slash $1 billion from cop budget
RICH & FAMOUS
'Full House' star, hubby pushed out of ritzy country club as members revolt
LEGAL
Ex-prime minister guilty of giving $1.13 million in public funds to wife, children
RETAIL
25 best American-made clothing companies for men and women
LIFESTYLE
Amazon, Lowe's to pay bonuses to essential workers
HEALTHCARE
Why remdesivir, upcoming COVID-19 drug, could cost a small fortune
LIFESTYLE
Broadway theaters to remain closed through early Jan. 2021 due to coronavirus
LEGAL
Supreme Court strikes down Louisiana abortion clinic law
REAL ESTATE
Number of Americans signing contracts to buy homes makes historic comeback
SPORTS
Colin Kaepernick bringing his story to streaming site with acclaimed director
NEWS
Customers lash out after downward-facing yoga studio apologizes for 'appropriation'
OPINION
Varney: Economy can't take a second coronavirus shutdown
POLITICS
China to impose visa restrictions on US individuals over Hong Kong
10 Market Indicator Closing Summaries – Yahoo Finance Closing Tickers on MHProNews…
Featured Focus –
Where Business, Politics and Investing Can Meet
Antitrust or antimonopoly laws and the notion of breaking up powerful companies is gaining traction.
Economic Recovery "Snapback," Ex-Facebook Exec Says Regulators 'Will Break Up Big Tech,' plus Manufactured Home Investing, Stock Updates
Reports like the ones above and below are reflections on that point.
"Antitrust is important…monopolies…major threat to our economy," Nick Tomboulides, plus Manufactured Housing Investing, Stock Updates
The current head of the Department of Justice Antitrust Division has said the following.
The following quotes are from across the left right divide and will be followed by additional ones from the source as shown.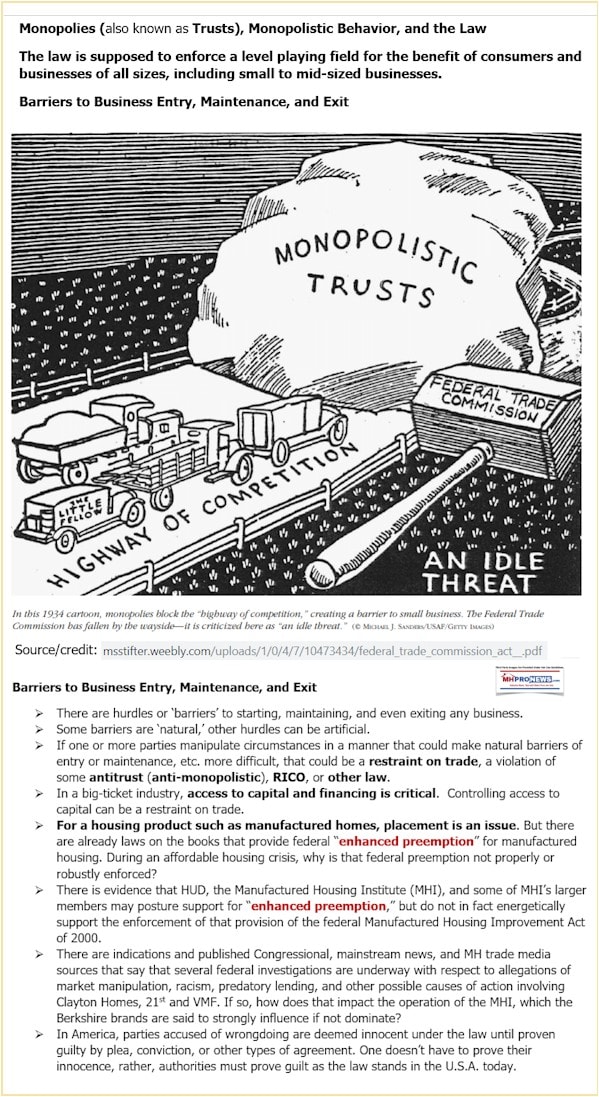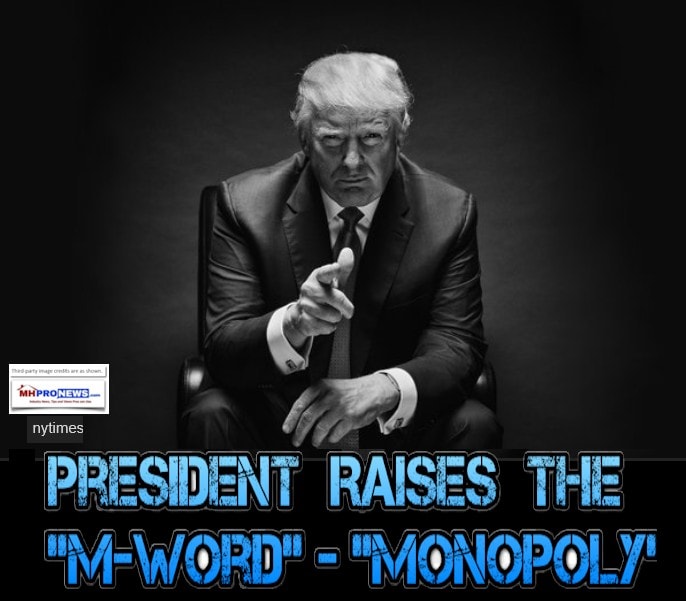 The history of antitrust law enforcement shows that successful antitrust prosecutions have often strengthened and brought vitality to extremely large companies and businesses. Robert Kennedy
Source: BrainyQuotes.
Antitrust is the way that the government promotes markets when there are market failures. It has nothing to do with the idea of free information. Bill Gates
Source: BrainyQuotes.
As attorney general, I would work with my colleagues in other states to launch a major antitrust investigation to look into the ways in which Facebook and Google are wielding and may be abusing their duopoly powers. Zephyr Teachout
Source: BrainyQuotes.
Changing technologies, changing marketplaces, and even changing trends in anti-competitive practices have all presented challenges to antitrust enforcement. Al Franken
Source: BrainyQuotes.
Antitrust law isn't about protecting competing businesses from each other, it's about protecting competition itself on behalf of the public. Al Franken
Source: BrainyQuotes.
Most Americans don't think about antitrust law when they look at their cable bill, flip channels on TV, or worry about what their favorite website knows about them. But they should. Al Franken
Source: BrainyQuotes.
The federal government has shown little willingness to stand up to corporate monopolies, and use its powers under the existing antitrust statutes, including the powerful Clayton Act and Sherman Act. Zephyr Teachout
Source: BrainyQuotes.
When I applied to law school, I wrote on my application that I wanted to do two things. One was to solve antitrust law's irregularities and problems, and the second was to solve the Arab-Israeli conflict. Daniel Lubetzky
Source: BrainyQuotes.
I think we need to have stronger antitrust enforcement. Ro Khanna
Source: BrainyQuotes.
I think we need to have stronger antitrust enforcement. Ro Khanna
Source: BrainyQuotes.
There's no doubt we need stronger antitrust enforcement. We shouldn't allow Amazon to privilege its own products on its platform, and we should make sure they're not using sellers' data, but the E.U. is not a model for America to copy. Ro Khanna
Source: BrainyQuotes.
The fruits of the economy and all the advantages of technology and globalization have gone far more to the investor class and the professional class and not as much to the working class. Partly because of the loss of labor unions, partly because of things like a lack of antitrust enforcement, policies that have privileged shareholder returns. Ro Khanna
Source: BrainyQuotes.
I'm just saying the producers and people who work on music are getting left out – that's when it starts getting criminal. It's like you're working hard, and you're not receiving. In any other business, people would be standing before Congress. They have antitrust laws against this kind of behavior. Jay-Z
Source: BrainyQuotes.
Who can complain about the price that Google is charging you? Or who can complain about Amazon's prices; they are simply lower than the competition's. And that's why I think we need to shift back to a more Brandeisian conception of antitrust, where we consider values other than simply efficiency and low prices. Franklin Foer
Source: BrainyQuotes.
The Antitrust Division of the United States Department of Justice should take a long, hard look at the standard publishing contract. Thomas Hauser
Source: BrainyQuotes.
Under the Constitution, federal law trumps both state and city law. But antitrust law allows states some exceptional leeway to adopt anticompetitive business regulations, out of respect for states' rights to regulate business. This federal respect for states' rights does not extend to cities. Marvin Ammori
Source: BrainyQuotes.
Vigilant and effective antitrust enforcement today is preferable to the heavy hand of government regulation of the Internet tomorrow. Orrin Hatch
Source: BrainyQuotes.
Like other antitrust agencies we make our assessment of a merger or antitrust case based on its impact on our jurisdiction, and not on the nationality of the companies. This is exactly what the U.S. antitrust agencies, the Justice Department and the FTC, do. Mario Monti
Source: BrainyQuotes.
The antitrust litigation currently in the federal courts in the U.S. against Monsanto will be the test case in the life sciences, just as the Microsoft case was the test case in the information sciences. Jeremy Rifkin
Source: BrainyQuotes.
Advertise with MHProNews to be seen
The 10 largest antitrust law firms in the United States have gone into the federal courts charging Monsanto with creating a global conspiracy in violation of the antitrust laws, to control the global market in seeds. Jeremy Rifkin
Source: BrainyQuotes.
The testimony and the documentary evidence produced by the Government demonstrate that the Bell System had violated the antitrust laws in a number of ways over a lengthy period of time. Harold H. Greene
Source: BrainyQuotes.
Antitrust Quotes from GoodReads.
"Our dependency is at the heart of the commercial surveillance project, in which our felt needs for effective life vie against the inclination to resist its bold incursions. This conflict produces a psychic numbing that inures us to the realities of being tracked, parsed, mined, and modified. It disposes us to rationalize the situation in resigned cynicism, created excuses that operate like defense mechanisms ("I have nothing to hide"), or find other ways to stick our heads in the sand, choosing ignorance out of frustration and helplessness. In this way, surveillance capitalism imposes a fundamentally illegitimate choice that twenty-first century individuals should not have to make, and its normalization leaves us singing in our chains."
― Shoshana Zuboff, The Age of Surveillance Capitalism: The Fight for a Human Future at the New Frontier of Power
"The question will arise and arise in your day, though perhaps not fully in mine: Which shall rule — wealth or man? Which shall lead — money or intellect? Who shall fill public stations — educated and patriotic freemen or the feudal serfs of corporate capital?"
― Edward G. Ryan
"Google, you fucking ripped off the iPhone, wholesale ripped us off. Grand theft. I will spend my last dying breath if I need to, and I will spend every penny of Apple's $40 billion in the bank, to right this wrong. I'm going to destroy Android, because it's a stolen product. I'm willing to go thermonuclear war on this. They are scared to death, because they know they are guilty. Outside of Search, Google's products—Android, Google Docs—are shit. [Steve Jobs]"
― Walter Isaacson, Steve Jobs
"Liberty produces wealth, and wealth destroys liberty."
― Henry Demarest Lloyd, Wealth Against Commonwealth
"Economists have their glories, but i do not believe that antitrust law is one of them."
― George Stigler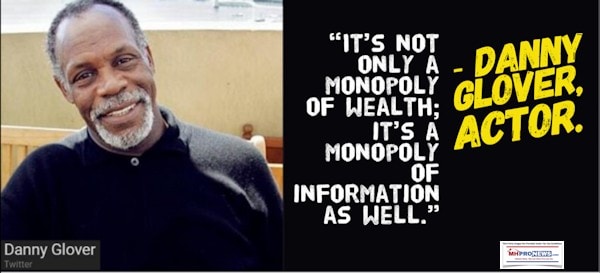 Related and Recent Reports:
MHVillage, MHI Present 2020 Manufactured Housing Industry Trends, Statistics – Fact Check Part II
"Antitrust is important…monopolies…major threat to our economy," Nick Tomboulides, plus Manufactured Housing Investing, Stock Updates
Black Lives Matter-Slavery, Racial History, Economic Inequality, Affordable Home Ownership–White Billionaires Getting Richer
Stocks Feeding Wealthy During Pandemic, Fed Chair Powell Urges Prompt Return to "Tight Labor Market," plus Manufactured Housing Investing, Stock Updates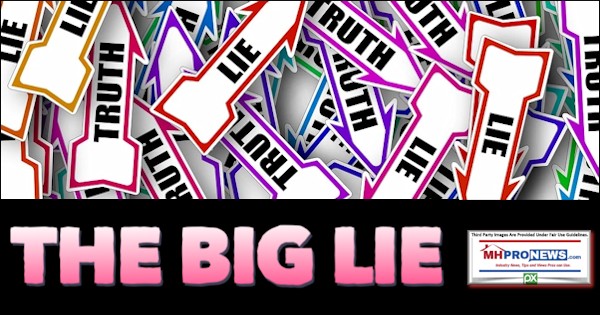 Orwellian Juneteenth!? House Speaker Nancy Pelosi Orders Removal of Racist Democrat Portraits From U.S. Capitol Building
Leaked Secret Democratic Memo On Black Lives Matter Emerges; "Haven't Seen Sh-t Like This Before"
Dark Money-Billionaires Buffett, Gates, Soros Funding Black Lives Matter, Antifa – Named by AG Barr in Riots, Looting – Hijacking Peaceful George Floyd Death Racial Justice Protests
Manufactured Housing Industry Investments Connected Closing Equities Tickers
Some of these firms invest in manufactured housing, or are otherwise connected, but may do other forms of investing or business activities too.
NOTE: The chart below includes the Canadian stock, ECN, which purchased Triad Financial Services, a manufactured home industry lender
NOTE: Drew changed its name and trading symbol at the end of 2016 to Lippert (LCII).
Summer 2020…
Berkshire Hathaway is the parent company to Clayton Homes, 21st Mortgage, Vanderbilt Mortgage and other factory built housing industry suppliers.
· LCI Industries, Patrick, UFPI, and LP each are suppliers to the manufactured housing industry, among others.
· AMG, CG, and TAVFX have investments in manufactured housing related businesses. For insights from third-parties and clients about our publisher, click here.
Enjoy these 'blast from the past' comments.
MHProNews. MHProNews – previously a.k.a. MHMSM.com – has celebrated our tenth anniversary and is in year 11 of publishing.


Learn more about our evolutionary journey as the industry's leading trade media, at the report linked below.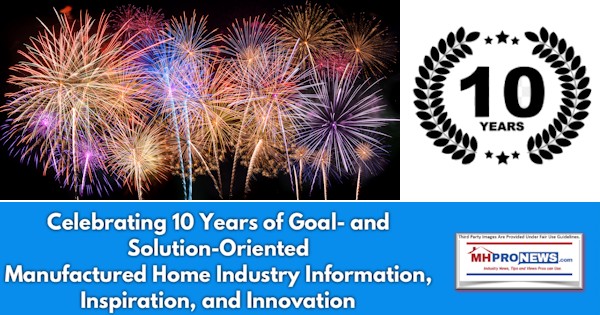 · For expert manufactured housing business development or other professional services, click here.
· To sign up in seconds for our industry leading emailed headline news updates, click here.

Disclosure. MHProNews holds no positions in the stocks in this report.
2019 Year-End Totals Reveals Decline in New HUD Code Manufactured Home Production, Shipments vs. 2018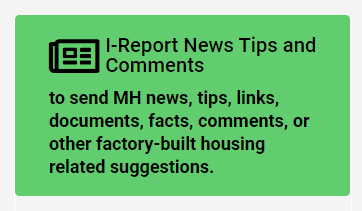 That's a wrap on this installment of "News Through the Lens of Manufactured Homes and Factory-Built Housing" © where "We Provide, You Decide." © (Affordable housing, manufactured homes, stock, investing, data, metrics, reports, fact-checks, analysis, and commentary. Third-party images or content are provided under fair use guidelines for media.) (See Related Reports, further below. Text/image boxes often are hot-linked to other reports that can be access by clicking on them.)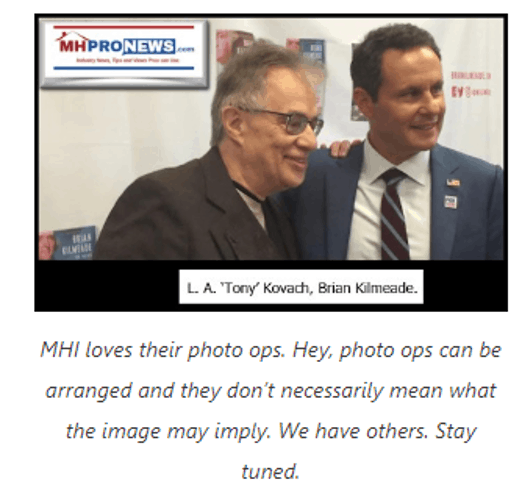 By L.A. "Tony" Kovach – for MHLivingNews.com.
Tony earned a journalism scholarship and earned numerous awards in history and in manufactured housing. For example, he earned the prestigious Lottinville Award in history from the University of Oklahoma, where he studied history and business management. He's a managing member and co-founder of LifeStyle Factory Homes, LLC, the parent company to MHProNews, and MHLivingNews.com. This article reflects the LLC's and/or the writer's position, and may or may not reflect the views of sponsors or supporters.
http://latonykovach.com Connect on LinkedIn: http://www.linkedin.com/in/latonykovach