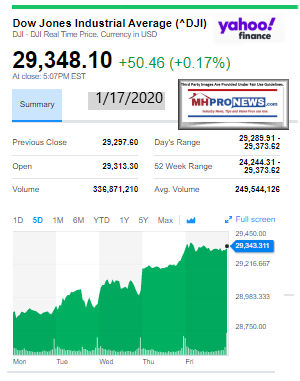 No week goes by at MHProNews without multiple direct contacts from professionals interested or already into manufactured housing and related investing. That pattern of investor interest has apparently accelerated since we modified our formats and report methodology.
California is the most populous state in the USA. Investing is a hot topic, but so too is affordable housing. In fact, affordable housing is such a big issue in the Golden State that considered abstractly, manufactured housing ought to be poised for greatness there more than some other places in the America.
But that's not the reality for MHVille in recent years, is it? Why the disconnect? The answers to that question are insightful for professionals, investors, policy wonks and advocates alike.
This evening's featured focus will be new research out of California and what light that should shed on the manufactured home industry's opportunities there. For our ever-growing list of new readers, that section of this business evening report will be just beyond the left-right headlines and the closing markets graphics.
Periodic readers of this business-nightly feature should note there are a few tweaks to some of the standard portions of our evening market/investing report. Read carefully as some changes of the 'standard text' that follows before our left-right headlines and also in other features near the end of tonight's reports.
Every evening our headlines that follow provide snapshots from two major media outlets on each side of the left-right news spectrum that reflect topics that influence or move investor sentiment. In moments on this business evening report, you can get 'insights-at-a-glance.'
This report also sets the broader context for manufactured housing markets, in keeping with our mantra, "News through the lens of manufactured homes and factory-built housing" ©.
We begin with headlines left-of-center CNN followed by right-of-center Fox Business. We share closing tickers and other related data courtesy of Yahoo Finance, and more. 5 to 10 minutes reading this MHProNews market report every business night could save you 30 minutes to an hour of similar reading or fact-gathering elsewhere.
Perhaps more important, you will get insights about the industry from experts that care, but also dare to challenge the routine narrative that arguably keeps manufactured housing underperforming during an affordable housing crisis.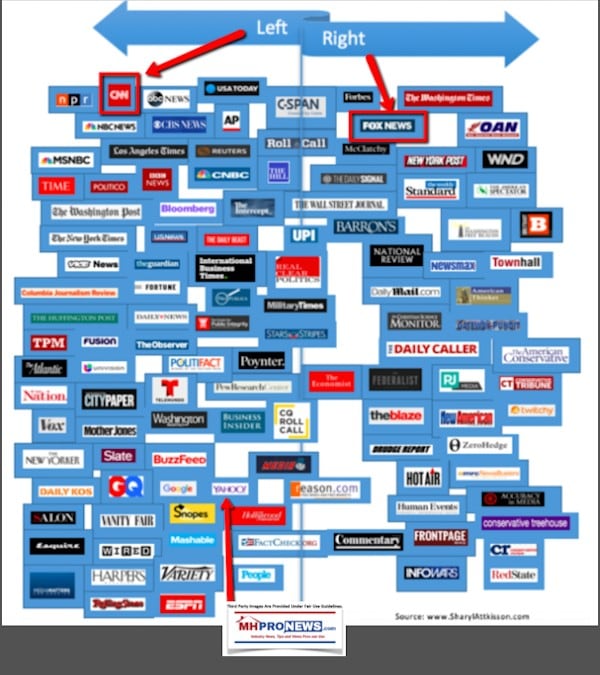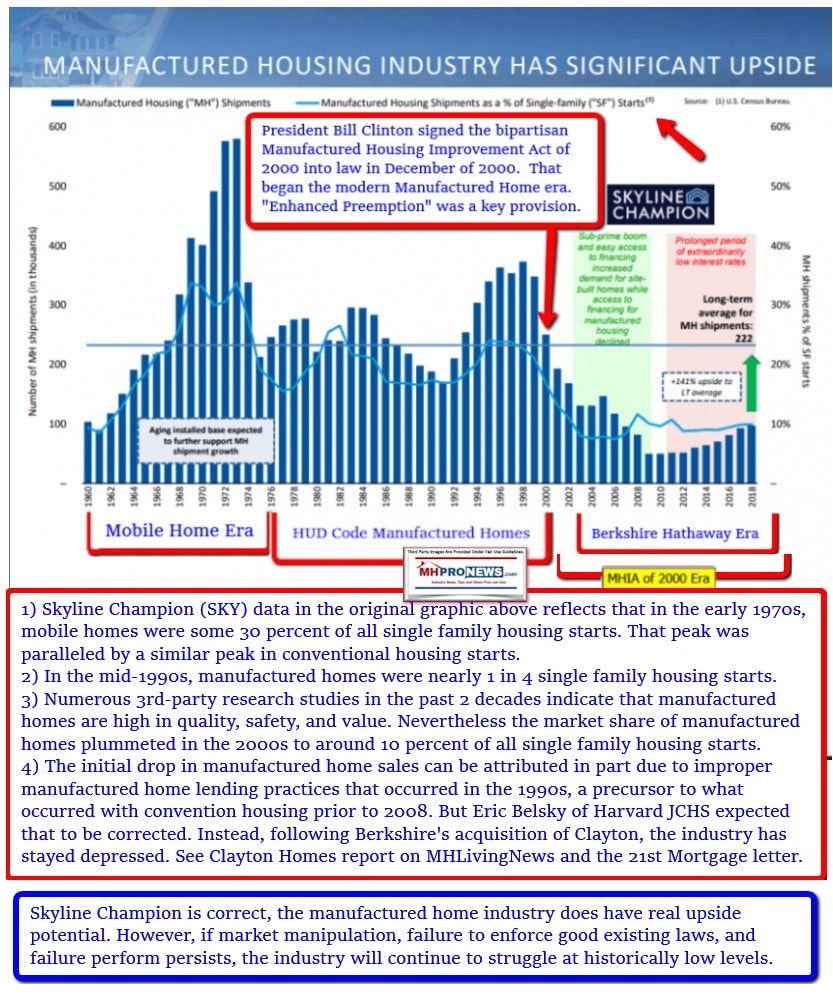 Newsy, Peeling Back Media Bias, Manufactured Housing Sales, Investing, Politics, and You
Headlines from left-of-center CNN Business.
A new glitch – Boeing has discovered a issue with 737 Max flight computers, according to a source
Disney drops 'Fox' name and will rebrand its movie studio, as '20th Century'
These are the big differences between 4G and 5G
The market's earnings losing streak may be about to end
China just reported its weakest annual growth in 29 years
America has its best month for new home construction since 2006
Tim Cook is a cautionary tale for CEOs trying to get close to Trump
Trump administration says no more computers in economic data lockups
Capitol Hill press corps shows support for Manu Raju after GOP senator's smear
Top Democrats go to war with Facebook and Zuckerberg
Beyoncé's Ivy Park x Adidas' line drops online and sends the internet into a frenzy
Commercial spaceflight is no longer a pipe dream. Here's what's next
Here's what Elon Musk said when Jack Dorsey asked him how to fix Twitter
Corie Barry, chief executive officer of Best Buy Co., speaks during the Fortune's Most Powerful Women Summit in Washington, D.C., U.S., on Wednesday, Oct. 23, 2019.
Best Buy opens investigation into allegations of misconduct by CEO
MIAMI, FLORIDA – JANUARY 03: A Tesla vehicle is seen at a dealership on January 03, 2019 in Miami, Florida. Tesla Inc. shares have fallen as the company reported fourth-quarter Model 3 deliveries just below estimates and said it would lower the price of its cars. (Photo by Joe Raedle/Getty Images)
Tesla allegedly has an unintended acceleration problem
Pick the best streaming service for you, from Disney+ to Netflix
A villa in the centuries-old Porters estate on Saint James, Barbados. This home and others can be rented on Homes & Villas by Marriott International, where members of Marriott Bonvoy can earn or redeem points to stay at properties including this one.
She's pushing the world's largest hotel chain to be more like Airbnb
Big brands have a garbage problem. This man can help
Short clips, big risk: This mysterious startup wants to turn streaming on its head
She's 30 and the CEO of a $3 billion dating empire
For Spotify, music might not be the key to success
GM is giving Hummer a second life as an electric pickup
Vera Bradley wants to make paisley cool again
Payless is emerging from bankruptcy
Milk 2.0: How the dairy industry plans to save milk
Tupperware goes high-end with $25 straws
Headlines from right-of-center Fox Business.
Wall Street thinks a Warren presidency could be catastrophic
Barclays analyzed nearly 50 of Warren's various plans in October and November and echoed her campaign's own sentiment: Her presidency would be bad for Wall Street.
Two billion reasons Bloomberg could unseat Trump
US airports to screen passengers from China for new illness
Tax cuts 2.0 could include this middle-class windfall: Kudlow
US housing construction jumps 16.9% in December
CT Gov. welcomes Tom Brady amid conflicting Greenwich mansion reports
No more fake luxury goods, thanks to US-China trade deal
If US, Russia don't renew key treaty, stability in space would be threatened
Hilton launches new lifestyle brand Tempo for 'modern achievers'
California Gov. Newsom blowing through billions: What's in his budget?
Adidas, Beyonce's Ivy Park collection is near: Take a look
Princess Cruise Lines slapped with bedbug lawsuit
Elon Musk tells Twitter to boot the bots during company meeting
Raiders' move to Las Vegas has key financial perk for free agents
Women's blood pressure rises earlier in life than men's: Study
Louis Vuitton snags world's second-largest rough diamond
Hyundai, Kia invest $110M in electric van company
Missouri man stole MLB pitcher's identity to sell phony autographs, police say
'Dukes of Hazzard' star John Schneider says CBD helped cure wife's cancer
Martha Stewart mocks Gwyneth Paltrow's 'vagina-scented' candle: 'I wouldn't buy it'
Netflix cheerleading docuseries sheds light on $2B industry
Delta Air Lines sued over LA school fuel dump: Report
Queen miffed over Meghan Markle's $3M newlywed love nest: Report
Manufacturers spend billions to train employees as worker shortage looms
UFC signs Facebook video deal to drive pay-per-view buys: Report
Colin Kaepernick liability waiver issue impacting NFL labor talks: Report
Universal edited 'Dolittle' after it was nearly done to make it more family-friendly: Report
Weinstein rape trial jury selected: 7 men, 5 women
Trump slams 'mini Mike Bloomberg' over 2020 campaign ads, calling it 'vanity project'
Weinstein wants white female jurors excluded from case
Varney: Democrats on 'wrong side' of record-breaking history
Oil services giant Schlumberger takes $10.1B hit in 2019
Treasury to start issuing 20-year bonds to fund ballooning deficit
Steyer unveils proposal to cut taxes for most Americans
UFC signs Facebook video deal to drive pay-per-view buys: Report
Tim Tebow shares wedding registry: see most expensive gift on list
Ghislaine Maxwell, Naomi Campbell called out by Epstein accuser
These $1.5M luxury doomsday condos are selling out
'Lord of the Rings' protector Christopher Tolkien dies at 95
Netflix expected to spend $17.3B on content in 2020: Report
Chris Burns: How current events can affect your personal financial situation
Chip and Joanna Gaines debut cable network this fall
Potential norovirus outbreak at US national park
AFC championship lacks key stars for the first time since 2002
Bitcoin battles to reclaim 2019 highs
Technology could cut train crews from 2 to 1, but is it safe?
US agency probing Tesla unintended acceleration complaint
Company takes pizza to new heights with air delivery
Common tech gadget could have unexpected benfit in flu season
PG&E may have to hire more tree trimmers to stop wildfires: Judge
Intel CEO on when self-driving cars will take over America's roads and highways
10 Market Indicator Closing Summaries – Yahoo Finance Closing Tickers on MHProNews…


Featured Focus – Where Business, Politics and Investing Meet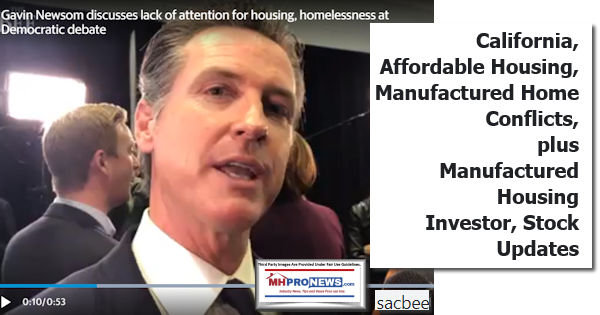 According to the Sacramento Bee on 1.15.2019, "Californians are increasingly concerned about the state's housing and homelessness crisis, according to a new poll released Wednesday night by the Public Policy Institute of California."
Per the SacBee, "The poll finds a plurality of Democrats, Republicans and Independents likely to vote in the state's March 3, 2020 primary election in agreement that homelessness is the most important issue for Gov. Gavin Newsom and state lawmakers to work on in 2020. Twenty-one percent of Democrats and Independents called it the top issue, compared to 29 percent of Republicans.
Housing affordability and the environment were the next highest priorities for likely Democratic primary voters, while Republicans were more concerned about immigration and taxes."
Think about that; homelessness is the number one issue. Second place is affordable housing which is effectively tied with environmental issues among the predominantly Democratic voting base in that state.
The need for housing is vast in the Golden State. While CA ranks in the top ten in new manufactured home shipments, its numbers of shipments compared to opportunities are paltry.
Why?
The causes could be summed up with the following bullets; in no particular order of importance:
NIMBYism, special interests and road-blocks to developing more affordable housing which could include manufactured homes.
A proper understanding of manufactured homes and the role that affordable housing in general plays in the state's economy.
Stigma and negative media around manufactured housing.
A lack of understanding that federal laws exist that could address the much of the roadblocks noted above. The balance of the issues – and the legal ones too – are thus educational/informational.
Some of this, indeed much of it would normally be considered as association work. In any other industry outside of manufactured housing, these types of roadblocks would routinely be turned to a combination of association, legal, lobbying and educational/marketing types of efforts.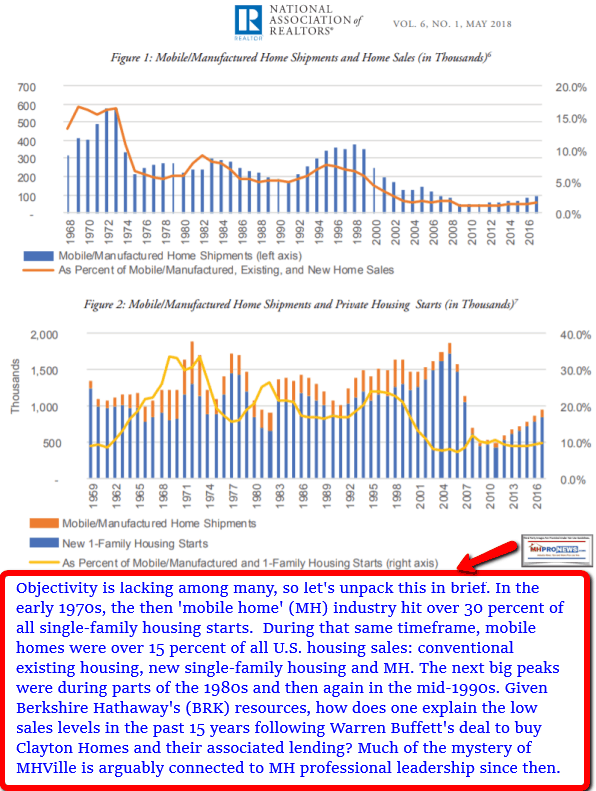 Indeed, if you tune into what the two primary professional associations that are state based in California have to say, they would appear to be making cogent arguments. But the fact that there is so little traction, given useful federal laws, raises questions of the effectiveness of those trade groups. Something similar could be said about the national Manufactured Housing Institute (MHI).
Resident groups in CA are actively engaged in battling with the industry. Whose bright idea on the manufactured housing professional side of the equation is that? What industry wants to be seen by the public at large as being in conflict with its consumer base? Certainly not MHI's prior president and CEO.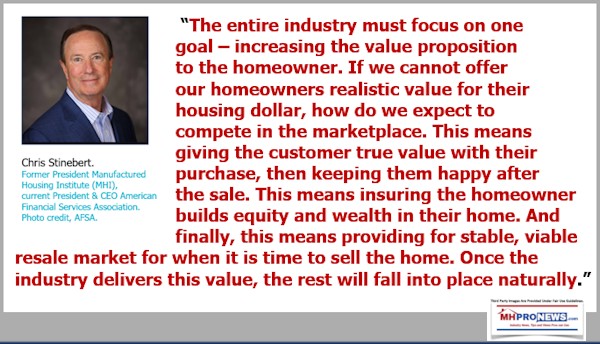 That same SacBee article said that former VP and 2020 Democratic nomination presidential hopeful Joe Biden said last week that "homelessness and housing are "gigantic issues." He said no American should have to pay more than 30 percent of their income on housing and said he'd give first-time home buyers a $15,000 down payment from the federal government."
Mark Baldassare, president of PPIC said that  "a "combination of things" are contributing to the increased emphasis Californians are placing on housing and homelessness, including national attention from attacks the state has received from President Donald Trump, local news organizations covering the problem more aggressively, a greater number of homeless people living in respondents' communities and Newsom prioritizing the issue in his latest budget proposal.
"Homelessness is an issue people are obviously hearing about and reading about, but they're also experiencing it firsthand in California," Baldassare said.
The poll released Wednesday night follows an earlier release from the organization about the state of California's 2020 Democratic primary race, which showed Bernie Sanders surging to the top but in a statistical tie with Joe Biden and Elizabeth Warren.
The margin of error among the 967 California adult likely voters in PPIC's January survey was 4.6 percentage points. For the subgroup of 530 likely Democratic primary voters, the sampling error was 6.5 percent."
What Does This Mean for Investors and Professionals?
"Almost every problem that is properly understood is an opportunity in disguise," is a common point made by consultant and publisher L. A. 'Tony' Kovach. He points to Thomas Edison's quote that opportunities come dressed in overalls and look like work.
Privately-owned Sunshine Homes president and CEO, John Bostick likes to say that "Easy doesn't pay well." Tony takes that and elaborates by saying that doing what may seem harder at first is something that many shirk, but it can pay rich dividends. Once the more difficult but successful process becomes habitual, then what began as hard has become 'easier.'
With 2 decades of manufactured housing underperformance – particularly so since the acquisition of Clayton Homes and its associated lending by Warren Buffett led Berkshire Hathaway – the time to step back and question the industry's leadership is long overdue.
The pull quote from Mark Weiss, J.D., President and CEO of the Manufactured Housing Association for Regulatory Reform (MHARR) is from a newly published deep dive interview on industry related issues and concerns. See that at this link here.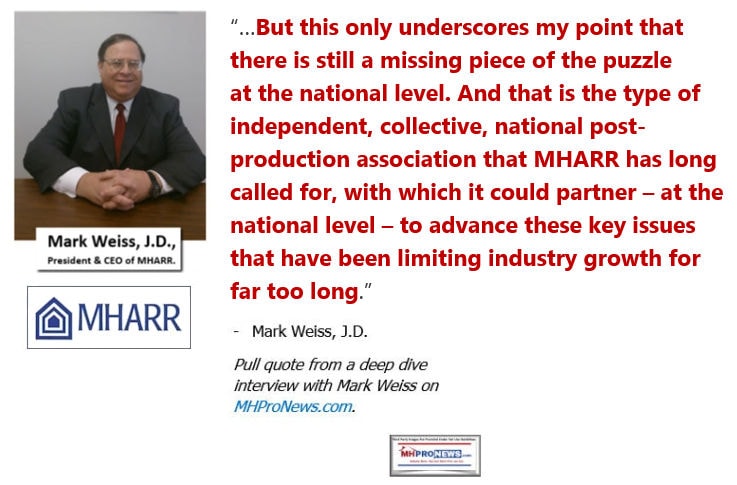 "California ranks 49th among the 50 US states for housing units per capita. Benchmarked against other states on a housing units per capita basis, California is short about two million units. To satisfy pent-up demand and meet the needs of a growing population, California needs to build 3.5 million homes by 2025," said McKinsey.
No wonder Governor Gavin Newsome, HUD Secretary Carson and so many others are focused on the issues that plague that state and dozens of others.
$500 Million Axne-Khanna Plan, Manufactured Housing Legislation Introduced, But Manufactured Housing Institute Fails to Tell Members?
If it was just manufactured housing that was struggling, one might point to that as an excuse. But the data says otherwise. Much of mainstream housing is soaring, while manufactured housing is snoring at historically low levels. The facts are laid out in last night's report.
Builder Confidence High, Manufactured Housing Pros Take Note, plus Manufactured Home Investing, Stock Updates
ICYMI, or this is your first visit to MHProNews, check out the related reports to better understand the issues. No one in the manufactured home industry covers the subjects with more research, documentation and candid analysis that often challenges the status quo and its de facto backers. That's why MHProNews is the documented runaway number 1 professional resource in our industry. What is logical to presume is that if the industry's leaders were on the right track, then the industry would be soaring and not snoring. That obvious logical conclusion means that there are plenty of upside opportunities lurking in each of the industry's segments, but those opportunities come dressed in overalls and look like work.
Related Reports:
Congresswoman Rips Frank Rolfe, Dave Reynolds, Havenpark for "Troubling," "Predatory," "Deceptive" Practices, Calls for Federal Investigations
What's Up? Cavco Industries (CVCO) Looming Announcement, plus Manufactured Home Investing Updates
Explosive – Veteran MH Insider Interview Delivers Vital Insights, plus Unpacking "Manufactured Housing Institute 2.0" Announcements
Then there is the runaway #1 trade media report in all of MHVille in January, 2020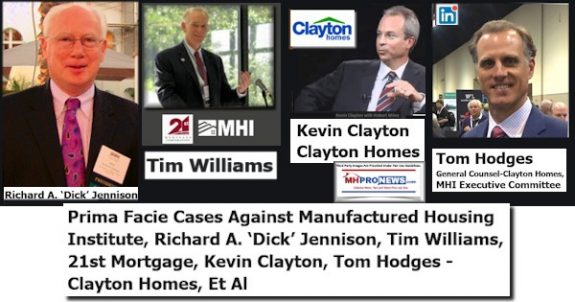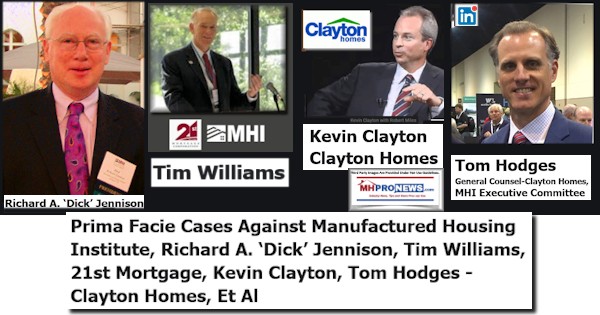 Blood. Brains. Why 2020 Could be Different than 2009-2019 in MHVille, plus Sunday Weekly Headline News Recap 1.5 to 1.12.2020
Federal Official, Manufactured Housing Institute, Manufactured Housing Association for Regulatory Reform and Certain MHI Member Firms
Can Negative Publicity Help Some Companies? Lessons from VW, Buffett for MHVille, plus Manufactured Housing Investing, Stock Updates
Manufactured Housing Industry Investments Connected Closing Equities Tickers
Some of these firms invest in manufactured housing, or are otherwise connected, but may do other forms of investing or business activities too.
NOTE: The chart below includes the Canadian stock, ECN, which purchased Triad Financial Services, a manufactured home industry lender
NOTE: Drew changed its name and trading symbol at the end of 2016 to Lippert (LCII).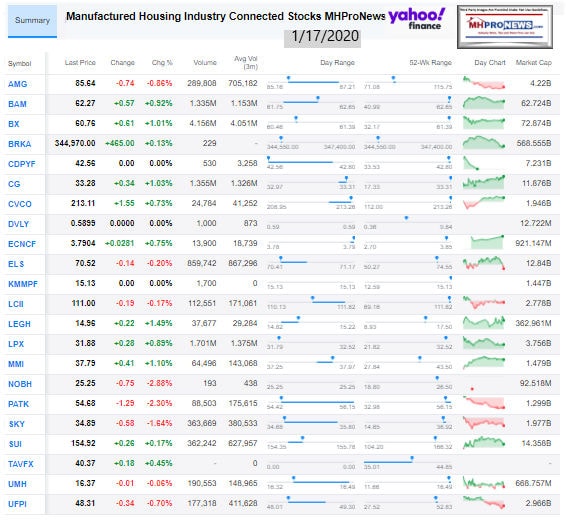 Winter 2020…
Berkshire Hathaway is the parent company to Clayton Homes, 21st Mortgage, Vanderbilt Mortgage and other factory built housing industry suppliers.
· LCI Industries, Patrick, UFPI, and LP each are suppliers to the manufactured housing industry, among others.
· AMG, CG, and TAVFX have investments in manufactured housing related businesses. For insights from third-parties and clients about our publisher, click here.
Enjoy these 'blast from the past' comments.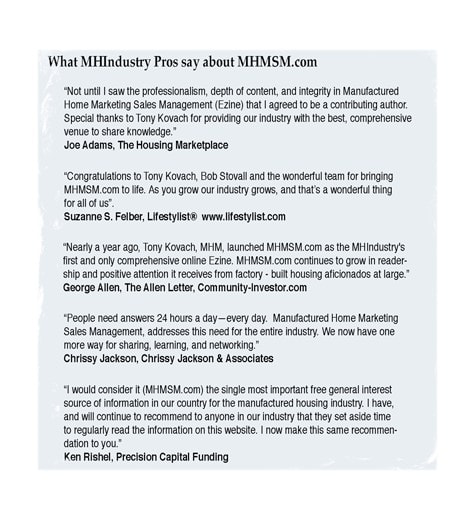 MHProNews. MHProNews – previously a.k.a. MHMSM.com – has now celebrated our tenth anniversary.
Learn more about our evolutionary journey as the industry's leading trade media, at the report linked below.
Celebrating 10 Years of Goal- and Solution-Oriented Manufactured Home Industry Innovation Information, and Inspiration for Industry Professionals
· For expert manufactured housing business development or other professional services, click here.
· To sign up in seconds for our industry leading emailed headline news updates, click here.
Disclosure. MHProNews holds no positions in the stocks in this report.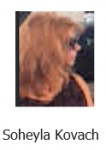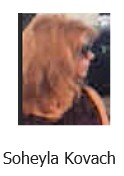 "We Provide, You Decide." © ## (News, analysis and commentary.)
(Image credits and information are as shown above, and when provided by third parties, are shared under fair use guidelines.)
Submitted by Soheyla Kovach, co-managing member of LifeStyle Factory Homes, LLC and co-founder for MHProNews.com, and MHLivingNews.com.

Connect with us on LinkedIn here and here.