Civic Alliance member Edelman's recent research into the trust level in business and governmental leaders reveals a high level of broad distrust in both groups. So, it is entirely logical to ask this question. How could the level of trust between publicly traded ECN Capital (ECN) owned Triad Financial Services (Triad or TFS) be compared to the trust due to Kevin Clayton, Clayton Homes, Tim Williams and 21st Mortgage Corporation? As seasoned manufactured home industry professionals and investors should know, Clayton Homes and 21st are owned by Warren Buffett led Berkshire Hathaway. Berkshire (BRK) is another publicly traded company that is often deemed a conglomerate. Note that some Berkshire brands are connected to the Civic Alliance. Since publicly traded firms are supposed to give accurate and reliable information – or risk the kind of fines that mega-billionaire Elon Musk was hit with, or possibly chance other and more severe regulatory measures – on paper one might think that ECN's manufactured housing brand TFS and Berkshire's Clayton Homes and 21st Mortgage should have a similar track record for candor and ethics.
Unpacking Clayton Homes 2020 Annual Report – "We Witnessed Appraisal Zoning and Financing Success" – Kevin Clayton – Fact Check, Analysis
But a look at the 2020 Clayton Homes report linked above, compared to what will be seen from ECN's latest facts on Triad Financial Services [Triad or TFS) below, arguably paints a story in significant contrasts.
For example.
It will be recalled that the last Manufactured Housing Institute (MHI) Chairman who led a company that has visibly been largely free of negative media, serious regulatory, and legal claims is Triad's Don Glisson Jr.
When Glisson began his term as MHI's chairman, he signaled plans to work with the Manufactured Housing Association for Regulatory Reform (MHARR). The apparent vision was for MHI and MHARR to work more cooperatively together to seriously advance HUD Code manufactured housing. That was during a time following the infamous Tim Williams/21st letter, see that report and more linked here.
Supposedly because of MHI's internal politics, Glisson's term as chairman was inexplicably cut short. One day, Glisson was at an MHI meeting. Then, he was abruptly gone and out. The scuttle butt included rumors that he was torpedoed by those who did not favor his agenda and sense of fairness about various controversies.  In hindsight, that may make sense.
Regardless, Glisson largely stayed publicly mute about his departure as MHI's chairman.
In what appears to be in hindsight a sharp contrast to the Glisson on numerous levels, he was promptly replaced as MHI's board chair by Nathan Smith.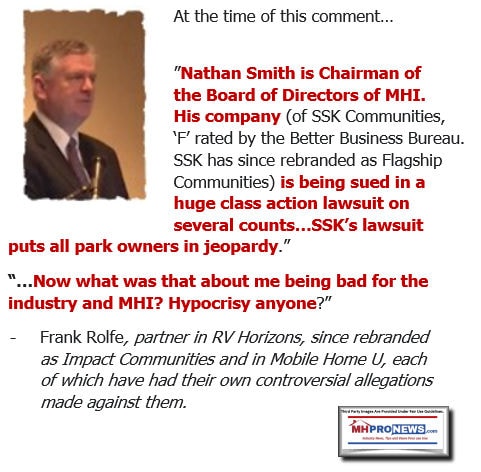 Smith was a co-founder of MHI/NCC (National Communities Council) member SSK Communities. SSK soon developed a now well documented pattern of stirring up negative news about their own operations, with their own residents, public officials, and at least one class action lawsuit. Nothing similar emerged then or since about Glisson and Triad.
Despite the high profile, SSK enjoyed an "F" rating by the Better Business Bureau (BBB) for a time. They changed their name to Flagship Communities. One of their co-founders died. Flagship went public. Smith publicly slammed the breakaway communities group, NAMHCO. Note Smith and SSK/Flagship has several apparent political and other ties to Berkshire brands, including, but not limited to, Clayton Homes and 21st.
When looking back at videos or interviews with various MHI leaders, when carefully examined, they reveal oddities and vexing disconnects.
By contrast, the comparison between other MHI leaders and the video with Glisson reveals an obvious level of consistency from Triad's leader.  His support for the broader industry and apparently favorable view towards independents vs. corporate giants comes into focus.
Thus, the contrast between seemingly 'white hat' Glisson vs. the troubling behavior that is arguably 'black hat' found in several of his successors/firms are stark. A quick review will illustrate that claim.
Tom Hodges, General Counsel for Clayton Homes. Clayton has reportedly been under several federal and other investigations involving racial bias, predatory, and illegal practices for years. See the Strommen report and the report linked here, here, here, here, and image here for examples.
With that contrasting backdrop, let's now pivot to the ECN formal statement to investors, including a particular focus on the Triad related investor relations slides.
As a teaser, one of several possible takeaways from Triad's strong history of performance is that it takes away many of the possible concerns – i.e. think excuses – that are sometimes aired by those who defend the notion that the Government Sponsored Enterprises (GSEs) of Fannie Mae, Freddie Mac – or the FHFA for that matter – hold any validity. It is obvious that if others can perform successfully for years, even with a newer program like the one reflected in the video interview below, that Fannie and Freddie could do so too.
Following the report by MarketBeat on 5.14.2021, including the release of ECN corporate and Triad slides will set the stage for additional information, more MHProNews analysis and commentary that follow.
Per MarketBeat on 5.14.2021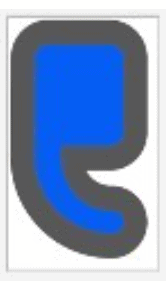 ECN Capital Corp. (TSE:ECN) – Stock analysts at National Bank Financial issued their Q1 2022 EPS estimates for shares of ECN Capital in a note issued to investors on Wednesday, May 12th. National Bank Financial analyst J. Gloyn anticipates that the company will post earnings per share of $0.14 for the quarter. National Bank Financial currently has a "Outperform" rating and a $10.50 target price on the stock. National Bank Financial also issued estimates for ECN Capital's Q1 2022 earnings at $0.14 EPS. ECN Capital (TSE:ECN) last announced its earnings results on Thursday, February 25th. The company reported C$0.11 earnings per share for the quarter, meeting the consensus estimate of C$0.11. The business had revenue of C$93.88 million for the quarter, compared to the consensus estimate of C$90.66 million.
Several other equities analysts have also recently commented on the company. TD Securities upped their price target on ECN Capital from C$9.00 to C$10.00 and gave the company a "buy" rating in a report on Friday, February 26th. Raymond James increased their target price on ECN Capital from C$9.50 to C$10.25 and gave the stock an "outperform" rating in a report on Thursday. CIBC increased their target price on ECN Capital from C$9.50 to C$10.00 and gave the stock an "outperform" rating in a report on Monday, April 26th. BMO Capital Markets increased their target price on ECN Capital from C$8.50 to C$10.00 and gave the stock a "na" rating in a report on Wednesday, February 24th. Finally, Cormark increased their price target on ECN Capital from C$8.00 to C$9.50 in a research report on Friday, February 5th. Seven investment analysts have rated the stock with a buy rating, The stock currently has an average rating of "Buy" and a consensus price target of C$10.25.
ECN Capital stock traded up C$0.05 during trading hours on Friday, hitting C$8.27… to see their full report, with more graphics, click here. ##
The stock trends graphic below is not part of the original reports above or below. It has been provided by MHProNews for added objective, third-party context.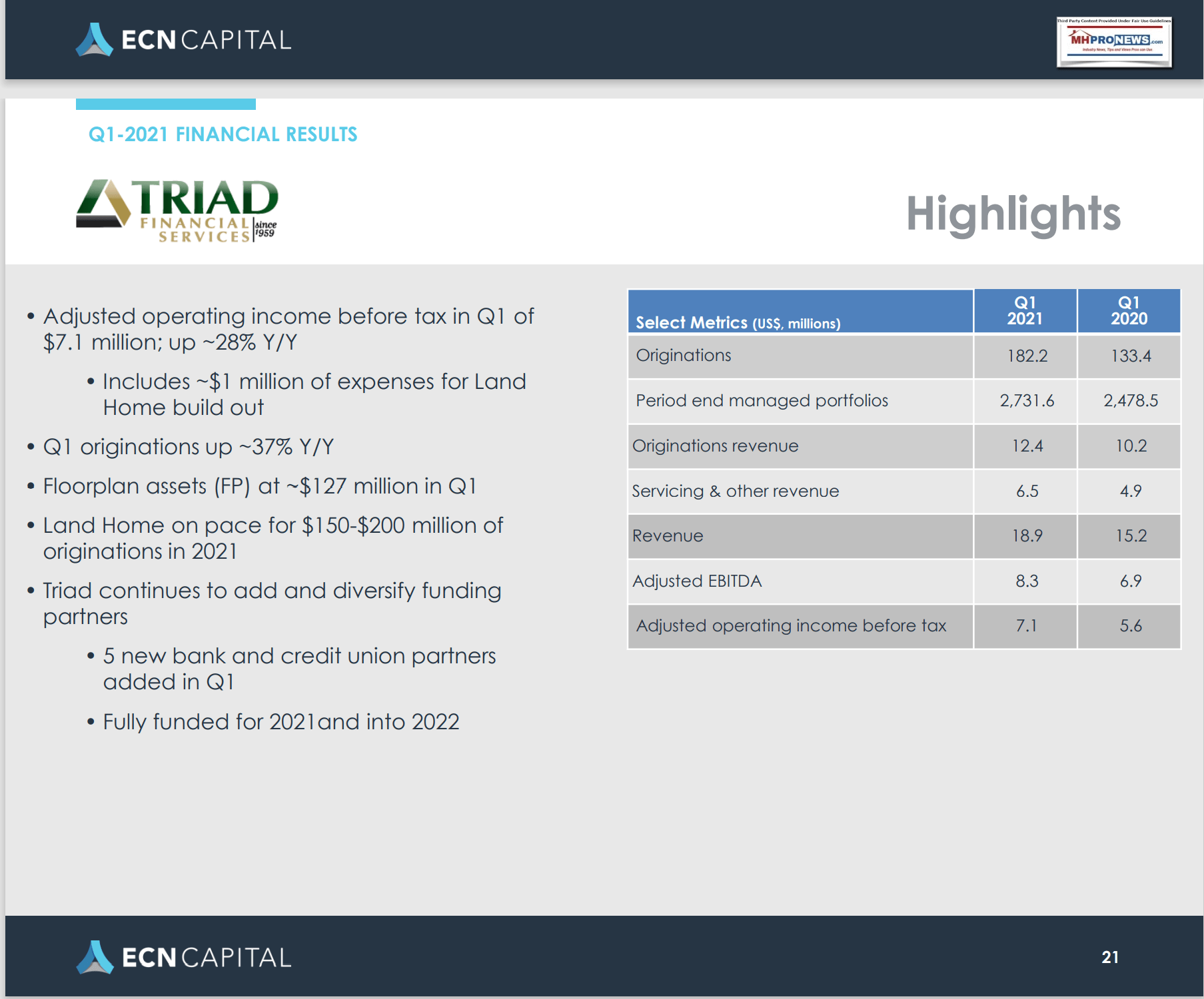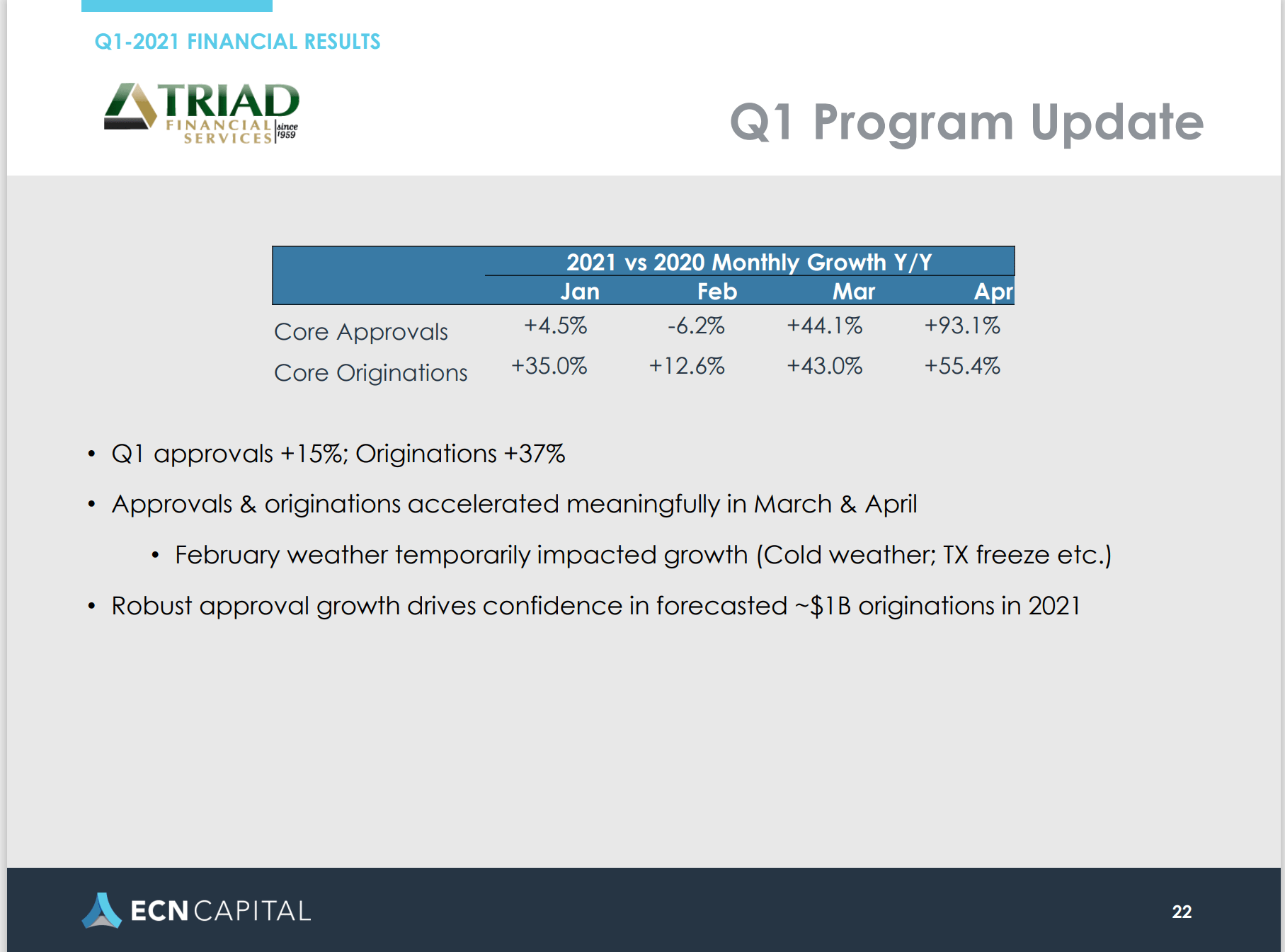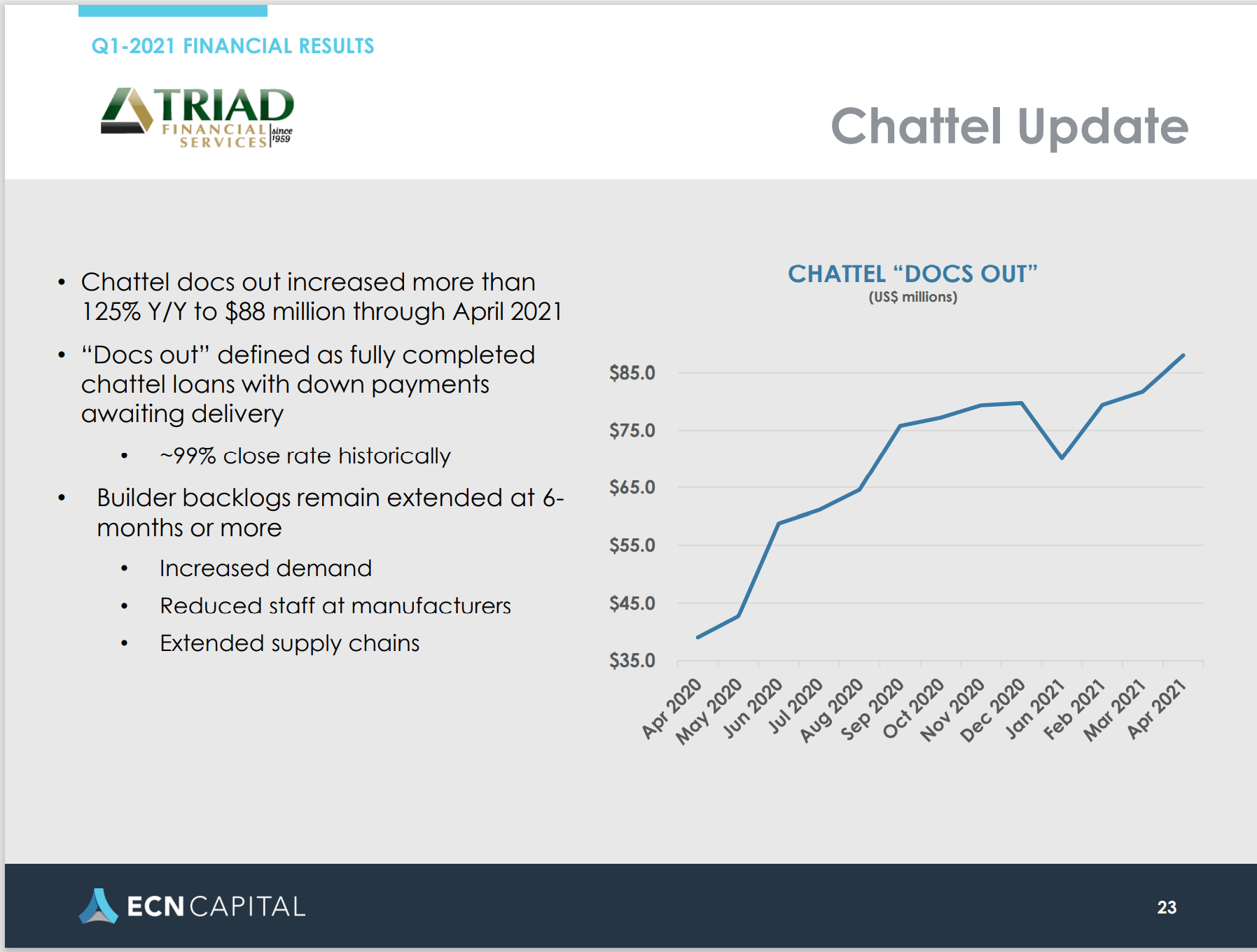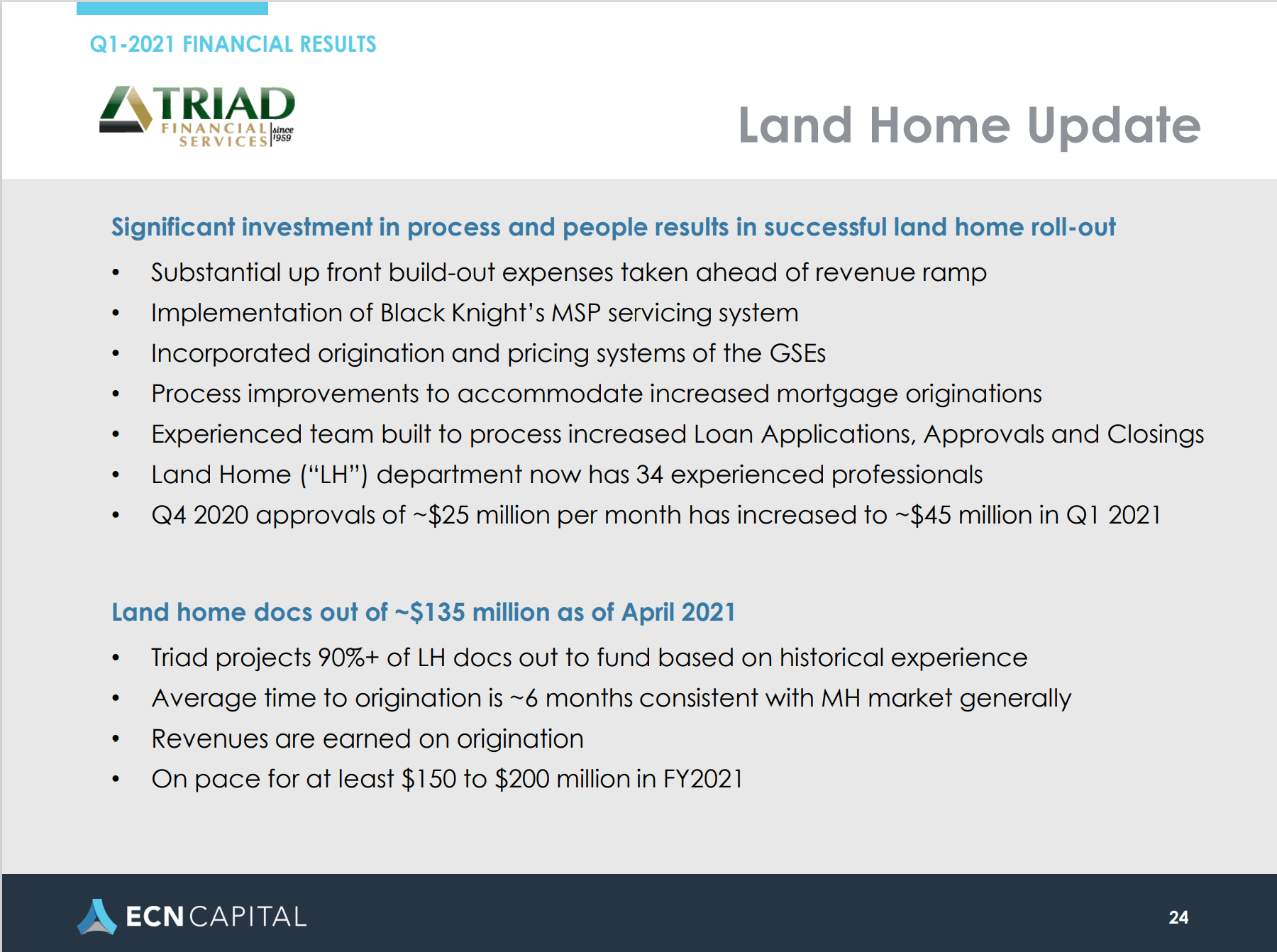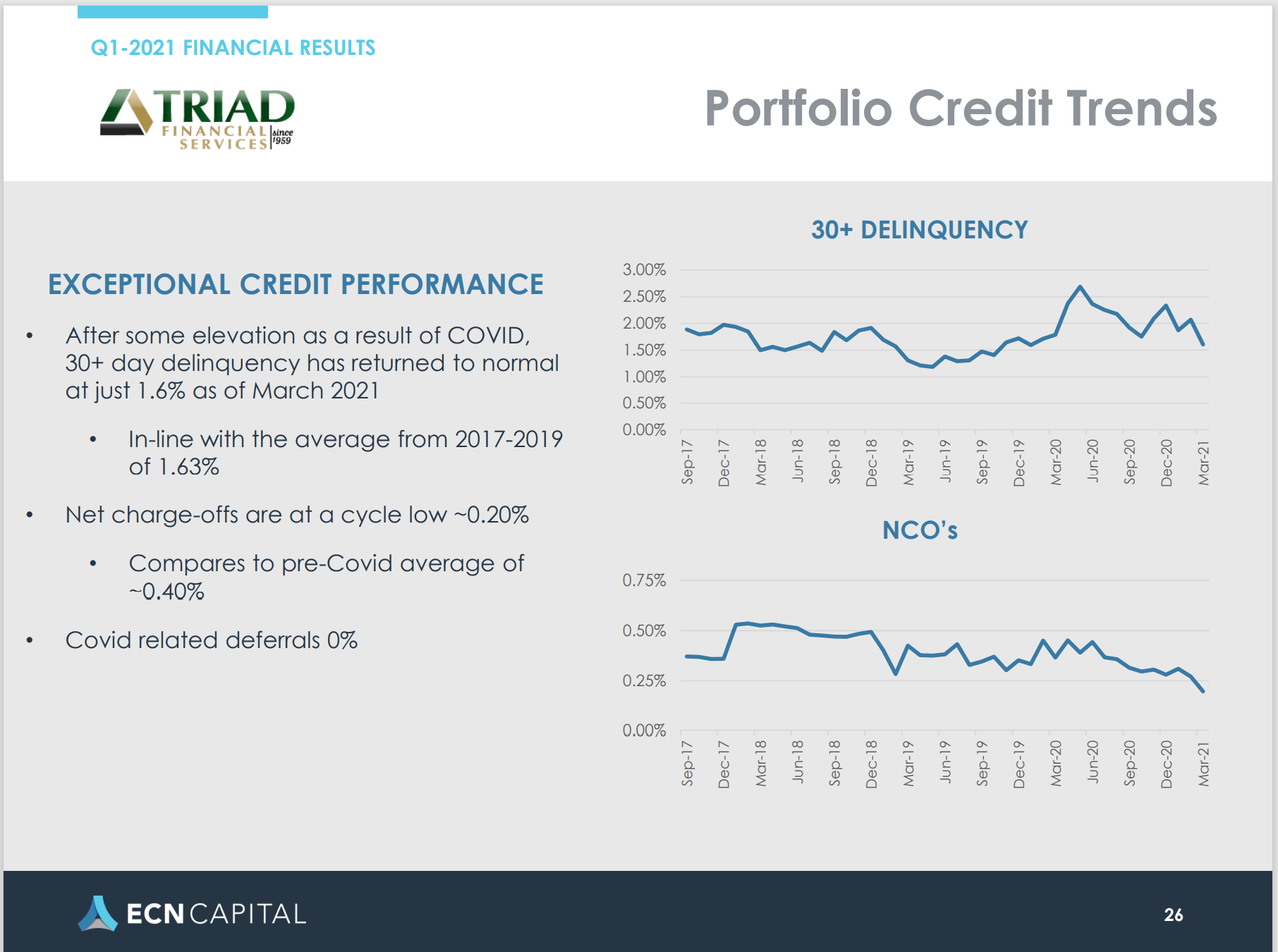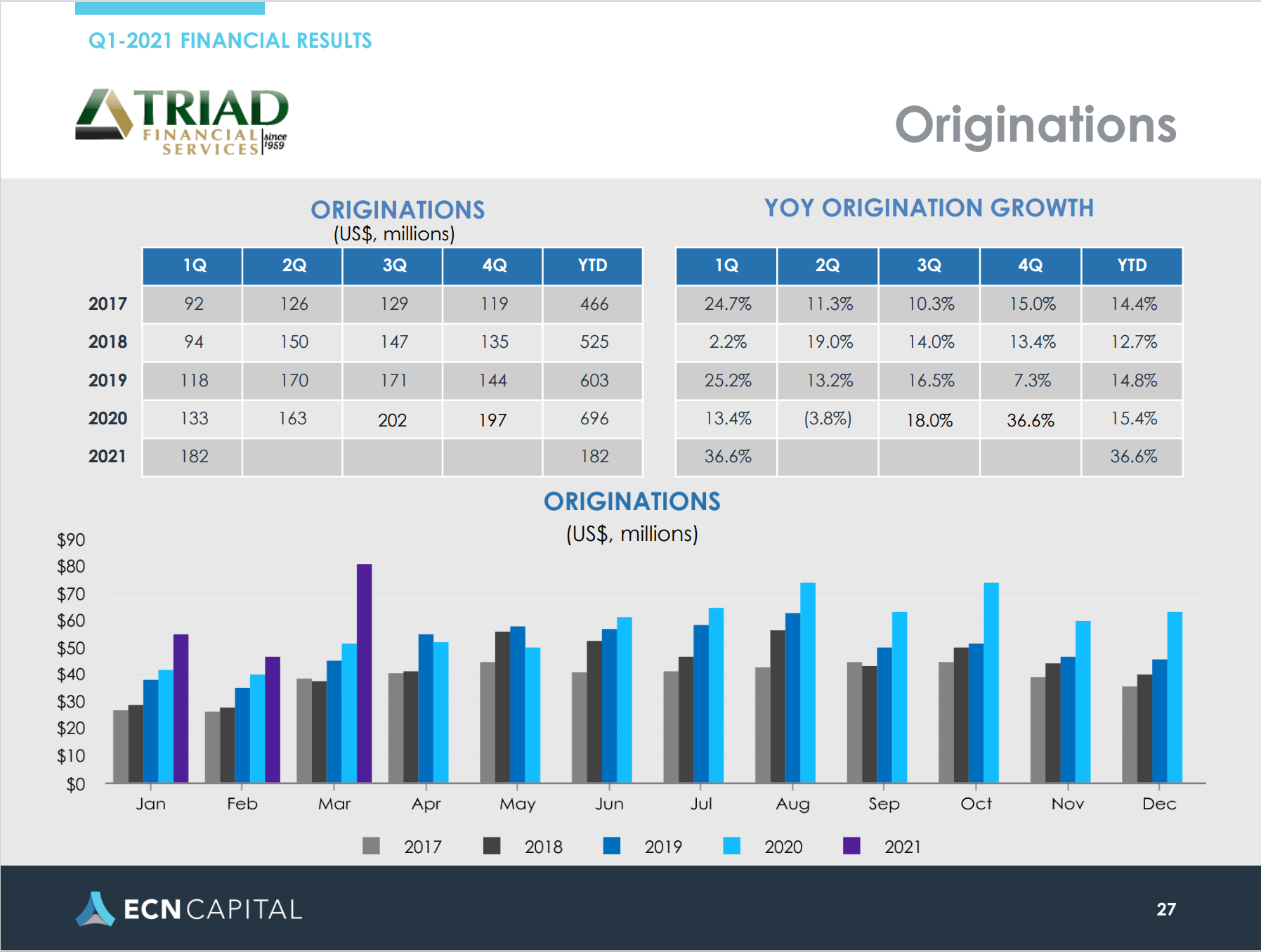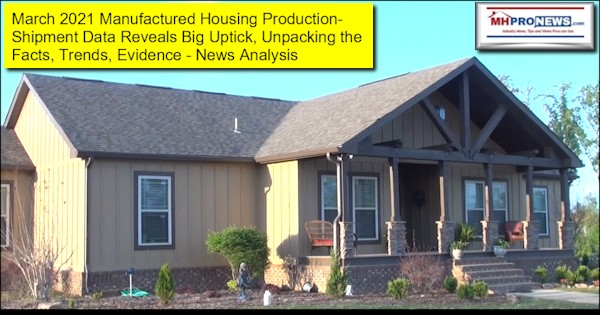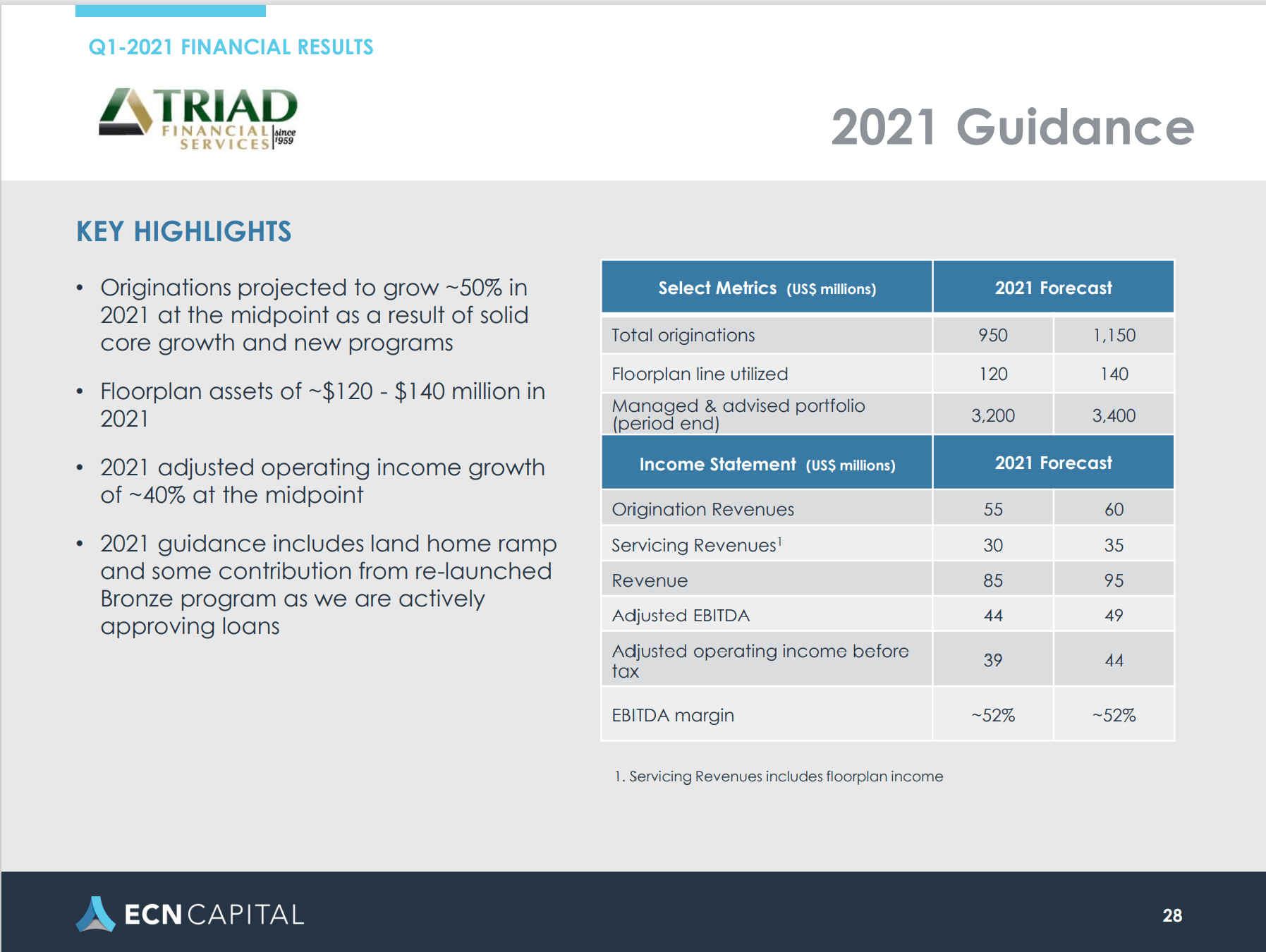 A prior ECN/Triad report is linked below.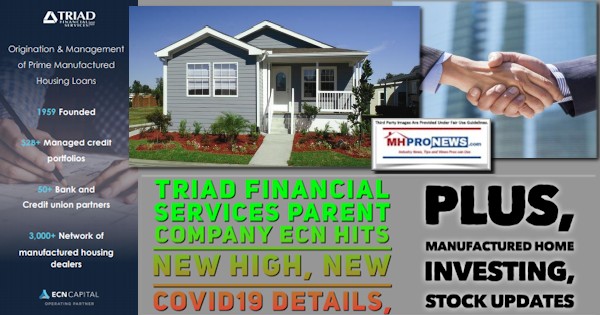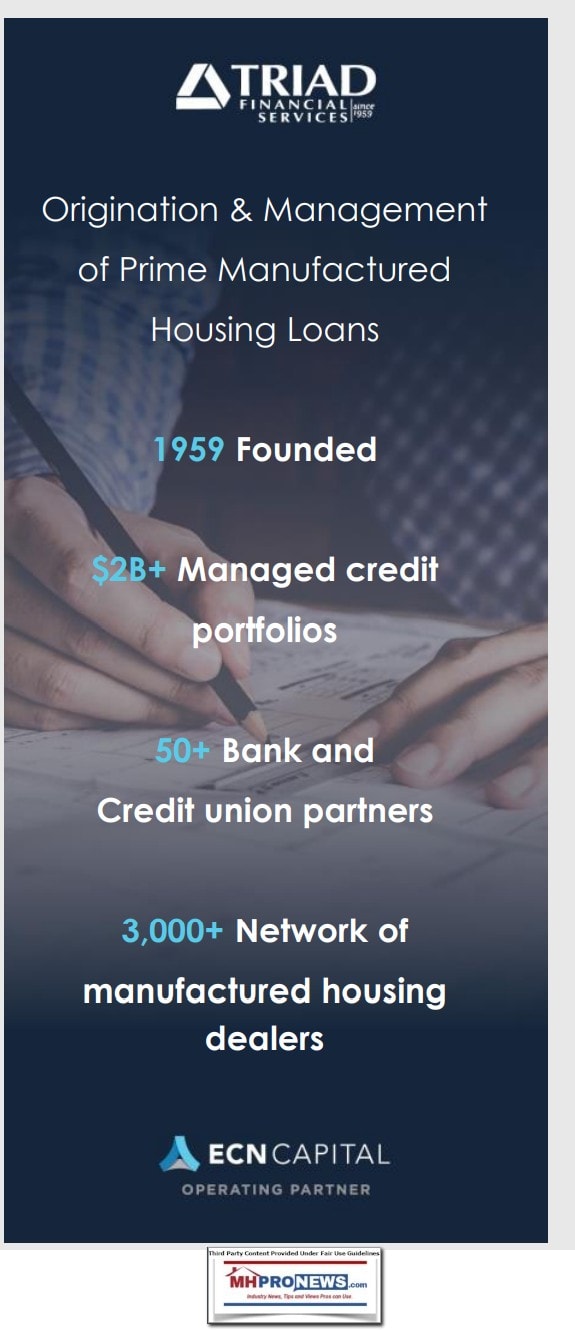 Additional Information, More MHProNews Analysis and Commentary
In no specific order of importance, are the following possible takeaways from the Triad (TFS) ECN pitch deck.
There is ample evidence that the long overdue upturn in manufactured home shipments could continue in April. Official new data is about 2.5 weeks out. But MHProNews will monitor to see how well TFS data acts in this instance as a possible early indication of overall industry sales ahead of official HUD/IBTS and MHARR's data/reporting.
There is more support for the notion that current federal policies are harming manufactured housing producers and other employers. See reports linked here, here, and here for more.
Long lead times from factories are arguably a new problem for manufactured home independent street retailers. It is conceivable that retailers could run low on inventory, while much of their overhead beyond floor-plan costs continues.
To see the entire ECN presentation, click here.
As with all manufactured housing industry connected equities, MHProNews holds no position in this stock.
All of our fact checks and analysis are based upon evidence and facts that are routinely presented with our reports.
While people are entitled to their own opinions, they are not entitled to their own facts.
For more on manufactured housing connected equities and how they perform compared to the broader markets, see the reporting that follows.
Notice: While the layout of this business daily report has recently been modified, several elements of the basic concepts used previously are still the same. The headlines that follow below can be reviewed at a glance to save time while providing insights across the left-right media divide. Additionally, those headlines often provide clues as to possible 'market moving' reports.
Market Indicator Closing Summaries – Yahoo Finance Closing Tickers on MHProNews…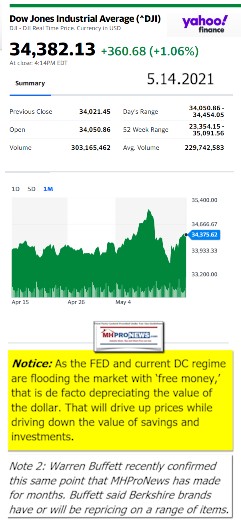 Headlines from left-of-center CNN Business = evening of 5.14.2021
(note: typos are in the original, in fairness to CNN, we get them too).
The latest mandate
Customers line up to enter a Trader Joe's grocery story, Friday, March 13, 2020, in New York.
Trader Joe's says fully vaccinated customers don't have to wear masks in stores
New CDC mask guidelines complicates plans to reopen offices
Starbucks, Kroger and Home Depot says masks are still required
How two brothers went from nearly jobless to multi-millionaires with a bizarre crypto bet
What Disney, Airbnb and DoorDash results reveal about the economy
US retail sales fall from their stimulus-fueled high
Hyundai and Kia are spending $7 billion in US electric car push
Elon Musk is pushing ahead with 'full self-driving' a month after fatal crash
Ransomware took down the Colonial Pipeline. You could be at risk too
Delta to new employees: You must get a vaccine
Disney+ growth hit a snag. The pressure's on for its parks and films
People are panic buying homes as prices skyrocket around the world
Tax Day is Monday. Here's everything you need to know
Top Japanese CEO says hosting the Olympics amounts to a 'suicide mission'
Target suspends sales of trading cards in stores after violent dispute
Late-night hosts weren't always so political. Here's why they changed
This May 2019 photo shows a watchtower at a high-security facility near what is believed to be a re-education camp where mostly Muslim ethnic minorities are detained, on the outskirts of Hotan, in China's northwestern Xinjiang region.
Much of the world's solar panel supply chain relies on forced labor in China, report alleges
Michael Robinson
John Deere is helping Black farmers and their descendents take back unjustly seized land
How John Deere is helping Black farmers and their descendents take back unjustly seized land
Close-up of blue logo on sign with facade of headquarters buildings in background near the headquarters of Apple Computers in the Silicon Valley, Cupertino, California, August 26, 2018.
Apple parts ways with employee after workers cite 'misogynistic' writing
Headlines from right-of-center Newsmax – evening of 5.14.2021
Biden Puts Kibosh on Several Trump Orders, Including Plan for 'Garden of American Heroes'
Also scrapped, orders involving social media companies, the branding of U.S. foreign aid, and immigrants' impact on healthcare.
The Biden Presidency
US Sending New Aid to Palestinians as Conflict Intensifies
Tim Burchett to Newsmax TV: Biden WH 'Totally Out of Control' |
Biden Revokes Trump Ban on Immigrants Who Would Burden Healthcare System
Border Agents Chafe Under Liberal Biden Policies
US Seeks Extradition of Former Head of Honduras' Police
Biden 'Ashamed' of Israel and Policies Could Spark War, Experts Say
Fauci Hopes CDC's New Mask Guidelines Will Encourage Vaccines |
Fauci: Schools Should Be Open 'Full Blast' in Fall
Biden, GOP Senators Plan More Infrastructure Talks
More The Biden Presidency
Newsfront
Liberal Media Viewers Misinformed About US Crime: Rasmussen Poll
Liberal media viewers are misinformed about crime in the U.S., a new survey found. Fewer than 50 unarmed black suspects were killed by police last year, and more people were killed with knives than with assault weapons…
Starbucks CEO: Business Targeting 100 Percent Indoor Dining
The CEO of Starbucks, Kevin Johnson, says the coffee shop is aiming
Poll: Young People Want Vaccine Requirement for Return to Work, School
A new poll shows that the vast majority of people between the ages of
Related
Franklin Graham Warns Christians Not to Wait 'Too Late' for COVID Shot
Fauci: Hopes CDC's New Mask Guidelines Will Encourage Vaccines
WHO Calls on Wealthy Nations to Give Doses to Poor Countries, Not Children and Teens
NEWSMAX PODCAST: Our Self-Congratulating Government Says No More Masks
PLUS: PLUS: With Trump gone, war in the Middle East is back, baby!
Stocks Close Higher With Help From Tech, Still Down for Week
Stocks marched solidly higher again Friday, though the major indexes
Biden 'Ashamed' of Israel and Policies Could Spark War, Experts Say
After a series of landmark deals were struck between Israel and its
Trump-Backed Elise Stefanik Replaces Liz Cheney as House GOP Chair
Less than 48 hours after booting Rep. Liz Cheney, R-Wy., from her
Related
Out of GOP Leadership Role, Cheney Suggests She May Be Eyeing WH
Now, It's Who Comes After Stefanik?
Tuberville to Newsmax TV: ICE, CPB Overwhelmed, Need Help
Auburn football coach-turned-Alabama Sen. Tommy Tuberville is
Trump Likely to Host New PAC Fundraiser in New Jersey
Former President Donald Trump is heading to his Bedminster golf club
Tim Burchett to Newsmax TV: Biden WH 'Totally Out of Control'
Tim Burchett, R-Tenn., told Newsmax TV on Friday that
Gillibrand, Turner: Military Sexual Assault Bills Will Get Supermajority Vote
Kirsten Gillibrand, D-N.Y., and Rep. Mike Turner, R-Ohio, who
Gas Crunch From Cyberattack Intensifies in Nation's Capital
Gas shortages at the pumps have spread from the South, all but
Former Florida County Tax Collector Admits to Sex Trafficking of Minor
A former Florida county tax collector pleaded guilty to several
Texas Abortion Bill Expected to Be Signed by Gov. Abbott
Texas Gov. Greg Abbott indicated he will sign a bill that would ban
Columbus, Ohio, Reaches $10M Settlement in Andre Hill Police Shooting Death
The city of Columbus, Ohio, has reached a $10 million settlement with
Vandenberg Air Force Base to Be Renamed Space Force Base
Vandenberg Air Force Base to Be Renamed Space Force Base
California's Vandenberg Air Force Base is being renamed as a U.S.
Dan Crenshaw: Trump Deserves Our 'Respect'
Dan Crenshaw, R-Texas, says former President Donald Trump
Auto Industry Faces $110B Shortfall Due to Semiconductor Shortage
A shortage of semiconductor chips could end up costing the automotive
US Appeals Court Upholds $25M Roundup Verdict Against Bayer
A federal appeals court on Friday upheld a $25 million judgment and
Israel Strikes Gaza Tunnels, Palestinian Rocket Attacks Persist
Israel fired artillery and mounted extensive air strikes on Friday
Washington State Bans Open-Carry Guns, Weapons at Capitol and Demonstrations
The state of Washington has banned gun owners from openly carrying
'Fully Vaccinated' Bill Maher Contracts COVID-19
Bill Maher has tested positive for COVID-19, forcing HBO to scrap
House Committee Agrees on Bipartisan Panel to Probe Jan. 6 Attack
The top Democrat and Republican on the House of Representatives
Mississippi River Reopens to Shipping Under Damaged Bridge Near Memphis
The U.S. Coast Guard said Friday that river traffic has reopened on
Trump Touts His Vaccines, Biden 'Zero to Do With It'
Former President Donald Trump slammed the Biden administration on
Report: Crime up in Most Areas Where Police Operate Under Reform Agreements
Violent crimes soared in most areas where police agencies are working [Full Story]
Alabama Federal Judge Upholds Anti-Riot Statute
A federal judge in Alabama on Thursday upheld the constitutionality
Accused 'Jinx' Killer Durst Has Bladder Cancer, Seeks Murder Trial Delay
Lawyers for suspected serial killer Robert Durst, the subject of an
Dick Morris to Newsmax TV: Don't Make COVID Cure Worse Than the Virus
Dick Morris, an adviser to former President Donald Trump, said
Jim Jordan: GOP Consistently Condemns Violence, Dems Not So Much
The GOP has consistently condemned violent protests occurring [Full Story] |
More Newsfront
Finance
Retail Sales Were Flat in April as Stimulus Spending Waned
Retail sales in the U.S. were flat in April after soaring in March, when many Americans received $1,400 stimulus checks that boosted spending
Global Tech Investors Cautious of Foxconn's Latest Results
Wealthy Insiders Cashing in Stocks Reap $24 Billion
Tyson Foods' Pet Treats Business to be Sold to General Mills for $1.2 Billion
Pipeline Crisis Spurs Calls to Boost, and Forsake, Fossil Fuels
More Finance
Health
Mixing COVID Vaccines Might Raise Odds for Minor Reactions: Study
Mixing the various COVID-19 vaccines – for example, getting a first dose of the Pfizer vaccine but having your second dose be the AstraZeneca shot – seems to increase the risk of side effects, a new study from Britain suggests…
Obesity in Teens Brings Higher Risk of Stroke Before 50: Study
New Drug Shows Promise Against Tough-to-Manage Asthma
New Study Shows Exercise Can Slow Memory Loss for Alzheimer's Sufferers
Scientist Claims He's Found Why Some COVID-19 Vaccines Cause Blood Clots
Manufactured Housing Industry Investments Connected Closing Equities Tickers
Some of these firms invest in manufactured housing, or are otherwise connected, but may do other forms of investing or business activities too.
NOTE: The chart below includes the Canadian stock, ECN, which purchased Triad Financial Services, a manufactured home industry lender
NOTE: Drew changed its name and trading symbol at the end of 2016 to Lippert (LCII).
NOTE: Deer Valley was largely taken private, say company insiders in a message to MHProNews on 12.15.2020, but there are still some outstanding shares of  the stock from the days when it was a publicly traded firm.  Thus, there is still periodic activity on DVLY.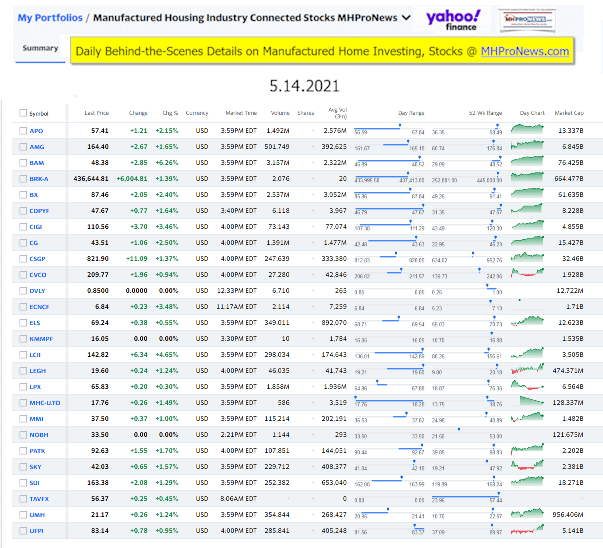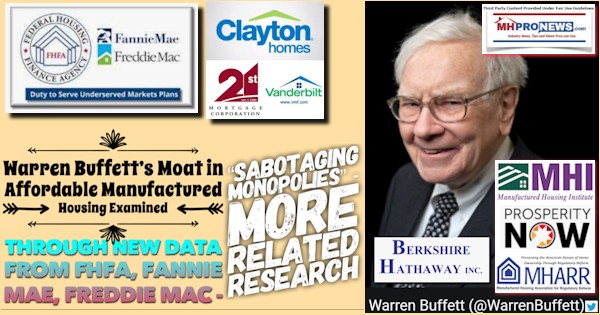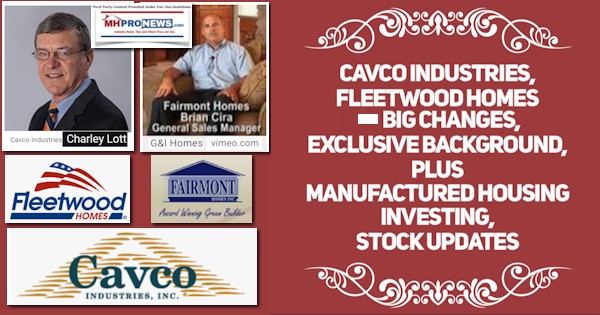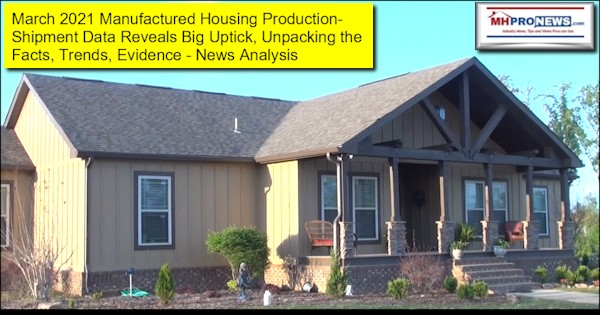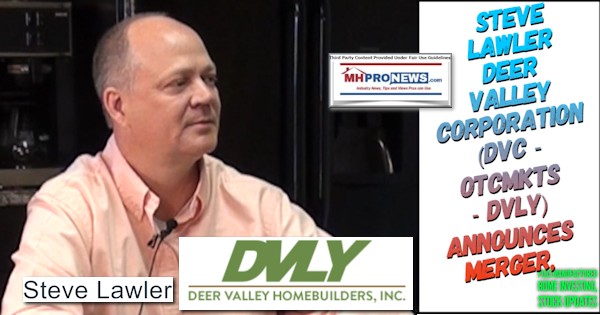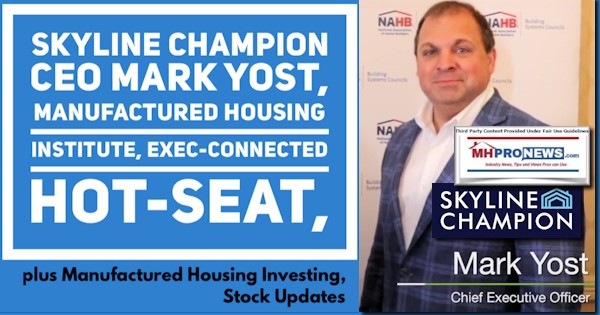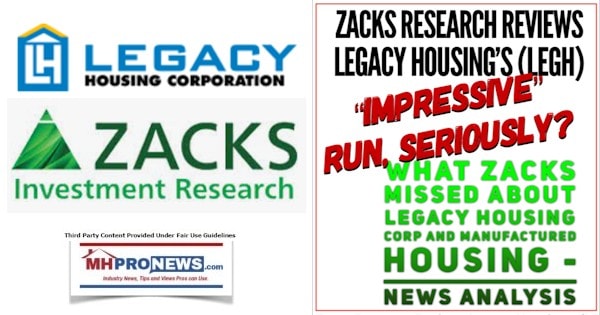 Spring 2021…
Berkshire Hathaway is the parent company to Clayton Homes, 21st Mortgage, Vanderbilt Mortgage and other factory built housing industry suppliers.
· LCI Industries, Patrick, UFPI, and LP each are suppliers to the manufactured housing industry, among others.
· AMG, CG, and TAVFX have investments in manufactured housing related businesses. For insights from third-parties and clients about our publisher, click here.
Enjoy these 'blast from the past' comments.
MHProNews. MHProNews – previously a.k.a. MHMSM.com – has celebrated our 11th year of publishing, and is starting our 12the year of serving the industry as the runaway most-read trade media.
Sample Kudos over the years…
It is now 11+ years and counting…
Learn more about our evolutionary journey as the industry's leading trade media, at the report linked below.
· For expert manufactured housing business development or other professional services, click here.
· To sign up in seconds for our industry leading emailed headline news updates, click here.

Disclosure. MHProNews holds no positions in the stocks in this report.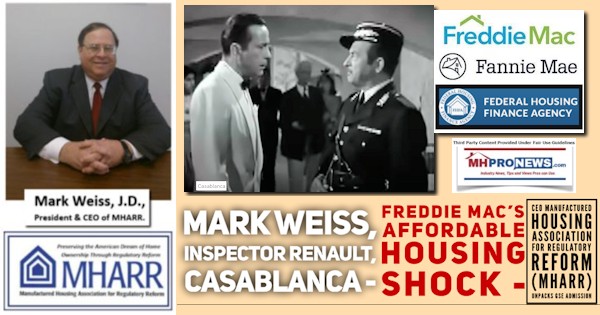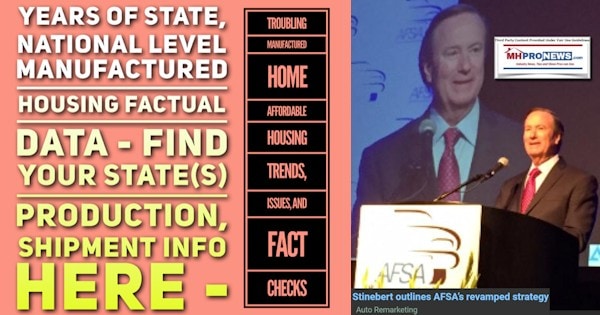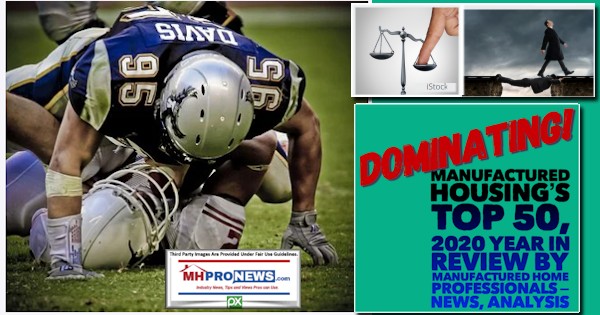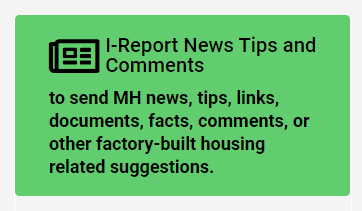 That's a wrap on this installment of "News Through the Lens of Manufactured Homes and Factory-Built Housing" © where "We Provide, You Decide." © (Affordable housing, manufactured homes, stock, investing, data, metrics, reports, fact-checks, analysis, and commentary. Third-party images or content are provided under fair use guidelines for media.) (See Related Reports, further below. Text/image boxes often are hot-linked to other reports that can be access by clicking on them.)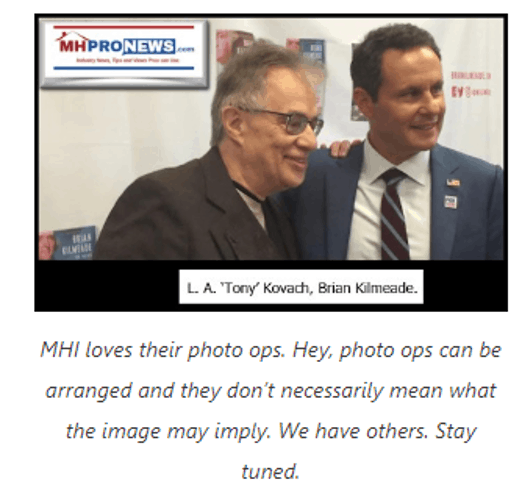 By L.A. "Tony" Kovach – for MHLivingNews.com.
Tony earned a journalism scholarship and earned numerous awards in history and in manufactured housing. For example, he earned the prestigious Lottinville Award in history from the University of Oklahoma, where he studied history and business management. He's a managing member and co-founder of LifeStyle Factory Homes, LLC, the parent company to MHProNews, and MHLivingNews.com. This article reflects the LLC's and/or the writer's position, and may or may not reflect the views of sponsors or supporters.