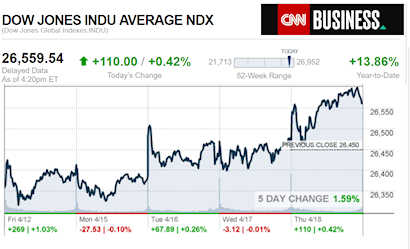 Sears was a leader in precut housing a century ago.  More recently, it still had strong ties to the housing industry, as the purchase of a new or existing house often led shoppers to their local Sears to buy new TVs, appliances, drapes, and such.   So it isn't so odd to note Sears here. Besides, it has significant lessons for manufactured housing professionals and investors on numerous levels, as our report this evening will reveal. On a day when Mueller report mania is grabbing headlines, and most tracked stocks rose, we'll look at a pair of videos on Sears, and dig under the surface for some of those insights to see what lessons can be gleaned for MHVille pros and investors.
If you're new, already hooked on our new spotlight feature – or are ready to get the MH professional fever – our headline report is found further below, after the newsmaker bullets and major indexes closing tickers.
The evolving Daily Business News market report sets the manufactured home industry's stocks in the broader context of the overall markets.  Headlines – at home and abroad – often move the markets.  So, this is an example of "News through the lens of manufactured homes, and factory-built housing." ©
Part of this unique evening feature provides headlines – from both sides of the left-right media divide – which saves busy readers time, while underscoring topics that may be moving investors, which in turn move the markets.
Readers say this is also a useful quick-review tool that saves researchers time in getting a handle of the manufactured housing industry, through the lens of publicly-traded stocks connected with the manufactured home industry.
This is an exclusive evening or nightly example of MH "Industry News, Tips and Views, Pros Can Use." © It is fascinating to see just how similar, and different, these two lists of headlines can be.
Want to know more about the left-right media divide from third party research?  ICYMI – for those not familiar with the "Full Measure," 'left-center-right' media chart, please click here.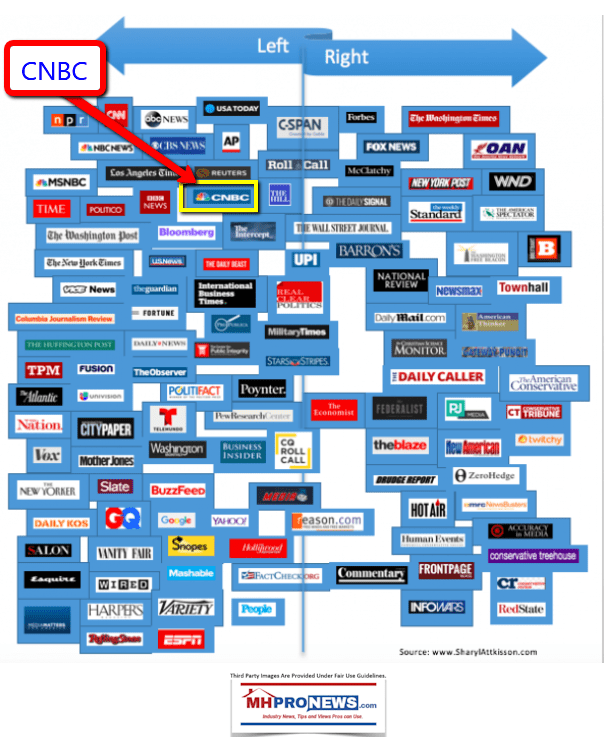 Select bullets from CNN Money…
A risky move
Samsung's foldable phone is launching next week, despite it breaking for some
LIVE UPDATES Gold dips to lowest level since December
Food stamp recipients can now buy groceries online
National Enquirer reportedly sold for $100 million
Pinterest started trading today. Can it avoid the missteps that plagued Twitter and Snap?
Mitch McConnell wants to raise the age to buy tobacco to 21. Tobacco stocks sink
Philip Morris thinks cigarettes are dying. Here's what it wants to sell instead
Apple is making it easier to recycle your old iPhone
Amazon will no longer sell Chinese goods in China
PERSPECTIVES Reckless farming is destroying the planet. This could save it
The secret market of private real estate listings
The Weather Channel knocked off air by 'malicious software attack'
Trump wants his base to watch Fox News or OANN on Mueller report day
20190108-silicon-valley-glorified
The new Silicon Valley IPOs are flashy and slick. But will they deliver for investors?
How one of India's biggest airlines imploded
France asks: Should billionaires get tax breaks on Notre Dame donations?
More store closures have been announced this year than in all of 2018
Pier 1 plans to close up to 45 stores
Why Sears is opening smaller stores
Bed Bath & Beyond to close 40 stores
Charlotte Russe will shut down all of its stores
Should artificial intelligence be used to catch shoplifters?
Big banks are using AI to keep out of trouble
Why AI is still terrible at spotting violence online
These voices sound just like humans. They aren't real
Google scraps its controversial AI ethics council days after it was announced
Select Bullets from Fox Business…
USMCA to add $68.2B to US economy, spur 176k jobs says key independent review panel
Trump admin: USMCA would lead to North American auto industry surge
Amazon isn't the only company that paid $0 in federal taxes last year
Mueller investigation by the numbers: 675 days, 500 witnesses
Here's a look at the sprawling two-year-long Mueller investigation and report by the numbers.
HBO jabs Trump for 'Game of Thrones' tweet on Mueller report
WATCH: Trump Tower witness says without his email there'd be no collusion question
EBay CEO Devin Wenig rips Amazon's business practices in shareholder letter
A homebuyer's market? Where sellers are losing their advantage
California gas prices surge to five-year high; what's causing the spike?
When can you retire? Retirement experts weigh in
Pinterest, Zoom IPOs: What to know
WATCH: Jamie Dimon's take on the current state of the US economy
Herman Cain rips Fed critics looking to spoil his central bank chances
Where Wall Street bigwigs are putting their money in 2020 election
JPMorgan Chase CEO Jamie Dimon taps two women execs as potential successors
Sprint, in attempt to salvage T-Mobile deal, argues company future at stake
No thank you Ocasio-Cortez and far left: Why you don't want gov't doing your taxes
Elizabeth Warren's green mistake
Hiking the tax on carried interest capital gains is a lose, lose, lose
Today's markets and stocks, at the closing bell…

Today's Big Movers
For all the scores and highlights on tracked manufactured home connected stocks today, see the Bloomberg graphic, posted below.
Today's MH Market Spotlight Report –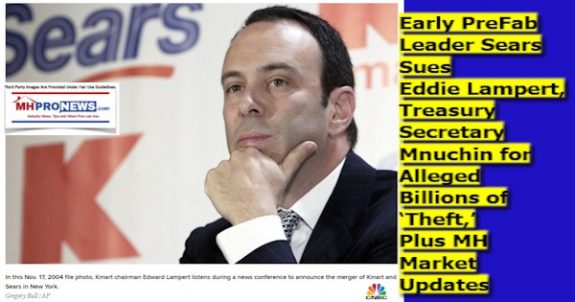 MHProNews floated the theory some weeks ago that today is now being openly alleged in this new lawsuit.  There are ongoing lessons to learn from what has occurred at Sears.
Before we go there on the Daily Business News market report, let's just note the following about the Mueller report, which can be downloaded at this link here.  It was nearly 2 years ago that MHProNews shared a video from Project Veritas.  It featured a CNN Producer who said that the Russia collusion investigation was a big nothing burger.
Ratings, money, and their target audience were apparently part of the reason why CNN – and so many others in the 'anti-Trump' parts of the mainstream media – became so invested in that narrative, that it is not easy for them to back away from what clearly now was what the president said, a phony witch hunt.  If you disagree with the 45th president on policy or some other reason of substance, fine.  That's your right as an American.  But don't make up a bunch of stuff.
That relates to – and has lessons for our industry and investors –  just as Sears does.
Sears failed to adapt.  Antitrust and other potentially laws were and are arguably not being properly enforced. The later is part of a pattern that has endured under both Republican and Democratic administrations for decades.
Were there insider deals at Sears that enriched a few at the cost of the many?  That's being explored, and time will tell on that concern.
But those same types of concerns circle around manufactured housing.  There are some companies that are listed in our evening Bloomberg ticker below that are arguably safe, while others are potentially vulnerable, to claims of market rigging.  What began taking place more openly at Cavco last November 2018 and ongoing drama could be the tip of the iceberg for them and others in the days ahead.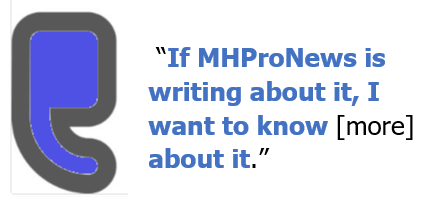 These are good reasons why our readership at MHProNews surged so far in April over March 2019. Year over year readership is stunningly higher.
We have our typos, granted.  But the substance of what we strive to accurately explain and convey has a follow the facts, follow the money, use common sense methodology that asks, Cui bono? Who benefits or benefited?
Manufactured housing is far better positioned that Sears, in principle. But arguably manipulated and often avoidable headwinds are allowed to buffett – pun with Warren intended – our once far greater industry. It can be great again, but not without effort.  It is worth the work.
Let's see what CNBC had to say today about the latest drama at Sears, mindful that it does have lessons for MHVille.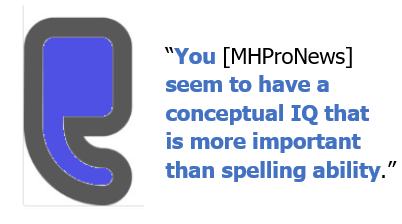 Sears sues former CEO Eddie Lampert, Treasury Secretary Mnuchin and others for alleged 'thefts' of billions from retailer
Sears accuses its former CEO Eddie Lampert of stealing billions of dollars from the once-storied retailer.
Sears Holdings filed for bankruptcy in October, after years of losses under Lampert, who was then its chairman, CEO and largest shareholder.
"Altogether, Lampert caused more than $2 billion of assets to be transferred to himself and Sears' other shareholders and beyond the reach of Sears' creditors," the lawsuit alleges.
The filing claims Lands' End was distributed to Lampert, ESL and other Sears' shareholders for no consideration, following a prespin dividend of $500 million. On the stock's first day of trading, its value topped $1 billion, with Lampert's share worth at least $490 million. The stock currently has a market value of $591.3 million.
It further alleges that Seritage's deal with Sears to give it ownership of 266 of Sears' best retail stores was not negotiated and undervalued the properties by at least $649 million.
"The appraisals were fundamentally flawed and, among other things, intentionally used under-market future lease rates as the sole basis for their valuations," the suit alleged.
Related Reports:
$300 Billion Market, As Predicted, Jeff Bezos' Amazon Alexa Fund Dives Deeper into PreFab Homes
Bloomberg Closing Ticker for MHProNews…
NOTE: The chart below includes the Canadian stock, ECN, which purchased Triad Financial Services.
NOTE: The chart below covers a number of stocks NOT reflected in the Yahoo MHCV, shown above.
NOTE: Drew changed its name and trading symbol at the end of 2016 to Lippert (LCII).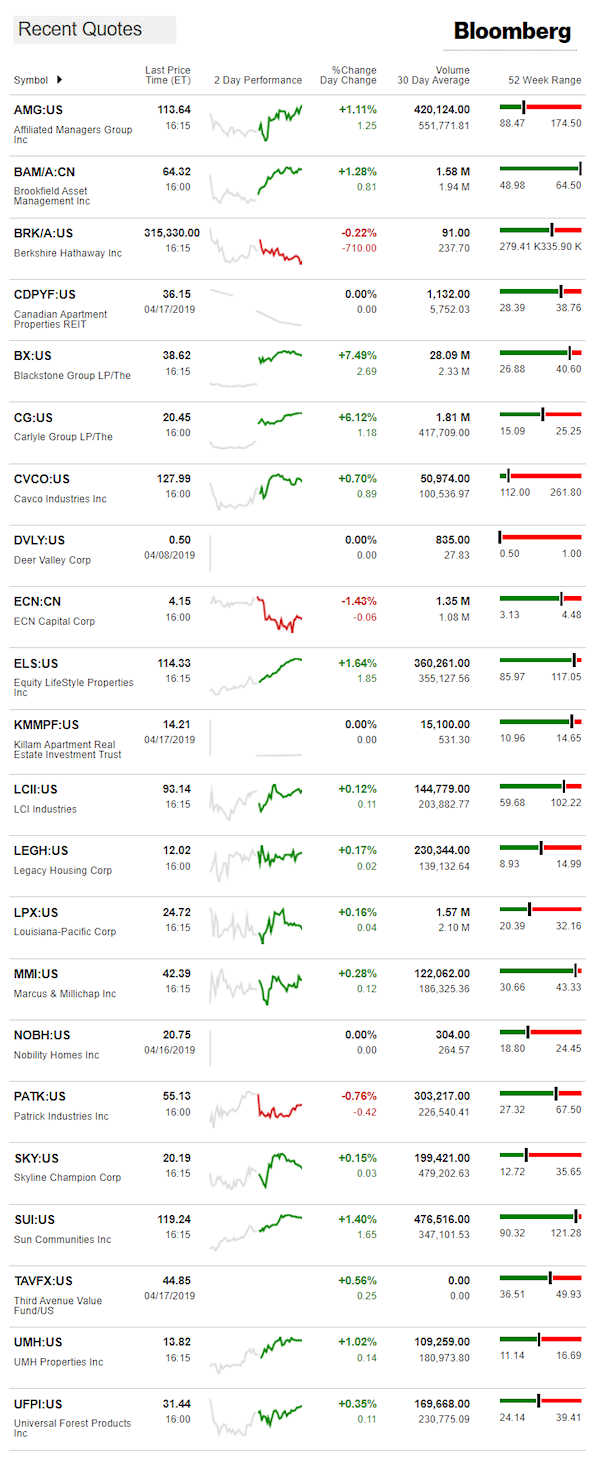 Berkshire Hathaway is the parent company to Clayton Homes, 21st Mortgage, Vanderbilt Mortgage and other factory built housing industry suppliers.
LCI Industries, Patrick, UFPI and LP all supply manufactured housing.
AMG, CG and TAVFX have investments in manufactured housing related businesses.
Your link to industry praise for our coverage, is found here.
For the examples of our kudos linked above…plus well over 1,000 positive, public comments, we say – "Thank You for your vote of confidence."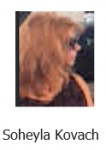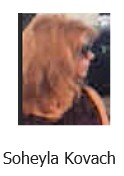 "We Provide, You Decide." © ## (News, analysis and commentary.)
(Image credits and information are as shown above, and when provided by third parties, are shared under fair use guidelines.)
Submitted by Soheyla Kovach to the Daily Business News for MHProNews.com.