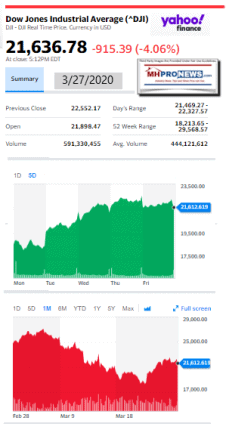 According to an informed source, the steps being taken in Canada – which is in some cases are being established in the U.S. in the wake of the coronavirus outbreak has created new problems for the owner/operators of land lease manufactured home communities.
A specific comment from a pro-industry professional was the following: "So now those tenants who are so inclined can [in the wake of new regulations pausing evictions] stop paying rent, bring in their 7 druggie friends and 3 pit bulls, have loud parties and fire their shotguns at 2:00 am." Ouch, but that is a reality that some will potentially face on both sides of the border.
In contrast to that is the report from an industry professional from Canada. On the day when the markets took another nosedive, but still is higher at the close of the week than the finish with the passage and signing of the $2Trillion dollar relief package, the news from Canada with respect to COVID19 issues for community professionals will be our featured focus this evening.
If you are an ethically minded investor or professional, wonderful. If you have been harmed or have benefited from this COVID19 crisis, either way, this report will have something for you.
Every evening our headlines that follow provide snapshots from two major media outlets on each side of the left-right news spectrum that reflect topics that influence or move investor sentiment. In moments on this business evening report, you can get 'insights-at-a-glance.'
This report also sets the broader context for manufactured housing markets, in keeping with our mantra, "News through the lens of manufactured homes and factory-built housing" ©.
We begin with headlines left-of-center CNN followed by right-of-center Fox Business. We share closing tickers and other related data courtesy of Yahoo Finance, and more. 5 to 10 minutes reading this MHProNews market report every business night could save you 30 minutes to an hour of similar reading or fact-gathering elsewhere.
Perhaps more important, you will get insights about the industry from experts that care, but also dare to challenge the routine narrative that arguably keeps manufactured housing underperforming during an affordable housing crisis.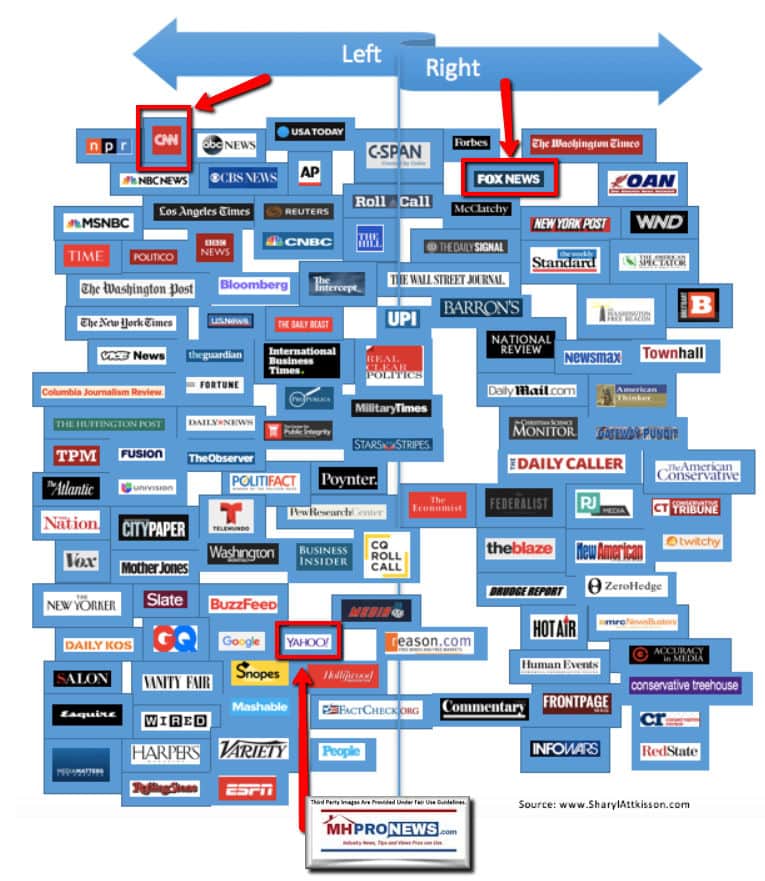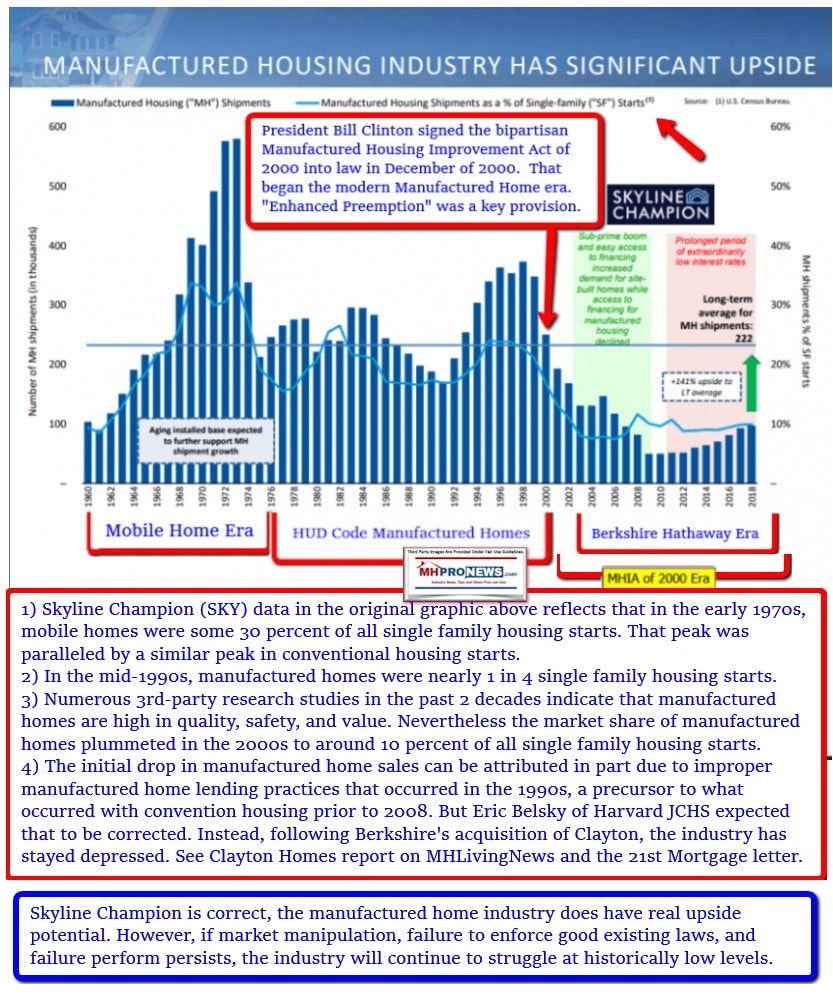 Newsy, Peeling Back Media Bias, Manufactured Housing Sales, Investing, Politics, and You
Headlines from left-of-center CNN Business
Stocks tumble
In this March 21, 2020 photo, a lone pedestrian walks his dog past the New York Stock Exchange as COVID-19 concerns empty a typically bustling downtown area in New York. New York Gov. Andrew Cuomo announced sweeping orders Friday that will severely restrict gatherings of any size for the state's more than 19 million residents and will require workers in nonessential businesses to stay home.
LIVE UPDATES Dow closes lower Friday but still posts its best week since 1938
LISTEN Billionaire hedge fund chief: Shut down the economy for a month
$50 billion airline bailout won't be enough to save US industry
Boeing will seek federal help — but won't give taxpayers a stake
Wealthy real estate developers like Trump score a huge tax break in the stimulus bill
Walmart sees a rise in sales for tops, but not bottoms during crisis
American craft brewers were already in trouble. Then came coronavirus
Opinion: These taxpayers won't get stimulus checks. That's unjust
Automakers are racing to make ventilators. But it's not that easy
Americans are panic buying food for their pets
Apple and the CDC release coronavirus screening app and website
How small business owners may benefit from the $2 trillion in federal aid
Trump in crisis mode uses Hannity interview to attack the media and Democratic governors
Hundreds of journalists are being laid off, right when the public needs them the most
Lisa Su in Austin, TX.
From the brink of bankruptcy to a 1,300% stock gain: How this CEO turned around her company
BUDAPEST, HUNGARY – MARCH 26: A seamstress trims the profile of a protective face mask at 575Factory plant on March 24, 2020 in Budapset, Hungary. 575Factory is a manufacturing company producing triathlon and sport clothes. Following the novel Coronavirus outbreak in Hungary, 575Factory has converted its industrial activities to patent and produce a high-tech, protective face mask for civil use.
Opinion: 5 lessons from WWII that we can use to fight coronavirus
Zoom's massive 'overnight success' actually took 9 years
RACING TO MAKE SUPPLIES
CoVent is a new ventilator specifically designed by Dyson and TTP. It meets the clinician-led specifications, to address the explicit clinical needs of Covid-19 patients.
Dyson is making 15,000 ventilators to fight the pandemic
UK government orders 10,000 ventilators from Dyson
Ford, 3M and GE team up to make ventilators
3M CEO: Our masks shouldn't be showing up in stores
This startup is racing to produce ventilators
AIRLINES
LOS ANGELES, UNITED STATES – 2020/02/25: American Airlines aircrafts seen at Los Angeles International Airport. (Photo by Alex Tai/SOPA Images/LightRocket via Getty Images)
A flight attendant dies, and colleagues are 'very much on edge'
Airlines are cutting middle seats and beverage service
Should domestic air travel be grounded?
Emirates Group suspending most passenger flights
United Airlines poised to slash payroll costs without quick bailout
Headlines from right-of-center Fox Business
Dow slips after massive 3 day rally coincides with $2T coronavirus aid package
S. equity markets stumbled Friday as a House vote on the $2 trillion relief package remained in limbo.
House passes historic $2T stimulus in virus response, sends to Trump
Pence: US will be reopened 'responsibly'
Full list: Companies hiring right now
Businesses stepping up to meet shortages
Celebrity chef offers free hand sanitizer
Giant retailer forced to slash hours
Mnuchin: Relief could keep 50% at work
These businesses are still open
Should you wait to file 2019 tax returns?
List of CEOs foregoing pay
What needs to happen after Congress' $2T stimulus package
MLB preps new schedule, pay changes as pandemic hits season's start
GM adds second factory for coronavirus ventilator as Trump hammers company
How much coronavirus treatment costs, even if you have insurance
Coronavirus relief deal includes carve outs for lawmakers, big money groups
Coronavirus forces NCAA to make massive $375M cut to school payouts
Coronavirus makes water shut offs a great danger for millions of Americans
Veteran-owned company making coronavirus masks for 'pennies'
Can gun stores open during coronavirus?
Oil plunges again after talks stall between Saudis, Russians
Need coronavirus cash relief now? How your 401(k) can help
Coronavirus sends luxury real estate rental market soaring
World facing 'scary' condom shortage that could last months
'Concert for America' to show America 'connected via living rooms'
Great change in many Americans' diet taking place amid coronavirus
Zuckerberg, Gates join forces in coronavirus fight
Gyms still charging members despite coronavirus-related closures
Nestle offers employees sweet deal amid coronavirus crisis
3-D printers create coronavirus medical supplies, ventilators with help from angel investor
3-D printers create coronavirus medical supplies, ventilators with help from angel investor
NYC mayor thanks Musk for coronavirus ventilator production
Google promises $800M in coronavirus aid to small businesses, other groups
These companies actually paying employees more during the coronavirus crisis
Dow's shortest bear market shows coronavirus can be curtailed
Meghan Markle, Prince Harry hire Melinda Gates staffer for new philanthropic venture
US has most coronavirus cases in world — these are hardest-hit areas
Trump slams GM over slow ventilator production
Scientists throw cold water on fast-acting coronavirus tests
Coronavirus doctor explains why she has 'never felt so deeply distraught'
Coronavirus causes historic drop in China's industrial profits
Eli Lilly CEO: Developing potential coronavirus treatment at 'lightning speed'
How this union found 39 million coronavirus masks in 5 days
Coronavirus forces Cheesecake Factory to furlough 41K workers
Boris Johnson tests positive for coronavirus, fighting 'mild symptoms'
Kelly says coronavirus could kill him, asks to be released from jail
Trump, China's Xi discussed coronavirus Thursday night
Trump says energy industry poised to recover
WATCH: How to pause your mortgage payments during coronavirus
Outbreak hits home for New York as virus claims lives of 'hero' public servants
Why coronavirus pandemic is boosting sales for grocers in wealthy enclaves
Coronavirus cases top half a million, protective gear lacking: WHO
Star of popular true crime show is asking President Trump for help
Exotic posted the public plea on his Facebook page.
Coronavirus losses drive car dealers to online sales push
Coronavirus relief may help gold miners strike mother lode
Trump reveals how much coronavirus relief is costing US
Coronavirus cases top half a million, protective gear lacking: WHO
10 Market Indicator Closing Summaries – Yahoo Finance Closing Tickers on MHProNews…
Featured Focus – Where Business, Politics and Investing Can Meet
The Manufactured Home Park Owners of Alliance of British Columbia (MHPOABC | www.mhpo.com) sent their members the following message on 3.27.2020, which their executive director Al Kemp provided to MHProNews. It provides a snapshot of challenges that they are facing north of the border in the wake of the global COVID19 pandemic.
What's New – and Unknown – at 11:30 am March 27.
I've just heard from the RTB Executive Director about the amount of work they have to do to make sure implementation of the government's announcements are can be correctly and fairly done, through regulations, policies and processes.  I'm sure the RTB will let stakeholders such as me know as soon as their work is complete and ready for guidance to landlords and tenants as we all try to cope with this unprecedented health crisis.
Here are the details as I know them today:
Rent payments
Tenants are still required to pay their full rent.
If tenants have lost their jobs, had their hours reduced, have to stay at home because quarantined, or to care for children or the sick, they are eligible for rent subsidy payments from both the federal and provincial governments.
Federal:  By applying for employment insurance benefits, eligible tenants can receive up to $2000 a month for the next four months to be used to pay rent.  I believe this money will be paid directly to the tenants. The government is calling this the Canada Emergency Response Benefit (CERB).
Google CERB for more information.
Provincial:  By submitting their EI documents to BC Housing, eligible tenants can receive a one-time payment of up to $1000 plus up to $500 a month for the next four months. The up to $500 will be paid by BC Housing direct to the tenant's landlord.  I don't know if that also applies to the up to $1000 one-time payment. BC Housing will not have their application portal available until April 15!
I assume the federal money will be paid per tenant.  The provincial money could be by tenant or by unit.  At this point, 11:30 am, March 27, the Residential Tenancy Branch has said nothing about anything!
Bottom line: Be as flexible as reasonable with respect to April's rent as both governments need time to set up the systems and issue the payments. Each situation being different and it's important that you tell your tenant what is acceptable, not the other way around. Use the deferred rent payment agreement form available to members on the MHPOABC website and sent to my clients earlier this week.
Entering and Showing Rental Units and Sites
Somewhat buried in the politicians' announcements was a statement that tenants now can refuse landlord entry to their rental units, except in the case of emergency. This one is understandable, particularly with respect to showings to prospective tenants or purchasers. I wouldn't want strangers coming into my home right now. I don't know if this will apply to manufactured home park owners relative to entering residents' sites.
. . . Al Kemp
MHPOABC | www.mhpo.com

Additional insights from the evolving issue in the U.S. are found in the reports linked below.
Related Reports:
Lender Suspends Manufactured Home Loans, Communities Impacted by COVID19, Emergency Business Relief Resources Available
"Be Greedy When Others are Fearful" – Bill Gates, Warren Buffett and Follow the Money, plus Manufactured Home Investing, Stock Updates
COVID19 Cases Reported at Clayton Homes Plant, Keith Holdbrooks Namedrop – Claims, Backdrop and Analysis
"Crimson Contagion" Statement to Congress by Robert Kadlec, MD, Assistant Secretary For Preparedness and Response
Closures for Manufactured Housing, Others Announced, More Pending, plus Sunday Weekly Headline News Review 3.15 to 3.22.2020
Looming Wave of Loan Delinquencies Sparks MBA Warning, MHI Member Community Leader Sounds Off, plus Manufactured Housing Investing, Stock Updates
China Coverup Timeline – Axios, Southampton U – Delays Cost Countless Lives, U.S., World Trillion$; plus Manufactured Home Investing, Stock Updates
Marty Lavin, Modular Builders, and Manufactured Housing Institute – on COVID19 – Coronavirus Disaster Impacts and Plans
Weaponized Philanthropy, Castrated Associations and Manufactured Housing – Michael Bloomberg and Warren Buffett Connection
Illusions, Collusions – "Heads I Win, Tails You Lose" – "Never Let a Serious Crisis Go To Waste" – Gates, Buffett Massive Money Grabs?
Insider Tips – Clayton Multi-Million Dollar Plan Aims at Replacing Sales Staff? Warren Buffett, Bill Gates, Kevin Clayton Meeting
Manufactured Housing Industry Investments Connected Closing Equities Tickers
Some of these firms invest in manufactured housing, or are otherwise connected, but may do other forms of investing or business activities too.
NOTE: The chart below includes the Canadian stock, ECN, which purchased Triad Financial Services, a manufactured home industry lender
NOTE: Drew changed its name and trading symbol at the end of 2016 to Lippert (LCII).
Spring 2020…
Berkshire Hathaway is the parent company to Clayton Homes, 21st Mortgage, Vanderbilt Mortgage and other factory built housing industry suppliers.
· LCI Industries, Patrick, UFPI, and LP each are suppliers to the manufactured housing industry, among others.
· AMG, CG, and TAVFX have investments in manufactured housing related businesses. For insights from third-parties and clients about our publisher, click here.
Enjoy these 'blast from the past' comments.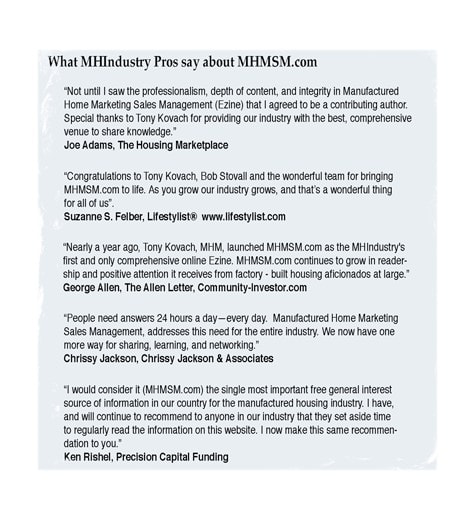 MHProNews. MHProNews – previously a.k.a. MHMSM.com – has now celebrated our tenth anniversary.
Learn more about our evolutionary journey as the industry's leading trade media, at the report linked below.
Celebrating 10 Years of Goal- and Solution-Oriented Manufactured Home Industry Innovation Information, and Inspiration for Industry Professionals
· For expert manufactured housing business development or other professional services, click here.
· To sign up in seconds for our industry leading emailed headline news updates, click here.
Disclosure. MHProNews holds no positions in the stocks in this report.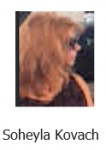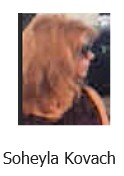 "We Provide, You Decide." © ## (News, analysis and commentary.)
(Image credits and information are as shown above, and when provided by third parties, are shared under fair use guidelines.)
Submitted by Soheyla Kovach, co-managing member of LifeStyle Factory Homes, LLC and co-founder for MHProNews.com, and MHLivingNews.com.

Connect with us on LinkedIn here and here.
2019 Year-End Totals Reveals Decline in New HUD Code Manufactured Home Production, Shipments vs. 2018