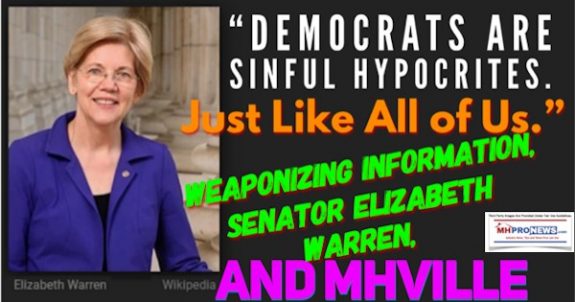 Erick Erickson is a one-time never-Trump Republican, who still quibbles over policy, strategy, and tactics with President of the United States (POTUS) Donald J. Trump. Erickson publishes a "Morning Briefing" and does radio.
So what? 
It goes without saying for seasoned managers, owners, and investors that facts, performance – and accountability – all matter. 
Experienced managers know the challenge of having someone look them in the eye, and lie to them.  Spin, lies, and half-truths are sadly common in our part of the affordable housing profession – just as they are in other professions. 
The scenario that follows is getting wide play in the mainstream media.  That makes it a useful illustration of challenges that exist within MHVille, without seemingly taking a side on hot-button issues that impact manufactured housing. 
Once the table is set in part one of this report, the Daily Business News on MHProNews will apply lessons from these current-event cases to issues that matter to manufactured housing.
With that tee up, let's dive in. 
Part I – Political Weaponization of Information
A few paragraphs from his emailed "Resurgent" are an interesting, right-of-center perspective.  It is one that MHProNews has not normally sourced from the right, which balanced left-of-center sources such as the New York Times that we routinely consider.  The Daily Business News on MHProNews also receives updates from the Boston Globe, the flagship newspaper in Senator Elizabeth Warren's (MA-D) state. We will return to Senator Warren's portion of the headline, deeper into this column. 
There are scores of other inputs MHProNews turns to for information.  Sources run the gamut from within the affordable housing industry. They span political, economic, social, religious, health, and personal subgroups.  That plus outside media inputs offer a full range of insights or inspiration for manufactured home professionals.
As long-time readers know, we are eclectic.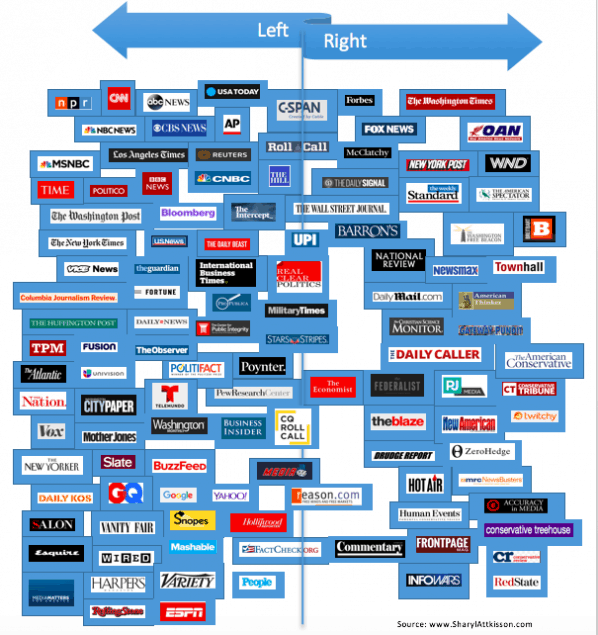 "Check Your Facts," "Follow the Money" – Journalist Sharyl Attkisson, Fake News, MHVille Takeaways
This article's headline includes a direct quote from Erickson, shown again, below. That and his following paragraphs point to the developing controversy in VA over three scandals from three different top officials.  The screen capture below that precedes Erickson's thoughts are from the ubiquitous Drudge Report.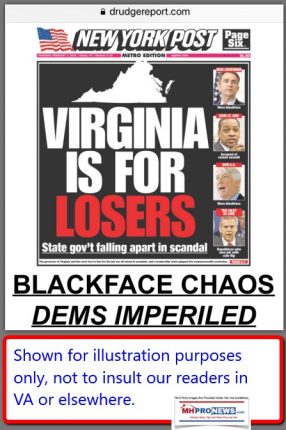 The seemingly odd occurrences in Virginia are arguably illustrations of the "weaponization of information." One can argue the merits of each of these troubling claims.  But each instance of the 'weaponization of information' ought to remind MHVille how a similar process impacts our industry, and the largely  honorable manner that manufactured home professionals honorably seek to serve millions of Americans.  That aspect of this will be explored, following the bulleted quoted paragraphs from Erickson, which are bracketed by two mainstream media videos that outline the specifics of the concerns in VA.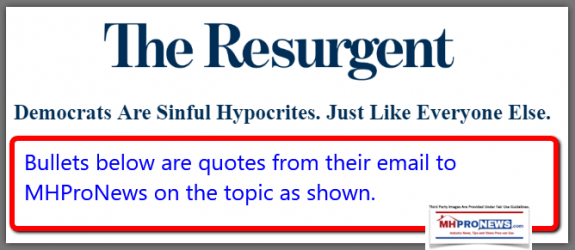 •          Both the press corps Democrats and the political Democrats have used President Trump's election to advance the idea that their side is scandal free, racist free, and pure as the driven snow. They have asked Americans to ignore much and have loudly raised standards to impossible heights to ensure they have a moral advantage over their political opponents.
•          "Believe all women," they claimed. Brett Kavanaugh was unqualified to be on the Supreme Court because of an unproven accusation. Then other, less credible allegations came in, some with stories that kept changing, and we were all supposed to still believe them.
•          Anyone who voted for President Trump was presumed to be a racist. Republicans had to quickly denounce anyone and everyone who said anything that even hinted at being racist. The Democrats have turned a blind eye to problematic bigots within their own party. They have used allies in the press to paint this bigotry as a Republican stunt.
•          But they cannot hide now thanks to Virginia. Read More…
 The Slime
Mudslinging – no pun intended on the racially-sensitive blackface issue – has been a tactic in American politics for decades. 
Arguably, smear tactics have been used in the U.S. for centuries.  Candidate Trump was attacked in a similar fashion to the VA scandals above.  The lines of attacks are uncovered via "opposition research" or "oppo research" – which in Mr. Trump's case produced the Access Hollywood/Billy Bush hot-mic video in 2016.
Apparently giving up hope that Special Counsel Robert Mueller's investigation will bring down the 45th president, some in Congress now want his tax returns, hoping to find fact-based dirt – or the impression of dirt.  Per Forbes, the president's net worth has declined significantly since he's entered the White House.  
"President Donald Trump's net worth has declined by more than
$1 billion since the year he launched his presidential campaign," per CNBC on Oct 2, 2018.
So when a broad range of third-party evidence is considered, the Oval Office has cost the president money, not earned him more of it. 
Instead of being concerned about evidence of any specific crime, what the nation is witnessing is the targeting of individuals, hoping to find something embarrassing might topple a target – Democrat or Republican – out of office. 
The mere hunt for dirt, hope some, can create an impression of wrongdoing.
These examples make it clear that oppo research that aims to weaponize information occurs across the left-right, Democrat and Republican, and other divides. 

Embarrassing oppo research is arguably targeting Senator Elizabeth Warren on her Native American issue. 
It should be noted that editorially, MHProNews and MHLivingNews have opposed specific policies of Warren's.  But honest policy debates should be just that, done ethically.  That should include in Warren's case giving due consideration to a theme of the Massachusetts senator that we editorially believe merits positive attention.   The #OpenMarkets issue can be accessed via the text/image linked box below.
variation of a Texas maxim. Seeking bipartisanship can be dangerous, as the dark humor noted above reminds readers. But let's risk finding common ground for the next few minutes. Affordable homes ought to be a non-partisan or bi-partisan issue. The topic of this column, properly understood, is likewise a non-partisan challenge that at least on paper enjoys bi-partisan support.
It is idealistic to imagine that the oppo research industry and tactics will end as a result of the issues noted above and below.  Warren and her policies should be viewed apart from efforts to discredit her based upon the obvious error in judgment over her now past Native American claims.  That said, the same courtesy ought to be provided to others too, on both sides of the left-right divide.  That includes President Trump.  For example, the often used smear tactic of alleged racism should be as denounced and ignored as any yet unproven Democratic cases.  For more on the 'racist' claims, see the report linked below. Carson's comments are noteworthy.
Is POTUS Trump Racist? "Here Today, Here to Stay" – HUD Secretary Ben Carson Sounds Off
Demeaning Opponents, "Opposition Research"
As noted, defaming an opponent – often by using carefully editing information – are examples of the 'weaponization of information.' It's been going on for years, under the mantra of "Oppo Research."  This issue can impact the purest among us.  It clearly influences public policy – via the dark-but-robust industry of opposition research.  See what the Google search below reflects.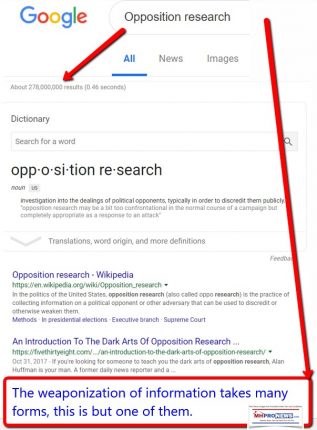 Opposition research is big business.  Understanding the principles behind it arguably could help manufactured housing (MH) professionals and researchers better understand some factors that explain why manufactured home sales are underperforming.
 Part II
The Weaponization of DATA, Business Information, and MHVille
MH Industry's professionals of whatever political party, professional segment, or personal persuasion can see from Part I of this survey how some seemingly negative personal information is weaponized.
But there are other ways that data – facts, figures, plus quotes – can arguably be weaponized too. 
•          Information used to harm a perceived opponent or targeted party.
•          Information can be withheld that might benefit a perceived opponent.
•          Partial information – a mix of the good and bad – can create the illusion of balance, when it fact it can be a carefully crafted hit-piece. Brad Lovin, the Executive Director of the North Carolina Manufactured and Modular Homebuilders Association put it this way to MHProNews.
 Every month, manufactured home data compiled and published by the Institute for Building Technology and Safety (IBTS) has disclaimers on it. IBTS collects shipment and production information by state on behalf of the U.S. Department of Housing and Urban Development (HUD), which is the primary regulatory body for HUD Code manufactured homes.
That IBTS data has for decades had an * – an asterisk – on production totals where three or fewer production centers are located in that state. The reason IBTS does so is to protect proprietary information. 
But the reality is that "proprietary" information can be gained in a variety of ways. Some are licit, others are not.
MHProNews explored in 2018 reports how field representatives working for Clayton Homes, 21st Mortgage and other brands purportedly gather "intelligence." Insights about other companies gathered by representatives of the Berkshire brands occurs when they visit a retailer or community.
So, one may not be a Clayton or 21st retailer – yet a firm could still have multiple files about any given operation on hand in various offices.
Clayton Homes and 21st Mortgage's Manufactured Housing "Spies"
In January of 2019, other tips from well placed sources connected to the Berkshire brands operating in manufactured housing pointed to other allegations of an even more sinister use of data collection.   See that disturbing report, below.
CFPB and 21st, Second Shoe Drops? Flooring w/21st Mortgage Corp? Insider Tips
Some industry professionals' wonders if the facts, video statements, and troubling revelations found in the report below were a one time tragedy in the past?
America woke up today to division. But perhaps 75 percent (+/-) of the nation's people could come together on a plan that demonstrably could do the following. Increase the U.S. Gross Domestic Product (GDP) by some $2 Trillion Annually, without new federal spending.
 The evidence suggests, no.   
Rather, it seems to be part of an ongoing pattern of activity.  Clayton Homes, 21st Mortgage Corp, Vanderbilt Mortgage and Finance (VMF), the Manufactured Housing Institute (MHI) and attorneys that represent them have been asked to clarify, refute, or correct any of these items.  So far, silence. The opportunity for them to confirm or clarify is still open.
Senator Elizabeth Warren, Was Information Weaponized Against Her Presidential Aspirations?
The only intelligent answer to that subheading question is absolutely. Democrats and Republicans alike, per sources, have used the Native Americans ancestral claim against her. The issue is arguably aimed to derail the maverick progressive law professor and senator in her planned run for the Democratic nomination for president in 2020. 
Some even in her own party are already writing Warren off, due to weaponized information. Others – looking at POTUS Trump – say, not so fast.
The story from VA is just the latest in a series of such tales that could reach back for decades, or even centuries. Erickson is correct in saying that it applies to everyone. If you have ethical standards, then the odds are good that you've violated them. We're all arguably 'guilty' of doing, or not doing, something we should have. 
If someone learns information about you that may even appear to be unsavory or unethical, that information can be weaponized and used against you in business, politics, personally, or whatever.
Most people arguably don't think in these terms. That's precisely what makes the weaponization of information useful to those who do so. They know it can be used to 'turn off' potential clients, customers, political, and public policy sources.  While MHProNews is not endorsing Senator Warren, we've spotlighted her for very specific reasons. There are – at least on paper – Democrats like Warren who say they favor strong anti-trust action.  What makes Warren's plan more compelling than many is that she argues there is no new legislation needed.
If you are a Democrat, or lean Democratic, consider her fascinating case, presented here.
Industry Takeaways?
The ways that information can be weaponized are legion. It is why critical thinking is useful for managers, investors, and business leaders.  Just because someone postures being a friend, are they in fact a foe? 
Consider the troubling case of Regional Enterprises, reported below.  Per sources, they were treated as a top independent, until they weren't. Friendly for years – then in one day, foes the next?
"Mobile Home Militia," Retail/Production Sources, Sound Alarm Against Clayton Homes, CMH, New "Anti-Competitive Practices" Allegation
MHProNews has spotlighted numerous times purported examples of misinformation or the weaponization of information. Some are linked herein or further below. Investigative journalist Sharyl Attkisson sums it up well.
Follow the money. Follow the evidence. Think objectively for yourself.  Or as President Ronald Reagan periodically said, "Trust, but verify." 
That's tonight's MH "Industry News, Tips, and Views Pros Can Use" © where "We Provide, You Decide." © ## (News, analysis, and commentary.)
NOTICE: You can get our 'read-hot' industry-leading emailed headline news updates, at this link here. You can join the scores who follow us on Twitter at this link. Connect on LinkedIn here.

NOTICE 2: Readers have periodically reported that they are getting a better experience when reading MHProNews on the Microsoft Edge, or Apple Safari browser than with Google's Chrome browser. Chrome reportedly manipulates the content of a page more than the other two.
(Related Reports are further below. Third-party images and content are provided under fair use guidelines.)
1) To sign up in seconds for our MH Industry leading emailed news updates, click here.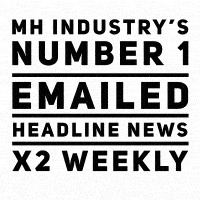 2) To pro-vide a News Tips and/or Commentary, click the link to the left. Please note if comments are on-or-off the record, thank you.
3) Marketing, Web, Video, Consulting, Recruiting and Training Re-sources
Submitted by Soheyla Kovach to the Daily Business News for MHProNews.com. Soheyla is a managing member of LifeStyle Factory Homes, LLC, the parent company to MHProNews, and MHLivingNews.com.
Related Reports

:
You can

click on the image/text boxes

to learn more about that topic.
Can Close Reading of Facts Bring Left & Right Together for MHVille, Nation?
"Mobile Home Militia," Retail/Production Sources, Sound Alarm Against Clayton Homes, CMH, New "Anti-Competitive Practices" Allegation
Manufactured Home Production Slide Continues – Call it Corruption, Collusion, Incompetence, Attempted Coverup – Self-Evident Failures Mount
Independent Clayton Retailers – Insiders, High Cost of Going Along to Get Along?
"Toxic Trailers" – Clayton Homes, Warren Buffett, Kevin Clayton, Clintons – Exposé Videos
Clayton Homes Fights Zoning, for "First Class Manufactured Homes" – Mainstream Media Reports
Surprising Discovery on Manufactured Housing's Enhanced Preemption, Hidden Gem$
Insider Tips – Clayton Multi-Million Dollar Plan Aims at Replacing Sales Staff? Warren Buffett, Bill Gates, Kevin Clayton Meeting
"Lots of Sizzle," Clayton Sales Performance, Other MHI & Clayton Homes News Tips
Manufactured Housing Institute Housing Alert, Affordable Housing Crisis, MHI's #NettlesomeThings Response