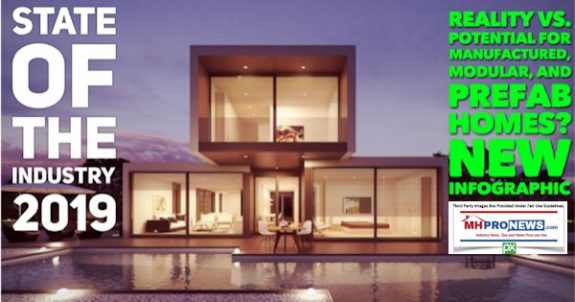 When the Daily Business News on MHProNews produced the earlier abbreviated version of the infographic further below, the final new home production data were only an estimate. Now those totals for 2018 are in.
So, now based upon the adjusted 'final' 2018 information – for accuracy's sake – we've revised the data.  Thus we are now able to elaborate on the best infographic of its kind today in MHVille.  As you will see, there are several new elements.
State of the Industry – Reality vs. Potential for new Manufactured Home Shipments?
Let's be clear. The quotes connected to Plant PreFab – which reportedly received millions from the Amazon brand, Alexa Fund – are their reported views. A case could be made that their estimate for the market potential is too low.
Note too that the modular building associations have advised MHProNews that for a variety of reasons, they don't have accurate data. What data is known, per those trade groups and the Manufactured Housing Institute (MHI), is significantly lower than the production of HUD Code manufactured homes.  So when you look at the totals for HUD Code production, imagine something well under half that for modular single-family building, per their estimates.
With that backdrop, let's consider again the statement by Richard 'Dick' Jennison, President and CEO of MHI. He asserted on stage, in a video-recorded statement he made in front of dozens of industry professionals that manufactured housing could achieve 500,000 new homes shipped. Note that editorially, MHProNews agrees that it is possible, and that even ½ million new manufactured homes a year is likely too low.
The Manufactured Housing Association for Regulatory Reform (MHARR) believes that 5oo,000 or more is achievable too. However, MHARR's President and CEO, Mark Weiss has repeatedly called into question the effectiveness of MHI in the post-production realm. The quality and value of manufactured homes has been widely praised in several researchers and media reports in 2018 alone.
So why are sales levels so low?
Weiss said it is the "Illusion of Motion."
For years, MHARR has argued that the evidence reflects that MHI appears to be busy.  Meetings, updates, calls to action, and more – but what does MHI actually accomplish? Rephrased, by intent or failure – MHI is arguably not doing the job in the post production side. A pair of state community associations essentially came to a similar conclusion in 2017. They announced the formation of a new community focused post-production trade group in 2018. The National Association of Manufactured Housing Community Owners (NAMHCO) was thus born.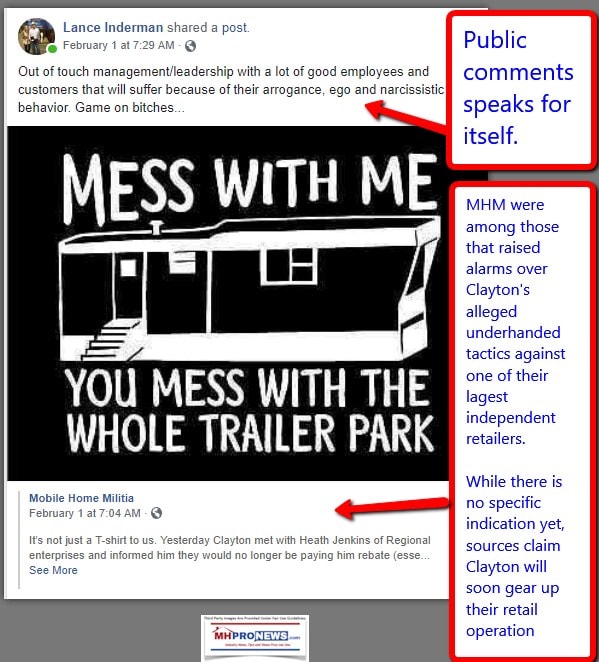 Contrarian Resistance
MHProNews and MHLivingNews were both founded in part based upon the premise that manufactured housing is underperforming. Our publisher is also a business development expert and consultant in manufactured housing. Having worked on several high-volume marketing and sales projects, L.A. 'Tony' Kovach was confident that with the correct blend of advocacy, education, and promotion sales could rise sharply.
After several years as an MHI member, and having questioned the effectiveness of their leadership at PEP – Protecting, Educating, and Promotion of HUD Code manufactured homes – MHI ejected Kovach and his operations from their membership, under their purported claim that they had 'no membership category for news.'  That's another story for another time about the Arlington, VA based trade group that ironically – and hypocritically? – repeatedly has claimed to represent 'All aspects of factory-built housing.'
How Big is the Industry's Potential?
"In the United States, 33% of housing units are occupied by rent-paying tenants," said iPropertyManagement on September 6, 2018.  Their number is likely low, as the Census Bureau and Pew Research both point to near record levels of renters in 2016, some 36.6 percent of the population.
When more than 1 in 3 rent, and millions want to upsize or downsize, how do you describe a possible target market that large? The U.S. population stood at 328,285,992 as of January 12, 2019, said Wikipedia.
Statista says "The average American household consisted of 2.53 people in 2018." That translates into 129,757,309.091 households.  The National Association of Realtors has previously reported that some 85 percent of renters want to be home owners someday. If so, that means that among renters alone, there are 110,293,712 possible home buying singles, couples, families, and households.
Given the staggering potential opportunities, why are the total numbers for manufactured homes and other forms of factory-building so low? If Amazon's Alexa Fund partners believes the total potential is some $330 billion a year, and manufactured homes are still shy of $8 billion a year, what accounts for that huge gap?
MHARR, Kovach, NAMHCO, and others question the failed leadership of MHI and their puppet masters. How about you?

Is MHI working to keep production low, so that a few firms consolidate more of the industry at a discount?
"Facts are stubborn things." – President Ronald Reagan.
There are those who have pointed the finger (no, not that finger…) at the Berkshire Hathaway brands, and have accused them of market manipulation.
"Mobile Home Militia," Retail/Production Sources, Sound Alarm Against Clayton Homes, CMH, New "Anti-Competitive Practices" Allegation
Just recently, several reports of that have come into MHProNews as tips, the ones above and below are just two of them.
CFPB and 21st, Second Shoe Drops? Flooring w/21st Mortgage Corp? Insider Tips
To this, MHI and their amen corner reply with razzle dazzle head-fakes, photo opportunities, and use a self-contradictory surrogate to accuse our publisher of conspiracy theories.  But a rival of Clayton's posted the following in public on Facebook, at about the same timeframe as our reports above were published.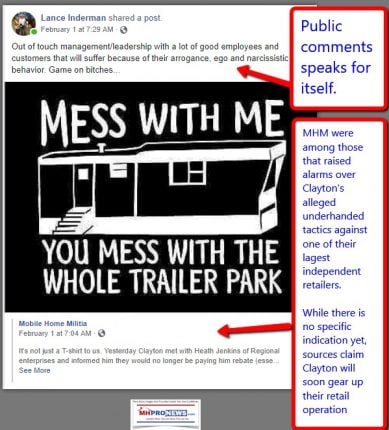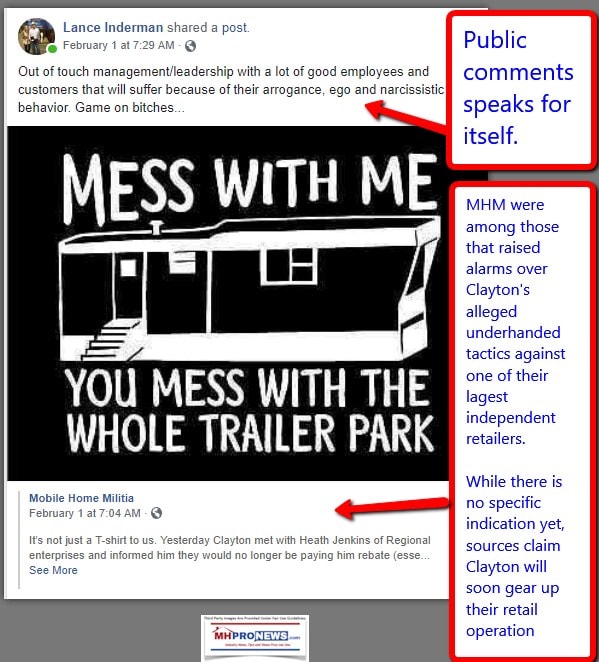 Inderman went onto post the above  about the "Mobile Home Militia" (MHM) concerns about what Clayton allegedly did to their largest independent retailer.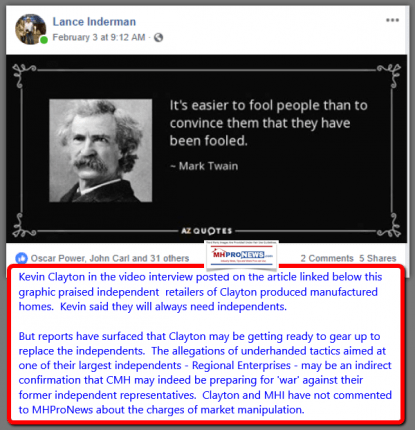 Inderman's comments – and those of "MHM" – received dozens of likes.  Articles like those we've linked from this column will receive several thousand readers each during the course of a their first month online, and hundreds to a thousand or more additional readers in each subsequent month for some time.
Underperformance vs Potential
The industry is underperforming. It is also arguably manipulated.  No one article can cover all the details, thus others are linked that provide additional insights.
That there are a growing number of those who voice concerns that the manufactured home market has been manipulated – and at best, poorly represented by MHI – is not just the view of just this publication.  As the examples posted reflect, there are a wide range of industry voices that flock here who see it similarly.  Why do they read here?  Why is this the #1 trade media site in MHVille?  Because who else but MHProNews and MHARR dares to publisher these concerns among the industry's trade journalists?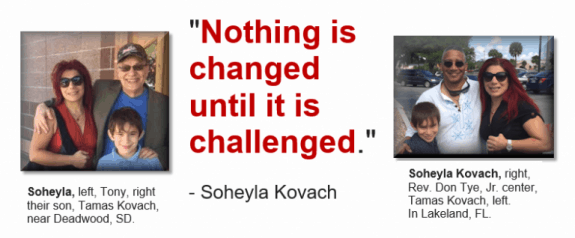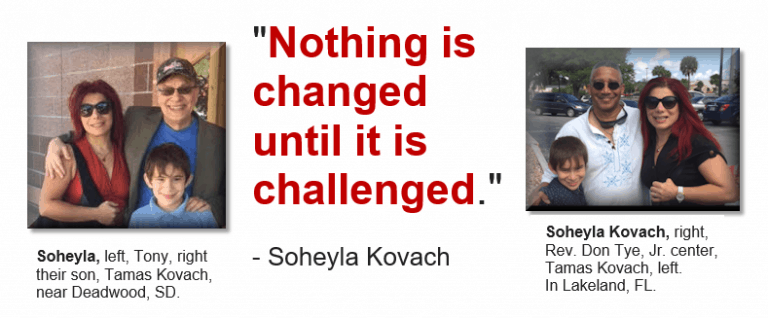 There are several movements afoot in manufactured housing.  They are aimed in various ways at breaking free of what we have dubbed the Omaha-Knoxville-Arlington axis and their allies.
MHVillage's MHInsider on Clayton Homes, Manufactured Housing Industry Fact Check – Why Correct Data Matters
Want to identify those allies of the MH axis?  If they are kissing the donkey's behind in their writing or speech, that gives you a pretty good clue. If you want to achieve your potential, will you float with the dead and dying fish, or fight the currents?
The opportunities are amazing, but they arguably won't be achieved by taking the advice of those who have arguably rigged the system.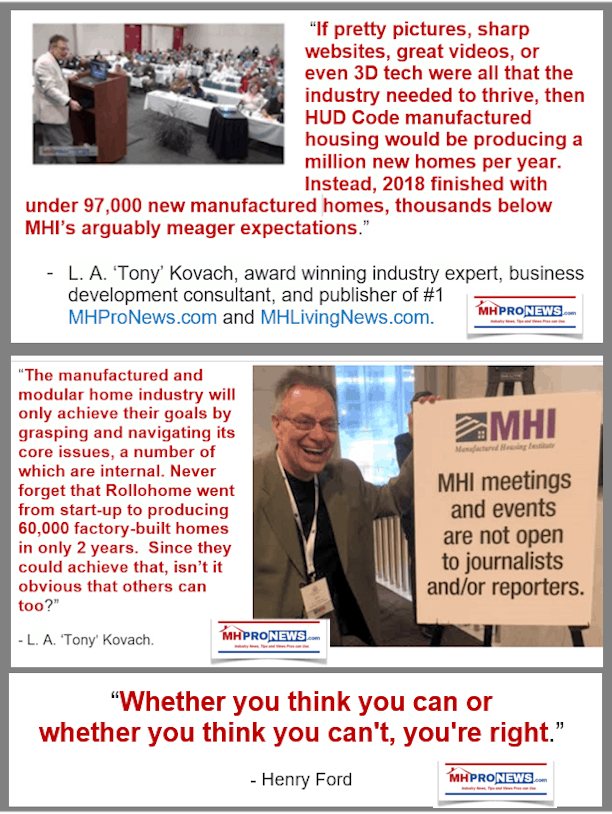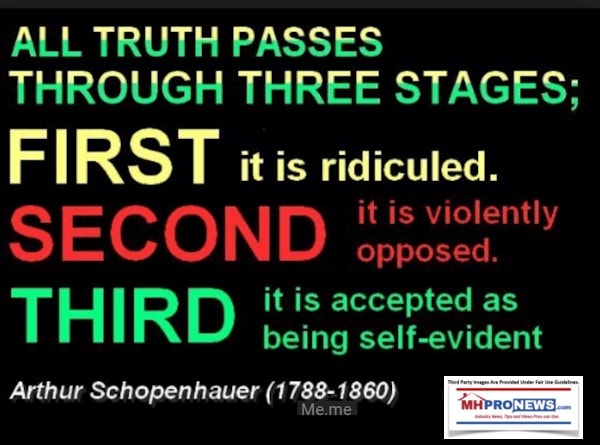 That's this Saturday's manufactured home "Industry News, Tips, and Views Pros Can Use" © where  "We Provide, You Decide."  © ## (News, analysis, and commentary.)
NOTICE: You can get our 'read-hot' industry-leading emailed headline news updates, at this link here. You can join the scores who follow us on Twitter at this link. Connect on LinkedIn here.

NOTICE 2: Readers have periodically reported that they are getting a better experience when reading MHProNews on the Microsoft Edge, or Apple Safari browser than with Google's Chrome browser. Chrome reportedly manipulates the content of a page more than the other two.
(Related Reports are further below. Third-party images and content are provided under fair use guidelines.)
1) To sign up in seconds for our MH Industry leading emailed news updates, click here.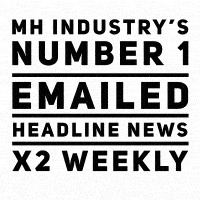 2) To pro-vide a News Tips and/or Commentary, click the link to the left. Please note if comments are on-or-off the record, thank you.
3) Marketing, Web, Video, Consulting, Recruiting and Training Re-sources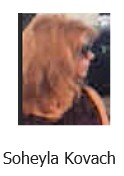 Submitted by Soheyla Kovach to the Daily Business News for MHProNews.com. Soheyla is a managing member of LifeStyle Factory Homes, LLC, the parent company to MHProNews, and MHLivingNews.com.
Related Reports

:
You can

click on the image/text boxes

to learn more about that topic.
MHI CEO Dick Jennison's Pledge – 500,000 New Manufactured Home Shipments
"Check Your Facts," "Follow the Money" – Journalist Sharyl Attkisson, Fake News, MHVille Takeaways
Reputation Defense – Clayton Customer's Video Slams "Fake Studs" vs. Clayton Homes' Image Video -Comparisons
Washington, D.C., February 4, 2019 – The Manufactured Housing Association for Regulatory Reform (MHARR) reports that according to official statistics compiled on behalf of the U.S. Department of Housing and Urban Development (HUD), HUD Code manufactured home production declined again in December 2018.
Motion – or, more accurately, activity – in and of itself, is not necessarily synonymous with, or equivalent to, realprogress, or, in fact, any progress at all.