These are #NettlesomeThings. A Clayton retailer sent a long message as part of a confidential news tip, that included the following. The Daily Business News on MHProNews has added our customary bold/brown to reflect a direct quote, but the rest are emphasis and typos are in the sender's original message. Links were added by MHProNews as well.
"We as an industry are still WAY below where all rationale says we should be, IF ONLY NORMAL MARKET FORCES WERE AT WORK HERE.  I have long felt that to NOT be the case, as you are also verifying through your investigative reporting." 
"LONG before we ever heard of any "moat" per se, but you know that I have consistently said over this last decade that SOME in our industry focus on an entirely different goal every morning:  "What can I do today to make my competition go away?" – per said source.
"The RV industry has to be commended in their PR and image-building efforts as an industry," the message continued, adding "During the worst economic downturn (recession/depression/cluster-F/whatever you want to call it) that you and I have lived through, they were able to actually grow their industry, all the while with 6-figure price tags!  Outstanding work, both on the sales centers AND in the public forum.  We have all seen the 'Go R-V'ing' ads.  Did they have to do that?  No, they could have taken the cheap route, but OH MY the results their tactics gave them!  In my mind, that fully vindicates and reaffirms my belief that our industry needs a vibrant, on-going public relations / image program!"
Again, note that the spacing, grammar, and typos, etc. are in the original.  The comments may or may not reflect the views of this publication. The illustrations are added by MHProNews, as is the subheading below, to help clarify the various points that writer made.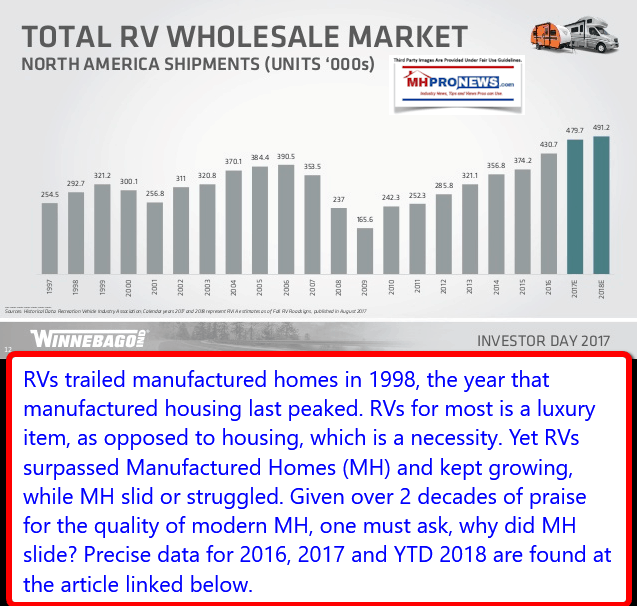 Retail Lot Managers
"You [MHProNews] and I agree that the sales happen on the lots.  But John or Mary LotManager is usually very busy in meeting conditions for lenders, scheduling deliveries, handling customer complaints about shoddy construction, etc.  They do not have the time, the resources, or the energy at the end of the day to combat the weathermen of this world, code-encroaching state officials, less-than-accurate national reporters who cast our homes in a bad light, etc.  That should be the role of the 'support team' if you will, like the state associations on the small scale.  That's why the RV industry took their future by the reins years ago."
The sender made reference to MHIdea, which was first conceived of as an alternative to the Manufactured Housing Institute (MHI) for independent retailers.
That person said that a decade ago, "independent retailers numbered over a thousand [locations].  Today, we hear talk of 400 or fewer. Hind sight is always clearer."  Readers should note that these figures were supplied by the writer, and should be understood as estimates, not to be construed as a precise number.
"If you want to use any of this text, do so 'off the record.'  Just as Frank learned (my best SWAG), RETALIATION does exist in this scenario.  After all, that's just another way of widening the moat."
The writer did not say who "Frank" was, but may have been referencing Frank Rolfe, who was once outspoken on MHI's hypocrisy and failures to defend or promote the industry, but who has since gone silent on MHI controversy related issues.  "Swag" has many possible meanings, and some of them in this context are quiet humorous. The video is an example Rolfe politely blasting MHI at a state association-sponsored event.
The subject line for the sender's message read: "Subject: MHI Year in Review." That's the name of the video MHI produced which aims to defend their record, and promote themselves. 
The lengthy message sender opened with these words,
"Well, well, well….
Guess somebody is feeling some heat.  GOOD JOB, TONY!  Keep the burners on full."
Here "Tony" must mean our publisher, L.A. 'Tony' Kovach. Like scores of other messages supporting the spotlight and "heat" cast by reports and analysis here on Buffett, Berkshire, Clayton, MHI, or their key allies and players, like Nathan Smith.
Commenting on the MHI video, "This is a lot of sizzle, but the steak's still kinda tough."  That's what inspired part of the headline and the featured image at the top of this article.
The writing was so colorful, the Daily Business News on MHProNews decided to quote extensively from it, "My first reaction when I saw the opening frames [of the MHI video] was WTF?????  OBVIOUS to me at least that this was made for folks who DON"T know the real details behind the story.  In a depressed industry, with competition slowly being choked out of existence, they come out like we're back in 1999!  What a joke. 
"Especially funny to me was their [MHI] mention of being 'financially strong'…..I would think so.  Daddy Warren has mucho $$$."
The writer suggested that the non-big three builders should provide a level of support to a new initiative to break free of Buffett led-Berkshire/Clayton/21st, et al, and MHI. 
"Do you think the remaining non-Big 3 mfgrs would be open to funding such an initiative now?  If each could do so by 'hiring' 2 minimum wage workers to their expense, just sending those $$ to the support team," the message said.
There was more, but publishing it would tend to reveal the source of the
lengthy message. MHProNews again reminds readers who are trying to stay off the radar of a big brother organization or company to consider avoid using their firm's email address. At some point, sender's may find organizations scanning team members email, looking for the sources of various comments.  That said, to date no one who has wanted to remain anonymous has indicated they have been discovered.  If sending from a non-organizational email address, MHProNews requires confirmation on a sources authenticity, etc.
The Clayton Tipster's Calculus  
The figure suggested by the writer of the comments shared above suggested works out as follows. The equivalent of 2 minimum wage workers to boost industry growth works out to be some $30,160 annually.  That's not insignificant, and if 25 firms signed onto that it would yield $754,000.  Its a small fraction of what MHI operates on, but as MHARR has proved, it is doable.
For new readers, the Manufactured Housing Association for Regulatory Reform (MHARR) provides lobbying and advocacy for independent producers of HUD Code manufactured homes.  From MHARR's base in Washington, D.C., as a matter of policy, they stay focused on production and some financing related issues, like the Duty to Serve (DTS) Manufactured Housing.  But MHARR doesn't do the kind of post-production advocacy that the sender is calling on the industry to do.
Bottom line, $750k – used wisely on targeted issues – could make a difference.  What's obvious is that MHI, spending far more per MHI budget records, and their own claims shown above, has accomplished effectively nada.
What Tim Williams Asked
Our publisher, award-winning industry services provider, and consultant, L.A. 'Tony' Kovach was asked by then MHI Chairman Tim Williams what he thought was a reasonable budget for a pro-growth alliance to operate successfully?
Tony replied to Williams' unexpected query with a figure of $1.6 million dollars annually. That's still less than half of what MHI records reflect MHI gets in dues and fees. That $1.6M kind of budget – Tony explained to Williams and his Berkshire Hathaway industry member guests – would allow for an attorney, media engagement, local zoning advocacy, and other features included in the mantra PEP. Protect, Educate, and Promote.
In hindsight or looking ahead – cooperating with MHARR and NFIB as needed – such a manufactured housing independents alliance could certainly accomplish more than MHI for the industry's independents.
Dubbed the MHAlliance was a move promoted in writing and in deed by John Bostick, President and CEO of Sunshine Homes. Sunshine's former sales manager praised on video the growth achieved by the company using a a combination of localized marketing, videos, and training.
The data reflects that Sunshine's sales growth far outpaced that of the industry at large, and blew away the growth rate of Clayton.
But the next insights from another Clayton-connected source was actually to point to data from Legacy Housing's recent IR presentation, found by clicking the box linked below.
What Others Say – Legacy Housing Corp (LEGH) IPO Set for 12.14.2018
Here is the graphic we used in a report yesterday, again noting that MHProNews is providing the commentary, etc, with illustrations.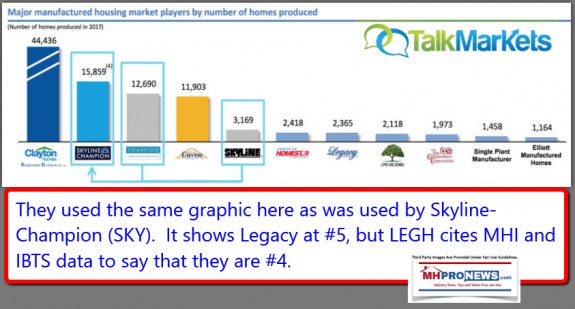 That source claims that the typical Clayton sales center has about 4 retail sales people per store (+/-). The source noted that about 2/3 of manufactured housing production, per MHI, goes to land-lease communities.
Using MHI's data from the chart above, that yields about Clayton 29,327 going to retail centers. Note that figure would likely be high, due to FEMA orders, but we'll follow that tipsters logic for a few moments.
Subtracting out roughly the number of shipments to independents and communities who sell Clayton products, that source said that the typical Clayton sales professional only sells about '15 new manufactured homes annualized over the course of a year.'
15 new homes a year?
When the Daily Business News asked why "annualized," the source claimed that the turn over in Clayton's retail sales is significant. So a sales person that starts the year often doesn't finish the year. Thus data per professional ought to be annualized.
While the numbers are rough – and we hereby welcome clarification of the claimed figures from Clayton Homes – it certainly fits the overall data, and thus is plausible. It thereby suggests a number of fascinating points.
Buffett has said that Clayton is "best in class." In the sense of total production, that is true. But in terms of individual performance, there are arguably individuals, local and regional firms that out-perform the Clayton "averages."
If so, it's a vexing commentary on Clayton's retail performance.
Another source from the Clayton organization recently said to the Daily Business News on MHProNews that the sales leader in his region may hit 30 homes for the year. Through November, per that source, the deliveries and funded deals for the top people in that region were in the upper 20s. Again, Clayton is invited to clarify any errors.
If so, the average sales person isn't selling nearly enough to make the kind of 6 figure income Clayton reportedly tells their sales recruits is possible selling new homes. Does that add to their turnover?
Reality Checks and What's the Motivation?
Another item from a Clayton retail caller was the claim of a high cancellation rate of approved deals that never deliver or close.
These points raise several issues that must be unpacked. But one of them is a recurring theme with Clayton, namely, that when specific items are scrutinized, their performance isn't as hot as the "sizzle" of their image. 
For example, the much ballyhooed new class of homes – if it is as successful as the cancelled Clayton iHouse and iHouse 2 – the program could be a disappointing outcome for all involved.
A common question Tony likes to ask those who message or call is, what's your motivation in sharing your point?
Some have said words to the effect that the industry's professionals and businesses – individually and collectively – can do far better. That is apparent in the lengthy message from the top of this report. Consider the related report, in the box further below.
While MHProNews leadership's vision is somewhat different than the first writer's message, that person did make reference to a point from the MHIdea report from a couple of weeks ago. Namely, that if the industry's members keep doing the same things, they will keep getting the same results.
Whatever the performance of individual sales people, the point about stretched thin sales and general managers is arguably valid. The industry's owners can address it, but it will take an investment in their operation.
But as one company who is growing their retail base has noted, from $500,000 to $2 million is invested in a new home sales center, inventory, etc. what's another 30K on that, if it significantly increases the results?
As 2018 winds down, and 2019 approaches, these data points and claims are important ones to ponder. What will you and your team do to improve outcomes in 2019 and beyond? See the related reports, further below. "We Provide, You Decide." © ## (News, analysis, and commentary.)
NOTICE: Readers have periodically reported that they are getting a better experience when reading MHProNews on the Microsoft Edge, or Apple Safari browser than with Google's Chrome browser. Chrome reportedly manipulates the content of a page more than the other two browsers.
(Related Reports are further below. Third-party images and content are provided under fair use guidelines.)
1) To sign up in seconds for our MH Industry leading emailed news updates, click here.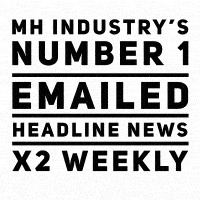 2) To provide a News Tips and/or Commentary, click the link to the left. Please note if your comments are on-or-off the record, thank you.
3) Marketing, Web, Video, Consulting, Recruiting and Training Re-sources
Submitted by Soheyla Kovach to the Daily Business News for MHProNews.com. Soheyla is a managing member of LifeStyle Factory Homes, LLC, the parent company to MHProNews, and MHLivingNews.com.
Related Reports

: Click the Boxes Below to Read More...
"What Are We, Chopped Liver?" MHI Member December 2018 Reactions
Louisville and Tunica Manufactured Housing Shows, Controversial Profitable, Problematic Issues Loom