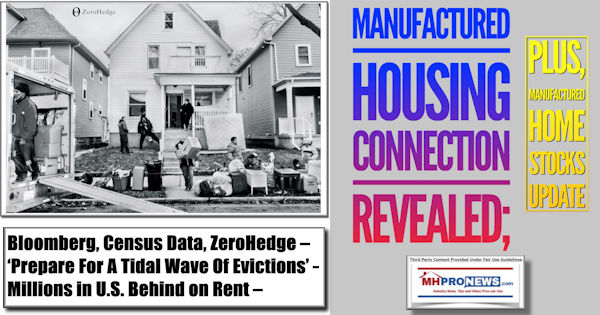 There are consequences when an economy is shut down, even for a pandemic, and there are consequences when a sufficient volume of affordable housing aren't built – and skyrocketing housing costs and evictions are part of that consequential mix. Without pointing the finger at the deposed President Trump, Texas Republicans recently vowed via their party platform to oppose a possible future economic shutdown due to a pandemic. New research by the U.S. Census Bureau has set left-leaning Bloomberg and right-leaning ZeroHedge, among other sources, buzzing with the latest concerns about what the data indicates could be a wave of evictions. Per CNN in a report dated 6.17.2022: "With rents now climbing to record highs — national median rents hit $1,827 a month in April, up 21% from the start of the pandemic two years prior, according to Realtor.com — renters who made it through the worst of the pandemic may be struggling anew."
That report by CNN's Anna Bahney notably said: "The researchers said decades of slow home building in the United States has resulted in rising home prices and rising rental costs. But just building more isn't enough, said [Center on Budget and Policy Priorities research analyst Erik] Gartland."
"Building housing takes time," Gartland said. "And any new housing isn't going to be affordable to those at the lowest levels. You also need household level renter subsidies — housing vouchers — so they can pay 30% of their income unrelated to how much it costs to build it."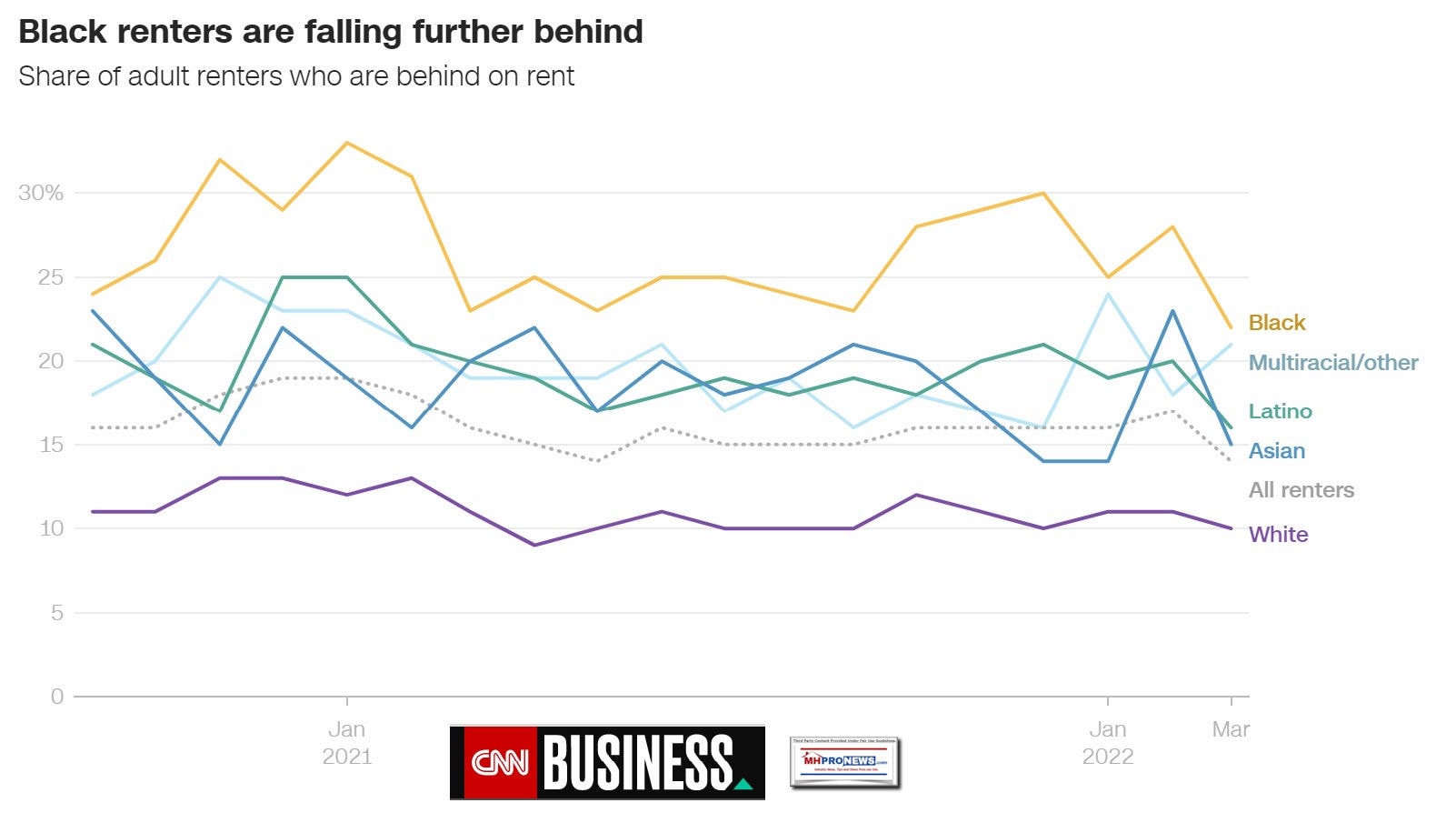 Perhaps because Gartland didn't consider the manufactured housing connection, or at least CNN didn't mention it if he did, those statements may seem appropriate to some.
But manufactured home pros should routinely join the tens of millions who skeptically view mainstream or so called 'legacy' media. As a planned report by MHProNews/MHLivingNews will reveal, an international study of news and citizens of numerous nations indicates that Americans trust their big mainstream media less than almost anyone. Perhaps that widespread doubt in media exists because experience has taught millions that news is often about a fake or hidden agenda? It isn't that all news is 'fake news,' but when selectively used facts and other information are omitted or downplayed, a legacy media report can yield an incomplete or even agenda-driven slant. By contrast, here on MHProNews we openly state that we provide "News through the lens of manufactured homes and factory-built housing" © where "We Provide, You Decide." © While viewership and engagement on much of mainstream media declined following Biden's swearing into office, consider the seemingly stunning fact that MHProNews site-metrics data indicates that in all of 2022 there has been well north of a million pageviews monthly. That is occurring in an industry which the Manufactured Housing Institute (MHI) has said has some 75,000 full time equivalent employees, a data point that likely needs to be updated. Recognizing that a chunk of that 75k total working in the manufactured home industry aren't news readers (here or elsewhere), and knowing from other metric sources that public officials, nonprofits, educators, and researchers are on our site routinely, it explains that this platform has a reach beyond the strict confines of manufactured home professionals.
That noted, and to segue back to the headline topic, per that report on CNN: "according to an exclusive new report from the Center on Budget and Policy Priorities [CBPP]. The number of renters that fell behind on rent peaked at 15 million in January 2021, the report showed. Since then, federal aid programs — including billions of dollars in rent relief and an eviction moratorium — plus a recovering economy, have reduced that number. But there remained 10.4 million renters who said they are not caught up on rent as of March, according to CBPP."
'Big Wall Street Firms Role' in 'Skyrocketing Rents' Median Rents Hit New Record 'Lack of New Construction' 'Corporate Landlords' Contributing Causes – Facts, Video, Analysis; plus MHVille Markets
Detail-minded and longer-term MHProNews readers may recall the reports that warned of potentially millions that could be evicted which resulted in moratoriums and bailouts of tens of billions of federal monies that often flowed to landlords.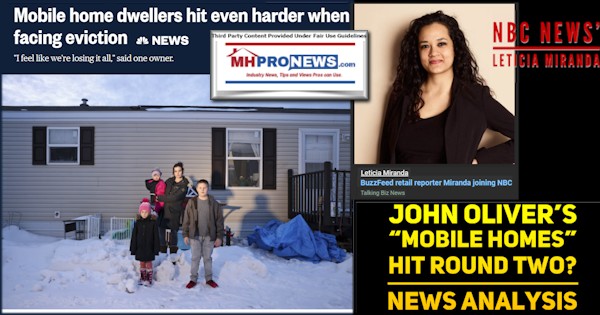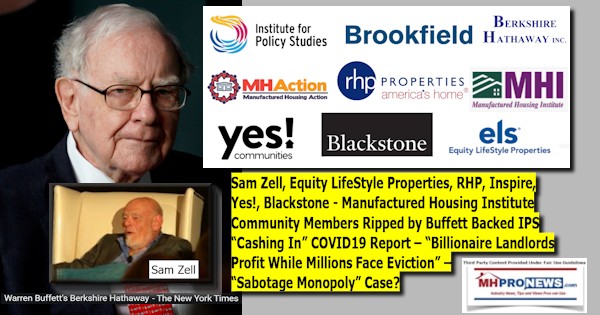 "By September 2020, 55% of all adult renters reported a loss of income due to the Covid-19 pandemic, but for Latino and Black renters the share was even higher, at 65% and 57% respectively. Ultimately, those renters were put at risk of eviction and homelessness, spurring the federal government to take unprecedented action," said CNN, adding: "A national eviction moratorium was put in place from September 2020 to August 2021, which helped prevent 1.55 million eviction filings, according to estimates from the Eviction Lab. Also, $46.55 billion of rental assistance was made available to struggling renters and their landlords. But that money is expected to be exhausted by the end of this year."
Against that backdrop, ZeroHedge said on 6.24.2022 the following.
"A tidal wave of evictions could be ahead. More than eight million Americans are behind on rent payments, and the CDC's series of eviction moratoriums has long since expired. In other words, the government safety net to keep people off the streets is gone.
With no federal eviction moratorium in place, 8.4 million Americans, or about 15% of all renters, who are behind on rent, are at risk of being evicted. The new figures were part of a Census Bureau survey conducted between June 1 to June 13 of households and was first reported by Bloomberg.
The survey found that 3.5 million households were somewhat likely to leave their rented spaces (homes/apartments) within the next two months because of an eviction. Most of these folks are of the working poor class and situated in large metro areas from New York to Atlanta, where the cost of living, including shelter, food, and fuel, has skyrocketed.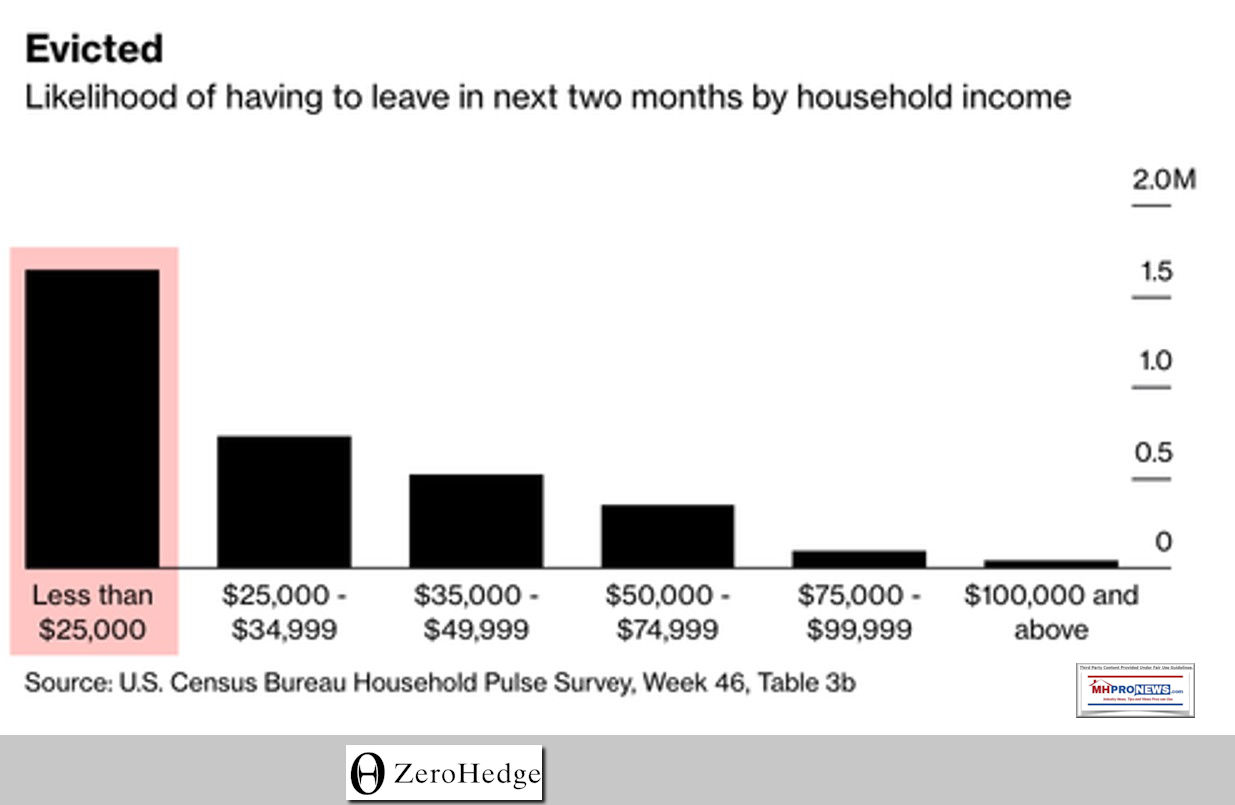 About 6.7 million households said their rents increased, on average, $250 per month over the last year. The increase doesn't sound like a lot but remember that many of these folks are being crushed under the weight of the highest inflation in four decades. Their credit cards are maxed out, and savings are drained as wages fail to keep up with soaring consumer prices."
Additional Information, More MHProNews Analysis and Commentary in Brief
MHProNews and our MHLivingNews sister site have been monitoring and periodically reporting on the increased trend of private equity increasingly acquiring rental housing as well as manufactured home communities.
Economics 101 tells the objective mind that one of the consequences of scarcity in a product or service in demand is that prices will rise. That's the law of supply and demand at work. The industry should keep in mind that site builders last year reportedly were 'throttling' their own production. Such factors mean that rent costs will spike, as will housing, be it conventional, modular, other prefabs, or manufactured homes.
Additionally, with the stiff increase in inflation in the PINO Biden-White House era, virtually all costs are increasing at an alarming rate for those at the lower rungs of the economic ladder. Jerome Powell, Chairman of the Federal Reserve of the United States, recently gave testimony that contradicted the Biden administration claim that gas prices or inflation were being caused by the Russian invasion of Ukraine. Powell clearly stated that the evidence show inflation began well before, while acknowledging the point that gas prices have surged since the Russian invasion of Ukraine.
For any that doubted that PINO Biden isn't actually in charge, this viral image below has made it clear that the 79 year old 'Teleprompted Joe' has to be (or in fact is) told what to say or do, literally step by step.
WATCH: Joe Biden confuses Syria with Libya THREE TIMES. pic.twitter.com/8iewTindfr

— RNC Research (@RNCResearch) June 13, 2021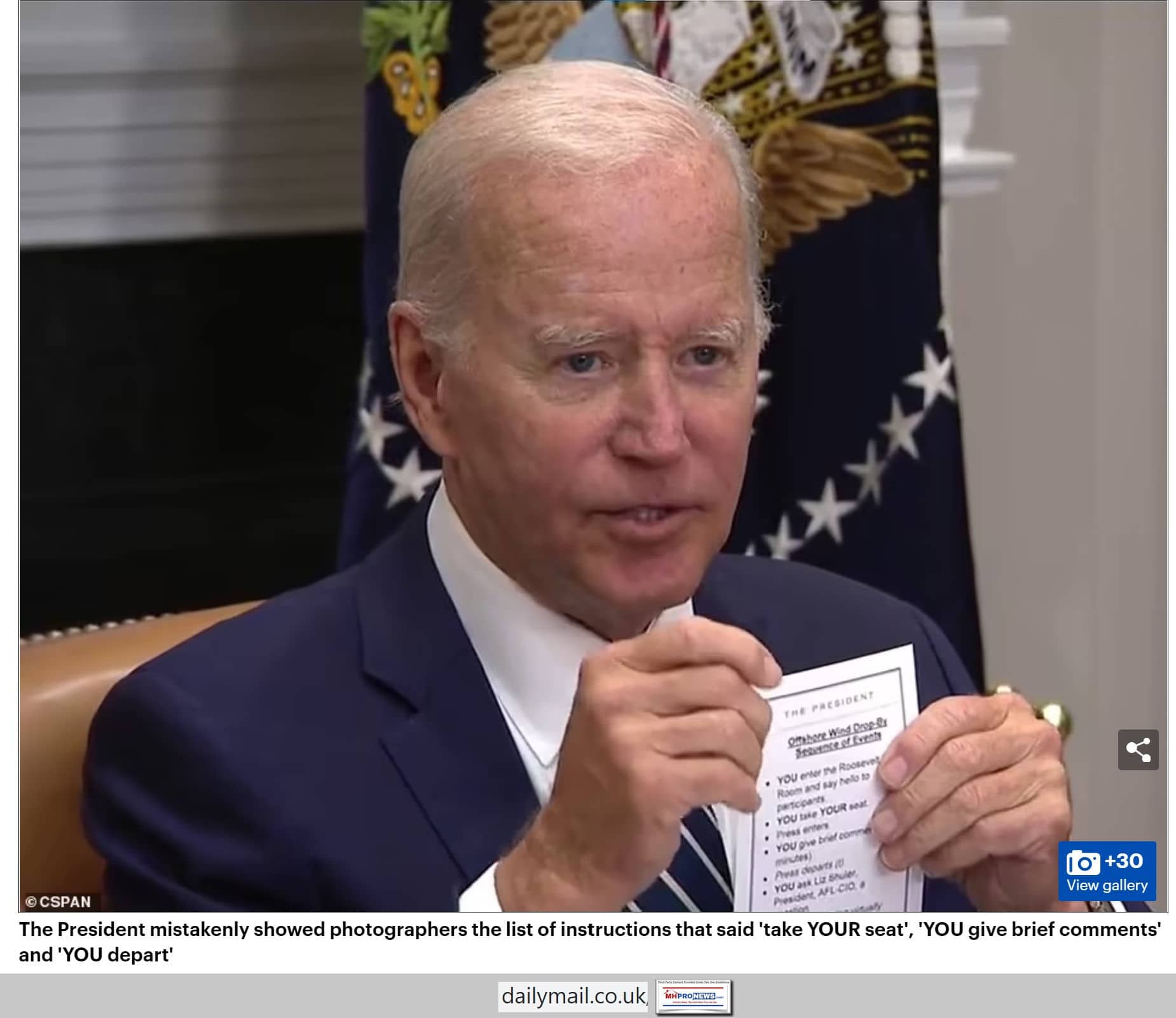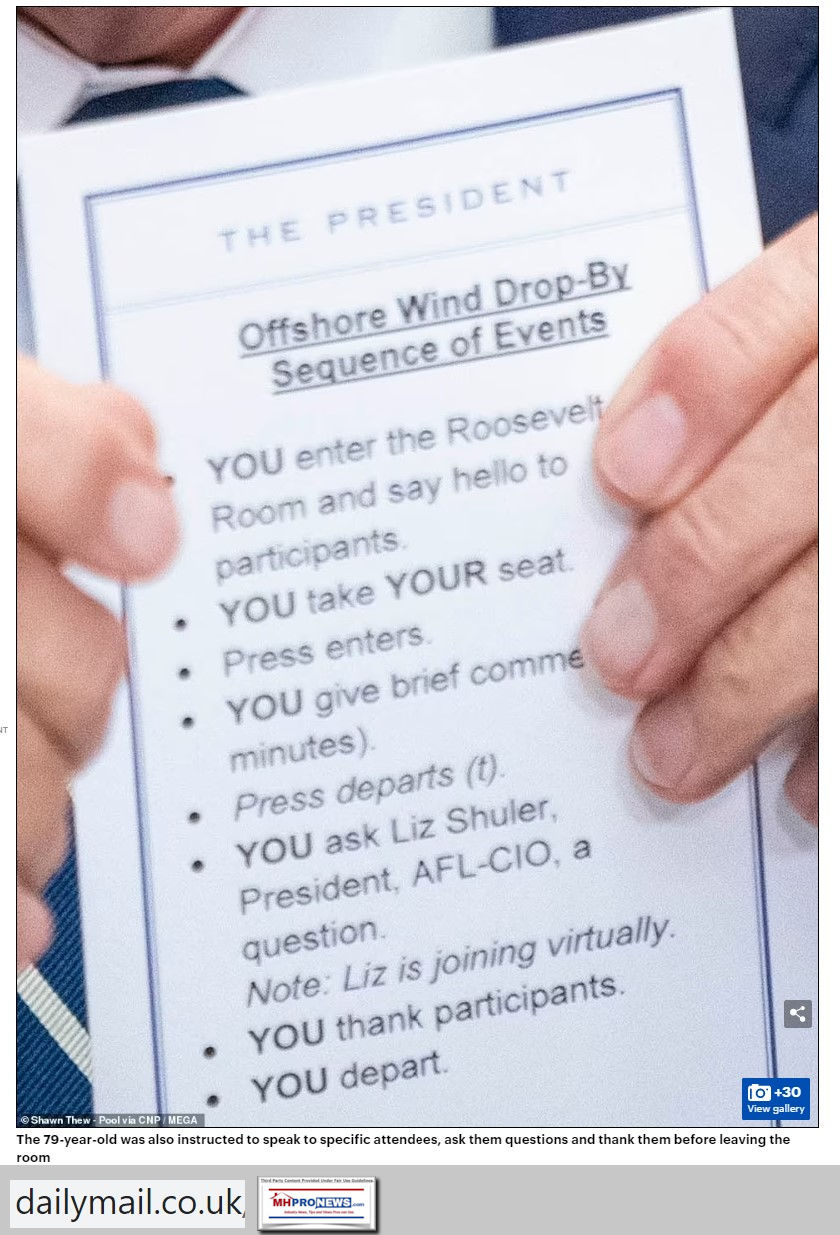 Note that the point here isn't to mock someone, be he living in the White House or anywhere else, if that may be experiencing cognitive decline. Memory and mind challenges have occurred for millions, including the late President Ronald Reagan (R). Snopes said "Ronald Reagan, who was diagnosed with Alzheimer's Disease five years after he left the presidency…"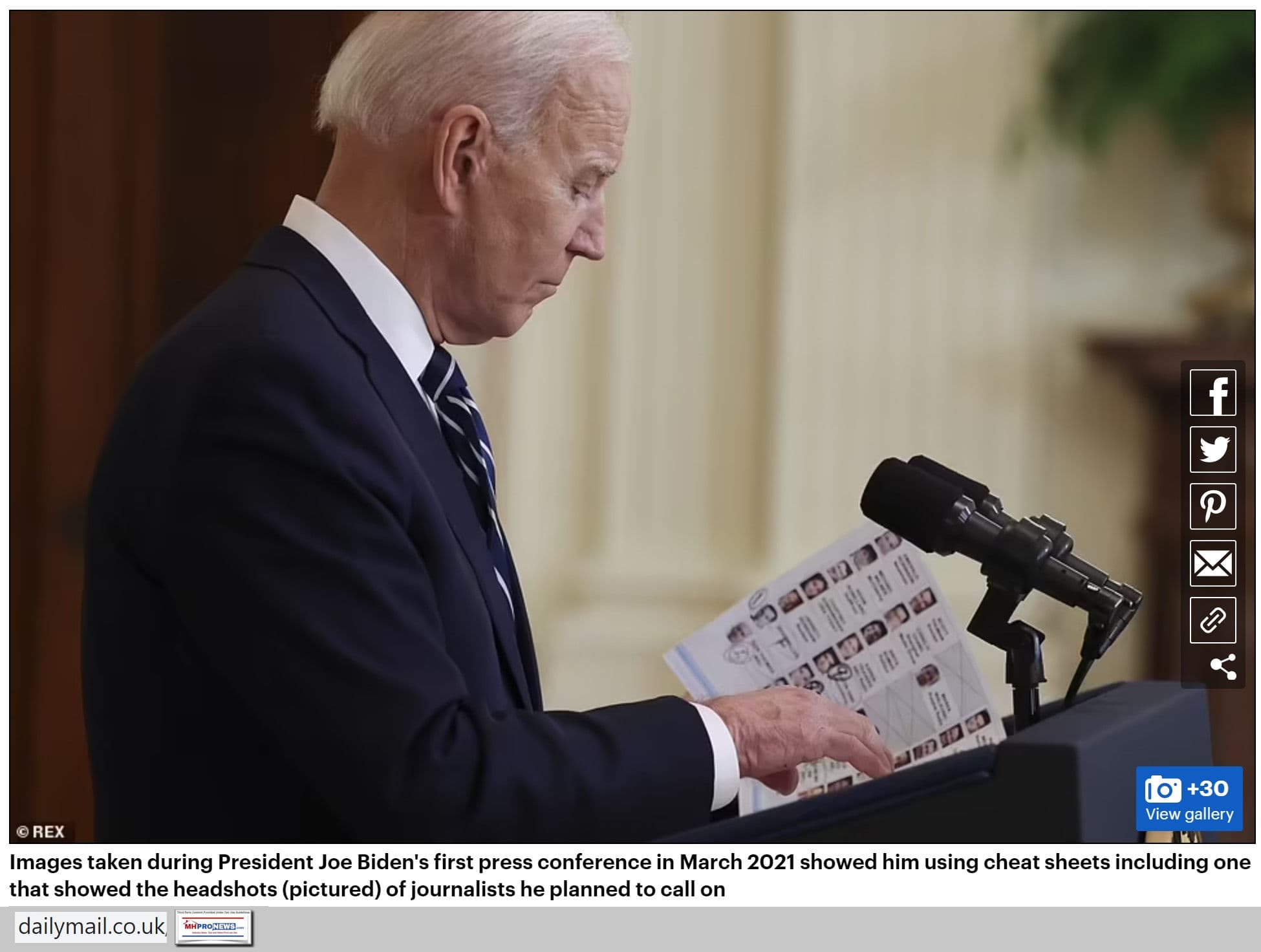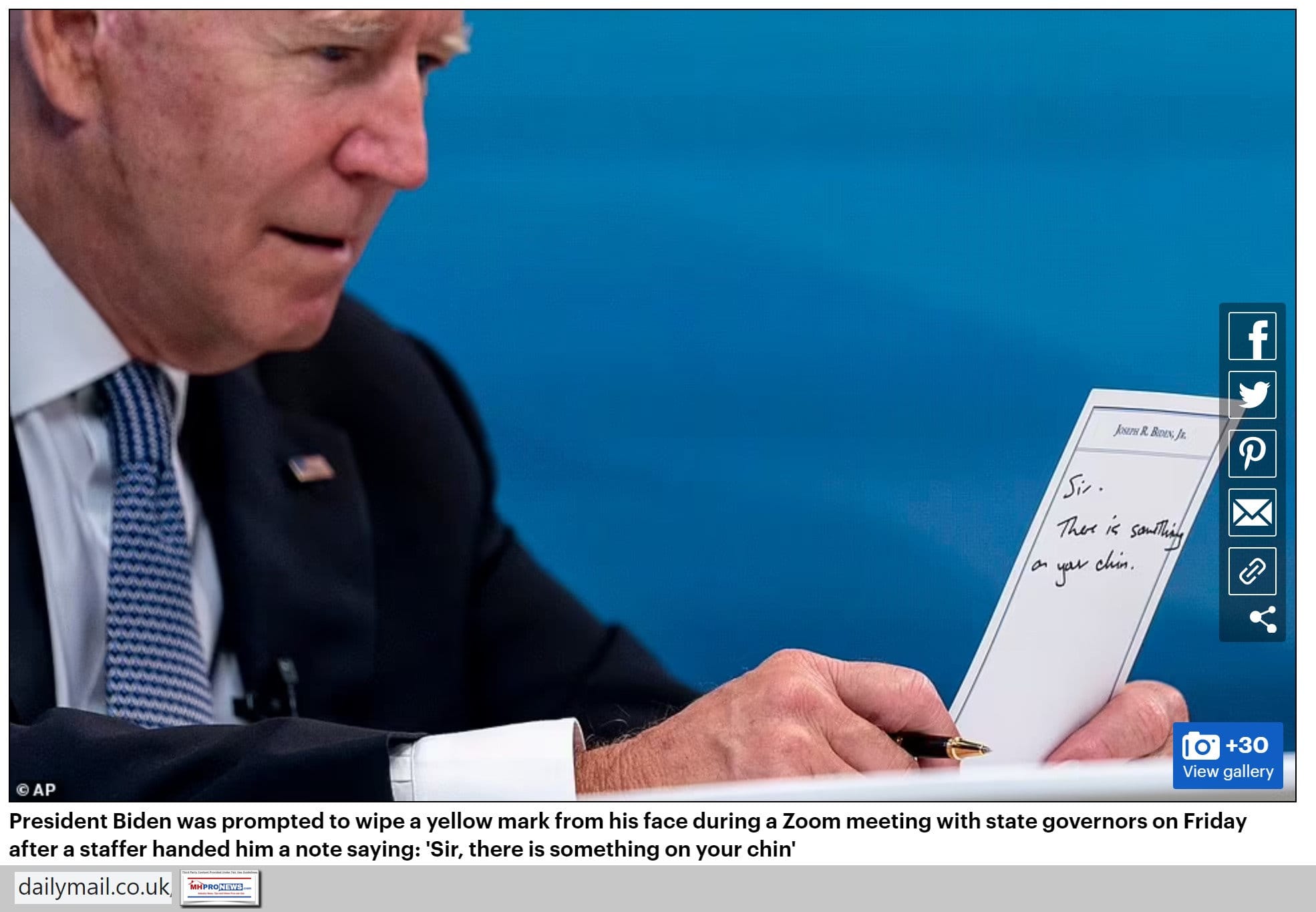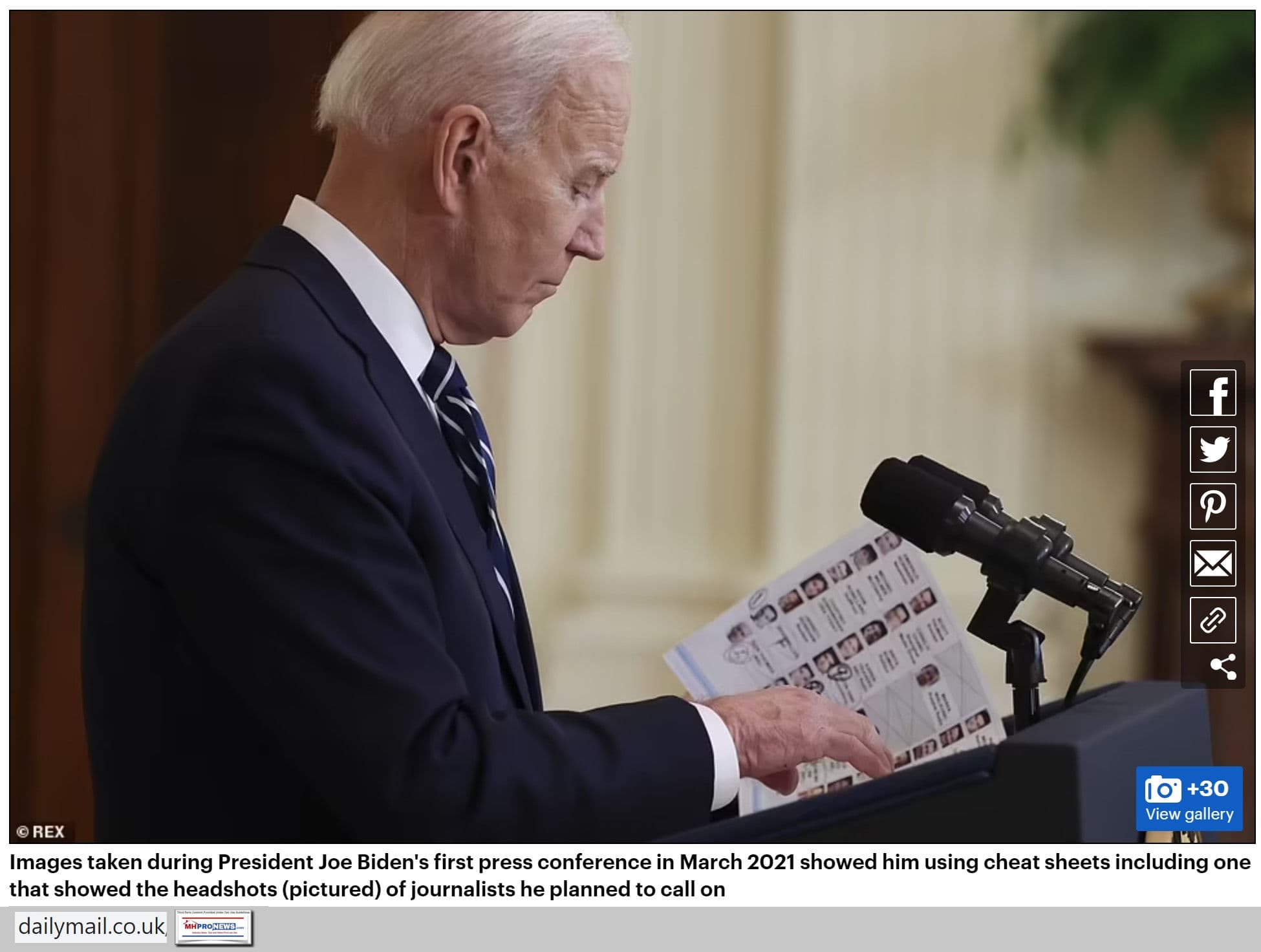 But such impairment for someone occupying the Oval Office makes a mockery of the institution of the presidency. Setting aside concerns over voter fraud, the millions who voted for Biden didn't do so with the notion that Biden would be a mere figure head – a President in Name Only  (PINO) – while faceless bureaucrats, so-called experts, or the liaisons of billionaires and their corporate and nonprofit interests would effectively be running the U.S. government. The Biden-Harris 2020 campaign was arguably included one of the bigger cases of false advertising in the 21st century, because Biden's health and mental acuity – voters were assured – were sound. Those images from the U.K. Daily Mail, and others like them available online, began to emerge from early in the Biden administration. That suggests the Democratic presidential candidate deliberately pulled the wool over their own voters eyes.
Biden is making the case that he will spur housing in the next 5 years. But as MHProNews has reported early and repeatedly, his own Democratically led HUD has researchers that painted a different picture. Those researchers said that politicians from both major parties have been making that promise for 50 years and have failed to deliver. Even the Manufactured Housing Institute (MHI), which has projected a cozy relationship with the Biden White House and several Democratic leaders, has come out and said that the Biden White House's recent and rosy claims for manufactured housing are undermined by the action of the Democratic led DOE.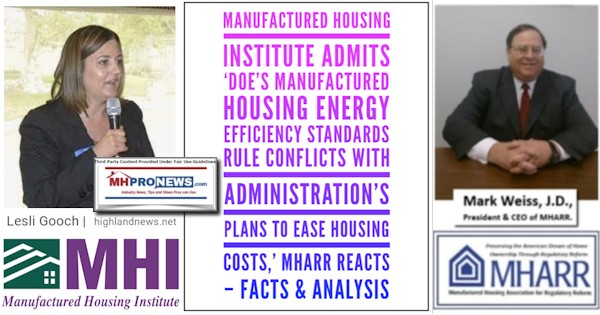 Among the possible takeaways from the array of facts, statements, and claims that flow from media on both sides of the left-right divide above is this. It seems unlikely that the nation WILL NOT easily stomach the idea of millions of people now living in rental housing being evicted in a short period of time. So, don't be surprised if a new 'emergency' piece of legislation is going to be announced and then rushed through Congress sometime before the end of this year.
Such a landlord relief bill will likely aim to fund landlords while focusing on the point that it is for the purposes of avoiding millions of evictions. Since those moneys would come from borrowing, it would be still more fuel for what is commonly called inflation.
But the root causes, beyond the pandemic, was made in the CNN statement cited near the top of this article. "The researchers said decades of slow home building in the United States has resulted in rising home prices and rising rental costs."
That part of their report is quite important. The lack of housing and slow conventional construction are contributing to the spike in prices. The costs of housing are further being fueled by a stiff and rapid hike in interest rates, that have roughly doubled for many buyers in about ½ a year, thanks to Federal Reserve policy shifts.
That slow building of housing at levels below those needed has been de facto public policy for years that is routinely found at the local, state, and national levels. It is now being further supported by the Federal Reserve's hike in interest rates, which is motivated in part by runaway spending that effectively devalued the paper [think fiat] U.S. dollar.
The solution in large part has to be more manufactured homes. Why?
Site builders can't achieve the same level of construction speed or cost that factory builders of HUD Code manufactured homes could achieve. In theory, a producer of manufactured housing could identify a building, make the financial arrangements, put a production center in place, get the proper licensing, hire the team needed, and start producing new manufactured homes in about the same length of time (+/-) that it takes a site builder to finish one single family house. Thus once the HUD Code plant is in place, the manufactured home producer could build homes in a fraction of the time and costs that conventional construction can achieve.
The number of new manufactured housing production centers has been inching up in recent years. But not nearly at the velocity that could be achieved.
Manufactured housing could rapidly fill the gap, if HUD began to enforce manufactured housing enhanced preemption, if Ginnie Mae and FHA would eliminate the restrictive 10/10 rule on manufactured home loans, and if FHFA were actually enforcing the Duty to Serve manufactured housing rule with respect to chattel lending. See the related reports that follow elaborate on what's contributed to these concerns.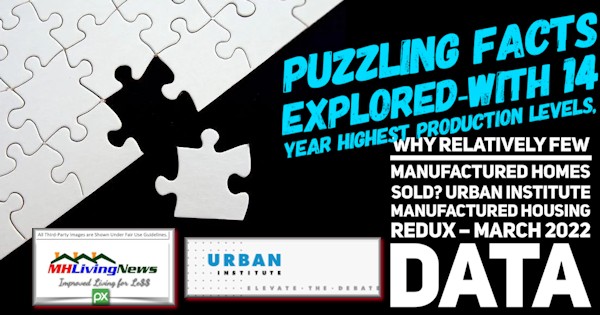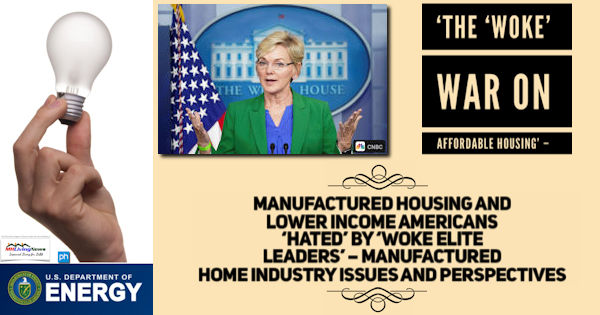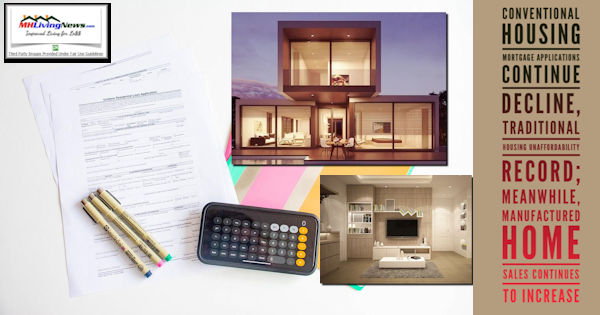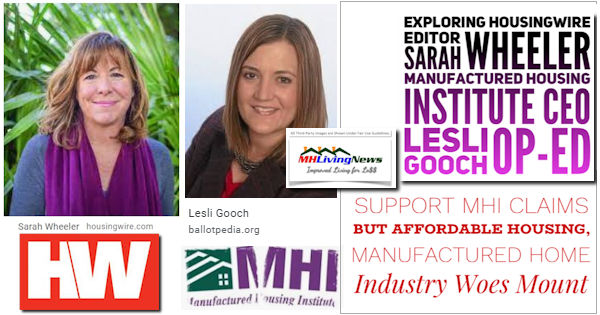 Next up is our daily business news recap of yesterday evening's market report, related left-right headlines, and manufactured housing connected equities.
The Business Daily Manufactured Home Industry Connected Stock Market Updates.  Plus, Market Moving Left leaning CNN and Right-leaning (Newsmax) Headlines Snapshot. While the layout of this daily business report has been evolving over time, several elements of the basic concepts used previously are still the same. For instance. The headlines that follow below can be reviewed at a glance to save time while providing insights across the left-right media divide. Additionally, those headlines often provide clues as to possible 'market-moving' news items.
Market Indicator Closing Summaries – Yahoo Finance Closing Tickers on MHProNews…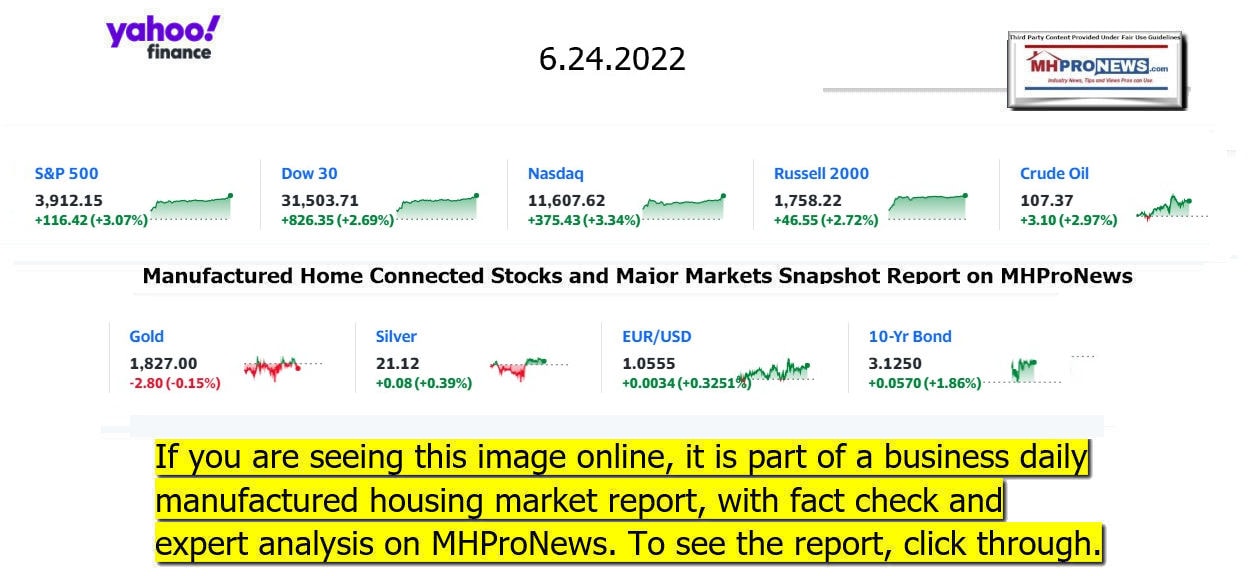 Headlines from left-of-center CNN Business – from the evening of 6.24.2022
Roe v. Wade overturned
How personal data could be used to enforce anti-abortion laws
Overturning Roe v. Wade will cause "immediate economic pain," experts say
Another recession warning: Falling copper prices
This survey has been collecting data since 1952. It found the lowest consumer sentiment level ever this month
Stocks surge even though consumers feel lousy. Here's why
Toyota is recalling its first mainstream electric car because the wheels can fall off
Elon Musk says he's worried about keeping Tesla out of bankruptcy
Small banks in China are running into trouble. Savers could lose everything
Two young Africans tired of problematic banking systems started their own
Apple and Google should face FTC probe over ad practices that could end up harming abortion-seekers, US lawmakers say
CEO on why in-office work requirement is 'foolish'
SpaceX says 5G expansion would make Starlink 'unusable' for most Americans
Emergency personnel are seen following a crash of a NIO electrical vehicle in Shanghai. Autoview/Weibo
Two killed as Nio electric car crashes from third floor of a Shanghai building
An employee packages rotisserie chickens at a Costco Wholesale Corp. store in San Francisco, California, U.S., on Wednesday, Dec. 5, 2018.
The cost of $4.99 rotisserie chickens: Costco gets sued for animal mistreatment
Hackers steal $100 million from California cryptocurrency firm
STREAMING
Reliance Industries Limited Chairman Mukesh Ambani left, poses for photographs with his wife Nita Ambani as he arrives to attend a classical dance performance in Mumbai, India, Sunday, June 5, 2022.
Mukesh Ambani, Asia's richest man, bets billions on the future of cricket
Barack and Michelle Obama ink deal with Audible
Netflix made this 1985 single top the charts again
Netflix green lights 'Squid Game' season 2
To save itself, Netflix might have to play nice with an industry it battled for years
ENERGY
German Economy Minister Robert Habeck gives a statement on the topics of energy and security of supply, in Berlin, Germany June 23, 2022.
Germany declares gas crisis as Russia cuts supplies to Europe
Putin says Russia is rerouting trade to China and India
Energy costs have forced this homeowner to use Christmas lights in the summer
Why gas prices always end in 9/10 of a cent
Europe is making it much harder for Russia to ship oil
Why New Jersey and Oregon still don't let you pump your own gas
Headlines from right-of-center Newsmax 6.24.2022
Trump: Abortion Ruling 'Possible Because I Delivered '
Former President Donald Trump speaks at the Road to Majority conference in Nashville, Tennessee, last week.
Former President Donald Trump praised the Supreme Court's Friday ruling overturning Roe v. Wade as "the biggest win for life in a generation," noting that it was "only made possible" by his actions as president. [Full Story]
Roe v. Wade Overturned
Justice Thomas: Reconsider Contraception, Same-Sex Marriage
Mayor Eric Adams: Women Wanting Abortions Welcome in NYC
Faith Leaders React to Roe's Reversal
Biden: 'Sad Day' for Supreme Court, America
US Supreme Court Overturns Roe v. Wade
Ted Cruz: Roe Ruling 'Nothing Short of a Massive Victory for Life'
Manchin 'Deeply Disappointed'
Corporate America Reacts
Greene: SCOTUS Abortion Ruling Is a 'Blessing'
Read the Abortion Ruling
Pelosi: 'Cruel' Abortion Ruling a 'Slap in the Face' to Women
Flashback: If Roe v. Wade Is Overturned, Here's What Happens Next platinum
More Roe v. Wade Overturned
Russian Invasion of Ukraine
Ukraine Loses Key Town as Russia Claims It Surrounds Troops
Zelenskyy Tells Israeli Students: Other Countries Have Done More for Ukraine Than Israel
Russian-Installed Kherson Official Killed in Bomb Blast
Ukrainian Crowd-Funded Effort Raises Money for Combat Drones
Germany Raises Gas Alert Level After Russia Cuts Supply
US Sending Advanced Rocket Systems, Other Aid to Ukraine
Rubio Asks FAA to Review Safety of Russia Airlines
Cisco to Wind Down Business in Russia, Belarus
More Russian Invasion of Ukraine
Newsmax TV
Tenney: House Will Likely Pass Unexamined Gun Bill | video
Burgess: Pelosi's Roe Response 'Characteristically Wrong' | video
Waltz: Biden Will Continue to Flounder on Gas Prices | video
Rick Perry: Biden Administration Caused Soaring Gas Prices | video
Walberg: Violence Won't 'Force Me Into the Background' on Pro-life Issues | video
Roger Williams: Gun Bill With Red Flag Laws 'Deal Killer' | video
Texas AG: : Red Flag Law Largely Ineffective | video
Newsfront
Poll: Majority Says Jan. 6 Panel Findings Won't Impact Their Vote
Just over 62% of likely voters say the findings of the congressional committee investigating the Jan. 6, 2021, unrest at the Capitol will have no impact on how they cast their ballots in the midterms this year…. [Full Story]
Hochul: People Arming Themselves for Protection Make Others Feel Unsafe
New York Gov. Kathy Hochul said Friday that people bearing arms for [Full Story]
US Supreme Court Overturns Roe v. Wade
The U.S. Supreme Court on Friday took the dramatic step of [Full Story]
Toyota Recalls Electric Car Because Wheels May Fall Off
Toyota is recalling 2,700 bZ4X crossover vehicles globally for wheel [Full Story]
Clarence Thomas' 'Resilience' Was Forged in Adversity
Supreme Court Justice Clarence Thomas, one of the most revered [Full Story] | Platinum Article
Survey: Majority of Voters Want More Election Neutrality From Outside Groups
A new national survey reveals that Republicans, Democrats, and [Full Story]
How Biden Can Counter Nuclear Threats of Russia, China
The Biden administration continues to make arms control a staple of [Full Story] | Platinum Article
US House Passes Gun-safety Legislation, Sends to Biden
The U.S. House of Representatives on Friday passed significant [Full Story]
Dershowitz to Newsmax: Abortion Ruling Based on 'Extreme Judicial Activism'
The Supreme Court's decision to overrule Roe v. Wade was a [Full Story]
Law Enforcement Braces for Summer of Unrest After Roe V. Wade Reversal
As pro-abortion groups rage against the Supreme Court's Friday [Full Story]
Trump: Abortion Ruling 'Only Made Possible Because I Delivered '
Former President Donald Trump praised the Supreme Court's Friday [Full Story]
ND AG Wrigley to Bill Gates: What Are Your Plans for State's Farmland?
North Dakota Attorney General Drew Wrigley wants to know what Bill [Full Story]
Consumer Sentiment Falls to Record Low, But Inflation Outlook Lifts
S. consumer sentiment fell to a record low in June, but Americans [Full Story]
Democrats Working on Plan to Avert Rise in Healthcare Costs
Democrats in Congress in recent weeks have been considering a plan to [Full Story]
Biden Administration Giving 'de Facto Amnesty' to Tens of Thousands
The Biden administration issued a mandate that could lead to 1 [Full Story]
Lawyers Who Won SCOTUS Gun Rights Case Leaving Law Firm
Two attorneys who successfully argued to the Supreme Court against a [Full Story]
DHS: Most Ukrainian Refugees Aren't Using Biden's Programs to Enter US
More than 71,000 people from Ukraine have arrived in the U.S. since [Full Story]
Biden Shows Off White House Meeting Cheat Sheet
President Joe Biden on Thursday displayed a card that showed [Full Story]
Report: Next Election May Be Netanyahu's Last
Israel's former Prime Minister Benjamin Netanyahu intends to run in [Full Story]
Senate Passes Bipartisan Gun Reform Legislation, Passing It to House
The Senate on Thursday easily approved a bipartisan gun violence bill [Full Story]
Related
Supreme Court Strikes New York Gun Law in Major Ruling
DeSantis Praises SCOTUS Ruling on New York Gun Law
Cruz Praises Supreme Court Gun Ruling
Trump: McConnell's 'Push' for 'Gun Control' Is 'Final Straw'
NY Gov. Hochul Slams Supreme Court Handgun Ruling
Appeals Court Revives Challenge to Bump Stock Ban
Billionaire Ackman: Interest Rates Could Surpass 5 Percent Next Year
Billionaire investor Bill Ackman said the Federal Reserve was playing [Full Story]
Nancy Pelosi's Husband Charged With DUI
Paul Pelosi, the husband of House Speaker Nancy Pelosi, D-Calif., was [Full Story]
COVID Vaccines Saved 20M Lives in First Year: Study
COVID vaccines prevented nearly 20 million deaths in the first year [Full Story]
Brooks Slams 'Flawed' Jan. 6 Hearings, Offers Conditions for Testifying
Mo Brooks, R-Ala., on Thursday wrote a letter to the the Jan. 6 [Full Story]
Texas AG Paxton to Newsmax: 'Passing a Red Flag Law Is Largely Ineffective'
Texas Attorney General Ken Paxton told Newsmax on Thursday that [Full Story] | video
Ukrainian Crowd-Funded Effort Raises Money for Combat Drones
A crowd-funded campaign aimed at raising $15 million to purchase [Full Story]
Rubio Asks FAA to Review Safety of Russia Airlines
Marco Rubio on Thursday asked the U.S. Federal Aviation [Full Story]
Poll: Confidence in Supreme Court Reaches New Low
In the latest Gallup Poll released on Thursday, Americans revealed [Full Story]
Oil Analyst: President Biden's Gas Tax Holiday Proposal 'Bad Politics'
Environmental groups have reportedly taken issue with President Joe [Full Story]
Appeals Court Revives Challenge to Bump Stock Ban
A legal challenge to the Trump administration's ban on bump stocks – [Full Story]
US Sending Advanced Rocket Systems, Other Aid to Ukraine
The United States will send another $450 million in military aid to [Full Story]
Finance
Corporate America Reacts to Supreme Court Overturning Roe Vs. Wade
A handful of U.S. companies were quick to outline their policies for employees after the nation's top court decided to overturn the landmark ruling that recognized a woman's constitutional right to an abortion and legalized it nationwide…. [Full Story]
Bristol Myers Must Face $6.4B Lawsuit Over Delayed Cancer Drug
Congress Calls for 'Meme Stock' Crackdown
Juul Seeks to Block FDA Ban on Its E-cigarettes in US
Lauren Fix, The Car Coach: Is the Gas Tax Holiday a Gimmick?
More Finance
Health
Survey: More Than 60 Percent of Americans Take Sleep Aids
If you struggle to fall asleep at night, you are not alone. About 28% of Americans say insomnia is taking a toll on their daily lives, and about 64% say they take sleep aids to help them fall asleep or stay asleep. "Chronic insomnia is a dangerous public health problem," said…… [Full Story]
Next COVID Booster Shots Will Likely Be Updated for Omicron
CDC: Deadly Meningococcal Outbreak Among Florida Gay Men
CDC Advisers Back Moderna COVID Vaccine for Teens, Older Children
Honey Formula Fights Toxic Effects of Chemotherapy Treatment
MHProNews has pioneered in our profession several reporting elements that keep our regular and attentive readers as arguably the best informed in the manufactured housing industry. Among the items shared after 'every business day' (when markets are open) is our left-right headline recap summary. At a glance in two to three minutes, key 'market moving' news items are covered from left-of-center CNN Business and right-of-center Newsmax. "We Provide, You Decide." © Additionally, MHProNews provides expert commentary and analysis on the issues that others can't or won't cover that help explain why manufactured housing has been underperforming during the Berkshire era while an affordable housing crisis and hundreds of thousands of homeless in America rages on. These are "Industry News, Tips, and Views Pros Can Use" © features and others made and kept us the runaway #1 in manufactured housing trade publisher for a dozen years and counting.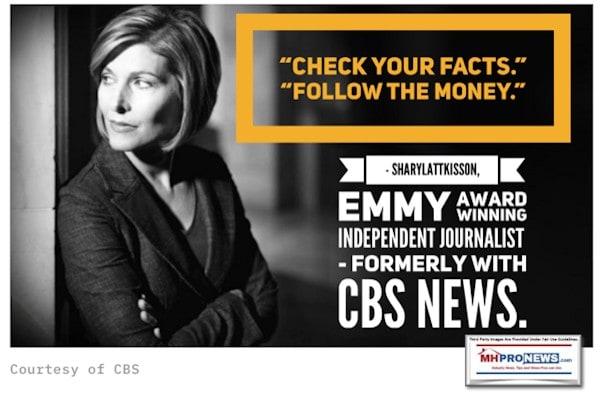 Manufactured Housing Industry Investments Connected Equities Closing Tickers
Some of these firms invest in manufactured housing, or are otherwise connected, but may do other forms of investing or business activities too.
NOTE: The chart below includes the Canadian stock, ECN, which purchased Triad Financial Services, a manufactured home industry lender
NOTE: Drew changed its name and trading symbol at the end of 2016 to Lippert (LCII).
NOTE: Deer Valley was largely taken private, say company insiders in a message to MHProNews on 12.15.2020, but there are still some outstanding shares of  the stock from the days when it was a publicly traded firm.  Thus, there is still periodic activity on DVLY.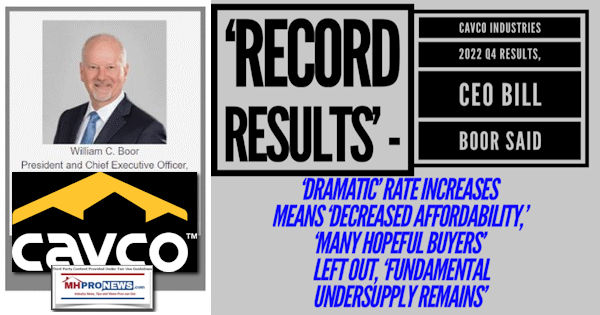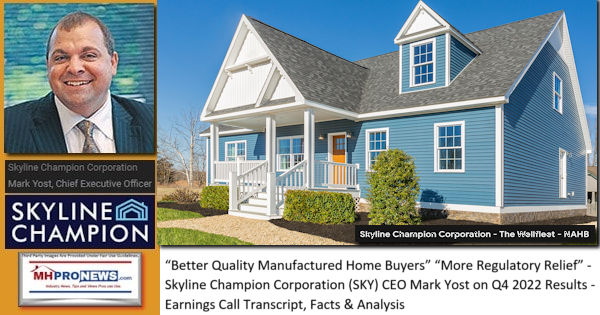 Manufactured Home Communities (a.k.a. 'Mobile Home Parks' – SIC) – Exploring UMH Properties; Fellow Manufactured Housing Institute Member Yes! Communities Suits and Settlements; plus MH Markets Updates
'Announcing!' 'Manufactured Community Owners' Association of America' 'Finally Bringing Fight To Manufactured Home Community Sector of the Industry' – plus Sunday Weekly Manufactured Housing Headlines Review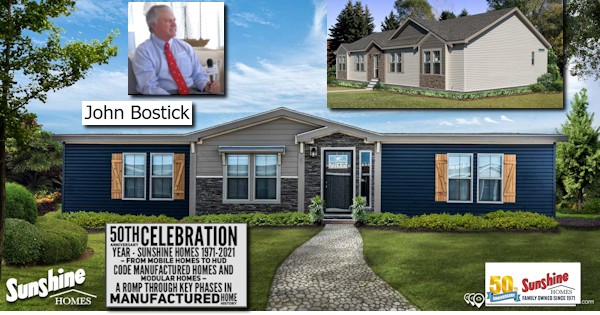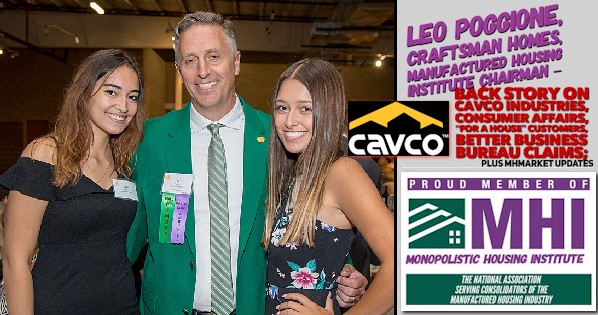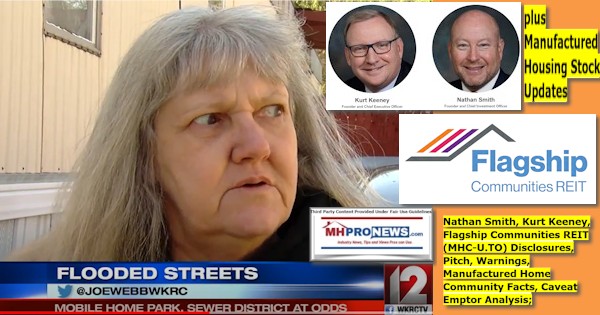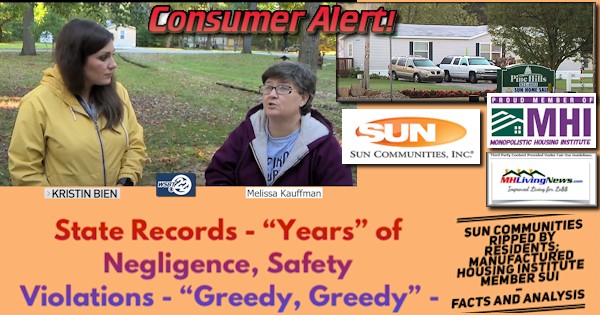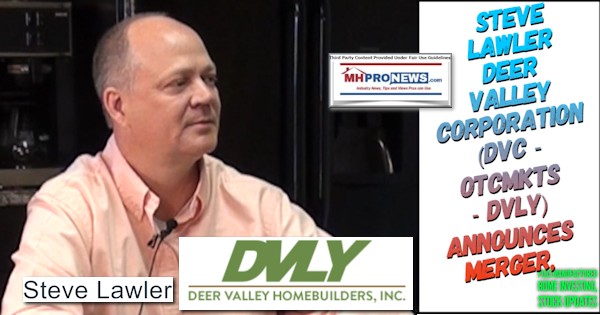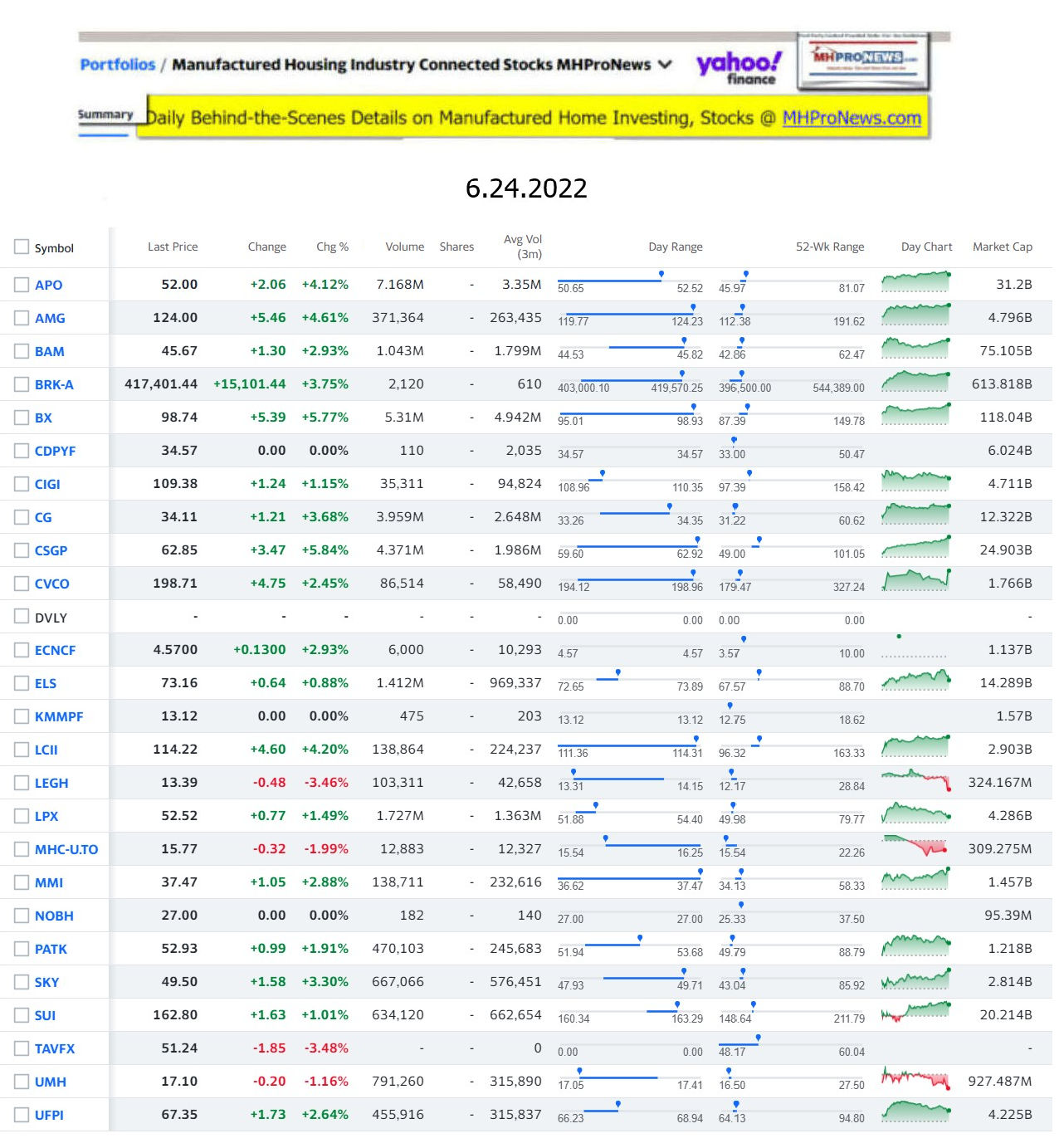 2022

…

Berkshire Hathaway is the parent company to Clayton Homes, 21st Mortgage, Vanderbilt Mortgage and other factory-built housing industry suppliers.


·

LCI Industries, Patrick, UFPI, and LP each are suppliers to the manufactured housing industry, among others.




·

AMG, CG, and TAVFX have investments in manufactured housing related businesses.

For

insights from third-parties and clients about our publisher

, click here.


Enjoy these 'blast from the past' comments.

MHProNews. MHProNews – previously a.k.a. MHMSM.com – has celebrated our 11th year of publishing and have completed over a dozen years of serving the industry as the runaway most-read trade media.
Sample Kudos over the years…
It is now 12+ years and counting…
Learn more about our evolutionary journey as the industry's leading trade media, at the report linked below.
· For expert manufactured housing business development or other professional services, click here.
· To sign up in seconds for our industry leading emailed headline news updates, click here.

Disclosure. MHProNews holds no positions in the stocks in this report.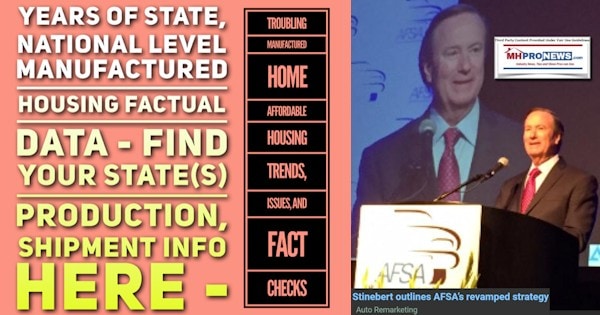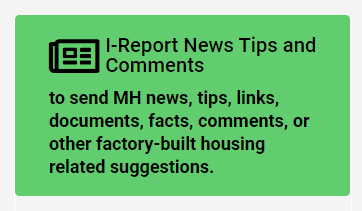 That's a wrap on this installment of "News Through the Lens of Manufactured Homes and Factory-Built Housing" © where "We Provide, You Decide." © (Affordable housing, manufactured homes, stock, investing, data, metrics, reports, fact-checks, analysis, and commentary. Third-party images or content are provided under fair use guidelines for media.) (See Related Reports, further below. Text/image boxes often are hot-linked to other reports that can be access by clicking on them.)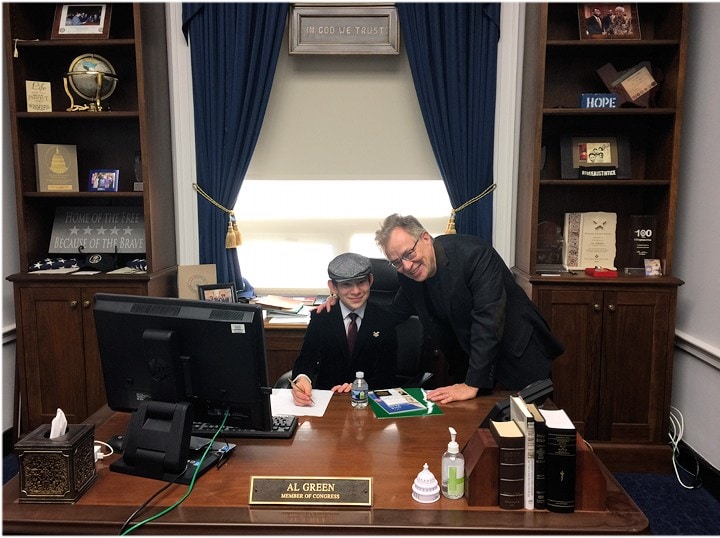 By L.A. "Tony" Kovach – for MHProNews.
Tony earned a journalism scholarship along with numerous awards in history. There have been several awards and honors and also recognition in manufactured housing. For example, he earned the prestigious Lottinville Award in history from the University of Oklahoma, where he studied history and business management. He's a managing member and co-founder of LifeStyle Factory Homes, LLC, the parent company to MHProNews, and MHLivingNews.com. This article reflects the LLC's and/or the writer's position and may or may not reflect the views of sponsors or supporters.