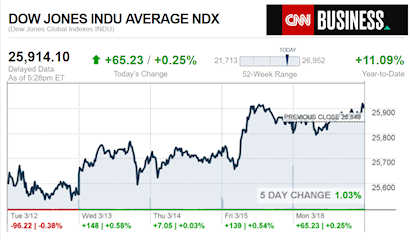 "Does Beto O'Rourke have a shot at being a big contender in 2020?" asked Fox News, which finds its answer from MSNBC which says Francis "Beto" O'Rourke raised a stunning $6.1 million in 24 hours, per the candidate's campaign. If so, that tops the haul by Senator Bernie Sanders. On a day when the broader markets rose, most manufactured home tracked stocks did too, we will look ahead at what investors must ponder for 2020. Two videos on "Beto Mania" – one from each side of the left-right spectrum, plus some sobering concerns raised by left-of-center CNBC about what looks like conflicts of interest for former congressman O'Rourke.
If you're new, already hooked on our new spotlight feature – or are ready to get the MH professional fever – our headline report is found further below, after the newsmaker bullets and major indexes closing tickers.
The evolving Daily Business News market report sets the manufactured home industry's stocks in the broader context of the overall markets.  Headlines – at home and abroad – often move the markets.  So, this is an example of "News through the lens of manufactured homes, and factory-built housing." ©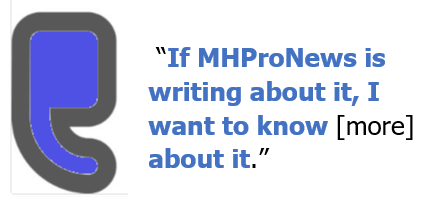 Part of this unique evening feature provides headlines – from both sides of the left-right media divide – which saves busy readers time, while underscoring topics that may be moving investors, which in turn move the markets.
Readers say this is also a useful quick-review tool that saves researchers time in getting a handle of the manufactured housing industry, through the lens of publicly-traded stocks connected with the manufactured home industry.
This is an exclusive evening or nightly example of MH "Industry News, Tips and Views, Pros Can Use." © It is fascinating to see just how similar, and different, these two lists of headlines can be.

Want to know more about the left-right media divide from third party research?  ICYMI – for those not familiar with the "Full Measure," 'left-center-right' media chart, please click here.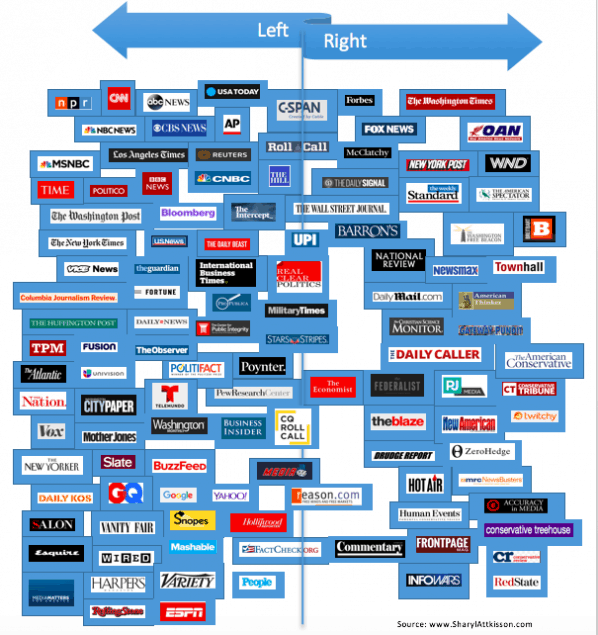 Select bullets from CNN Money…
The horrors of Christchuch played out online
Here's what Facebook, Twitter and YouTube can do now to stop terrorism and hate
How big are digital payments? See this $43 billion merger
Stocks have been flattish. Trading volume is extremely light. What are investors waiting for?
Foxconn to start production at Wisconsin factory by end of 2020
Saudi Arabia joins emerging market indexes, giving it access to billions
30,000 job cuts and muddled strategy could doom Germany's big bank merger
Lyft plans to raise over $2 billion in IPO
Warner Bros. chief steps down amid sexual misconduct investigation
This lighter helps smokers kick the habit
DraftKings looks to profit from legal NCAA Tournament bets
This fashion giant is under siege by imitators. Here's why it's legal
Content by LendingTree
Huge 15-year fixed rate drop. Could be last chance to refinance.
Alan Krueger, famed economist, dies at age 58. Obama, his former boss, says he made 'people's lives better'
Goldman Sachs says it must hire more women and minorities
Apple unveils new iPad Air and iPad mini
Washing of hands with soap under running water
Hilton is recycling used bars of hotel soap to save the planet
SPECIAL REPORT How to solve the world's plastics problem: Bring back the milk man
This artificial leaf wants to help fight climate change
Coca-Cola promised to help fix recycling. Here's how it plans to deliver
Yes Men don't always win. When to say 'no' at work
TELL US WHAT YOU THINK What makes a great boss?
You're a leader now. It's time to start acting like one
4 signs a company is a good employer for women
How to prove you have management potential, even if you're not in charge
Select Bullets from Fox Business…
Tesla asks workers to volunteer to help deliver 30K cars: Report
Tesla Model Y gets Fisker Inc. rival
Tesla price hike imminent: What to know
Lori Loughlin, Felicity Huffman $500B lawsuit the tip of iceberg: Judge Napolitano
Trump pressures GM over Ohio plant closure, wants it 'open now'
Marriott plans to open more than 1,700 hotels by 2021
Kirsten Gillibrand's top economic priorities
US-China trade: How a deal with Beijing could be enforced
John Boehner flips on pot legalization: Fed laws 'way out of step'
Best, worst cities for first-time homebuyers on a budget
WATCH: Piscopo on Trump 'SNL' slam: You don't cut funny
Warner Bros. chairman and CEO Kevin Tsujihara to step down amid sexual misconduct allegations
Cod fishery plummets to least valuable year since 1960s
Nike built Duke's Zion Williamson customized shoe before return: Report
Azim Premji donates $7.5B to charity
Time is just right for moving more Americans from welfare to work
S. economy, manufacturing and oil boom proving socialist naysayers wrong
Kennedy: Bernie Sanders will 'eat' Beto O'Rourke for breakfast
Reed: We need more transparency in higher education
Amazon did not want to face Ocasio-Cortez: NY state lawmaker
Lyft IPO: Should investors steer clear?
Today's markets and stocks, at the closing bell…

Today's Big Movers
For all the scores and highlights on tracked manufactured home connected stocks today, see the Bloomberg graphic, posted below.
Today's MH Market Spotlight Report –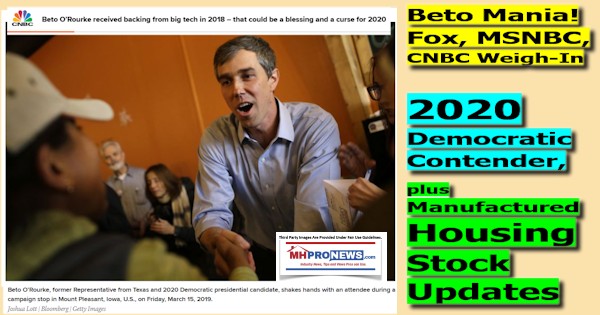 There are reports that a Reuters journalist who was doing a book on Francis "Beto" O'Rourke held back a potentially damaging report about the candidate during the 2018 Senate race against Senator Ted Cruz (TX-R).  That report claims that O'Rourke was part of a computer hacker group some years ago, in his mid-teens.  If so, ouch.
3 quick takes on the enthusiasm among some for Beto, first from Fox News, then from MSNBC.
Fox News on Beto mania.
MSNBC Morning Joe earlier today.
Then, some pull quotes from CNBC, that raised a different concern, but also tied to tech. Namely, that while 45 percent of his support came from small donors, the balance came from big donors, often tied with big tech.
O'Rourke – who announced Monday that he raked in a record $6.1 million in the first 24 hours of his 2020 campaign – and several of his Democratic rivals have made it a point to distance themselves from corporate money. Likewise, perceived coziness with big tech could pose political risks with rising bipartisan calls to crack down on and regulate the industry.
During his shockingly close loss to Republican Sen. Ted Cruz in deep red Texas, O'Rourke raised tens of millions of dollars, much of it from so-called small donors, or people who give $200 or less. As the Democratic former congressman touted his success among smaller donors, while rejecting money from corporations and super PACs, he also reaped the benefits from bigger-dollar donors, such as executives and employees from major tech companies such as Apple, Facebookand Amazon.
Amazon's top spokesman, Jay Carney, gave $1,500directly to the O'Rourke campaign. Carney previously served as White House press secretary to President Barack Obama, to whom O'Rourke has been compared. Brian Olsavsky, the company's financial chief, wrote a check for $2,700 to O'Rourke's 2018 campaign, which is the most an individual can give in an election. Amazon employees, overall, gave $75,751 to his campaign.
O'Rourke finished the 2018 campaign having raised $80 million, with 45 percent coming from small donors. The rest came from people giving more than $200, including important players at Facebook and Apple.
Chris Espinosa, who was designated Apple's eighth employee after the company was founded in the 1970s, gave O'Rourke $2,700. Apple employees gave O'Rourke's campaign just over $90,000 during the 2018 campaign.
Alex Stamos, who was Facebook's chief security officer until August, also gave $2,700to O'Rourke's campaign. Stamos told CNBC that he has not decided whom to support among the Democratic field. But he did say he is advising campaigns on cybersecurity in the wake of Russia's interference and hacking during the 2016 cycle.
"One of the great benefits of not being a professional political operative is that I don't have to pick sides 20 months before the general election," Stamos said. "I've been trying to be helpful to multiple Democratic campaigns, and right now my focus is on helping them get their campaign technology stacks set up in a secure manner."
It seems that campaign season barely took a pause to sort out who won the 2018 midterms, before gearing up for the 2020 cycle.  See related reports, further below.
Related Reports:
Howard Schultz Serious About 2020 Independent Run, Outlines Plans, plus Manufactured Housing Equities Updates
Raucous Caucus, Democratic Reality Check by Speaker Pelosi, Mayor Rahm Emanuel, plus MH Market Updates
February Jobs Data in 1 Infographic, Construction Hit, Plus Manufactured Housing Stock Updates
Bloomberg Closing Ticker for MHProNews…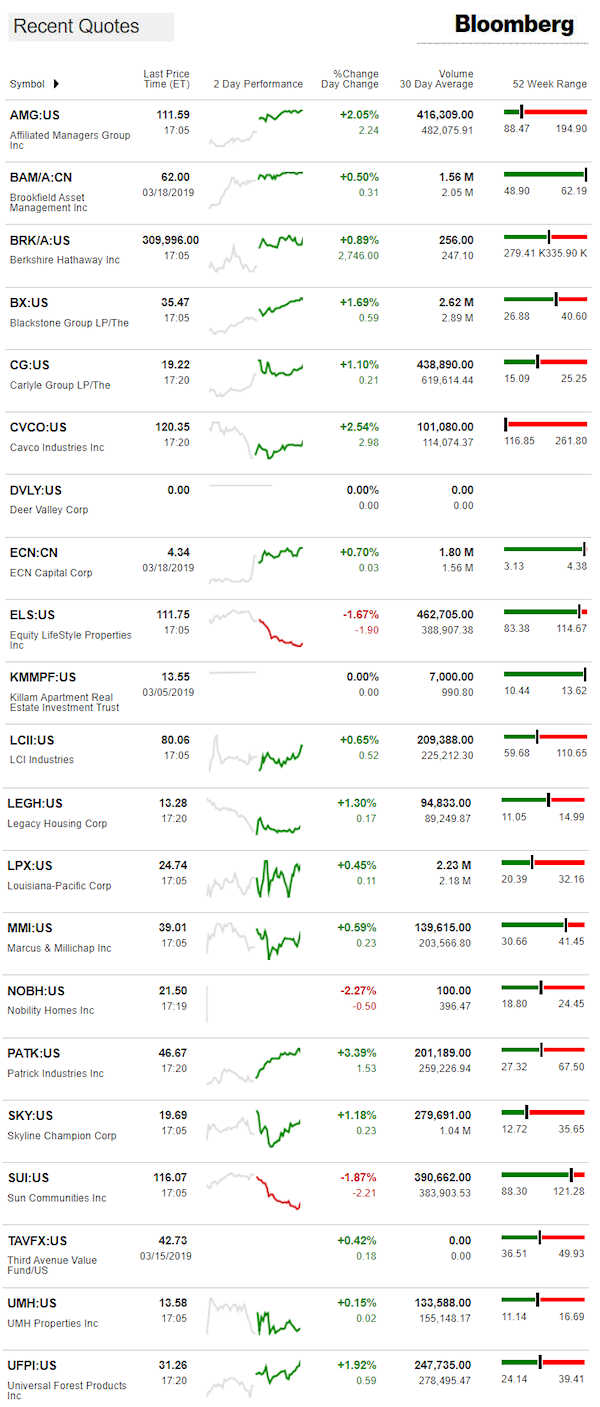 NOTE: The chart below includes the Canadian stock, ECN, which purchased Triad Financial Services.
NOTE: The chart below covers a number of stocks NOT reflected in the Yahoo MHCV, shown above.
NOTE: Drew changed its name and trading symbol at the end of 2016 to Lippert (LCII).
Berkshire Hathaway is the parent company to Clayton Homes, 21st Mortgage, Vanderbilt Mortgage and other factory built housing industry suppliers.
LCI Industries, Patrick, UFPI and LP all supply manufactured housing.
AMG, CG and TAVFX have investments in manufactured housing related businesses.
Your link to industry praise for our coverage, is found here.
For the examples of our kudos linked above…plus well over 1,000 positive, public comments, we say – "Thank You for your vote of confidence."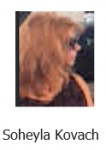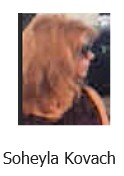 "We Provide, You Decide." © ## (News, analysis and commentary.)
(Image credits and information are as shown above, and when provided by third parties, are shared under fair use guidelines.)
Submitted by Soheyla Kovach to the Daily Business News for MHProNews.com.