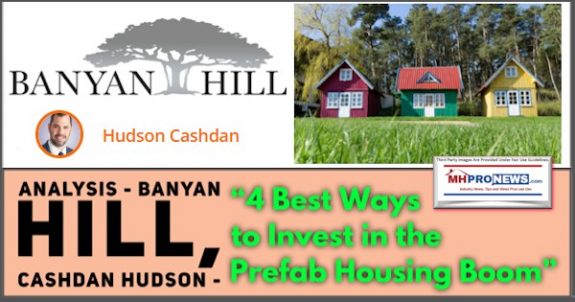 Banyan Hill recently did an article on tiny and prefab houses and investing in the prefabricated housing sector, which will be reviewed in this analysis and report. Let's set the table with some background about that company and their publishing arm.
The video below by Banyan Hill, and the quotes from that organization, are not intended as an analysis of that firm's overall capabilities as an asset protection firm or investment advisor. Rather, the video is their own self-description.  That said, the video opens with an analogy based upon the banyan tree and its ability to survive a hurricane, as opposed to the more commonly known oak trees, that can get toppled by a sustained windstorm. The music and tone are subtle, no doubt an effort to instill confidence.
The firm's website says, "Founded in 1998 as The Sovereign Society, we quickly established ourselves as the premier global asset protection and investment organization founded on the ideals of self-reliance and sovereignty. We provided our readers advice on global investment strategies, diversification from the U.S. dollar, the establishment and operation of offshore bank accounts, asset protection trusts, international business corporations, private foundations, second citizenships and foreign residency, as well as practical safeguards for personal and financial privacy."
Their about us page continues. "In 2016, we became Banyan Hill Publishing and refocused our efforts to prioritize U.S.-based investment opportunities such as commodities and natural resources, small- and mid-cap stocks, income-producing investments, option plays and deeply undervalued domestic companies. Today, as one of the fastest-growing publishers of independent investment advice in the world, we have nearly 700,000 daily readers relying on our panel of experts to safely and profitably grow their wealth."
With that introduction from their website, the Banyan Hill publishing division's headline about factory-built housing said, "THE 4 BEST WAYS TO INVEST IN THE PREFAB HOUSING BOOM," while their hotlink said "Cash in on Prefab Housing Boom."
The opening bullets by Banyan's Hudson Cashdan was posted on Jul 12, 2019.  Next to the dates was this phrase: "Bold Profits Daily, Investment Opportunities, Real Estate." Their three topline bullets read as follows.
"Story Highlights:
A prefab housing company in Texas is attracting budget-conscious millennials by offering designed tiny homes for just over $5,000.
Cutting-edge technology is setting the stage for an Uber-like transformation in the housing market.
Four ways to play this boom, including one that inspired an $8 million investment led by Microsoft co-founder Paul Allen."
The writing is crisp. Note for first-time readers: for some years MHProNews has often taken direct quotes and turned them bold and brown to make them pop or thus stand out. But otherwise, the quotes are as in the original.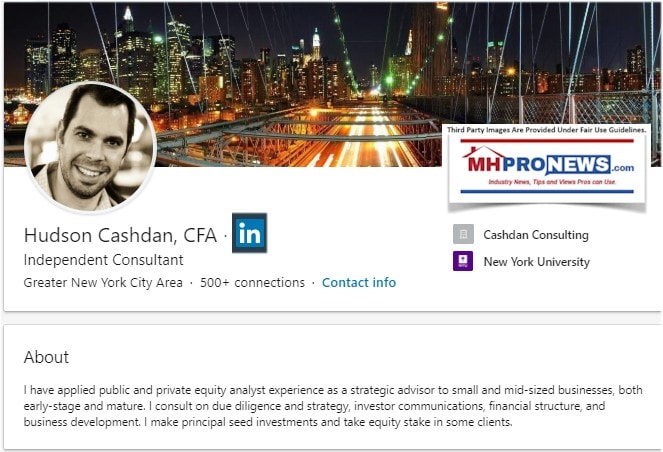 This analysis of Cashdan's article is not in the original sequence.  The reason is to make some points to a manufactured housing business, investors, and advocacy professional audience. Part of his post included a plug for manufactured home land-lease communities. It read as follows.
"But there are a few ways to play the prefab housing trend now.
One way is through REITs — real estate investment trusts — which own the manufactured housing communities.
These communities tend to be the lowest-cost non-subsidized housing option in the regions they operate, although many locations are moving upmarket.
Local officials have restricted the growth of manufactured housing communities due to an unwarranted negative perception. With restrained supply, the returns on the managers of these communities have been outstanding.
Adding one of these REITs — Equity LifeStyle Properties Inc. (NYSE: ELS), Sun Communities Inc. (NYSE: SUI) and UMH Properties Inc. (NYSE: UMH) — is one of the best ways to ways to buy into this mega trend."
Certainly, Cashdan on this point is correct. An objective look at those three Real Estate Investment Trusts (REITs) reflects years of solid performance. A screen capture below is from one of Sun's reports, which dots that i.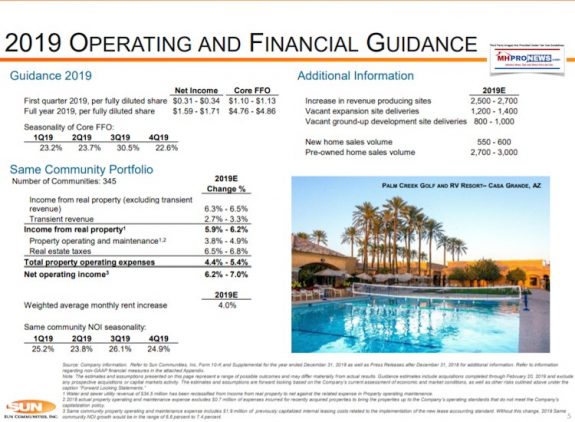 His points about manufactured home land lease communities noted, let's jump back to Cashdan's initial paragraphs following his first 3 bullets quoted above. Because it is revealing on several levels.
"Your home is your castle, as the saying goes. But that tired expression is getting a makeover these days, as more Americans — especially millennials — are downsizing and choosing smaller living spaces.
The reason is obvious: Cost.
Smaller homes mean lower budgets and mortgages. And this tiny house mega trend offers a great investment opportunity.
I'm talking about everything from tiny cottage-sized houses to converted school bus or shipping container homes. But one industry is set to soar from this trend.
The prefabricated housing market.
Prefab houses are manufactured tiny homes that are attracting more and more millennials today. There are some amazing tiny home designs out there. I'm keeping a close eye on this industry because I believe that there'll be a major tipping point. Then the prices will really start to fall, even while the design quality rises.
That creates a great opportunity, and that's when I will pull the trigger.
This week, I read about a Texas company called Arched Cabins that sells 12-foot-by-24-foot one-room homes for just over $5,000…"
Let's sum up to this point.
Writer Hudson Cashdan on this date had a total of three articles on Banyan Hill's website. His LinkedIn profile reflects that he is an independent, so his ties to Banyan beyond writing is open to question. He has disclosed in his Banyan Hill post that he has not yet invested in prefab builder Arched Cabins or prefab housing.  Cashdan has stated a good case for investing in manufactured home REITs, but avoids mention of any controversies in the sector, such as the one sparked by Last Week Tonight with John Oliver's viral – and errantly named – "Mobile Homes" video.
Cashdan's depth of understanding of manufactured homes and prefab housing would be a reasonable question for a reader to ponder.
As our tiny house report on a different operation last night reflected anew, tiny houses are indeed an interesting, often appealing, and thus hot topic for millennials and others.  So too is home ownership. Those are proverbial wheat from Cashdan's post. ICYMI, the brief tiny house marketing comparison report is linked below.
Comparing Successful Tiny House Promotion to Manufactured Home Promotion Data
With that backdrop, after first reading Cashdan's report a week ago, let's note that MHProNews reached out to Arched Cabins. Our publisher asked some questions from the Texas-based kit home producer's pricing, what was included in that cost, and related information. 
Arched Cabins' representative responses to our publisher's inquiry are found between the two illustrations from their website, both from the page linked by "Sara."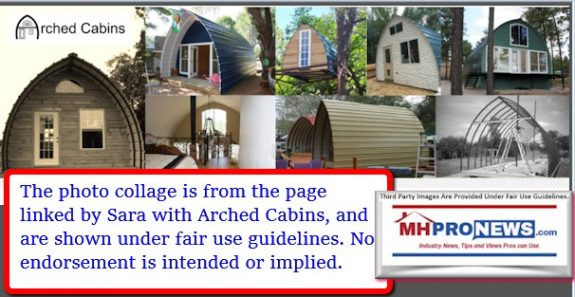 "Hi Tony,
Thanks for reaching out! We really appreciate your interest in writing an article about us. 
We manufacture custom sizes of Arched Cabins in the fixed widths illustrated on our Product Price List (http://archedcabins.com/pricing-list-and-color-upgrades-chart.html). The largest size we manufacture is our 30′ wide x 40′ long kit, which is 1200 square feet on the main floor. It can also sustain a full second story with about 1000 additional square feet, so about 2200 square feet total in the building. The base kit price is $18,000, and with all DIY upgrades (a color upgrade on the roofing panels (choose from 23 colors including Energy Star rated colors), a fireplace thimble, and an insulation upgrade to R25 for the arched walls) the cost is $22,300. We can deliver that kit in the contiguous USA for $2.50 per mile from our manufacturing facility in Cypress TX. We currently have a 4-6 week lead time for manufacturing and delivery. 
The article on Banyan Hill looks like it refers to our 12×24 Arched Cabin kit. The current price for the base kit is $5760, and with all of our DIY upgrades the price is $7260. We do have a Christmas in July special running this month that offers a 20% discount off of the base kit price, which would bring the base kit down to $4608. 
Clients are responsible for obtaining building permits and for building their Arched Cabin.
Most clients build their Arched Cabin kit on a permanent foundation, and therefore most of our cabins are permanent buildings.  
Arched Cabin kits include a build manual, floor plates, ribs, ridge beam, standard R13 insulation for the arched walls, metal roof paneling, rubber trim and foam inserts to use by the end caps, and color coordinated fasteners needed to assemble the cabin. The kit price does not include the foundation, installation, interior, end caps, delivery, or anything that is not included above.
DIY upgrade options include a color upgrade on the roofing panels (choose from 23 colors including Energy Star rated colors), a fireplace thimble, and an insulation upgrade to R25 for the arched walls.
I hope that answers your questions! Please let us know if we can help you in any other way!
Sara
Arched Cabins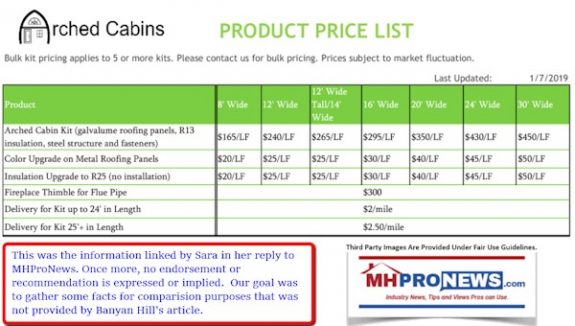 What one learns from doing a bit of research is that if someone is considering buying an Arched Cabin, what they are being offered from the Cypress, TX based firm is a shell of a metal exterior kit.  This is no where near ready to live in as it is sold, nor does the firm claim a turn-key solution.
When one adds to the Arched Cabins pricing needed foundation costs plus everything required inside – including:
·        cabinetry,
·        floor coverings,
·        walls covering and finish,
·        ceilings and finish,
·        plumbing,
·        electrical,
·        and so on, what sounds like an amazing deal is no longer anywhere nearly as cheap as it once sounded.
·        Factor in labor or the value of time, and the cost goes higher. Indeed, it could easily be several times that quoted base price.
With that backdrop, comparing that all-in price of a tiny Arched Home to the latest data from the U.S. Census Bureau on manufactured home prices by region and home type, click here.
As seasoned manufactured home pros know, HUD Code homes are about 90 percent complete, awaiting transport, installation, and utility hookups. Plus, true manufactured homes are built to a federally preemptive code and can be financed by a range of companies or methods. Good luck on that when buying a kit house by the Texas company reviewed or any other.
Once the calculations for the Arched Cabin or other similar prefab kits are added up and compared to the value of manufactured homes, the HUD Code product really shines.
Returning to Cashdan's storyline and analysis. His post and numerous others by industry outsiders looking into factory-built home industry, what emerges is this. There is a mix of interesting but also arguably errant or misleading claims, however well written or intended they might be. Banyan Hill's – Contracted? Guest? Contributing? – writer also said what follows.
"And there are plenty of options for those who want a little more in their tiny house.
Amazon is already selling $20,000 homes. It recently acquired custom home builder Plant Prefab and has a distribution deal with Fortune 500 real estate company Lennar.
To me, this means it's only a matter of time before Amazon and other market leaders pump up the volume, standardization and service expertise necessary to bring the cost of new home construction down significantly.
TAP THE CUTTING-EDGE TECH FUELING THE NEW HOUSING BOOM
There is a lot of regulatory complexity in the real estate market, which means that the prefab housing market's path to success won't be clear and easy…"
That statement is important, but is also arguably a key that Banyan/Cashdan missed about manufactured homes.  Arched Cabins puts all of the responsibility on the buyer.  The same is true for several of the prefab/container housing units being sold by Amazon. Plant Prefab would be a separate case, those are presumably being built to state or local building code standards and are going to be a far higher total cost than a HUD Code manufactured home. A recent analysis on MHLivingNews on those $20,000 prefabs is found from the linked text-image box below.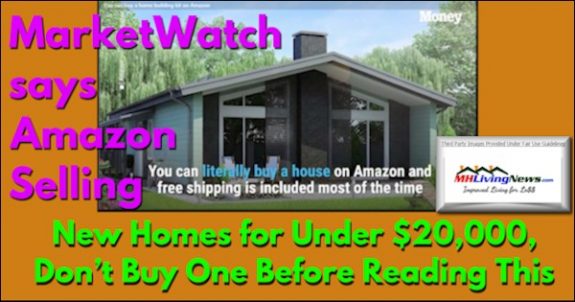 The cost per square foot for a manufactured home is very hard to beat for move-in ready housing. Odds are a manufactured home will be lower in finished cost per square foot than an Arched Cabin.  Ditto for container housing sold on Amazon. MHProNews will return to that shortly, but let's pick up what remains of our look at Cashdan's narrative.
"But there will be huge winners — including investors who put their money into these growing ventures.
It reminds me of Uber. The ride-sharing giant started out as Uber Cab, but had to change its name because it wasn't a licensed cab company.
Early investors initially passed because they assumed the taxi industry would knock Uber off of the map.
But then Uber plowed ahead.
It refined its business and marketing plan, and the service has taken off. Those early investors — and millions of others — realized Uber couldn't be stopped, and that the company's success would lead to reform of the taxi cartels, not the other way around.
I see a similar thing happening with the prefab housing market. And industry leaders like Amazon's Plant Prefab are going to benefit.
Housing is one of the four sectors of the economy driving inflation.
I call the sectors the Four Horsemen of U.S. Inflation. The type of inflation the housing market is driving is called cost-push inflation, whereby a cost increase is caused by an inefficiency or supply shortage relative to demand.
All four industries operate with supply constraints. Housing supply is limited by zoning. Reams of red tape bind the industry, which drives up the cost.
The sheer inflation in the housing sector means that the annual revenue is massive. And gigantic revenues attract the most ambitious entrepreneurs.
The companies that will set the stage for this new housing boom will apply cutting-edge tech to either add efficiencies, or more likely, completely disrupt the old-world inefficiencies.
Like Arched Cabins and Plant Prefab…"
Some of that is fine wheat, other parts of that are arguably more problematic or chaff.
Since Cashdan was aware of ELS, Sun, and UMH Properties, one might have thought that he would have included some mention of the manufactured homes that are routinely found at those 3 REITs land-lease communities. But no. There are a variety of ways to invest in manufactured homes, beyond investing in manufactured home communities.
Cashdan is debatably correct that prefab housing is poised to boom. On that broad point, we'd editorially concur.
But at present, modular housing is a fraction of the size of the HUD Code manufactured home industry in part because the costs are higher. True, MODs built to a local housing code might get easier access to mortgage loans, but HUD Code manufactured homes that meet certain installation and location specs could also qualify for FHA, VA, USDA (Rural Development) and other forms of mortgage financing that could go up to 30 (+/-) years. Plus, there is the option of selling a HUD Code home with a chattel or personal property loan, by far the most common method in the industry today.  While the rates are higher on personal property loans, because of lower total cost of a manufactured home, the total payments are still routinely lower than other common housing options, per the GAO and Fannie Mae research cited below.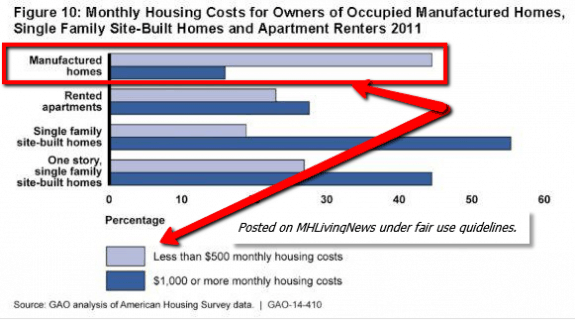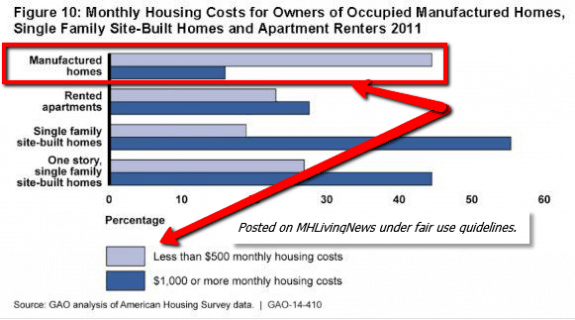 While Plant Prefab or others are making their moves into factory-home building are getting established, manufactured homes already have decades of experience. New HUD Code homes provide consumer protections not found in most other forms of housing.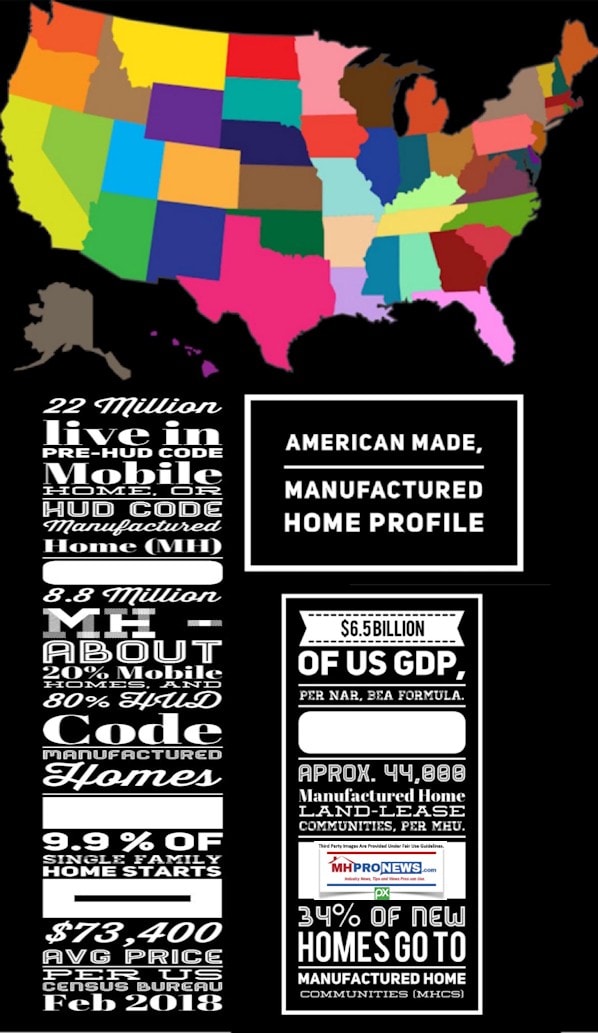 In Fairness to Cashdan…
While every writer bears a degree of responsibility for their work product, some of what Cashdan or others face is the lack of clarity from manufactured housing's largest national post-production trade association. Our experience in contacting such writers, and we have not yet contacted Cashdan or Banyan Hill, is that the Manufactured Housing Institute (MHI) – which claims to represent all segments of factory-built housing – in fact does not normally reach out to such writers or web publishers to correct or help massage whatever they have written. That's in keeping with what MHI member Frank Rolfe has similarly said on camera about their media engagement.


The point is that Cashdan and Banyan Hill merit a bit of slack for that reason. As Rolfe, himself an investor, has said, getting reliable data on manufactured homes isn't easy.  That's an indictment of MHI, which Rolfe and others have periodically made.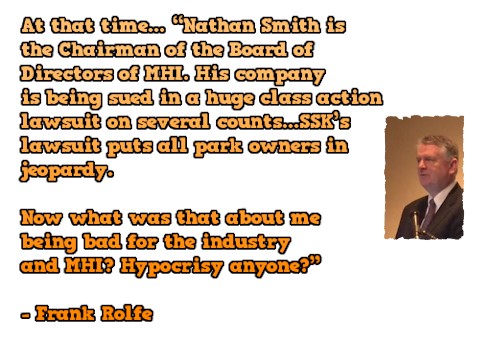 Summing Up
There are several takeaways from this sort of article by Banyan Hill. Let's look at just a few.
1)    A serious housing shopper that stumbles upon Cashdan's narrative will at some point discover that the cost of this housing is significantly higher than that shell kit price.  A savvy reader on their site who does some homework might prove problematic for both the author and the investment publisher. We would therefor encourage them to explore a serious revision of that article linked here, for reasons noted herein.  That is to protect their own image and integrity and would also be in keeping with the Society for Professional Journalism Code of Ethics.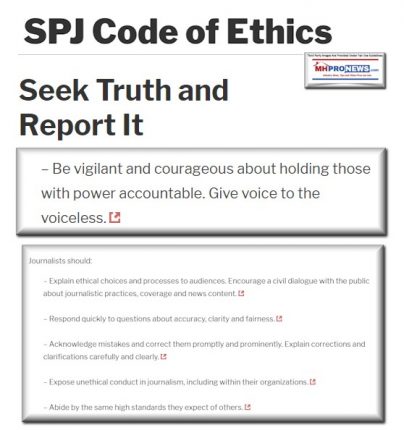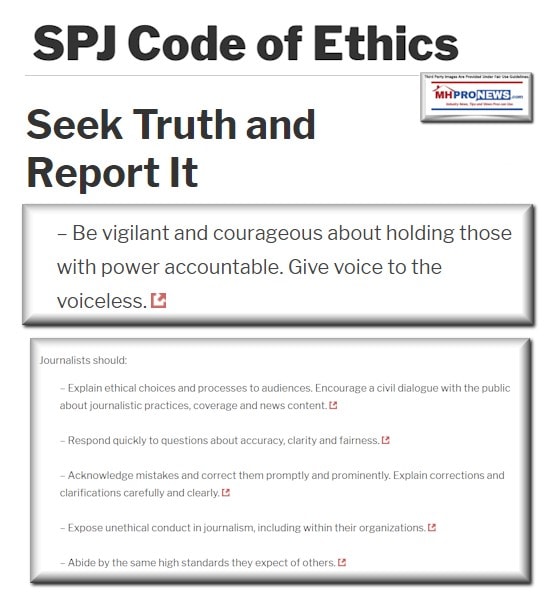 > As a related note, some publishers are happy to make such adjustments, while others are stubborn and stick to their arguably errant guns.  An example of the right approach is the National Association of Realtors and their 2018 report on manufactured homes, linked here.  Once contacted by our publisher, they not only made every requested revision, they provided proper credit in their first footnote, found at the bottom of page 49. That's a fine example of caring about the facts and accuracy, as well as respecting the sprit of the feedback given. As noted, Cashdan is a fine writer, but errant or questionable information merits a clean up on Aisle 7.
2)    In the meantime, until such a proposed correction takes place, a shopper that sees pricing from $5,000 to $20,000 might be mislead into thinking that such a cost is actually achievable. That in turn may cause affordable housing prospects to fail to see the value of a HUD Code manufactured home. That could obviously prove problematic for sellers of HUD Code homes. Put differently, posts like theirs as it stands don't help them, nor do they overall benefit manufactured homes. An attorney we've spoken with said there may be liability involved when a publisher – once notified – fails to correct errors that could prove harmful for business interests. 
3)    That also means that if MHI or any post-production association is serious about sales growth, such topics must be promptly fact-checked and highlighted for the public, otherwise possible sales will be needlessly lost. By contrast, possible new manufactured home sales could occur from the correct fact-check of such articles. Rephrased, it is a win-win for the industry to do such an analysis, for precisely the reason that Cashdan was arguably correct about. Namely, that there is a huge hunger for affordable housing. So that point was accurate, even though some of his suggestions were disputable.
4)    From a publicly traded investment standpoint, Cashdan made two actionable suggestions – one was manufactured home community REITs.  More obliquely, one could buy Amazon or Microsoft stock, knowing that they are maneuvering into the prefab housing market. But the point is that such a post may not be useful to the firm or the writer who published it.
And that 4th bullet above is another issue for MHI member publicly traded firms. If the trade association was doing a better job, it would arguably fuel interest in investing in HUD Code manufactured homes.
Let's make one more point that Cashdan implied but did not state.  Amazon and Microsoft have ties to Warren Buffett and Berkshire Hathaway.  Berkshire owns roughly a billion dollars of Amazon stock, and Buffett has donated billions of dollars of Berkshire shares to Microsoft founder Bill Gates' foundation, which Buffett is also a trustee of their nonprofit. Further, several tech giants – as MHProNews has reported for years – are getting involved in various forms of factory building, including Google.
In an indirect fashion, what Cashdan pointed to correct. There is a potential boom for prefab homes.  That boom could and should include manufactured housing.  When Amazon's Aleza Fund addressed their investment in Plant Prefabs, they made the pointed out that housing could be $300 billion a year potential.  That's indeed huge. So the upside is hard to overstate.

But arguably ineffective if not corrupt practices are holding the industry back.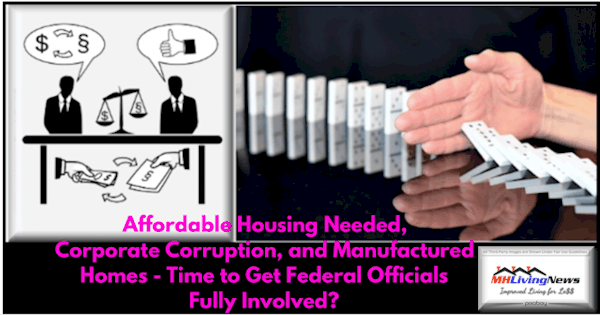 The Bottom Lines? 
A.    Cashdan and Banyan Hill's editor could have done a better job of research, which could resulted in a far more useful article for home buyers, investors, the writer, and publisher alike. Hopefully, they will make corrections. We'll advise readers as appropriate.
B.    But another – and useful – takeaway is that Cashdan was correct about the potential for prefabs, including manufactured homes.  The real gem for the HUD Code – properly understood – are the federal laws that are already in place.  Enforcement of those laws at the local, state, or federal level would unlock the doors to tremendous opportunities, not unlike Cashdan's dream of Uber-like returns being possible.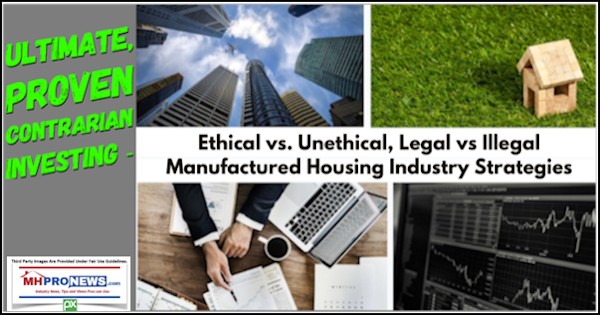 The video interview with award winning Alan Amy explains why some big boys and billionaire brands are investing in manufactured housing.  In its own way, Amy made a succinct case similar to Cashdan's.
That's a wrap on this first installment today of factory-built housing "Industry News, Tips, and Views, Pros Can Use" © where "We Provide, You Decide." © ## (News, analysis, and commentary.)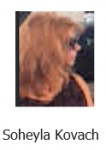 Submitted by Soheyla Kovach for MHProNews.com.
Soheyla is a managing member of LifeStyle Factory Homes, LLC, the parent company to MHProNews, and MHLivingNews.com. Connect with us on LinkedIn here and here.
Related Reports:
Click the image/text box below to access relevant, related information.
Texas, Florida Cities Plan Manufactured Home Ban, Legacy Housing, FMHA, Lance Inderman/Jessup Housing React
"Brass Tacks" Special Report to Fully Implement Duty to Serve Federal Law Duty to Serve Manufactured Housing Via Robust Home-Only Lending
"Manufactured Housing Presents an Unparalleled Opportunity to Provide Market-Wide Relief," Says Non-Profit
Concern Addressed, HUD Staff "Waiting Out" Secretary Carson Tenure to "Return…Harsher…Costly…Unnecessary" Regulations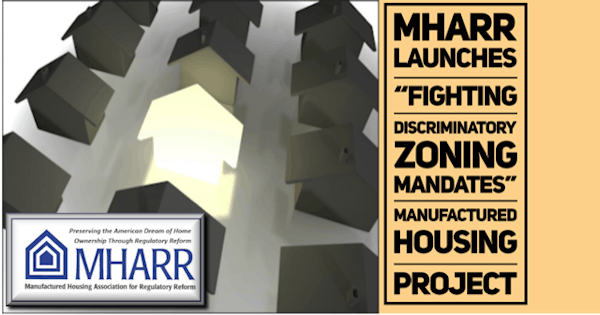 Giving Credit Where Due, HUD Secretary Ben Carson on Affordable Housing, Homelessness, and Manufactured Homes
'Affordable Housing Impacts Every State and Community, Urban and Rural Alike' – Senator Maria Cantwell (WA-D) – New Bipartisan Bill Examined
Senate Democrats – Including 2020 Presidential Contenders – Ask CFPB Protect Consumers Against Predatory Lenders — Point Finger at Clayton Homes, Berkshire Hathaway Lending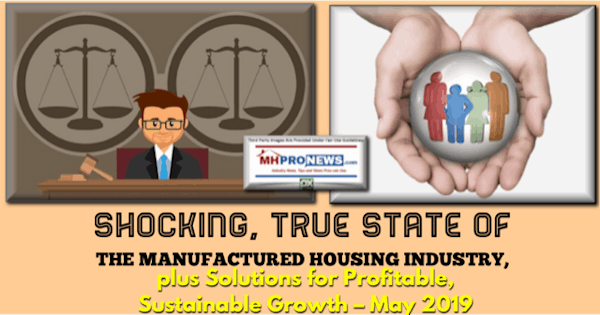 'Minorities Aren't Being Well Served in Housing Finance' Today, per Mozilo – Former Exec Near Eye of the 2008 Housing/Mortgage Storm
Sobering Federal Report on Manufactured Housing Lending – Retailers, Communities, Producers, and Finance Companies – Take Note
HUD's Website – Problematic, Purportedly Inaccurate Information on Manufactured Housing Improvement Act of 2000
Congress, HUD, Trump Administration Warned – "Profoundly Damaging Unintended Consequences" – Manufactured Housing Industry, Lower & Moderate-Income Americans