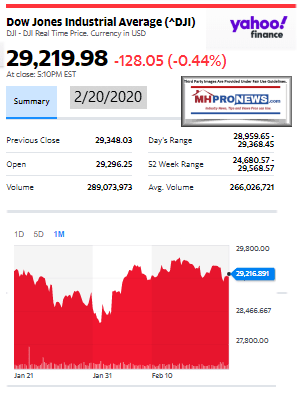 Last night's Democratic presidential nomination hopefuls debate reportedly produced a record number of viewers in the 2020 election cycle. The Las Vegas event viewership was likely fueled by the presence of billionaire and former New York City Mayor Michael "Mike" Bloomberg for the first time. Presidential politics, on both the GOP and Democratic side will be our evening focus tonight where business and politics meet.

Periodic readers of this business-nightly feature should note there are new tweaks to some of the standard portions of our evening market/investing report. Read carefully as some changes of the 'standard text' that follows before our left-right headlines and also in other features near the end of tonight's reports.
Every evening our headlines that follow provide snapshots from two major media outlets on each side of the left-right news spectrum that reflect topics that influence or move investor sentiment. In moments on this business evening report, you can get 'insights-at-a-glance.'
This report also sets the broader context for manufactured housing markets, in keeping with our mantra, "News through the lens of manufactured homes and factory-built housing" ©.
We begin with headlines left-of-center CNN followed by right-of-center Fox Business. We share closing tickers and other related data courtesy of Yahoo Finance, and more. 5 to 10 minutes reading this MHProNews market report every business night could save you 30 minutes to an hour of similar reading or fact-gathering elsewhere.
Perhaps more important, you will get insights about the industry from experts that care, but also dare to challenge the routine narrative that arguably keeps manufactured housing underperforming during an affordable housing crisis.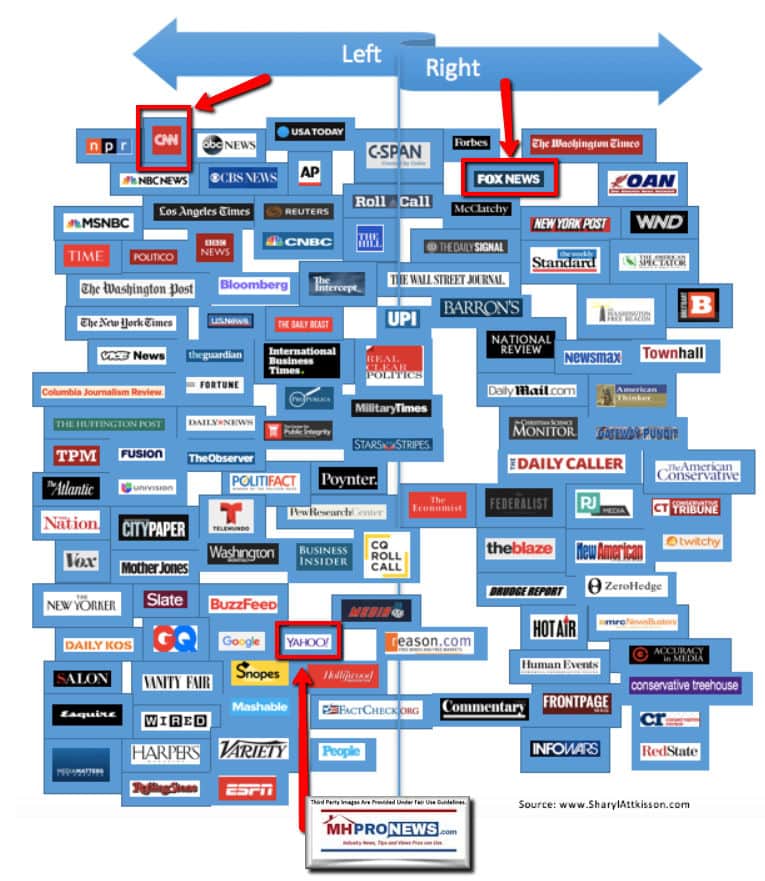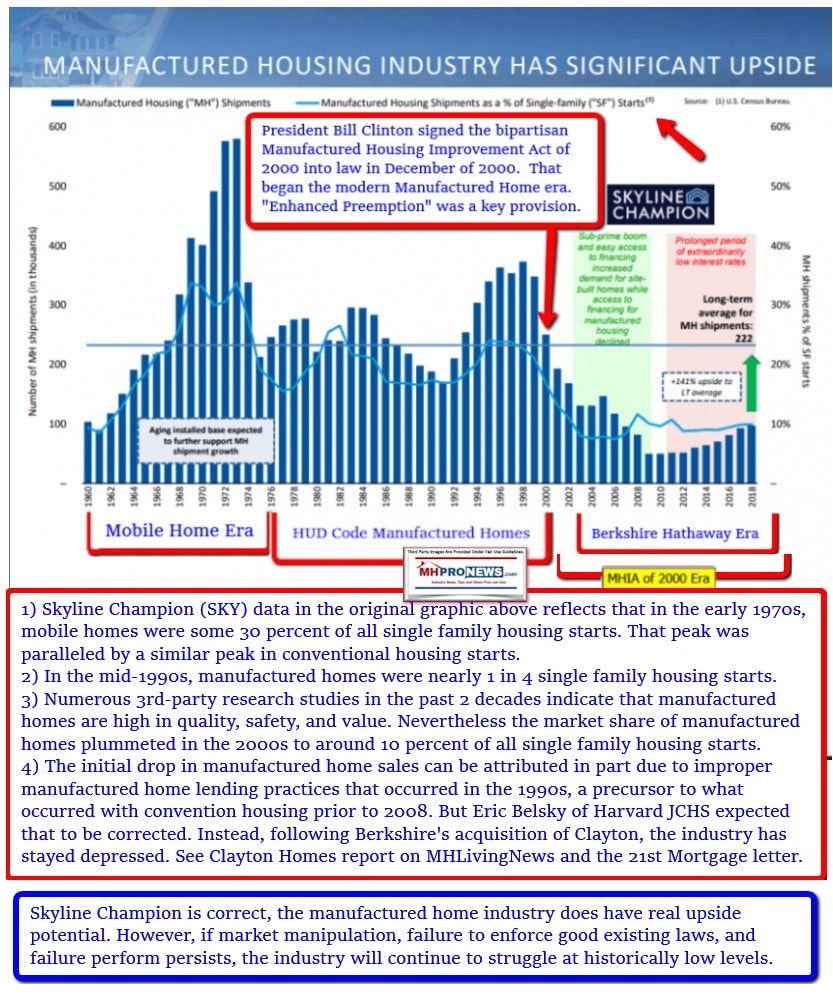 Bernie Takes Front-Runner Status in 2020 Democratic Primary, Bloomberg, Biden Campaigns Snapshots – plus Manufactured Home Investing Stock Updates
Newsy, Peeling Back Media Bias, Manufactured Housing Sales, Investing, Politics, and You
Headlines from left-of-center CNN Business
The Sanders surge
Stocks are at record highs, even as Bernie Sanders is the Democratic party's frontrunner
A win for iPhone users: Apple may let people choose Google Maps and Gmail as their default apps
Apple needs a 5G iPhone now more than ever
Morgan Stanley is buying E-Trade for $13 billion
Opinion: Trump's budget will wreak havoc on the American economy
Larry Tesler, creator of copy, cut and paste function, dies at 74
Victoria's Secret is being sold. It's only worth $1.1 billion
Mysterious '1' notification spooks Samsung Galaxy owners
Domino's stock jumps 25% thanks to cheap pizza
Peloton is giving free bikes to disappointed Flywheel customers
HBO Max is coming to YouTube TV
How fake faces are being weaponized online
Opinion: It's not just germs. Auto shows must figure out how to stay relevant
Finally the Baby Yoda toys we've been waiting for are here
American paychecks aren't getting much bigger — unless you're rich
Goldman Sachs warns of stock market correction
THE FUTURE OF FOOD
A Wawa convenience store in Philadelphia, PA, October 2018.
Wawa goes after the dinner crowd with burgers and chicken sandwiches
Kraft Heinz shares slide as shoppers skip processed food
KFC and Crocs created a clog covered in fried chicken
This pricey drink was sold by text message. Now it's hitting Walmart shelves
Move over, kale: Mushrooms are the new grocery celebrity
Virgin Galactic shares have skyrocketed 200% this year
SpaceX may sell rides aboard its spacecraft
Trump seeks billions to US astronauts to the moon
Boeing's Starliner spacecraft faces new safety concerns
The race for space-based broadband is on
Headlines from right-of-center Fox Business
China's deadly coronavirus outbreak to hammer these giant American companies
As the epidemic slows exports from the global manufacturing hub, the higher prices for everything from tubes to metal pieces could further dent earnings.
Stocks drop on Fed comments, coronavirus fears as gold, oil pick up
Roger Stone mobbed after learning sentence for lying, tampering with probe
Inside his bag of 'tricks': How much Roger Stone is worth
Ninth Democratic Debate, and the first with Bloomberg, breaks viewership record
Bloomberg's unprecedented spending spree tops $460M ahead of Super Tuesday
Former Fed chair issues serious warning: 'We need very significant changes'
Fourth-generation Michigan farmer: Here's what will save our land
Top 10 states with decreasing populations
T-Mobile, Sprint near agreement on deal terms to take on Verizon
Small businesses coming up empty on internet searches
Tom Brady Patriots exit could collapse the entire franchise: Ex-teammate
Bon Jovi selling huge New Jersey estate
City rejects more Amazon jobs
KFC turns the chicken sandwich war on its head with an unusual twist
Calvin Klein selling Hamptons beach house to billionaire Ken Griffin: Report
NFL owners end months of negotiations in major breakthrough
How to get the best hotel rates according to experts
Sanders vs. Bloomberg: Who actually owns more real estate?
NFL star, who made fortune in football, arrested with 157 pounds of pot
Top 5 most fuel-efficient cars of 2020
The top countries for healthy children around the world — here's how the US ranks
Best and worst states for people 65 and older
Kia recalls 229,000 SUVs, vans over fire risk from electrical short
Barbie, American Girl to focus on Netflix, Streaming for future big bucks
Free USC tuition to students with $80K or less family income
Prince Harry posts fake texts with Bon Jovi ahead of concert
Scientists testing coronavirus treatments, trial results expected in 3 weeks, WHO says
Supreme Oreos selling for thousands on eBay
Billionaire Steyer agrees with Sanders: 'Unchecked capitalism has failed'
Law enforcement has a new plan to crack down on meth trafficking hubs
United ditches Biscoff for Oreos but it may not hurt sales
Scammers targeting small businesses during tax season
Papa John's Hepatitis A scare sparks investigation
'Stormi's brewing: Kylie Jenner battles clothing company for trademark
Silicon Valley pioneer behind 'copy' and 'paste' has died
More Americans worry about this disease than the new virus
Antonio Brown could win $30M in a grievance case against the Raiders
An independent arbitrator will preside over the hearing and determine whether the Raiders owe Brown any portion of his contract.
Sick 'bern': Investor calls 'communist' Sanders bigger economic threat than coronavirus
NASCAR star walks out of hospital with daughters after horrific Daytona crash
Morgan Stanley buys E-Trade for $13 billion in biggest bank takeover since 2008 crisis
'Housewife' goes to work: Reality TV star launching business competition series
'Fortnite' banks on new customer base
How many jobs have been created since Tax Cuts and Jobs Act took effect
Trump 2020 rakes $60M in January as Democrats war over Bloomberg
Best friend to small businesses forecasting explosive revenue growth
Six Flags earnings take giant drop
Democrats average net worth on debate stage more than $10B
De Blasio defends Sanders stump on NYC taxpayers' money
The Codfather's boats, permits sold to fishing company in wake of fraud conviction
Google sued for collecting kids' data
DeVos: 'Many' universities failing to report foreign money
What is Beyond Meat?
10 Market Indicator Closing Summaries – Yahoo Finance Closing Tickers on MHProNews…



Featured Focus – Where Business, Politics and Investing Can Meet
Tonight's report will have the following four elements.
Part 1) Snapshot per CNBC.
Part 2) Jake Novak Op-ed on CNBC
Part 3) Snapshot from President Donald J. Trump's events.
Part 4) MHProNews Commentary and Analysis
Lets dive in. 
Part 1) Snapshot per CNBC.
Almost 20 million television viewers tuned in to watch the ninth Democratic debate on Wednesday, the first to feature former New York mayor Mike Bloomberg.
Bloomberg's addition to the stage on Wednesday might have been a contributing factor to the surge, enticing viewers to see how he would fare among his rivals.
The next most-watched debate of this election cycle was the first one between all the Democratic candidates in June, which drew 18.1 million viewers, and was also hosted by NBC News and MSNBC.
Part 2) Jake Novak Op-ed on CNBC
Op-Ed: Mike Bloomberg is buying the nomination – for Bernie Sanders
PUBLISHED THU, FEB 20 Jake Novak
KEY POINTS
As soon as Mike Bloomberg entered the race, astute political observers began wondering what historic effect his candidacy and unlimited financial resources would have on this election.
It now looks like we have an answer.
Bloomberg is helping Bernie Sanders win.

As soon as Mike Bloomberg entered the race, astute political observers began wondering what historic effect his candidacy and unlimited financial resources would have on this election.
It now looks like we have an answer.
Bloomberg is helping Bernie Sanders win.
This may be unintentional, but Bloomberg has suddenly done three things that no one else has ever been ever to do for Sanders and his presidential aspirations: given him a killer instinct against a primary opponent, proven Sanders has a point about billionaire influence in politics and pushed a key gender-based attack away from his campaign.
First off, Bloomberg has finally shaken Sanders into directly attacking an opponent other than President Trump. Before Bloomberg's entry into the race, Sanders was following a familiar pattern that he started in 2016 when he didn't press Hillary Clinton on her personal email server scandal. He was repeating that tendency by refusing to even mention the corruption accusations against Joe Biden's family. That helped Biden immensely.
But it's clearly a bridge too far for Sanders to lay off the former New York City mayor, his huge campaign spending machine, and his long history of embracing Republican and conservative policies.
Sanders knows that giving a billionaire oligarch like Bloomberg a pass would destroy his own brand as a political warrior against the billionaire class.
As an added bonus, it's pushing him to do the necessary attack messaging against at least one of his primary opponents.
Anyone watching the Democratic Presidential debate in Las Vegas Wednesday night saw Sanders go after Bloomberg in ways he never did against Clinton and Biden, and it doesn't look like it's going to be a one-shot deal.
Then there's Bloomberg himself, who is providing living proof of so many of the things Sanders has been railing about for years. It's one thing for Sanders to warn about billionaires crowding out the competition, getting special treatment, and demanding an outsized level of influence in politics and the economy.
For everyone insisting Sanders is peddling a kooky ideology best left in the 1960s,
here's Bloomberg to prove he may be on the mark today.
Millions of Americans clearly took to that message, but it was still something like a "sky is falling" type of warning for many others. Enter Bloomberg, who couldn't be closer to the living embodiment of almost everything Sanders has been warning about all this time. For everyone insisting Sanders is peddling a kooky ideology best left in the 1960s, here's Bloomberg to prove he may be on the mark today.
That's the kind of sudden credibility Sanders couldn't buy. But now Bloomberg has indirectly bought it for Sanders.
Bloomberg's money is also helping Sanders in another way: it's firing up his donors in impressive fashion. Sanders has been posting better and better contribution numbers ever since Bloomberg entered the race.
That trend continued during and after Wednesday night's debate, as the Sanders campaign says it raked in $2.7 million from nearly 150,000 donors.
Again, this seems to be the result of Bloomberg's own spending triggering a sense of urgency for Sanders and his supporters in hopes they can somehow stem the tide of the billions this new opponent can easily spend in the race.
Finally, there's the Bloomberg effect on Sanders' other key rivals, Joe Biden and Elizabeth Warren. Until recently, Biden was the enduring frontrunner in the Democratic primary race. But Bloomberg's advertising blitz pushing his moderate record and his promise to take down Trump in the general election stole Biden's two major selling points in this race. That sped up Biden's long history of fading after the voters get a closer look at him.
In Warren's case, the massive Bloomberg ad campaign and news media's focus on his late entry in the race pushed Warren out of whatever remaining spotlight she enjoyed.
That played a role in this week's claim by Warren and her campaign that she's been subjected to a "media blackout."
Interestingly, Warren pushed back by primarily focusing her attacks on Bloomberg in the Vegas debate and accusing him of a bad history with women's issues.
Her assault on Bloomberg dwarfed the similar attacks former Mayor Pete Buttigieg tried to make against Sanders because of some of the hateful comments Sanders supporters have made online.
That's an important attack Sanders dodged, especially considering the fact that Warren was making news last month by accusing Sanders of saying no woman could win the presidential election. Sanders denied that accusation, and now it looks like he won't have to address it again. Warren has a new target, and her attacks on Bloomberg are a win for Bernie.
Throw Bloomberg's lackluster personal performance in the debate into that mix, and it's hard to see anyone else stealing or matching Bernie's thunder and grassroots support before this nomination contest is over.
It's possible Sanders would have enjoyed a momentary jump in the polls even without the Bloomberg effect on the Democratic race. But these Bloomberg-induced developments seem to have cleared a much easier path for Sanders to win the nomination.
Jake Novak is a political and economic analyst at Jake Novak News and former CNBC TV producer.
You can follow him on Twitter @jakejakeny.
##
Part 3) On the GOP Side…
"President Donald Trump made a visit to Bakersfield on Wednesday to sign an agreement that will provide more northern California water to farmers in the San Joaquin Valley," said the Fresno Bee, which provided this video report.
CBS' Red Blue report provided this snapshot of the multi-state campaign swing by President Trump, who is speaking in Colorado at a rally tonight.
Part 4) MHProNews Analysis
Billionaires Tom Steyer and former NY City Mayor Bloomberg are among those who has quipped that the winner in the Democratic debates has been President Trump's campaign. As has been previously noted, a Democratic consultant has told MHProNews that the expectation is that Senator Sanders and billionaire Bloomberg are the likely two finalists and the battle will come down to those two.
Last night's Democratic event, as have others, will provide the Trump campaign with numbers outtakes that will likely appear in the general election. Democrats in those anticipated upcoming ads will be slicing up other Democrats, and of course, what will not be mentioned is that they have all agreed that they will support whomever the nominee is against the 45th president.
There are those who think that either Bloomberg or Sanders will be easy to beat for the 45th president. Not necessarily so. If Bloomberg's deep pockets truly backs the nominee, which at this time certainly could be Sanders, hundreds of millions of dollars of attack ads will be a difficult hurdle. Will "Teflon Don" be able to stand up to a billion dollars or more of such possible attack ads?
This could be an epic general election. Stay tuned.
Related Reports:
'Sand in Gears of Financial Markets,' AEI on Bloomberg Plan, Mini-Mike Joins Next Dem Debate, plus Manufactured Home Investing, Stock Updates
Mainstream vs. Trade News, Politicos, President Trump, Senator Sanders, Billionaire Bloomberg, Law Enforcement and Manufactured Housing's Unique Plight
Manufactured Home Communities Targeted by Lawmakers, AG Plans – Manufactured Housing Industry Alert
Which 2020 Campaigns Top CEOs Funding, Democratic Consultant Says Bloomberg Will Back Bernie if Sanders Wins Nomination, plus Manufactured Home Stock, Investing Updates
Manufactured Housing Industry Investments Connected Closing Equities Tickers
Some of these firms invest in manufactured housing, or are otherwise connected, but may do other forms of investing or business activities too.
NOTE: The chart below includes the Canadian stock, ECN, which purchased Triad Financial Services, a manufactured home industry lender
NOTE: Drew changed its name and trading symbol at the end of 2016 to Lippert (LCII).
Winter 2020…
Berkshire Hathaway is the parent company to Clayton Homes, 21st Mortgage, Vanderbilt Mortgage and other factory built housing industry suppliers.
· LCI Industries, Patrick, UFPI, and LP each are suppliers to the manufactured housing industry, among others.
· AMG, CG, and TAVFX have investments in manufactured housing related businesses. For insights from third-parties and clients about our publisher, click here.
Enjoy these 'blast from the past' comments.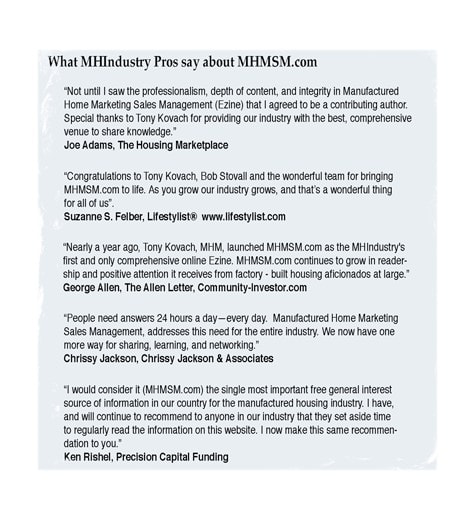 MHProNews. MHProNews – previously a.k.a. MHMSM.com – has now celebrated our tenth anniversary.
Learn more about our evolutionary journey as the industry's leading trade media, at the report linked below.
Celebrating 10 Years of Goal- and Solution-Oriented Manufactured Home Industry Innovation Information, and Inspiration for Industry Professionals
· For expert manufactured housing business development or other professional services, click here.
· To sign up in seconds for our industry leading emailed headline news updates, click here.
Disclosure. MHProNews holds no positions in the stocks in this report.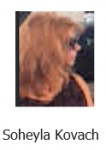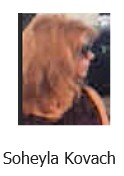 "We Provide, You Decide." © ## (News, analysis and commentary.)
(Image credits and information are as shown above, and when provided by third parties, are shared under fair use guidelines.)
Submitted by Soheyla Kovach, co-managing member of LifeStyle Factory Homes, LLC and co-founder for MHProNews.com, and MHLivingNews.com.

Connect with us on LinkedIn here and here.