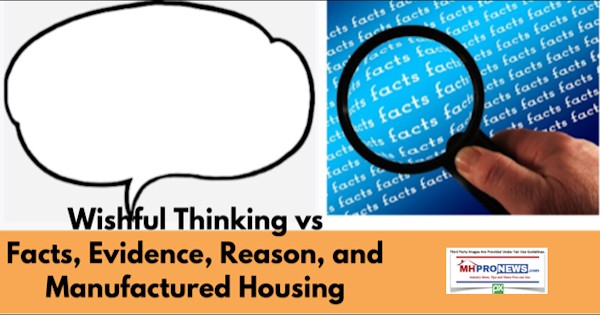 Two nights ago, Special Counsel Robert Mueller's Office took the unusual step of publishing a denial of a mainstream media report by BuzzFeed News that had the talking heads on TV, radio, and in print astir for 24 hours.
Harvard law professor emeritus, Alan Dershowitz – a Democrat and civil libertarian – once more explained Friday night on Sean Hannity's show why these fake news accounts are grounded in nothing of substance.  It goes back to the need for discernment.  That's a point which independent, award-winning journalist Sharyl Attkisson has preached and is reported on at the link here.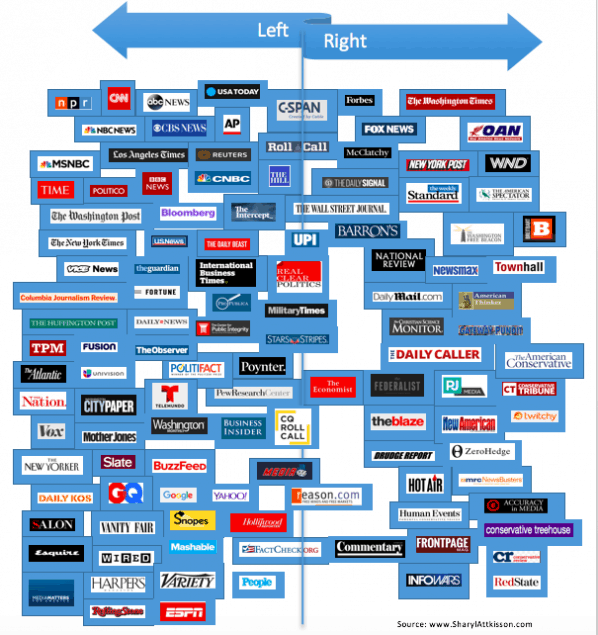 That Fox video embed code with Democratic-supporter Dershowitz is not yet available.  But another one from attorney Mark Levin – who was anti-Trump for quite some time – also discusses the same issues, references Dershowitz's comments, and is posted below. This latest episode started by BuzzFeed raise issues that have and will continue to impact the manufactured home industry, all other professions, and society at large.
As important as that is, it is not the focus of this commentary that tees up our Sunday Morning weekly headline news report recaps.  Manufactured housing specific reporting is our emphasis again today.
As If…Wishful Thinking and Fake News vs,
Fact, Evidence, and Reason
As If?
As if George F. (F?) Allen would be the best tool in the Manufactured Housing Institute (MHI) shed to defend the Arlington, VA based trade group – as well as some of their largest members – was laughable.  But give "F" Allen credit.  At least he tried, and did so publicly.  As weak as "F" Allen's effort may be, it is provided in full among the reports linked below, so you can decide for yourself how effective it is at defending Clayton, Cavco, MHI, et al from the mounting evidence of scandals.
Both Allen and the BuzzFeed stoked dramas have a few thinks in common. An arguable lack of objectivity, standards, or even common sense. Both rely upon an audience that may wish or hope that what the source says is true. Both cases involve the vast difference between evidence and reason, and everything else a matter of wishful thinking or a denial of reality.
Neither Kevin Clayton, nor Tim Williams, or Warren Buffett have disputed their own words or documents that have recently been reported at this link here. No conspiracy theories, evidence, documents, and direct quotes taken in context.  The sources have been given repeated opportunities to debunk or explain away the evidence.  Silence. That's their 5th Amendment right.
So, having "F" Allen, MHI, or certain state association surrogates attempt any red herrings or head-fakes just reveals that they have no valid explanation, which implies that the linked evidence above is compelling.
Evidence, concerns, and allegations of market manipulation aren't just in the past. They are in the here and now, and more are planned and underway for the days ahead. MHI – and some state associations – are part of that purported collusion. They are doing so despite MHI's own published antitrust guidelines, linked here.
It's been about a year since Richard 'Dick' Jennison, MHI President and CEO, cancelled at the Louisville Show "at the last minute" his presentation on the Trojan Horse of the so-called "new class of homes" and related. Jennison apparently didn't want to be publicly questioned by MHProNews, or by anyone else in the audience that read MHProNews, and were provided a list of questions to ask during the Q&A.
They can hide, but only for so long. Because the trend lines, truth, and evidence keep drip, drip, dripping out.
You can trust George F. (F?) Allen, or not, when he says there are no conspiracies to find. But who beside aptly named "F" Allen spoke about conspiracy? We re-published evidence from the sources in question. Let people like Allen – who continues to ducks from his own controversial practices that created negative news in the mainstream media for the industry, see the linked report on the Masthead below – use head fakes. If Allen, MHI or their surrogates had a real, logical argument, why don't they make it? Why don't they do so in public, at Louisville?
What are they afraid of? What are they hiding from?  Do they fear the reaction of the crowd, if they realize that they've been duped by people they count on to represent their interests?
The Evolution of these Issues
In fairness to the current power structure behind MHI, this is not a new phenomenon.  Rather, sources suggest it has arguably taken on new twists and turns.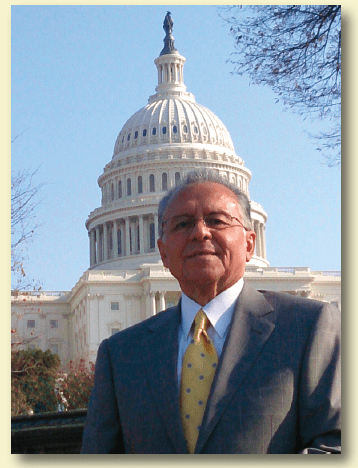 Danny Ghorbani, a structural and civil engineer, is a former Manufactured Housing Institute (MHI) Vice President and the Founding President and CEO of the Manufactured Housing Association for Regulatory Reform (MHARR).  He is a 51-year veteran of the manufactured housing industry, who has represented all aspects of the industry in Washington, D.C., including, but not limited to, manufacturers, suppliers, retailers, communities and developers, and has managed two national manufactured housing industry trade shows.  He is currently the Senior Advisor to MHARR.
Reached by MHProNews, Mr. Ghorbani stated on the record that:
"From my personal experience, at any given time, the largest manufacturers tend to dominate that Association — i.e., the Manufactured Housing Institute. The same principal may well apply at the state association level."
The Most Fireworks?
This upcoming event might be the most controversial Louisville Show in years.
Watch for upcoming reports and developments. Sign up for our industry leading headline news below, to make sure you don't miss what thousands of others are keeping up with, day by day, only on MHProNews.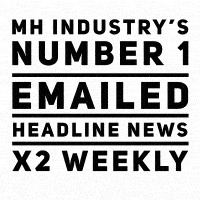 Why is the industry's already meager recovery stalling? See that too discussed and analyzed in the various linked reports, accessed via the text/image boxes or hot links below. Remember as you scan the headlines, we don't turn every link into a text/box.  So, check the titles all out.
Literally from the biggest to the mid-sized or 'mom and pop' operations flock here to get the news and analysis no one else in MHTrade media has the guts to cover. That's why friends, foes, and all others are on our site by the thousands, daily.  Meanwhile the manifestly pro-MHI, pro-Berkshire propaganda and related fluff go unread.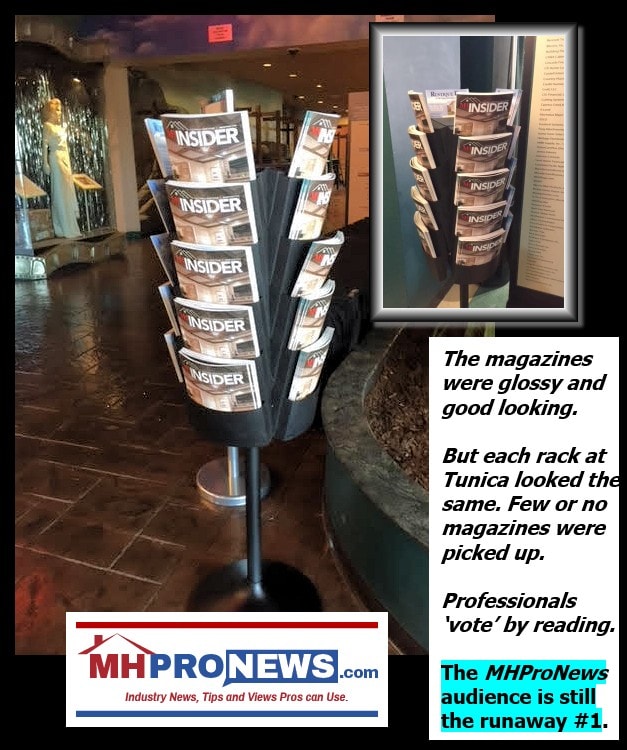 See why we are #1.  Share what you read here with others, because that is among the ways that this pro-growth platform – which is fighting for honest independents and professionals like you – is growing.

With no further adieu, here are the recent reports, plus the headlines for the week that was, January 13-20th, 2019.
New January 2019 Featured Reports and Commentary
New January 2019 Featured Articles, including a report from Sharyl Attkisson, is linked here.
What's New on MHLivingNews
Ed Speraw, Manufactured Home Owner "Hero", dies at 81
" We as an independent manufactured home producer's association have often worked successfully with resident groups, on issues of mutual interest. We don't deal with community related issues directly. I believe that people of good will may agree or disagree on details, and still have mutual respect.
What's New on the Masthead
The Latest from Washington, D.C. from MHARR
Washington, D.C., January 8, 2019 – The National Association of Manufactured Housing Community Owners (NAMHCO), a new, independent association representing a key manufactured housing industry post-production constituency, has announced a major step in its initial organization and the start of national-level advocacy activities to better and more effectively represent the post-production sector in Washington, D.C.
What's New on the Daily Business News On MHProNews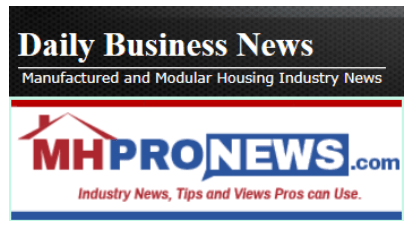 Saturday 1.18.2018
Pink Flamingoes, The Virgin Mary of Guadalupe, and Manufactured Home Community's Mainstream Media Controversy
Friday 1.17.2019
Manufactured Home Industry Groups Fighting Hard, Meanwhile, a Man Died
Insider Trades, New Cavco Industries Investigation, Selling – Plus More Manufactured Housing Stock Updates
Current & Forecast Investing Habits of Millennials, $30 Trillion Dollar Transfer of Wealth Looms
Thursday 1.16.2019
Global War On Cash? Plus, Manufactured Housing Equities Updates
Sobering Federal Report on Manufactured Housing Lending – Retailers, Communities, Producers, and Finance Companies – Take Note
An "Ideological Echo Chamber" – and Manufactured Housing Progress
Wednesday 1.15.2019
White House Thanks CNN's Acosta, Plus Manufactured Housing Market Updates
New NAMHCO Association Challenges Manufactured Housing Institute on DTS, Financing, and More
No Kings in America? – John Sherman 'Speaks' to Manufactured Housing
Tuesday 1.14.2019
Clayton Homes' Vanderbilt Mortgage and Finance Customer Experience Video, What It Says, What Does It Mean for Manufactured Housing Pros?
Teen "Sex Slave" in "Mobile Home Park" – Kid Lured by Gaming App, per ABC, State Officials
Monday 1.13.2019
Warren Buffett's Berkshire Hathaway, Clayton Homes, 21st Mortgage Corp and their "Strategic Moat," Plus Manufactured Housing Equities Updates
The Future of Retail, Disney, 'Trailer Trauma,' and Manufactured Housing
Why Is Manufactured Housing Struggling During an Affordable Housing Crisis? Former MHI President, VP, Other's Quotable Insights
State AG Files Suit Against, Manufactured Home Community, Rent to Own, Lease Purchase Option Warning
Sunday 1.12.2019
Exploring Corporate, Association, Individual, Investor, and Governmental Corruption Involving Manufactured Housing
Our publisher recently stated the obvious, which brings clarity. We are not mainstream media.  We do things differently.  We do what we do here, plus business development services for industry professionals and investors, so we stay BUSY.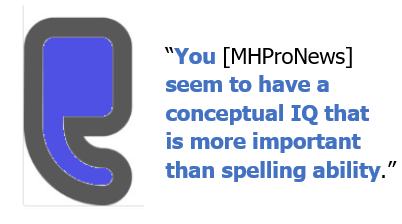 Or as the old Arby's commercial used to say, "different is good."  We're not seeking a Pulitzer prize. Our goal is to identify the root causes of the manufactured and modular home industry's malaise, and foster honest, ethical growth once again.

That difference – the quality of the content – has kept us going, even after years of efforts by the Omaha-Knoxville-Arlington axis to try to sideline or destroy us.  That speaks volumes, doesn't it?
That's more than enough from the best stocked serving line in all of MHVille of relevant "Industry News, Tips, and Views Pros Can Use," © where "We Provide, You Decide." © ## (News, commentary, and analysis.)
(See Related Reports, further below. Text/image boxes often are hot-linked to other reports that can be access by clicking on them. Third-party images and content are provided under fair use guidelines.)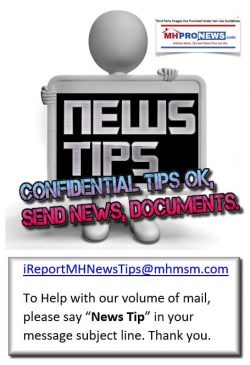 NOTICE: You can get our 'read-hot' industry-leading emailed headline news updates, at this link here. You can join the scores who follow us on Twitter at this link. Connect on LinkedIn here.
NOTICE 2: Readers have periodically reported that they are getting a better experience when reading MHProNews on the Microsoft Edge, or Apple Safari browser than with Google's Chrome browser. Chrome reportedly manipulates the content of a page more than the other two.
(Related Reports are further below. Third-party images and content are provided under fair use guidelines.)
1) To sign up in seconds for our MH Industry leading emailed news updates, click here.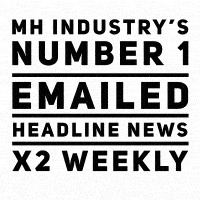 2) To pro-vide a News Tips and/or Commentary, click the link to the left. Please note if comments are on-or-off the record, thank you.
3) Marketing, Web, Video, Consulting, Recruiting and Training Re-sources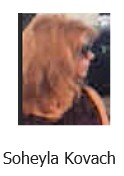 Submitted by Soheyla Kovach to the Daily Business News for MHProNews.com. Soheyla is a managing member of LifeStyle Factory Homes, LLC, the parent company to MHProNews, and MHLivingNews.com.
Related References:
The text/image boxes below are linked to other reports, which an be accessed by clicking on them.
New Association Weighs In, Giving Credit Where It's Due, Opportunitie$, But Winds of Change Challenge Manufactured Housing's Future
America woke up today to division. But perhaps 75 percent (+/-) of the nation's people could come together on a plan that demonstrably could do the following. Increase the U.S. Gross Domestic Product (GDP) by some $2 Trillion Annually, without new federal spending.
Manufactured Housing Institute Housing Alert, Affordable Housing Crisis, MHI's #NettlesomeThings Response