Studious, acute Daily Business News on MHProNews readers may recall our report from earlier this year that references the factoid that millennials are now the largest age-group of home buyers.
As with many of our topics, related articles are cross-linked.
Those linked articles can be read later for greater understanding on a specific point.
It should also be noted that skim-readers often miss some detail(s) that can change the entire meaning of an article.
Simple advice?
Read with care, and you'll be surprised at what you walk away with from every MHProNews post.  If the industry's best known billionaire thinks careful reading is good, that's a useful insight, isn't it?
NAR, Gen Y and MH Takeaways
The National Association of Realtors ® (NAR) produced the core study last spring that included data about Gen Y with respect to housing.
NAR, in our experience, has demonstrated that their research aims at accuracy, not weaponization.
For example, when our publisher contacted NAR about factual errors in their 2018 research about manufactured homes, their researcher double-checked the concerns, and then made each correction promptly.  Scholastica 'Gay' Cororaton, Certified Business Economist (CBE) then took the added step of giving public credit for those corrections in her very first footnote.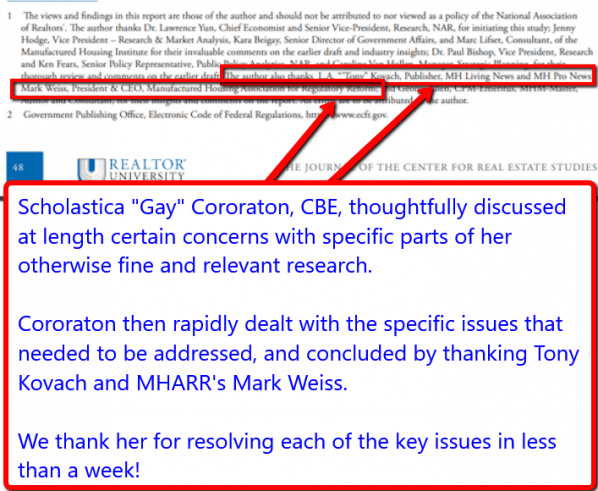 Compared with the unregulated mobile/trailer homes of the past, the manufactured homes built after 1976 have a higher level of safety, durability, and quality, and the small fraction of homes damaged during hurricanes attests to their safety and durability." – Scholastica "Gay" D. Cororaton, Certified Business Economist , National Association of Realtors ® (NAR).
Sadly, by contrast, when the Manufactured Housing Institute (MHI) has been contacted by our publisher about factual errors on numerous reports and documents.  That has occurred for a period of over 2 years.  Time and again, weeks or months later – corrections were not made by MHI.  The reader can ponder the 'why' behind that phenomenon, but millennials are the focus of this specific report, not MHI.
So, when NAR says that millennials are the largest group of home-buyers, there have been no known reports that debunk their claim.
Then, let's look at the following facts and infographics, that provide snapshots of millennials at that moment in time.
Millennial Infographics
This next one is about millennials, videos, social media, and related.
Millennials, MHAction, and Manufactured Housing Professionals
If you scratch deeply enough, people of good will can routinely find common-ground with others. Considering other perspectives is useful.
MHProNews noted in a report earlier today that all good bi-partisanship benefits businesses of all sizes, not just the giants.
Affordable Housing, Manufactured Homes, Bipartisanship, Bill, Newt, Sexual Scandals, and You
Bi-partisanship furthermore should be good for consumers, and taxpayers too.
MHAction and Millennials
Against that backdrop, MHAction is a multi-generational group, but with relatively youthful leadership at the national level.
If you watch the following MHAction video, you'll note that Elizabeth Warren (MA-D) is front-and-center as part of their presentation. The golden-ager at the start of their video posted further below – Margie Mathers – tells a heart-strings story, that may well be true, as far as it goes.
But what's arguably missing from Mathers' statements in the MHAction video are similar to what was missing from NMHOA's President, Tim Sheahan's comments to regulators. It's the cause of the issues they are concerned about, rather than just the symptoms.
When:
capital or government barriers of entry into business,
or barriers to remain in business, are too high for small businesses,
then you end up with precisely what Ms. Mathers and Mr. Sheahan have each described.
I.e.: larger corporations that control businesses, instead of many smaller ones.  Oddly, their own comments indicate smaller firms tend to be responsive to their residents and customers. 
An MHAction video, which includes commentary and analysis on the left side of the screen, is shown below.  It includes Gen Y protestors, but is multi-generational.
Self-described progressive groups like MHAction or NMHOA should be open to the views of fellow progressives, and of course, other groups too.
It was the left-leaning Seattle Times that reasoned earlier this year that when a large company can 'get away with' poor behavior toward their customers, that is an indicator of monopoly.
The Manufactured Housing Association for Regulatory Reform (MHARR) has argued that more options for siting manufactured homes would be good for residents, as well as for independent businesses.  Zoning and placement are a post-production issue, so that's one that MHARR may comment on, but they are a producers' organization.  So they stay laser focused on issues that directly impact the regulation of HUD Code manufactured homes.
What Ms. Mathers said on camera in the MHAction video above was largely fine, while her community was owned by a 'mom and pop' operation. By her own statement, it was after her community was acquired by a big company that she said her problems occurred. Mr. Sheahan made a similar statement, in quotes and a document found as a download in the report linked below.
Tim Sheahan, NMHOA President, Controversial Points of Agreement with Marty Lavin, George Allen on Communities
The MHAction video posted above is edited by them to make it into an arguably classic manipulation video.  It uses emotion to advance an agenda.  That agenda is debatably bad for those residents, and for private enterprise too.  So a careful look at all the elements at play undermine what MHAction, and their political allies, want to accomplish with their video, as posted further above.  It is useful to see their methods at work, in their own words.
When their fellow traveler, President Barack Obama (D), or Senator Elizabeth Warren (MA-D), promoted heavy regulations as 'solutions,' what they and others of like mind created was a trend toward less affordable housing, and more big businesses. That is among the reasons why NMHOA or MHAction members ought to seek to reform or create a new option for manufactured home owners.
Sources have informed MHProNews that billionaire George Soros' money is involved in the background of MHAction, and other similar progressive or left-wing groups.  The members of NMHOA or MHAction may be well meaning. They need to be heard, properly engaged, and then reasoned with, not dismissed out of hand.
We learned from the National Association of Realtors (TM) Certified Business Economist (CBE) Scholastica 'Gay' Cororaton that manufactured homes can and do rise in value. Barry Noffsinger, a regional manager with manufactured home lender, Credit Human Federal Credit Union, told MHProNews that manufactured homes go up and down in value for exactly the same reasons as conventional homes.
But the leadership of MHAction and NMHOA certainly ought to be well informed as to where their money is coming from.  Those leaders should know how their action fits into a pattern of activity that demonstrably harms the very manufactured home owners and others they claim to be helping.
"Results vs. Resistance," Cutting Fog with Facts for MHVille
Blackstone Group, Manufactured Home Communities, and MHAction
Blackstone is featured prominently at the end of the MHAction video.  Last July, Blackstone reportedly acquired numerous manufactured home communities, and already had other real estate investments in conventional housing.
Blackstone Brilliantly Bets Big On Manufactured Housing, Enters Manufactured Home Communities Contest
As one of the comments on the still reflects, MHAction is affiliated with other progressive or leftist groups.  They don't always make that clear in their videos.  Perhaps that is an effort by MHAction to make their numbers seem larger than they actually are.  But that also reveals another challenge and reality.  They are tied to larger organizations – such as George Soros backed Move On, and New York Communities for Change (NYCC) – which emerged from the ashes of scandal plagued ACORN.
Barack Obama, before becoming a U.S. Senator and then the 44th president, was an attorney that had represented ACORN. As PolitiFact said, "When Obama met with ACORN leaders in November 2007, he reminded them of his affinity for ACORN and his time as a Project Vote organizer."
Earlier today, President Donald J. Trump tweeted about George Soros.  See progressive Vox's comment about that tweet, and the tweet itself, below.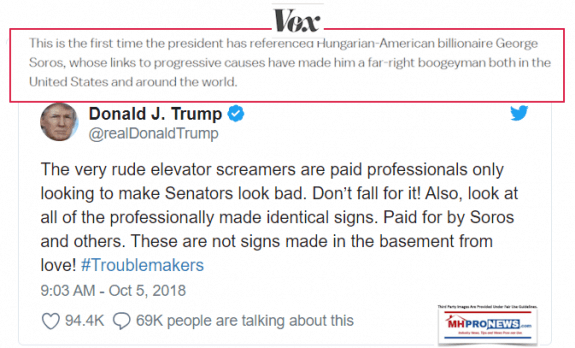 Our afternoon report focused on bipartisanship, and the times when it is or isn't appropriate.  It is all part of the puzzle that once understood, reveals how smaller businesses, would be and current manufactured home owners are often harmed by poor public policy, or groups that have an agenda that is not in alignment with the interests of manufactured home owners and independent businesses.
Millennials and Public Policy
Industry pros are reminded again than public polling can be tilted by push-polls, over-or-under sampling of a group or party, and other techniques that can twist the meaning of the survey.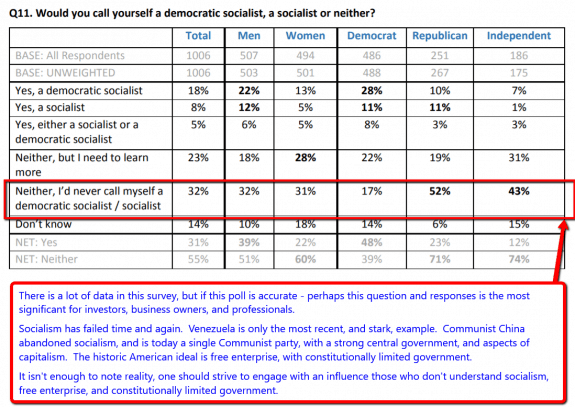 Polling is arguably used by various media to motivate – or demotivate – various groups of potential voters, donors, and activists.
With those caveats, let's dive into what the most recent polling says about millennials and their political views, which obviously can impact the legal and thus the business environment in America.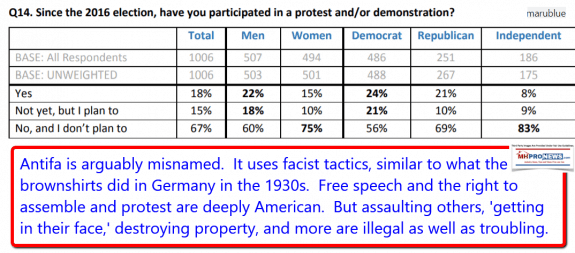 "In order to better understand the political landscape in advance of the midterm election, and from the point of view of American millennials, BuzzFeed News and Maru/Blue teamed up to conduct an online survey of 1,006 randomly selected 22-37- year-olds," said the opening from their detailed polling.
The BuzzFeed – Maru/Blue survey made similar points to others that have been reported by the Daily Business News on MHProNews. Note that BuzzFeed teamed up with the Seattle Times on one of their Clayton Homes exposés.
If accurate, their survey suggests that the tilt toward socialism could be more profound than other polls so far have reflected.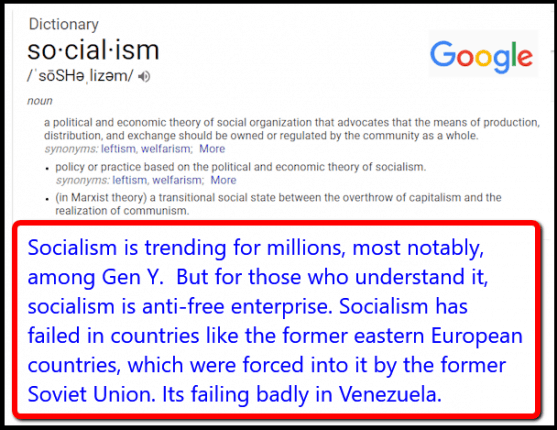 President Donald J. Trump Visit to Manufactured Home Community, Video, Hurricane Florence Update
Owner/Investor Cautionary Tale?
It isn't only millennials that may lack critical-thinking skills.
But the data suggests that more Gen Y in the U.S. are more likely to be 'buy into' socialist promises.
You can't force someone to vote or think this or that way, but you can share information with them.  That is the better long-term approach anyway. The maxim, "Those who are convinced against their will, are of the same opinion still" applies. So does this axiom, "Give a man to fish, and you feed him for a day.  Teach a man to fish, and you feed him for a lifetime."
The midterms are just a month out. Early voting is underway. "We Provide, You Decide." © ## (News, analysis, and commentary.)
NOTICE: You can join the scores who follow us on Twitter at this link. You can get our 'read-hot' industry-leading emailed headline news updates, at this link here.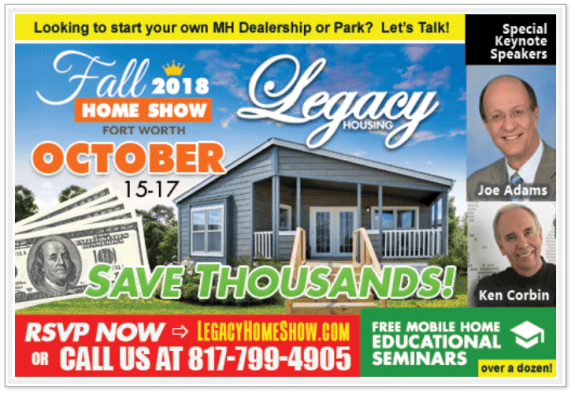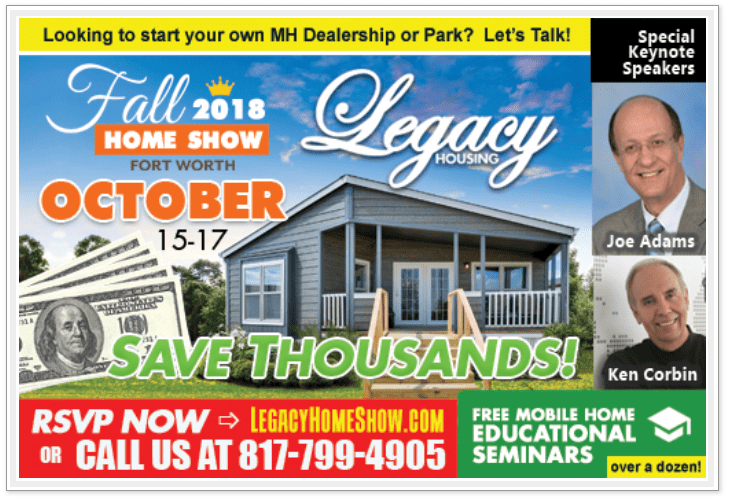 (Related Reports are further below. Third-party images and content are provided under fair use guidelines.)
1) To sign up in seconds for our MH Industry leading emailed news updates, click here.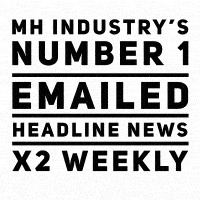 2) To pro-vide a News Tips and/or Commentary, click the link to the left. Please note if comments are on-or-off the record, thank you.
3) Marketing, Web, Video, Consulting, Recruiting and Training Re-sources
Submitted by Soheyla Kovach to the Daily Business News for MHProNews.com. Soheyla is a managing member of LifeStyle Factory Homes, LLC, the parent company to MHProNews, and MHLivingNews.com.
Related Reports

:
Enemies of Manufactured Homes, Communities; Rent Control, MHAction, George Soros, Ignorance, & Entropy