The 2010 National Congress and Expo for Manufactured and Modular Housing is scheduled for April 13-15, 2010 in Las Vegas at Caesars Palace and promises to provide the best in programming and networking opportunities for the largest yearly gathering of hundreds of industry leaders. Visit www.congressandexpo.com to register today!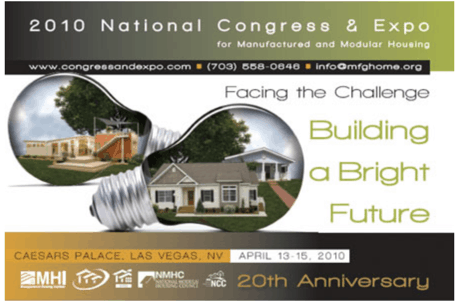 The 2010 Congress & Expo Offers…
Powerful General Session Speakers
Don't miss these exciting general session speakers at this year's Congress and Expo. On Wednesday, April 14, Jim Clayton, President of Clayton Bank & Trust will deliver the keynote address. What better way to celebrate our 20th Anniversary than to hear first hand from Jim Clayton, the industry legend who formed today's largest producer and seller of manufactured homes, Clayton Homes. Don't miss this exciting opportunity to hear from one of the most keen business minds of today who made his own American Dream come true.
On Thursday, Dr. Harold Gross, President of Market Research Answers, Inc., will provide attendees with a housing forecast by examining generational trends. Baby Boomers – who fueled consumer spending for the past fifteen years – are moving past their prime earning and spending years.  Gen Xers, many fewer in number, won't come close to replacing diminishing spending by Boomers. Gen Y – approximately the same size as the Baby Boom generation – will begin to impact the market as early as 2012 but won't impact the economy in significant numbers for at least a decade.  This program will document, explain and forecast the implications for housing in detail, as well as identify strategies the industry can use to adapt to a changed homebuyer.
ULI and NCC to Co-Host 2010 Communities Forum – The Premiere Land-Lease Community Event of the Year!
The MHI National Communities Council (NCC) is pleased to announce that the Urban Land Institute's Manufactured Housing Communities Council (MHCC) will co-host the 2010 National Communities Forum in Las Vegas on Tuesday, April 13th. This will be the premiere land-lease community event of the year with unprecedented networking opportunities. By combining the MHI-NCC, the industry's Washington, DC advocacy and trade group, and the ULI-MHCC, the industry "think-tank," this is sure to be an outstanding, one of a kind forum. Visit www.congressandexpo.com to view the detailed program.
2010 Workshops on Sales, Community Management and Development
This year we have developed specific education tracks and have secured an outstanding faculty in the areas of sales and marketing, community management, and community development. You can select a specific track and stay with it for the entire event, or choose workshops from different tracks to customize your education experience.
Sales and Marketing Workshops
Wednesday, April 14, 2:00 p.m. – 3:15 p.m.
Generating Targeted Traffic to Your Sales Center
Where are all the buyers?  They're out there; you just need to know where to look and what to say to entice them out of their hiding places and into your sales center.  This fast-paced discussion will present dozens of ways to find and attract qualified buyers – both online and offline – that you can use as a basis for your marketing strategy.  Speaker – Scott Stroud, Selling More Homes Media Network and BuilderRadio.com
Wednesday, April 14, 3:30 p.m. – 4:45 p.m.
Discovery – Screening, Qualifying, and Question Selling
There is an almost universal hesitancy on the part of salespeople to ask personal discovery questions. They are in uncharted territory and it is very uncomfortable. This presentation will provide a systemized way to take the time to listen to what prospects say and to observe non-verbal signals; to relax and let our prospects tell us what excites them, and then, to only present the things that are of interest to the prospect. Speaker – Ross Robins, MIRM, The Homebuilder Coach
Thursday, April 15, 9:45 a.m. – 11:00 a.m.
Staying in Touch & Selling the Next Step
This session will focus on follow-up skills that bring customers back. Each lead costs you money! You spend a lot of money to get leads and referrals. Following-up on those customers and properly screening and qualifying them, is key. In many cases, you don't need to get more leads, you need to work more effectively with the leads you have. Learn how to sell the next-step and how that leads to the sale. Speaker – Jerry Rouleau, BuilderRadio.com
Thursday, April 15, 11:15 a.m. – 12:30 p.m.
Secrets of Super Salesmen to Overcome Objections and Close More Sales
The art of closing each transaction becomes easier once all your buyer's concerns have been mitigated and the buyer has become comfortable with the decision to purchase.
Learn the subtleties of handling concerns through a series of positive and results-proven 'tried and true' methods that will enhance your sales presentations, help you to get to "yes," close the sale, and earn more commissions and profits! Speaker – Robert August, MIRM, CMP, CSP, MCSP, CAASH, S. Robert August & Company Inc.
Community Management and Operations Workshops (Sponsored by ASSURANT Specialty Property)
Wednesday, April 14, 2:00 p.m. – 3:15 p.m.
Revitalizing Aging Communities
Sometimes the best option for revitalizing an aging community to keep it competitive in the marketplace is to address the issue one home and one lot at a time. This workshop will cover the legal considerations and explore the resident relations issues related to the acquisition of older homes, subdividing and/or changing lot lines and the subsequent changes in the rent structure of the community. Speaker – Rob Coldren, Esq., Hart, King & Coldren
Wednesday, April 14, 3:30 p.m. – 4:45 p.m.
Operating During Economic Hardship
During these challenging economic times, even your best residents may fall behind on rent payments because of job loss or reduced income. This situation presents both a management and financial challenge for communities. Best practices in managing residents during economic hardships, as well as valuable tips for budgeting and managing your community on reduced income due to late rents and vacancies, will be presented in this workshop. Speaker – Candace Holcombe, MCM, CCRM, CAM, CPM Candidate, Newport Pacific Capital
Thursday, April 15, 9:45 a.m. – 11:00 a.m.
Are You Ready to Market, Sell and Finance New and Resale Homes?
The land-lease community business model has changed dramatically during the past decade and now includes marketing, selling and financing new and resale homes. This session will focus on determining the appropriate pricing for homes in a particular market area and ensuring that the site rent is in sync with other forms of rental housing. Basics of community management that will impact the success of your in-house program, such as training on sales and leasing, curb appeal, rules and regulation enforcement and resident relations programs will be covered. Speaker – George Allen, MHM, CPM, GFA Management, Inc.
Thursday, April 15, 11:15 a.m. – 12:30 p.m.
Boost Home Sales with Social Networking
Did you know that Facebook is the 4th most visited website in the world, or that 75% of U.S. adults are active on social networking sites? Our site-built competitors have already discovered the power of social networking websites and tools to find more prospects and close more sales at substantially reduced costs.  Now you can too!  Find out how easy and inexpensive it is to develop a social networking strategy to increase occupancy rates and home sales for your community. Speaker – Dan Rinzema, MHVillage/Datacomp
Developer Workshops
Wednesday, April 14, 2:00 p.m. – 3:15 p.m.
Back from the Dead – Projects That Will Work in Today's Market
Explore the range of possibilities for community developments by looking at some real life projects that demonstrate what can be successful in the current financial and real estate climate. We will highlight several projects including all age communities, 55 and older, and fee simple developments. Also, a variety of community upgrade options will be discussed. In addition, information about the green development movement and its potential to positively impact your project will be presented. Speaker – Donald Westphal, Donald C. Westphal Associates, L.L.C.
Wednesday, April 14, 3:30 p.m. – 4:45 p.m.
Finding the Money – Try Putting Your Hand in the Government's Pocket
Tired of the government's hand in your pocket? Want some of your tax money back? We thought so. Come learn how you can obtain state and federal sources of money for development funding and resident payment assistance. Speaker – Roderick Knoll, Manufactured Housing Resources Group
Thursday, April 15, 9:45 a.m. – 11:00 a.m.
High Return – Low Risk: Making Money on the Front End
In the development process, the value of land increases as the questions about the project decrease. Getting off on the right foot with your development is a major component of your long-term success. In this session, we will answer questions about making the right site selection for your project, conducting market and feasibility studies, and the importance of being able to help others visualize your ideas for the project. Putting this information to work to obtaining zoning approval will increase the value of your land while the housing market improves. Speakers – Roderick Knoll, Manufactured Housing Resources Group; Donald Westphal, Donald C. Westphal Associates, L.L.C.
Thursday, April 15, 11:15 a.m. – 12:30 p.m.
Avoiding Pitfalls: How to Prevent Expensive Mistakes in Your Projects
All real estate projects have the potential for expensive mistakes. Manufactured and modular home projects, because they are different from the mainstream, have extra pitfalls. Come learn solutions to the top money-losing problems that occur in the second half of the project: financing, construction, and sales. We want you to keep your hard-earned cash! Speakers – Roderick Knoll, Manufactured Housing Resources Group; Donald Westphal, Donald C. Westphal Associates, L.L.C.
Technical Workshop (Sponsored by ASSURANT Specialty Property)
Thursday, April 15 – 9:45 a.m. – 12:00 p.m.
Protecting Manufactured Homes from Floods and Other Hazards
This session will provide designers, manufactured home contractors and installers with an overview of the updated FEMA 85, with an emphasis on discussing methods of evaluating flood risk and selection of prescriptive foundation designs to protect manufactured homes from flooding and other natural hazards. Speaker – Joseph P. Klein, III, P.E., Dewberry
Exhibiting Opportunities for the Largest Industry Trade Show – Sell More of Your Products and Services to Top Industry Decision Makers
Visit www.congressandexpo.com for information on exhibiting opportunities and click on "For Exhibitors." Exhibitors receive two complimentary registrations valued up to $1000 for each booth reserved, providing full access to all events and sessions. The 2010 Congress and Expo will feature exhibits from leading product and service providers in the industry providing the opportunity for attendees to see the latest innovations and technologies available to help them work and serve their customers more effectively. For any questions on exhibiting, please contact Greg Rinck at (703) 558-0646 or grinck@mfghome.org.
Show Your Strong Support for the Industry with Excellent Sponsorship Opportunities
For information on sponsorship opportunities visit www.congressandexpo.com and click on "For Sponsors." This is the premiere opportunity to network with hundreds of housing professionals and top decision makers and increase your company's visibility. Sponsorships are a critical ingredient to any marketing strategy and now more important than ever to show that your company is going strong and is there to fill the needs of the industry – now and when the economy recovers. Sponsors can take advantage of a wide array of benefits including free registrations, registration list for marketing, free exhibit booth space and much more. For any questions on sponsorships, please contact Cheryl Hardee at (703) 558-0668 or cheryl@mfghome.org.
MHI thanks the following sponsors:
Diamond Sponsor
Triad Financial Services
Platinum Sponsor
Oliver Technologies, Inc.
ROC USA
Gold Sponsors
Follett Investment Properties
Hometown America
Manufacturedhomesource.com
Wells Fargo Commercial Mortgage
Whirlpool Corporation
Yes! Communities
Silver Sponsors
Assurant Specialty Property
Newport Pacific
Okaply
Bronze
CU Factory Built Lending
FEMA
Green Courte Partners
RHP Properties
U.S. Bank
Don't miss this must attend industry event.
~ For additional information regarding the 2010 National Congress & Expo call 703-558-0646 ~