Compared to some previous years, Warren Buffett's famous annual letter to Berkshire Hathaway shareholders says surprisingly little about Clayton Homes and their associated manufactured housing lending activities. Key portions of his comments are quoted herein further below.
But why is so relatively little is said in Buffett's often seemingly folksy annual letter? Furthermore, why are 'facts' stated in a manner that is obscuring data points that relate to risk factors Berkshire investors should know about?
The year 2019 which is covered by his newest annual letter included several notable controversies that pointed squarely at himself, Clayton and ongoing allegations of predatory, racially biased, and antitrust violation allegations publicly made. As careful readers should note in the extensive quotes from the Clayton portions of the annual letter will note that controversial scenarios are apparently being ignored.
Some examples of those controversies from 2019 included, but are not limited to the list below, are:
That's a substantial array of controversial matters that the 2019 Buffett letter to Berkshire (BRK) shareholders fails to directly address – are those possible Securities and Exchange Commission (SEC) reporting violations? Against that outline, MHProNews will review quotes from the new 2019 letter to Berkshire Hathaway (BRK) shareholders, with and followed by initial related analysis and commentary.
Quotes from Warren Buffett 2019 Annual Letter to Shareholders
On page K-10 of his new 2019 annual Berkshire letter to shareholders and related documentation, linked here, we find the following.
Manufacturing Businesses
"Berkshire's numerous and diverse manufacturing subsidiaries are grouped into three categories: (1) industrial products, (2) building products and (3) consumer products. Berkshire's industrial products businesses manufacture specialty chemicals, metal cutting tools, components for aerospace and power generation applications, and a variety of other products primarily for industrial use. The building products group produces prefabricated and site-built residential homes, flooring products, insulation, roofing and engineered products, building and engineered components, paint and coatings and bricks and masonry products. The consumer products group manufactures recreational vehicles, alkaline batteries, various apparel products, jewelry and custom picture framing products. Information concerning the major activities of these three groups follows."
From the bottom of K13 to top of K14:
Building Products
Clayton Homes

"Clayton Homes, Inc. ("Clayton"), headquartered near Knoxville, Tennessee, is a vertically integrated housing company offering traditional site-built homes and off-site built housing – including modular homes, manufactured homes, CrossModTM homes and tiny homes. In 2019, Clayton delivered 44,600 off-site built and 7,369 site-built homes. Clayton also offers home financing and insurance products and competes on price, service, location and delivery capabilities.
All Clayton Built® off-site homes are designed, engineered and assembled in the United States. Clayton sells its homes through independent dealers, company owned home centers, realtors and subdivision channels. Clayton considers its ability to make financing available to retail purchasers a factor affecting the market acceptance of its off-site built homes. Clayton's financing programs utilize proprietary loan underwriting guidelines, which include ability to repay calculations, including debt to income limits, consideration of residual income and credit score requirements, which are considered in evaluating loan applicants.
Since 2015, Clayton's site-built division, Clayton Properties Group, has grown through nine builder acquisitions across 14 states with a total of 311 subdivisions, supplementing the portfolio of housing products offered to customers. Our site-builders currently control approximately 59,000 lots, with a home order backlog of approximately $1.0 billion…"
MHProNews note: On the "off-site built" side, why is there no specific breakdown of what housing types Clayton Homes factory-building operations has produced? Don't shareholders and regulators alike have the right to know:
How many HUD Code manufactured homes were built and sold.
How many modular coded factory-built housing units were built and sold.
How many CrossModTM units were built and sold, and how long those units that have not been sold have sat in inventory.
The reasons that those types of data-points should be included are relative to both performance and risk factors, each of which an investor and regulators ought to know.
From page K21.
"Berkshire subsidiaries also own a 50% joint venture interest in Berkadia Commercial Mortgage LLC ("Berkadia")," …
This may be the subject of a manufactured home land-lease communities related upcoming report.
Berkshire and its subsidiaries (referred to herein as "we," "us," "our" or similar expressions) are subject to certain risks and uncertainties in its business operations which are described below. The risks and uncertainties described below are not the only risks we face. Additional risks and uncertainties that are presently unknown or are currently deemed immaterial may also impair our business operations.
Page K 22
Competition and technology may erode our business franchises and result in lower earnings.
Each of our operating businesses face intense competition within markets in which they operate. While we manage our businesses with the objective of achieving long-term sustainable growth by developing and strengthening competitive advantages, many factors, including technological changes, may erode or prevent the strengthening of competitive advantages. Accordingly, our future operating results will depend to some degree on our operating units successfully protecting and enhancing their competitive advantages. If our operating businesses are unsuccessful in these efforts, our periodic operating results in the future may decline.
K27
Item 3. Legal Proceedings
…
Berkshire and its subsidiaries are parties in a variety of legal actions that routinely arise out of the normal course of business, including legal actions seeking to establish liability directly through insurance contracts or indirectly through reinsurance contracts issued by Berkshire subsidiaries. Plaintiffs occasionally seek punitive or exemplary damages. We do not believe that such normal and routine litigation will have a material effect on our financial condition or results of operations. Berkshire and certain of its subsidiaries are also involved in other kinds of legal actions, some of which assert or may assert claims or seek to impose fines and penalties. We believe that any liability that may arise as a result of other pending legal actions will not have a material effect on our consolidated financial condition or results of operations."
MHProNews note relative to risk factors: while Buffett may prove to be correct that "other pending legal actions will not have a material effect on our consolidated financial condition or results of operations," don't shareholders merit a specific mention of the fact that antitrust, deceptive trade practices, RICO and other allegations that have arisen with respect to Clayton Homes and their associated lending? See the bullets further above and related reports linked further below.
In the following segment, it is worth noting that Wikipedia and other sources say that Clayton Homes "…was acquired by Berkshire Hathaway Inc. in 2003 for $1.7 billion." While Berkshire has continued to invest billions in the sector, in 2019 the increase in revenue alone approached what the firm paid for Clayton in 2003. This is an example of how 'expanding the moat' every year works in practice. There is a serious allegation to be made that this is a slow-motion monopolistic ploy that merits FTC, DOJ, SEC and possibly other federal or state legal, regulatory and legislative oversight probes.
K48

"Clayton Homes' revenues were approximately $7.3 billion in 2019, an increase of $1.3 billion (21.5%) over 2018. The comparative increase was primarily due to increases in home sales of $1.16 billion (26%), reflecting a net increase in units sold and changes in sales mix. Unit sales of site-built homes increased 84% in 2019 over 2018, primarily due to business acquisitions, while average prices declined 5%. Manufactured home unit sales increased 5% and wholesale sales were 9% lower in 2019. Interest income from lending activities in 2019 increased 6.7% compared to 2018, attributable to increased originations and average outstanding loan balances. Aggregate loan balances outstanding were approximately $15.9 billion at December 31, 2019 compared to $14.7 billion as of December 31, 2018.
Pre-tax earnings of Clayton Homes were $1.1 billion in 2019, an increase of $182 million (20.0%) compared to 2018. The earnings increase in 2019 was attributable to home building activities, which reflected the increases in home sales, and manufactured housing lending activities. Pre-tax earnings from lending and finance activities in 2019 increased 12%, primarily due to an increase in interest income attributable to higher average loan balances, increased other financial services earnings and lower credit losses, partially offset by higher interest expense, attributable to higher average borrowings and interest rates, and by higher other operating costs.
Aggregate revenues of our other building products businesses were $13.0 billion in 2019, an increase of 2.8% versus 2018. Revenues increased for paint and coatings, hard surface flooring and roofing products, attributable to a combination of increased volumes, product mix changes and increased average selling prices, while sales of brick products declined, primarily attributable to lower volumes.
Pre-tax earnings of the other building products businesses were $1.5 billion in 2019, an increase of 8.2% over 2018. Earnings in 2019 benefitted from a combination of increases in selling prices in certain product categories, declining raw material costs for certain commodities and operating cost control initiatives, which were partly offset by the effects of increased facilities closure costs.
2018 versus 2017
Revenues of the building products group in 2018 were approximately $18.7 billion, an increase of 10.2% compared to 2017. Pre-tax earnings of the building products group were approximately $2.3 billion in 2018, an increase of 8.8% versus 2017. Overall, pre-tax earnings as a percentage of revenues were 12.5% in 2018 and 12.7% in 2017.
Clayton Homes' revenues were $6.0 billion in 2018, an increase of 20.7% over 2017. The increase was driven by an increase in revenues from home sales of $971 million (28.2%), primarily due to a 105% increase in unit sales of site-built homes attributable to businesses acquired over the last two years. Unit sales of manufactured homes in 2018 also increased 4.9% compared to 2017. Average unit prices of site-built homes are considerably higher than traditional manufactured homes. In addition, interest income from lending activities increased 4% in 2018 compared to 2017, primarily due to increased average outstanding loan balances.
Clayton Homes' pre-tax earnings were $911 million in 2018, an increase of $145 million (19.0%) compared to 2017. The increase was primarily attributable to a significant increase in earnings from home building (manufactured housing and site-built homes) activities, which reflected the impact of increased home sales and margins. Pre-tax earnings from lending activities in 2018 declined 2% compared to 2017, as increased interest expense, attributable to higher average debt balances and interest rates, and higher operating costs more than offset the increase in interest income. At December 31, 2018 and 2017, aggregate loan balances outstanding were approximately $14.7 billion and $13.7 billion, respectively.
Revenues of our other building products businesses increased 5.8% in 2018 to approximately $12.6 billion compared to 2017. In 2018, Shaw's sales increased 7.9% and Johns Manville's sales increased 7.2% as compared to 2017. The increases reflected higher average selling prices, product mix changes and overall unit volume increases."
 ##
MHProNews Initial Analysis
There is much more to unpack from the 2019 Buffett annual letter – especially when compared and contrasted to related statements by Clayton Homes and other sources during the course of the past year or so. We expect to return to the Buffett letter in the days ahead, for several reasons.
With antitrust activities heating up in states and the nation's capital, some of what was brushed over in the above at a minimum begs the question of why data and disclosures were reported as they were by Buffett and his colleagues.
#OpenMarkets, Monopolistic, and Other MH Industry Legal Concerns Initiative, plus Manufactured Home Investing, Stock Updates
As regular readers know, MHProNews has contacted various Berkshire brands and MHI leadership about these controversies repeatedly, including earlier this month. They decline comment. Instead, messaging from MHI and their surrogates has increased, which arguably has an all is well, trust us, quality to it. MHI surrogates have arguably deployed documented 'red herring' diversions that fail to address the core issues linked above and below.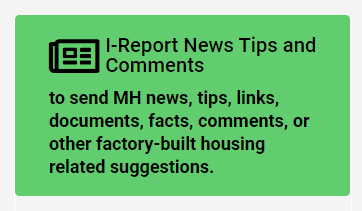 There is more to come on this topic, as was noted above. But this is sufficient to outline both what Buffett/Berkshire had to say about Clayton Homes this year, and what topics they failed to address. Which for thinking professionals and investors, should beg the question: why are these controverisies and risk factors not cited in the 2019 Berkshire letter?
That's a wrap on this installment of "News through the lens of manufactured homes and factory-built housing," © where "We Provide, You Decide." © (Affordable housing, manufactured homes, reports, fact-checks, analysis, and commentary. Third-party images or content are provided under fair use guidelines for media.)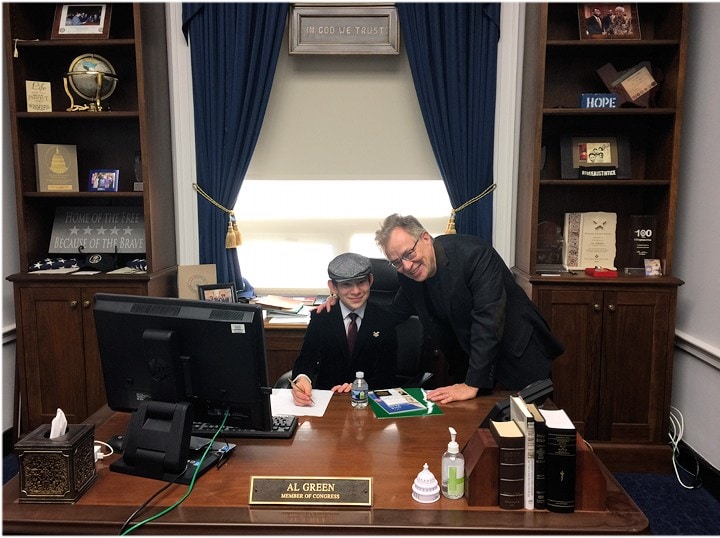 (See Related Reports, further below. Text/image boxes often are hot-linked to other reports that can be access by clicking on them.)
By L.A. "Tony" Kovach – for MHLivingNews.com.
Tony earned a journalism scholarship and earned numerous awards in history and in manufactured housing. For example, he earned the prestigious Lottinville Award in history from the University of Oklahoma, where he studied history and business management. He's a managing member and co-founder of LifeStyle Factory Homes, LLC, the parent company to MHProNews, and MHLivingNews.com. This article reflects the LLC's and/or the writer's position, and may or may not reflect the views of sponsors or supporters.
Connect on LinkedIn: http://www.linkedin.com/in/latonykovach
Related References:
The text/image boxes below are linked to other reports, which can be accessed by clicking on them.
Destabilization in Manufactured Housing Market Ahead, plus Sunday Weekly Manufactured Home Headline Review 2.16 to 2.23.2020
Applying Democratic, Republican & Barak Orbach's Monopolization Logic to Affordable Housing Crisis Impacting Manufactured Home Industry
Shortchanging Homeowners, Small Businesses, Unsuspecting Investors, Association Members-plus Sunday Manufactured Home Headlines Review 2.9 to 2.16.2020
$500 Million Axne-Khanna Plan, Manufactured Housing Legislation Introduced, But Manufactured Housing Institute Fails to Tell Members?
Congresswoman Rips Frank Rolfe, Dave Reynolds, Havenpark for "Troubling," "Predatory," "Deceptive" Practices, Calls for Federal Investigations
Federal Official, Manufactured Housing Institute, Manufactured Housing Association for Regulatory Reform and Certain MHI Member Firms
Complaints to State and Federal Officials, Agencies About Corrupt Practices in Manufactured Housing Industry Growing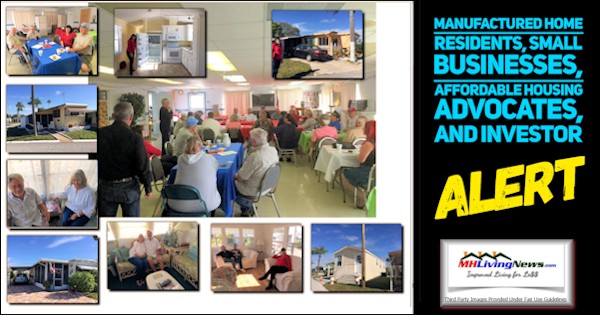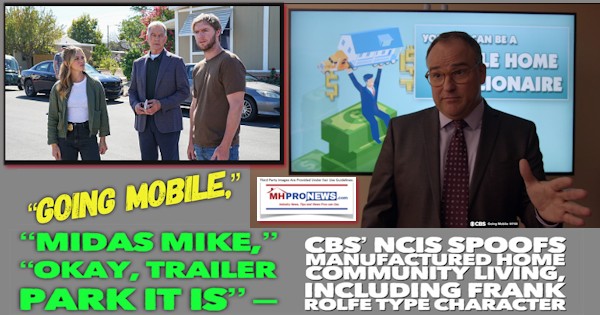 Saturday Satire and Executive Summaries for Manufactured Housing Professionals, Investors, Advocates, Researchers, Public Officials, and Investigators