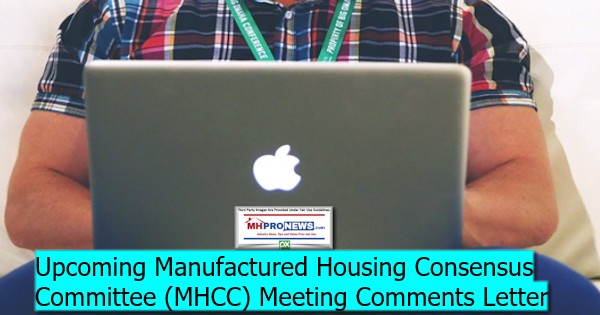 The letter below was provided by publisher L. A. 'Tony' Kovach for MHCC committee and other industry members and interested parties consideration.
—
10.21.2019
HUD Manufactured Housing Consensus Committee
C/O Home Innovation Research Labs
mhcc@homeinnovation.com
Administering Organization
400 Prince Georges Boulevard
Upper Marlboro, Maryland 20774
MHProNews.com is the largest and documented most read trade media in manufactured housing, and its sister site MHLivingNews.com are the preeminent resources of their kind, per numerous third party comments, nonprofits, traffic, and other indicators. A bio-in-brief on this writer is found at LATonyKovach.com.
I've been confirmed by Nay Shah at Home Innovation Research Labs for having these written comments scheduled for inclusion in advance to those in the MHCC for the upcoming meeting.
Since the last MHCC conference call, several developments have occurred that have made reconsideration of DRC-1 relevant.
https://www.manufacturedhomepronews.com/bombshells-former-hud-manufactured-housing-program-administrator-bill-matchneer-cavcos-manuel-santana-statements/
https://www.manufacturedhomepronews.com/manufactured-housing-institute-fine-new-manufactured-home-industry-promoting-video-insights-usefulness/
Also relevant are these reports by the Manufactured Housing Association for Regulatory Reform (MHARR) with respect to the implications on that DRC 1 topic.
https://manufacturedhousingassociationregulatoryreform.org/the-incredible-shrinking-zoning-problem-september-2019-mharr-issues-and-perspectives/
https://manufacturedhousingassociationregulatoryreform.org/president-trumps-executive-orders-vindicate-longstanding-mharr-position/
A prominent member of the Manufactured Housing Institute (MHI) and their partners publicly called for no new communities to be built, a position that if adopted would be harmful to the interests of potentially millions of manufactured homeowners.
https://www.manufacturedhomelivingnews.com/frank-rolfe-says-why-you-should-never-build-a-mobile-home-park-seriously-fact-check-and-analysis/
That same party, MHI member Frank Rolfe has sparked a level of controversy that is so serious that CBS aired an episode that satirizes the sad state of much of the manufactured housing industry. That is arguably harmful to the interests of homeowners, independents, and others.
https://www.manufacturedhomepronews.com/going-mobile-midas-mike-okay-trailer-park-it-is-cbs-ncis-spoofs-manufactured-home-community-living-including-frank-rolfe-ty/
Since the last MHCC meeting, the following report by Lesli Gooch to HUD was published, a careful review of that should be considered as part of my submission.
https://www.manufacturedhomepronews.com/fair-is-fair-fine-new-letter-by-manufactured-housing-institute-evp-lesli-gooch-to-hud-secretary-ben-carson-examined/
That should be read in conjunction with the reports linked below that focus on key MHI staff's published statements.
https://www.manufacturedhomelivingnews.com/huds-urban-institutes-edward-golding-knew-because-manufactured-housing-institutes-lesli-gooch-told-him/
https://www.manufacturedhomepronews.com/wow-giving-credit-interesting-what-rick-robinson-mhis-general-counsel-said-about-zoning-battles/
Also relevant was this former HUD official's comments.
https://www.manufacturedhomepronews.com/long-time-hud-attorneys-formal-statement-on-manufactured-housing-enhanced-preemption/
Considering those points, along with reports linked here, here, here, and here, steps should be taken by HUD to refer to the appropriate authorities enforcement actions that will call upon federal officials to permanently disrupt the application by public officials and private enterprises to bend good federal laws to the benefit of only a few.
https://www.manufacturedhomepronews.com/pam-danners-replacement-announced-mharr-rips-hud-leadership-more/
Zillow has documented a decline in interest in manufactured homes.  Along with the other reports linked from this comment, this indicates a serious concern for manufactured homeowners, public officials concerned with providing the maximum amount of affordable housing by private enterprise, small to midsized businesses, taxpayers, and investors.
https://www.manufacturedhomelivingnews.com/zillow-home-buyer-trends-compared-conventional-townhouse-mobile-or-manufactured-homes-condos-and-duplexes/
Based upon the already referenced recent Trump Administration EOs linked here and other linked reports above and below, the following should occur.
DRC-2/DRC-281 (which covers the withdrawal of HUD's 2010 "Interpretive Rule" on section 604(b)(6));
DRC-219/DRC-77 (withdrawal of unpublished "Field Guidance" and procedures);
DRC-138 (withdrawal of pre-2000 reform law preemption "guidance");
DRC-26/DRC-139 (Subpart I reform to comply with 2000 reform law);
DRC-17/DRC-89 (revisions to on-site completion rule); and
DRC-57 (withdrawal of pending "voluntary" fire sprinkler rule).
While these concerns may seem to be a minority view, our traffic and reader feedback tells us otherwise. A significant degree of 'gaslighting' has been alleged by MHI emeritus member George Allen.
https://www.manufacturedhomepronews.com/comparing-manufactured-home-industry-trade-news-claims-mhinsider-mhreview-educatemhc-george-allen-says-gaslighting-what-data-spj-reveals/
When some 50 state AGs are investigating antitrust issues with respect to big tech, why should a similar level of concern not be applied to how consolidators are impacting affordable housing in general, and manufactured housing interests in particular?
https://www.manufacturedhomepronews.com/openmarkets-monopolistic-and-other-mh-industry-legal-concerns-initiative-plus-manufactured-home-investing-stock-updates/
Indeed, it is a valid concern, given that several mainstream media reports in recent years have been produced that are largely ignored by much of the industry's trade media, other than MHLivingNews and MHProNews. Some examples of those reports are as follows.
When someone steps back and ponders the backlog of items that the MHCC is looking at, and the various issues being considered, one must ask. How is it possible that some 19 years after the enactment of the Manufactured Housing Improvement Act (MHIA) of 2000 that so many aspects to a federal law aimed at benefiting consumers and providing a reasonable regulatory framework for businesses of all sizes have been ignored?
The answer to that question to a significant degree arguably lies within the industry, certain major companies, HUD, plus other regulatory agencies.
https://www.manufacturedhomepronews.com/body-of-evidence-federal-trade-commission-ftc-manufactured-housing-institute-staff-gaslighting-the-growing-case/
These will be my comments for consideration in the upcoming MHCC meetings scheduled for: Tuesday, October 29, 2019 through Thursday November 1, 2019.
Respectfully submitted
L. A. "Tony" Kovach
Managing Member,
LifeStyle Factory Homes, LLC
Parent company to MHProNews, MHLivingNews, and other industry interests.
—
That is your final installment today of manufactured housing industry "News, Tips, and Views Pros Can Use," © where "We Provide, You Decide." © ## (News, analysis, and commentary.)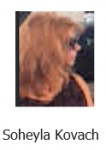 Submitted by Soheyla Kovach for MHProNews.com.
Soheyla is a managing member of LifeStyle Factory Homes, LLC, the parent company to MHProNews, and MHLivingNews.com. Connect with us on LinkedIn here and and here.
Related Reports:
Click the image/text box below to access relevant, related information.
Manufactured Housing Institute EVP Lesli Gooch, Industry Progress in Her Words, Manufactured Housing Improvement Act, and Enhanced Preemption
Paul Barretto, Sr. Manager Fannie Mae, Manufactured Housing Initiatives, FHFA Lobbying Regulations, Duty to Serve, and Manufactured Housing Institute
"Going Mobile," "Midas Mike," "Okay, Trailer Park it Is" – CBS' NCIS Spoofs Manufactured Home Community Living, Including Frank Rolfe Type Character
Frank Rolfe, Mobile Home University, Protests, Black-Eye News, and "Investing" – Ultimate Video Collection
Comparing Manufactured Home Industry Trade News Claims, MHInsider, MHReview, EducateMHC, George Allen Says "Gaslighting" – What Data, SPJ Reveals
Attorney General Files Suit Against Manufactured Home Community Owner – Pleadings, Official Statements, and Videos
Great or Gone? Obstacles and Opportunities in Manufactured Housing, plus Sunday Morning Headlines Week in Review 10.6 to 10.13.2019