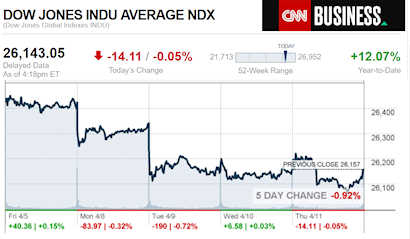 Most manufactured home tracked stocks rose, while the major markets mostly slid today.  Properly understood and promoted, HUD Code manufactured housing out to do well in good times or bad, because there is always a need for affordable homes.  That said, our feature this evening is another follow up for the pending Trump Administration nominees to the Federal Reserve Board.  Herman Cain – however qualified – is hitting serious headwinds, and it includes some of the very factors we raised last week. Stephen Moore, might have the easier path.  Two items woven together this evening, one from Fox, and one from Bloomberg – both sides of the left-right aisle, which includes an insightful video interview with Moore are our features this evening.
If you're new, already hooked on our new spotlight feature – or are ready to get the MH professional fever – our headline report is found further below, after the newsmaker bullets and major indexes closing tickers.
The evolving Daily Business News market report sets the manufactured home industry's stocks in the broader context of the overall markets.  Headlines – at home and abroad – often move the markets.  So, this is an example of "News through the lens of manufactured homes, and factory-built housing." ©
Part of this unique evening feature provides headlines – from both sides of the left-right media divide – which saves busy readers time, while underscoring topics that may be moving investors, which in turn move the markets.
Readers say this is also a useful quick-review tool that saves researchers time in getting a handle of the manufactured housing industry, through the lens of publicly-traded stocks connected with the manufactured home industry.
This is an exclusive evening or nightly example of MH "Industry News, Tips and Views, Pros Can Use." © It is fascinating to see just how similar, and different, these two lists of headlines can be.
Want to know more about the left-right media divide from third party research?  ICYMI – for those not familiar with the "Full Measure," 'left-center-right' media chart, please click here.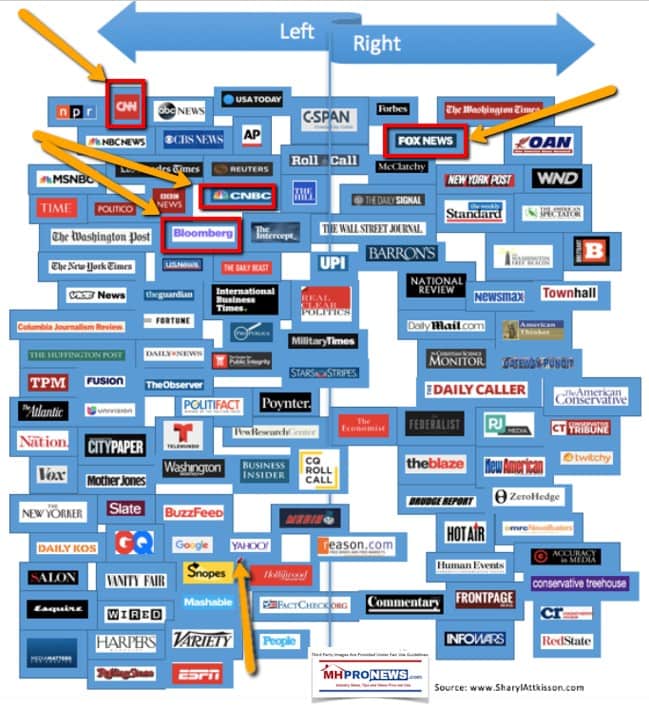 Select bullets from CNN Money…
Amazon stands to gain from Sears' demise
Hundreds of Sears stores stand empty. Whole Foods and Amazon are looking to move in
Jeff Bezos made $81,840 last year. He's still the richest person in the world
What Bezos said in his letter to investors
LIVE UPDATES Google loses its VP and diversity chief
Tesla and GM electric car sales could get a big boost if this bill passes
Wall Street taught oil drillers restraint. That could lift oil prices
White House economist refuses to back Trump's pleas for rate cuts
Julian Assange's arrest could end as a test for press freedom
How a Russian-owned media outlet landed the first video of Julian Assange's arrest
PERSPECTIVES I served in the Army for 35 years. Veterans have the skills that businesses need
Europe is about to get a bitcoin debit card
Why Ikea is opening a tiny store in New York
How to buy stocks that pay you back
It's only April and Disney has already had a massive year at the box office
Bank of America will hike its minimum wage to $20
INTERACTIVE The US minimum wage through the years
American hiring bounced back in March, but a slowdown still looms
How tight is the job market? Taco Bell is throwing 'hiring parties'
SpaceX faces a key test in the upcoming launch of its biggest rocket
NASA says it's committed to Boeing-built rocket after considering alternatives
Why space is becoming a dangerous place to do business
She turns Elon Musk's bold space ideas into reality
Why Florida still dominates the space launch game
Select Bullets from Fox Business…
Elizabeth Warren's new corporate profits tax would cost Amazon $698M, she says
Alexandria Ocasio-Cortez suggests the IRS should do your taxes for you
Taxpayers still outraged over IRS refund amounts as tax deadline draws near
Herman Cain's Fed board bid in jeopardy, as GOP senators signal dissent
A 'new era' of retirement: This is what it means for you
Americans are getting over yogurt. Here's why
AAF faces class-action lawsuits from players, employees after collapse: Report
Tesla, Panasonic halt Gigafactory expansion amid sagging vehicle demand: Report
Wells Fargo CEO drama eclipses struggling business
Masters Tournament concessions menu prices: Why food, drinks are so cheap at Augusta National
Masters Tournament's green jacket: A mysterious sports symbol worth millions
Masters Tournament purse breakdown: A look at the winner's share
Banks were 'stupid' during housing meltdown: Fmr. FDIC Chair
Fed pick Stephen Moore pushes free markets despite leftist backlash
The National Enquirer is up for sale after Jeff Bezos scandal
What 'Game of Thrones' finale means for HBO's future
Massive IRS refund a mistake? Here's what to do
There could be legal ramifications for spending money that isn't yours.
Tax season tips: How to avoid an audit
Taxpayers in these cities tend to get larger refunds
Trish Regan: House Dems attack AG William Barr over Mueller report findings
What Beto O'Rourke gets wrong about the middle class and American wealth
The Federal Reserve needs (Stephen) Moore transparency
Trump is hitting the 'reset button' on DHS: Former acting ICE Director Tom Homan
Bernie Sander, Elizabeth Warren reveal wealth amid tax push
Bob Doll on US markets: We have to consolidate for a bit
Ray Dalio gives Connecticut $100 million, state's largest gift ever
James Patterson donates $1.25 million to classroom libraries
Ken Griffin single-handedly boosted Manhattan's real estate with $238M condo purchase
Today's markets and stocks, at the closing bell…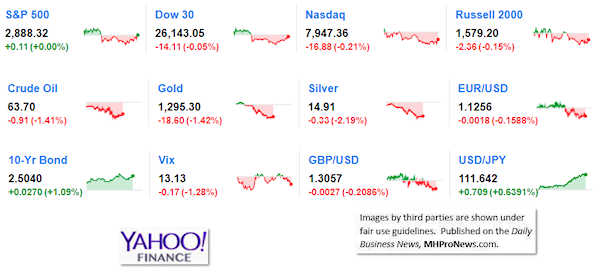 Today's Big Movers
For all the scores and highlights on tracked manufactured home connected stocks today, see the Bloomberg graphic, posted below.
Today's MH Market Spotlight Report –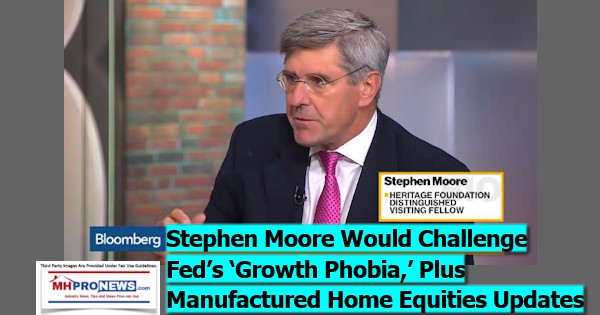 There is no question that media is often tainted by spin from one side or the other of the political aisle, that's why we often use that left-right media divide graphic noted further above.  That said, we are not among those who think that every report from every source is tainted. Having communicated with journalists for years, it is fair to say that some truly want to get it right, while others want to frame a story to fit an obvious or hidden agenda.
In our case, at MHProNews, w have and continue to state our agenda.  We're pro-manufactured homes as a proven affordable housing solution. That means we are pro-industry growth, as well as pro-consumer, the final point made by MHI's former President in a column linked here
While we are long-time professionals in our industry, our understanding has grown and evolved over time as to what the industry's core problems are for underperformance. Articles like those linked here, here, or here explain some of that evolution.
The economy was propped up in part during the Obama Administration due to Fed policies like QEs. Those are being unwound during the stronger economy now.
With that tee up, there is little doubt, as Moore himself said, that the Fed was a factor in the headwinds near the end of last year.  MHProNews would say, there is more too it than that – pardon the pun – but the Fed was an avoidable, artificial headwind.
Two largely useful inputs on the Stephen Moore and the Federal Reserve issue.  The video is from Bloomberg, the commentary is an Op-Ed on Fox Business.   Each source is a useful bookend on this topic.
By Adam Brandon
Potential Federal Reserve Board nominee Stephen Moore discusses his outlook for the U.S. economy and why the December rate increase was a mistake.
In choosing Stephen Moore as a potential nominee to serve on the Federal ReserveOpens a New Window. Board of Governors, President TrumpOpens a New Window. made a good faith gesture to the American people to bring more transparency to the Federal Reserve.
The Trump administration promised to "Drain the Swamp" and to hold Washington accountable to the American people. Without a doubt, a Fed board with Stephen Moore will bring us one step closer to achieving that goal. Moore would certainly shake things up as a fierce advocate of the taxpayer, and a vocal critic of the Federal Reserve. This, of course, makes him an enemy of the Swamp.
What is the Federal Reserve doing behind closed doors? This question has been asked countless times by economists wary of the government institution behind the wheel of the American economy.
When the Federal Reserve plays with money supply and interest rates, it changes the strength of the U.S. dollar and wreaks havoc on savings and investment. The Federal Reserve chairman is one of the most powerful officials in Washington, if not the global economy, and few citizens know his name.
It is correct to be skeptical of any government-run entity holding tremendous power with almost no transparency or oversight. The Federal Reserve is an independent central bank, but that doesn't give it license to be a closed-door, secretive bank.
Moore is exactly the type of economist and thought leader the Fed board desperately needs. He spent years at nonprofit advocacy groups and think tanks, fighting to bring more transparency and accountability to Washington.
He is a former senior economist on the Congressional Joint Economic Committee, a former member of the Wall Street Journal editorial board, and currently a senior economist at FreedomWorks. He assisted two presidential administrations with economic research and advice. He is one of the most established intellectuals in the field of economics today.
The Washington establishment has done its worst to sabotage Moore in the media. Once again, a cabal of left-leaning consultants, lobbyists, lawyers and politicians are colluding together to protect the status quo at the expense of the rest of us. They are attacking Moore's professional history, and his personal life.
They know Moore is not afraid to shake up "business as usual" in Washington, and they are trying to smear and ridicule him into silence. It's not going to work this time.
With 35 years of experience as an economist, Moore is used to scrutiny. His platform as a syndicated columnist and network news commentator has allowed him to deliver a free-market message to millions of Americans nationwide. His public persona forced him to defend his economic analysis daily, often during hostile interviews and live debates.
Moore's background as a visible communicator makes his record completely transparent and allows the Senate to know exactly where he stands. They know he will be a voice on the Fed board that sticks up for the American consumer and businesses. They know he believes in the pro-growth policies that are currently propelling the U.S. economy upward.
Moore would also bring a much-needed contrarian viewpoint to the Federal Reserve Board as they govern monetary policy. The Federal Reserve currently has a groupthink problem, and Moore is the solution. Unlike the current Fed board, Moore doesn't believe economic growth causes inflation. He believes in promoting private sector growth, rising wages, job creation and a strong dollar.
The Senate must ignore the distractions and sideshows perpetuated by this Democrat-led smear campaign and proceed with Moore's confirmation. A Federal Reserve Board of Governors with Stephen Moore would solidify a bold new path forward for Washington, one that puts the American people and U.S. economy first.
Adam Brandon is president of FreedomWorks.
Related Reports.
Art Laffer on POTUS Trump's Federal Reserve Board Picks, Plus MH Market Updates
Former Godfather CEO, GOP POTUS Contender Herman Cain to Join Fed? Plus, MH Stock Updates
Bloomberg Closing Ticker for MHProNews…
NOTE: The chart below includes the Canadian stock, ECN, which purchased Triad Financial Services.
NOTE: The chart below covers a number of stocks NOT reflected in the Yahoo MHCV, shown above.
NOTE: Drew changed its name and trading symbol at the end of 2016 to Lippert (LCII).
Berkshire Hathaway is the parent company to Clayton Homes, 21st Mortgage, Vanderbilt Mortgage and other factory built housing industry suppliers.
LCI Industries, Patrick, UFPI and LP all supply manufactured housing.
AMG, CG and TAVFX have investments in manufactured housing related businesses.
Your link to industry praise for our coverage, is found here.
For the examples of our kudos linked above…plus well over 1,000 positive, public comments, we say – "Thank You for your vote of confidence."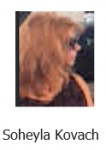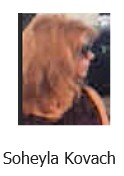 "We Provide, You Decide." © ## (News, analysis and commentary.)
(Image credits and information are as shown above, and when provided by third parties, are shared under fair use guidelines.)
Submitted by Soheyla Kovach to the Daily Business News for MHProNews.com.