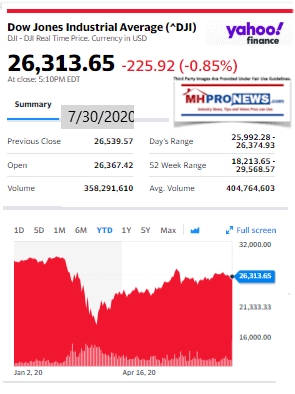 The right-of-center Wall Street Journal headline said, "Republicans and Democrats Find a Point of Agreement: Big Tech Is Too Powerful…"
Advertise with MHProNews to be seen
Really?
"These companies as they exist today have monopoly power. Some need to be broken up." So said Representative David Cicilline (RI-D).
Rep. Cicilline, said left-of-center NPR, concluded the daylong hearing by hinting at what might lie ahead as lawmakers ponder federal regulations to hold the four companies — worth nearly a combined $5 trillion — to account.
Tonight's feature focus is about the ever-more-important topic of monopolistic power and the impact the giants have on our economic, political, legal, and culture.
Before diving deeper, a few concepts are worth noting.
As much as some hate to admit it, there is truth to be found on both sides of the major parties left-right divide. Some of what occurs in Washington, and in related fundraising emails, is theater meant to appeal to certain voters and each party's or politico's respective base.
Bomb throwing, flamboyant, and clever dialogue exist across the left-center-right divide. In fairness, sometimes people use hyperbole as a rhetorical device to make a point through exaggeration. In the age of social media and 24/7 news cycles, sometimes the more outrageous or bold the statement, the more likely it will get some media oxygen, for at least for a news cycle or two.
That said, even the most dishonest person will at times speak truth. It is thus useful to discern to what extent someone is making a statement that is meant to attract attention and then to seek to understand to what degree that person or organization is trying to convey a specific point.
Rephrased the need to separate wheat from chaff should be applied to all equally.
Then, hype aside, the discerning seekers of truth should wonder, is the point being made valid or not?
That is when follow the money and checking facts matters.
While the firms that were questioned yesterday via video by House Antitrust Subcommittee members are not directly involved in factory-built housing, they routinely impact our industry and many others. Some have invested in various forms of factory-building through subsidiaries and other units, as MHProNews has previously reported.
As is routinely the case, we will source insights across the left-right divide.
But the information and line of questioning sheds light on allegations of antitrust violations in manufactured housing. So, the interest should be there on several levels for manufactured home industry professionals and investors alike.
The 7.29.2020 Congressional hearing that quizzed the powerful tech giants will be the featured focus tonight. The featured focus segment of this evening's market report is found beyond the left-right headline news bullets and 2 of our 3 market snapshots at the close today. The manufactured housing industry connected stocks are near the end of the report each evening, after the featured focus and the related/recent report links.
Quotes That Shed Light – American Social, Industry, National Issues…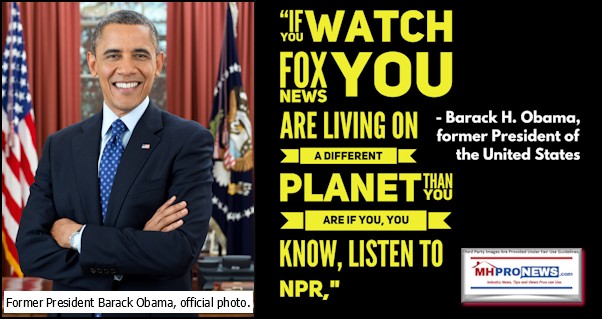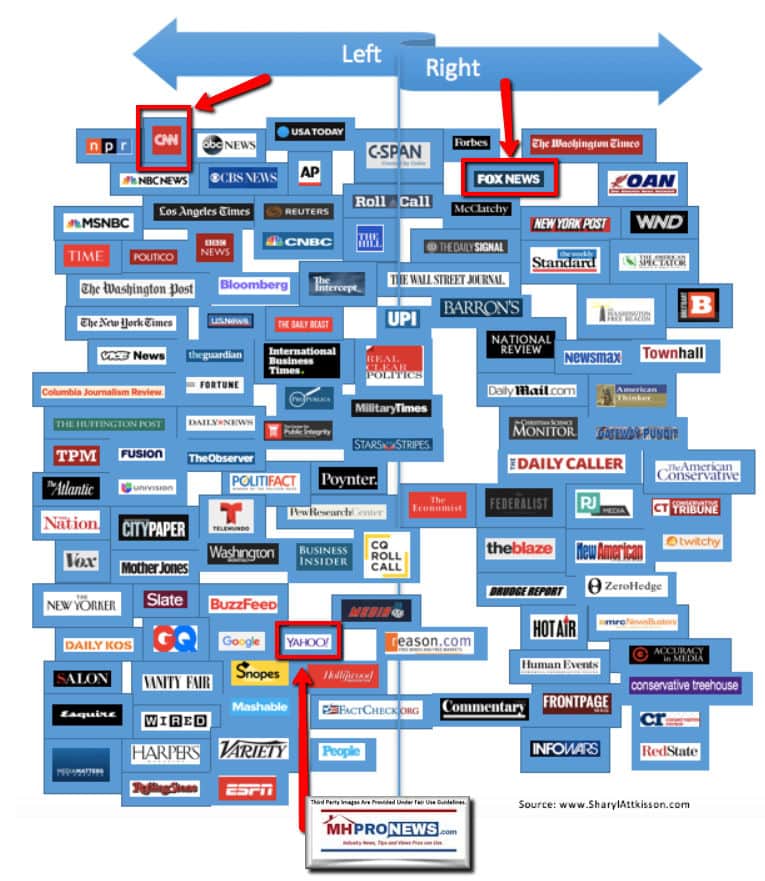 If Congress doesn't bring fairness to Big Tech, which they should have done years ago, I will do it myself with Executive Orders. In Washington, it has been ALL TALK and NO ACTION for years, and the people of our Country are sick and tired of it!

— Donald J. Trump (@realDonaldTrump) July 29, 2020
Headlines from left-of-center CNN Business
Amazon trounces earnings
An Amazon delivery person wearing a face mask delivers a parcel along the promenade on June 25, 2020 in Southend-on-Sea, England. The UK is experiencing a summer heatwave, with temperatures in many parts of the country expected to rise above 30C and weather warnings in place for thunderstorms at the end of the week.
The retail behemoth continues to see a surge in demand due to the coronavirus pandemic
Google parent Alphabet posts first revenue decline in company history
Facebook stock jumps 7% as pandemic leads to user bump
Lyft plans to offer car rentals across much of US
This is the only city in America where unemployment is actually falling
Permanent WFH: Easier said than done
Dow and S&P 500 tumble after a deluge of bad economic data
A former KGB spy explains Russian disinformation tactics
US economy posts worst drop on record
Opinion: The argument for cutting the $600 unemployment benefit doesn't add up
Stelter: The threat to democracy we all should have seen coming
California Pizza Kitchen files for bankruptcy
Coca-Cola is launching its first hard seltzer
All-new F-150 Lariat in Rapid Red Metallic Tinted Clearcoat.
Ford's slumping sales buoyed by autonomous vehicle investment
A person wears a protective face mask outside Dunkin Donuts in midtown as New York City moves into Phase 3 of re-opening following restrictions imposed to curb the coronavirus pandemic on July 14, 2020 in New York City. Phase 3 permits the reopening of nail and tanning salons, tattoo parlors, spas and massages, dog runs and numerous other outdoor activities. Phase 3 is the third of four-phased stages designated by the state.
Dunkin' is closing 800 US locations
People wait in line outside an Apple store on June 22, 2020 in the Brooklyn Borough of New York City. – New York City begins Phase Two reopening on June 22, 2020 as people can eat outdoors at restaurants and barbershops and salons can also open at 50 percent capacity.
Apple's pandemic bump is far from over
MARKETS
DRIVE
Lamborghini's new supercar isn't legal to drive on public roads
Bugatti is selling a $35,000 electric car for kids
After 25 years, the Ford Bronco is back
Nissan unveils its first electric SUV, the Ariya
The new electric Mini Cooper is a blast. Too bad it's also impractical
CULT FAVORITES
Clarisonic is shutting down. Its devoted fans are panicking
TikTok turned this brand into a Gen-Z favorite
Necco Wafers make their triumphant return
Coca-Cola is shutting down Odwalla juice
Taco Bell is saying goodbye to its 7-Layer Burrito and other classics to make room for two new menu items
Headlines from right-of-center Fox Business
MARKETS
Apple to split stock following blockbuster earnings report
The company behind the iPhone has Wall Street estimate revenue at $52.2 billion, but the company flew by those numbers hitting $59.7 billion.
Huawei surpasses Samsung and Apple in global smartphone market
MARKETS
Amazon gains strength as coronavirus boosts shopping, cloud services
Nasdaq recovers as S&P, Dow slip after US economy shrinks most in history
TECHNOLOGY
Facebook posts revenue growth despite pandemic
MONEY
Virus relief package talks at standstill amid divide over unemployment aid
Coronavirus stimulus plan could include controversial Social Security fix
OPINION
Your favorite password is unsafe — take these 3 steps before it's too late
CASH ON HAND
INDUSTRIALS
Ford posts profit, but expects full-year 2020 loss
HOW TO GET YOURS
MONEY
Florida returned $1B in unclaimed property to residents
HOWEVER YOU SLICE IT
MONEY
New York restaurant owner canceled for flying Trump flag
INDUSTRY PREVIEWS
MEDIA
Wall Street analyst weighs in on the AMC-Universal movie release deal
CRACKING DOWN
PERSONAL FINANCE
IRS gears up to target taxes due on offshore earnings
JOBS GROUNDED
MONEY
Airline contractors laid off workers despite millions in aid: Lawmakers
FENDER-BENDER
POLITICS
Mike Pence involved in campaign bus accident in Pennsylvania
SUNSET FOR PROJECT
POLITICS
Trump administration to recover $200M from failed Obama-era solar project
TWEET HITS MARKET
POLITICS
Stocks fall as Trump floats presidential election 'delay' amid voting fraud claims
TOUGH NUT
FOOD AND DRINKS
Airline nut supplier selling off 87,000 pounds of product amid pandemic
'CHANGED MY LIFE FOREVER'
POLITICS
PR CEO who ransacked coronavirus face mask rack breaks silence
A MUSK-READ
BUSINESS LEADERS
See why Elon Musk's tweet about Bill Gates went viral
NEWS
Herman Cain, former Kansas City Fed chair and CEO of Godfather's Pizza, dead at 74
MONEY
Global space economy reached $423B in 2019, Space Report finds
ECONOMY
Will new stimulus package change PPP loan tax deduction guidance?
MARKETS
Dunkin' to permanently close 800 US stores in 2020, 8% of US restaurants
TECHNOLOGY
Ben & Jerry's to continue Facebook, Twitter brand ad boycott through 2020
MONEY
Safer than Social Security: This 1 investment can be the key to a financially secure retirement
LIFESTYLE
Lowe's shelling out $100M in coronavirus bonuses to hourly workers
TECHNOLOGY
Tesla, embattled California utility PG&E team up for high-tech energy storage system
LIFESTYLE
Retirement optimism has hit a 7-Year low, survey says
LIFESTYLE
McDonald's rolls out diversity initiative, saying company needs to 'do better'
LIFESTYLE
Juul submits FDA application to continue e-cigarettes sales
MONEY
Trump says drug prices will be 'lowered massively,' but Big Pharma pushes back
LIFESTYLE
Fallout at UNC-Chapel Hill, nation's oldest public university, about return to school
MONEY
Dick's Sporting Goods extends 15% coronavirus pay raise through end of 2020
LIFESTYLE
Students opt for virtual career fairs, job recruitment, as colleges go remote
SOCIAL MEDIA
Twitter defends not blocking Iran leader's tweets after blocking Trump's
MARKETS
Coronavirus forces California Pizza Kitchen to file for bankruptcy
FOOD & DRINKS
Starbucks to bringing back this beloved menu item, expanding pickup options
MARKETS
McDonald's has a breakfast problem
FOOD & DRINKS
Domino's ends 'free pizza for Karen' offer amid backlash
10 Market Indicator Closing Summaries – Yahoo Finance Closing Tickers on MHProNews…

Featured Focus –
Where Business, Politics and Investing Can Meet
The backdrop to the House Antitrust subcommittee hearing yesterday is that the giant companies surged in their market valuations today in after hours trading. Per left-of-center CNBC are these bullets.
Four of the largest U.S. tech companies collectively added roughly $200 billion in total to their market values.
Apple reported a historically-strong quarter and added around $74.4 billion to its market capitalization in after-hours trading.
Amazon, which saw sales soar due to the coronavirus pandemic, also added roughly $74.4 billion.
Despite reporting its first revenue decline ever, Alphabet added $7.6 billion.
Facebook reported its slowest revenue growth since its market debut, but added $42.6 billion.
Additionally, Apple reportedly has some 193.82 billion in "cash on hand."
Clearly, the hearings did not harm the market value of these giant companies. Beyond their earnings reports, the notion from some in media that no one really landed a heavy blow on the giants in the hearing likely added to investor confidence.
Left-of-center CNN Business reported that "As they grilled Mark Zuckerberg, Sundar Pichai, Jeff Bezos and Tim Cook about whether their companies were too powerful and engaged in monopolistic practices, members of the House Judiciary subcommittee used several internal documents, including some from the CEOs themselves, to highlight instances when the companies stifled — or even threatened — competitors."
"Even some of the largest companies in the country fear your power. Our evidence suggests that your company has used its power to harm your rivals and boost your own business," Democratic Rep. Lucy McBath, said a member of the Congressional Black Caucus, according to left-of-center NPR.
Some pull quotes from NPR's report on this topic will be laced with illustrations from MHProNews to add some additional insights and texture to their report.
Democratic Lucy McBath of Georgia cited Apple's decision to remove parental control apps, such as OurPact, shortly after Apple introduced Screen Time, a competing service.
"We were concerned, congresswoman, about the privacy and security of kids," Cook said, noting that OurPact was vulnerable to third-party takeovers. "So we were worried about their safety."
But McBath remained skeptical.
She pointed to an email in which an Apple employee responds to a mother complaining about the removal of parental control apps. The Apple representative suggested that the mother download Apple's Screen Time.
CNBC described some of what took place as "political theater." Quoting that source is the following.
Wednesday's Big Tech hearing provided almost no new information or insight into potential antitrust activity by Apple, Amazon, Facebook and Google.
But the House antitrust subcommittee released a trove of documents after the hearing that provide a clearer picture of the four tech giants' approach to competition as they grew into major forces of the global economy over the last decade.
The documents show that even with all of Wednesday's political theater, the government still has the goods on Big Tech.
CNBC's description of the spectacle as "political theater" is arguably apt.  How so?
Because there are demonstrable connections between some of these tech giant companies and their leaders and those who were 'grilling' them that several mainstream media sources vailed to note. See the sample campaign contributions and other illustrations that should make it clear that even 'tough' questions that lead to no action are arguably posturing, paltering, or both.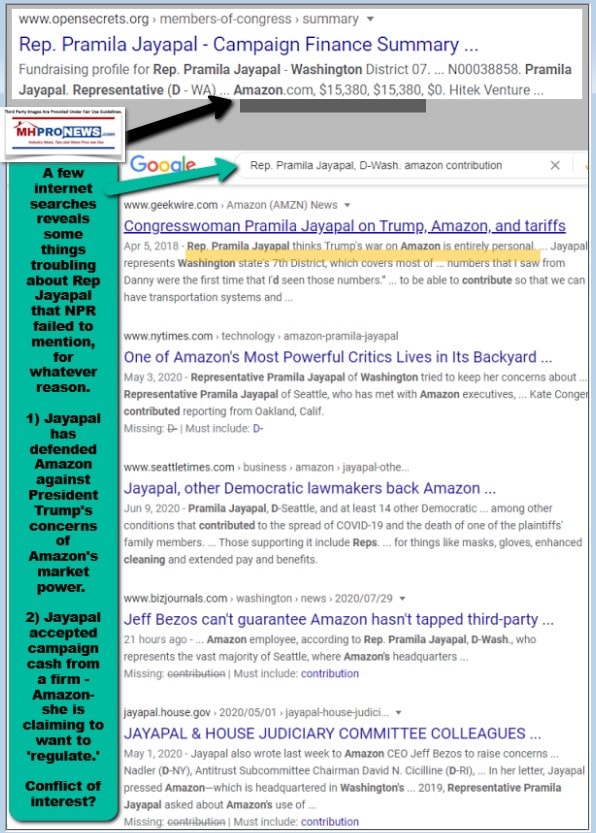 Per NPR, House Judiciary Committee's Democratic chairman, Rhode Island Rep. David Cicilline stated the following.
"These companies as they exist today have monopoly power. Some need to be broken up. All need to be properly regulated and held accountable," said Cicilline, adding that antitrust laws written a century ago need to be updated for the digital age.
"When these laws were written, the monopolists were men named Rockefeller and Carnegie," he said. "Today the men are named Zuckerberg, Cook, Pichai and Bezos. Once again, their control of the marketplace allows them to do whatever it takes to crush independent business and expand their own power. This must end."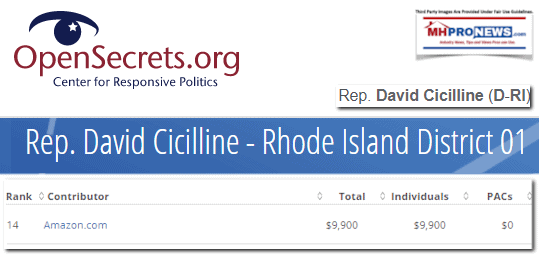 Here are some key takeaways from the hearing:
Bezos "can't guarantee" Amazon never used seller data to make its own products.
The heart of Wednesday's hearing was about whether the tech companies exploit their market dominance to quash competition to juice their own products and services.
Rep. Pramila Jayapal, D-Wash., whose district includes Amazon's headquarters, asked Bezos point-blank: Does the company use the data it collects from other sellers on the platform for its benefit? "I can't answer that question yes or no," Bezos said. "We have a policy against using seller-specific data to aid our private label business, but I can't guarantee you that that policy has never been violated."
Advertise with MHProNews to be seen
Google CEO Pichai was pressed on search and advertising, with lawmakers probing whether Google favors its own pages and products and accusing it of stealing content from competing services such as Yelp.
"As Google became the gateway to the internet, it began to abuse its power," Cicilline said. As a brief aside, a similar argument can be made about Berkshire Hathaway and manufactured housing, based on statements Kevin Clayton and others have made. Indeed, several of the comments could be applied to various aspects of competition limiting behavior in manufactured housing.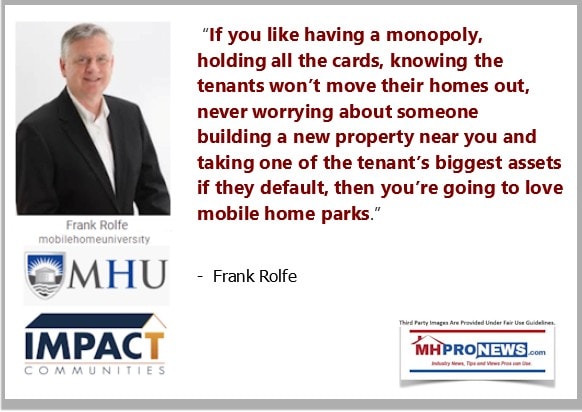 Returning to points made by NPR:
For Facebook's Zuckerberg, the focus was on acquisitions, particularly the company's $1 billion deal for photo-sharing app Instagram in 2012.
Rep. Jerry Nadler, D-N.Y., quoted the CEO his own email discussing the need to "neutralize a competitor" as part of the rationale for buying Instagram.
"This is exactly the type of anticompetitive acquisition that the antitrust laws were designed to prevent," Nadler said.
"

Big Tech is out to get conservatives

," said Rep. Jim Jordan, R-Ohio, in his opening statement. 

Jordan then rapidly read aloud headlines making claims that conservative-leaning publications and voices have been suppressed or censored on Facebook and Google.

"We all think the free market is great. We think competition is great. We love the fact that these are American companies. But what's not great is censoring people, censoring conservatives and trying to impact elections," Jordan said. "If it doesn't end, there has to be consequences."

"Conservatives are consumers, too, and they need the protection of antitrust laws," Wisconsin Republican Jim Sensenbrenner said.
The bottom line? Saber rattling, calls for change, thunder without a clear hit that might change the current dynamics.
The 2020 elections are just over 3 months out. 
Related, Recent, and Read Hot Reports
Warren Buffett Declared "Class Warfare," Buffett Says Fellow Billionaires – "We're Winning"
"Madder Than Hell" – Meddling "in Business Deal" – plus Sunday Weekly Headlines Review
Warren Buffett, George Soros, Jeff Bezos, Strategic Ally Bill Gates Rails Against "Outrageous" Free Speech from Dissenting Views to Gates Foundation, Dr. Fauci
Oxfam Report – "Pandemic Profiteers Exposed" – Small Businesses Slide or Fail as Giants Grow, Everyday People Harmed – 'Usual Suspects' Oxfam Names Include Ties to Bill Gates, Warren Buffett, George Soros
"Dark Secrets" – Warren Buffett, Racism, Eugenics, Infidelity, Ghislaine Maxwell's Father Robert Maxwell, Bill Gates, Gates Foundation; plus, Manufactured Housing Stock, Investing Updates
Terror Tactics 1960s-1999 vs 21st Century Terrorist Attacks – Cops, Shops, Workers, Christians, Believers vs Wall Street, Silicon Valley, Marxists, Atheists, Terrorists, Leftist Billionaires – Sunday Weekly Headline Review
Grapes of Wrath – Massive Foreclosure, Evictions Wave Looms, Threatens Housing, Usual Suspects-Gates, Buffett, Soros Lurk in Rigged System – Aspen Institute, COVID19 Eviction Project Plot
'Portland Violence is a Myth' – Left and Right Claims Examined, plus Manufactured Home Investing, Stocks Updates
Acme Bricks – Yes, Bill Gates Investor in Warren Buffett's Berkshire Brand Acme Bricks – Allegedly Supplying Antifa, Black Lives Matter Rioters "Pallets of Bricks" Investigated
'Stop Trump!' Group Supported by Billionaires Soros, Buffett, Gates Vows to Defeat President Trump in 2020
Dark Money-Billionaires Buffett, Gates, Soros Funding Black Lives Matter, Antifa – Named by AG Barr in Riots, Looting – Hijacking Peaceful George Floyd Death Racial Justice Protests
Manufactured Housing Industry Investments Connected Closing Equities Tickers
Some of these firms invest in manufactured housing, or are otherwise connected, but may do other forms of investing or business activities too.
NOTE: The chart below includes the Canadian stock, ECN, which purchased Triad Financial Services, a manufactured home industry lender
NOTE: Drew changed its name and trading symbol at the end of 2016 to Lippert (LCII).
Summer 2020…
Berkshire Hathaway is the parent company to Clayton Homes, 21st Mortgage, Vanderbilt Mortgage and other factory built housing industry suppliers.
· LCI Industries, Patrick, UFPI, and LP each are suppliers to the manufactured housing industry, among others.
· AMG, CG, and TAVFX have investments in manufactured housing related businesses. For insights from third-parties and clients about our publisher, click here.
Enjoy these 'blast from the past' comments.
MHProNews. MHProNews – previously a.k.a. MHMSM.com – has celebrated our tenth anniversary and is in year 11 of publishing.
Learn more about our evolutionary journey as the industry's leading trade media, at the report linked below.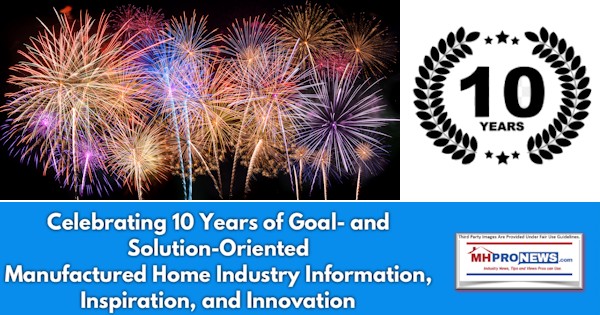 · For expert manufactured housing business development or other professional services, click here.
· To sign up in seconds for our industry leading emailed headline news updates, click here.

Disclosure. MHProNews holds no positions in the stocks in this report.
2019 Year-End Totals Reveals Decline in New HUD Code Manufactured Home Production, Shipments vs. 2018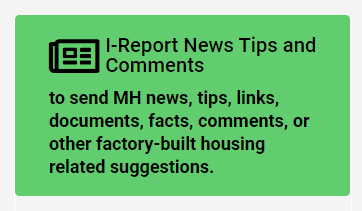 That's a wrap on this installment of "News Through the Lens of Manufactured Homes and Factory-Built Housing" © where "We Provide, You Decide." © (Affordable housing, manufactured homes, stock, investing, data, metrics, reports, fact-checks, analysis, and commentary. Third-party images or content are provided under fair use guidelines for media.) (See Related Reports, further below. Text/image boxes often are hot-linked to other reports that can be access by clicking on them.)
By L.A. "Tony" Kovach – for MHLivingNews.com.
Tony earned a journalism scholarship and earned numerous awards in history and in manufactured housing. For example, he earned the prestigious Lottinville Award in history from the University of Oklahoma, where he studied history and business management. He's a managing member and co-founder of LifeStyle Factory Homes, LLC, the parent company to MHProNews, and MHLivingNews.com. This article reflects the LLC's and/or the writer's position, and may or may not reflect the views of sponsors or supporters.