Axios' Jonathan Swan asked Senator Bernie Sanders (VT-I-Democratic Socialist): "If... [the Democratic] Party becomes the party of the college educated, [and] Republicans become the party of the not, do you think that's sustainable for a progressive party?"
Senator Sanders replied, "No … And I don't think it's sustainable for American democracy."
It is a dubious claim to say that the party of the 'educated' are Democrats, there are people with college degrees in both major parties and in minor parties too. That noted, the interview with left-of-center Axios is interesting.  Another source checked for possible curated topics is right-leaning Breitbart, because they are willing to scour the left as well as the right and find interesting exchanges like the one below.
.@jonathanvswan: "If … [the Dem] Party becomes the party of the college educated, Republicans become the party of the not, do you think that's sustainable for a progressive party?" @SenSanders: "No … And I don't think it's sustainable for American democracy." #AxiosOnHBO pic.twitter.com/DQQLKxtKLX

— Axios (@axios) May 10, 2021
Breitbart provided this transcript.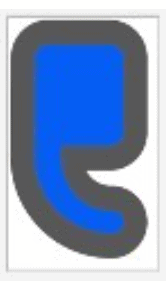 Axios' JONATHAN SWAN: I wonder what you think about this trend, it's not just in America, but also in other Western countries where center-left and left parties, it's the education divide. They're becoming more reliant on college educated voters and they are losing no college education voters–
SEN. BERNIE SANDERS: –And urban and rural as well.
SWAN: Urban and rural, forsure. Why do you think that's happening.
SEN. SANDERS: I think if I am a working class person in this country, I've seen my job go to China, I'm working for $9 an hour when I used to make $20 an hour. I don't have health care or a can't afford prescription drugs. You're resentful. Are we talking to those people. I think we're beginning to see that under the last few months under Biden, but Democrats, traditionally, have been very tepid and feeble about going big.
SWAN: I think there's a glossiness to it. A sort of San Francisco-New York gloss to the party.
SEN. SANDERS: (Playing off and acting upon Swan's observation) I'm so smart! I'm really smart! We go to $100 dinners and who really cares about those working-class people?" (role play ends). I think it is fair to say, as a result of heavy-duty corporate campaign contributions, the Democrat Party has drifted away from the part of FDR and even Harry Truman and being understood and perceived correctly as the working-class party.
SWAN: If that can't be changed, if that trend of the Democrat Party becomes the party of the college educated, Republicans become the party of the not, do you think that's sustainable for a progressive party?
SEN. SANDERS: No. And I don't think it's sustainable for American democracy."
Sanders is a fascinating fellow. For example. He has railed about the concentration of media into ever fewer hands. Per BrainyQuote: "To be honest with you, I worry about concentration of ownership in media, where you have a handful of media conglomerates largely controlling what we see, hear and read."
PolitiFact said that "Sanders is correct: NAFTA, China trade cost [about 160,000] thousands of jobs in Michigan." CNN answers the rhetorical question: "Why did the United States lose 5 million manufacturing jobs?" They said, "…the story changed dramatically in 2000. Since then, the U.S. has shed 5 million manufacturing jobs, a fact opponents of free trade mention often. Trump and Bernie Sanders blame China for undercutting American workers with cheap labor…" What is often overlooked in such reports is that President Trump oversaw the overhaul of NAFTA into the USMCA – the United States, Mexico, Canada Agreement. The Trump Administration also is the first one in decades to robustly go after China with tariffs. Tariffs used to be a staple of American foreign policy for over a century. "Tariffs were the greatest (approaching 95% at times) source of federal revenue until the federal income tax began after 1913," per Wikipedia.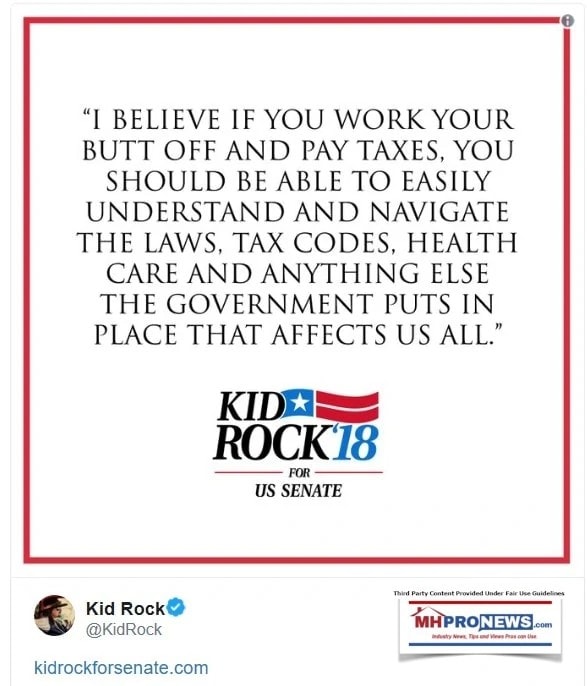 The solutions proposed by Sanders and Trump were often different, but the two at various times identified similar problems. While 'free traders' railed against the Trump tariffs, including this rant by Kevin Clayton, President and CEO of Clayton Homes, tariffs were part of a broader set of foreign and domestic policies that fueled the strongest jobs market and increase in incomes for working class and middle-class Americans in decades.
Kevin Clayton Praised [Evil] "Genius" Warren Buffett; Buffett Defends "Roadkill" U.S. Workers-Merit Govt Pay for Policies Berkshire, Allied Brands Profited from – Behind Media Curtain, Affordable Housing Finance, Policies – Analysis
Tariffs, properly understood, are a tax on imported goods. While it is fair to say that the tariff tax is, to some degree, paid by the purchaser of that product. However, in doing so, tariffs offer protection for domestic producers against foreign products. That means that it protects jobs and wages. Further, what is often missed in the financial analysis of tariffs is the cost of not protecting businesses and jobs from unfair foreign competition. In the case of China, there is the additional cost of having to spend more on the American military to defend against a nuclear power with the largest army in the world and a big navy too.
To the point raised by Sanders about wages being hurt and jobs being lost due to cheap foreign competition, that portion of the senator's thinking is economically sound.
Looking Back, Looking Around
Anything that has happened before can happen again. As a quick analogy, when someone beats the 4-minute mile once, the chances of that occurring again increases.  When millions of jobs are lost due to cheap foreign competition, then the lessons learned ought to be applied, rather than get overlooked – or forgetting – the meaning of the costly lessons.
Citizens and immigrants need housing. Government does not build housing. People and businesses do.
To afford housing, people need jobs or sufficient income and credit to qualify for a home purchase.
Citing data from Freddie Mac, Mark Weiss, J.D., President and CEO of the Manufactured Housing Association for Regulatory Reform (MHARR) said the following. Line breaks and bullets are added by MHProNews for clarity of the decades and data, but the statements are as written by Weiss.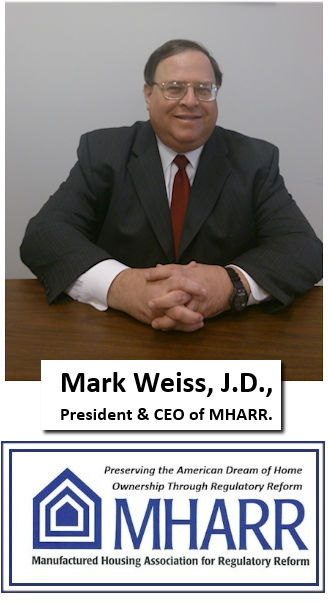 "Freddie Mac's analysis concludes that the "main driver" of the entry-level housing supply/demand gap, is a "long-term decline in the … supply of entry-level single-family homes, or 'starter homes.'" (Emphasis added).
The analysis thus notes that in the 1970s, "the construction of new, entry-level homes averaged 418,000 units per year."
During the 1980s, however, that figure fell to an average of 314,000 units per year.
The trend of reduced supply continued through the 1990s, with an average of 207,000 entry-level units, and in the 2000s, with an average of 150,000 units per year.
Subsequently, during the 2010s, average entry-level housing supply according to Freddie Mac, declined even further, to an average of 55,000 units per year.
"In the span of five decades," then, the report concludes, "entry-level home construction fell from 418,000 units per year in the late 1970s to 65,000 in 2020."
Weiss aptly notes that Freddie Mac – or for that matter, Fannie Mae, Ginnie Mae, et al – are part of cause of the growing problem of a lack of affordable housing. Paradoxically, the laws already exist that make the solution available. While posturing, dancing, and prancing for cameras while issuing 'updates' and 'alerts' to their members about the latest meeting with a photo or video opportunity, what the Manufactured Housing Institute (MHI) has demonstrated is that they have access that they fail to properly use.
Who benefits from that pattern? Consolidators. Those consolidators are also the ones that routinely are the donor class for most of the Democratic Party and for some so-called Establishment Republicans too.
Sun Communities Chairman and CEO Gary Shiffman is almost gleeful that the threat of tax hikes and new regulations are driving a record number of smaller and independent community operators to sell.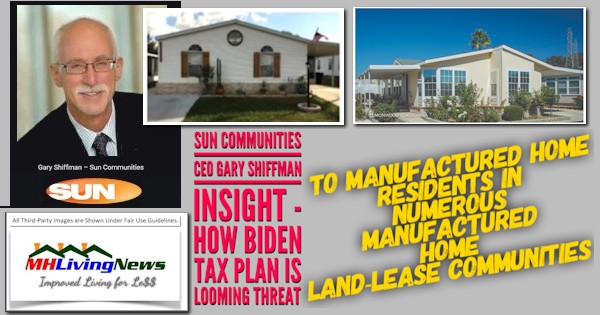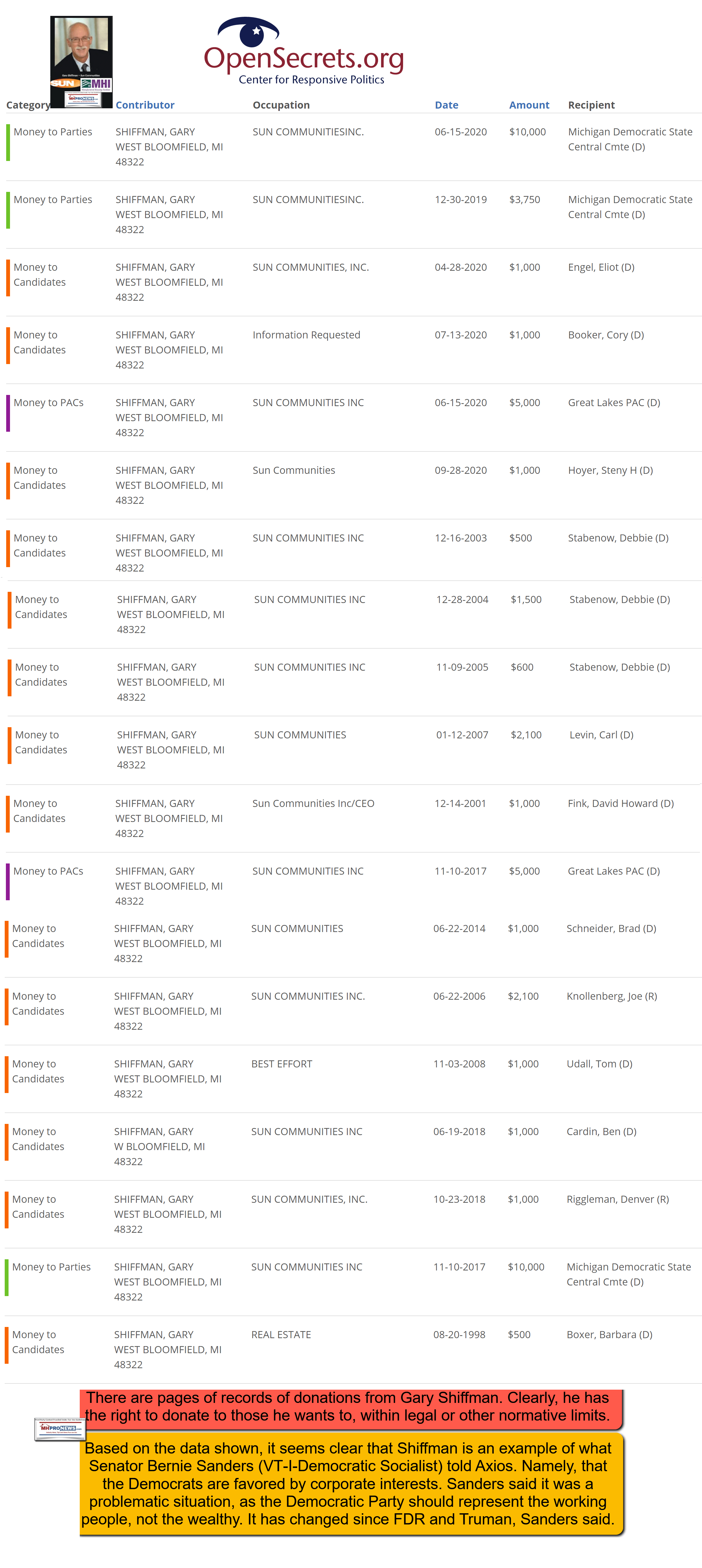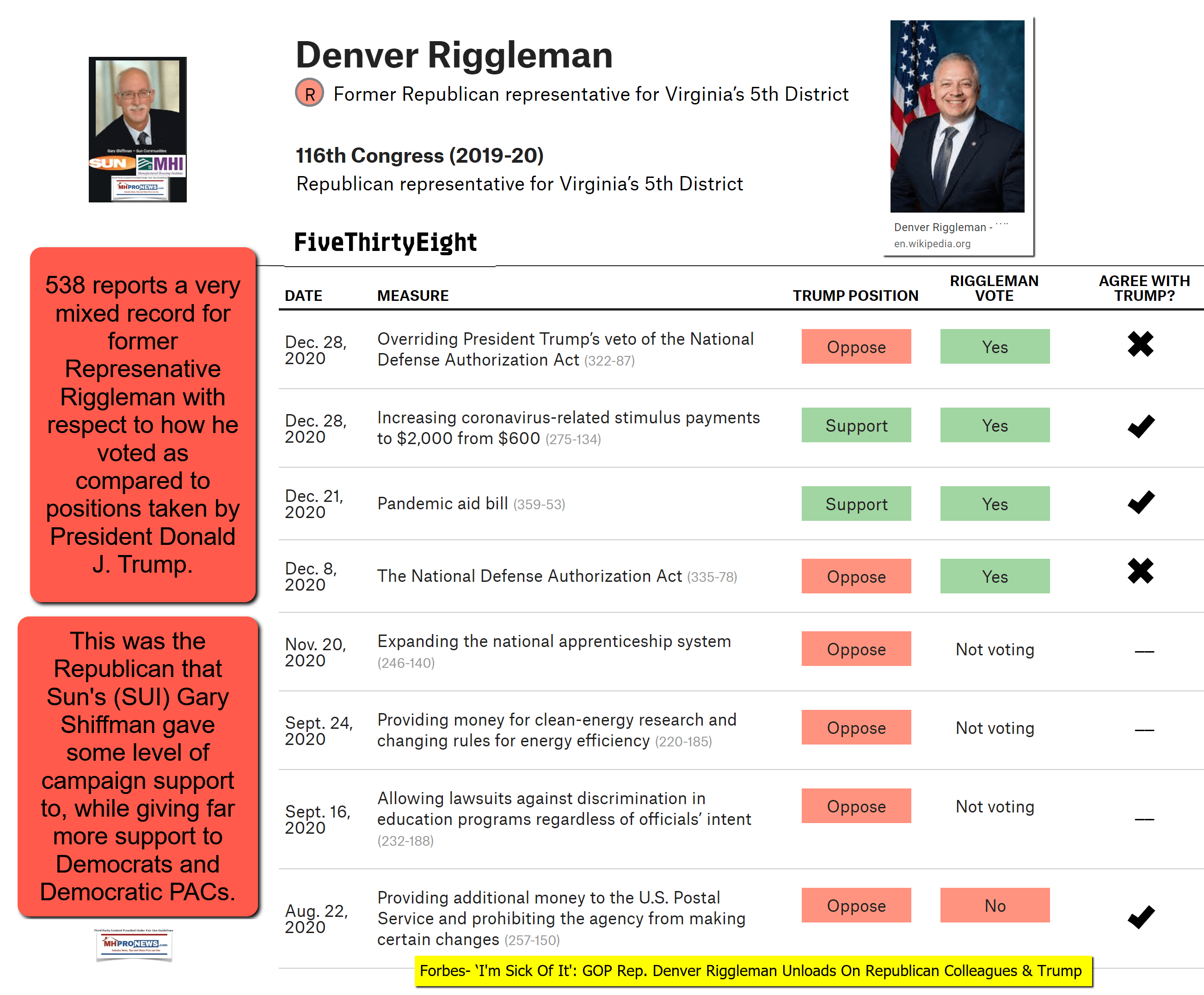 Looking back, Dodd-Frank was passed by the Obama-Biden Administration. It was passed almost exclusively with Democratic votes. "Most congressional support for Dodd-Frank came from members of the Democratic Party, but three Senate Republicans voted for the bill, allowing it to overcome the Senate filibuster," says Wikipedia.
While there was widespread complaints about Dodd-Frank and ObamaCare at the Manufactured Housing Institute (MHI) at the time, in hindsight, how many of the larger players were actually in favor of it because it fostered consolidations?
Tim Williams, President and CEO of 21st Mortgage predicted literal doom for the industry if reform for Dodd-Frank failed to pass. That reform pushed by MHI was called the Preserving Access to Manufactured Housing Act. After years of efforts and millions of dollars spent, it never passed. Clearly, the industry survived.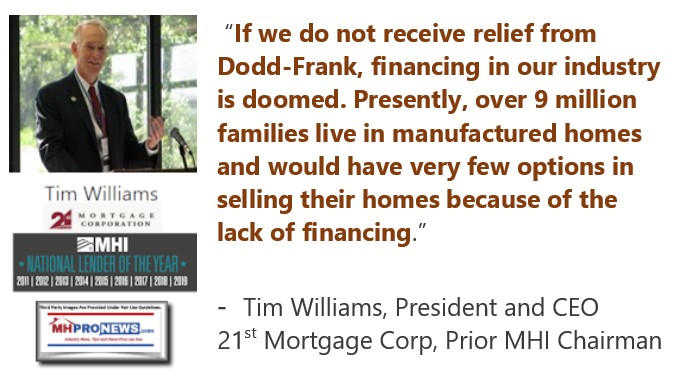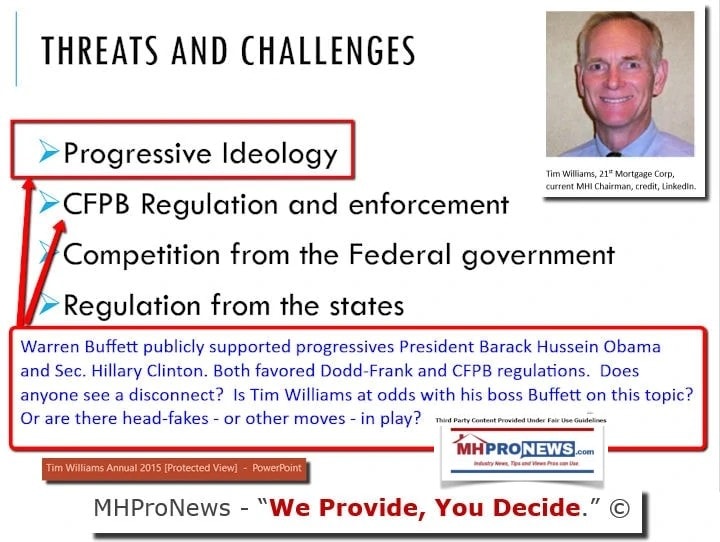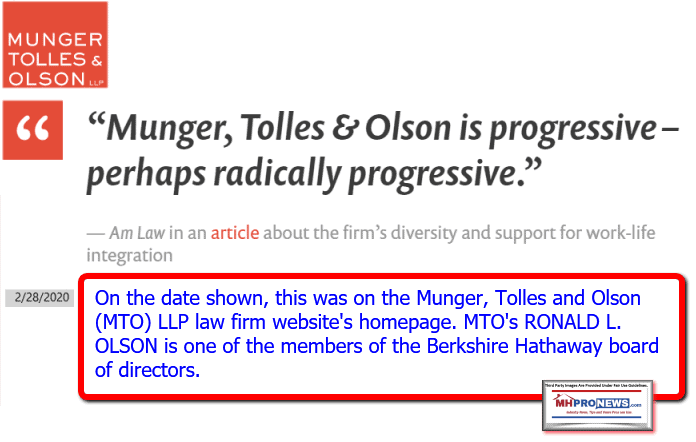 But what did not survive were significant numbers of independents. Retailers and communities alike ended up closing or selling out for an arguably reduced valuation in large numbers.

But the truth was hiding in plain sight the entire time. Warren Buffett supported Dodd-Frank and supported President Obama's (D) candidacy, re-election, and then supported Secretary Hillary Clinton (D). As a MHEC member has told MHProNews, part of the social glue that has held MHI and independents together has been their meetings.  That, social glue in the era of COVID19, speculated the executive, may be weakening.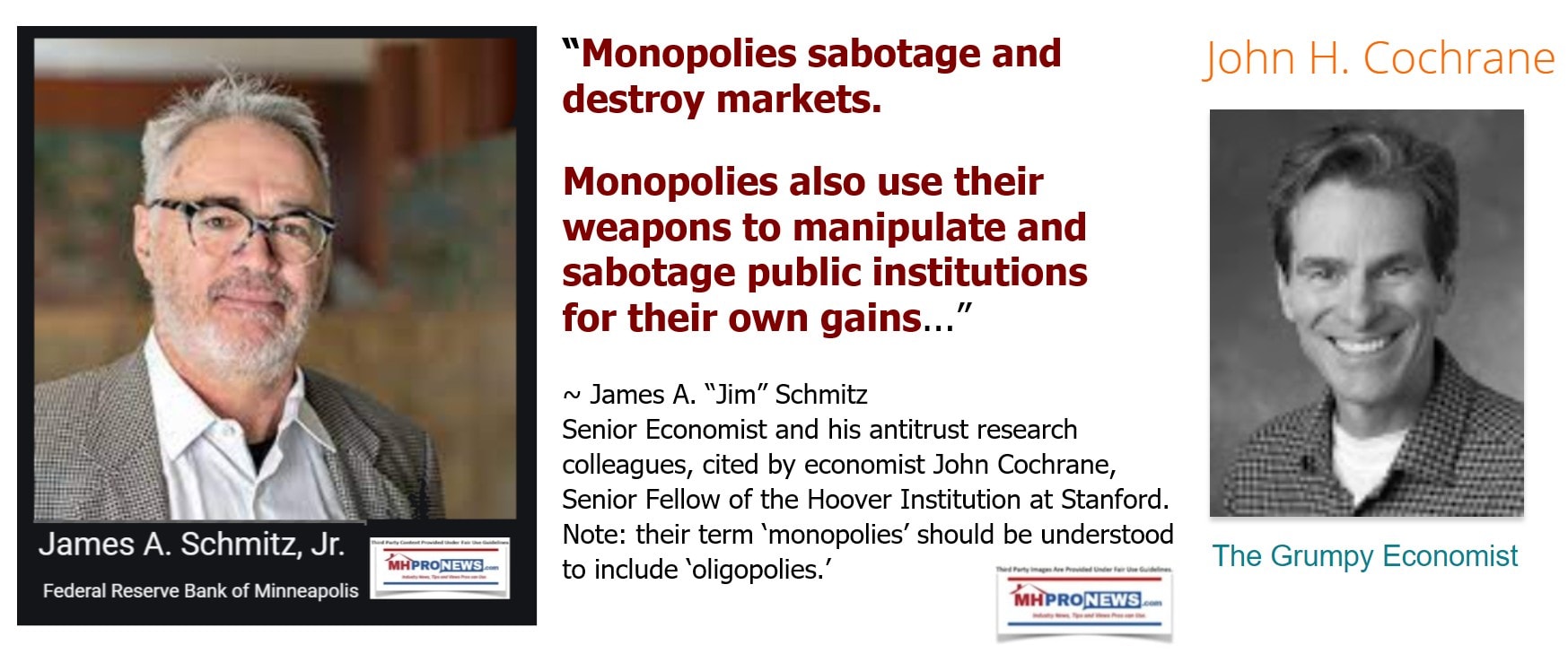 An interesting take on these issues that is similar in some respect to what economists John Cochrane and James A Schmitz Jr is the following. It was expressed during the late stage of MHI's push for Preserving Access by Lance Inderman.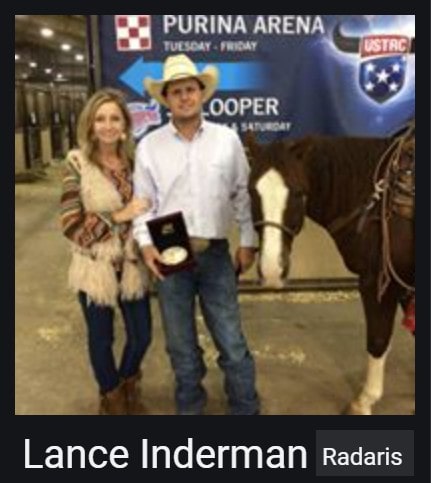 "It's my personal opinion that…we have incrementally given up every bit of financial freedom…we have lost. Dodd Frank was a big increment along with Obamacare. I'm of the opinion that giving up key parts of the reform to get a "win" for posterity makes no sense. We need to keep educating the populace and congress on the facts that we compete on a different price point and therefore a different finance scale [than they do] with their multi million dollar ocean front homes paid for by their donors…"
"People that produce wealth in the private sector despise government and its tax arm while the wealthy that deal in the public sector despise the true private sector that refuses to be enslaved by government contracts and connections they don't know how to do..." ~ Lance Inderman, prior statements to MHProNews. Inderman is part of vertically integrated Jessup Housing and was a prior chairman of the Texas Manufactured Housing Association (TMHA).
Part of what Inderman, Cochrane, and Schmitz said are similar to what Carol Roth has noted.
Inderman is also an echo of the lament of one-time self-declared Buffett fan Robin Harding who came to the realization that Buffett's version of 'capitalism' was actually destroying the free market.
The point?
The increased regulations and taxes that are looming are shaping up to be Obama-Biden 3.0. Shiffman and some of those 'big boys' at MHI apparently love it. But how will manufactured home community residents and independents react once they figure out how the game is being played?
To the points raised by economists like John Cochrane, James Schmitz, and their research colleagues in reporting on "sabotaging monopolies," there is a dizzying array of methods that can be deployed that blur the reality of what is occurring.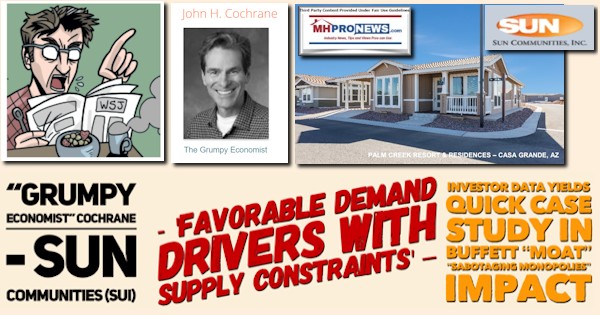 Meanwhile, the consolidation of America in the hands of ever-fewer elites and their allies continues.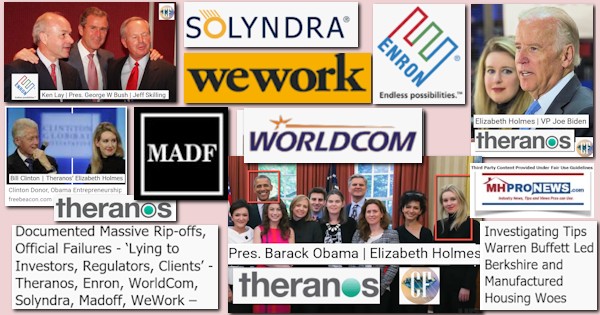 See the related reports to learn more.
Notice: While the layout of this business daily report has recently been modified, several elements of the basic concepts used previously are still the same. The headlines that follow below can be reviewed at a glance to save time while providing insights across the left-right media divide. Additionally, those headlines often provide clues as to possible 'market moving' reports.
Market Indicator Closing Summaries – Yahoo Finance Closing Tickers on MHProNews…

Headlines from left-of-center CNN Business
Missing workers
FILE – In this Tuesday, March 2, 2021, file photo, a woman, wearing a protective mask due to the COVID-19 virus outbreak, walks past the signs of an employment agency, in Manchester, N.H. Companies are advertising more jobs than they were before the pandemic, when the unemployment rate was a 50-year low of 3.5%. So they clearly want to add workers. Yet hiring stumbled in April because many employers couldn't find as many as they needed.
ANALYSIS
No, unemployment benefits aren't the problem. America's job market is in a weird spot
Stocks tumble as surging prices rattle the market
Dogecoin is still in the dog house after Elon Musk's 'SNL' appearance
Some big risks to investors should have already been on their radar
Gasoline demand spikes in several states after pipeline hack
American Airlines has to add fuel stops after pipeline shutdown
Tesla's weak sales in China worry investors
Chickens are in short supply. Blame Tyson's roosters
Amazon destroyed more than 2 million counterfeit products last year
America's electric cars need lithium so badly it may wipe out this species
Cannabis company growing weed in Colombia goes public in US
Why the Golden Globes might never be the same
Bed Bath & Beyond has a plan to stop losing bargain hunters
Jeff Bezos' superyacht is so big it needs its own yacht
NEW YORK, NY – FEBRUARY 13: Melinda Gates speaks during the Lin-Manuel Miranda In conversation with Bill & Melinda Gates panel at Hunter College on February 13, 2018 in New York City.
Where Melinda Gates will focus her fortune after her divorce
It's a boat? It's a plane? No, it's a 'seaglider.' And it goes fast…really fast
Vehicles parked outside residential homes in Manhasset, New York, on Friday, April 16.
Home prices are still going up almost everywhere across America
Headlines from right-of-center Newsmax 
US Judge Dismisses NRA Bankruptcy in Victory for New York
The Biden Presidency
Vatican Warns US Bishops Over Denying Biden Communion
Biden Sending Out Signed Letters to COVID Aid Recipients
White House Deputy Said ICE 'Doesn't Have to Exist'
Paul, Fauci Tussle Over COVID Origin, Virus Research
McConnell at Election Law Markup: Dems 'Hell-Bent to Rewire' Democracy |
Tim Scott: Biden Ignoring Bipartisan Efforts
Biden Picks Rahm Emanuel as US Ambassador for Japan: Report
US Is Open to Sync Green Diplomacy With EU: Kerry
More The Biden Presidency
Newsfront
McConnell: Dems 'Hell-Bent to Rewire' Our Democracy
Senate Majority Leader Chuck Schumer, D-N.Y., and Minority Leader Mitch McConnell, R-Ky., each testified before the Senate Rules Committee on Tuesday to state their respective party's stance on Democrats' sprawling election and ethics bill….
Israel Vows Harsher Gaza Attacks as Sides Draw Nearer to War
Israel vowed to step up its attacks on the Hamas-ruled Gaza Strip
Related
Rockets Hit Tel Aviv, Gaza Block Collapses After Israeli Strike
Israel's Airport Authority Closes Airport Next to Tel Aviv After Rocket Strikes
Israeli Medics Confirm Death of 50-Year-Old Woman From Rocket Strike
Trump: 'Biden's Weakness' Caused Middle East Violence
Former President Donald Trump on Tuesday blasted his successor,
Wall Street Closes Lower as Inflation Jitters Spark Broad Sell-off
S. stocks closed lower on Tuesday as rising commodity prices and
Prosecutor: Suspect in Atlanta Spa Shootings Committed Hate Crimes
A prosecutor in Georgia on Tuesday said the suspect in the shooting
Despite Elon Musk's Dogecoin Roller Coaster, Cryptocurrency Is No Fad
Elon Musk's preferred cryptocurrency, dogecoin, is recognizable from
Biden is Fueling the Inflation Crisis. This Could Impact Your Wealth.
SPONSOR: Inflation crisis is back again thanks to Biden
Key HHS Agency Officer: Annual COVID Booster Shots May Be Needed
Annual COVID-19 booster shots may be needed to continue the fight
Related
Paul, Fauci Tussle Over COVID Origin, Virus Research
Catholic Schools Closures Double Amid COVID-19 Restrictions
NY Times Analysis: Overcautious CDC Causing Confusion
US Judge Dismisses NRA Bankruptcy in Victory for New York
The National Rifle Association cannot use bankruptcy to reorganize in
Newsmax to Host Exclusive Town Hall With Florida Gov. DeSantis
Newsmax and the hosts of "Spicer & Co." – Sean Spicer and Lyndsay
DHS Cyber Agency Still Waiting For Tech Info About Colonial Pipeline Breach
There's been no important technical information about the breach that
The Most Miserable City in America is in Florida
Definition
Newsmax PODCAST: Gas Lines Return
Rob Carson Discusses Bidens People Not Staying Home Defense
Vatican Warns US Bishops Over Denying Biden Communion
S. bishops have been warned by the Vatican about a potential
These Are the Top Financial Advisors in Kissimmee
After initially denying his horse was doped, trainer Bob Baffert
Gas Lines, Prices Surge in South After Pipeline Attack
The White House says it is monitoring fuel supply shortages in the
Scalise, GOP Call for New Baseball Shooting Probe
House Minority Whip Steve Scalise, R-La., who was seriously wounded
Prosecutor to Seek Death Penalty in Georgia Spa Shootings
A man accused of killing eight people, six of them women of Asian
Feds OK 1st Major US Offshore Wind Farm
An offshore wind project off Massachusetts that would create enough
Trump Endorses Glenn Youngkin for Virginia Governor
Former President Donald Trump endorsed Republican Glenn Youngkin in
7 Students, 2 School Employees Dead in Russian School Shooting
A gunman attacked a school Tuesday morning in the Russian city of
Senate Democrats Consider Forming BIPOC Caucus
A group of racially and ethnically diverse Senate Democrats have
Caitlyn Jenner Chose to Golf Rather Than Vote for Trump in 2020
Caitlyn Jenner, who is running as a Republican for governor of
2 Charged in Police Assault on Jan. 6 to Stay Locked Up: Judge
Two men charged in the assault of Capitol Police Officer Brian
Several GOP States to End COVID Unemployment Benefits
Several states with a Republican-majority have taken steps to end the
FBI Quietly Releases Kurt Cobain Files
The FBI has released files forming part of an investigation into the
Gallup: Americans Split on Buying as Home Prices Rise
Most Americans believe local home prices will continue to rise during
NY Times Analysis: Overcautious CDC Causing Confusion
At issue is the CDC's announcement last month that "less than 10%" of
Job Openings Hit Record High 8.12 Million
S. job openings surged in March to a record high, underscoring a
Watch: Idaho Deputy Takes on LeBron and Beats Him!
Idaho Deputy Marshal Nate Silvester joins Newsmax TV's "Greg
Detroit Police Chief Craig to Newsmax TV: 'Evaluating' Whitmer Challenge
Detroit Police Chief James Craig, who has announced his
Faith Groups Slam HHS for Rolling Back Religious Conscience Protections for Doctors
The Department of Health and Human Services has expanded its
The Unbelievable Truth About Tlc's 'Sister Wives'
More Newsfront
Finance
Dow Hits 35K for 1st Time
The Dow Jones Industrial Average hit a record high 35,000 Monday on hopes that interest rates would remain lower for longer, while the S&P 500 was subdued as a slide in technology shares offset a surge in commodity-linked energy…
Steve Forbes to Newsmax TV: Economy Headed for Trouble Under Biden's 'De-Rescue' Plan
Winklevoss Twins Cold-Called Daniel Arsham to Sell Him on NFTs
Fed Officials See Strong Job Gains After Sluggish April
Big Tech Urge Congress to Fund Chip Act, Focus on Long-Term
More Finance
Health
Children Remain Vulnerable to MIS-C Despite Adults Getting Vaccinated
COVID-19 is still a threat to U.S. children, say experts who warn that pediatric cases are on the rise. Although more than half of American adults have received at least one dose of a COVID-19 vaccine, kids are still at risk.According to Good Morning America, the American…
Painkillers Won't Raise Risks for COVID-19 Patients: Study
Obesity Raises Odds for Many Common Cancers
Vegetarian Diet Could Help Fight Off Disease: Study
AIDS Virus Could Fix 'Bubble Baby' Disease Through Gene Therapy
Manufactured Housing Industry Investments Connected Closing Equities Tickers
Some of these firms invest in manufactured housing, or are otherwise connected, but may do other forms of investing or business activities too.
NOTE: The chart below includes the Canadian stock, ECN, which purchased Triad Financial Services, a manufactured home industry lender
NOTE: Drew changed its name and trading symbol at the end of 2016 to Lippert (LCII).
NOTE: Deer Valley was largely taken private, say company insiders in a message to MHProNews on 12.15.2020, but there are still some outstanding shares of  the stock from the days when it was a publicly traded firm.  Thus, there is still periodic activity on DVLY.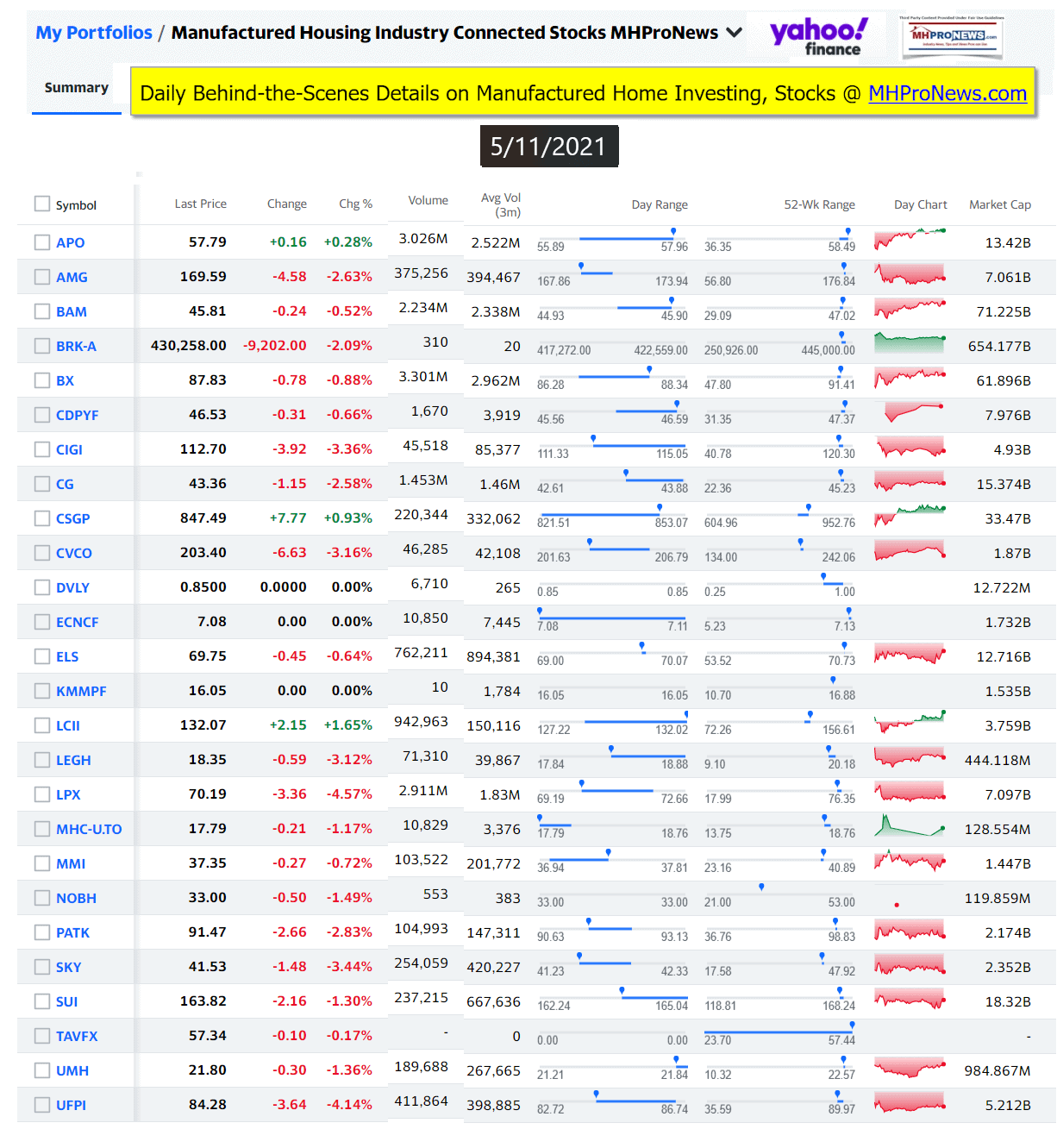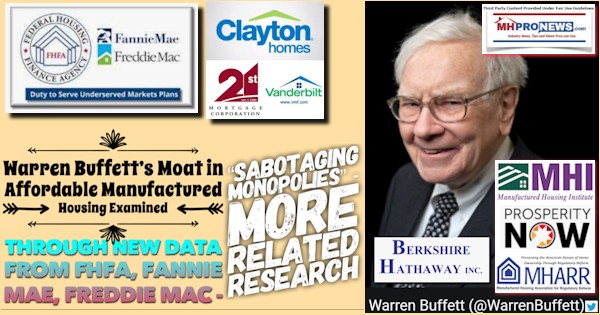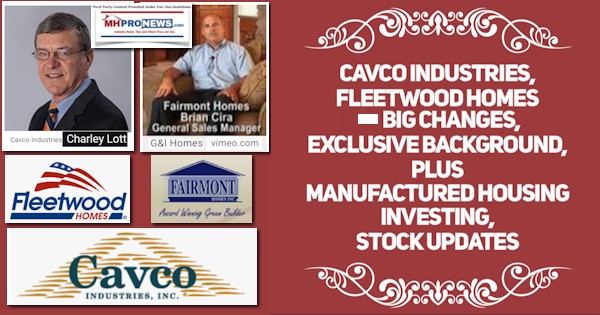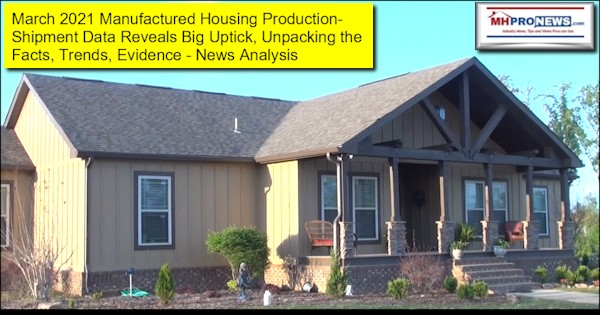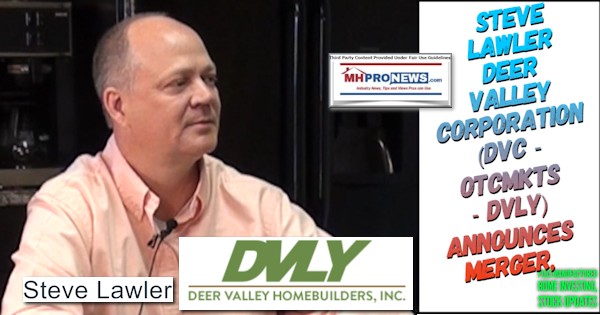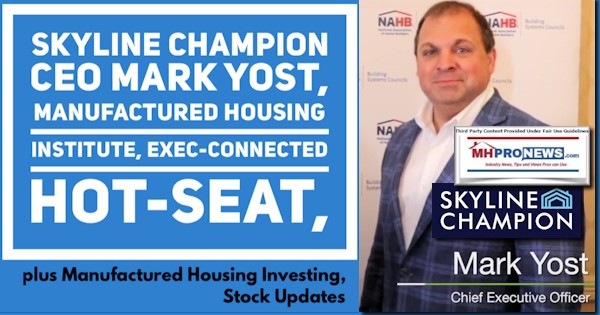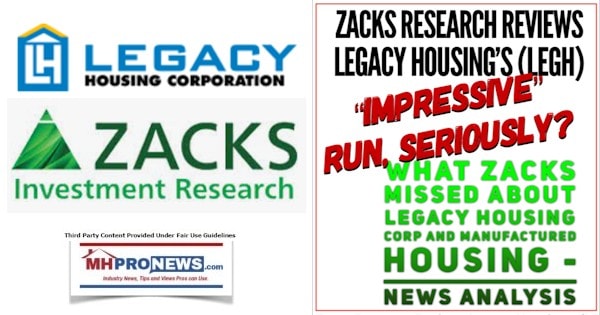 Spring 2021…
Berkshire Hathaway is the parent company to Clayton Homes, 21st Mortgage, Vanderbilt Mortgage and other factory built housing industry suppliers.
· LCI Industries, Patrick, UFPI, and LP each are suppliers to the manufactured housing industry, among others.
· AMG, CG, and TAVFX have investments in manufactured housing related businesses. For insights from third-parties and clients about our publisher, click here.
Enjoy these 'blast from the past' comments.
MHProNews. MHProNews – previously a.k.a. MHMSM.com – has celebrated our 11th year of publishing, and is starting our 12the year of serving the industry as the runaway most-read trade media.
Sample Kudos over the years…
It is now 11+ years and counting…
Learn more about our evolutionary journey as the industry's leading trade media, at the report linked below.
· For expert manufactured housing business development or other professional services, click here.
· To sign up in seconds for our industry leading emailed headline news updates, click here.

Disclosure. MHProNews holds no positions in the stocks in this report.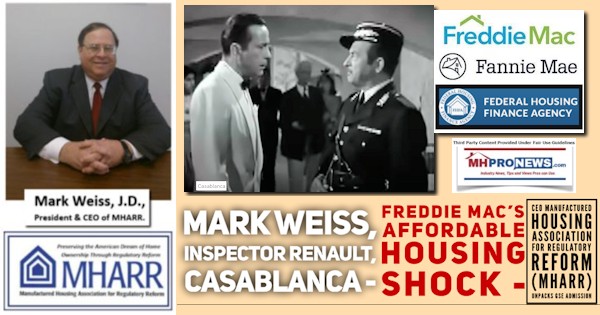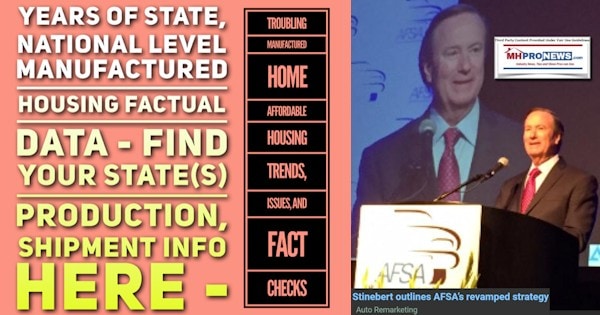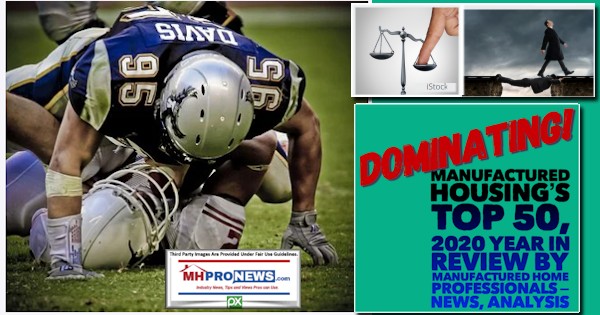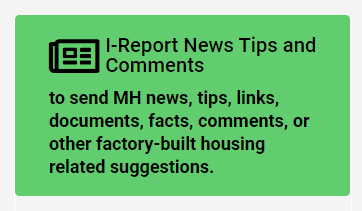 That's a wrap on this installment of "News Through the Lens of Manufactured Homes and Factory-Built Housing" © where "We Provide, You Decide." © (Affordable housing, manufactured homes, stock, investing, data, metrics, reports, fact-checks, analysis, and commentary. Third-party images or content are provided under fair use guidelines for media.) (See Related Reports, further below. Text/image boxes often are hot-linked to other reports that can be access by clicking on them.)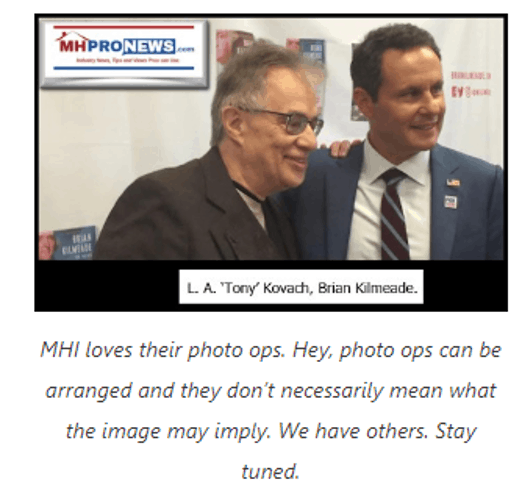 By L.A. "Tony" Kovach – for MHLivingNews.com.
Tony earned a journalism scholarship and earned numerous awards in history and in manufactured housing. For example, he earned the prestigious Lottinville Award in history from the University of Oklahoma, where he studied history and business management. He's a managing member and co-founder of LifeStyle Factory Homes, LLC, the parent company to MHProNews, and MHLivingNews.com. This article reflects the LLC's and/or the writer's position, and may or may not reflect the views of sponsors or supporters.