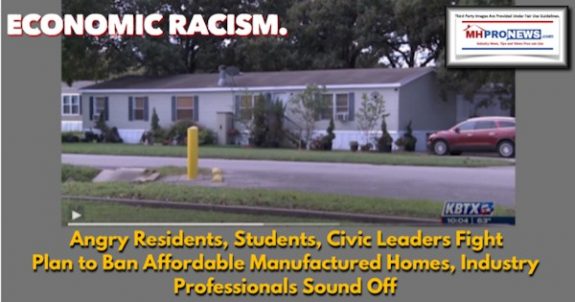 "The proposed action by the City of Bryan is an unvarnished and discriminatory attack against lower and moderate-income citizens who rely on manufactured homes as affordable, non-subsidized housing.  The proposal is seriously misguided at best, as noted by Tony Kovach and Lance Inderman, and stands in direct conflict with the legitimate goals and objectives of federal law, which supports the unfettered availability of manufactured housing for ALL Americans.  The City would be well-advised to be extremely cautious about taking any such ill-advised step."
Mark Weiss, JD,
President & CEO
Manufactured Housing Association for Regulatory Reform (MHARR)
The local NBC affiliate, KAGS news video, posted below, tee's up for newcomers to this topic the painful and politically charged controversy.
Attorney and MHARR leader Mark Weiss' words about the importance of not overstepping the federal government's authority under the provision of "enhanced preemption" takes on a new meaning and urgency when read in the light of the written statements of the residents of Bryan, TX.
KBTX 3 from Bryan provided the video above which likewise helps frame the events unfolding there.  One civic leader who called the Daily Business News on MHProNews yesterday said that the city's planning and zoning (P&Z) and some municipal officials were "lying to the people" of Bryan about the proposed plan to ban inherently affordable manufactured homes.  While he didn't elaborate, long-time MHProNews readers are aware of cases in various parts of the country where special interests encouraged local leaders to help them profit from thinly-veiled or hidden agendas.
Frustrated, Angry, Pleading Residents of Bryan Sound-Off to Protect Their Right to Affordable Manufactured Homes
What follows are a series of quotes from letters and messages by residents to city officials in Bryan.  They were provided by a civic leader to the Daily Business News on MHProNews, and each comment is in response to their municipality's planned ban on manufactured housing in areas of the city that are currently allowed.
Among those residents of Bryan, Texas protesting a planned ban on manufactured homes is a former American Institute of Certified Planners (AICP) member. The AICP is a designation from the American Planning Association's professional institute.
Robin Rabinowitz wrote to the City of Bryan to say the following.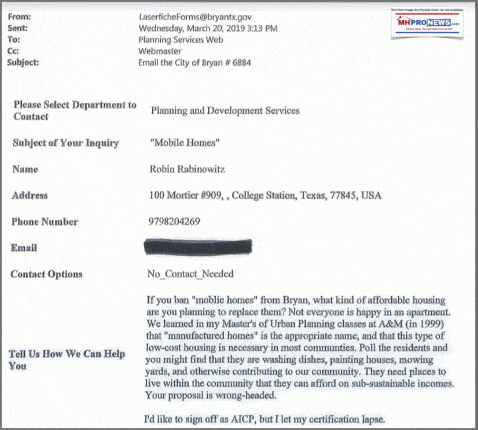 Dimple Susebery wrote to say she is "…totally against…" the proposed ban.  Another frustrated resident and local businessman made his case as follows.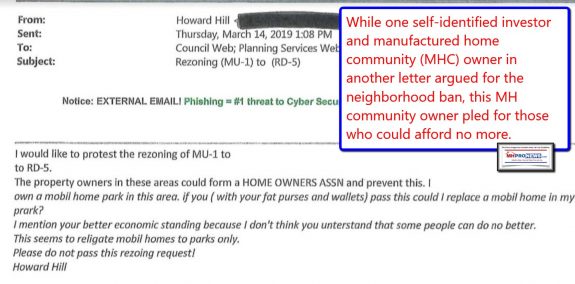 Ms. G. Wade wrote the city, with a gut-wrenching plea that finished with, "...please take the time to think of the people who will end up with nothing."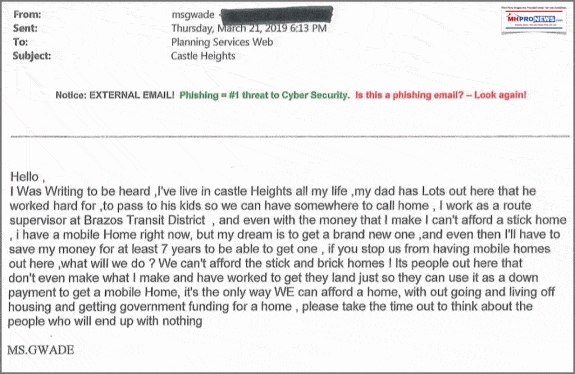 "I'm a black male," said Jonathan Jackson in his typed message to municipal officials. Jackson said, "…we pay taxes, what's up with our rights…" Jackson said he doesn't earn a lot of money, who are you [i.e.: city officials] to tell us we can't buy a mobile home?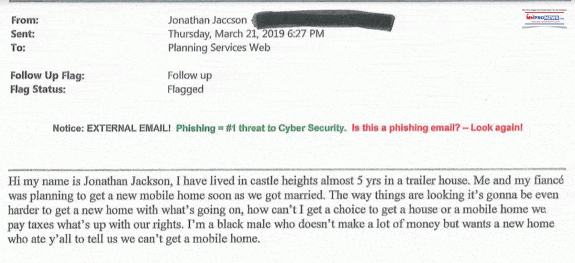 Charles Nelson and Hendrix Nelson said it was a right and a need for some to choose the affordable manufactured housing option.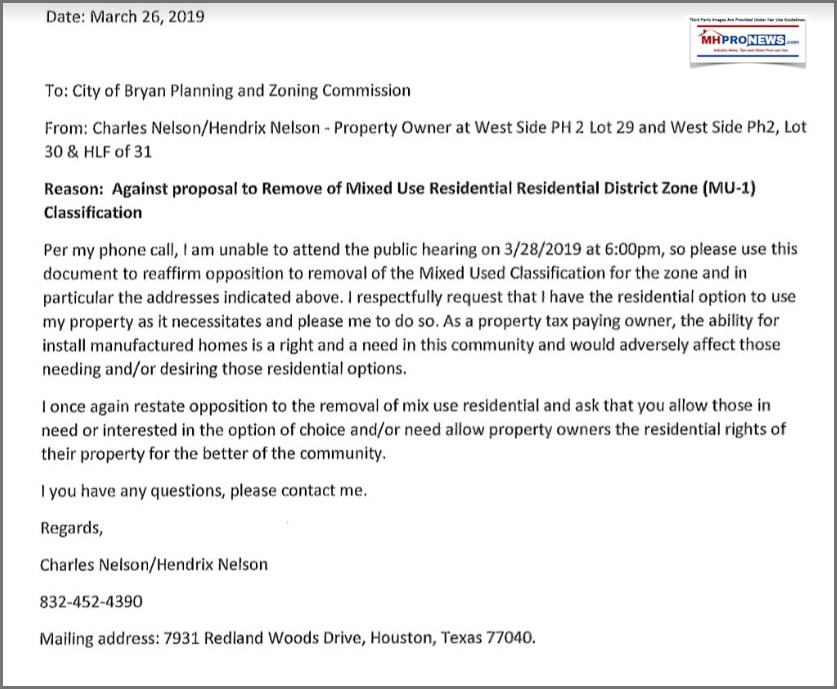 Missy King, President of the Bryan-College Station Regional Association of Realtors, said that the city would be diminishing the supply of affordable housing if this plan is passed. King said that there were numerous unintended consequences such a move could yield.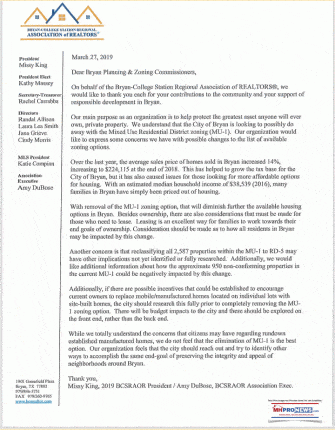 A self-described investor in manufactured homes – who's letter had the typed name "Mark Smith" – was essentially alone in arguing for the ban among the messages provided to MHProNews.  Smith's comments are apparently self-serving ones, as he says he is only for manufactured homes being placed in manufactured home communities – which a local source said he owns at least one. Smith's letter says not even new manufactured homes should be allowed on the hundreds of sites in the city presently vacant, lots where federally preemptive HUD Code manufactured homes would be welcomed under current law if this city ordinance is defeated.  His message can be read along with all others provided to MHProNews, at this link here.
Robert Patten in an apparent email to city officials said, "We pay for it [our property, our manufactured home], we should always own it. I'm for the American way. God bless the USA."

In another message, Patten wrote city officials to say he felt that their constitutionally protected rights were being violated by the city's planned policy.  That raises a point that too few ponder, because public officials must take an oath of office, that routinely includes the pledge to uphold the U.S. Constitution.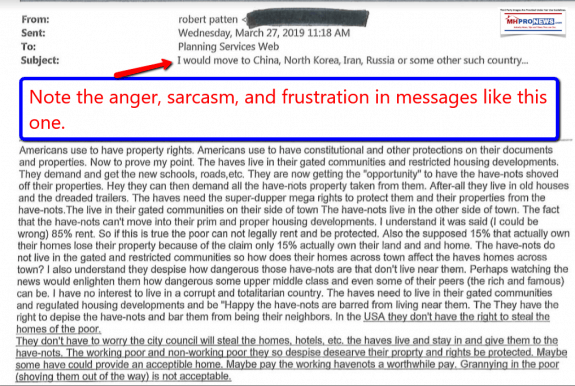 Elaine Washington blasted the city fathers for not building very good conventional housing, while defending her family's right to own a manufactured home on their own land.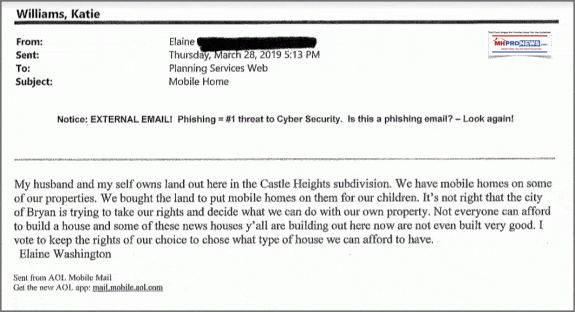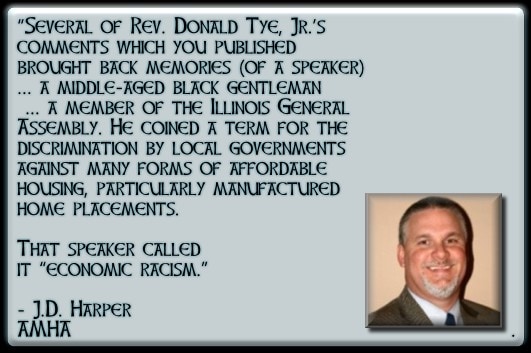 Economic Racism?
A local source that looked at records of those who owned a HUD Code manufactured home or pre-HUD Code mobile home in Bryan said that well over half appeared to be a minority, based upon their surnames.
Several members of the Texas Manufactured Housing Association (TMHA) sounded off to MHProNews off the record. Lance Inderman, as Mark Weiss' quote above indicated, sounded off on-the-record to the City of Bryan, as well as to the various nonprofits, media, and other public officials to whom Kovach's letter was emailed.
Inderman wrote, "To Bryan City Officials and All Others in this thread.
I'm a former long time serving board member and chairman of the Texas Manufactured Housing Association (TMHA) and a partner in Jessup Manufactured Housing and Platinum Cottages who both build manufactured homes here in Texas. We have a retailer who sells our homes in Bryan, so we are definitely an interested party.
That disclaimer noted, as a lover of free enterprise and limited government, I would largely concur with what Tony has written. 
Thank you, 
Lance Inderman."
Inderman is part of the self-proclaimed "MH Militia."  A photo of the "militia" below was taken in Tunica, MS recently at the industry trade show there.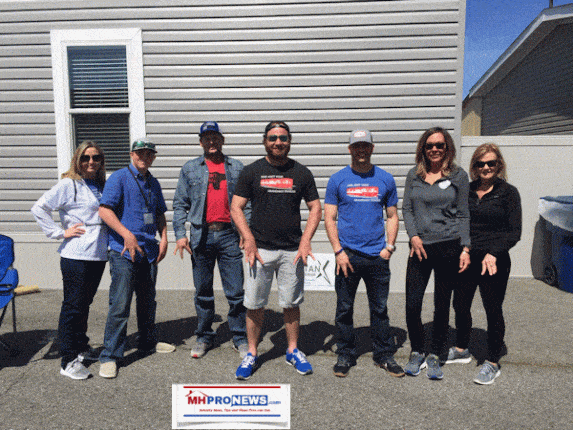 Letter Cited MHARR, Federal, NAR, Other Sources
As Weiss' comments indicated, MHProNews publisher L. A. 'Tony' Kovach sent a detailed letter to Bryan's mayor, city attorney, and city council members. The 10-page document addressed to Bryan was sent via email, and included CCs and BCCs to several:
nonprofits,
manufactured home industry members from firms of all sizes,
industry associations that ought to be involved,
federal and state officials,
along with mainstream media,
attorneys, and others.
The letters, messages and pull-quotes from Bryan residents shown above were sent to MHProNews by a Bryan civic leader who heard about Kovach's letter.
Apparent Hispanic, African American, and Anglo ethnic group members were among those the weighed in via email and/or by phone to MHProNews about their frustrations there.
Among those who called or emailed MHProNews, some took the time to express their thanks to Weiss, Inderman, and Kovach for their help in battling for the rights of the city's residents.
Some of those who contacted this trade media platform indicated they had heard about the 10-page letter from Kovach to the City of Bryan that Weiss and Inderman referenced, but had not yet seen it. They asked for copies to be emailed to them.
A Hispanic caller said he planned to be at the council meeting Tuesday night, and he wanted that 10-page letter for potential use with city officials. Tony Kovach stated in his email to that resident the following:
"If you look carefully at the attached, it debunks their economic arguments, and also makes the legal cases for why what the City of Bryan is doing is – IMHO – illegal.  It violates federal law."
That document from Kovach is linked here. It is laced with third-party and legal references.  It explains why what some city leaders in Bryan hope to achieve could backfire, as Seattle and other cities that didn't protect affordable homes and manufactured housing had painfully discovered.
ICYMI, or have not yet seen the sobering story "Seattle is Dying," that viral video and related report can be accessed at the hot-linked text-image box below.  In a nutshell, a lack of affordable housing was forcing growing numbers into tents, cars, or cardboard boxes. Residential and commercial properties had their sidewalks lined up with those homeless. Despair, drugs, addiction, and crime are among the vicious cycle of tragic outcomes of not having sufficient numbers and price-points affordable homes.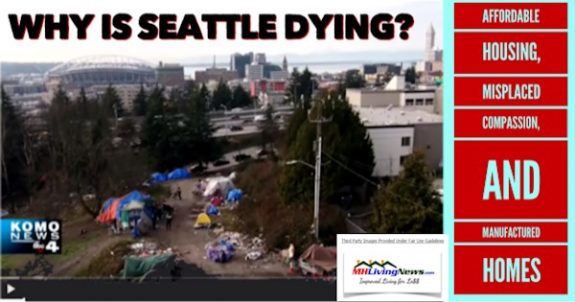 Beyond referencing the point that city leaders were essentially deciding between conventional homes sitting side-by-side with either manufactured homes or tents and boxes of the homeless, Tony Kovach also made two legal arguments based upon federal law. One cited "enhanced preemption," and linked a report on the federal preemption topic from the MHARR website.
Another legal argument made in the letter to Bryan was the principle of Affirmatively Furthering Fair Housing (AFFH).
Among the off-the-record discussions by phone and via messages from sources in Texas were statements that to the effect that if the city leaders in Bryan errantly pass their proposed manufactured home ban, that legal action should follow. Indeed, some of the linked non-profits already have a track record of such suits, successful ones.
Bryan City Officials
While Bryan's city officials have not formally acknowledged they have the 10-page document from Kovach, a similar shorter summary was faxed by MHProNews to various city officials days ago, and fax confirmations noted that those transmissions were received. Furthermore, some of those who called or emailed MHProNews said that they learned about the Weiss, Inderman, and Kovach emails from city sources.
So, there is no plausible doubt that the City of Bryan has the messages from Weiss, Inderman, and Kovach.
The Kovach letter to Bryan city officials noted that a student activist group he addressed in a separate memo – the Young Dems of BCS – are also busily trying to stop the ban against manufactured homes. See more about the Young Dems in the downloadable item linked here.
Bryan City Council Meets Tonight
Sources on the ground in Bryan tell MHProNews that they will report back on what occurs Tuesday night at the council meeting. Stay tuned.
As thousands of regular MHProNews readers know, prior outreaches to two other cities in recent months that included MHARR's Mark Weiss and Tony Kovach resulted in both of those cities saying they were stopping their planned restrictions on manufactured homes. One city formally thanked MHProNews and MHARR for their input.
See those examples of successfully halted scenarios in the related reports, below the byline, offers, and notices.
The front-lines for the vexing zoning wars in the U.S. today are centered in Bryan, TX. That's this morning's edition of "News through the lens of manufactured homes, and factory-built housing." © where "We Provide, You Decide." © ## (News, analysis, and commentary.)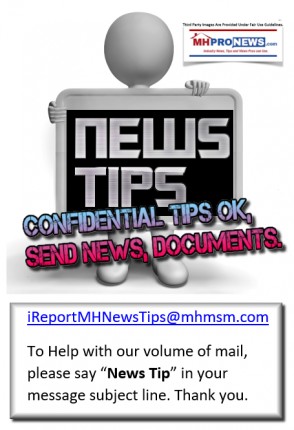 Your link to industry praise for our coverage, is found here.
For the examples of our kudos linked above…plus well over 1,000 positive, public comments, we say – "Thank You for your vote of confidence."
"We Provide, You Decide." © ## (News, analysis and commentary.)
(Image credits and information are as shown above, and when provided by third parties, are shared under fair use guidelines.)
Submitted by Soheyla Kovach to the Daily Business News for MHProNews.com.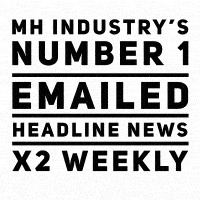 2) To pro-vide a News Tips and/or Commentary, click the link to the left. Please note if comments are on-or-off the record, thank you.
3) Marketing, Web, Video, Consulting, Recruiting and Training Re-sources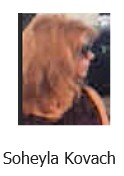 Submitted by Soheyla Kovach to the Daily Business News for MHProNews.com. Soheyla is a managing member of LifeStyle Factory Homes, LLC, the parent company to MHProNews, and MHLivingNews.com.
Related Reports

:
You can

click on the image/text boxes

to learn more about that topic.
Dramatic Reversal, City Passes Urgency Ordinance Effectively Banning Manufactured Homes, Front & Back Stories
For years here on MHLivingNews and our professional sister site, MHProNews, we've worked with a simple premise. Affordable quality living is a non-partisan issue. Rephrased, that means it should be a bipartisan effort to understand and promote the most proven kind of affordable housing that America has ever known.
Rumble over Anti-MH Law-State Association, Manufactured Housing Institute (MHI), Clayton Homes, and MHARR
Money, Minorities, Manufactured Homes – Foiling the American Dream of Affordable Housing
While a discussion of federal preemption may lead eyes to glaze-over in some quarters, a consistent and logical approach to preemption – that is fully consistent with the law as it exists today – is vitally important to the manufactured housing industry and, even more so, to consumers of affordable housing.
MHARR SEEKS HUD STUDY AND ANALYSIS OF ZONING DISCRIMINATION AGAINST MANUFACTURED HOUSING Washington, D.C., April 8, 2019 – The Manufactured Housing Association for Regulatory Reform (MHARR), in an April 4, 2019 meeting with HUD policy, analysis and research officials, called on the Department to conduct nationwide research – and follow-up analysis – concerning local zoning mandates that discriminatorily exclude or drastically restrict the placement of federally-regulated manufactured homes to the detriment of lower and moderate-income American families in large areas of the country.