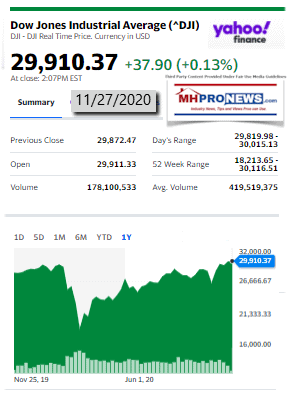 Before getting into the Council on Foreign Relations (CFR), it should be noted that there are websites such as popular Zero Hedge that don't mind exploring topics that others in media might mock as "conspiracy theories." To be clear, there are "conspiracy theories" that are wacky at best or dead wrong at worst. That noted, conspiracies do occur, as history and the U.S. criminal justice system both confirm.
Federal and state level RICO style laws are in part predicated on the notion that conspiracies to commit crimes occur often enough to merit their own legal remedies. As Wikipedia puts it, "The Racketeer Influenced and Corrupt Organizations Act [RICO] is a United States federal law that provides for extended criminal penalties and a civil cause of action for acts performed as part of an ongoing criminal organization."
As MHProNews has previously noted, WorldCom, Enron, and former billionaire turned federal inmate Bernard "Bernie" Madoff are among the higher profile examples of various types of schemes that often operated in the open but that had enough secret wink-and-nod deals by numbers of individuals who were often 'respected' prior to being convicted. Left-of-center CNBC reported that "Bernard Madoff has claimed he acted alone in his $65 billion scam, but his family and close associates have never escaped suspicion. Fifteen people have been convicted or pleaded guilty in the scandal."
21 convictions occurred in the multi-billion Enron scandal. That's reasonable evidence that some modern conspiracies are genuine, not just fringe thinking.
Former federal prosecutor Rudolph "Rudy" William Louis Giuliani – who is now President Donald J. Trump's attorney in the Trump Campaign legal challenges of the purported 2020 election fraud – is described by left-leaning Wikipedia as the man who was "also focused on prosecuting drug dealers, organized crime, and corruption in government. He [Giuliani] amassed a record of 4,152 convictions and 25 reversals."
Yes, Virginia, there are conspiracies. Demonstrated conspiracies have also occurred throughout history on every populated continent north of Antarctica. So put differently, some conspiracy theories pan out, others do not. Fact and evidence are what makes the difference.
In case you didn't already notice, this evening's report will flip part of the headline. Corruption in government, business, or organized crime can all involve collusion or "conspiracies" to commit a crime. Establishment voices on the left and right often like to use the phrase "conspiracy theory" as a quick way of trying to diminish and dismiss an allegation or concern that may in fact have significant evidence. The fall of the late President Richard Nixon began its public appeal as a 'conspiracy theory' explored by Washington Post reporters. Some of the early concerns proved incorrect, but others – for instance, the coverup – had enough merit and evidence to cause Nixon to step down to avoid a bi-partisan impeachment.
With that background Zero Hedge noted today that: "In 2008, Barack Obama received the names of his entire future cabinet already one month prior to his election by CFR Senior Fellow (and Citigroup banker) Michael Froman, as a Wikileaks email later revealed. Consequently, the key posts in Obama's cabinet were filled almost exclusively by CFR members, as was the case in most cabinets since World War II. To be sure, Obama's 2008 Republican opponent, the late John McCain, was a CFR member, too. Michael Froman later negotiated the TPP and TTIP international trade agreements, before returning to the CFR as a Distinguished Fellow."
That linked email posted by Wikileaks is shown below.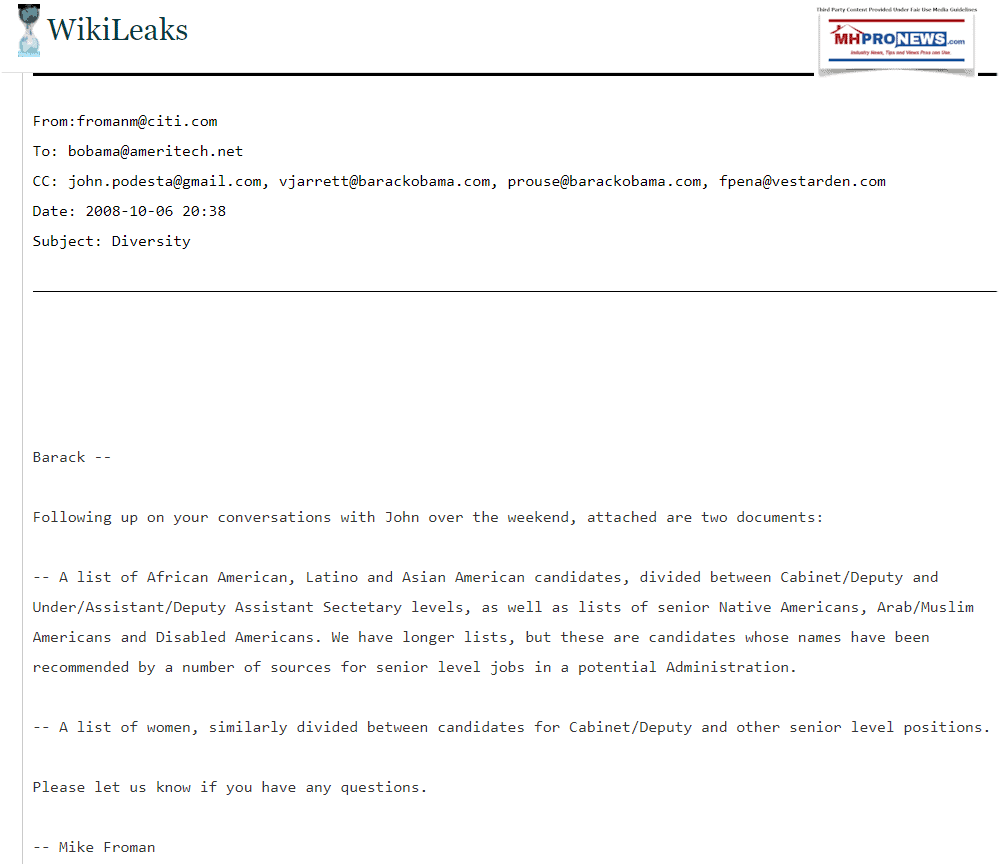 According to the Observer, they showed the text of that "October 18, Wikileaks released an email from Michael Froman, a former Citigroup executive, written directly to Obama" as follows. NOTE: that the typo is in the original.  Note too how casual the memo is in its address.
Following up on your conversations with John [Podesta] over the weekend, attached are two documents: —
A list of African American, Latino and Asian American candidates, divided between Cabinet/Deputy and Under/Assistant/Deputy Assistant Sectetary levels, as well as lists of senior Native Americans, Arab/Muslim Americans and Disabled Americans.
We have longer lists, but these are candidates whose names have been recommended by a number of sources for senior level jobs in a potential Administration. — A list of women, similarly divided between candidates for Cabinet/Deputy and other senior level positions.
Please let us know if you have any questions.
Mike Froman"
##
Left-of-center Politico has referenced that same email. They noted that Wikileaks revealed an email that said in part that "Normally these decisions [i.e.: who is part of the president's team] could be made after the election, and ideally after the selection of a National Economic Advisor, but, of course, these are not normal times," Podesta – also a Secretary Hillary Clinton confidant – wrote in the memo to now former President Obama's "bobama@ameritech.net" address. In the body of that email, Podesta notes that now former President Obama's had interest in having Warren Buffett, chairman of Berkshire Hathaway – which owns Clayton Homes and other manufactured housing industry connected brands – to serve as an interim economic adviser. As MHProNews has repeatedly noted, Obama later gave Buffett the Presidential Medal of Freedom and also put Buffett grandson in the Obama White House.
"In 2017, CFR nightmare President Donald Trump immediately canceled these trade agreements – because he viewed them as detrimental to US domestic industry – which allowed China to conclude its own, recently announced RCEP free-trade area, encompassing 14 countries and a third of global trade. Trump also canceled other CFR achievements, like the multinational Iran nuclear deal and the UN climate and migration agreements, and he tried, but largely failed, to withdraw US troops from East Asia, Central Asia, the Middle East, Europe and Africa, thus seriously endangering the global US empire built over decades by the CFR and its 5000 elite members," said Zero Hedge on 11.27.2020.
"Unsurprisingly, most of the US media, whose owners and editors are themselves members of the CFR, didn't like President Trump. This was also true for most of the European media, whose owners and editors are members of international CFR affiliates like the Bilderberg Group and the Trilateral Commission, founded by CFR directors after the conquest of Europe during World War II. Moreover, it was none other than the CFR which in 1996 advocated a closer cooperation between the CIA and the media, i.e. a restart of the famous CIA Operation Mockingbird. Historically, OSS and CIA directors since William Donovan and Allen Dulles have always been CFR members," Zero Hedge continued. Operation Mockingbird, as MHProNews has previously reported, is one of several CIA historic operations that experimented in brainwashing and mind-control. Again, this CIA op was not some 'conspiracy theory,' but was a subject of Congressional hearings that included lawmakers from both sides of the political aisle.
"Family Jewels," MHVille Insider Tips, "Info Wars" and Omaha, Knoxville, California, Seattle and Arlington, and DC Connections
Back to Zero Hedge's report, "Joe Biden promised that he would form "the most diverse cabinet" in US history. This may be true in terms of skin color and gender, but almost all of his key future cabinet members have one thing in common: they are, indeed, members of the US Council on Foreign Relations."
"In 2016 Ukrainian Prosecutor General Viktor Shokin, in his investigation of corruption involving Burisma Holdings, a natural gas company, identified Hunter Biden as the recipient of over $3,000,000 from the company," says the YouTube description of the video above, which has topped 1.3 million views.
Recall that the Council on Foreign Relations (CFR) was the group that Biden was addressing when he bragged about getting a Ukrainian prosecutor fired during the Obama-Biden term in office. That prosecutor was investigating the company associated with his son, Hunter Biden. The video below has had 2.1 million views in roughly 2 months.
"This is the case for Anthony Blinken (State), Alejandro Mayorkas (Homeland Security), Janet Yellen (Treasury), Michele Flournoy and Jeh Johnson (candidates for Defense), Linda Thomas-Greenfield (Ambassador to the UN), Richard Stengel (US Agency for Global Media; Stengel famously called propaganda "a good thing" at a 2018 CFR session), John Kerry (Special Envoy for Climate), Nelson Cunningham (candidate for Trade), and Thomas Donilon (candidate for CIA Director).
Jake Sullivan, Biden's National Security Advisor, is not (yet) a CFR member, but Sullivan has been a Senior Fellow at the Carnegie Endowment for International Peace (a think tank "promoting active international engagement by the United States") and a member of the US German Marshall Fund's "Alliance For Securing Democracy" (a major promoter of the "Russiagate" disinformation campaign to restrain the Trump presidency), both of which are run by senior CFR members."
The balance of Zero Hedge's report on Biden and the Council on Foreign Relations (CFR) is linked here.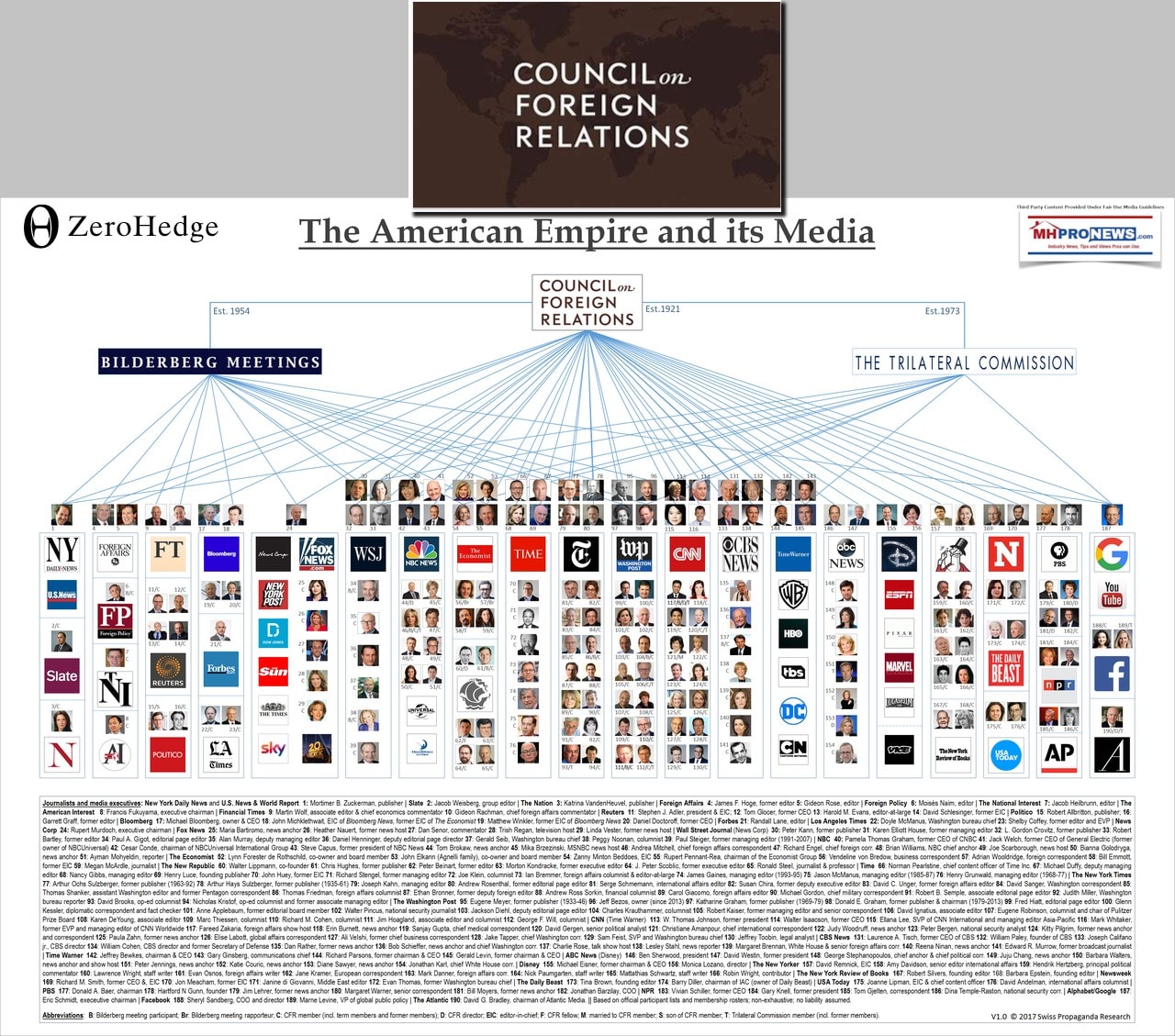 That source provided the two Council on Foreign Relations (CFR) infographics above and below.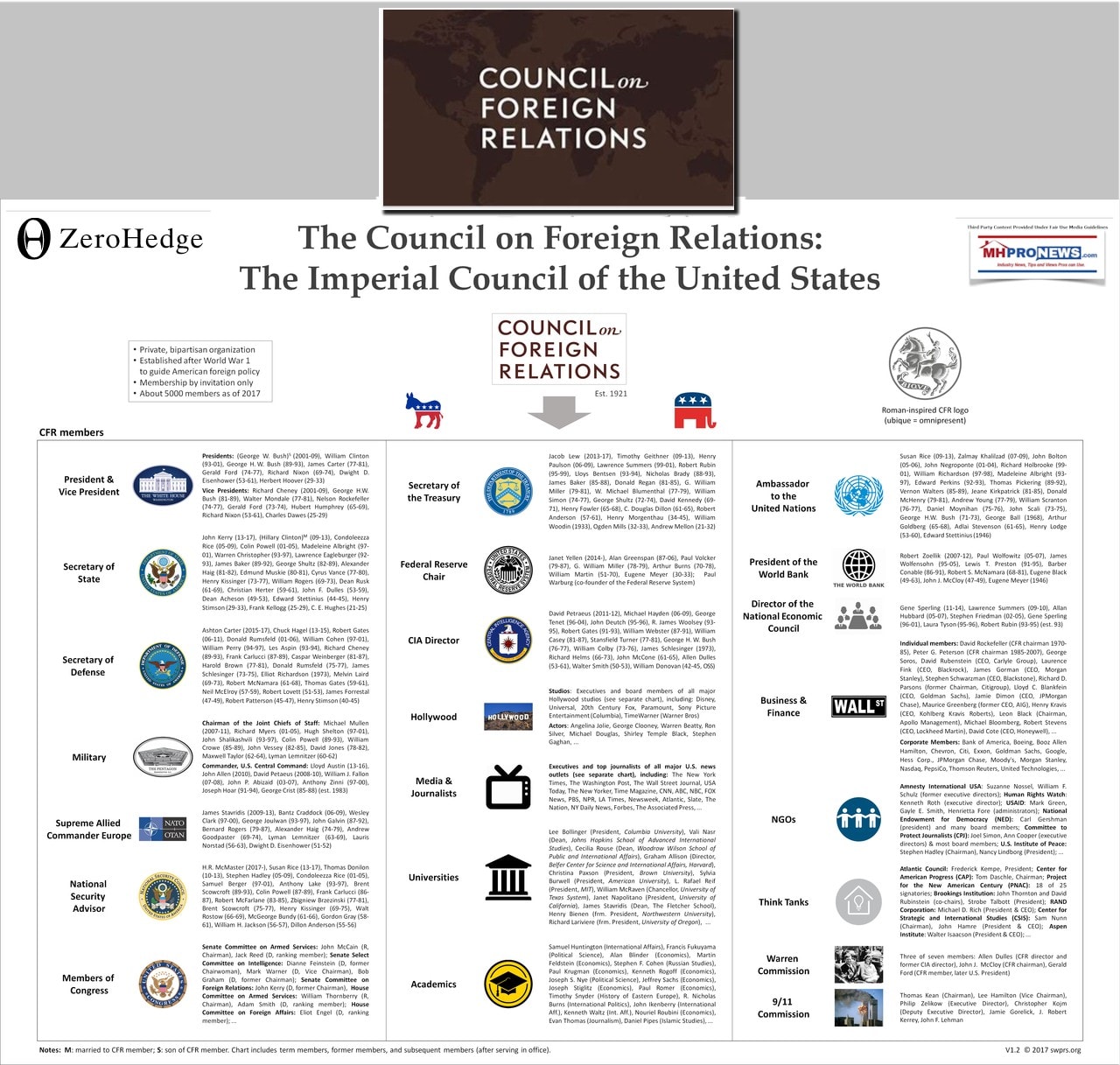 The balance of our headline topic on President Trump's challenge for the Biden-Harris ticket is our featured focus this evening. For newcomers, that is found beyond the quotable quotes, left-right headline bullets, and two of our three market graphic snapshots. The manufactured home connected stocks data at the closing bell is found after the featured focus and recent/related reports further below.
 Quotes That Shed Light – American Social, Industry, National Issues…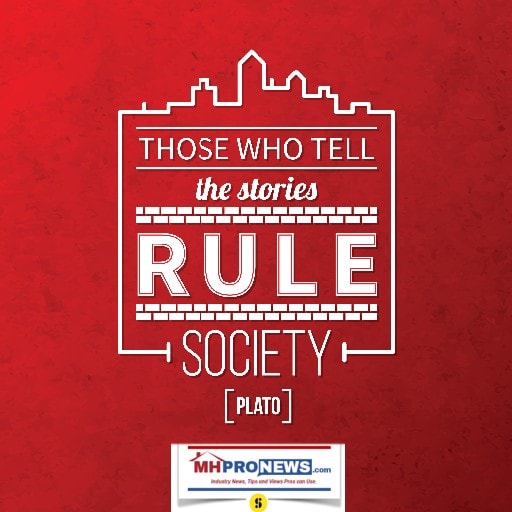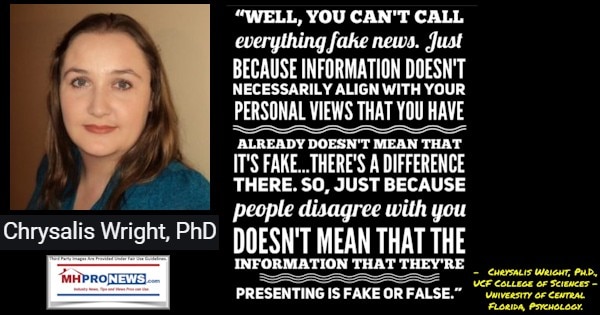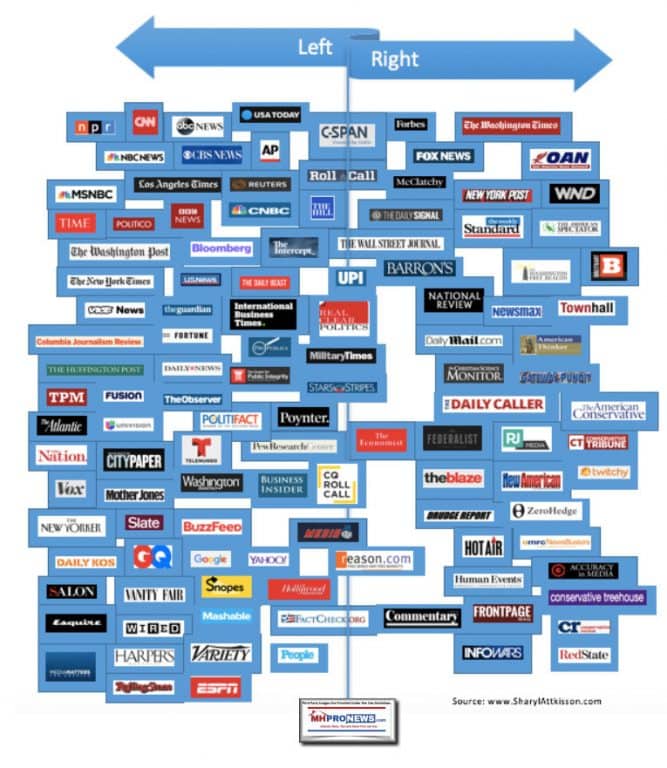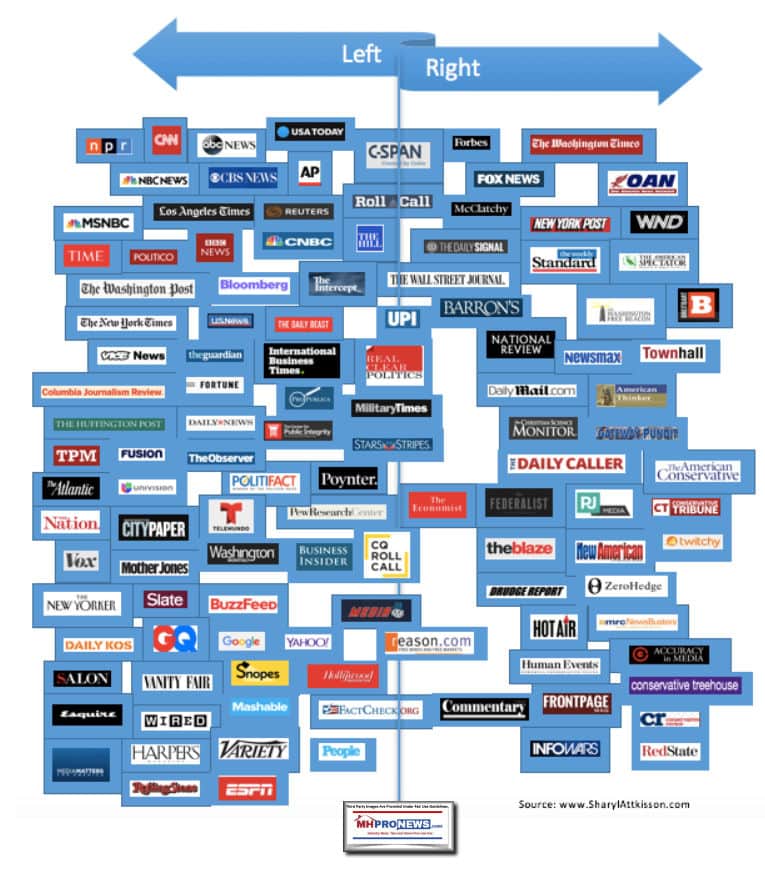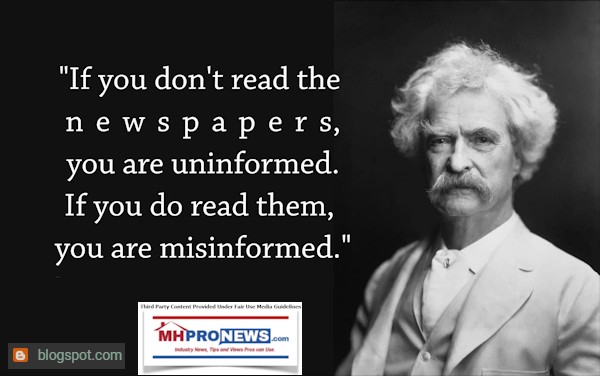 Headlines from left-of-center CNN Business
Black Friday is different this year. But all is not lost for retailers
It started in her kitchen. Now her products sell at Target and Walmart
Corporate America gave this non-profit almost $2 billion to fight institutional racism and it's already making an impact
Some restaurants hate delivery apps like Grubhub and Uber Eats. So they're seeking out alternatives
Another 778,000 Americans filed unemployment claims last week
India suffers first recession in decades
MISINFO WATCH Trump retweets false claim that 6,000 'fake Biden votes found in Arizona'
TikTok owner gets another week to sell its US business
Millions of Americans are out of work. Why is the stock market soaring?
How Cholula plans to get more Americans hooked on its hot sauce
Disney is increasing layoffs to 32,000 as the pandemic hammers its parks and resorts
China slaps duties of up to 212% on Australian wine imports
Fox News staffers thought Newsmax was a joke. They're not laughing now
An exterior view of the Amazon logistic center in Rheinberg, Germany, 26 November 2020. Trade union Verdi said that workers in Germany — in Rheinberg, Werne, Leipzig, Graben, Koblenz and Bad Hersfeld — go on strike during the top-selling shopping day Black Friday on 26 November as part of their long-running campaign for better pay and conditions.
Germany's Amazon employees go on strike during Black Friday, Rheinberg – 26 Nov 2020
Amazon spends another $500 million on bonuses. Some of its workers are still going on strike
People wait in their cars Thursday, April 9, 2020, at Traders Village for the San Antonio Food Bank to begin food distribution. The need for emergency food aid has exploded in recent weeks due to the coronavirus epidemic. (William Luther/The San Antonio Express-News via AP)
Photos: With people out of work, food banks are stepping up
MARKETS
GLOBAL ECONOMY
People wearing face masks walk past temporarily closed shops on King Street in the Covent Garden area of London, England, on November 23, 2020. Across England non-essential shops as well as bars, restaurants and other hospitality businesses remain closed as part of the country's second national coronavirus lockdown, begun on November 5 and set to expire on December 2.
Britain's final Brexit choice could prolong worst recession in 300 years
The global economic bailout is running at $19.5 trillion
BACK-TO-NORMAL INDEX Tracking America's recovery
Asia's economies are bouncing back
15 countries, 16 people. How workers are coping with the pandemic
DEALS
BuzzFeed is buying HuffPost — and inheriting its diversity issues
Simon & Schuster sold to Penguin Random House
Slack stock spikes on reports of Salesforce deal
Australia's Bega Cheese buys Lion Dairy from Kirin
A Dutch grocery giant is buying FreshDirect
Headlines from right-of-center Newsmax
Newsmax/McLaughlin Poll: Big Majority Wants Trump to Run in 2024; Don Jr. Emerges
If Trump ultimately doesn't prevail in this election cycle and sits out 2024, the poll shows his politically active eldest son, Don Jr., emerging as a popular GOP option.
Newsmax/McLaughlin Poll: Two-Thirds of US Backing Trump on Recounts
Appeals Court Rejects Trump Appeal Over Pa. Race
Steube: Trump Should Fight As Long As He Can
Federalist: 5 Ways Biden Unusually Outperformed Norms
President Trump in Twitter Storm Promotes Newsmax
Gingrich: Democrats Caught Stealing Election
John McLaughlin: Media Bias Against Trump Entire Election |
Trump Says He'll Exit if Electoral College Favors Biden
Trump Promises Rally in Battleground Ga.
The Trump Presidency
US Closed 10 Bases in Afghanistan as Part of Withdrawal
Gorsuch Questions Legal Root of Abortions
Mnuchin Asks GOP Senators to Trust Treasury, Fed Actions
Pompeo: I'll 'Honor' Transition Commitment
Fauci: Pandemic Won't Lessen by Christmas or New Year's
Flynn Pardon Sparking Questions on Who Could Be Next
Trump Says Coronavirus Vaccine Deliveries to Begin Next Week
Pompeo: We Have 'Force Posture Right' on Radical Islamic Terror
Top Iran Military Nuclear Scientist Killed in Apparent Assassination
An Iranian scientist that Israel alleged led the Islamic Republic's
Biden's Immigration Policies Could Threaten Public Safety
Joe Biden's plans to loosen immigration restrictions will likely lead
Black Friday Offers Beacon of Hope to Struggling Stores
After months of slumping sales and businesses toppling into bankruptcy, Black Friday is offering a small beacon of hope.In normal times, Black Friday is the busiest shopping day of the year, drawing millions of shoppers eager to get started on their holiday spending. But…
Mnuchin Asks Republican Senators to Trust in Future Treasury, Fed Actions
Bitcoin Plunges Along With Other Coins
Billionaire Ray Dalio Set to Open Family Office in Singapore
Bezos Targeted by Shipping Groups to Save Stranded Seafarers
Market Indicator Closing Summaries – Yahoo Finance Closing Tickers on MHProNews…
Featured Focus –
Where Business, Politics and Investing Can Meet
There are any number of topics that interlace neatly and markedly with the tweets that follow. One from earlier today is linked below.
COVID19 Shutdowns! "The Great Barrington Declaration," SCOTUS Constitutional Rights Ruling
These tweets will speak for themselves on the headline topic.
'Experts' Listed 27 House Races As Toss-Ups. Republicans Won All 27 |
https://t.co/1PREgkv3Rp

— Kellyanne Conway (@KellyannePolls) November 19, 2020
Biden can only enter the White House as President if he can prove that his ridiculous "80,000,000 votes" were not fraudulently or illegally obtained. When you see what happened in Detroit, Atlanta, Philadelphia & Milwaukee, massive voter fraud, he's got a big unsolvable problem!

— Donald J. Trump (@realDonaldTrump) November 27, 2020
— Dan Scavino🇺🇸🦅 (@DanScavino) November 23, 2020
Biden did poorly in big cities (Politico), except those of Detroit (more votes than people!), Philadelphia, Atlanta and Milwaukee, which he had to win. Not surprisingly, they are all located in the most important swing states, and are long known for being politically corrupt!

— Donald J. Trump (@realDonaldTrump) November 27, 2020
— Donald J. Trump (@realDonaldTrump) November 27, 2020
On March 2, 2020 President @realDonaldTrump & I sat down with Moderna & other top Pharmaceutical Companies & urged them to develop a vaccine at Warp Speed without cutting corners. President @realDonaldTrump marshaled the fastest vaccine development in history! That's leadership! pic.twitter.com/QqhvhXugiS

— Mike Pence (@Mike_Pence) November 16, 2020
This right-of-center Newsmax video was posted just a few hours ago, and has broken 119,000 views.  It is one of several indicators that the more Trump-friendly network is beginning to give Fox News a run for its money.
To learn more see the related and linked reports. As a programming note, there will be a special report coming soon on related topics that will plow useful ground for those who are looking for eye-opening evidence of some of the big business, big media, big tech, and 'deep state' actors that numbers of sources on the left and right say has undermined the American Republic. It will cite some will known sources. Watch for it.
Related, Recent, and Read Hot Reports
Cuomo's Covid1984 – Independent Businesses Threated, Limbaugh Urges POTUS to Hold GA Rallies, plus Manufactured Home Investing, Stock Updates
Can the Many Defeat Big Money, Big Media, and Major Tech Masters? Plus, Sunday Weekly Headlines in Review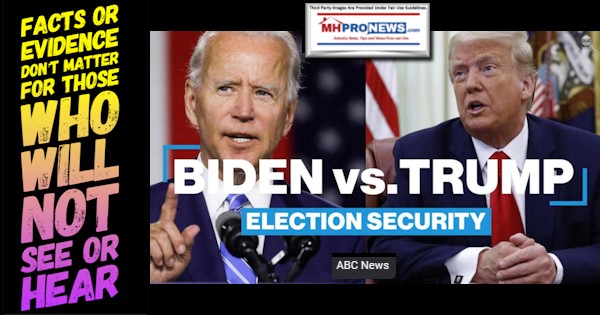 "Mob Rules" – 2020 and Manufactured Housing Updates; plus, Sunday Weekly Headlines in Review
Manufactured Housing Industry Investments Connected Closing Equities Tickers
Some of these firms invest in manufactured housing, or are otherwise connected, but may do other forms of investing or business activities too.
NOTE: The chart below includes the Canadian stock, ECN, which purchased Triad Financial Services, a manufactured home industry lender
NOTE: Drew changed its name and trading symbol at the end of 2016 to Lippert (LCII).
"More Punitive Regulatory" Regime Looms Warns New Manufactured Housing Industry Insider
Fall 2020…
Berkshire Hathaway is the parent company to Clayton Homes, 21st Mortgage, Vanderbilt Mortgage and other factory built housing industry suppliers.
· LCI Industries, Patrick, UFPI, and LP each are suppliers to the manufactured housing industry, among others.
· AMG, CG, and TAVFX have investments in manufactured housing related businesses. For insights from third-parties and clients about our publisher, click here.
Enjoy these 'blast from the past' comments.
MHProNews. MHProNews – previously a.k.a. MHMSM.com – has celebrated our 11th year of publishing, and is starting our 12the year of serving the industry as the runaway most-read trade media.
Sample Kudos over the years…
Learn more about our evolutionary journey as the industry's leading trade media, at the report linked below.
Correcting the Manufactured Housing Industry Record – Looking Back, Looking Ahead – Plus Manufactured Home Investing, Stock Updates
· For expert manufactured housing business development or other professional services, click here.
· To sign up in seconds for our industry leading emailed headline news updates, click here.

Disclosure. MHProNews holds no positions in the stocks in this report.
Evidence-Based State of the Manufactured Housing Industry, Fall 2020 Report – plus, Sunday Weekly Manufactured Home Headlines Review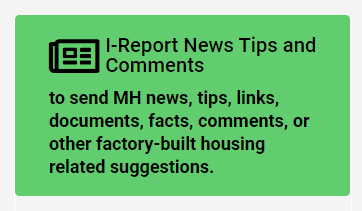 That's a wrap on this installment of "News Through the Lens of Manufactured Homes and Factory-Built Housing" © where "We Provide, You Decide." © (Affordable housing, manufactured homes, stock, investing, data, metrics, reports, fact-checks, analysis, and commentary. Third-party images or content are provided under fair use guidelines for media.) (See Related Reports, further below. Text/image boxes often are hot-linked to other reports that can be access by clicking on them.)
By L.A. "Tony" Kovach – for MHLivingNews.com.
Tony earned a journalism scholarship and earned numerous awards in history and in manufactured housing. For example, he earned the prestigious Lottinville Award in history from the University of Oklahoma, where he studied history and business management. He's a managing member and co-founder of LifeStyle Factory Homes, LLC, the parent company to MHProNews, and MHLivingNews.com. This article reflects the LLC's and/or the writer's position, and may or may not reflect the views of sponsors or supporters.