The manufactured housing (MH) profession is blighted by propaganda from a variety of sources.  One example of a routine misstatement of reality – which can have a similar effect as propaganda – that has hurt the MH Industry, but has recently been debunked, and is linked below.
An eye-opening statement from a National Weather Service (NWS) expert reveals that tornado related risk of death for residents of mobile or manufactured homes are being improperly warned, and reported. Before diving into that exclusive, written statement from NWS, it is instructive to look at the safety, durability, and quality issue about factory-built homes in a broader way.
All propaganda has as its goal the aim to manipulate readers/listeners/viewers.
While Manufactured Housing has been on a gradual rise since the post 2008 crash – and is poised for further growth – it is no time for complacency.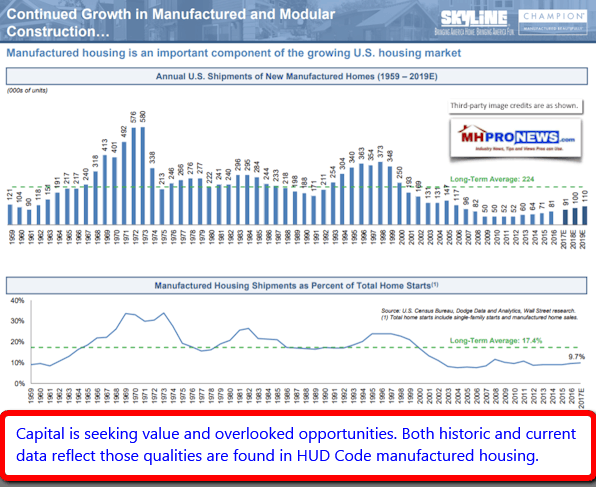 There are still a variety of threats – notably to independents – from various forces.  Those threats, since the 2008 crash, resulted in thousands of once successful independent businesses closing or selling out for quite a bit less than their value might be in normal conditions.
Those forces inside and outside of manufactured housing often limit the MH Industry's independent businesses potential. But because of a mix of half-truth and propaganda, many aren't even aware of those ongoing threats.
A specific example will follow an explanation of what propaganda is, and how it can be spotted.
By understanding:
what propaganda is,
and how it works,
MHProNews readers can discern how propaganda aimed at manufactured housing can be identified, and overcome.
Defining Propaganda
Per Google's definition,
prop·a·gan·da
ˌpräpəˈɡandə/
noun
    1.
derogatory
"information, especially of a biased or misleading nature, used to promote or publicize a particular political cause or point of view."
Spotting Propaganda
Score.Rims is an educational site that has adapted material that helps young readers discern propaganda. Those tips are equally useful for adults.
National Archives Teaching With Document Series. Jo Anne Gill 1993

PROPAGANDA TECHNIQUES

 

A propaganda technique is an improper appeal to emotion used for the purpose of swaying the opinions of an audience. The following propaganda techniques are common:

1. Bandwagon: This technique involves encouraging people to think or act in some way simply because other people are doing so. For example: "All your neighbors are rushing down to Mistri Motors to take advantage of this year-end sale. You come, too!"

2. Snob appeal: This technique involves making a claim that one should act or think in a certain way because of the high social status associated with the action or thought. For example: "Felson's Furs – the feeling of luxury, for those who can afford the very best."

3. Vague, undefined terms: This technique involves promoting or challenging an opinion by using words that are so vague or so poorly defined as to be almost meaningless. For example: "Try our new and improved, all-natural product."

4. Loaded words: This technique involves using words with strong positive or negative connotations, or associations. Name-calling is an example of the use of loaded words. So is any use of words that are charged with emotion. For example: "No really intelligent voter would support his candidacy."

5. Transfer: This technique involves making an illogical association between one thing and something else that is generally viewed as positive or negative. For example: " The American pioneers worked hard because they cared about the future. If you can about the future of your family, then see your agent at Pioneer Insurance."

6. Unreliable testimonial: This technique involves having an unqualified person endorse a product, action, or opinion. For example: "Hi, I'm Bart Bearson. As a pro-football quarterback, I have to be concerned about my health. That's why I take Pro-Ball Vitamin Supplements."

Avoid using propaganda techniques in your own speech and writing, and be on the alert for these techniques in the speech and writing of others. Look for these techniques when watching television or looking a published ads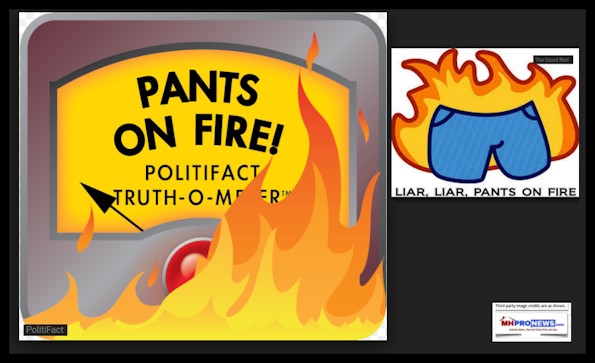 "Pants on Fire" and the Error of "Speaking With One Voice"
Recently, it was learned from news tips that certain parties with the Manufactured Housing Institute (MHI) were making a claim about HUD to members, which was in turn being repeated and thus – perhaps inadvertently spread by – one or more state associations too.
The claim was that HUD would not work with the industry until the industry 'spoke with one voice,' meaning one association.  Of course, the implication is that one association ought to be MHI.
A HUD official denied that claim, as is reported in the linked article below.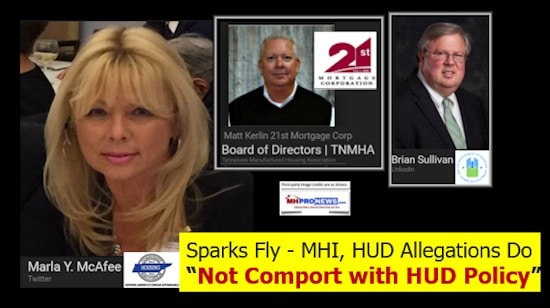 So not only was the need for 'speaking with one voice' claim debunked by HUD, as the Daily Business News reported at the link above, the allegation was demonstrably illogical in the first place.  HUD's own spokesperson said as much, in saying that 'HUD doesn't believe it is even possible for the industry to speak with one voice.'
Rephrasing, even absent MHProNews debunking that MHI claim, it is demonstrably not logical.  HUD officials certainly believes that, why?
Let's look at two different examples outside of the MH Industry, to understand and prove the point.
A Snapshot of Other Industries Associations
In the automotive industry, there is a production association, and a post-production association in Washington, D.C.
The NADA, per their website, "Founded in 1917, the National Automobile Dealers Association represents the interest of new car and truck dealers to the public, the media, Congress and vehicle manufacturers."  Note all of the groups the auto dealers seek to engage?
NADA is a post-production group, and they seek to influence not only the public, media and public officials, but NADA also wants to influence the producers association!
According to the producers (i.e. manufacturers) association website, "The Alliance of Automobile Manufacturers is an association of 12 of the largest car manufacturers, and is the leading advocacy group for the auto industry."
Then, there is the "The Auto Care Association is the voice for the auto care industry—a coast-to-coast network of 500,000 independent manufacturers, distributors, parts stores and repair shops…" and there are other trade associations involved in the automotive field too.
So, there is clearly not one voice in automotive, there are several.
How about conventional housing?
Housing Associations
Let's look at just three of the many kinds of associations representing different interests in the conventional housing field.
"The National Association of REALTORS® is America's largest trade association, representing 1.2 million members, including NAR's institutes, societies, and councils, involved in all aspects of the residential and commercial…" real estate, per their website.
Think of the NAR as the mainstream housing industry's post production association voice.  We'll circle back to this point shortly.
Then, there is the National Association of Home Builders (NAHB). These are the conventional housing industry's main "producers" association.
There is also "Mortgage Bankers Association…" (MBA), which "is the United States national association representing all facets of the real estate finance industry," per Wikipedia.
What Does The Above Tell MH Industry Independents?
Against that backdrop, it is worth looking again at what the practical implications of not having a post-production sector has meant to the manufactured housing industry.
First, let's note that independent producers of HUD Code manufactured homes can turn to the Manufactured Housing Association for Regulatory Reform (MHARR), whose members believe they ably represent their interests.  MHARR routinely provides updates to their members, and to others in the industry, of their perspectives and the facts they believe which back them up.
As a reminder, MHI for years provided that free service for their 'new releases' to MHProNews, until Dick Jennison opted to end that practice.  Why? Was it to 'control their own messaging?'
So MHARR provides a voice and advocacy for their members.  But what about the post-production sector of manufactured home industry?
What has been the practical result of trusting MHI in representing manufactured housing's Independent retailers, communities, and producers, among others?  Not MHProNews, but the Atlantic and IBISWorld answered that question this way.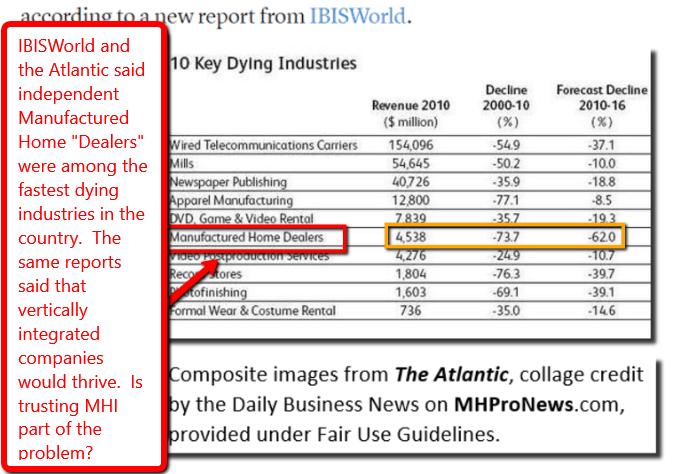 Whether one loves, hates or is meh about MHI, the facts speak clearly.
Namely, there has been a significant drop in the numbers of independents, even after the industry has slowly recovering from the post 2008 crash.
How Many MH Independents, Retailers Have Been Lost Recently? "They Think They Own Us"
The loss of producers, shown below, is according to MHI's own data, or from an ex-Clayton manager. It also is in keeping with Warren Buffett's "moat" principle, which Kevin Clayton himself explained.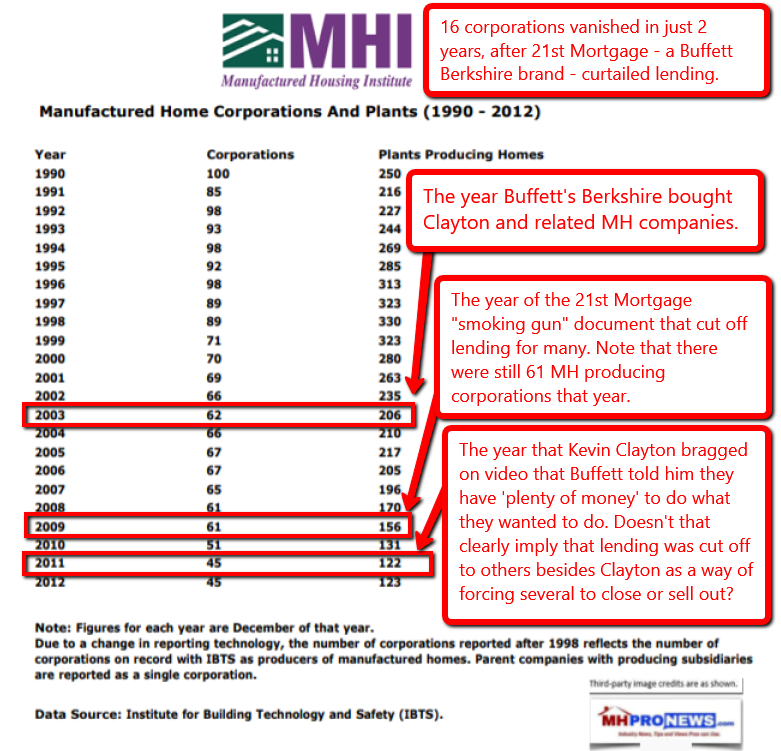 For accuracy, MHI has supporters, opponents, and those on the fence.
But what should make each of those groups sit up and take notice is not only the trends and facts, but the track record of MHI.
During the watch of their current MHI President and CEO, Richard "Dick" Jennison, they have ramped up what could be termed hype to industry members – example the graphic below – while producing results that include a significant consolidation of the industry. Do you see how this can be understood as propaganda at work?  Where are the actual results that millions of dollars pent annually produced for independents?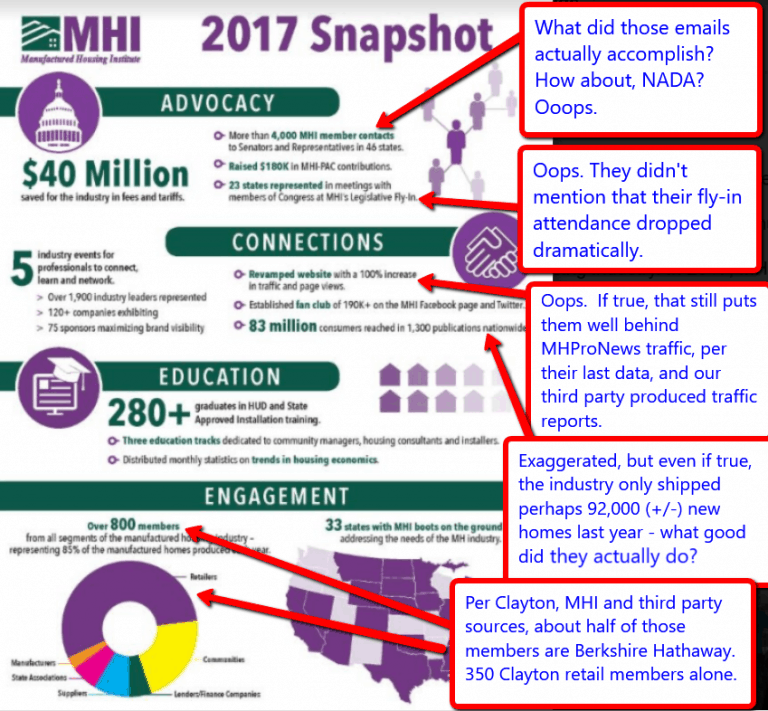 It was also arguably propaganda on the part of those speaking about MHI's claim that the industry needs to speak with one voice.  Some 80 percent of the industry's producers turn to MHI, and the numbers of producers has been dwindling.  Far more post-production companies have failed or sold out, as the third party data above from IBISWorld reflects.
Those are the facts.  That's why independents – and large companies – are on our site daily by the thousands. They want news and analysis they can rely upon.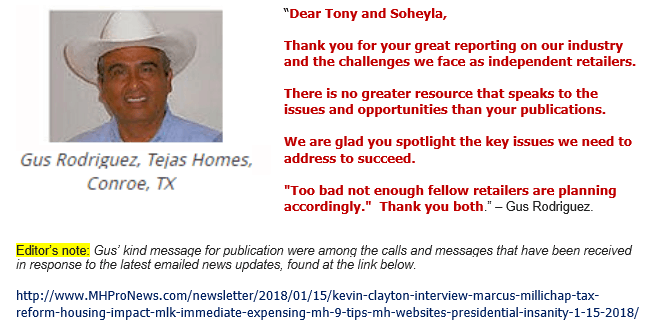 And until the allegations – including, but not limited to propaganda – about 'the industry speaking with one voice,' along with other arguably false and deceptive claims made by the Arlington, VA based MHI are widely understood to be "pants on fire," the sad reality is that more businesses will continue to sell out for less than their value, or will fail at a time when the industry should be doing many times better than it is.
State Associations, Companies Quit Membership in Manufactured Housing Institute, (MHI), One Explains in Writing, 'Why?'
Thus, the warning by MHProNews publisher and industry consultant, L. A. "Tony" Kovach to independents who are MHI members. "Are you feeding the hand that bites yours? Are you feeding the hands that are often misleading you, to your disadvantage?"
"We Provide, You Decide." ©  ## (News, analysis, and commentary.)
Related: Take one day, or three evenings, to truly understand the manufactured housing industry, as these special reports document and research the issues.
Study Recommending New Manufactured Housing Association for Independent Retailers, Communities, Lenders, Others Released
GSE's Duty to Serve MH Rigged, Benefits 21st, VMF, Clayton, Buffett's Berkshire, Harming Consumers & Independents, per MH CEO, Calls for Congressional Investigation
Warren Buffett's Political Payoff$, THIPS, and Manufactured Housing
Killing Off 100s of Independent Manufactured Home Retailers, Production Companies – Tim Williams/21st Mortgage "Smoking Gun" Document 2
Warren Buffett, "the Moat," Manufactured Housing, Berkshire Hathaway, Clayton Homes, 21st Mortgage, Vanderbilt, Wells Fargo, NAI…
Kevin Clayton Interview-Warren Buffett's Berkshire Hathaway, Clayton Homes CEO
"Accurate, but Misleading" MHI Preserving Access to Manufactured Housing Act Alert – 'Weaponized New$,' Fact Check$
Benson Demonstrates How "Propaganda Works" on "Most Americans"
HUD Comment Letter – FR-6075-N-01 Regulatory Review of Manufactured Housing Rules
Lawsuits for Triple Damages – Anti-Trust, Anti-Monopoly Law, Manufactured Housing, and You
Hindsight is twenty-twenty. Warren Buffett doesn't need to convince me or gain my agreement with him on that point. On that and the value of history, Mr. Buffett and this Masthead writer would agree. Buffett and we agree too on the value of research, reading, asking, listening, probing, and understanding.
Notice: For industry professional services, click here.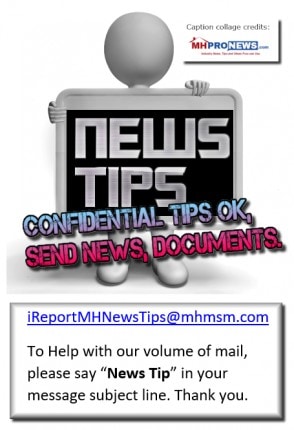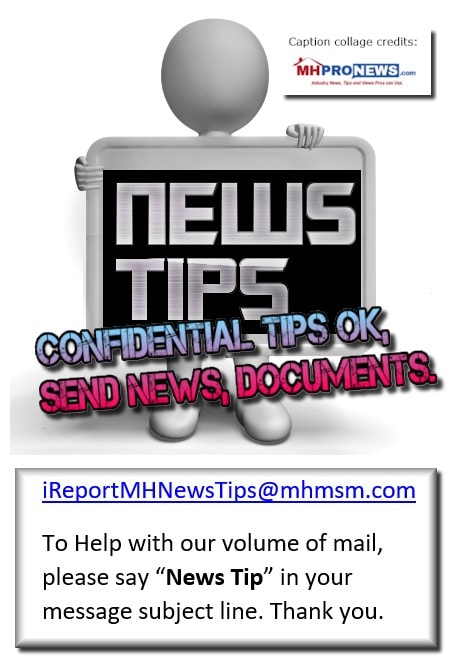 Thousands "Get It."
Sign Up Today! Click here to sign up in 5 seconds for the manufactured home industry's leading – and still growing – emailed headline news updates. You'll see in the first issue or two why big, medium and 'mom-and-pop' professionals are reading them by the thousands. These are typically delivered twice weekly to your in box.
(Third party images, and cites are provided under fair use guidelines.)
Follow us on Twitter:
ManufacturedHomes
@mhmsmcom

Submitted by Soheyla Kovach to the Daily Business News for MHProNews.com.
Soheyla is a managing member of LifeStyle Factory Homes, LLC, the parent company to MHProNews, and MHLivingNews.com.