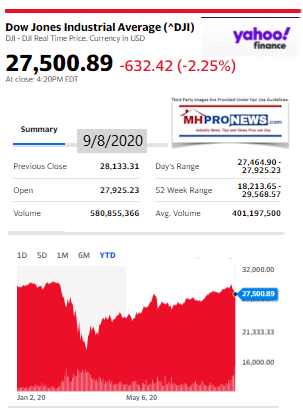 Tonight's topic is the latest 5 year data set from the U.S. Census Bureau obtained by MHProNews.
While others in manufactured housing trade media – including those who publish as well as blog – routinely continue to 'cheer lead' for the Manufactured Housing Institute (MHI) and their 'big boy' backers, the factual evidence provides a different picture.
Their data dispels once more the false claim made by MHI in the last quarter of 2018 that the industry had "momentum." Indeed, the argument can be made that they already realized that the industry was in a mild – and entirely avoidable – downturn.
While conventional housing in recent years has continued to surge, manufactured housing has struggled. That fact alone begs serious questions for investors, public officials, affordable housing advocates, and others.
In reading what follows in our featured focus segment further below tonight, new readers as well as thousands of long-term followers of MHProNews reports should bear in mind that manufactured housing has the benefit of two important 21st centuries laws. More on that in what follows.
Note that the featured focus segment follows the quotable quotes, left-right bulleted headline recap from CNN Money and Fox Business, and 2- of our 3-evening market summary graphics. The 3rd business-nightly graphic – manufactured home connected equities summary data for today – is found after the featured focus, related report links, near the end of each business evening's column.
Quotes That Shed Light – American Social, Industry, National Issues…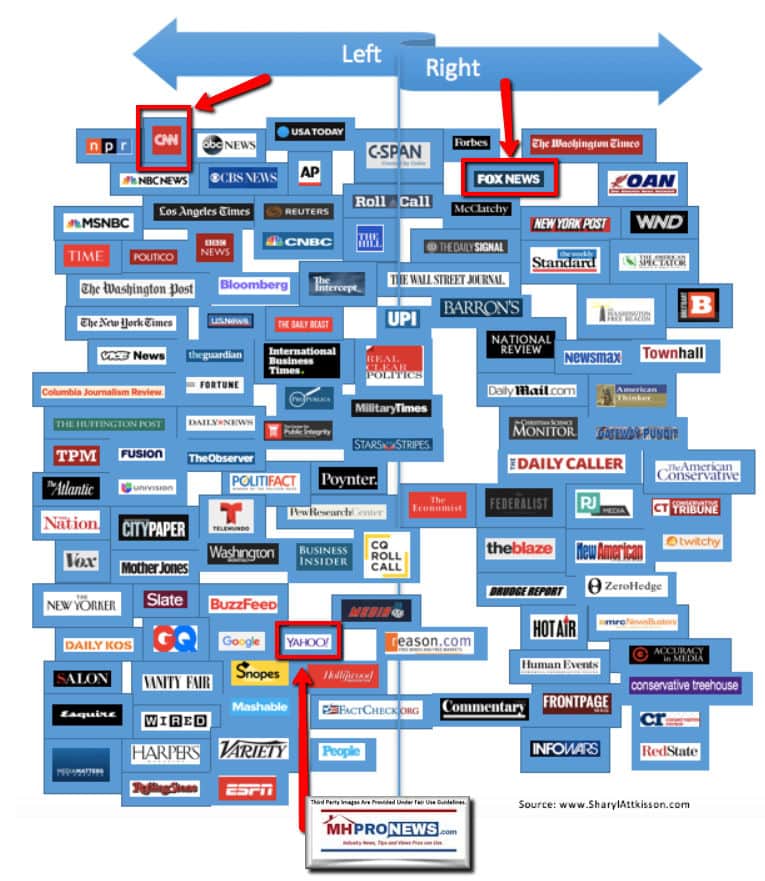 Headlines from left-of-center CNN Business
Oil prices are collapsing
Dylan Stewart wears a rubber glove to pump gas at Costco Wholesale store gasoline station amid the global coronavirus COVID-19 pandemic, Friday, Aug. 21, 2020, in Burbank, Calif.
Demand fears are rippling through the oil patch after Saudi Arabia sends an ominous signal
JPMorgan investigates employees over potential misuse of PPP loans
Nasdaq and Dow tumble as tech stocks remain under pressure
SoftBank takes a $10 billion hit after being unmasked as Nasdaq 'whale'
Tesla, snubbed by the S&P 500, quickly completes $5 billion stock sale
Uh-oh: The low and slow economic recovery is back
Nikola CEO explains the competition with Tesla
Apple could reveal the iPhone 12 next week
TikTok is trying to remove a graphic suicide video
Here's how IBM plans to make the oil and gas industry smarter
Colin Kaepernick returns to Madden as a playable character
Postmates CEO: 3 ways Congress can ensure gig workers aren't left out
Colonizing Mars is dangerous and expensive. Elon Musk is trying anyway
Peloton cuts the price of its most popular bike by 15%
Canadian Airlines' Boeing 787-9 Dreamliner taxis on a runway after its landing at the International Airport in Vienna, Austria on a windy February 28, 2020. (Photo by Joe Klamar/AFP/Getty Images)
Boeing discloses new flaw with 787 jet as problems mount
Remote learning is costing parents a fortune
Disney hit by backlash after thanking Xinjiang authorities in 'Mulan' credits
MARKETS
WEALTH
This picture taken on April 16, 2015 shows two bull statues displayed outside the stock exchange in Hong Kong.
Bottled water company founder is now China's third-richest man
Michael Bloomberg gives $100 million to HBCU grads
MacKenzie Scott is now the world's richest woman
Elon Musk is the third richest person in the world
Jeff Bezos is now worth a whopping $200 billion
THE SUMMER OF THE RV
Airstream Basecamp 20X.
The latest trend in RV'ing: Getting way off the grid
This $1.7M RV lets you go off the grid
Walmart used to be a haven for RV parking
Mercedes-Benz brings back the camper van
RV sales and rentals boom
Headlines from right-of-center Fox Business
ECONOMY
COVID relief bill to extend PPP loans, target health care, education: Kudlow
Larry Kudlow said he expects the Senate GOP's latest coronavirus relief proposal to target small businesses, health care and education.
Senate GOP's SAFE TO WORK Act may be crucial point in stimulus talks
McConnell's GOP coronavirus relief package details revealed
MARKETS
Vote-by-mail delays poised to roil markets with White House at stake
TECHNOLOGY
Apple to hold event on Sept. 15; new products anticipated
Apple iPad Air to be released shortly, reports say
REAL ESTATE
Nearly 1,000 people moving to this state every day to escape high taxes
New York exodus accelerates amid pandemic as some residents head south
OPINION
DAVID ASMAN: New York's mayor is turning city into Havana on the Hudson
BILLION DOLLAR MAN
MONEY
Bezos tops Forbes 400 list for third straight year
BOTTOM OF THE BARREL
MARKETS
Oil prices tank as coronavirus slowdown worsens seasonal demand drop
RETIREMENT PLAN
RETIREMENT
Is it time for investors to ditch their 401(k)s?
TESLA TANKS
MARKETS
Electric car maker's stock plunges after snub from S&P 500
GROW YOUR SAVINGS
PERSONAL FINANCE
You're probably not saving enough — here's how to fix that
CALIFORNIA BLACKOUTS
ENERGY
PG&E kills power to thousands as wildfires rage on amid 'critical' risk
NEXT GEN COST
TECHNOLOGY
Microsoft confirms pricing of cheaper system, Xbox Series S
BRING IN THE EXPERTS
LIFESTYLE
It's time to secure your entire home network
YOUR NEW ORDER?
RICH & FAMOUS
Rapper's favorite meal hits menu as part of McDonald's partnership
LIFESTYLE
Boeing flags additional 787 production problem
VIDEO
Stephen Moore: Pelosi continues to hold up coronavirus relief
LIFESTYLE
Coca-Cola reveals plans to pivot from traditional commercials to streaming partnerships
PERSONAL FINANCE
Work from home tax deductions: What to know
LIFESTYLE
Antonio Sabato Jr. on move from Hollywood to Florida: 'California is unlivable'
LIFESTYLE
Amazon bans plant seeds from China, other foreign sellers amid investigation
LIFESTYLE
Watch: Elon Musk test drives electric Volkswagen and says 'it's pretty good'
LIFESTYLE
Peloton launching cheaper treadmill, cutting bike price
POLITICS
San Francisco keeps city-owned gyms open with private gyms still barred from reopening
LIFESTYLE
'Fortnite' studio Epic Games announces more live concerts for players amid dispute with Apple, Google
MONEY
One-quarter of Americans say finances improved under Trump
LIFESTYLE
Coronavirus still throwing theme park attendance for a loop
SCIENCE
Scale model of futuristic 'Flying V' aircraft makes successful maiden flight
CRIME
Illegal Brooklyn bar shut down after cops find 281 people inside, including child
ENTERTAINMENT
Disney's 'Mulan' catches backlash for filming in China's Xinjiang Province amid human rights issues
ECONOMY
Trump eyes 'decoupling' from China
LIFESTYLE
General Motors to build Nikola Badger electric pickup
ENTERTAINMENT
Kevin Dobson, 'Kojack' and 'Knots Landing' actor, dead at 77
MARKETS
Ships, aircraft fight new fire on oil tanker off Sri Lanka
CARS + TRUCKS
Watch: Electric Ford Mustang Cobra Jet 1400 loses drag race to gas-powered Mustang, but bests Chevy
MONEY
How much money do you really need to buy a house?
Market Indicator Closing Summaries – Yahoo Finance Closing Tickers on MHProNews…
Featured Focus –
Where Business, Politics and Investing Can Meet
First, the hard data, per the U.S. Census Bureau, covering the years 2014 to 2019.
Cost & Size Comparisons:
New Manufactured Homes and New Single-Family Site-Built Homes
(2019-2014)
2019
2018
2017
2016
2015
2014
New Manufactured Homes
All1
Avg. Sales Price
 $     81,900
 $     78,500
 $      71,900
 $     70,600
 $   68,000
 $    65,300
Avg. Square Feet
          1,448
          1,438
            1,426
           1,446
        1,430
          1,438
Avg. Cost per Sq. Ft.
 $       56.56
 $       54.59
 $        50.42
 $       48.82
 $     47.55
 $      45.41
Single
Avg. Sales Price
 $     53,200
 $     52,400
 $      48,300
 $     46,700
 $   45,600
 $    45,000
Avg. Square Feet
          1,072
          1,072
            1,087
           1,075
        1,092
          1,115
Avg. Cost per Sq. Ft.
 $       49.63
 $       48.88
 $        44.43
 $       43.44
 $     41.76
 $      40.36
Double
Avg. Sales Price
 $  104,000
 $     99,500
 $      92,800
 $     89,500
 $   86,700
 $    82,000
Avg. Square Feet
          1,747
          1,747
            1,733
           1,746
        1,713
          1,710
Avg. Cost per Sq. Ft.
 $       59.53
 $       51.26
 $        53.55
 $       51.26
 $     50.61
 $      47.95
Housing Starts vs. MH Shipments
(Thousands of units)
New Single Family
Housing Starts
             888
             876
               849
              782
            715
             648
Percent of Total
90%
90%
90%
91%
91%
91%
Manufactured Home Shipments
Shipped
                95
                97
                 93
                81
              71
               64
Percent of Total
10%
10%
10%
9%
9%
9%
Total
             983
             973
               942
              863
            786
             678
New Single-Family
Site-Built Homes Sold
(Home and Land Sold as Package)
Avg. Sales Price
 $  383,900
 $  385,000
 $    384,900
 $   360,900
 $ 352,700
 $  347,700
Derived Average Land Price
 $     84,485
 $     87,253
 $      91,173
 $     82,491
 $   80,246
 $    84,444
Price of Structure
Avg. Square Feet
          2,518
          2,602
            2,645
           2,650
        2,724
          2,707
Avg. Price per Sq Ft. (excl. land)
 $     118.91
 $     114.43
 $      111.05
 $     105.06
 $   100.02
 $      97.25
Manufactured Home Shipments
Total
        94,615
        96,555
         92,902
        81,136
      70,544
       64,331
Single-Section
        42,930
        44,979
         46,305
        38,944
      32,210
       30,218
Multi-Section
        51,685
        51,576
         46,597
        42,192
      38,334
       34,113
New Manufactured Homes Placed
(for Residential Use)
Located in Communities
31%
37%
32%
34%
34%
33%
Located on Private Property
69%
63%
68%
66%
66%
67%
Titled as Personal Property
76%
77%
76%
77%
80%
80%
Titled as Real Estate
19%
17%
17%
17%
14%
13%
  1 Includes manufactured homes with more than two sections.
  Source:  These data are produced by the U.S. Commerce Department's Census Bureau from a survey
                   sponsored by the U.S. Department of Housing and Urban Development.
Additional Information, MHProNews Analysis, and Commentary
Last week, the manufactured housing industry year-to-date through July 2020 data was published by this trade media outlet. That report is linked below. That data found via that linked report is likewise juxtaposed with conventional housing and other relevant data. The facts above and below point to evidence why manufactured housing should be roaring, not snoring. Are we to believe that educated, seasoned professionals involved in manufactured housing 'leadership' can't do better than what they are?
New Year to Date July 2020 Manufactured Home Production Data Compared to Mainstream Conventional Home Building and Post-COVID19 Housing Trends
Or is it that the industry is underperforming precisely to force smaller firms out and thus foster more consolidation? To help answer that, see the flashback insight below.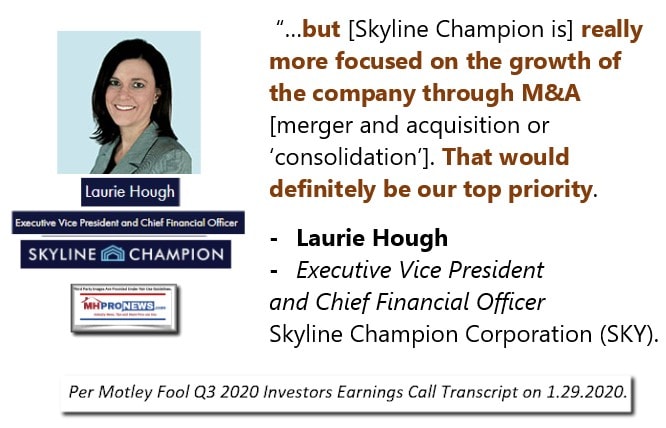 While mainstream manufactured homes continues to struggle, industry sources tell MHProNews that Skyline Champion (NYSE:SKY) may be pivoting away from their recent posture toward independents. Skyline Champion leaders have not yet confirmed that claim.
Skyline Champion Retailers Call Foul on Factory's Price Hikes to Independent Dealers, SKY CEO Mark Yost Spotlight
The Census Bureau data will be a fine tee-up for a topic that will be the planned financing related featured report tomorrow morning. Stay tuned.
Until then, to sign up for our 'read hot' and 'industry leading' emailed headline news, you can sign up in seconds for free via the link below.
Note that when we say 'read hot' and 'industry leading,' that's according to third party data, not mere hyperbole. When you've got it, show it.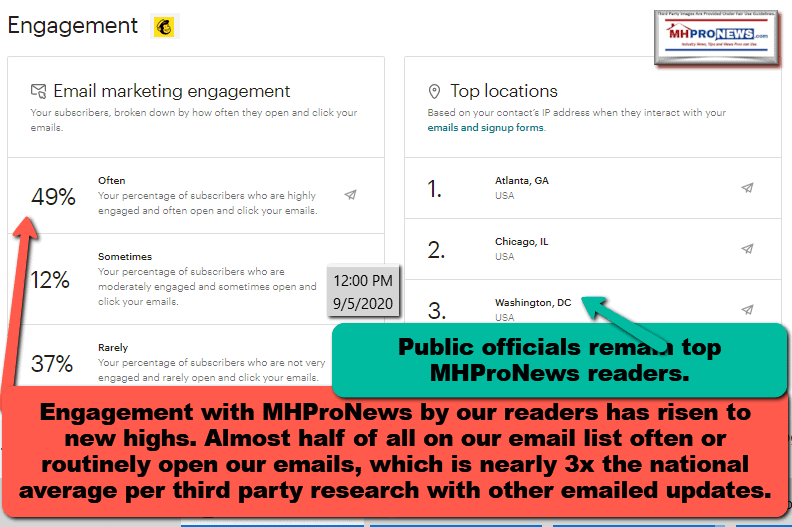 See the related reports for more evidence-based insights on manufactured housing and industry-impacting issues.
Manufactured Housing Corporate Civil and/or Criminal Liability Issues – Insider Tips to Manufactured Home Industry's Runaway Most Influential Trade Media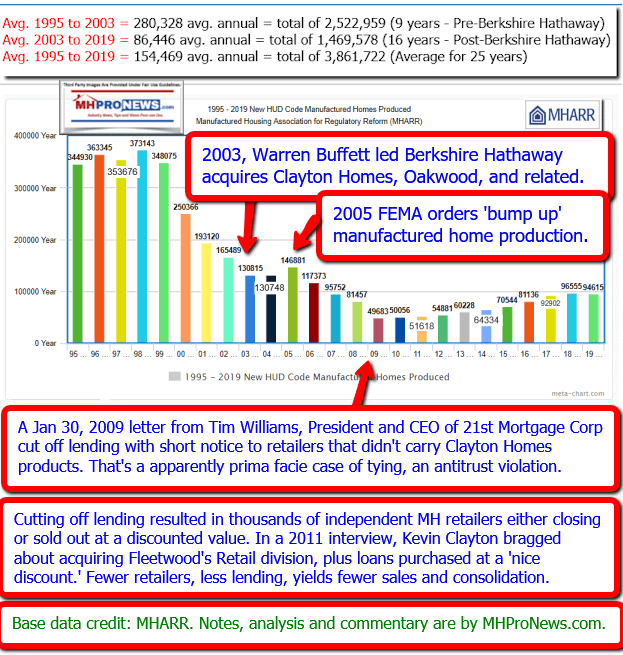 Danny Ghorbani Challenges Manufactured Housing Institute (MHI) Leaders on "Must-Do" Zoning, "Failed Miserably" in Placement Issues
Related, Recent, and Read Hot Reports
"Revolutionaries" Warren Buffett Partner Charlie Munger Explains a Church They Created
White House Seeks Evictions Stay, Coronavirus-Fueled Housing Crisis Grows, plus Manufactured Home Investing, Stock Updates
Millions for "Swiftboating" Joe Biden, plus Manufactured Housing Investing, Stock Updates
Warren Buffett, Clayton Homes, Manufactured Housing Institute Deception, Bigotry Claims; Federal Official Contrasts Obama-Biden vs Trump Pence Gay Rights Postures
Are More Blacks Moving to President Trump? "I have done more in three years for the black community than Joe Biden has done in 47 years—and when I'm reelected, the best is yet to come!" Plus Manufactured Home Investing, Stock Updates
Manufactured Housing Institute (MHI) Insiders – Secrets and Revelations, August 2020 – plus, Sunday Morning Headlines Review
White Billionaires vs Blacks, Minorities, "Uncle Tom" "Gaslighting" "Misdirection and Deception" – "Uncle Tom" Videos Review, plus Sunday Headline Recap
Manufactured Housing Industry Investments Connected Closing Equities Tickers
Some of these firms invest in manufactured housing, or are otherwise connected, but may do other forms of investing or business activities too.
NOTE: The chart below includes the Canadian stock, ECN, which purchased Triad Financial Services, a manufactured home industry lender
NOTE: Drew changed its name and trading symbol at the end of 2016 to Lippert (LCII).
Summer 2020…
Berkshire Hathaway is the parent company to Clayton Homes, 21st Mortgage, Vanderbilt Mortgage and other factory built housing industry suppliers.
· LCI Industries, Patrick, UFPI, and LP each are suppliers to the manufactured housing industry, among others.
· AMG, CG, and TAVFX have investments in manufactured housing related businesses. For insights from third-parties and clients about our publisher, click here.
Enjoy these 'blast from the past' comments.
MHProNews. MHProNews – previously a.k.a. MHMSM.com – has celebrated our tenth anniversary and is in year 11 of publishing.
Learn more about our evolutionary journey as the industry's leading trade media, at the report linked below.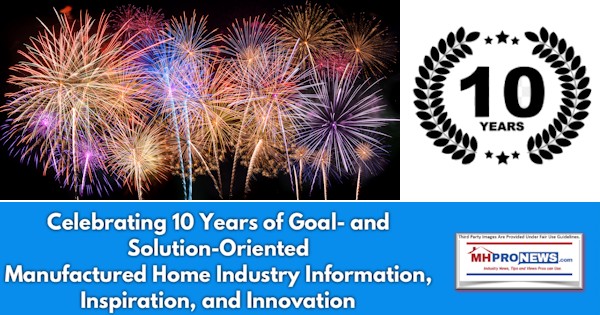 · For expert manufactured housing business development or other professional services, click here.
· To sign up in seconds for our industry leading emailed headline news updates, click here.

Disclosure. MHProNews holds no positions in the stocks in this report.
2019 Year-End Totals Reveals Decline in New HUD Code Manufactured Home Production, Shipments vs. 2018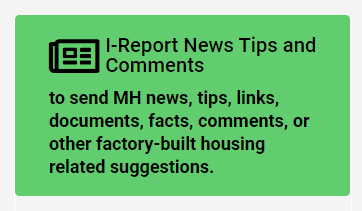 That's a wrap on this installment of "News Through the Lens of Manufactured Homes and Factory-Built Housing" © where "We Provide, You Decide." © (Affordable housing, manufactured homes, stock, investing, data, metrics, reports, fact-checks, analysis, and commentary. Third-party images or content are provided under fair use guidelines for media.) (See Related Reports, further below. Text/image boxes often are hot-linked to other reports that can be access by clicking on them.)
By L.A. "Tony" Kovach – for MHLivingNews.com.
Tony earned a journalism scholarship and earned numerous awards in history and in manufactured housing. For example, he earned the prestigious Lottinville Award in history from the University of Oklahoma, where he studied history and business management. He's a managing member and co-founder of LifeStyle Factory Homes, LLC, the parent company to MHProNews, and MHLivingNews.com. This article reflects the LLC's and/or the writer's position, and may or may not reflect the views of sponsors or supporters.