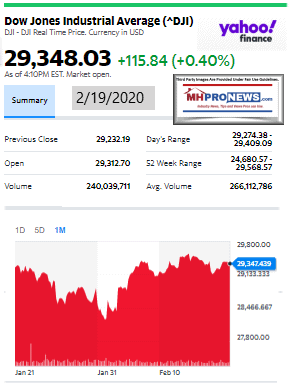 "Legacy Housing Corporation is the fourth largest producer of manufactured homes in the United States and a recognized leader and innovator in the manufactured housing industry. With current operations focused on the southwest and southeast of the United States, Legacy offers an array of products that help make quality housing affordable again," says the firm's investor relations page. It has been too long since we checked in on Legacy, and their most recent statements have some insights and pull quotes that are relevant to the ongoing issues, trends and controversies in manufactured housing. Thus their most recent IR conference call will be our featured focus this evening.

Periodic readers of this business-nightly feature should note there are new tweaks to some of the standard portions of our evening market/investing report. Read carefully as some changes of the 'standard text' that follows before our left-right headlines and also in other features near the end of tonight's reports.
Every evening our headlines that follow provide snapshots from two major media outlets on each side of the left-right news spectrum that reflect topics that influence or move investor sentiment. In moments on this business evening report, you can get 'insights-at-a-glance.'
This report also sets the broader context for manufactured housing markets, in keeping with our mantra, "News through the lens of manufactured homes and factory-built housing" ©.
We begin with headlines left-of-center CNN followed by right-of-center Fox Business. We share closing tickers and other related data courtesy of Yahoo Finance, and more. 5 to 10 minutes reading this MHProNews market report every business night could save you 30 minutes to an hour of similar reading or fact-gathering elsewhere.
Perhaps more important, you will get insights about the industry from experts that care, but also dare to challenge the routine narrative that arguably keeps manufactured housing underperforming during an affordable housing crisis.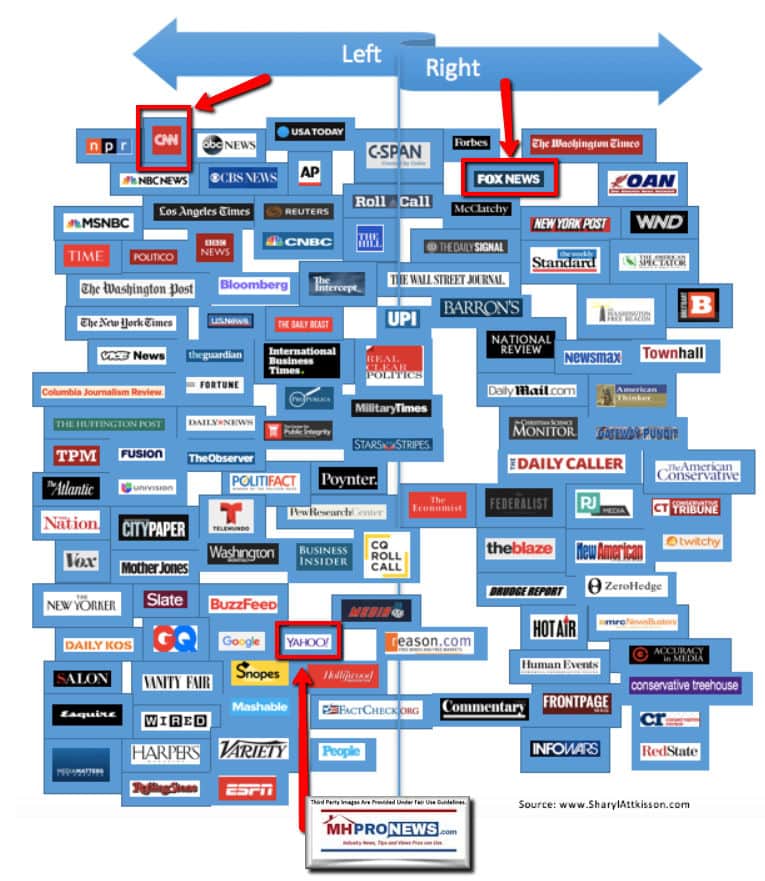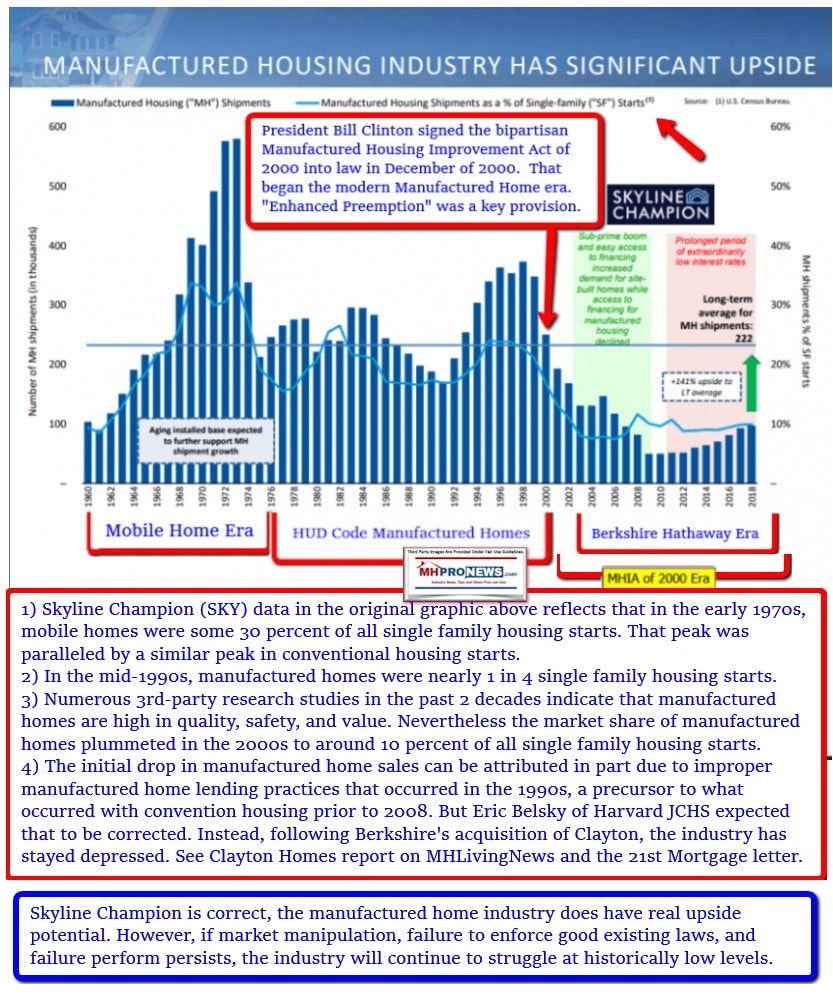 Bernie Takes Front-Runner Status in 2020 Democratic Primary, Bloomberg, Biden Campaigns Snapshots – plus Manufactured Home Investing Stock Updates
Newsy, Peeling Back Media Bias, Manufactured Housing Sales, Investing, Politics, and You
Headlines from left-of-center CNN Business
Tesla's secret weapon
The company isn't just cars. Its solar power business could be the next driver of its success
Who's responsible for what you buy on Amazon? A court is about to decide
LIVE UPDATES Easy money and low unemployment boost homebuilders
The Dow and Nasdaq are approaching big milestones. Is it too late to invest?
Boeing found debris in fuel tanks of parked 737 Max jets
Investors think Blue Apron is toast
The most important interest rate you've never heard of is about to change
TikTok, every teenager's favorite app, just rolled out new parental controls
China expels three Wall Street Journal reporters
Jaguar Land Rover is flying parts out of China to keep its European factories open
Colorado sold a record $1.75 billion of cannabis last year
The Shamrock Shake is back. Here's why you can't get it year-round
Lime CEO admits: We don't understand women riders
Bud Light Seltzer is already a sensation
Burger King thinks moldy Whoppers will get you to buy more burgers
GE dodges a bullet in Trump's battle with China
Headlines from right-of-center Fox Business
• Virgin Galactic shares rocket past Tesla
• The first publicly-traded space tourism company, Virgin Galactic has invested more than $1 billion in the fledgling business over 16 years, completing two manned test flights in late 2018 and early 2019.
• Tesla rockets above $900 as solar sales light up prospects
• Forever 21 acquisition finalized, new owners expect to keep US stores open
• Bloomberg paying people to praise him on social media ahead of Super Tuesday
• Bloomberg shields details of fortune from voters — as he drops billions on race
• Can Bloomberg win Democratic nomination? What this longtime pollster says
• Former McDonald's CEO calls massive McMillions scam 'awful tragedy'
• 'Severe' blue-collar worker shortage is only getting worse
• School's out: Top 5 highest-paying jobs that don't require college degree
• What is financial infidelity in marriage?
• Bloomberg camp proposes drastic action to stop socialist Sanders
• This airline is the most likely to mishandle your luggage
• Gold hits 7-year high as coronavirus reshapes markets
• Lobster blood could play role in human cancer drugs
• California homeless flocking to Malibu beaches, dumping sewage
• Here's what Bloomberg once publicly called transgender people
• Christian college honors Melania Trump
• Christian theme park that 'brings Bible to life' axing most employees
• Best airline for on-time arrivals
• Cavaliers coach John Beilein losing millions in pay after sudden exit
• How many Americans live paycheck to paycheck?
• Paul Allen's California mansion sells for $35M, tops Steph Curry's home price
• Why China just kicked Wall Street Journal writers out of the country
• Who is the richest billionaire in the world?
• PICS: Burger King shows off what Whopper looks like after a month
• Cavaliers coach John Beilein losing millions in pay after sudden exit
• Varney: Trump made Bernie, Bloomberg presidential primary frontrunners
• NASA looking to train 'Artemis Generation' for moon, Mars missions
• Corporate jet deliveries hits new high in 2019
• Soccer star's tweets worth more than any other athlete endorser
• Harvard hands out gender pronoun stickers
• Stocks rally toward records as Tesla tops $900
• Royals celebrating Prince Andrew despite Jeffrey Epstein controversy
• Pentagon wants $13 million to build potentially devastating airborne weapon
• The best alcoholic drinks while dieting
• The 10 fastest-growing jobs in America
• As Warren stumbles, super PAC offers last-minute boost in Nevada with $800K ad buy
• SEE PICS: Anthony Hopkins lists oceanfront home for stomach-dropping price
• Judge rules on Huawei lawsuit against US government ban
• Bed Bath & Beyond unfolds turnaround plan
• Hackers using coronavirus to scam people, install malware on devices
• Bad actors will often mention popular news to get users' attention.
• How small businesses are retaining workers
• Boeing heads to court amid fight over potentially damning 737 Max documents
• 'Junk Bond King' Milken could make Wall Street return after Trump pardon
• Varney: Trump rallies while Democrats debate, 'nobody's done that before'
• New app makes it easy to get revenge against annoying telemarketers, scammers
• Tom Brady wants teams to approach him about next season, some already have
• Amazon launches virtual health clinic for employees
• Judges step up Carlos Ghosn probe over Versailles palace party, Oman dealings
• SEE PICS: Ex-governor sprung from prison, insists he's always been innocent
• Whitney Houston embarking on new tour (sort of)
• The best, worst state capitals to live in
• You're in luck: Beloved McDonald's shake making return — with wild twist
• White Castle launches dairy-free cheese for vegan burger
• Trump, Bloomberg tweet war heats up ahead of Nevada debate
10 Market Indicator Closing Summaries – Yahoo Finance Closing Tickers on MHProNews…

Featured Focus – Where Business, Politics and Investing Can Meet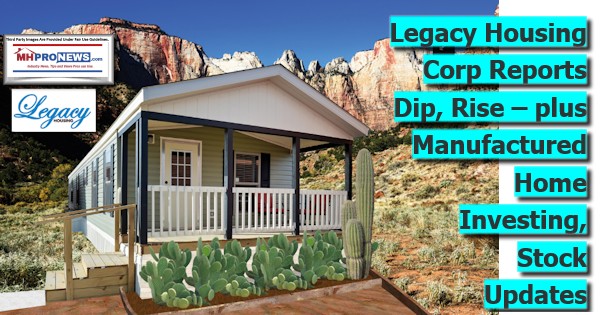 Tonight's report will feature several segments. They include:
Note that graphics or links in what follows were added by MHProNews and are not in the original report.
While some weeks have passed since their report, it is useful for various reasons noted at the top. Among those is that statements made during this investor relations conference call by a Manufactured Housing Institute (MHI) member company shed light on claims and reports made by others. Such statements, with the normal disclaimers, are supposed to be as accurate as possible. Thus they can reveal insights on trends which can then be compared to what other publicly traded firms or MHI have said or are saying.
Once these two items from Legacy are covered, MHProNews will have some pull quotes and related commentary. With that action plan, let's dive in.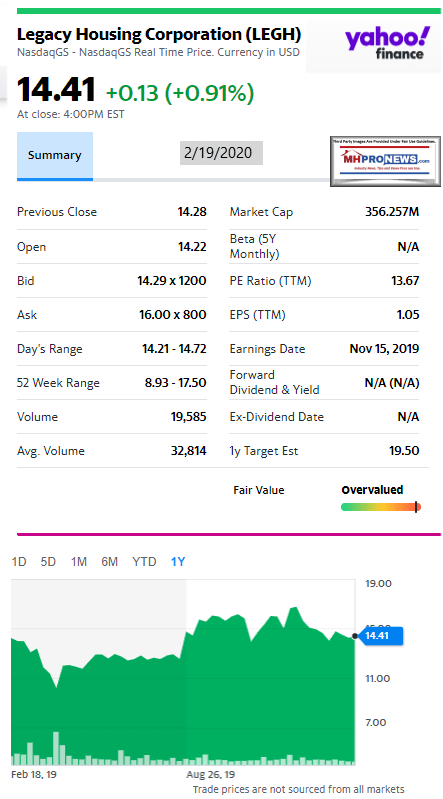 BEDFORD, Texas, Nov. 14, 2019 (GLOBE NEWSWIRE) — Legacy Housing Corporation (NASDAQ: LEGH) today announced its financial results for the third quarter ended September 30, 2019.
Financial Highlights:
Revenue for the third quarter of 2019 was $41.9 million, compared to $40.5 million in the third quarter of 2018, an increase of $1.4 million or approximately 3.4%.
Interest income was $5.7 million in the third quarter, an increase of 20% from the $4.8 million in interest income for the same period in 2018.
The manufactured home park loan portfolio increased by $24.1 million to a total of $82.0 million, an increase of 42% from the end of 2018. The consumer loan portfolio increased to $103.1 million, inclusive of the allowance for loan loss and other discounts.
Manufactured home community sales were $16.9 million in the third quarter, a 117% increase from the $7.8 million in community sales in the third quarter of 2018.
Earnings before taxes were 8.0 million in the third quarter of 2019, compared to $8.7 million in the prior year quarter. Net income was $6.1 million in the third quarter of 2019, compared to $6.5 million for the comparable period in 2018, a 5.4% decrease in net income.
Earnings per share for the second quarter of 2019, based on diluted weighted average shares outstanding, was $0.25 on 24,338,839 diluted outstanding shares versus $0.32 on 20,000,000 outstanding shares for the comparable quarter in 2018. The increase in shares reflects those shares sold pursuant to the Company's successful initial public offering, net of treasury stock.
Curtis D. Hodgson, Executive Chairman of the Board, commented, "Our 2019 third quarter sales were an improvement over the same period from 2018, but we did have shrinking margins this quarter, which, while disappointing, we do not believe is indicative of our expected margins on an on-going basis. Going into the fourth quarter, we see strong demand, a healthy backlog, and increasing production at all three plants, which makes us optimistic about how we will finish out the year. We also continue to make substantial progress on our manufactured home community development projects, and we believe this will lead to growth of our top and bottom lines in 2020. Finally, our sales to manufactured home communities continues to exceed our expectations. Quarter-over-quarter, our sales to communities have more than doubled."
This shall not constitute an offer to sell or the solicitation of an offer to buy, nor shall there be any sale of the Company's securities in any state or jurisdiction in which such offer, solicitation or sale would be unlawful prior to registration or qualification under the securities laws of any such state or jurisdiction.
Motley Fool Transcribers
(MFTranscribers)
Nov 20, 2019 at 11:11PM
Legacy Housing Corp (LEGH) Q3 2019 Earnings Call Transcript
LEGH earnings call for the period ending September 30, 2019.
Legacy Housing Corp  (NASDAQ:LEGH)
Q3 2019 Earnings Call
Nov. 15, 2019, 10:00 a.m. ET
Contents:
Prepared Remarks
Questions and Answers
Call Participants
Prepared Remarks:
Operator
Ladies and gentlemen, thank you for standing by and welcome to the Legacy Housing Corporation Third Quarter 2019 Earnings Call. [Operator Instructions]
I would now like to hand the conference over to your speaker today, Curt Hodgson, Executive Chairman of the Board. Please go ahead, sir.
Curtis D. Hodgson — Executive Chairman of the Board
Thank you for joining the call today. Before we begin, may I remind our listeners that management's prepared remarks today will contain forward-looking statements, which are subject to risks and uncertainties, and management may make additional forward-looking statements in response to your questions. Therefore the Company claims the protection of the safe harbor for forward-looking statements that is contained in the Private Securities Litigation Reform Act of 1995.
Actual results may differ from management's current expectations and therefore we refer you to a more detailed discussion of the risks and uncertainties in the Company's annual report filed with the Securities and Exchange Commission. In addition, any projections as to the Company's future performance represent management's estimates as of today's call. Legacy Housing assumes no obligation to update these projections in the future unless otherwise required by applicable law. With those preliminary remarks out of the way, let me turn to our third quarter results and our view of the rest of the year.
Our third quarter was not as robust as we would have liked. We were still very profitable this quarter making over $8 million in income before tax expense and over $6 million in net income. Our total revenue was approximately $41.9 million, a 3.4% increase over our performance in the third quarter of last year. But we were slightly under our own revenue in our own income expectations for the quarter.
This was caused by a few factors, Norman [Phonetic] among them, we simply had production issues at our commerce Texas plant, resulting in a 31% decrease and a 36% decrease in quarter-over-quarter and year-over-year production at that facility in Commerce, Texas. About a month ago, we brought in a new General Manager for this facility, and we are now back to running at or near capacity.
We also experienced a margin shrinkage due to the impact of the Chinese tariffs which is all of you were brought on with very little notice. We almost immediately implemented a price increase that should offset these tariff increases going forward. And lastly, we saw a decrease in our company-owned retail sales in the third quarter, as we have been restructuring those stores and implementing certain management changes.
But there's plenty of good news. First, on a high level, we continue to believe that demand for affordable housing is strong as the affordable housing need is not being met by what is currently being offered by most traditional homebuilders and the multi-family industry as well. And the manufactured housing is a critical component of solving the affordable housing crisis. We've also seen improving shipments across the industry in the last few weeks, with the latest available data indicating overall industry shipments in September outpacing shipments from the same time period in both 2017 and 2018.
More specifically, the Legacy Housing, I am very optimistic about how we will close out 2019. Our orders are up, production is up at all three plants we have a very healthy backlog. We also have indications of improving performance at our company-owned stores. All of these factors made me very confident that we will close out the year strong.
We also continue to make progress on land projects, which is a part of the Company we anticipate leading the top and bottom-line growth in 2020. In total, we now have close to 2,000 site pads in our pipeline that over the next 12 to 36 months, will begin to blossom. For the first time, we are publishing in our Q, a table of those projects, indicating our total investment of about $9,000 toward development.
I'll now turn the call over to Cork, to provide more color and more analysis on our third quarter financials. Cork?
Cork Van Den Handel — Chief Financial Officer and Corporate Treasurer
Thank you, Curt. Net revenue for the third quarter of 2019 was $41.9 million, an increase of $1.4 million over 2018's third quarter net revenue of $40.5 million. Product sales, the largest component of our revenue grew 1.3% in the quarter to $35.4 million. Sales to manufactured home parks, which increased $9.1 million to $16.9 million were partially offset by decreased sales of consigned inventory through our network of independent retailers and reduced factory direct sales. Also as Curt noted, sales through our company-owned retail stores declined to $3 million from $3.6 million in the prior-year quarter.
Product sales gross margin percentage decreased 2.3 points to 22.2% as a result of reduced cost absorption from lower production volumes, increased costs related to import tariffs and reduced sales through our retail stores, which typically carry the highest margins. Interest income in the quarter was $5.7 million, a 20% increase over the $4.8 million reported last year.
Our manufactured home park loan portfolio increased $24.1 million or 42% from the end of 2018 to $82 million and the consumer loan portfolio principle balance increased $5.9 million to $103 million net of the allowance for loan loss and other discounts.
SG&A [Selling, General & Administrative] expenses of $6.1 million increased $1.2 million from the third quarter of 2018, reflecting higher personnel expenses related to public company compliance and staffing of our company-owned retail stores along with increased delivery costs. These increases were partially offset by reduced audit fees.
Pre-tax earnings decreased $700,000 to $8 million in the quarter. Income tax of $1.9 million decreased $300,000 over the third quarter of 2018. Income was $6.1 million for the third quarter compared to $6.5 million in the similar period of 2018. Net income per share based on basic and diluted weighted average shares outstanding was $0.25 in the quarter compared to $0.32 in the prior-year quarter. And finally, equity is increased $26.1 million from year-end 2018 to $215.4 million.
That completes our financial overview. Curt?
Curtis D. Hodgson — Executive Chairman of the Board
Thanks, Cork. The fundamentals of Legacy's business remain strong and we are very bullish on how well-positioned Legacy is for fourth quarter performance. Thank you for your interest and attention today. We'll now take your questions.
Questions and Answers:
Operator
[Operator Instructions] And our first question comes from Alex, B. Riley FBR. Please proceed with your question.
Alex Rygiel — B. Riley FBR — Analyst
Thanks, Curt. And I appreciate your frank commentary with regards to the quarter there. A couple of quick questions there — a couple of quick questions. Orders are up, production is up, backlog is healthy, improving performance at company-owned stores, those comments that you made in your opening remarks. Are those relative to the third quarter of this year or the fourth quarter of last year, as you think about as we move into this fourth quarter here? So are you talking about sequential improvement or year-over-year improvement that you expect in 4Q of '19?
Curtis D. Hodgson — Executive Chairman of the Board
I think both — this is Curt. I think both. The fourth quarter is typically a down quarter in order production. Just last week, for instance, we put on 200 or 300 orders that we weren't expecting from our park customers predominantly. We don't usually get that kind of lift in the fourth quarter, that was true both last year and this year. Last year we were on the tail end of the two hurricane boom that we had that began nearly two years ago, and we were already seeing a decline in order volume by the fourth quarter of last year.
The fourth quarter is typically a down quarter in orders. This quarter is an anomaly. So I would guess the business is probably good, not just for us, but probably for the industry.
Alex Rygiel — B. Riley FBR — Analyst
Sales in the state, Oklahoma increased significantly in the third quarter as well as Alabama. Sales in Texas and Georgia were down significantly. Can you talk a little bit about the shift in mix of demand by state?
Curtis D. Hodgson — Executive Chairman of the Board
Well, as you know, and as I've indicated for some time, we have a place to put a challenge in our industry, particularly in large metropolitan areas like Dallas, Houston, San Antonio, Atlanta, Denver. And that difficulty is not being remedied, at least not currently. There is some space development on the drawing boards. So where the opportunities for shipments have been and again this is an industrywide issue are the empty mobile home parks in rural America, and there's more of those in Oklahoma, in Kansas, in Nebraska than there are in the more urban parts of this world like Texas and Georgia. So I don't really expect that those markets to improve until we see space creation around the second or third circles in the big cities. We're working on that ourselves and there is also some big players that are working on that.
With our customers being so much in the community development business, these guys tend to buy an existing park, and that existing park could be in [Indecipherable] and then all of that becomes our market because it's their market.
On the other hand, our retailers that are near cities like Fort Worth and Dallas and Houston are struggling, they spend more time trying to find a place to put it and they do trying to sell the house. So that's a systemic problem that the industry do have to have work through and I expect it will take two to 10 years before we get balances and between the demand for space in the supply of space.
Alex Rygiel — B. Riley FBR — Analyst
And I suspect that also explains the decline in independent retail locations from 111 to 87 sequentially, any other reason for that decline?
Curtis D. Hodgson — Executive Chairman of the Board
Americas called the rating [Indecipherable] entrepreneurs who want to own their own stores. Other than that [Indecipherable]
Cork Van Den Handel — Chief Financial Officer and Corporate Treasurer
I would say — I'd like to add to that, if I may Curt, in that one of the side effects of having such a large percentage of our production moving to manufactured home park owners. They are taking a priority in our production schedule along with our larger independent dealers. And I would say that I think there is some effect of having less production available for the smaller [Indecipherable] type independent dealers. I think those are probably the ones that are dropping off.
Alex Rygiel — B. Riley FBR — Analyst
Last question, Curt. A few quarters ago, inventory had spiked quite a bit, I think it was the end of the first quarter. Inventory has now — has declined nicely sequentially for a couple of quarters. How do you think about inventory today as you enter the winter months and how should we think about it changing in the next three to six months?
Curtis D. Hodgson — Executive Chairman of the Board
Our financials a little bit unique in that inventory as a category includes a significant amount of finished good inventory. On raw materials we're still operating and we are operating a little over $2 million per plant in the raw material and then a warehouse on top of that. That puts us at the high-end of the manufactured housing companies as far as how much raw material we have. As you know, we buy, so much of our material on a bulk basis by the truckload, by the train carload, by the container out of China that we tend to have a lot more inventory than our competitors at the raw material. But our management has done a pretty good job of bringing that down, so we don't have a 12 months of supply, hardly anything — anymore like we did a year or two ago.
On the finished goods side, we have inventory two ways in our company-owned stores, which is pretty stable right now, we're not adding any stores, and that's been the inventory we have at the stores is being managed pretty well. And then the other way, we have, it is the inventory at our independent retailers is really our inventory because we can sign it.
And that's a decline in independent retailers. And with that comes a corresponding decline in consigned inventory. So I would guess that the trend in finished good inventory will be flat to down, and the trend in raw material will be flat to down just because we're getting it better — we're getting to manage a little better.
Alex Rygiel — B. Riley FBR — Analyst
Helpful. Thank you very much.
Operator
Thank you. And our next question comes from David Burdick with Oak Ridge. Please proceed with your question.
David Burdick — Oak Ridge — Analyst
Hey, guys, hope all is well. And thanks for taking my questions. So just wanted to ask about MHPs and how your Austin community is coming along? And then you also mentioned you're near closing on a few more locations on the last call. Could you provide maybe some more color on where you guys stand and lots of land currently and then where those potential new lots stand?
Curtis D. Hodgson — Executive Chairman of the Board
Yes. I'll answer that. Let's take it from big to small. We're currently invested in essentially three markets that we think are pretty good, Austin, Texas, Fort Worth, Texas, and San Antonio, Texas. We see opportunities in other markets, but we've made substantial investments in those areas. In Austin, we are active in two different places that are actually about 70 miles apart, but they're both in the Austin market.
The one you're referring to we paid $4 million per piece of land South of Austin. It is not served by sewer. It's going to take its own water treatment facility. We are on the break getting that permit and expect to be breaking ground of that facility with the next four to six months. It will be a major facility with over 1,000 spaces, probably over 1,400 floors for that facility.
In — the opposite part of Austin, we own approximately 30 — 300 lots that are zoned for mobile homes in Horseshoe Bay. It is a very regulated city that we're working through the regulations and we already have released for production. The first six models to go into that area, and test the waters in Horseshoe Bay.
In Fort Worth, we have two properties that will total around 400 lots total, both in South Fort Worth in the suburban [Indecipherable] that is actually accessible both Dallas and Fort Worth, we're quite optimistic about that. And our bases in that land to put in perspective is somewhere around $6,000 per acre. And it is very difficult to find $6,000 acre in metropolitan areas now.
And lastly, we're lightly active in San Antonio, currently own about 100 acres is being subdivided into like 1 acre lots. So it isn't a major play, but we have a loan interest in similar other land in San Antonio that we're lending money to develop [Indecipherable] making a big play in San Antonio. And we're in negotiations, all the time with people to develop mobile home parks to brought back financing guidance for them in exchange for some time where our product goes in the facility. We think is a big part of the industry going forward.
David Burdick — Oak Ridge — Analyst
And then you guys mentioned, you might see some contributions from MHPs on the top and bottom line in 2020. Is this more of a later 2020 contribution or when should we expect to see some sales start to trickle in?
Curtis D. Hodgson — Executive Chairman of the Board
Land development is really difficult from a GAAP accounting point of view and for industry — for industrial company like ourselves. You really only see it, the revenue and profits when you sell the property. But we will see increased sales of our products through those facilities, and we should see that probably beginning mid 2020. And those product sales are likely to have higher margin than any other thing that we're involved in.
David Burdick — Oak Ridge — Analyst
Okay, that's helpful. Thanks and good luck moving forward.
Operator
Thank you. And our next question comes from Mark Smith with Lake Street Capital Markets. Please proceed with your question.
Mark Smith — Lake Street Capital Markets — Analyst
Hey, good morning, guys. First off, for me, can you talk about the sales mix a little bit and the impact on average selling price of homes, for instance, as you sell into these mobile home parks, are you doing more singlewides, or are there better deals that maybe these guys get? Maybe walk us through the quarter on average selling price and why we saw the — I think it was a 10.5% decline year-over-year.
Cork Van Den Handel — Chief Financial Officer and Corporate Treasurer
Certainly, you're right. You're spot on. The manufactured home communities basically purchase singlewides. These are — if you want to put it in terms of a new car that you're buying off of the lot versus something that you're going to run at national, the goal of manufactured home communities is to provide a good solid home at a reasonable cost. And so they're not exactly speced out to an optimum level that one might choose if you're purchasing the home for yourself. Their competition obviously is the multi-family communities and they're trying to beat those costs and provide a better product at a lower price. So there are no doublewides that are being purchased by the mobile manufactured home communities.
At the same time — and just to kind of give you a sense year-over-year, the doublewide sales in the quarter dropped about 31%, actually a little over that. At the same time, we've actually increased our sales of our tiny houses. I apologize, I don't have that exact number with me in my mind right now. But as you know, the average selling price on a tiny house is significantly less than a doublewide or a singlewide.
Mark Smith — Lake Street Capital Markets — Analyst
Okay. And then can you talk about kind of with ASP down, how much impact that had on margin? And then I think you guys also called out within gross margins labor as well as some cost of materials, sounds like some tariff impact, and any other insight and the kind of outlook, especially as we look at kind of labor and cost of materials.
Cork Van Den Handel — Chief Financial Officer and Corporate Treasurer
Well again, year-over-year, I think, — and I'll take the first part of this, Curt. Year-over-year our production, the number of floors that we manufactured was down over 5%, and again we have a higher percentage of tiny houses so that the actual square footage is down even more, largely because of what Curt was pointing out in the — it's just Commerce. And as when you're producing less, your fixed costs and even some of your variable costs don't necessarily go down at the same rate.
Curt? Curt, do you have any additional color you'd like to add?
Mark Smith — Lake Street Capital Markets — Analyst
Yes. I guess — I was going to say, Curt, the main thing that I'd be looking for is just getting your outlook on labor, but also on cost of materials, any pressure that you're continuing to see.
Operator
And pardon me. It looks like Curt is no longer connected.
Cork Van Den Handel — Chief Financial Officer and Corporate Treasurer
I think Curt dropped off the line. Hold on a sec.
Mark Smith — Lake Street Capital Markets — Analyst
Yes.
Cork Van Den Handel — Chief Financial Officer and Corporate Treasurer
Let's ask the next question, and perhaps we can get Curt back on and circle back. Sorry, Mark.
Mark Smith — Lake Street Capital Markets — Analyst
No problem. Thanks, guys.
Operator
And our next question comes from David Mercer. [Phonetic] Please proceed with your question.
David Mercer — — Analyst
Hey guys, this is not really a question about the business. Is William Shipley there?
Cork Van Den Handel — Chief Financial Officer and Corporate Treasurer
You mean Kenny Shipley?
David Mercer — — Analyst
Kenny Shipley. Sorry about that.
Kenneth E. Shipley — Chief Executive Officer
Yes. I'm here. Yes.
David Mercer — — Analyst
Yes. I'd just like to know — I'd like to send you an email, if I can get your direct email address, maybe from — call the business. What I'd like to do is just once a quarter, just send you an email. I won't bother you because I know you're a busy person. Just once a quarter, it would be like a paragraph or less, just some tips that for you guys' company that may help you out.
And like I said, I'm not going to bother you, just do once a quarter, take you like maybe one minute to read. You don't have to respond so if like, maybe I could get your email address from somebody else.
Kenneth E. Shipley — Chief Executive Officer
Yes.
Cork Van Den Handel — Chief Financial Officer and Corporate Treasurer
Mr. Mercer, if you could send that to investors@legacyhousingcorp.com, that will get to Kenny and the senior management team.
David Mercer — — Analyst
Okay. And like I said, I won't bother you the whole time or anything like that. And I may have said this before, but I'll keep on say it every quarter, guys, just make sure you make good decisions. When I invest in companies, I say it to myself that I have to make the decisions, and actually it's help me out. So just every now and then to say to yourself that you have to make good decisions, so help you with your decision process.
Also remember you guys may know this, but just remember this focus on the long-term. I know a lot of people may want you hit numbers in the short-term, but don't focus on that. Focus on the long-term — what's long-term best for the Company. And then, in the end, the Company will do better. So try not to focus on the short-term, focus on long-term. You're probably doing that already.
And just one more thing, remember customer focus. I'm sure you guys already doing that. But I just remind you, keep on a focus on how you can meet the customer need, how you can make the product a better, constantly constant, constantly focus on how you can do that well. So — well — yes.
Cork Van Den Handel — Chief Financial Officer and Corporate Treasurer
Sure. Thank you.
Curtis D. Hodgson — Executive Chairman of the Board
That's all good advice. Appreciate that.
David Mercer — — Analyst
All right. Thank you.
Cork Van Den Handel — Chief Financial Officer and Corporate Treasurer
And Curt, while you were off, sir, we had a follow-up question related to where you see raw material costs going forward.
Curtis D. Hodgson — Executive Chairman of the Board
Yes. Raw materials are behaving rather well other than Chinese import issues, which is like a 20% to 25% [Phonetic] out of the blue increase. But if you look at the lumber chart or steel chart or a copper chart, these are materials that we use, the industries — those industries are continuing to be very competitive. We're seeing an uptick in appliances right now, and that may be partly due to Chinese imports, they tend to make appliances using Chinese imports, by 8% or 9% increase proposed for appliances. But the big part of our components, lumber, steel, building materials in general that are made in America are flat.
The challenge, as everybody knows, not just our industry but the world, is labor. I mean labor continues to gradually move up as we pay less experienced people more money to build what we did last year. Just the labor shortage is going to be stubborn for quite a while, and we're all struggling how to be more efficient in labor.
As far as overhead is concerned, which is an [Indecipherable] deal, it's — our G&A is up. Our executives tend to want to make more money every year, and correspondingly, we need to have more sales, more profits to justify there. So accounting has been a challenge this last year that we think we have under control, so G&A, I think, we have to really take that.
The last question, I think and then Bruce made some really valid points. I don't know anybody in the industry that has their eye more on the consumer's value proposition than me and our Company. I think we are — I think we lead the nation in the value proposition when it comes to what does a customer get out of a deal.
So anything else?
I think we can conclude the call.
Operator
[Operator Closing Remarks]
Duration: 29 minutes
Call participants:
Curtis D. Hodgson — Executive Chairman of the Board
Cork Van Den Handel — Chief Financial Officer and Corporate Treasurer
Alex Rygiel — B. Riley FBR — Analyst
David Burdick — Oak Ridge — Analyst
Mark Smith — Lake Street Capital Markets — Analyst
David Mercer — — Analyst
Kenneth E. Shipley — Chief Executive Officer
MHProNews – Pull Quotes.
We'll connect the dots on these and other pull quotes in an upcoming report. But for now, ponder these from the above.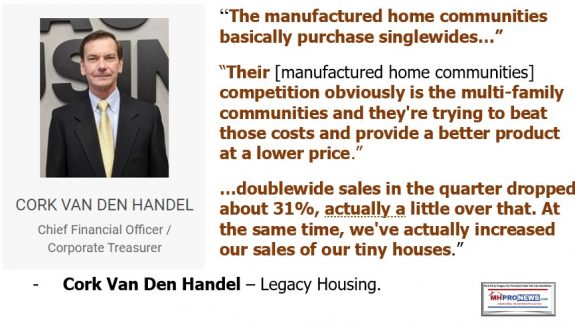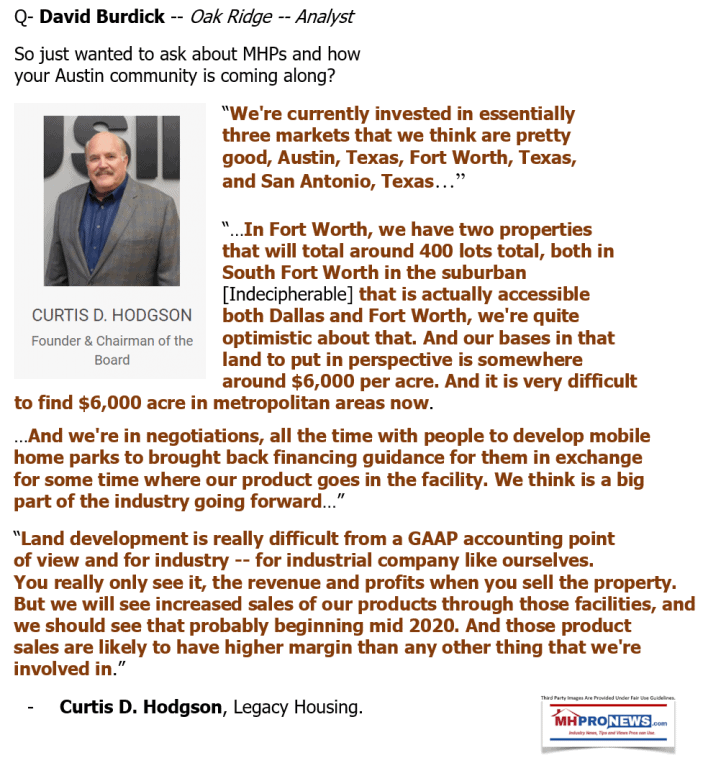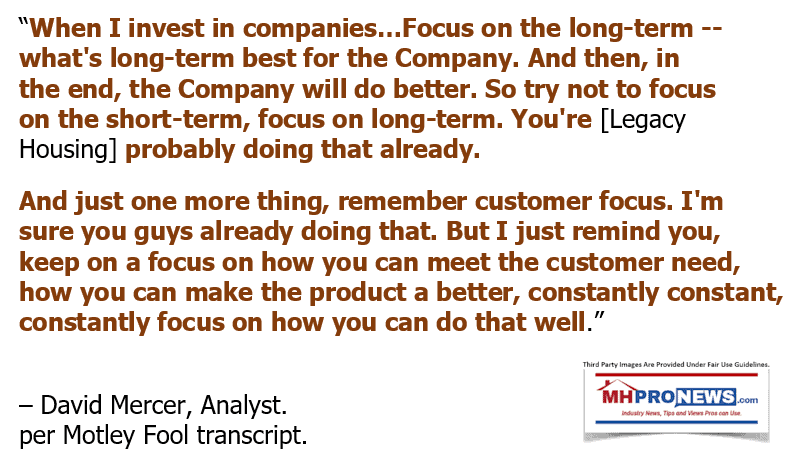 Related Reports:
Mainstream vs. Trade News, Politicos, President Trump, Senator Sanders, Billionaire Bloomberg, Law Enforcement and Manufactured Housing's Unique Plight
Manufactured Home Communities Targeted by Lawmakers, AG Plans – Manufactured Housing Industry Alert
Which 2020 Campaigns Top CEOs Funding, Democratic Consultant Says Bloomberg Will Back Bernie if Sanders Wins Nomination, plus Manufactured Home Stock, Investing Updates
Manufactured Housing Industry Investments Connected Closing Equities Tickers
Some of these firms invest in manufactured housing, or are otherwise connected, but may do other forms of investing or business activities too.
NOTE: The chart below includes the Canadian stock, ECN, which purchased Triad Financial Services, a manufactured home industry lender
NOTE: Drew changed its name and trading symbol at the end of 2016 to Lippert (LCII).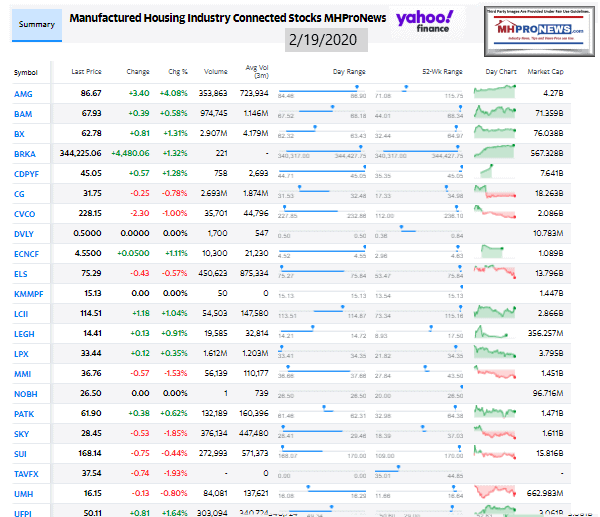 Winter 2020…
Berkshire Hathaway is the parent company to Clayton Homes, 21st Mortgage, Vanderbilt Mortgage and other factory built housing industry suppliers.
· LCI Industries, Patrick, UFPI, and LP each are suppliers to the manufactured housing industry, among others.
· AMG, CG, and TAVFX have investments in manufactured housing related businesses. For insights from third-parties and clients about our publisher, click here.
Enjoy these 'blast from the past' comments.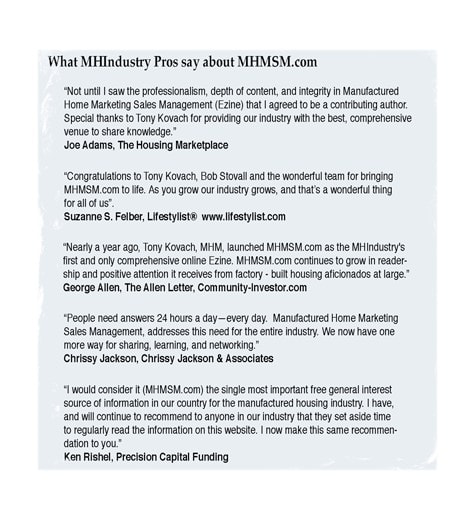 MHProNews. MHProNews – previously a.k.a. MHMSM.com – has now celebrated our tenth anniversary.
Learn more about our evolutionary journey as the industry's leading trade media, at the report linked below.
Celebrating 10 Years of Goal- and Solution-Oriented Manufactured Home Industry Innovation Information, and Inspiration for Industry Professionals
· For expert manufactured housing business development or other professional services, click here.
· To sign up in seconds for our industry leading emailed headline news updates, click here.
Disclosure. MHProNews holds no positions in the stocks in this report.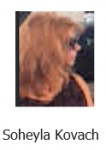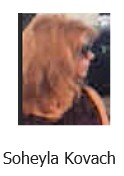 "We Provide, You Decide." © ## (News, analysis and commentary.)
(Image credits and information are as shown above, and when provided by third parties, are shared under fair use guidelines.)
Submitted by Soheyla Kovach, co-managing member of LifeStyle Factory Homes, LLC and co-founder for MHProNews.com, and MHLivingNews.com.

Connect with us on LinkedIn here and here.